Road Trip from Chicago to Los Angeles
If an adventure through cactus-filled deserts, fascinating canyon landscapes and plenty of national parks sounds appealing, the road trip from Chicago to Los Angeles will be perfect for you. The road trip takes you through the mesmerizing south-west where there is plenty for you to see.
The 2,000-mile road trip from Chicago to Los Angeles takes 29 hours to drive. Along the two routes, stops include Rocky Mountain, Grand Canyon, Zion and Joshua Tree National Parks as well as Albuquerque, Denver, Las Vegas, Oklahoma City and Route 66.
With so much to see along the way, read on to make sure you don't miss out on this once-in-a-lifetime road trip experience.
How far is Los Angeles from Chicago and how long will the road trip take?
Comparison of road trip routes between Chicago and Los Angeles

| Route | Distance | Driving Time |
| --- | --- | --- |
| Northern Route | 2,000 miles | 29 hours |
| Southern Route | 2,150 miles | 31 hours |
Whichever route you take, there's no hiding the fact that the road trip from Chicago to Los Angeles is a long one. On either route, you will cross 6 states before arriving at the beautiful state of California.
Taking the shorter option, the Northern Route from Chicago to Los Angeles covers 2,000 miles and takes around 29 hours of driving.
For some very different but equally memorable sights, the Southern Route takes you through Albuquerque and Oklahoma City, along stretches of the iconic Route 66. This option takes two hours longer to drive, covering approximately 150 more miles.
Both pack a mighty punch when it comes to memorable attractions and breath-taking landscapes.
Both routes are fairly straightforward and there is only a minor chance of you ending up in congestion outside the major cities. Because of the length of the drive, and because of the multitude of exciting places you could visit, it is advisable that you invest at least 4 days in order to make the most out of the trip.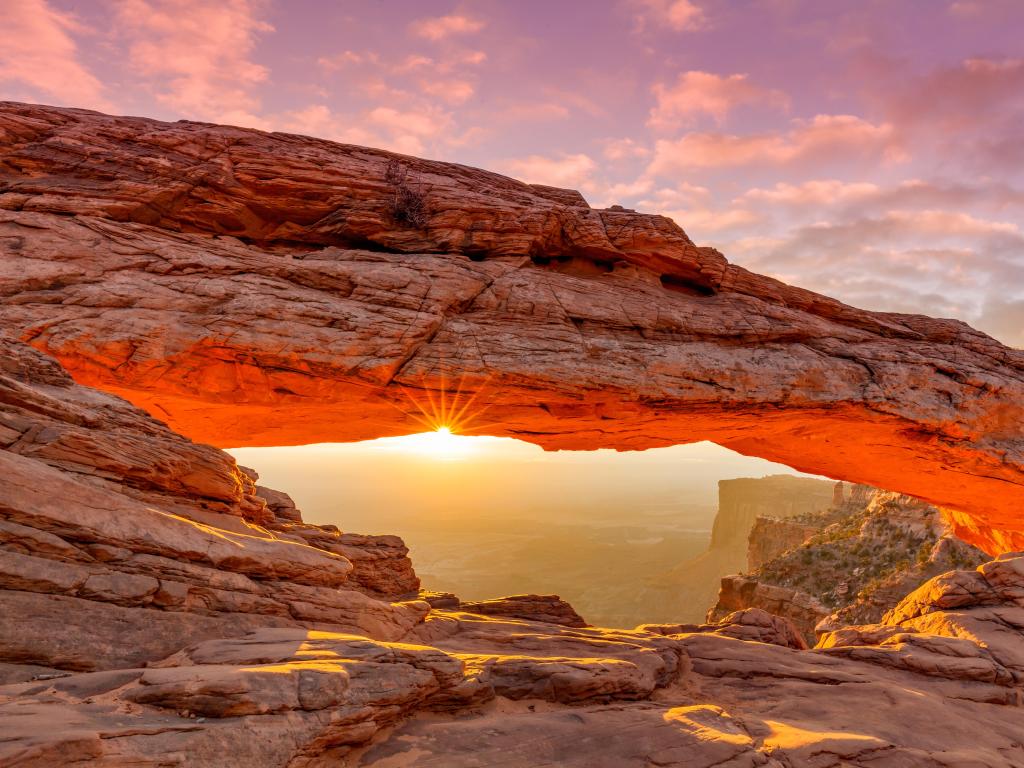 Best road trip route from Chicago to Los Angeles
There is no best route for the road trip from Chicago to Los Angeles. There are two excellent paths you could take on your way to California – Southern and Northern, both of which are thrilling and scenic.
The Northern Route goes through Denver and Las Vegas and the Southern Route takes you through St. Louis, Oklahoma City and Albuquerque as well as the iconic Route 66. Both routes are a great way to experience the gorgeous south-west before culminating in the state of California.
An excellent option if you want to cover every basis is to take either the Northern or the Southern Route on your way to Los Angeles and the other one on your way back. If you find yourself with more time at your disposal, don't shy away from making as many stops as you like.
The Northern Route
After exiting Chicago on Interstate 290, merge onto Interstate 88 westward and follow it all the way across Illinois. Once you arrive at Davenport, hop on to Interstate 80 and drive through Des Moines, carrying on past Omaha.
Just before Pawnee National Grassland, near the state border with Colorado, switch to Interstate 76 and soon after you'll arrive in Denver.
There's plenty to see in the area so consider making a detour towards Arapaho and Roosevelt National Forests, Rocky Mountain National Park or White River National Forest.
Once you're done, drive down Interstate 70 into Utah, past Canyonlands National Park and Fishlake National Forest.
At Sulphurdale take Interstate 15 where soon after you will have the possibility of detouring to Dixie National Forest and Zion National Park, which would both make for a stunning stop-off.
Alternatively, once you get to St. George you could make a stop at Kaibab National Forest before continuing south along the I-15 to Las Vegas.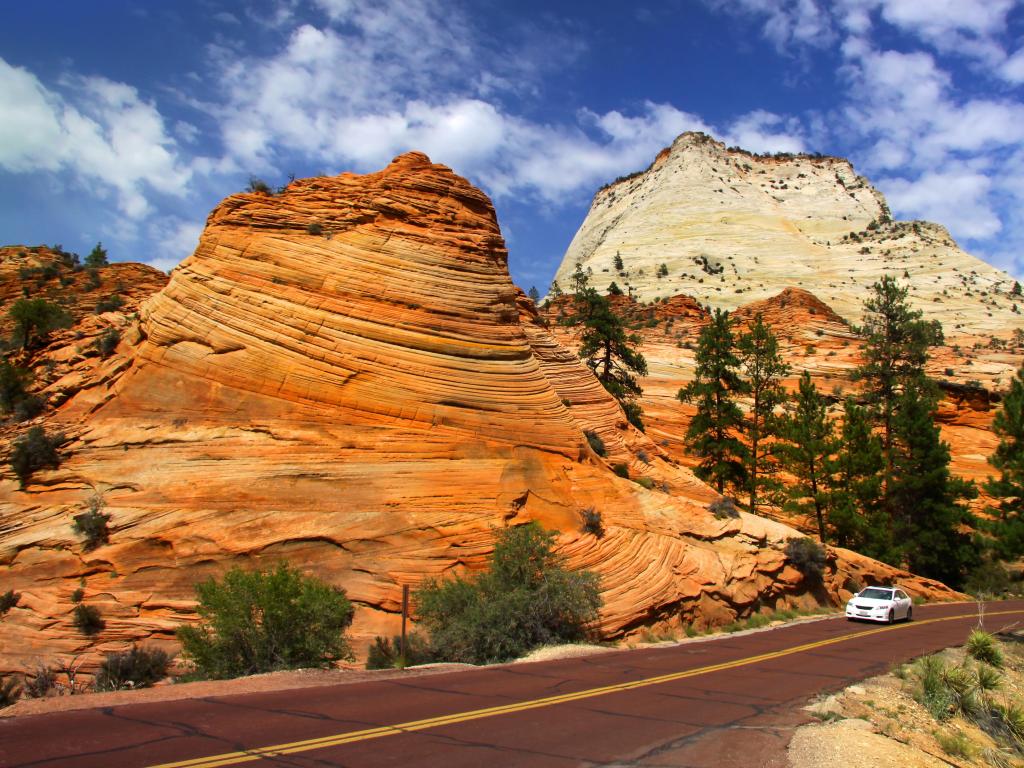 Take your time in Las Vegas because there are quite a few places you could visit in and around the city such as Valley of Fire State Park, Red Rock Canyon National Conservation Area and more.
Once you are ready to depart towards your final destination, you should stick to the I-15 until the final stage of the drive. Drive past Mojave National Preserve in between Angeles National Forest and San Bernardino National Forest before joining the I-10 which takes you into the heart of Los Angeles.
The Southern Route
Take Interstate 55 out of Chicago, southward through Bloomington and Springfield then on to St. Louis. A great option for a detour here is to go further south to Shawnee National Forest before continuing your journey along the Southern Route.
Leaving St. Louis on Interstate 44 you can either make a stop at Mark Twain National Forest or continue on the main route towards Tulsa into Oklahoma City, where you can rest up for the night.
On your way out of Oklahoma City, get on to the notorious Route 66 and be on the lookout for exciting, memorable attractions along the road. Route 66 runs parallel to the I-40, and eventually the roads will merge to take you on through the desert landscape to Amarillo, but you can join the I-40 sooner if you need to pick up the pace a little.
Stop at Albuquerque or visit Cibola National Forest before you reach Flagstaff, Arizona, where you have a choice of more excellent stops. Take some time to visit the stunning Grand Canyon National Park in the north or Coconino and Prescott National Forests in the south.
Stick on the I-40 and make another stop at Mojave National Preserve right after you cross into California. Join the I-15 at Barstow which will take you into Los Angeles. Consider another short detour to San Bernardino National Forest or Angeles National Forest for a last hike through the wilderness before you arrive in the city.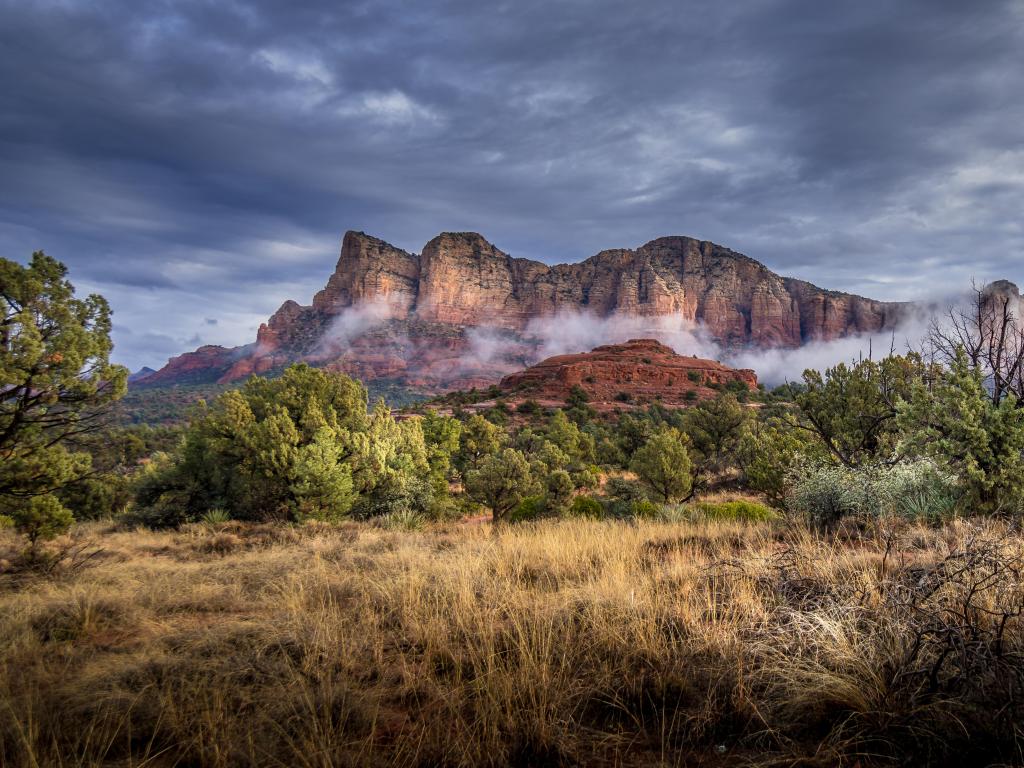 Best places to stop between Chicago and Los Angeles
The road trip from Chicago to Los Angeles is action-packed and will take you through multiple cities where you can find plenty of hotel options.
Here are some of the excellent stopover options that the route has to offer.
Relax in style in Denver
Denver marks the halfway point on the Northern Route, and where better to stop than this fantastic city nestled in the beautiful Rocky Mountains.
The city is the perfect place to base yourself it you want to spend some time exploring the Rockies, with easy day trips including Dinosaur Ridge, Rocky Mountain National Park and the Lariat Loop Scenic Byway.
If you'd rather ditch the car for a day or so, Denver has its own Art Museum and Contemporary Art Museum, or visit Museo de las Americas for a celebration of Latin American culture.
On such a long road trip, you're going to want to stay somewhere you can relax and recharge, and The Sheraton Denver Downtown Hotel meets the brief perfectly. It's an exceptional hotel where you can spoil yourself with beautifully furnished rooms, located in walking distance from most of the city's popular attractions.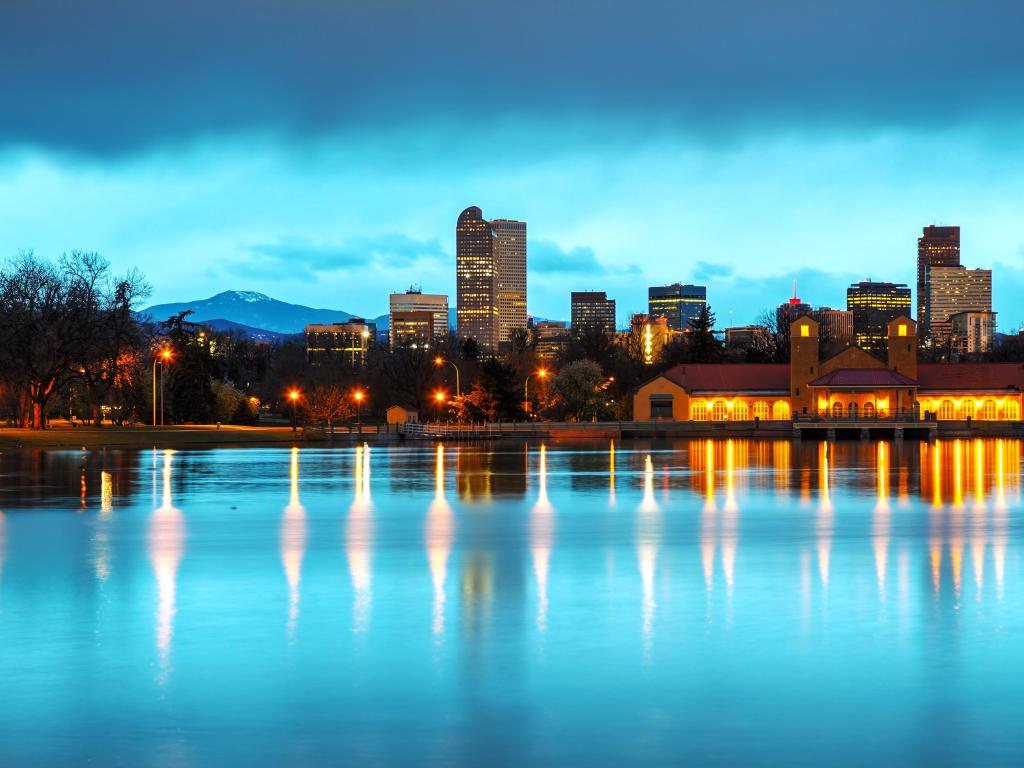 You might want to visit the coffee house after breakfast before heading out for a walk around the city, or you could start your morning at the on-site fitness center. A great way to welcome the afternoon is in the outdoor swimming pool or on the sun terrace with a glass of wine.
The prices for booking a room at the Sheraton Denver Hotel are reasonable and you will be met with great service all year round. This resort is among the highest rated in the city, and accordingly, your stay will be worth every penny.
See the stars in Las Vegas
Just over four hours out of Los Angeles, Las Vegas makes for a memorable final stop on the Northern Route.
While you're visiting the city that needs no introduction, visit the casinos or one of the city's no-expense-spared shows for the iconic Vegas experience. Or for two very different perspectives on the history city, try out the Mob Museum or the Nevada State Museum.
In a city of lavish resorts that come with budget-blowing price tags, the Hilton Grand Vacations Club Elara Center Strip Las Vegas offers a more affordable but still extremely well appointed accommodation option close to the main strip.
With parking available on site it's particularly convenient for travelers taking this epic road trip, and once you arrive you'll be in walking distance of many of the sights, bars and restaurants that Last Vegas has to offer.
With its floor-to-ceiling windows and marble bathrooms you'll certainly feel the luxury touches of this hotel, even before you head to the tropical outdoor pool to cool off. Some of the rooms here even have a stunning view of the famous Bellagio Fountain show.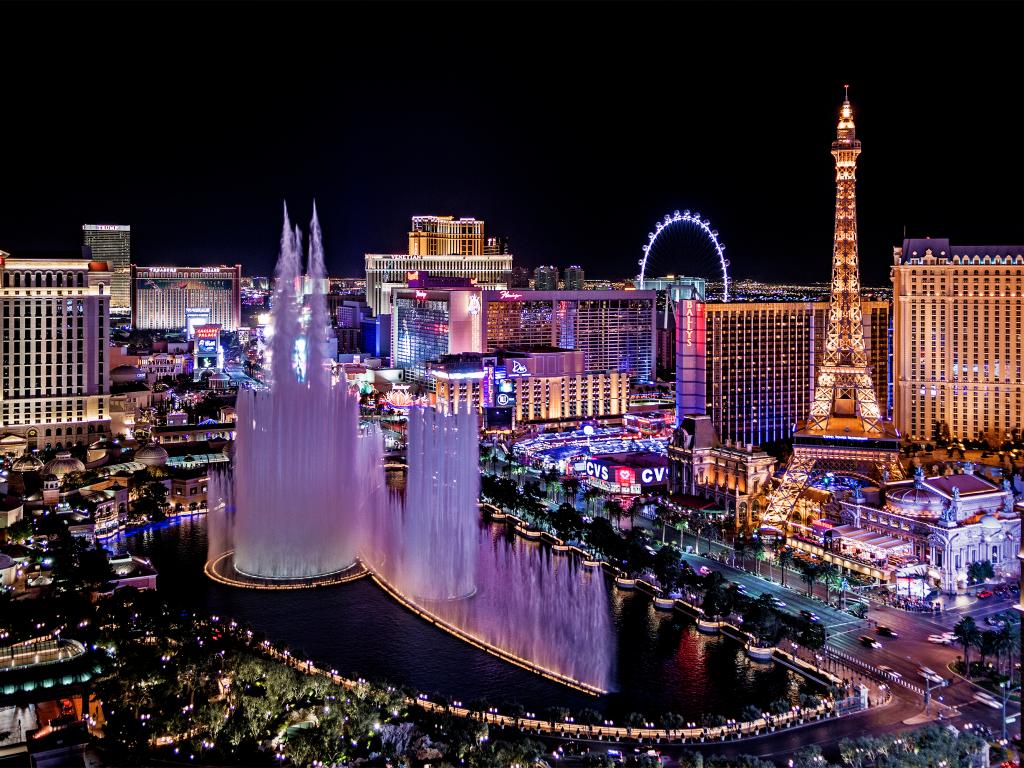 Be charmed by Oklahoma City
Situated almost half way between Chicago and Los Angeles on the Southern Route, Oklahoma City is a charming place to stop.
Get a bird's eye view of the city from the top of the huge ferris wheel on the riverbank, before enjoying your pick of street food in the open air. Or take a Water Taxi ride along the Bricktown Canal to see the city from another perspective.
If you want to get active, visit the Boathouse District for a whole range of water sport options, or just take a walk or cycle ride along the river bank at your own pace.
With its sleek design and convenient location, The Omni Oklahoma City is a great setting for a relaxing night after a long drive. If you feel like spending a lazy day at the resort, you can even treat yourself to a pampering session at one of the wellness facilities.
At the end of the day, head on over to the heated roof top pool, where you could enjoy an exquisite evening underneath the night sky. The panoramic view from the roof top is magnificent, so you won't want to miss out on it.
Where to stay when you reach luxurious Los Angeles
After several days on the road, you'll want to make sure your stay in your final destination is a memorable one, and Conrad Los Angeles certainly won't disappoint.
With impressive views over the LA financial district, this five-star hotel is modern and stylish, with lots of natural textiles and wood in the design to contrast against the city skyline peeping through the floor to ceiling windows.
There are plenty of ways to unwind here including making use of the spa and outdoor, year-round, swimming pool. After a busy day make sure to head to one of the four on-site restaurants, with choices including San Laurel serving up American and Spanish dishes, and Agua Viva giving a taste of Asia.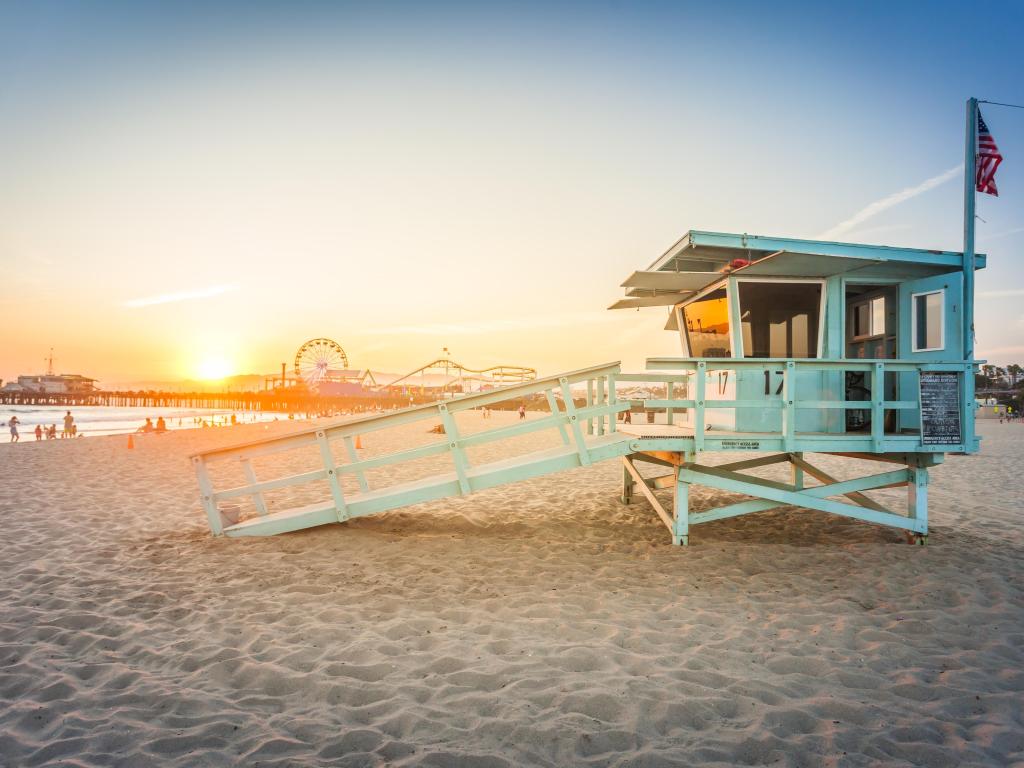 Located in the Broadway Theatre District, this is also the perfect place to stay if you want to see a show while you're in the city
Alternatively, for a really show-stopping end to your epic road trip, The Ritz-Carlton Los Angeles is a marvellous monument soaring into the skyline of downtown LA. It boasts luxurious suites and an excellent location - dive into the heated swimming pool or the hot tub, both of which are located on the roof top where you can admire the mesmerizing panoramic view.
Things to see on a road trip from Chicago to Los Angeles
The road trip from Chicago to Los Angeles takes you through some of the most iconic and nationally prized attractions the south-west has to offer.
You might want to take at least a week to visit and admire some of these fascinating places.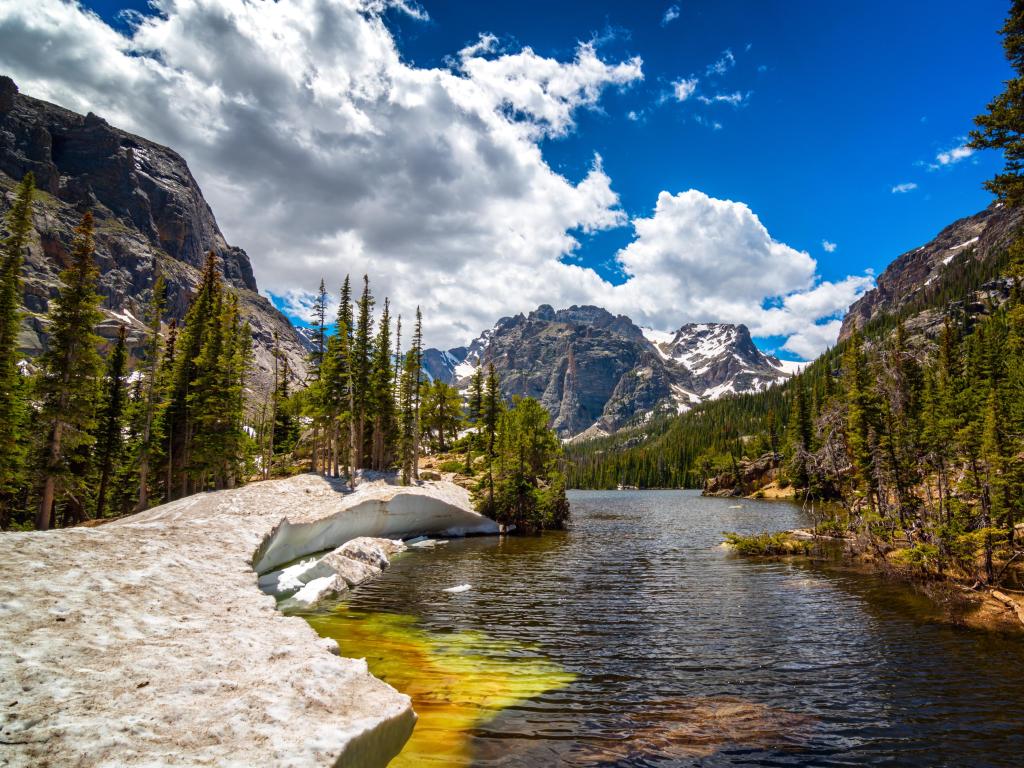 Northern Route
Starved Rock State Park - The picturesque sandstone canyons and incomparable hiking trails are just two of the reasons to visit this fantastic park.
Adventureland Park - Located near Des Moines and boasting around 100 rides, Adventureland Park is up there as one of the finest amusement parks in all of the States.
Rocky Mountain National Park - The ultimate place to experience the Rocky Mountains, this park is best enjoyed via a stroll along Trail Ridge Road with a camera in hand. Keep in mind that the national park uses a timed entry permit system. Please check the national park's website to see if you need to make a reservation before your visit.
Arapaho and Roosevelt National Forest - Two beautiful complements to the Rocky Mountain experience, these fabulous forests are home to countless animal species; you'll want to spend some extra time here in the fall to appreciate the lovely foliage!
White River National Forest - Sporting over 2 million acres of wooded areas and innumerable trails, this forest is also a haven for wildlife, courtesy of the White River.
Arches National Park - One of Utah's premiere attractions, this park gets its name from the hundreds of arch-shaped sandstone formations; be sure to snap a photo by the massive Delicate Arch, arguably the most iconic formation in the park. You might need to make a reservation for a timed-entry permit while visiting Arches National Park. Please check the national park's website for up-to-date information.
Canyonlands National Park - "Chiseled" by the Green and Colorado Rivers, this wondrous park boasts a variety of geological landscapes and the kinds of scenic vistas you can't find anywhere else in North America.
Fishlake and Dixie National Forests - If you're looking to venture into the heart of Utah or are planning to spend time in Zion and Bryce Canyon National Parks, an afternoon in these green-meets-rocky forests is a must.
Zion National Park - Named after the breathtakingly beautiful Zion Canyon, this place is a product of forests, deserts, and lakes converging to form one of America's definitive national parks. If you'd like to hike up to Angels Landing, you will need a permit and will need to make a reservation. Check the Zion National Park's website for more details.
Valley of Fire State Park - The park gets its name from its red sandstone formations, which look like they're on fire every sunrise; a camera is a must if you want to make the most of this place.
Lake Mead National Recreation Area - Located just out of Las Vegas, this area combines the beautiful Mojave landscape and the view from Hoover Dam to create the ultimate desert experience.
Red Rock Canyon National Conservation Area - Home to towering sandstone formations and countless fascinating petroglyphs, this conservation area serves as the perfect backdrop to The Entertainment Capital of the World. You might need to make a reservation for a timed-entry slot, so check the official website before traveling.
Mojave National Preserve - Arguably the crowning jewel of the Mojave Desert, Mojave National Preserve features unforgettable desert landscapes and the iconic ghost town of Kelso.
Southern Route
Mark Twain National Forest – Immerse yourself in mid-west nature and admire lush tall trees, crystal-clear rivers and magical water cascades.
Apache-Sitgreaves National Forest - If the weather conditions allow for it, this is one of the finest spots in the area for enjoying a swim or spending an afternoon fishing.
Tonto National Forest– Arizona's largest national forest is a great spot for recreational activities, and with it technically being part of Phoenix, you can from here to the city in no time at all.
Petrified Forest National Park– Offering a unique sightseeing experience, this park gets its name from its abundance of petrified wood, although it houses a variety of other fossils too.
Route 66 - America's "Mother Road" stretches from Chicago to the West Coast, and its legacy has been set in stone by innumerable literature, music, and movie references.
Prescott National Forest - Named after the city of Prescott, Arizona's former capital, you'll want to explore every inch of this lovely forest before pulling into the city.
Coconino National Forest - This iconic forest offers the perfect blend of lush greenery and Sedona's trademark red rock formations.
Grand Canyon National Park - Possibly the most popular national landmark in all of North America, the Grand Canyon is a geological marvel that has something to offer no matter the season.
Cibola National Forest– Boasting everything from prairies to sky-high wooded areas, Cibola National Forest deserves at least a single full day of your attention.
San Bernardino and Angeles National Forests – After spending some time in Nevada, these gorgeous forests are the perfect segue into the much-greener California.
Joshua Tree National Park - Another Mojave Desert highlight, this park gets its name from the abundance of Joshua trees that call it home.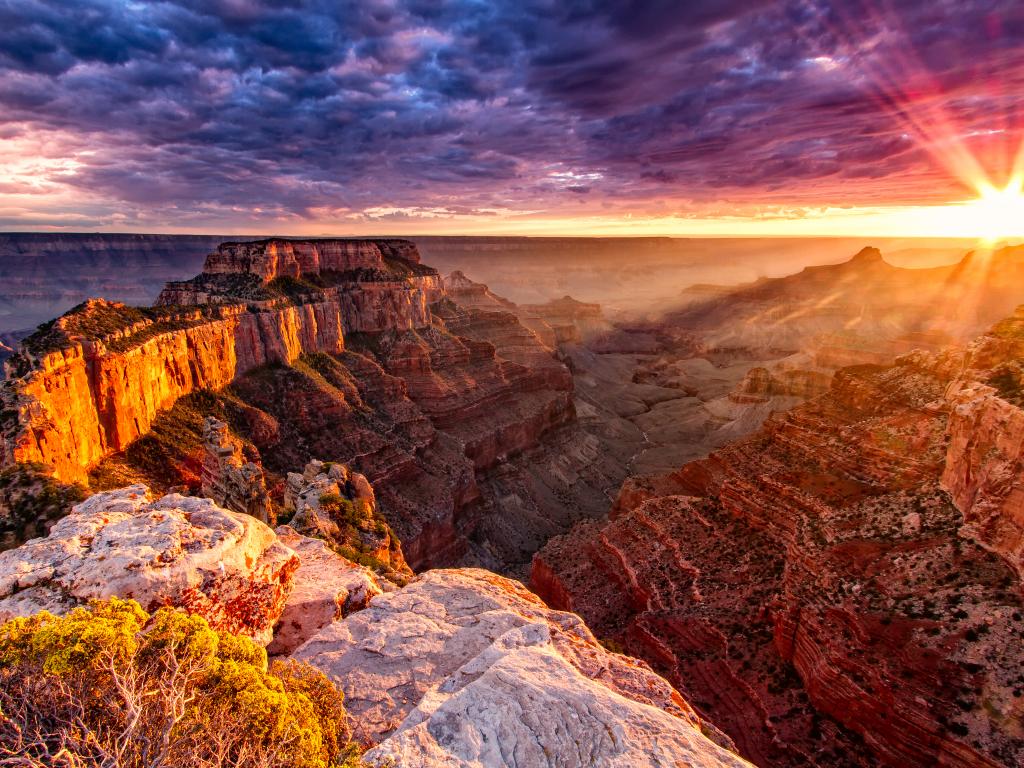 Best time to go on a road trip from Chicago to Los Angeles
The best periods to go on a road trip from Chicago to Los Angeles are between March and May as well as September through October. During these months, the city is less crowded and the weather is perfect for a stroll past all the outdoor attractions.
The best time to visit Los Angeles is in spring, when average daytime temperatures are in the mid-70s Fahrenheit without any extreme weather changes like heavy rains or deep smog. Moreover, due to lower rates of tourist visitations, it is likely that you'll find great discounts and deals on booking.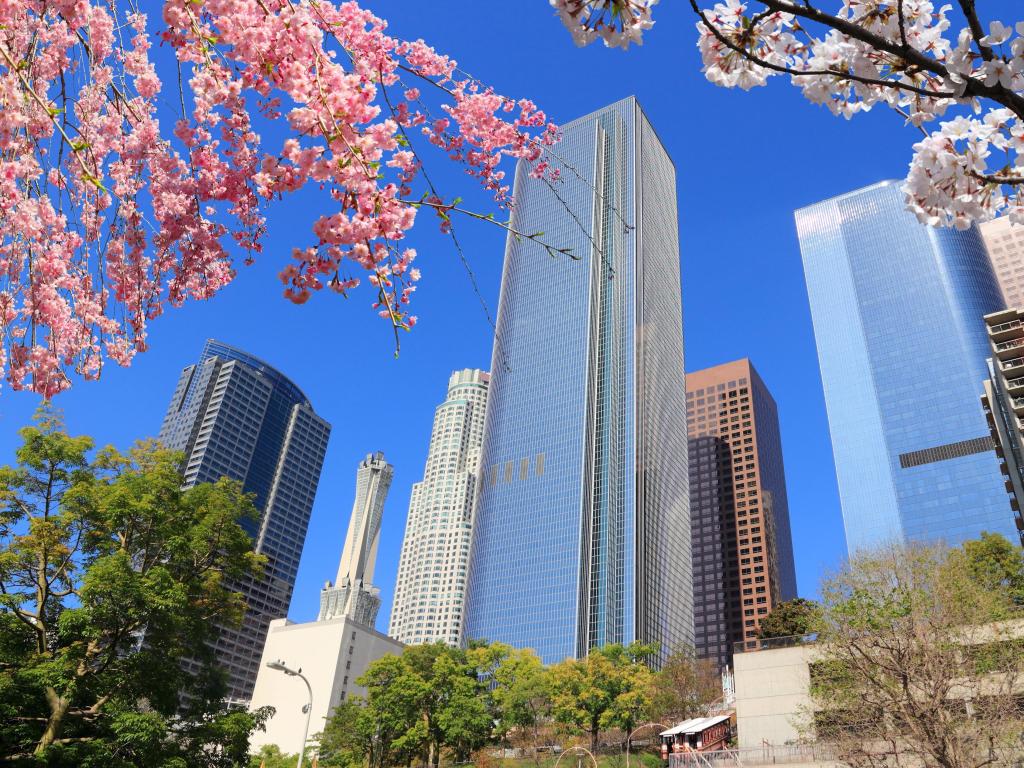 You can also check out Denver's epic Cinco de Mayo celebrations along the way. With a significant Mexican American population, the city goes all out for the celebration, and you'll join up to half a million people taking in the festivities.
Fall is also considered a preferable time for a getaway in the "City of Angels". Great deals on rooms are still available from September to November as long as you plan in advance. Temperatures are a tad bit cooler, hovering around low-70s.
A winter trip shouldn't be ruled out even though rain is very common. Temperatures gravitate towards the upper 60s and with some warm clothes and an umbrella, you'll do just fine. The summer weather could be at times uncomfortable but you can always head out to the beautiful Oceanside and cool off with a drink.