Road Trip From Chicago To Niagara Falls
A road trip from Chicago to Niagara Falls will take you from the windy city to the Cave Of The Winds - a famous attraction at the legendary falls.
A relatively long journey, around the shores of Lake Michigan and Lake Erie, this is a perfect pilgrimage for those looking to get out of the city and see one of the true wonders of nature.
The 555-mile road trip from Chicago to the Niagara Falls crosses 5 states and loops around 2 of the 5 Great Lakes. The drive will take 8 hours 30 minutes before stops but you will want to spread it over 2 to 3 days to make the most of your journey.
Read on to find out the best route to take, great places to see along the way and top tips for making the long drive to Niagara Falls.
How Far Is Niagara Falls From Chicago And How Long Will It Take To Get There?
The journey from Chicago to Niagara Falls is one that can be made in a single day if you so choose, but doing so would have you miss out on so many amazing sights and experiences along the way that it would almost seem pointless doing it as a road trip.
The fastest and shortest option when travelling between Chicago and Niagara Falls is a 530-mile route via Detroit and cutting through Canada, which takes around 8 hours to complete.
Taking just a little longer will allow you to have more interesting stops along the way and a more scenic route from Chicago to Niagara Falls. That's why the suggested route below is just a shade longer, at 555 miles and 8 hours and 30 minutes of driving.
You will want to take time to explore the nature and cities you'll be passing through along the way so I would strongly recommend taking a few days to make the drive with stops along the way.
Best road trip route from Chicago to Niagara Fallas
Beginning in Illinois, our journey will take us through Indiana, Ohio and Pennsylvania, before we arrive at our destination in upstate New York.
This route is certainly long and exciting and will have a lot to see and do along the way but the one thing it most definitely is not is complicated.
The I-90 that you'll follow out of Chicago and around the southern tip of Lake Michigan will take you almost the entire way - some 530 miles east towards Buffalo, New York. From Buffalo it's a simple matter of jumping on the I-190 for the very short final stretch north to Niagara Falls.
Best Places To Stop Between Chicago And Niagara Falls
There are a lot of great places you can stop over on your way around the Great Lakes from Chicago to Niagara Falls and it can be tough to choose the best options for breaking up your journey.
Here are some ideas for places you can stop for the night on your long road trip.
Overnight Stay In Cleveland, Ohio
The first stop suggestion is over halfway along the route, some 340 miles east of Chicago in the city of Cleveland, Ohio.
The 15th largest city in the U.S, Cleveland's greatest selling point is its fantastic views, as it lies on the banks of Lake Erie.
Home to numerous museums, a botanical garden and even the Rock & Roll Hall Of Fame, there's plenty to do to keep you occupied in the city.
If you'd rather keep the journey more focused on nature, then you've also got the options of a boat trip out onto Lake Erie or Cuyahoga Valley National Park just a little over 20 minutes from the city.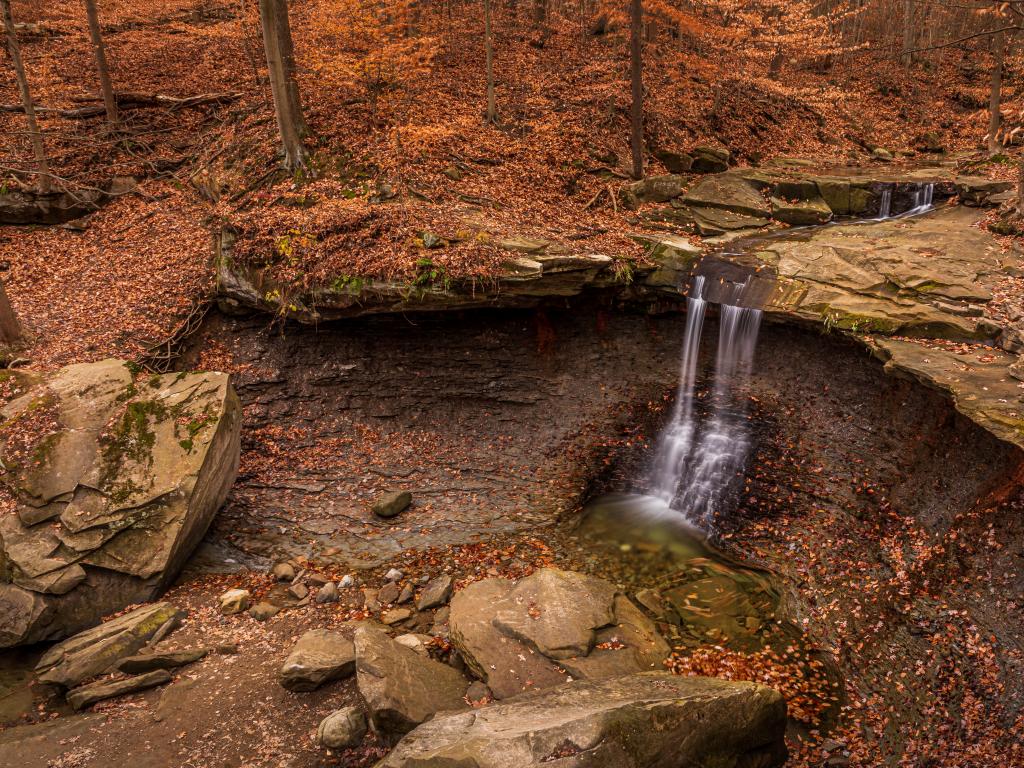 Cuyahoga Valley covers 51 square miles, where you can stroll in the rolling hills and sprawling forests, which are home to deer, beavers, foxes and an incredible 250 species of bird, including the legendary bald eagle.
If you decide to stop over in the city, Hilton Cleveland Downtown is a great place to relax after a long day of driving.
The luxurious 4-star hotel with an onsite restaurant, rooftop bar and spectacular views of Lake Erie has rooms with soaking tubs and although parking is a tad expensive at $30 for self park, it saves you the trouble of finding where to dump your car.
An Erie Feeling To Help You Unwind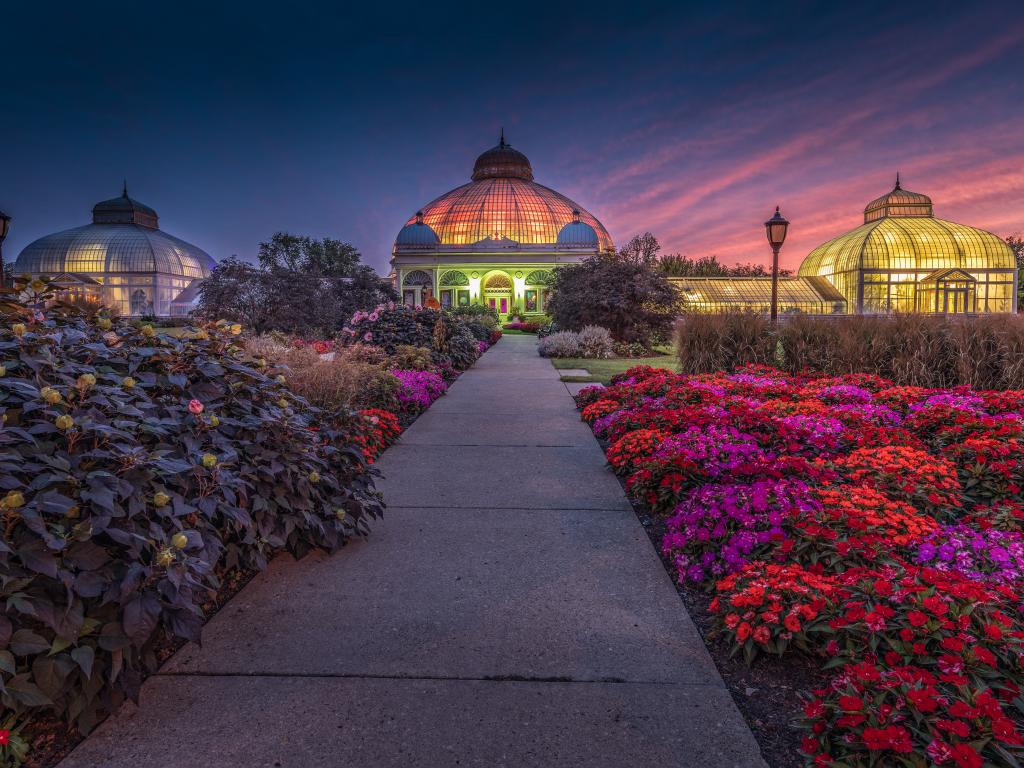 The next good stop is just over 100 miles northeast of Cleveland, in Erie, Pennsylvania.
The 4th largest city in the state, Erie lies on the banks of the lake after which it was named and will leave you around 118 miles (2 hours) from Niagara Falls.
It's standing as the state's 4th largest city can be deceiving, as this is a friendly, chilled out place, where you can take a minute to enjoy the local sights and sounds.
Some of the main attractions include Presque Isle State Park right on the waterfront and Lake Erie Beach around an hours drive outside the city.
It's also the port for the legendary flagship Niagara, which fought in The Battle Of Lake Erie during the War Of 1812. Considering we're on our way to Niagara Falls, it only seems right to stop and check out its namesake.
The Sheraton Erie Bayfront Hotel stands right by the water and features spectacular views out across the great lake. Perhaps the only thing better than its views are its luxurious rooms and facilities, which will leave you wanting much more than just a single night here.
From Chi-Town to C-Town
The second largest city in the state of New York, much like Erie that doesn't tell the whole story, as Buffalo's 255,000 population is only a fraction of that of New York City.
A location often overlooked and considered merely a means of getting to Niagara Falls, the city of Buffalo has plenty to offer in its own right.
To carry on our watery theme why not pay a visit to the world's oldest fireboat, the Edward M. Cotter? Or how about a trip to one of the city's 50 art galleries, its science museum, or the 3rd oldest zoo in the entire United States.
Being located only 30 miles from the falls themselves, it's also the perfect location to stay when you make your visit, to save you having to take all your luggage with you and have more to do and see in the evenings.
The stunning 4-star Buffalo Marriott at LECOM HARBORCENTER hotel is located right on the waterfront and features stylish rooms, bars and restaurants.
The hotel is a few blocks away from Downtown, but you benefit from a huge (and very well priced) car park right next to it which is a mighty useful feature for a road trip.
Beware that the hotel is part of a complex that includes the KeyBank Center - home to NHL's Buffalo Sabres. On nights when the Sabres are playing, you may find it'll take you a little while to park up and get a room, but that's about the only downside.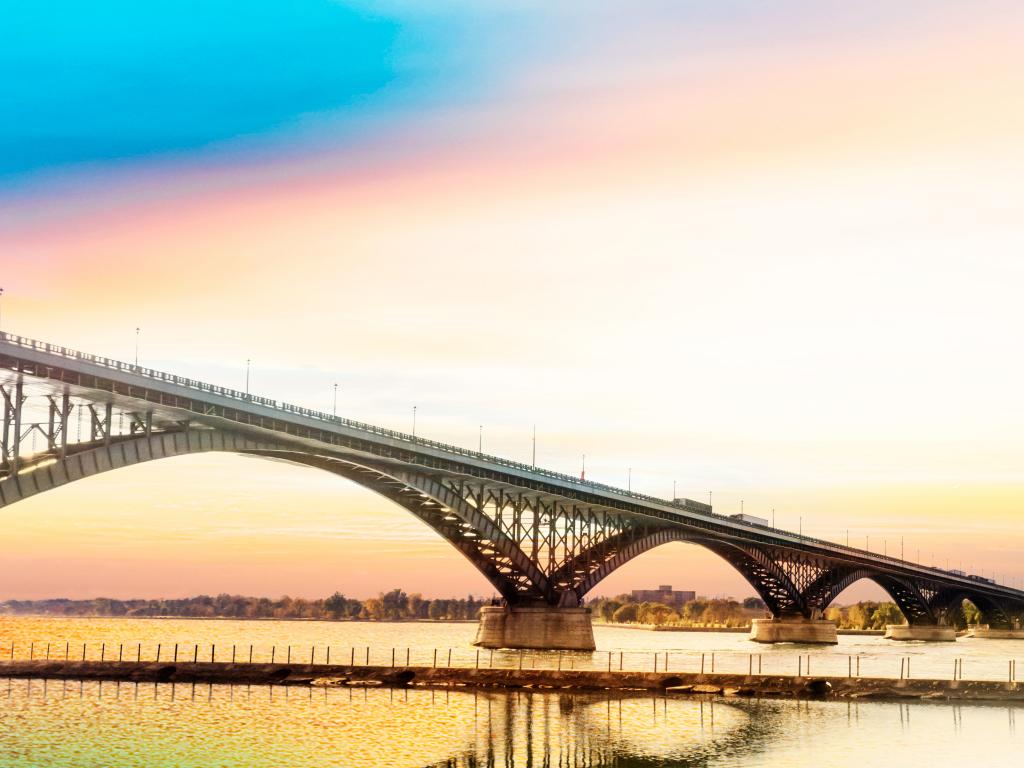 Things To See On A Road Trip From Chicago To Niagara Falls
To break up the long road trip from Chicago to Niagara Falls, here is a list of some of the best places to stop along the way. From National Parks to quirky towns, there are a lot of interesting spots to stretch your legs if you don't want to spend 9 hours straight sat in the car.
Lake Michigan - The first part of your journey will take you around the southern point of Lake Michigan, the second largest of the Great Lakes and the only one located entirely in the United States.
Indiana Dunes National Park - The 2nd most recent addition to the register of national parks, Indiana Dunes features almost 25 miles of sand dunes, rolling along the shores of south-eastern Lake Michigan.
Harbor Country, Michigan - a little detour off the route, this very rural part of Michigan has stunning little towns with harbors, wineries and a relaxed country vibe.
Toledo, Ohio - The 4th largest city in Ohio, Toledo is famed for its history of jazz music and has museums, galleries and bars dedicated to it.
Lake Erie - With a surface area of 9,910 miles, Lake Erie may be the second smallest of the Great Lakes but it is still quite a sight to behold.
Cleveland, Ohio - The largest metropolitan area in the state of Ohio.
Cuyahoga Valley National Park - 51 square miles of farmland, forests and rolling hills, filled with an incredible collection of wildlife, along the banks of the Cuyahoga River.
Presque Isle State Park - Covering over 3,000 acres of land and water outside the city of Erie, Pennsylvania, Presque Isle features gorgeous views of Lake Erie. Containing many rare and endangered species of animals and plants, this is the perfect stop for those wanting to get a little closer to nature.
Erie, Pennsylvania - The 4th largest city in Pennsylvania, located right on the shores of the Lake it's named after.
Lake Erie Beach - A beautiful beach, with golden sands, on the shores on Lake Erie. During the warmer months, this is the perfect place to stop and get some relaxation time in along the way.
Buffalo, New York - The second largest city in the state of New York, behind only NYC and only a stone's throw from Niagara Falls.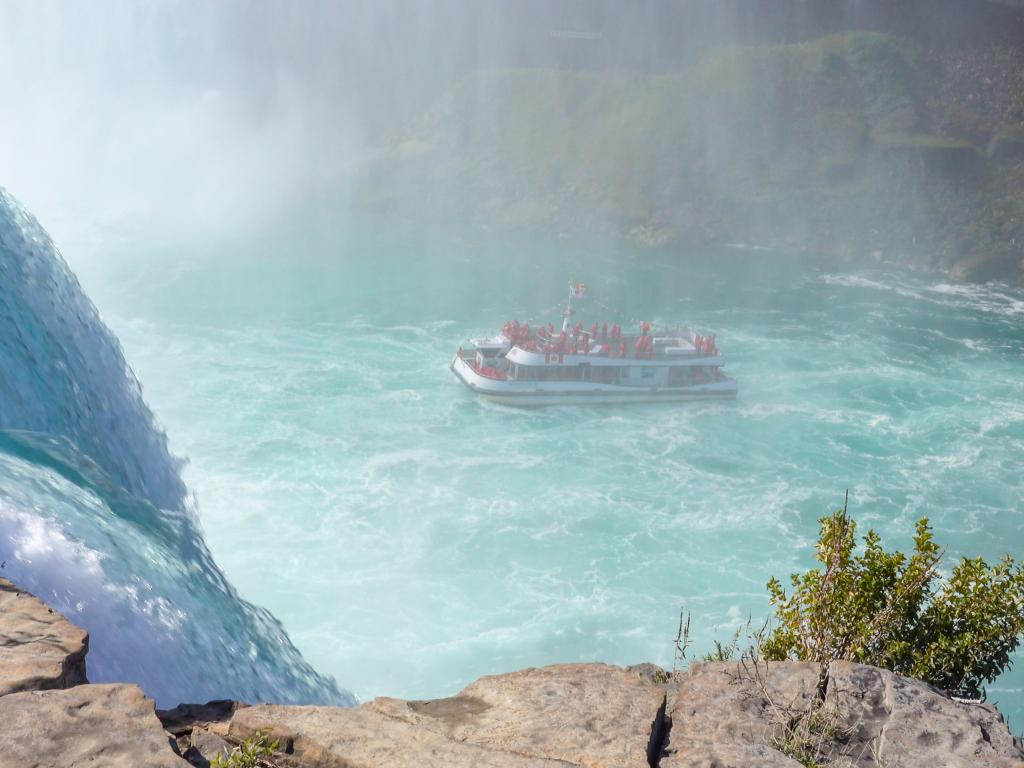 Best Time To Go On A Road Trip From Chicago To Niagara Falls
The road trip from Chicago to Niagara Falls will take you through parts of the country particularly known for their harsh winters.
Considering this is a trip where most of the attractions are located outdoors, it's therefore better to take it during the warmer months. Throughout winter many of the state parks will have limited access, you certainly won't want to spend any time on the beach and even the falls themselves can be less accessible.
When I visited in February, for example, their base had iced over. While it was certainly a sight to behold, if this is a one-off trip you don't want to miss the chance to experience a boat ride right out to the base of this legendary location.
For the most complete experience, consider making the journey between when the temperatures have started to rise in early may to the beginning of fall in September.