Road Trip from Chicago to Orlando
If you're looking for a truly memorable vacation, then a drive from the shores of the Great Lakes to the heart of the Sunshine State is the trip for you. A road trip from Chicago to Orlando is as varied as they come, taking you past mountains, lakes, stunning coastline and vibrant cities.
The 1,320-mile road trip from Chicago to Orlando will take 22 hours to drive, taking in Indianapolis, Louisville, Lexington, Nashville, Gatlinburg, Knoxville, Bryson City, Birmingham, Gainesville, Daytona Beach, Orlando and the Great Smoky Mountains.
Read on for our tips on the best route options, where to stay, the best time to travel, and our top picks for things to do along the way.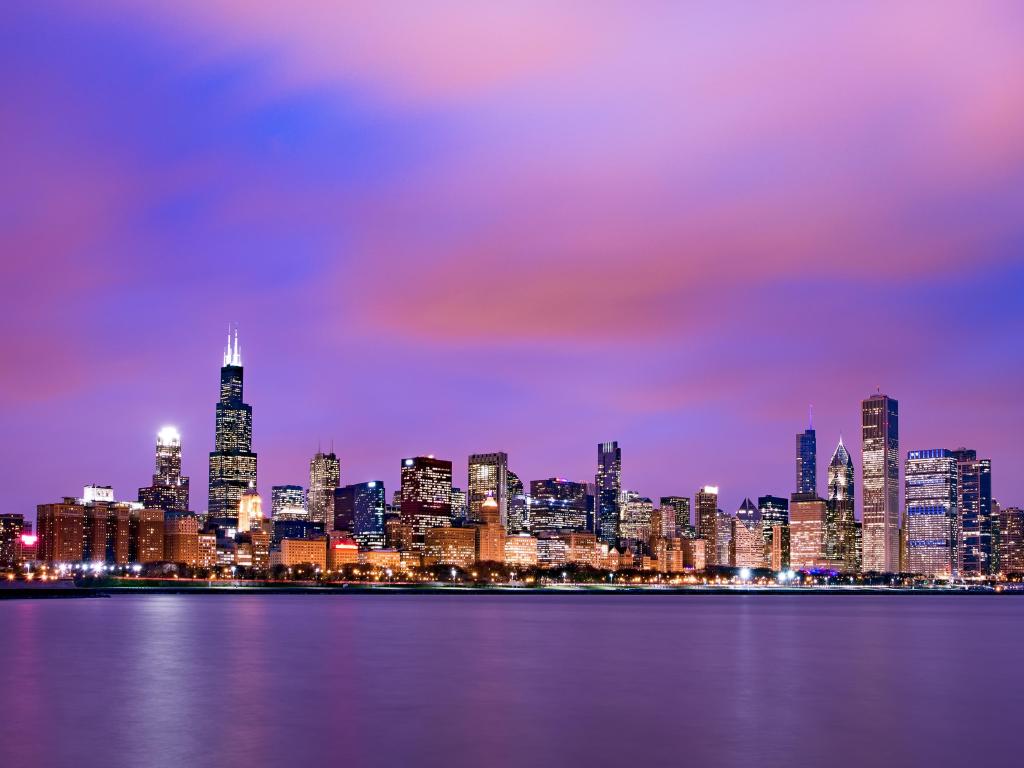 How far is Orlando from Chicago and how long will the road trip take?
Comparison of road trip route options between Chicago and Orlando

| Route | Distance | Driving Time |
| --- | --- | --- |
| Bryson City Route | 1,320 miles | 22 hours 10 minutes |
| Birmingham Route | 1,220 miles | 19 hours |
The most direct route between Chicago and Orlando is a little over 1,150 miles, but our recommended routes extend the journey to include trips to Bryson City and Birmingham, potentially adding upwards to extra 100 miles to your trip.
The Bryson City Route will take you 22 hours and 10 minutes of nonstop driving, covering 1,320 miles without accounting for any stops you might want to make on the way.
Another fantastic alternative is our Birmingham Route, which will take just about 19 hours to drive and cover 1,220 miles.
We recommend taking at least 5 days to complete the trip, although be sure to allow yourself as many days as your time will allow, fully exploring the attractions at each of your overnight stops.
Best road trip route from Chicago to Orlando
The best route will depend purely on the type of attractions and scenery you're looking for on your road trip from Chicago to Orlando as both of our suggested routes offer fantastic attractions.
Both of our route options begin by heading to Louisville, at which point they diverge, giving you the chance to visit the Great Smoky Mountains to the east or Nashville and Birmingham to the west.
Our Bryson City Route takes you past stunning mountains, lakes and small towns and - of course - the legendary Blue Ridge Parkway, which is a veritable pilgrimage point for every road tripper.
The Birmingham Route, by contrast, offers more in terms of entertainment and attractions, passing through the cities of Nashville, Huntsville and Birmingham. Choosing this route will give you ample opportunity to enjoy a wide variety of activities from concerts to museums.
Beyond Tifton, both routes follow the same directions to Orlando.
How to drive from Chicago to Orlando
The map above shows our suggestions for the best road trip routes between Chicago and Orlando. Keep reading for detailed descriptions of both routes, where to stay on either, and the best things to do on the way.
Bryson City Route
Leaving Chicago, follow the shores of Lake Michigan on Interstate 90 to the town of Gary, then head south on Interstate 65 passing Cedar Lake and Remington to arrive in Indianapolis.
Continue south on I-65 for a further 115 miles, traveling through beautiful horse country and the rolling hills of Kentucky to arrive at Louisville.
From Louisville follow Interstate 64 E passing Shelbyville before arriving in Lexington.
After your visit to Lexington, take Interstate 75 S heading through the rugged landscape of the Daniel Boone National Forest, passing Corbin and Williamsburg before arriving in Knoxville.
Here you can visit the observation deck at Sunsphere, offering breathtaking 360-degree views from downtown to the Great Smoky mountains. Enjoy the scenic Tennessee river with a trip on the Star of Knoxville Riverboat.
From Knoxville, head onto Highway 441 heading south through the most amazing mountain scenery to Pigeon Forge, then continue to Gatlinburg. Stay on Highway 441 and you will reach the South End of the famous Blue Ridge Parkway.
From this point, we recommend you take a short (hour and a half) detour so that you can experience the beauty of the Blue Ridge Parkway - although you could choose to head straight for Bryson City via Highway 19.
If you take the Blue Ridge Parkway option, we suggest sampling a 25-mile segment that begins at the South End Entrance (off Highway 441) and ends at the exit for Highway 23.
Highway 23 then merges onto Highway 74, and you'll reach Exit 67 for Bryson City, heading west. This quaint mountain town is an ideal point for an overnight stop.
Leaving Bryson City on US-74 W, pass Wesser and the picturesque Nantahala National Forest, before reaching Mineral Bluff where you'll follow US-76 W and GA-515 W all the way to Marietta.
From Marietta, take the I-75 S through the heart of Georgia, passing Macon and Perry, before arriving at Tifton, where our two routes converge.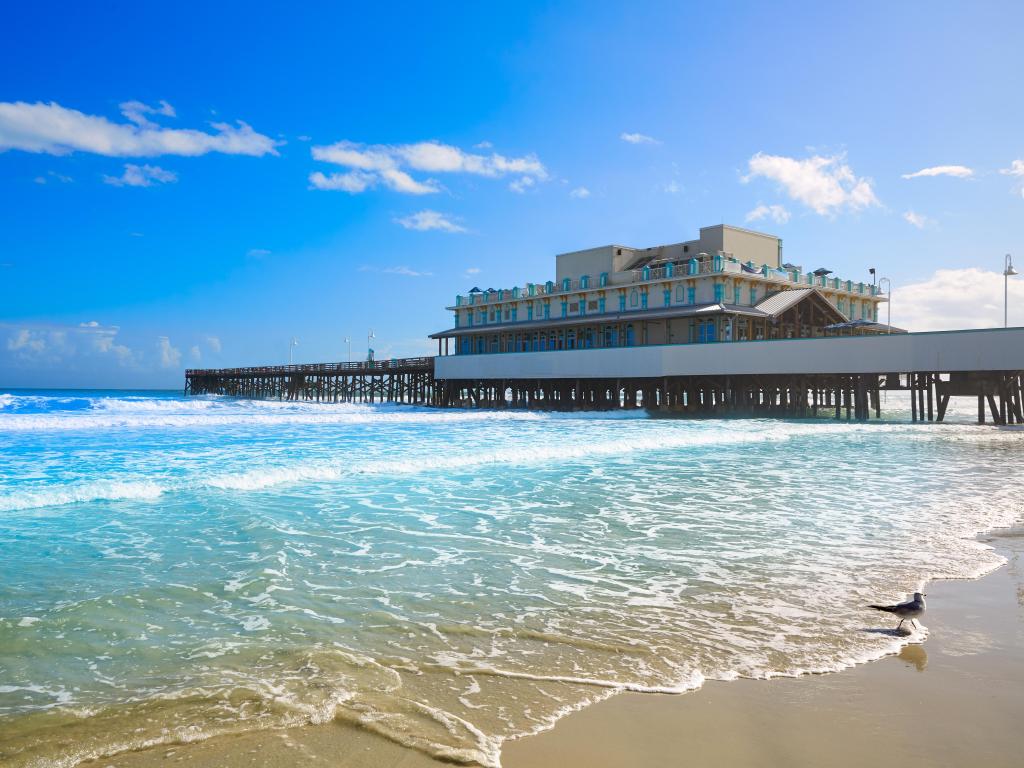 Birmingham Route
Both of our routes are identical up until you reach Louisville, so please refer to the section above for directions up to this point.
From Louisville, take Interstate 65 S passing Elizabethtown and Bowling Green before arriving at the home of country music, Nashville.
Rejoin I-65 S, passing Franking and Spring Hill, enjoying the beautiful Alabama scenery before arriving at Huntsville. Cross the Tennessee River and head past the Wheeler National Wildlife Refuge and continue south past Fultondale before arriving at Birmingham.
From Birmingham, follow US-280 E, passing Auburn and Columbus until you reach Tifton where our two recommended routes converge, and follow the same route to Orlando.
Leaving Tifton, you'll join I-75 S and soon enter the Sunshine State, passing Gainesville, home to the Museum of National History, before arriving at your final destination, Orlando.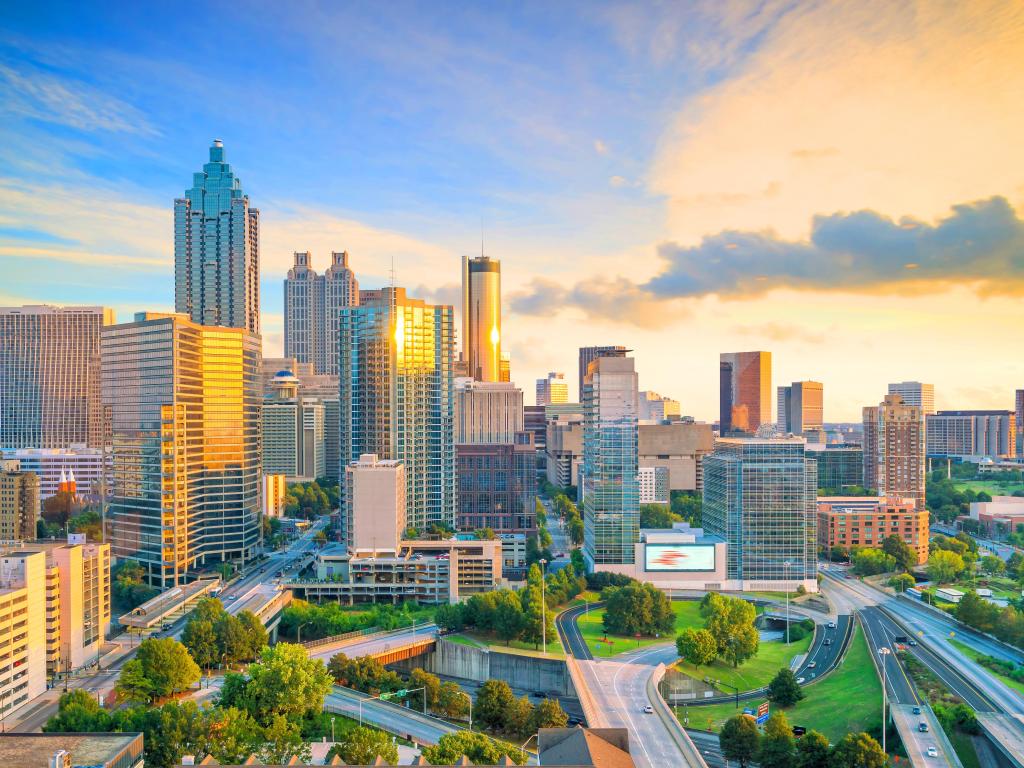 Best places to stop between Chicago and Orlando
If you're looking for the best places to stop between Chicago and Orlando, you'll be spoilt for choice. Read on below for our favorites to make a stopover, filled with amazing attractions that you will remember for a lifetime!
Dive into history in Louisville
Whichever route you decide on, you'll be heading to Louisville. Located just under five hours from Chicago on both routes - and famous for the Kentucky Derby - Louisville is a perfect place to relax at the end of your first day.
While you are visiting make sure to stay at the superb Hotel Genevieve, where this fun, boutique, hotel is sure to put a spring in your step. The Bar Genevieve is a must-visit during your stay, with panoramic views of Louisville that you can enjoy as you sip an aperitif at the rooftop bar.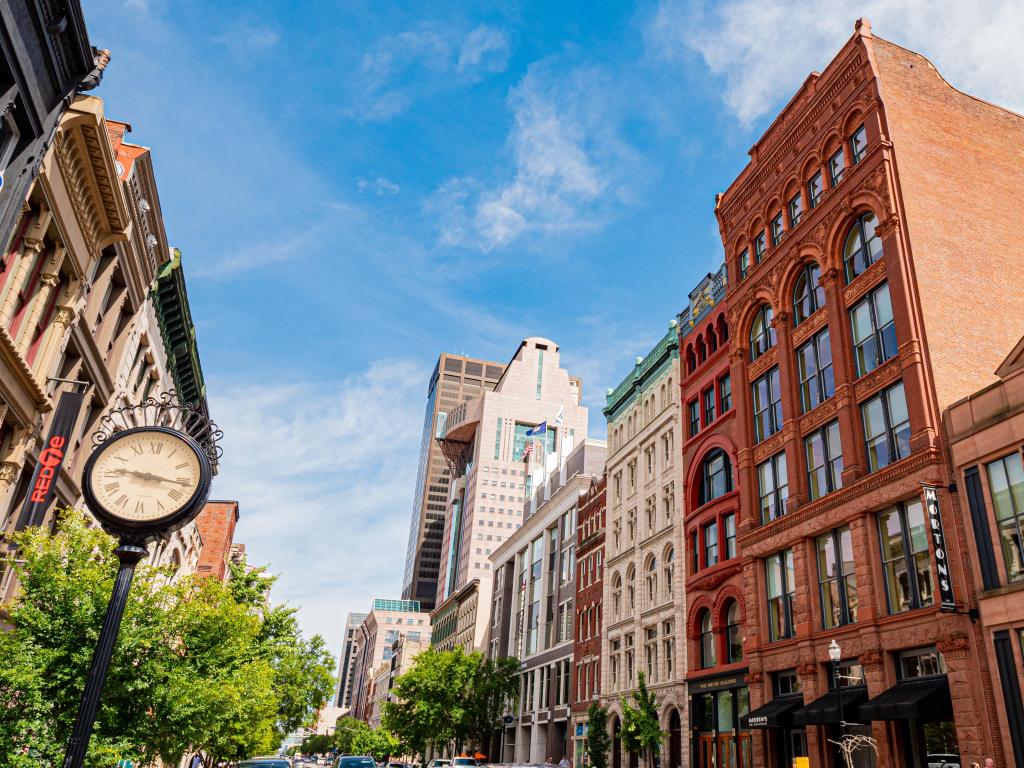 This stunning, unique hotel also has three great restaurants on-site serving up delicious American and French cuisine, either to enjoy in one of the luxurious lounges or from room service. If you fancy heading out instead then you are also close to many other great dining options.
This hotel is in the heart of all the action, just a couple of blocks from top attractions including Louisville Waterfront Park and Thomas Edison House, and just a short drive to popular Louisville Slugger Museum Factory and Louisville Auto Museum. Ideal for a night or two stopover.
Enjoy the country music capital, Nashville
Located conveniently about 7 hours away from Chicago on the Birmingham Route, Nashville is a fantastic place to make an overnight stay to admire the iconic "the Music City" in all its glory.
With so much to see and do in the capital of Tennessee, your hotel's location is key. Enjoy a stay at The Hermitage Hotel, a stunning downtown landmark boasting stunning rooms, and within walking distance of many of the city's best attractions.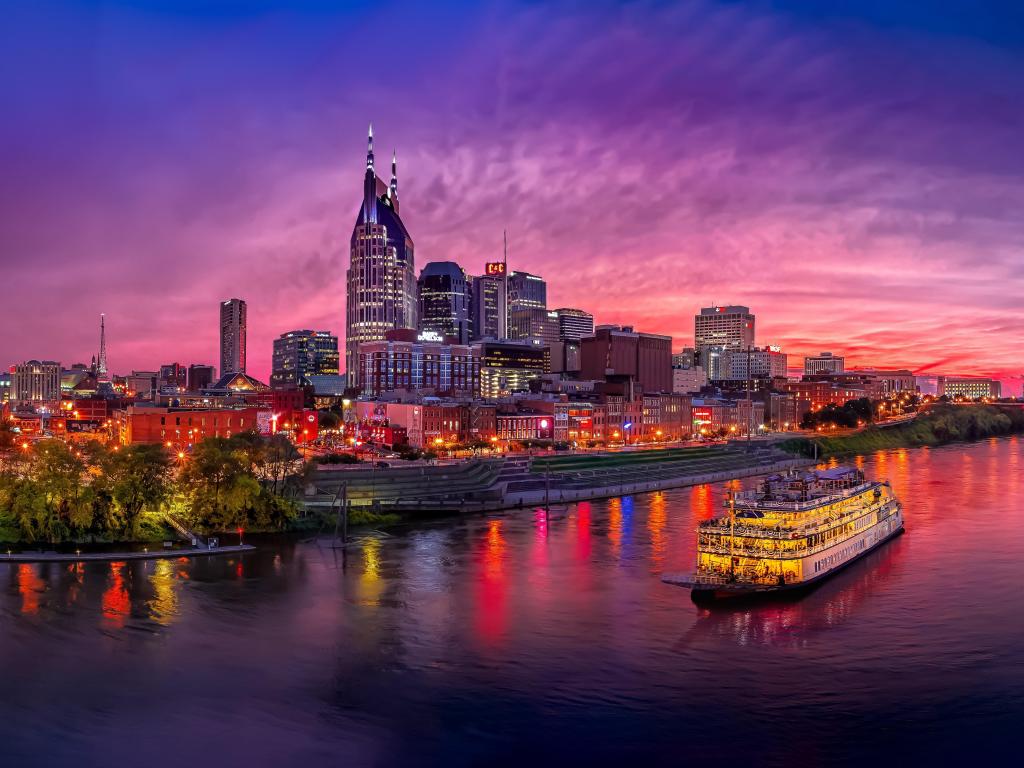 Based in the heart of Nashville, you'll be perfectly placed to enjoy the vibrant music scene, visit one of the fabulous honky-tonk bars, and marvel at the wonderful architecture.
A trip to Nashville wouldn't be complete without a trip to the Grand Ole Opry. This is the most famous Country Music venue in the world, and you will have the rare opportunity to watch a live show during your visit and make your stay even more memorable.
After a long day chasing after history and amazing music, you might want to head downtown to sample some of Nashville's famous comfort food dishes. Alternatively, you can return to the hotel to enjoy fine dining on-site at the Capitol Grille.
Get close to nature in Nantahala
Bryson City is located a little over 11 hours on the (you guessed it!) Bryson City Route. This peaceful mountain town is situated on the edge of the Great Smoky Mountains National Park, which makes it a truly spectacular place to spend a night or two.
Situated in Bryson City, The Lodge Nantahala River offers the chance to be at one with nature in a truly stunning woodland location, surrounded by a magnificent mountain landscape. A perfect place to relax and reflect after an amazing day of driving.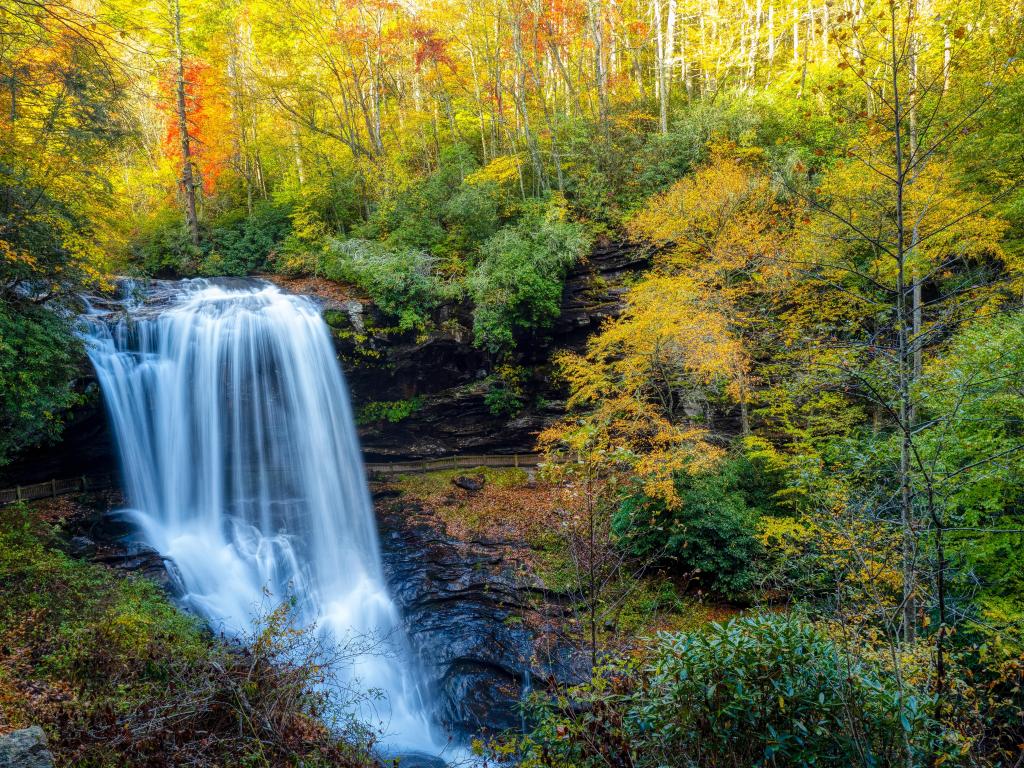 Take in the mountain views from your balcony and spend a night out stargazing by a roaring outdoor fireplace in this idyllic mountain getaway, a paradise for outdoor and nature lovers.
With the Nantahala River cascading through the Gorge, this is a whitewater rafting paradise, and there are miles of hiking trails to explore. If you're feeling energetic, a trek to Clingmans Dome observation tower, at 6,634 feet offers a stunning vista over the national forest.
Take a scenic ride on the Great Smoky Mountains Railroad, through the North Carolina mountains, and valleys, and along the Nantahala and Tuckasegee Rivers. Add to the experience by opting for a vintage open-air car before heading back to the hotel for a much-deserved rest.
Things to see on a road trip from Chicago to Orlando
Whichever route you choose, there are tons of landmarks along the way no matter which way you choose to drive from Chicago to Orlando.
You are spoilt for choice when it comes to destinations to visit on this amazing adventure. To assist you in your route planning, here are some of our top recommendations for the best attractions along the route.
Both Routes
Indianapolis, Indiana – Famous for the Indy 500, Canal and White River State Park, the Children's Museum, and the National Art Museum of Sport.
Louisville, Kentucky - A must for all sports lovers, host to the Kentucky Derby and the famous Louisville Slugger Museum and Factory, where Major League bats are produced. This city is also home to the Kentucky Derby Museum.
Gainesville, Florida - Gainesville is known for its architecture and the beautiful natural scenery that surrounds it. This lovely city is home to the Cade Museum for Creativity and Invention, Devil's Millhopper and the Florida Museum of Natural History.
Daytona Beach - Enjoy 23 miles of outstanding, wide, flat beach. Stroll along its lovely boardwalk and pier and visit the iconic Ponce de Leon Inlet Lighthouse.
Ocala National Forest - Take a scenic break before you head into the commotion of the city. In this stunning forest, you can hike, camp, fish and enjoy water activities.
Bryson City Route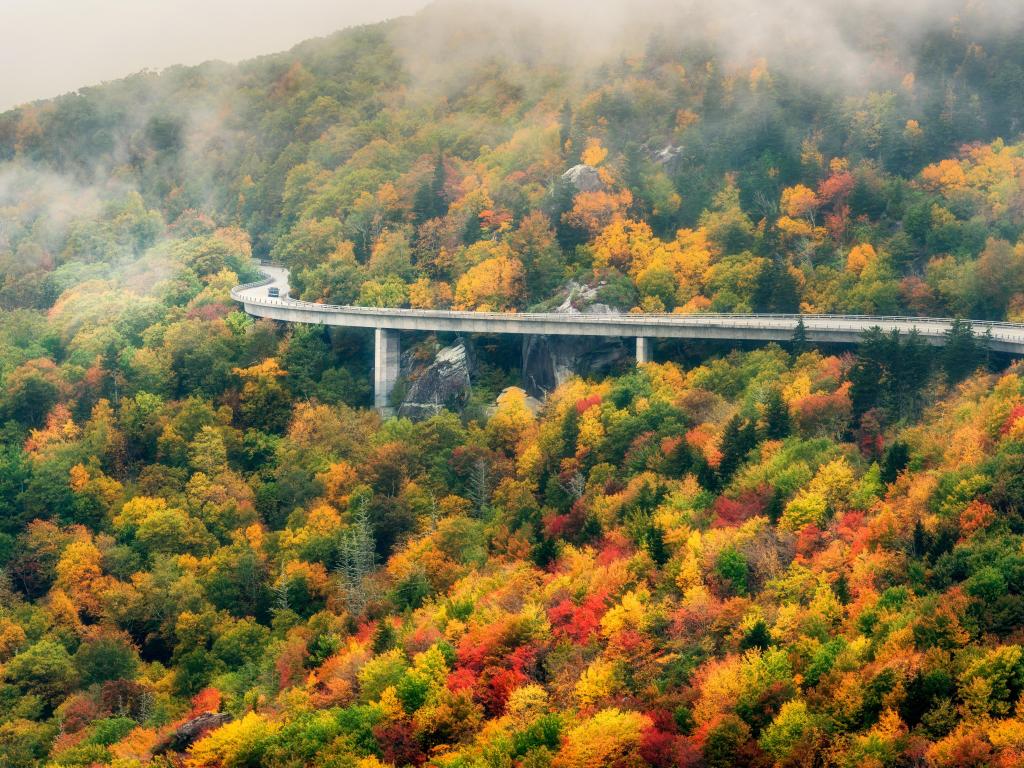 Lexington, Kentucky - Lexington is known as the horse capital of the world and is filled with numerous historical, natural, and cultural attractions to explore.
Pigeon Forge, Tennessee - Mountain town in eastern Tennessee, where Dollywood is located. An Appalachian-themed Park that has rides, a water park, and a museum of her memorabilia.
Knoxville, Tennessee - Known for its delicious food and renovated downtown, Knoxville is a perfect place to stop to see some attractions and admire the majestic Sunsphere.
Blue Ridge Parkway - Named "America's Favorite Drive" Blue Ridge Parkway offers stunning scenic views and access to beautiful hidden gems such as Blowing Rock.
Gatlinburg, Tennessee - Gateway to the Great Smoky Mountains National Park, and home to the 407-ft Space Needle observation tower and the Sky Lift cable car.
Bryson City, North Carolina - Known as the perfect gateway to the Great Smoky Mountains National Park, Bryson City is also home to Deep Creek Trail, Swain County Heritage Museum and Deep Creek Winery.
Nantahala National Forest - Why not take a break from driving and enjoy a moment in nature? You can hike, bike, climb, fish and horseback ride here.
Mammoth Cave National Park - Experience thousands of years of human history, rolling hills, deep river valleys, and the world's largest cave system.
Jack Daniels Distillery - Take a distillery tour, explore the history of Jack Daniels, and see how the world's most famous bourbon is made.
Chattanooga, Tennessee - Set along the Tennessee River in the foothills of the Appalachian Mountains, this city is famous for the Civil War battle that is honored at the Chattanooga Museum.
Ruby Falls - An immense cavern in Chattanooga featuring the tallest underground waterfall in the United States
Marietta, Georgia - Be transported back in time as you walk up the drive, through lush gardens and giant magnolias to Brumby Hall, home to the Gone with the Wind Museum, with its extensive collection of movie-related memorabilia.
Birmingham Route
Bowling Green, Kentucky - This lovely city is where you can visit the National Corvette Museum or explore the Lost River Cave by boat.
Atlanta, Georgia – Birthplace of Martin Luther King Jr and Coca-Cola, both with excellent museums. Head to the Georgia Aquarium, and enjoy its great food and wonderful nightlife.
Nashville, Tennessee - Country music capital of the world. Check out the Grand Ole Opry House, The Country Music Hall of Fame and Museum, and the iconic Ryman Auditorium.
Huntsville, Alabama - Also known as "Rocket City", Huntsville played a crucial role in space technology since the 1950s. You can explore the city and learn about its impressive past.
Birmingham, Alabama - Birmingham, also known as "the Magic City", is the largest city in Alabama and has something for everyone. Enjoy a journey of discovery at the McWane Science Center or see your favorite artist at the world-famous Alabama Theater.
Montgomery, Alabama - Immerse yourself in the local arts scene by visiting the Alabama Shakespeare Festival and the Montgomery Museum of Fine Arts. Visit its beautiful parks and its wonderful zoo.
Grand Ole Opry House - Performing on this live stage is considered country music's biggest honor. Take in a show in this truly historic venue.
Parthenon - Visit the unique Nashville attraction that's twinned with the ancient structure in Athens.
Stone Mountain Park – Set in 3200 acres of incredible scenery, enjoy outdoor activities and take a cable car ride to its historic carved peak.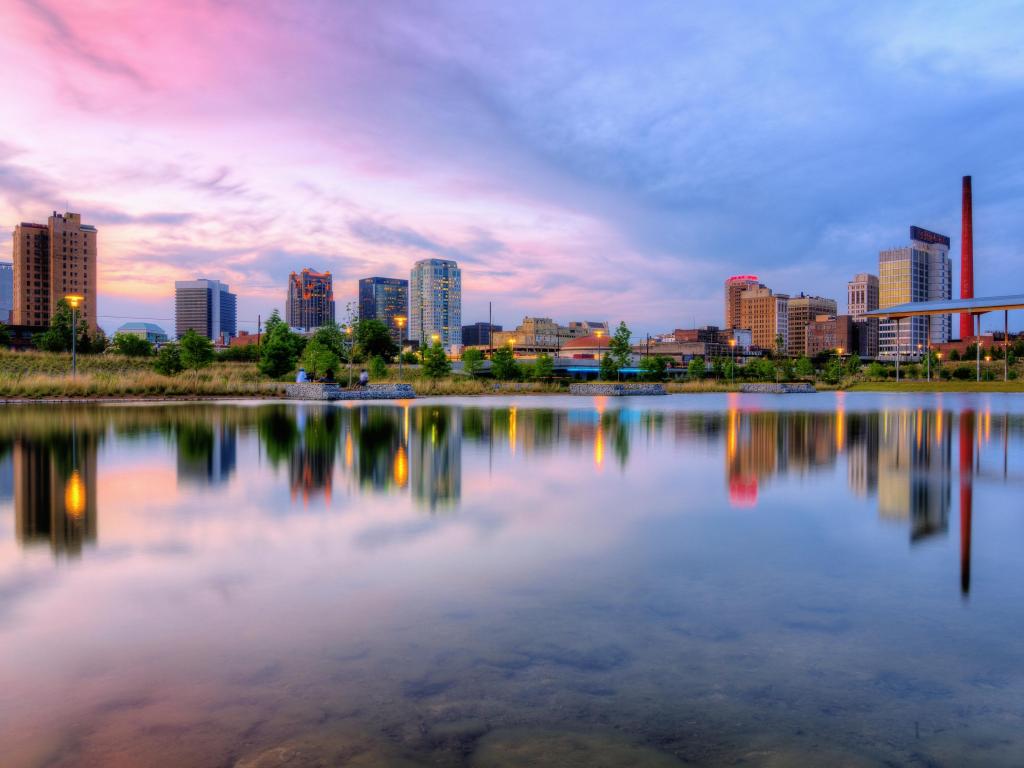 Best time to go on a road trip from Chicago to Orlando
Taking a road trip from Chicago to Orlando means you're heading south and will enjoy good weather no matter the time of year. Driving conditions won't be an issue on your trip unless you're planning a wintertime escape to the mountains.
If you aren't the biggest fan of high heat and humidity, plan your journey for spring or fall when the weather is a bit more temperate at 70-75 degrees Fahrenheit.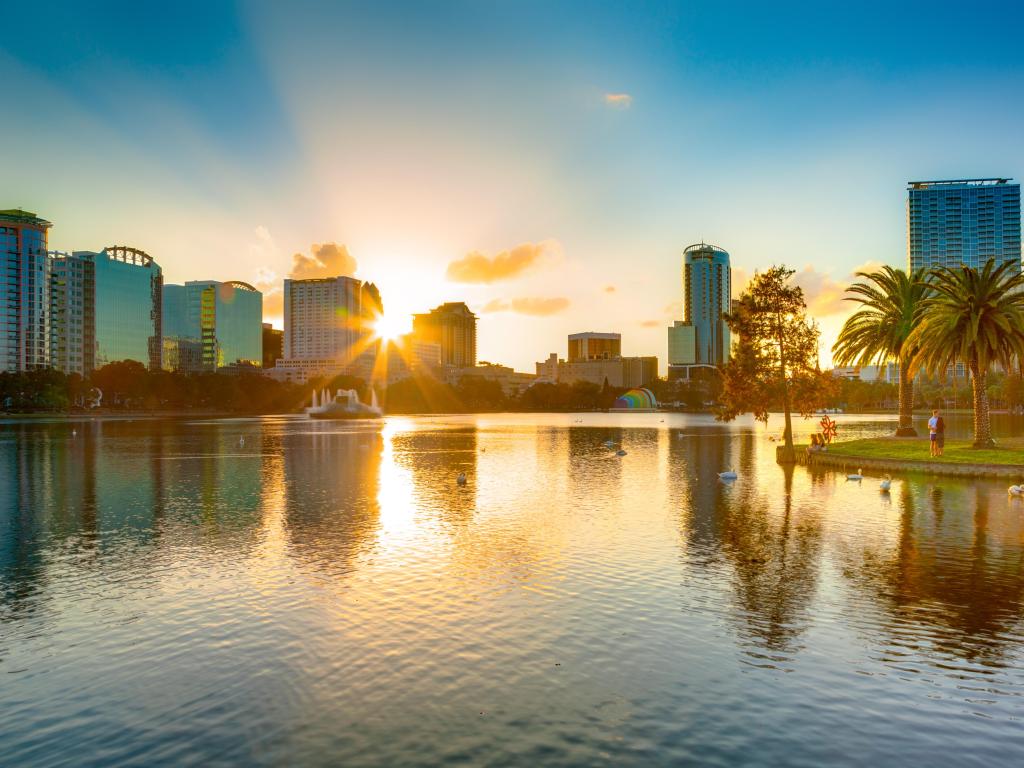 Orlando is famed for its theme parks, and they are extremely popular during school breaks, so expect bigger crowds from June to August, December, and on major US holidays.
Many attractions such as Walt Disney World Resort and Universal Studios Orlando enjoy year-round popularity and there isn't necessarily a "shoulder season".
The ideal time for visiting Orlando is from March to May, or September to November, where you'll find slightly smaller crowds and the most enjoyable temperatures ranging from the high 50s to mid-80 degrees Fahrenheit. You'll also avoid the worst of Florida's storm season.
Visiting Orlando at Christmastime is a truly magical experience as the parks are decked out with much more than just boughs of holly. Likewise, the Great Smoky Railroad Polar Express offers a journey through the peaceful wilderness to the North Pole.