Road Trip From Chicago To Seattle
A road trip from Chicago to Seattle will take you on a journey not that dissimilar to what the early American settlers would have undertaken. Crossing entire states and mountain ranges, you will get to see and experience the real American west.
The 2,100-mile road trip from Chicago to Seattle will take you at least 30 hours to drive. Highlights along the way include Bozeman, Missoula, Badlands National Park, Bighorn National Forest, Mount Rushmore and Yellowstone National Park.
If you like the sound of a road trip adventure between these two cities, continue reading for more information about the best route to take, places to stay, what to see along the way, and the ideal time of year to make this fantastic trip.
How far is Seattle from Chicago and how long will the road trip take?
The road trip from Chicago to Seattle will cover over 2,000 miles, taking you at least 4 days to drive. However, it would be best to split the trip up into a week, maybe two, if you have the time.
There is a lot to see along the way. The route will take you across the plains of South Dakota, through the foothills of Wyoming, into Yellowstone National Park before you descend to the Pacific.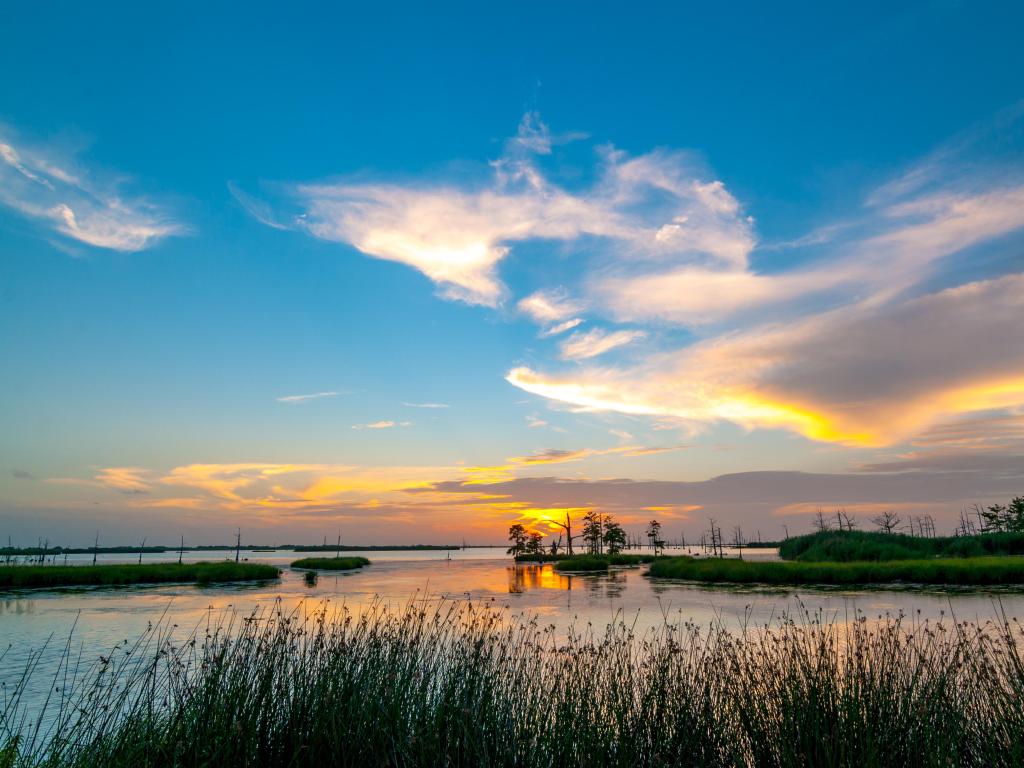 The driving takes place mostly on interstates, which is perfect because you know you won't be adding unnecessary time or distance. You can take a few short detours on highways to visit some attractions along the way, depending on your time constraints and energy levels.
The cities along this route are not huge, meaning traffic should not be too much of an issue as long as you avoid rush hour. Traffic is likely to be worse at the start and end of your journey: in Chicago and Seattle, respectively.
The best route for your road trip from Chicago to Seattle will take you on an epic adventure across some of America's western states. Read on for more information about the exact route and your best options for stops along the way.
Best road trip route from Chicago to Seattle
Leave the shores of Lake Michigan and the city of Chicago by heading north on Interstate 90. The interstate will lead you northwest out of the city and through the suburbs of Chicago.
At Rockford you will make a sharp turn north, still on Interstate 90, taking you across the border into Wisconsin. You will pass along the outskirts of Madison and Wisconsin Dells before heading in a more westerly direction.
Cross the mighty Mississippi River and enter Minnesota. Your time in Minnesota will be short, passing Rochester, Austin, and Albert Lea before entering South Dakota near Sioux Falls.
Remain on Interstate 90 as you cross the width of this South Dakota, fording the Missouri on the way. Near Rapid city you can detour into the Black Hills National Forest before rejoining Interstate 90 and continuing on.
Interstate 90 will lead you past the monolithic Devils Tower, which is worth a detour to see it up close. You can get to it by using Highway 14. Return to Interstate 90 heading for Bighorn National Forest.
If it appeals, Bighorn National Forest can be accessed via Highway 14 or Highway 16. The interstate then heads north for a short while, before crossing the Bighorn River and swinging west again.
Billings is your next landmark. For the adventurous among you, you can detour into Yellowstone National Park by turning onto Highway 89. This detour will add about an hour each way but is highly recommended.
Return to Interstate 90 and continue heading west into the mountains. Remain on the interstate as it carves its way through the mountains before crossing into Washington.
Pass through western Washington's plains. Once you enter the rolling hills of Eastern Washington, you know you are approaching your final destination. Interstate 90 will take you directly into the center of Seattle, ready for you to explore.
Best places to stop between Chicago and Seattle
Figuring out how to break up your road trip from Chicago to Seattle can be daunting. To help you plan your stops we have picked out a few fantastic places to stay. Read on for more details to help you make your choice.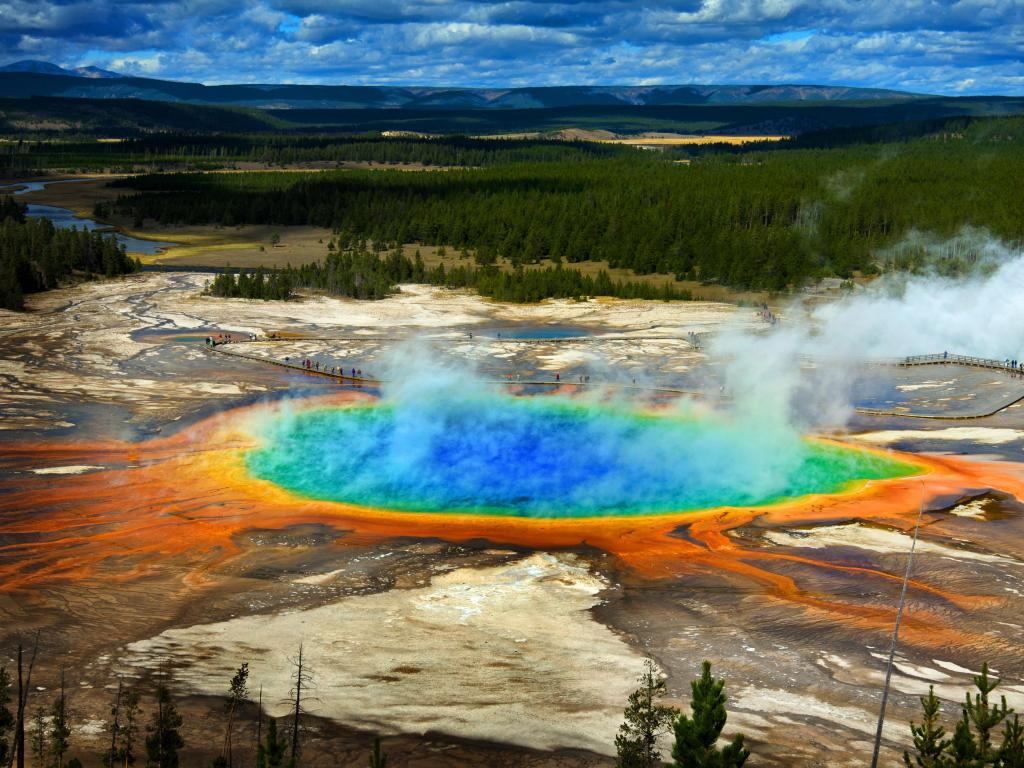 Get back to nature in the Black Hills National Forest
Located just to the west of Rapid City in South Dakota, the Black Hills National Forest is just over a third of the way from Chicago to Seattle. With its lush, dramatic vegetation, the Black Hills National Forest is affectionately known as an "Island in the Plains".
We'd recommend a stop here for this reason: after a couple of days' drive through the open plains of Iowa and South Dakota, you'll find that the Black Hills National Forest is something of an oasis, due to its refreshing contrast in terms of scenery and terrain.
For an upmarket, comfortable stay in the forest, we'd recommend The Lodge at Deadwood. On the north edge of the Black Hills National Forest, Deadwood is very convenient for those looking for a short forest detour not too far from the interstate.
The hotel itself is known for its spacious, well-appointed rooms and has everything you need for a relaxing night's stay right on site. As an added bonus, a local shuttle bus runs hourly into downtown Deadwood, meaning you're all set if you fancy a well-earned break from your car!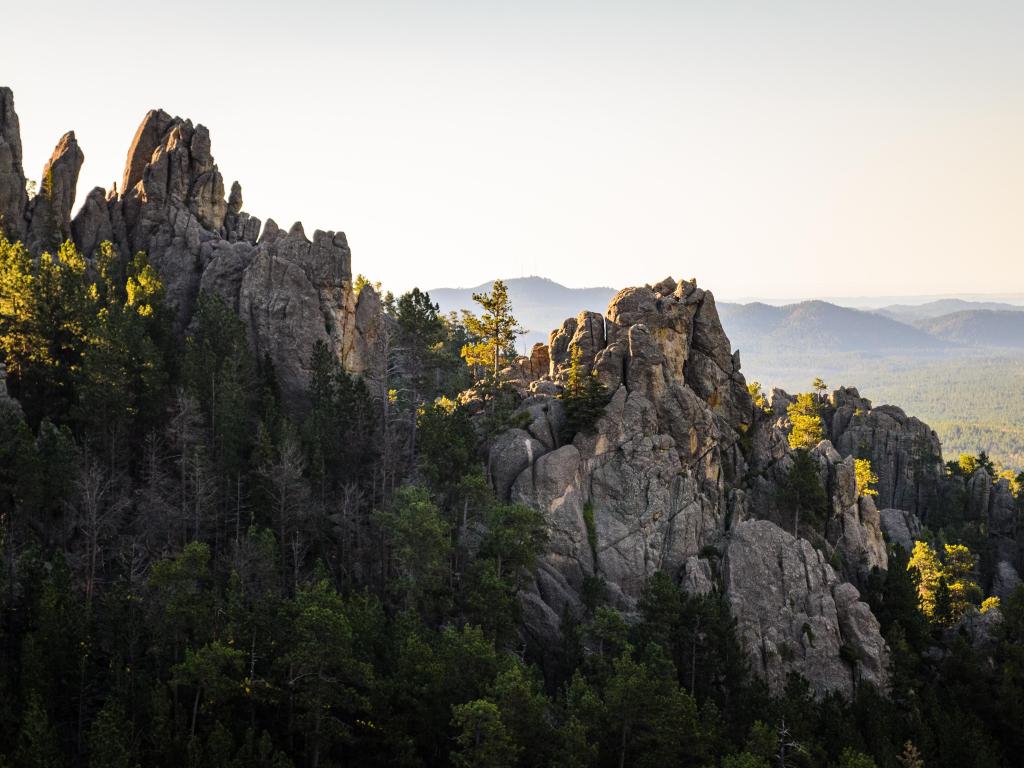 Enjoy motel charm in Montana
You may not think of Bozeman Montana as somewhere you ever thought about visiting, but the RSVP Hotel sets the record straight with its hip, fresh and youthful vibe.
This quirky but charming motel will no doubt be a memorable part of your road trip - and Bozeman itself takes our award for most underrated pit-stop destination.
The word motel might conjure up nostalgic images from years gone by, but this couldn't be further from the case with RSVP. The motel is modern with a vibrant palette of colors and is sure to be a refreshing highlight of your trip.
The rooms are large and well furnished, with the larger rooms having a nice seating area as well. The on-site restaurant and café, Farmers Daughters, serves the wider community as well as hotel guests. This foodie destination prides itself on offering healthy food made with local ingredients.
If you want to relax, the pool is open during the warmer months. Alternatively, you can enjoy a complimentary pass to the Access Fitness next door if you like to stay more active.
Explore downtown Seattle
After rising to the challenge of such a long road trip, we think it's only appropriate that you really reward yourself once you reach your amazing destination, Seattle. Our favorite hotel spot here is right at the center: the Fairmont Olympic Hotel.
Every room in the hotel has an en suite and comes with complimentary robes and toiletries. The rooms are very modern with a stylish simple décor.
The Fairmont has a full indoor pool and hot tub if you want to take a dip. Or you can work up a sweat at the fitness center.
At the end of a long day why not enjoy a meal in one of their on-site award-winning restaurants and bars. You have a choice between the Olympic Bar, Shuckers and the Founder Clubs depending on what mood you are looking for.
The location of the Fairmont couldn't be better, only a 10-minute walk from Pike Place Market, 5th Avenue Theatre is right across the street, and you have all of downtown Seattle on your doorstep.
If you want an authentic experience of Seattle, you have to stay at the Fairmont Olympic Hotel.
Things to see on a road trip from Chicago to Seattle
To help you get the most out of your road trip, we have highlighted some of the best attractions along the way. Ranging from cities and national parks; to waterfalls and monuments. There is something for everyone on this trip.
Grandad Bluff - Located in La Crosse (around 4 hours from Chicago), this small hill gives you a great vantage point to enjoy views of the city: perfect if you want to go for a short walk and stretch your legs.
Falls Park - Sioux Falls, as the name suggests, is home to a beautiful set of small waterfalls, so why not stop in for a quick tour of this little city.
Badlands National Park - Transport yourself back in time while visiting the pristine Badlands National Park, known for its arid but beautiful landscape.
Mt. Rushmore - A famous American landmark that has the heads of four previous presidents carved into the granite cliffs.
Custer State Park - If you like getting outdoors, hiking, and exploring nature, then plan to spend a few days exploring this stunning state park.
Crazy Horse Monument - The striking face of a great Sioux chief called Crazy Horse has been carved into the cliffs, worth a visit if you enjoyed Mt. Rushmore.
Devils Tower - This freestanding mountain makes for a striking picture, located just across the border in Wyoming.
Bighorn National Forest - Another great opportunity to enjoy some outdoor fun if the weather is on your side. Bighorn National Forest is known for its impressive scenery.
Billings - A great place to overnight and break up your journey. We recommend visiting the pictograph cave state park, where ancient artifacts and paintings were found.
Yellowstone National Park - Visit America's most famous, and arguably most beautiful, national park.
Lolo National Forest - Another beautiful forest with a wide variety of recreational opportunities for the adventurous among us.
Franklin and Twin Falls - Separated by only a short drive, both of these beautiful waterfalls are worth the hike to.
Seattle - Explore downtown Seattle, making sure to visit the Space Needle, Pike Place Market, and the Museum of Pop Culture.
Skeleton Man walking Skeleton Dinosaur - bonus points if you manage to snap a picture with this quirky roadside attraction. As you can infer from the name, this sculpture is an unusual sight just off the interstate!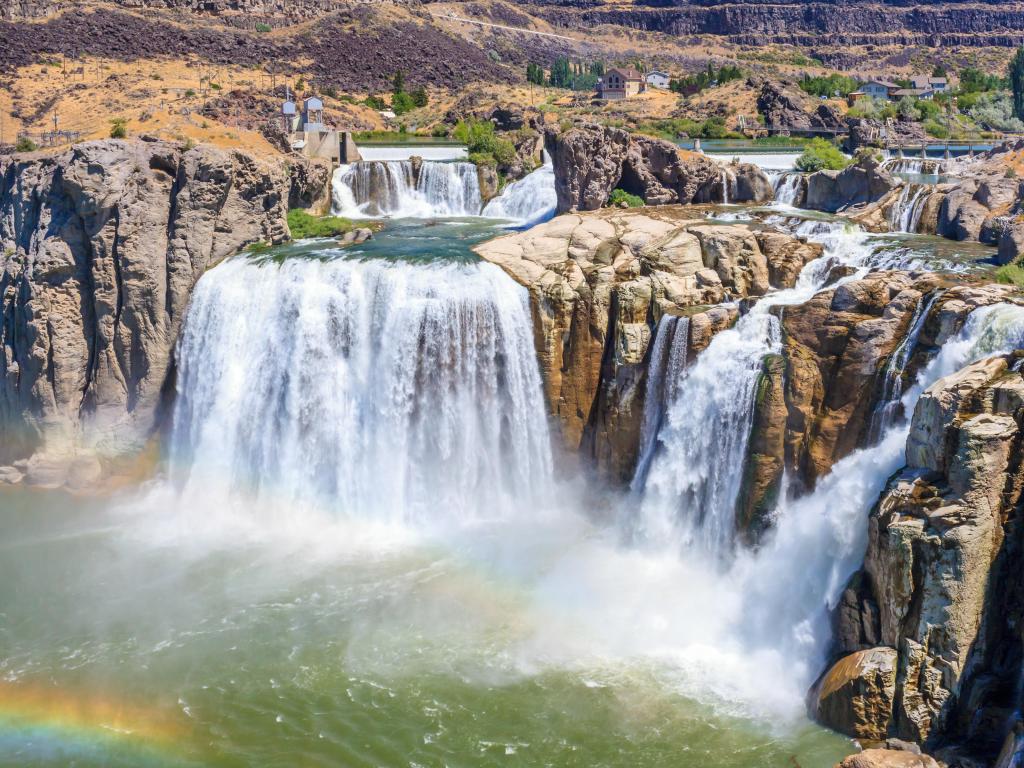 Best time to go on a road trip from Chicago to Seattle
There is no one season that is best for your road trip from Chicago to Seattle. Winter will be the coldest, and places like Wyoming and Montana can get very cold in winter. So, if you are planning on traveling during winter be prepared for this.
The advantage is that you can probably get a great deal on a hotel, as winter is the quietest time for most of the places on this route. Some of the national parks, like Yellowstone, will be shut so consider a winter trip carefully.
If you want to get active, then it's probably best to avoid winter. Instead, try spring or fall, where tourist numbers are still low, but the weather is improving. You may have to be careful about lingering winter conditions, but with any luck the weather should be good.
Summer is the busiest time of year to go on a road trip between these two cities. However, it also brings the best weather, so if that is a top priority for you then summer is when you should go.