Road Trip from Chicago to St Louis
Are you ready for an amazing Midwest adventure that will take you from the Great Lakes to Missouri's plains, retracing the steps of Abraham Lincoln? If so, this journey through America's heartland on a road trip from Chicago to St Louis, nestled on the scenic banks of the Mississippi River, is perfect for you.
The 305-mile road trip from Chicago to St Louis will take 4 hours and 40 minutes to drive, passing Joliet, Peoria, Springfield, Pittsfield, LaSalle, St Charles, Starved Rock State Park, Matthiessen State Park and Cahokia Mounds State Historic Site.
Can't wait to learn more? Read on to find out about our recommended routes for the best road trip from Chicago to St Louis, places to stay jam-packed with things to explore, unique attractions to see and the best time to set off on this amazing adventure.
How far is St Louis from Chicago, and how long will the road trip take?
Comparison of road trip routes between Chicago and St Louis

| Route | Distance | Driving Time |
| --- | --- | --- |
| Mother Road Route | 305miles | 4 hours 40 minutes |
| Small Town Route | 370 miles | 7 hours 30 minutes |
The Mother Road Route, running a total distance of 305 miles, takes approximately 4 hours and 40 minutes to drive without accounting for any stops you might want to make.
The Small Town Route, offering a slightly longer journey of 370 miles, requires around 7 hours and 30 minutes of drive time through quaint towns and rural landscapes.
Although both these trips could feasibly be completed in a day, there is so much to see and explore on the way that we suggest spreading your journey over two days. There are also options to extend these glorious road trips further, detouring to even more charming towns and natural wonders along the way.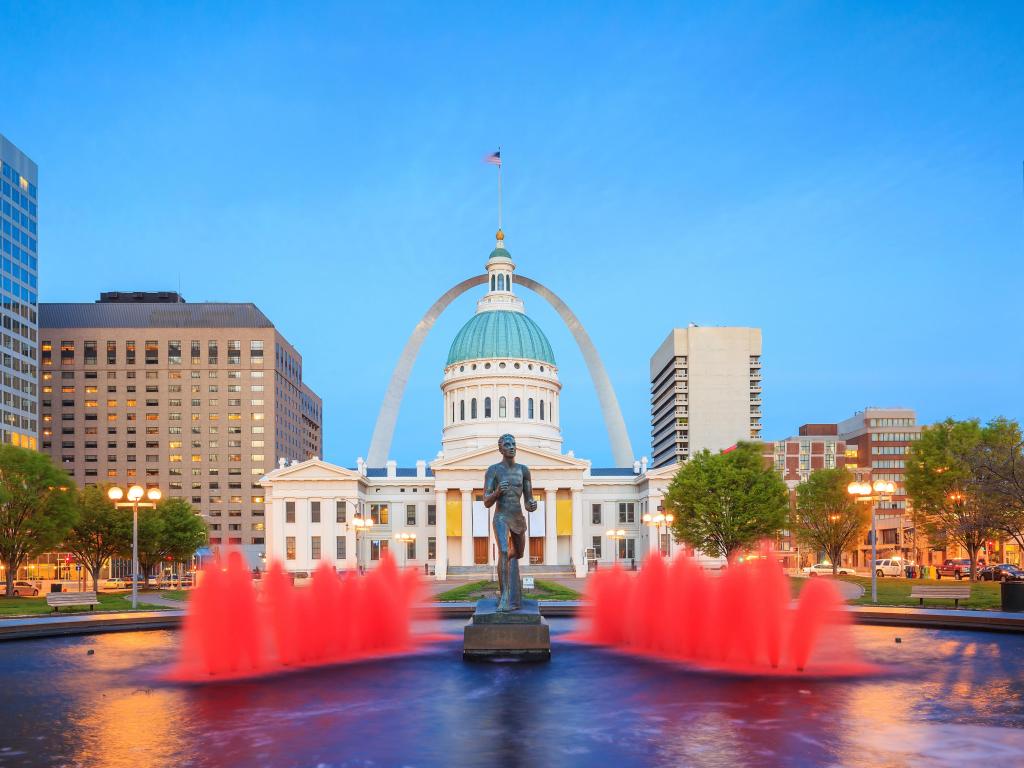 Best road trip route from Chicago to St Louis
While both routes from Chicago to St Louis have one interesting attraction after another, the vibe and scenery of each drive contrast remarkably. Hence, your choice of route will depend on your preferred travel experience.
The more direct Mother Road Route carries the historic spirit of Route 66, taking you through the heart of Illinois. Notable stops include the Joliet Area Historical Museum, the whimsical Gemini Giant in Wilmington, and the historic Route 66 Twin Drive-In Theater in Springfield.
You'll also have the opportunity to visit various quirky sites like the World's Largest Catsup Bottle in Collinsville. The route also will lead you into the Cahokia Mounds State Historic Site, an archaeological gem that reflects the vibrant indigenous culture.
Alternatively, if you're a lover of nature and small-town charm, the Small Town Route offers a deeper dive into the beautiful landscapes of Illinois.
Your journey begins similar to the Mother Road Route, but then diverges towards the serene Starved Rock State Park and the picturesque Matthiessen State Park.
You will also get to visit the Peoria Zoo and Wildlife Prairie Park, while the Beardstown Murals and the Historic Main Street in St Charles offer a charming slice of Midwestern life. You will have the option to name a detour to the Two Rivers National Wildlife Refuge on this route.
Though this route doesn't feature the direct Route 66 connection, it offers an equally enriching journey through the heartland's lush greenery, idyllic towns, and bountiful wildlife.
How to drive from Chicago to St Louis
The map above shows our suggestions for the best road trip routes between Chicago and St Louis. Keep reading for detailed descriptions of both routes, where to stay on either, and the best things to do on the way.
Mother Road Route
To leave Chicago, set off on Interstate 55 (I-55) S, a modern interstate highway that mirrors the historic Route 66 for much of its course. The first stop on your itinerary is the city of Joliet.
Continuing south on the interstate, soak in the changing scenery as you move further into the heart of Illinois. Pass through the outskirts of several charming towns, such as Bloomington, Lincoln, and Springfield, offering an opportunity for brief detours into their local attractions if time allows.
Next, drive through the small towns of Farmersville and Livingston. You will keep following I-55 south towards your final destination of St Louis. As you approach, the landscape begins to transform, offering glimpses of the Mississippi River and the bustling cityscape of St Louis itself.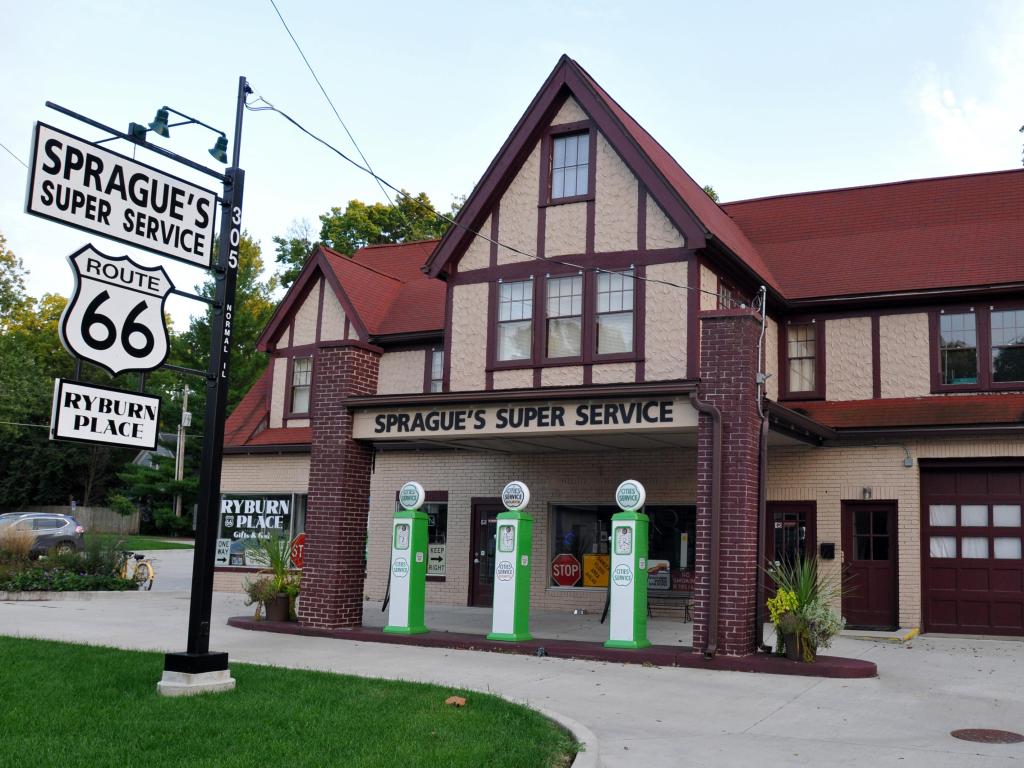 Small Town Route
Similar to the Mother Road Route, take I-55 out of Chicago but head west past Joliet. Drive through Starved Rock State Park, famous for its fascinating rock formations and stunning waterfalls.
Continue to LaSalle, a quaint town with historic charm where you can explore the Hegeler Carus Mansion, a significant architectural masterpiece of the 19th century.
Once you've had your fill, set course southwest to the city of Peoria. Along the way, don't miss the visit to Matthiessen State Park, another natural oasis known for its colorful canyons.
After visiting Peoria, continue heading southwest to reach Emiquon National Wildlife Refuge. Enjoy the tranquility of the area and keep your binoculars handy for some bird watching.
Heading south, you will drive past the McCully Heritage Project and St Charles before reaching your destination in St Louis.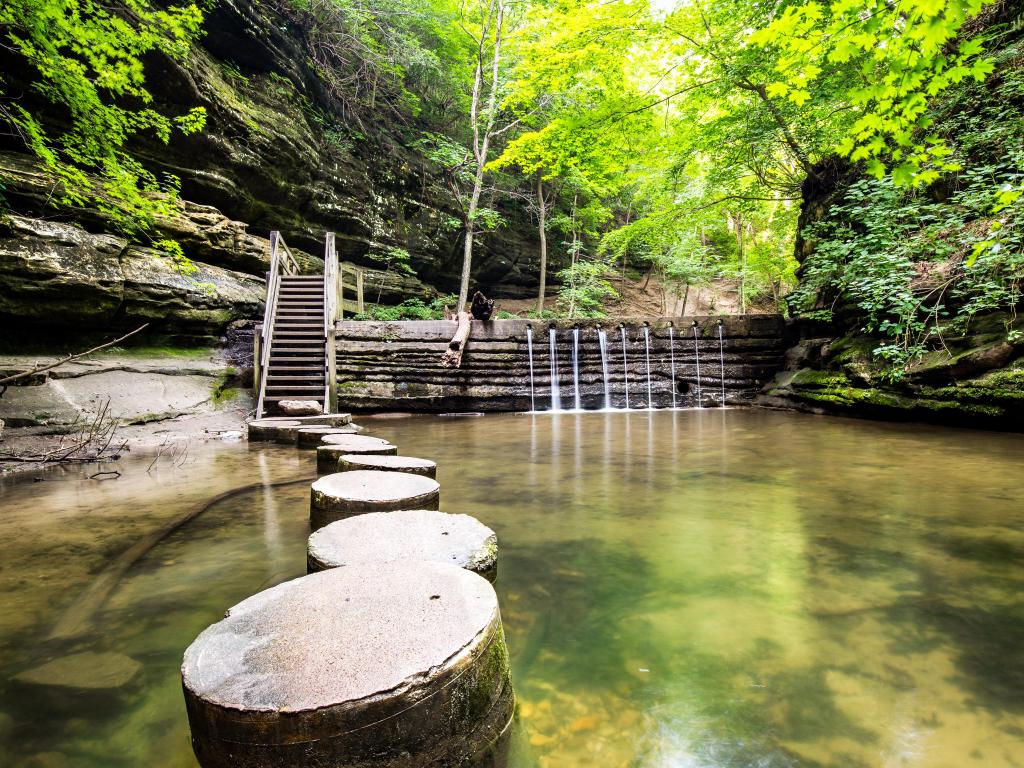 Best places to stop between Chicago and St Louis
This might be a relatively short road trip, but the drive from Chicago to St Louis is dotted with colorful small towns and cities as well as many places to visit, so we suggest taking your time and making a few overnight stops.
Explore the rich history of Springfield
Located about 3 hours and 20 minutes from Chicago on the Mother Road Route, Springfield, Illinois serves as an excellent stopover. The city is conveniently located for your journey and bursting with historical and culinary attractions to explore during your stay.
Springfield was the home of Abraham Lincoln before his presidency. As you might expect from a city of such significance, Springfield is steeped in history, with several sites associated with Lincoln's life, including the Lincoln Home National Historic Site.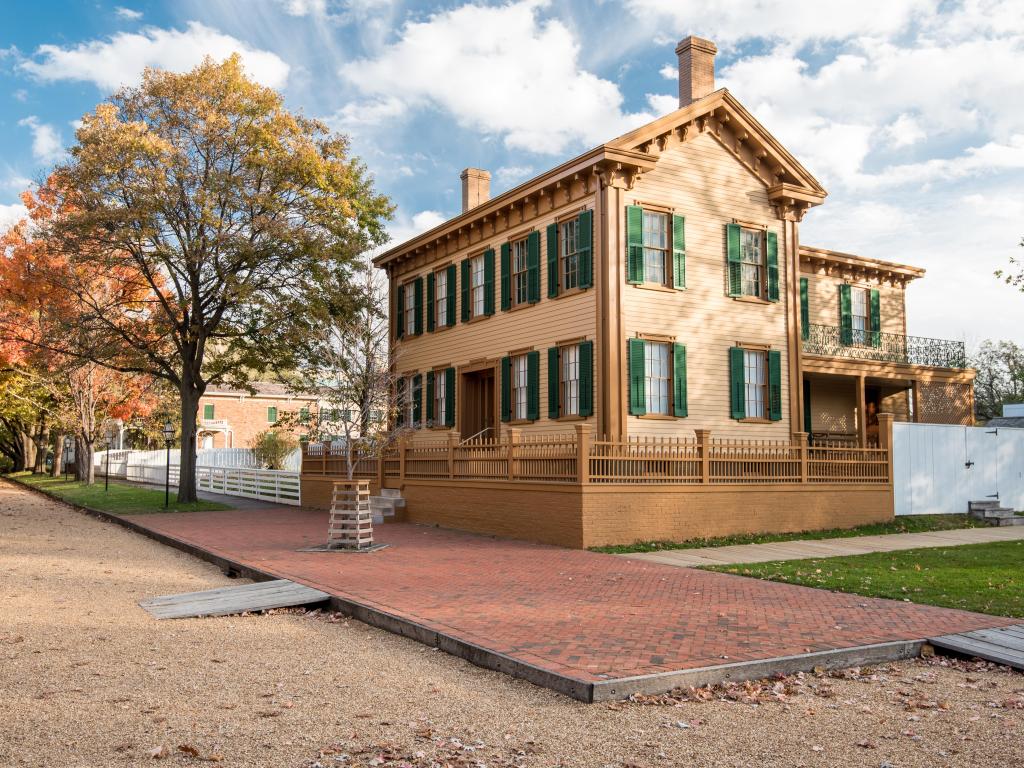 While in Springfield, visit the Abraham Lincoln Presidential Library and Museum, which brings Lincoln's incredible journey to life. The Dana-Thomas House, a stunning example of Frank Lloyd Wright's Prairie-style architecture, is another must-see attraction.
Springfield isn't just about history; it's also a city of culinary quirks. Springfield claims the invention of the popular snack, the corn dog, known locally as the "Cozy Dog", adding an offbeat charm to your road trip tales.
We recommend the Pasfield House Historic Mansion for your overnight stay. This Springfield city landmark offers a blend of historic charm and modern luxury, featuring 4-star accommodations, complete with a hot tub. Unwind in the beautifully-appointed rooms boasting jacuzzi tubs for an extra touch of luxury.
You'll be situated close to numerous Springfield attractions during your stay. The BOS Center, a premier venue for conventions, sports, and concerts, is a brisk 20-minute walk from the hotel. Just a short stroll away, the Old State Capitol offers an opportunity to delve deeper into Illinois' rich political history.
Unwind in charming Pittsfield
Approximately 5 hours and 15 minutes from Chicago on the Small Town Route, a slight detour will take you to Pittsfield, Illinois. Notably, during the 1830s, Pittsfield was frequented by Abraham Lincoln.
Similar to Springfield, Pittsfield is home to some important historical landmarks, including the Pike County Courthouse and the John Shastid House.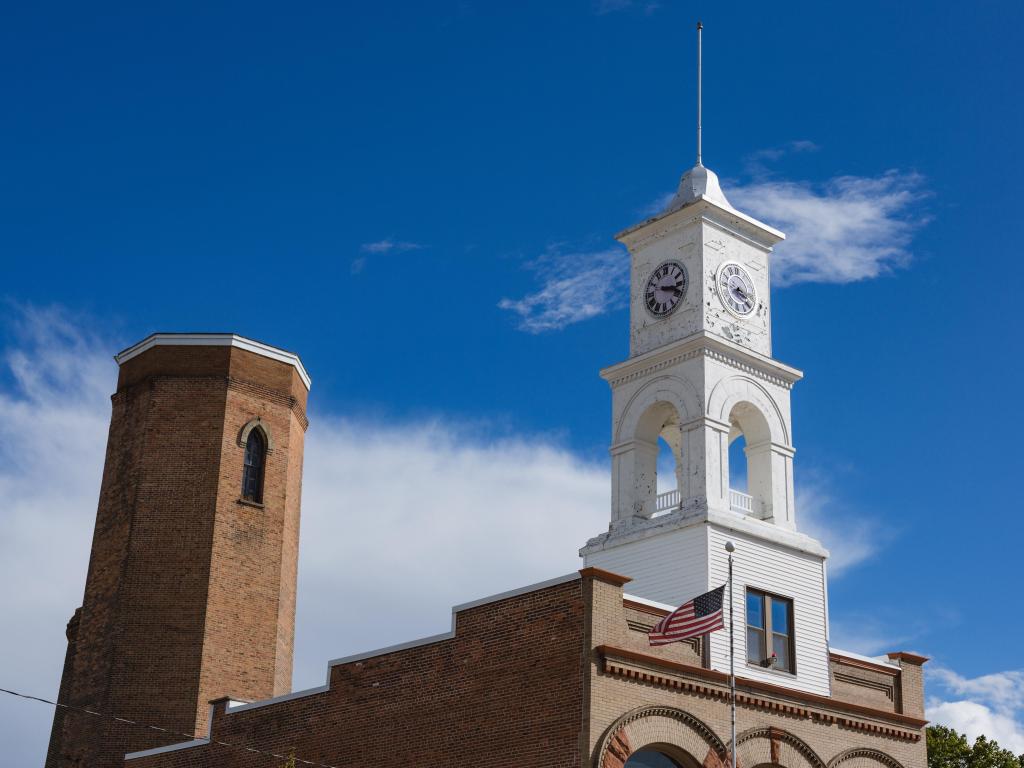 If you are looking for something quirky to do, Pittsfield has declared itself the "Pork Capital" of the Midwest due to its historical role in feeding Chicago's meat-packing industry. While agriculture here no longer heavily relies on this, the town still celebrates its heritage with the annual "Pig Days" festival in July.
As for accommodation, we recommend the William Watson Hotel. Originally built in 1838 by the city's first settler, William Watson, the property has seen extensive renovation, reopening in 2008 with its original charm intact.
From the hotel's lobby, you can enjoy a view of the Pike County Courthouse. An outdoor courtyard further adds to the hotel's allure, providing a serene spot to unwind. This stunning hotel also features an onsite coffee shop and fantastic BBQ restaurant with delicious offerings.
If you are looking to explore the surrounding area and spend some time outdoors, a quick drive will take you to the Pike County Conservation Area, where you can immerse yourself in the local flora and fauna.
Where to stay when you reach St Louis
Birthplace of the popular soft drink 7 UP, St Louis is a bustling metropolis known for its independent frontier-town spirit. Commonly dubbed as the 'Gateway to the West', this vibrant city stands tall with its iconic Gateway Arch, passionate sports fans, and thriving blues music scene.
As you plan your visit, don't miss the renowned St Louis Zoo, home to a diverse range of species in well-crafted habitats. If you're a sports enthusiast, then a visit to the Busch Stadium, the heartland of St Louis Cardinals' loyal fans, is a must.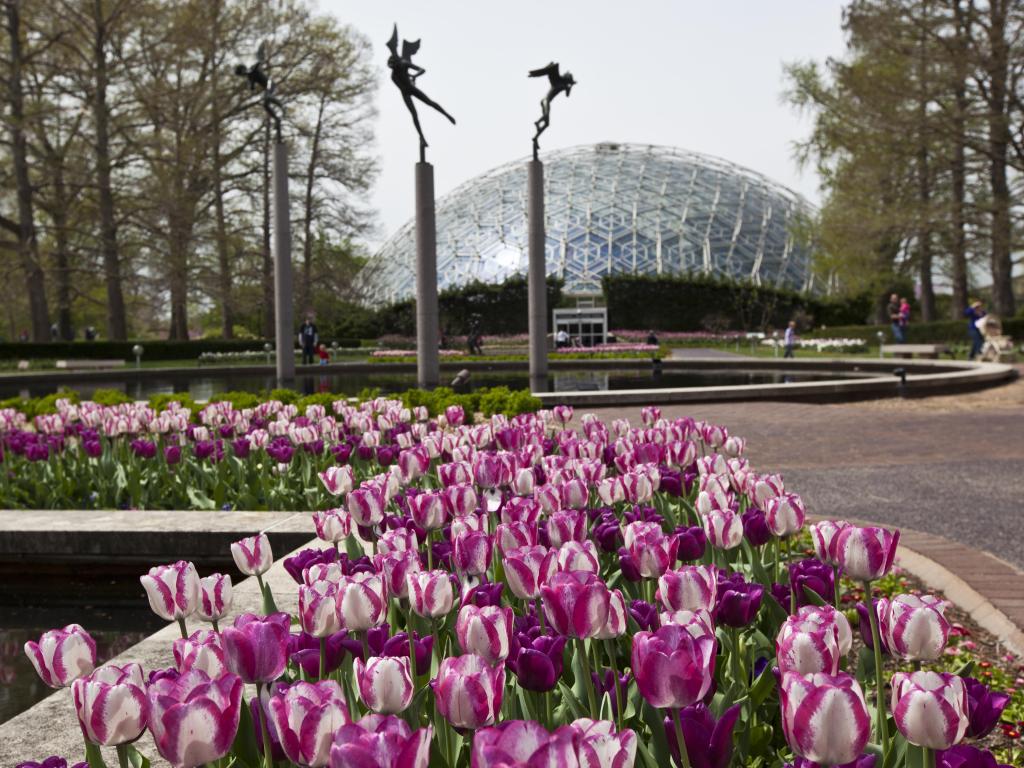 When it comes to accommodation, we recommend the Drury Plaza St. Louis at the Arch. The hotel prides itself in preserving some of the original building's features, like Italian marble, matching millwork, and Waterford crystal chandeliers, offering a touch of elegance to your stay.
Adding value to your stay, the hotel provides both breakfast and dinner. What makes it an ideal choice, though, is its close proximity to key attractions like the Arch and the Baseball Stadium. The Citygarden Sculpture Park is also only a short walk away from the property.
Things to see on a road trip from Chicago to St Louis
You will be amazed by how many unique places you can visit on the road trip from Chicago to St Louis. We have curated a list of our favorites, which you can find below, and we highly recommend venturing out and finding as many hidden treasures as you can on the way
Both routes
Joliet Area Historical Museum - A cultural institution that offers exhibits showcasing the rich history of the Joliet area, including its impact on the development of the Chicago region.
Mother Road Route
Midewin National Tallgrass Prairie - The largest tallgrass prairie restoration project in the United States, offering over 20,000 acres of beautiful, protected landscape and wildlife habitat in Illinois.
Gemini Giant, Wilmington - A towering 30-foot-tall "Muffler Man" statue holding a silver rocket, a popular roadside attraction along the historic Route 66.
Polk-a-Dot Drive-In, Braidwood - An iconic 1950s-era drive-in restaurant, known for its retro ambiance and life-sized statues of famous pop culture figures.
The Sprague Super Service, Normal - A historic two-story building that once served as a service station along Route 66, now housing the Route 66 Association of Illinois Hall of Fame and Museum.
Funks Grove Pure Maple Sirup, Shirley - A family-owned business known for its traditional process of making "sirup" (an intentional old-time spelling of syrup) from the sap of the local maple trees.
Bunyon's Statue, Atlanta - A quirky 19-foot-tall fiberglass statue, originally designed as an advertisement for a hot dog stand, now a favorite stop along Route 66.
Atlanta's Smiley Water Tower, Atlanta - A local landmark featuring a large yellow smiley face painted on the town's water tower, visible from Route 66.
Shea's Gas Station Museum, Springfield - A unique museum set in an authentic vintage gas station, showcasing a collection of service station memorabilia from the heyday of Route 66.
Route 66 Twin Drive-In Theater, Springfield - A historic outdoor theater offering the nostalgia of a bygone era with double-feature movies under the stars.
Pasfield House - An early 20th-century Georgian-style house in Springfield, now a boutique inn providing accommodations steeped in local history.
Litchfield Museum and Route 66 Center - A museum dedicated to the history of Litchfield and the iconic Route 66, featuring an array of memorabilia, photos, and vintage cars.
Soulsby Service Station, Mt Olive - A preserved vintage service station dating back to the 1920s, showcasing the early automotive culture along Route 66.
World's Largest Catsup Bottle, Collinsville - An oversized roadside attraction in Collinsville, serving as a quirky monument to the region's industrial heritage.
Cahokia Mounds State Historic Site - A UNESCO World Heritage Site, this site preserves the remnants of the most sophisticated prehistoric native civilization north of Mexico, including the largest earthen mound in the Americas.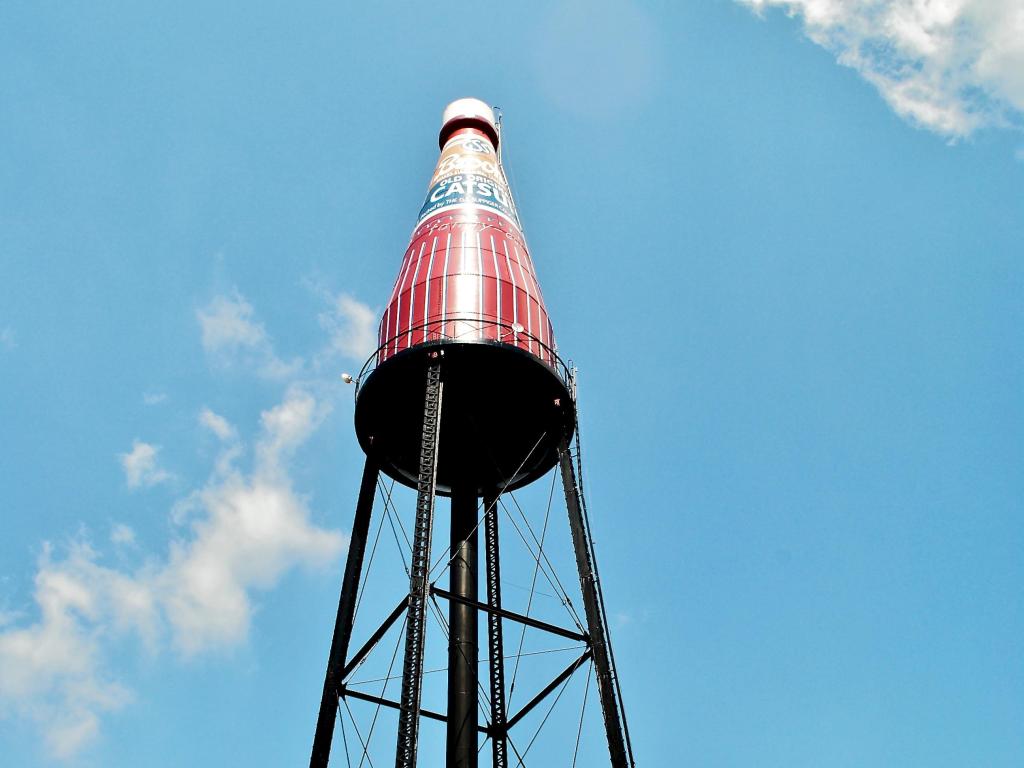 Small Town Route
Buffalo Rock State Park - Located on a bluff overlooking the Illinois River, this park is known for its breathtaking views, hiking trails, and two live American Bison that call the park home.
Starved Rock State Park - A popular outdoor destination offering 18 canyons, seasonal waterfalls, and several miles of hiking trails, plus opportunities for fishing and boating on the Illinois River.
Hegeler Carus Mansion, LaSalle - A National Historic Landmark featuring stunning 19th-century architecture and design, it offers a glimpse into the past with guided tours and special events.
Matthiessen State Park - Renowned for its impressive rock formations, waterfalls, and diverse ecosystems, this park offers a variety of outdoor activities including hiking, picnicking, and bird watching.
Peoria Zoo - A family-friendly attraction housing a diverse collection of wildlife from around the world, with special exhibits and educational programs.
Peoria Riverfront Museum - A multidisciplinary institution offering art exhibits, a planetarium, and a giant screen theater, dedicated to encouraging lifelong learning in arts and sciences.
Wildlife Prairie Park, Peoria - An immersive wildlife park focused on native Illinois species, providing visitors with the unique opportunity to see bison, wolves, bears, and more in a natural setting.
Beardstown Murals - A series of vibrant murals throughout Beardstown, depicting the rich history and cultural heritage of the town.
Art Zeeck Park, Beardstown - A local park named in honor of Art Zeeck, a former city council member, offering recreational spaces for outdoor activities and sports.
The McCully Heritage Project - A nature preserve in Calhoun County, spanning over 940 acres, offering hiking trails, bird watching, and interpretive programs about local ecology and history.
Two Rivers National Wildlife Refuge - A sanctuary at the confluence of the Illinois and Mississippi Rivers, providing vital habitats for migratory birds and wildlife.
Chain of Rocks Bridge, Madison - An iconic mile-long bridge, once part of Route 66, known for its 30-degree bend midway across the river, offering a historic pedestrian and cycling path with panoramic views.
Lewis & Clark Boat House and Museum - An educational institution in St Charles that showcases exhibits about the historic Lewis and Clark expedition, as well as replica boats used during the journey.
Historic Main Street, St Charles - A charming district with preserved 19th-century buildings, offering an array of boutique shops, restaurants, and hosting special events throughout the year.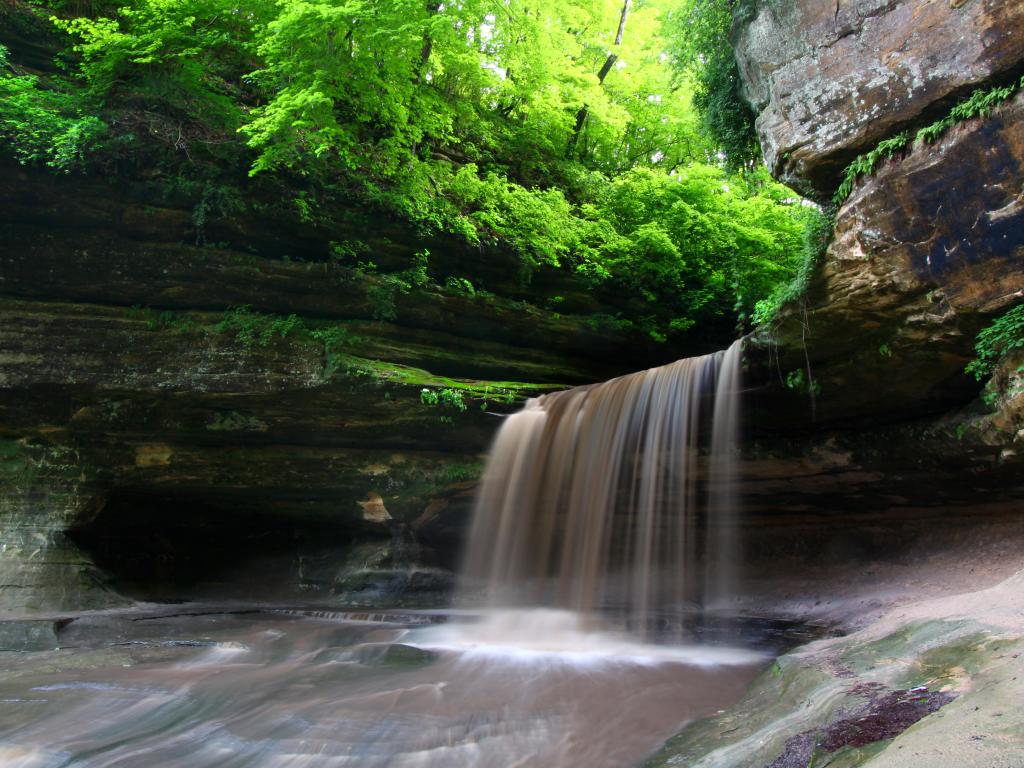 Best time to go on a road trip from Chicago to St Louis
St Louis is a fantastic destination to explore throughout the year, but the best time to set off on the road trip from Chicago to St Louis will depend on your expectations.
For a comfortable drive and exploration, we'd suggest considering late spring or early fall, when the weather is mild, typically hovering between 60 and 80 degrees Fahrenheit. This makes for an excellent climate to enjoy outdoor activities in St Louis and along the way.
If you choose to travel in May, consider timing your journey to coincide with the Route 66 Red Carpet Corridor Festival on the Mother Road Route.
For those opting for a fall trip, there's the Burgoo Festival in Utica on the Small Town Route in October. And, of course, there's the International Route 66 Mother Road Festival in September, a significant highlight on the Mother Road Route.
There is something magical about ice skating with the Gateway Arch as the backdrop. However, although St Louis has moderate temperatures around 35-50 degrees Fahrenheit in winter, it is still very chilly and the road conditions can be unpredictable.
Summers in St Louis, on the other hand, are quite warm, with temperatures often reaching the high 80s and low 90s degrees Fahrenheit. If you are traveling in summer on our Small Town Route, make sure to check out Old Settlers Days in Rockton en route.
Traveling on the Mother Road Route, you can plan your trip to coincide with Berwyn Route 66 Car Show in August.
But let's not forget the grand finale upon reaching St Louis! If you arrive in September, you'll be just in time for The Great Forest Park Balloon Race, an iconic event that fills the city's skies with color and celebration.