Road Trip from Chicago to Tampa, Florida
Head off on the road trip of a lifetime from Chicago to Tampa, Florida through the Great Smoky Mountains and some of the most iconic cities in the US. You'll make tons of unforgettable memories on the drive whether you are looking for stunning natural beauty of bustling urban metropolises.
The 1,230-mile road trip from Chicago to Tampa, Florida will take 20 hours to drive. You'll see highlights like Lafayette, Indianapolis, Louisville, Nashville, Chattanooga, Great Smoky Mountains, Atlanta, Knoxville, Asheville, Savannah and Orlando.
With so much to see along the way, you're sure to enjoy this unforgettable road trip through the Midwest and the Eastern United States. Read on to discover our recommended routes, places to stay, and must-see destinations along the way.
How far is Tampa, Florida from Chicago and how long will the road trip take?
Comparison of road trip routes between Chicago and Tampa, FL

| Route | Distance | Driving Time |
| --- | --- | --- |
| Nashville Route | 1,230 miles | 19 hours 50 minutes |
| Great Smoky Mountains Route | 1,410 miles | 23 hours |
There are two excellent routes to take you from Chicago to Tampa. Both will take you through some of the country's most scenic and culturally rich areas.
Follow the Nashville Route and drive for 1,230 miles with 19 hours and 50 minutes of driving time. You'll see famous cities, national forests, and gorgeous natural scenery.
Take the Great Smoky Mountains Route to see some of the most inspiring scenery in the United States. You'll drive 1,430 miles for 23 hours without accounting for any stops.
There's so much to see and do along the way from Chicago to Tampa. To take advantage of this, we recommend spending six to seven days on this journey.
Best road trip route from Chicago to Tampa, Florida
Our suggested routes are very different from each other when it comes to the landmarks and attractions they will take you through, so the best route will depend on your preferences.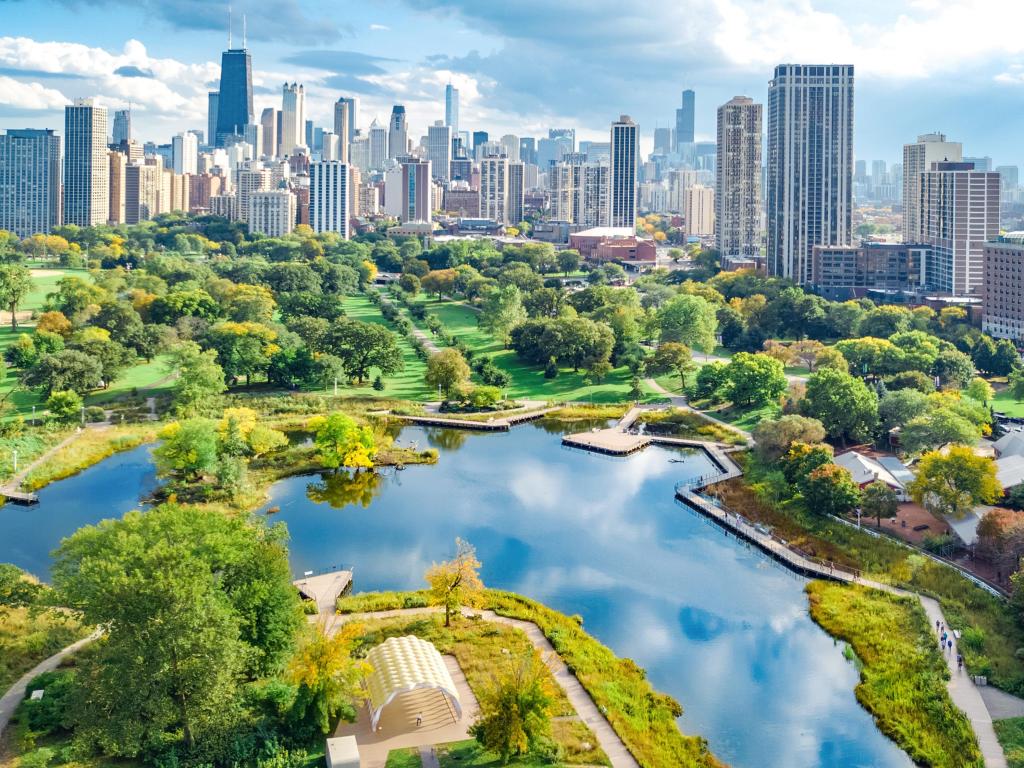 On the Nashville Route, head to the home of country music and enjoy some toe-tapping and cultural exploration. You'll also get to see cities like Atlanta, Louisville, and Tallahassee on your way.
On this route, take a step back in history when you visit Stone River National Battlefield Murfreesboro and walk the battlefield trail. Hikers will be thrilled to reach the beautiful summits of Chattanooga Lookout Mountain and Stone Mountain Park.
The Great Smoky Mountains Route will take you through a balance of both scenic sites and places to experience genuine thrills and spills.
Head to the beautiful sights of the Great Smoky Mountains and take in the timeless views. On the way, Gatlinburg and Asheville are lovely scenic areas to explore. Head up the Gatlinburg Space Needle for heady heights.
Enjoy some thrills and spills with a visit to Dollywood, an iconic and fun attraction. Before reaching your destination, you'll get to relax on the white sand beaches of St Augustine Beach.
The Nashville Route
From the great city of Chicago, head south through Indiana. Pass the fun city of Indianapolis and continue south on Interstate 65 (I-65).
Drive into the great state of Kentucky and visit the city of Louisville, one of the homes of Bourbon. Continue on into Nashville, America's music city.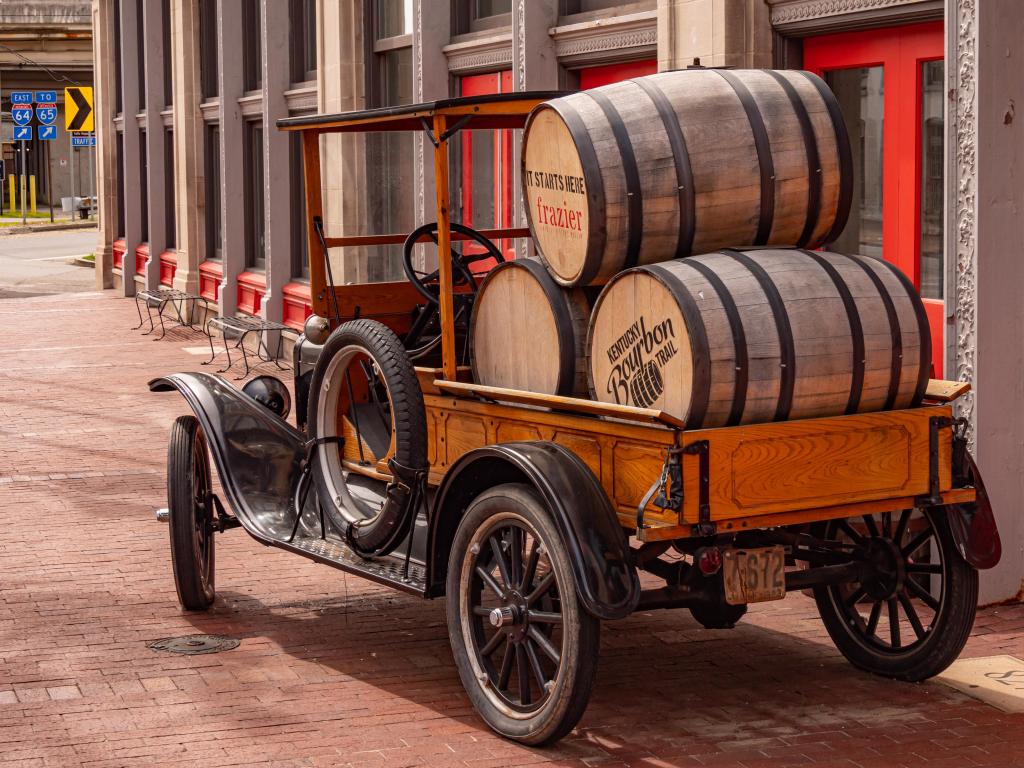 After taking in the city of Nashville, head back on the route and drive into the city of Chattanooga. Continue on driving through the mountains of northern Georgia and into the city of Atlanta.
After visiting the bustling metropolis of Atlanta, continue south into Florida. After driving into Tallahassee, continue on along the coast of the Gulf of Mexico and into Tampa.
The Great Smoky Mountains Route
Starting in Chicago, take I-65 through Indianapolis and Louisville. Take a turn towards the east and drive into Lexington and Daniel Boone National Forest.
Drive through the amazing mountain scenery and forests into the charming cities of Knoxville, Gatlinburg, and Asheville. Take your time exploring these wonderful areas and then make your way back on the route.
Continue on into South Carolina. Make your way through the state and into the city of Charleston.
Drive along the coastal cities of South Carolina and into Georgia. Check out the beautiful and historic cities of Savannah and Jacksonville, Florida.
Make your way through the coast of Florida and then drive west into the theme park capital Orlando. After experiencing one of the most adventure-filled cities in the world, continue on into Tampa.
Best places to stop between Chicago and Tampa, Florida
You'll be driving through some of the most culturally rich areas of the USA. With so much to see, we've selected our favorite stops along the way to help you make the most of your journey.
Live it up in music city, Nashville
Just under halfway on the Nashville Route is the city of Nashville, Tennessee. This city, the beloved home of country music, is a hugely popular destination, visited for its excellent and unique music, landmarks, and hospitality.
One of the first places to visit to get to know country music better is the Country Music Hall of Fame. Take a self-guided tour round this interesting and extensive museum, which uses incredible displays to take you back in time and learn more about country music creation.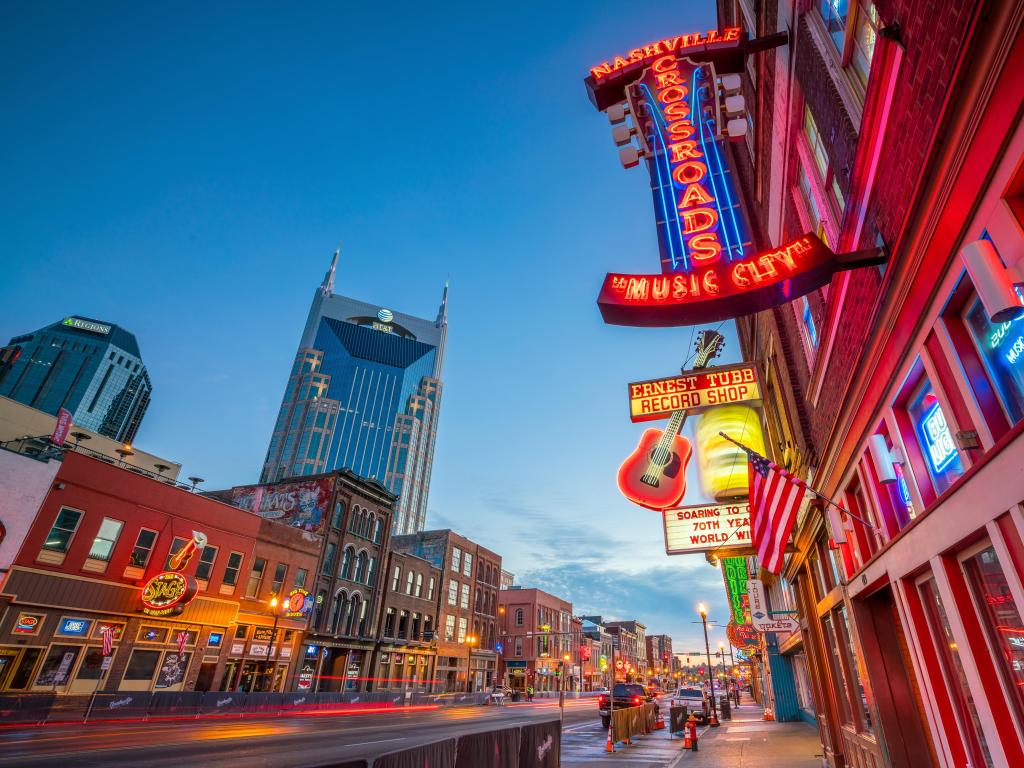 Afterwards, check out the Ryman Auditorium. Established 130 years ago, take a tour around this venue to understand more about its history before settling down to watch an evening performance.
Once you reach this great stopover point, we recommend staying at the Grand Hyatt Nashville. Enjoy the modern and stylistic décor and spacious, well-equipped rooms and great amenities. This hotel offers a perfect location, just a short walk from all the entertainment.
What's more, the hotel offers free, secure, parking so leave your car behind and enjoy exploring Nashville on foot. Afterwards, head to the rooftop pool that's open all year, with stunning views and loungers to enjoy the sights.
There are also spa and wellness packages available to enjoy for some downtime and relaxation. After checking out the sights in Nashville, head to one of the three restaurants on-site, serving delicious American-style breakfast, brunch, lunch and À la carte options.
Soak up the southern charm of Asheville
About halfway along the Great Smoky Mountains Route is Asheville, North Carolina. This city is a convenient and fun halfway point. Asheville has a fun, artistic, and casual downtown, surrounded by the impressive backdrop of mountain ranges. When in Asheville, there are plenty of sights to see.
First, make your way to the Biltmore Estate. It will take at least a day to visit the beautiful grounds of America's largest home', with much to admire, including the house, winery and shops on site.
Afterwards, see the North Carolina Arboretum. Opened in 1986, these beautiful botanical gardens are perfect to take one of the many trails while admiring the mountain views.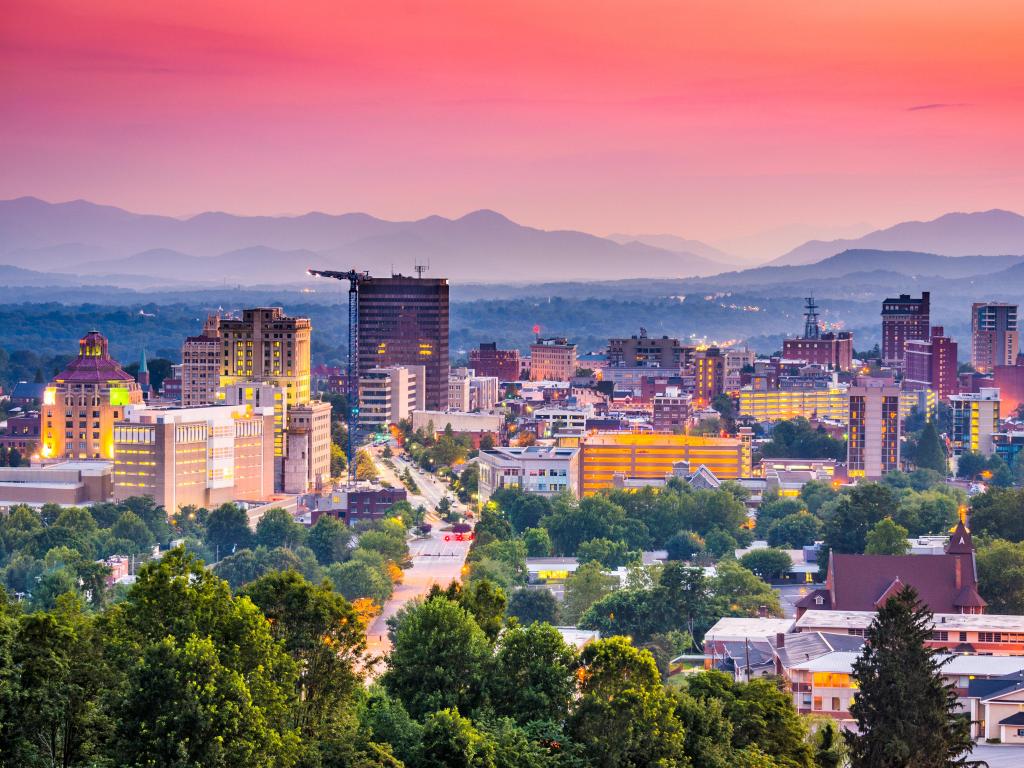 Few drives in America can match the Blue Ridge Parkway, just a stone's throw away from Asheville. For all outdoor activity fans, this destination is teeming with things to do like hiking, swimming, or rafting.
During your visit to Asheville, we recommend resting at the Princess Anne Boutique Hotel & Breakfast. This charming and beautifully designed boutique hotel will make you feel like you are stepping into luxury.
The hotel is highly regarded by previous visitors, and is an established, respected hotel with a fantastic location, close to many attractions, including the Botanical Gardens, Biltmore Estate and many parks.
Enjoy a hot delicious breakfast served daily on-site or take advantage of the afternoon drinks trolley that comes around. Also, take advantage of the hotel's Yoga and wellness packages to enjoy some relaxation after a busy day of sightseeing.
Where to stay when you reach Tampa
Once you reach your destination of Tampa, Florida, stay in the luxurious Hotel Haya. This hotel offers an unbeatable location and is only a short drive to many of Tampa's top attractions, parks (Jose Marti, Centennial) and museums (Tampa Bay History Center, The Tampa Museum of Art).
The hotel is rated highly among previous visitors who say the location, pool and food are second to none. It has a hip and modern style inside with a relaxed vibe to help you wind down after a busy day.
After your drive, relax on the terrace or in the garden or take a swim in the stunning outdoor pool, which is accessible all year round. There are yoga classes and a fitness center on-site for those wanting to keep on the move.
Enjoy the coffeehouse and restaurant on site, or otherwise, head out to the many local establishments within walking distance.
Things to see on a road trip from Chicago to Tampa, Florida
There's plenty to see and do on your way from Chicago to Tampa. Below, we've listed our favorites to help you prepare for your journey.
Nashville Route
Nashville - The home of country music, there is plenty for any music fan to enjoy. Head to Nashville's Country Music Hall of Fame to learn more about where this music originated, before taking a walk to head into a live music venue downtown.
Stone River National Battlefield Murfreesboro - Set in Murfreesboro, this huge 57 acre park, a site of one of Lincoln's military victories, is an interesting and interactive place to visit. Take a trip to the museum here before heading along the battlefield trail.
Chattanooga Lookout Mountain - Take the Incline Railway towards the summit, then sit back and enjoy the panoramic views around you. If you have time, then the Ruby Falls on the way down is certainly worth a stop off.
Chattahoochee Oconee National Forests - Spanning over 750,000 acres, there are many trails to take across this beautiful landscape—just keep an eye out for the healthy population of bears!
Marietta Square - A great place to stop for some shopping and refreshments. Marietta Square is surrounded by boutiques, gift shops and eateries.
Atlanta Botanical Garden - A beautiful myriad of gardens and woodlands to explore. With year-round exhibits there is much to see with some incredible designs made from the flowers on show.
Stone Mountain Park - The Stone Mountain Park in Georgia is one of the most popular attractions and you can see why. Take the Summit Skyride to get some of the best views around.
Tallahassee - Get closer to nature with a visit to the Tallahassee Museum, an outdoor attraction which includes the history of the area as well as plenty of native animals!
Crystal River - You can be sure of the best water experiences at Crystal River, including manatee swimming and kayaking adventures.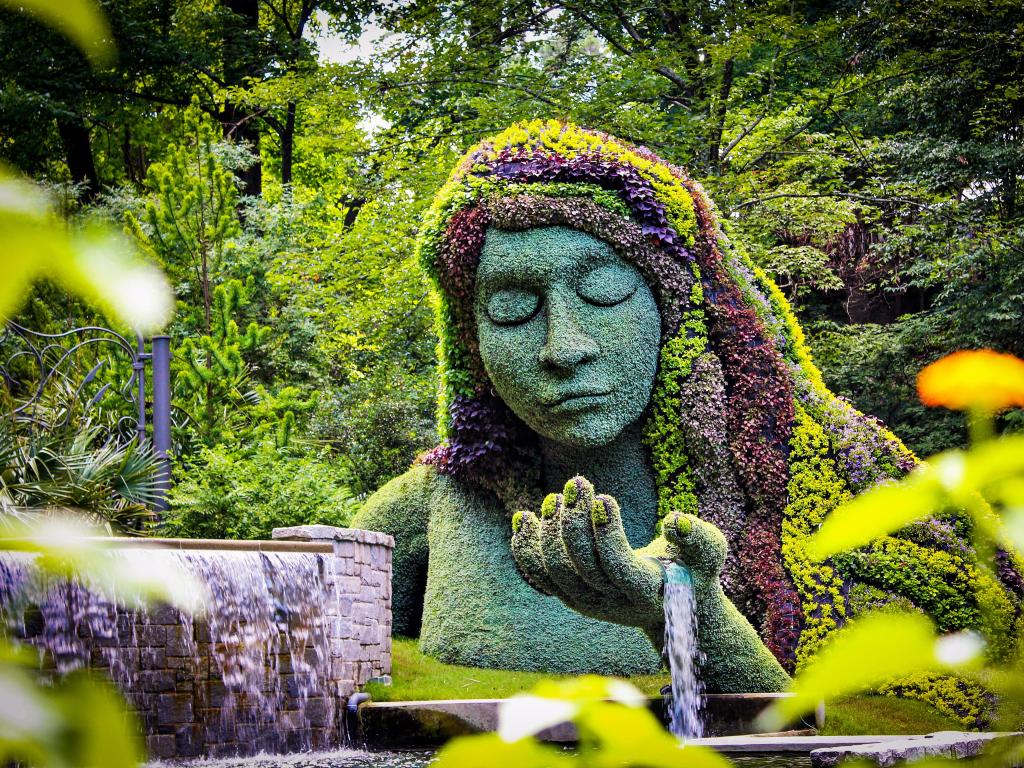 The Great Smoky Mountains Route
Knoxville Market Square - Wander round the energetic and unique sights of downtown Knoxville, the perfect place for a pit stop for dinner and entertainment.
Dollywood - A must visit in Pigeon Forge is Dollywood! Owned by Dolly Parton, this is a popular destination and fun amusement park promises a great day out.
Gatlinburg - Just before Great Smoky Mountains National Park, Gatlinburg is a perfect stop before you head in. Venture up the Gatlinburg Space Needle for incredible panoramic views.
Great Smoky Mountains - Known as the Smokies, this beautiful mountain range and national park, covering over 500,000 acres, is a must-see. A top place to hike, head here to take one of the many trails available across this incredible landscape.
Asheville - The grounds of North Carolina Arboretum botanical gardens are perfect to visit and take one of the many trails.
The Charleston Museum - America's first museum, and surrounded by two historic houses, it is full of displays and artifacts from across the history of Charleston. Go on a guided tour to take it all in.
Savannah - The beautiful parks and buildings of Savannah make a stop-off here a must. Head to Forsyth Park for a stroll and lunch break.
Jacksonville Zoo and Gardens - Set over 122 acres, this zoo has thousands of animals to see every visit. You can even head to Giraffe Lookout and help out at feeding time!
St Augustine Beach - The white sand and clear waters make the beaches here particularly popular—and the perfect place to sit back and relax across 14 miles of beautiful coastline.
Orlando - The home of thrills and spills, you won't be relaxing for long in Orlando when there are world-famous Walt Disney World, Epcot and Universal to be visiting. Lifelong memories are made with a trip here.
Kissimmee Lakefront Park - Lovely trails around the lake are enjoyable, with plenty of spots to see wildlife—even alligators. Head here for a breather and enjoy the tranquil, pretty setting.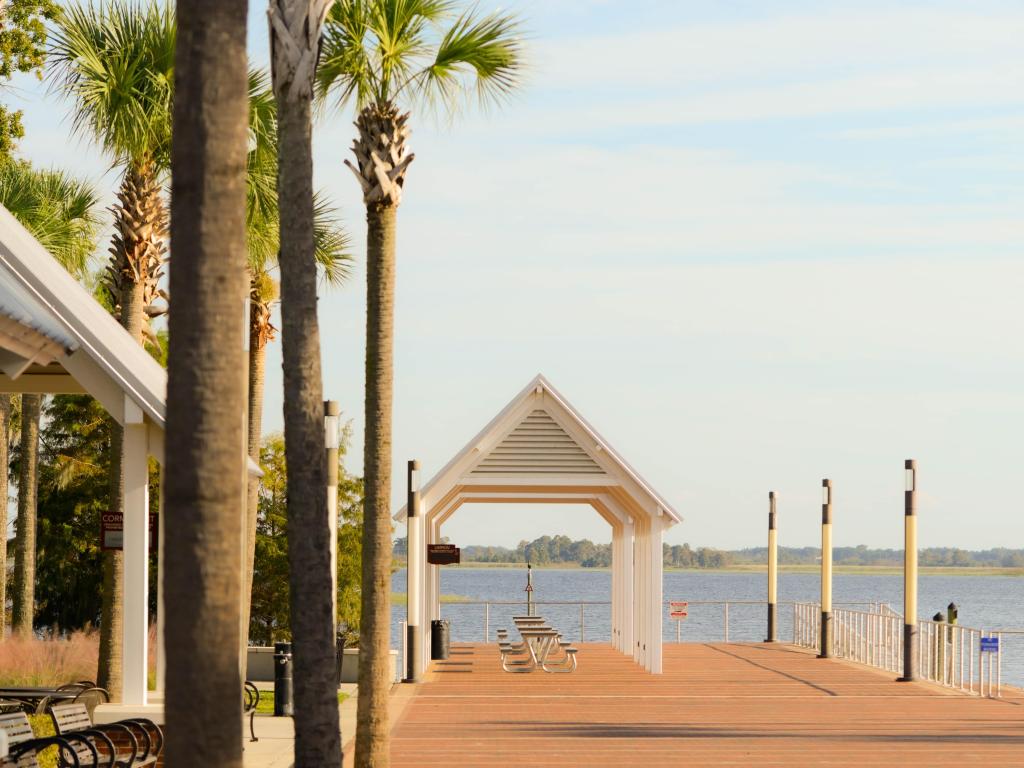 Both Routes
Lafayette Science Museum - A jam-packed museum filled with lots of science exhibits and interactive displays. A visit to the planetarium on site is a must!
Indianapolis - A motor fan? Head to the grounds of Indianapolis Motor Speedway, the home of Indianapolis 500, for a narrated tour around this iconic track.
Louisville Mega Cavern - The underground tour of these caves is like nothing else. Inside, you can explore the darkness across walkways and zip lines for additional thrill-seeking.
Kentucky Derby Museum - This informative horse racing museum catalogs the history of racing, including a track tour and visual experiences that will make you feel like you are at the races!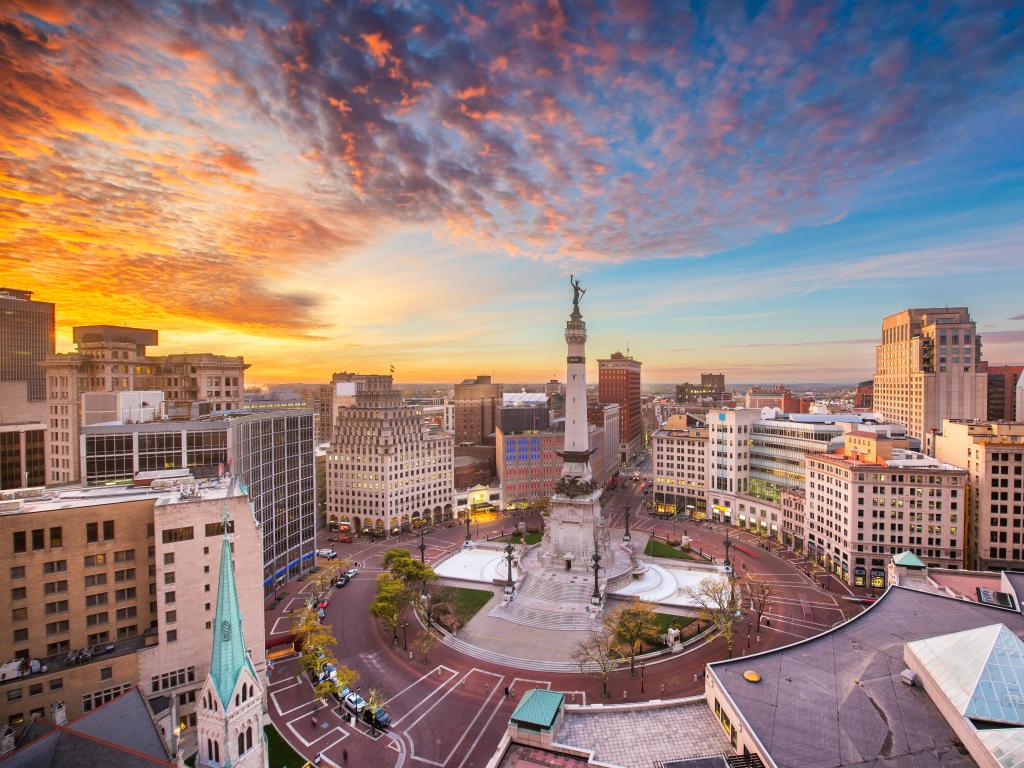 Best time to go on a road trip from Chicago to Tampa, Florida
Tampa, Florida, is a year-round destination, where even in the winter, the weather is mild and enjoyable. There are two different climates throughout the year, either heat and humidity from May to October, or mild and dry from November to April.
The most popular time to visit is across spring and summer, but the weather then can be more humid and on average around 90 degrees Fahrenheit come July. But with over 100 million people choosing to visit every year, picking the right time to go is important.
Summer months can be boiling and reach up to 90 degrees Fahrenheit, which makes it unpleasant to visit some attractions. With the warmer weather comes the chance of heavy rainfall, although this is often in short bursts rather than prolonged.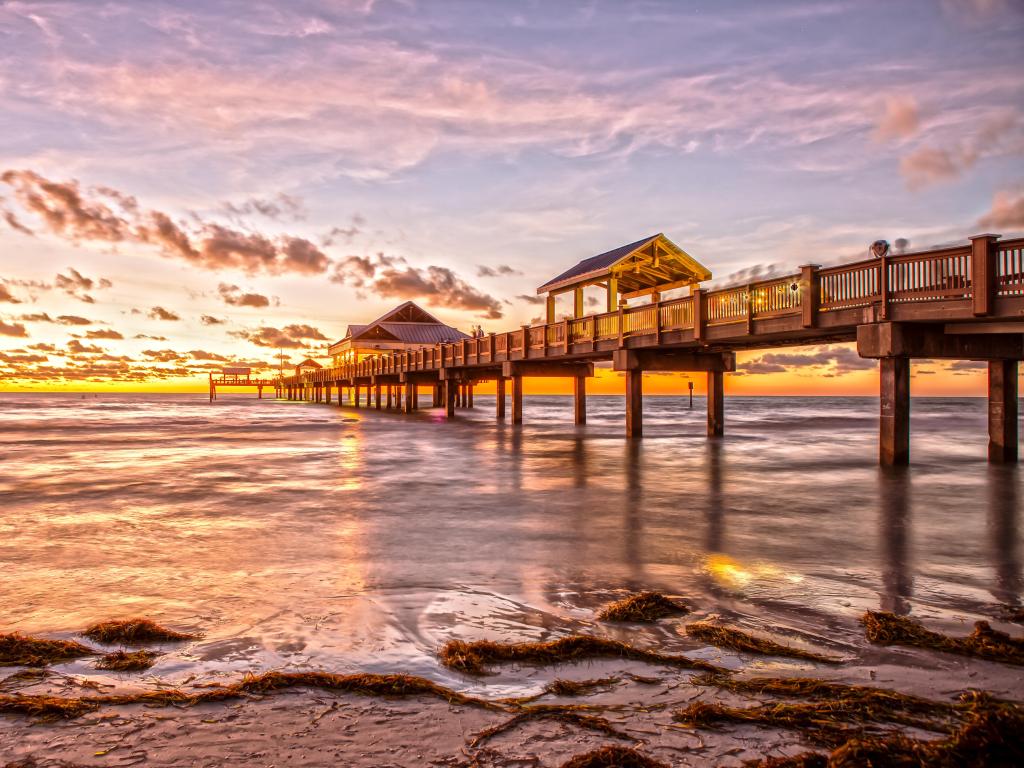 Late spring and summer months remain the most popular time to visit, so parks and attractions can be busy and accommodation at a premium.
Winter can still present fairly mild temperatures averaging 70 degrees Fahrenheit. It might still be possible to swim in the waters too some days during those winter months!
Towards the end of the year, the hotels can also get less busy, so deals can be found on accommodation and tourist attractions booked early.
Many people flock to Tampa, Florida, each year for the permanent attractions and landmarks, however the annual festivals celebrating local culture and traditions are also a draw.
The Gasparilla Music Festival is a memorable event with over 40 acts, with plenty of popular musicians taking part in the fun day out each February.
Each year in May, the International Cuban Sandwich Festival is a must. Vendors compete to create the most popular filling, creating interesting and tasty cuisine.
In Clearwater, the Sugar Sand Festival is a famous Tampa event, where magnificent sculptures are created. Head here across April to see the sand crafting masters at work.