Road Trip from Chicago to Wisconsin Dells
If you're looking for a trip rich in water activities driving along lakes and rivers, this road trip from Chicago to Wisconsin Dells is tailor-made for you. Whether on the East or the West shoreline of Michigan Lake, you'll find sandy beaches with hiking trails, charming towns and cities, vibrant nightlife, and hidden gems along the way.
The 380-mile road trip from Chicago to Wisconsin Dells takes a little over 7 hours to drive, visiting Illinois Beach State Park, Milwaukee, Green Bay, and Green Lake, or via Indiana Dunes National Park, Lake Michigan Beach, Madison, and Lake Wisconsin.
To know more about the best routes, exciting places to see, hotels to stay, and excellent times to visit, continue reading the article.
How far is Wisconsin Dells from Chicago, and how long will the road trip take?
Comparison of road trip routes between Chicago and Wisconsin Dells

| Route | Distance | Driving Time |
| --- | --- | --- |
| The Direct West Shore Route | 380 miles | 7 hours 30 minutes |
| The Summer Scenic Route | 510 miles | 11 hours |
We have highlighted two fantastic routes offering beautiful water experiences and a great mix of relaxing countryside and lively cities.
A direct drive from Wisconsin Dells to Chicago via The Direct West Shore Route takes 7 hours and 30 minutes to cover 380 miles without any food and gas breaks.
For a more relaxed trip through Michigan and Wisconsin, you can take The Summer Scenic Route, covering 510 miles over 11 hours of driving and a short ferry ride, not considering any stopovers.
Given the short distance, you may be tempted to cover the distance in a day, but to enjoy all must-visit things en route, we suggest you take 2-4 days for this road trip.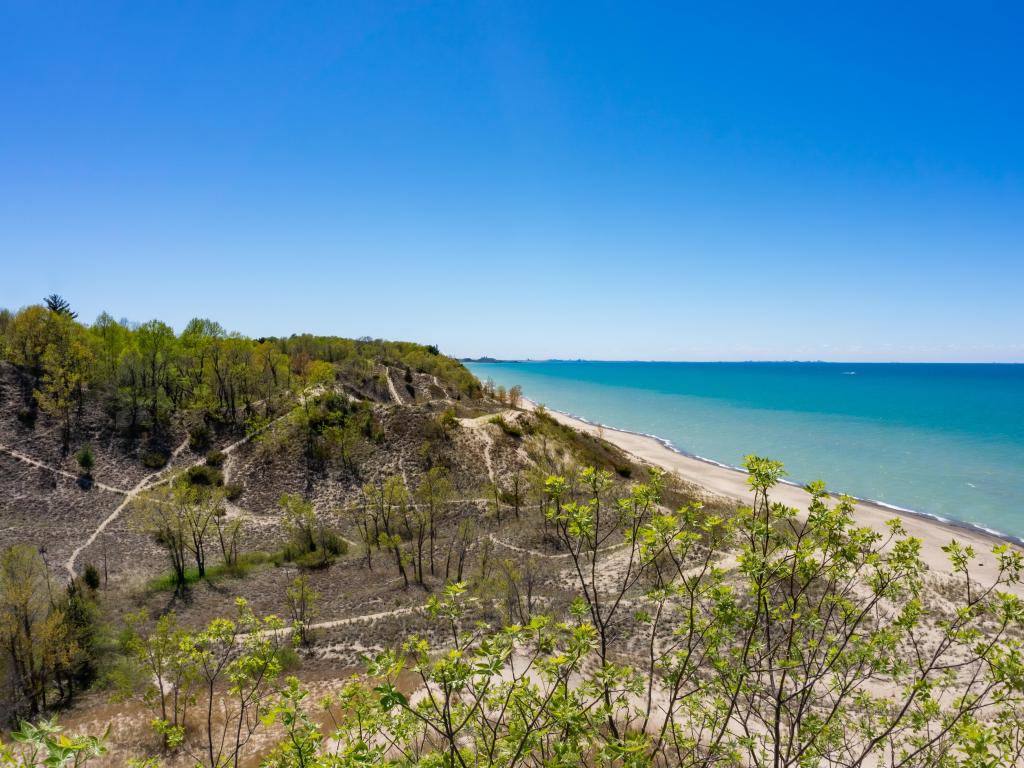 Best road trip route from Chicago to Wisconsin Dells
The Direct West Shore Route takes you via the north on the west shores of Lake Michigan. A stop at Chicago Botanic Garden is a relaxing experience in contrast to the hustle and bustle of the Windy City where you arrived from.
From gorgeous sandy beaches and quaint lakeside towns to shopping and nightlife, you'll veer West towards Wisconsin Dells.
You'll have a smooth ride except for the traffic you'll face near Milwaukee and the reduced-road speed limits between Illinois Beach State Park and Racine.
After leaving Chicago, you'll travel along the shore of Lake Michigan with walking trails over dunes. The Summer Scenic Route uses the Lake Express car ferry from Muskegon to Milwaukee.
You'll then visit quaint Michigan cities, considered hidden gems. These cities have both small-town charm and happening nightlife. After landing on the West shore of Lake Michigan, you'll find outdoor activities along your route to Wisconsin Dells.
The Direct West Shore Route
Take Interstate 90 (I-90) W out of Chicago, and head north along the shore of Michigan Lake. To get to the peaceful and beautiful Chicago Botanical Garden, hop on I-94 W.
From there, merge into US-41 and then take IL-137 to reach the serene Illinois Beach State Park. After exploring the park, take a right and keep driving along the west shore of Michigan Lake.
After crossing the Illinois-Wisconsin border, continue your journey on the IL-32 un north, crossing Kenosha and Racine. Exit Racine by heading toward the mainland to join I-41.
Keep driving till you meet I-43 to head to Milwaukee. Visit the city's exciting indoor and outdoor attractions before continuing I-43 northward. Before arriving at picturesque Two Rivers, you'll see several small towns, Kettle Moraine State Forest, and occasional glimpses of the shore.
From Two Rivers, follow directions for Green Bay, detouring briefly to Kewaunee. Take I-41 south along the Fox River and the northwest shore of Lake Winnebago.
At Oshkosh, head west on WI-44, visiting several small lakes and ponds and glimpses of the scenic backdrop. After crossing Ripon, continue WI-23 W and drive to Wisconsin Dells.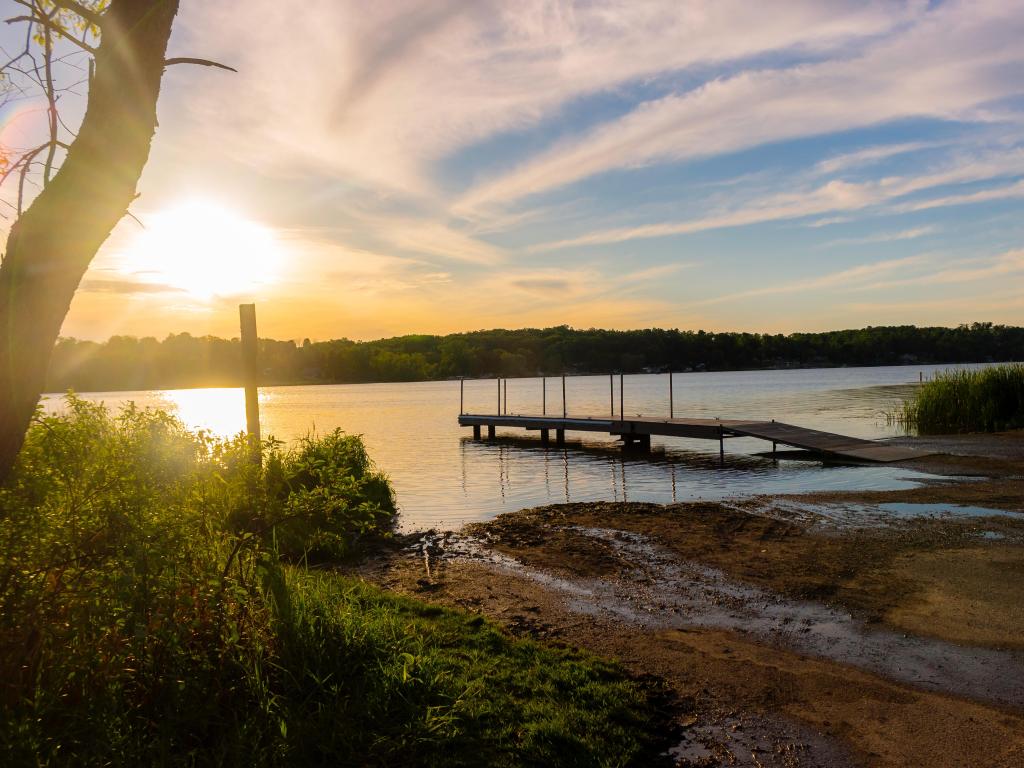 The Summer Scenic Route
From Chicago, head south to join I-90 and drive along the southern shore of Lake Michigan. As you move east along the lake, join I-94, bypass Michigan City, and enter Michigan State.
Continuing I-94, head to Kalamazoo for an afternoon full of arts, culture, and recreation. From there, head north on US-131 to Grand Rapids, enjoying the occasional farms between scenic suburbs.
Before heading to Muskegon, take a short detour along US-131 to visit the historic town of Rockford. Retrace your route to a point where US-131 intersects with I-96.
Take a right to get on I-96 and drive through quaint towns, urban attractions, and lovely countryside till you make it to Muskegon. From there, take the Lake Express car ferry to head to Milwaukee.
Note that the ferry operates only from May through October, and it takes around two and a half hours to reach Milwaukee. For other times, you'll have to retrace your route to Chicago and then take I-90/I-94 to get to Milwaukee.
Head west on I-94, and after a short detour to Waukesha, continue your journey on I-94 all the way to Madison. After exploring the food and recreation at Madison, take I-39 to Portage.
After Portage, drive along the beautiful Wisconsin River on state highway-16 to finally reach Wisconsin Dells.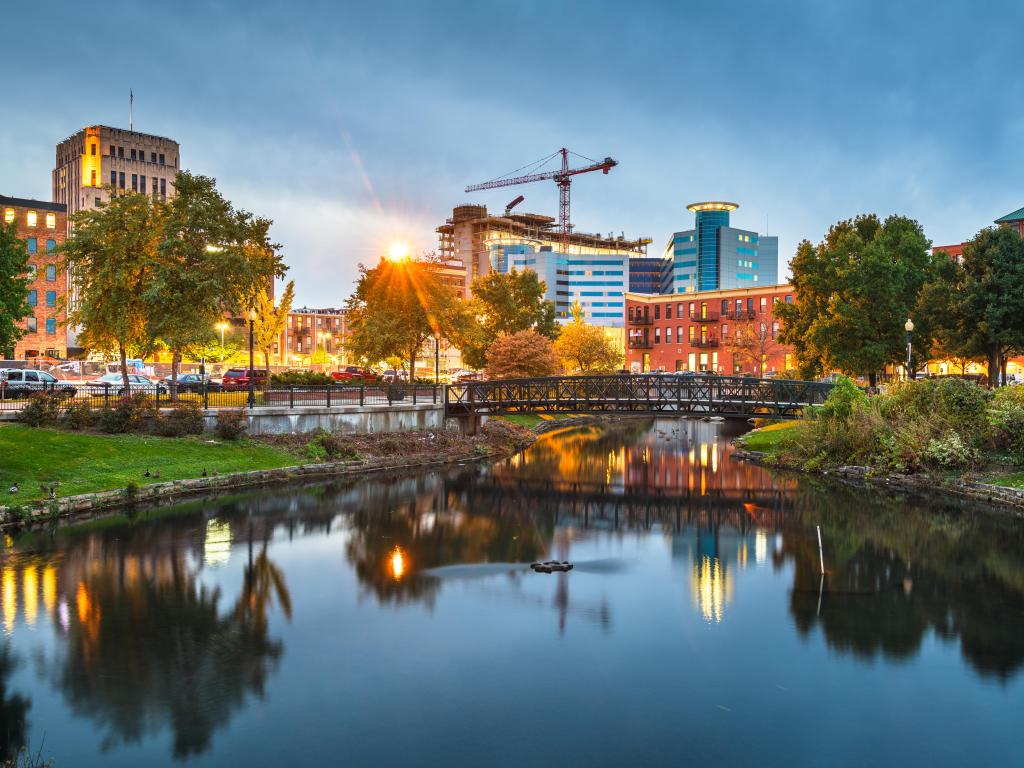 Best places to stop between Chicago and Wisconsin Dells
Not only is this route along the beautiful Lake Michigan dotted with charming towns and vibrant cities, but there are plenty of fantastic places to stop and explore.
Explore the cultural and vibrant Milwaukee
Located 100 miles into the 380-mile road trip on The Direct West Shore Route, Milwaukee is the ideal first-night stop. Known as the Cream City and home to the world's most renowned motorcycle manufacturer Harley Davidson, it offers plenty of attractions and lovely walks by the Bay.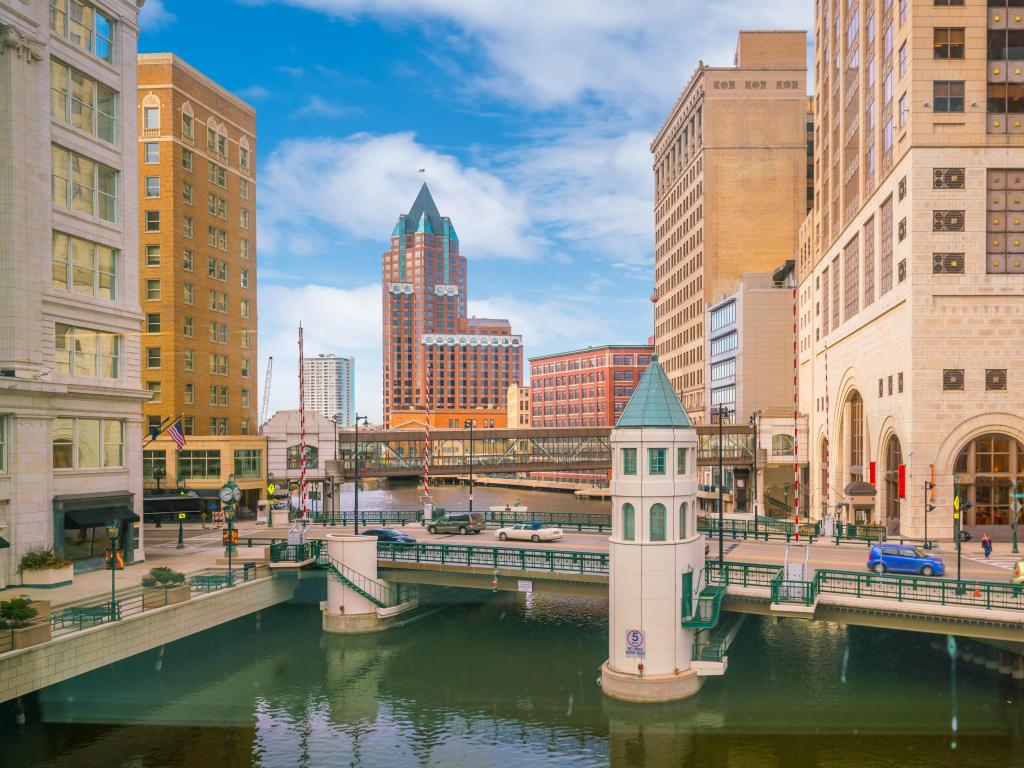 For a walk through the most prominent neighborhoods of Milwaukee, take the Riverwalk. You'll find up-and-coming restaurants and brewpubs along the way. And after relaxing at Veterans Park, visit the famous Harley Davidson Museum.
Spread over two floors, you can enjoy the extensive collection of motorcycles and memorabilia of Harley Davidson. For another unique museum visit, enjoy an immersive experience at the Milwaukee Public Museum, where you can 'travel' around the world through their exhibits and walk through old Milwaukee Street.
Located right in the middle of the downtown area and within walking distance of all the major tourist attractions, the trendy and modern aloft Hotel Milwaukee Downtown is an excellent choice for your overnight stay.
Not only can you avail yourself of on-site parking at a reasonable fee, but you can also take a dip in the indoor pool to melt your driving stress away. After working out at the fitness center, indulge in delicious American cuisine at Re: Fuel.
Decorated with a contemporary aesthetic, the hotel has an outdoor fireplace and lovely furniture. You can also unwind at their bar area with Happy Hour and enjoy recreation by the pool table and live music.
The next day, drive for less than a mile to merge onto I-43 toward Two Rivers.
Enjoy an artistic halt at Grand Rapids
You'll encounter the 'Furniture City'- Grand Rapids just under halfway on The Summer Scenic Route. The city gets this name from being famous for furniture manufacturing.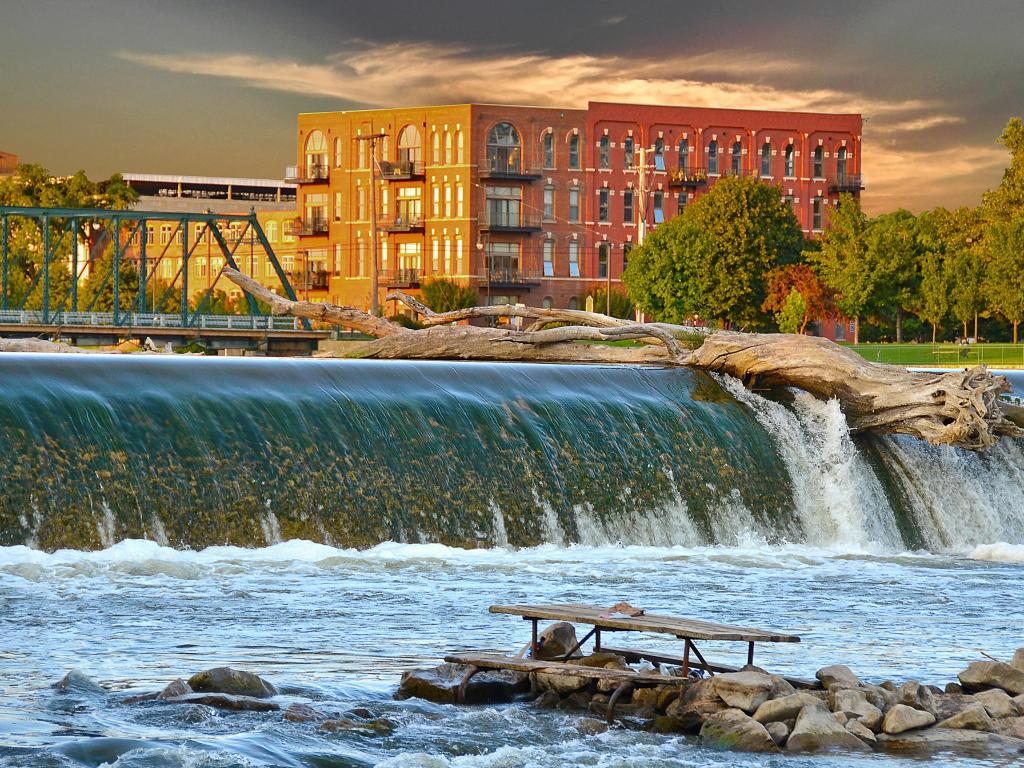 Admire the artwork amidst nature by strolling in the Frederik Meijer Gardens & Sculpture Park. Continue tripping on art at the Grand Rapids Art Museum. They have rotating galleries, ensuring you see something different each time you visit.
The city is becoming a significant brewery hub with a budding music scene. So, when here, head to the downtown entertainment district to explore live music venues, sports bars, brewpubs, comedy clubs, and theaters.
Located in the middle of the happening downtown, you can access the highway, most tourist attractions, and the Riverwalk Promenade from Amway Grand Plaza Hotel.
This historic hotel's regal décor contrasts with the rooms' contemporary design. One of our favorite hotels to stay in Grand Rapids, it has paid private parking and a state-of-the-art fitness center. With the luxury of an indoor pool and hot tub, you can take a relaxing dip after a day of driving.
The hotel has excellent amenities like spa, salon, and massage treatments. When hungry, you can choose between Rendezvous restaurant, Lumber Baron Bar, and Woodrow's Duckpin with a bowling alley for your meals.
Where to stay when you reach Wisconsin Dells
Once you reach the Waterpark Capital of the World, you can choose between many family-friendly amusement parks, entertainment options, camping, and scenic outdoors.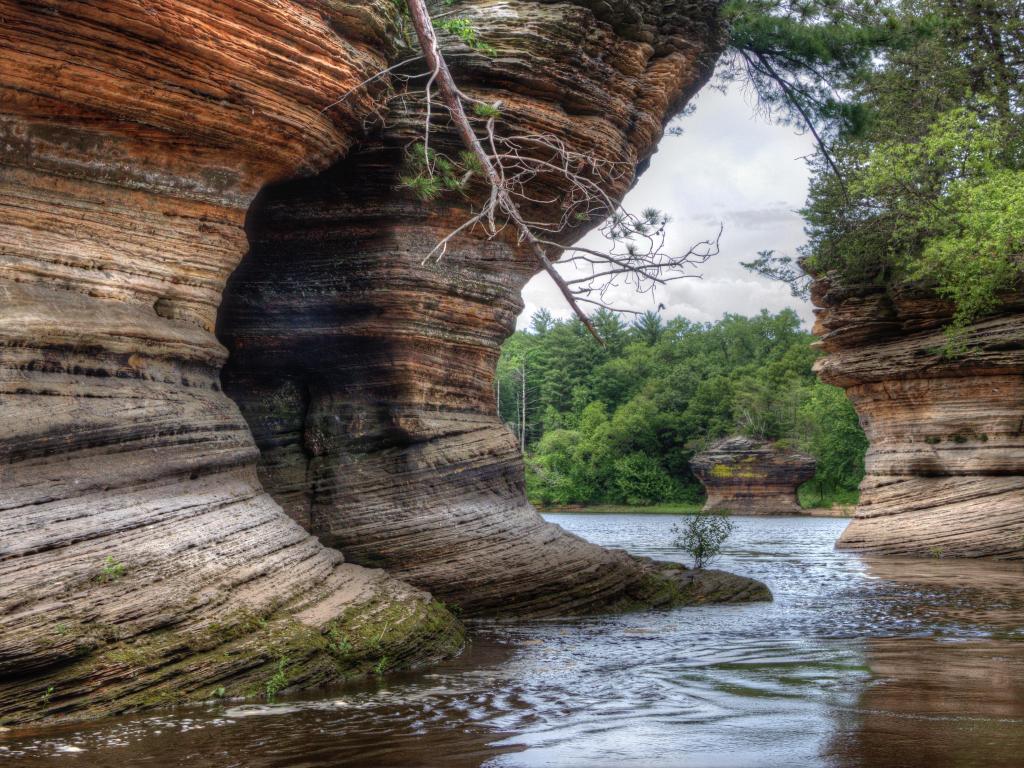 One of the hotels we keep returning to is SpringHill Suites by Marriott in Wisconsin Dells. The hotel is perfect for a more extended stay, and you can enjoy spacious modern rooms, free on-site parking, and breakfast.
Located within walking distance from Lake Delton Beach, Noah's Ark Waterpark, Wild Rock Golf Club, and Ripley's Believe it or Not, you can rent bikes from the hotel to get to all these places.
Things to see on a road trip from Chicago to Wisconsin Dells
This trip along the Lake Michigan shore is truly an unforgettable experience with plenty of exciting things to see on the way. And no matter which routes you choose; we have compiled a list of our favorite must-see places.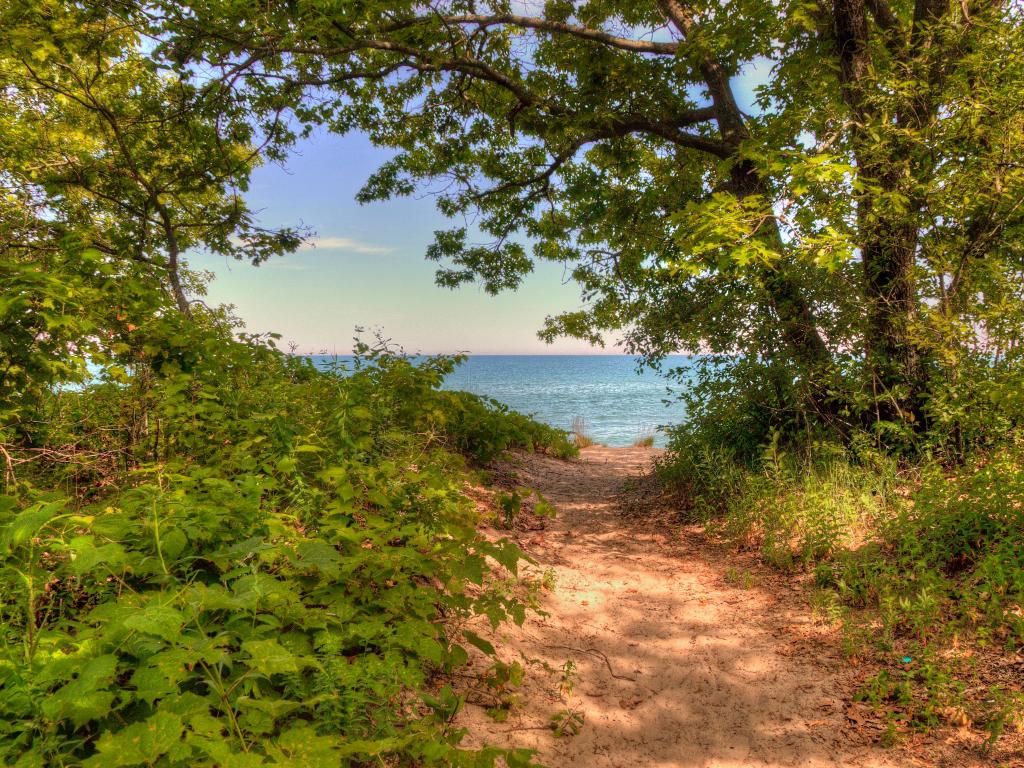 The Direct West Shore Route
Chicago Botanic Garden, Glencoe, Illinois – Surround yourself with nature by walking through the Chicago Botanic Garden. You'll find different themed gardens, from the Sensory Garden to the Japanese Garden.
Illinois Beach State Park, Zion, Illinois – Stroll along a stretch of the 6.5-mile sandy shores of Lake Michigan. You can also check out their campground for a lakeside overnight stay.
Kenosha, Wisconsin – Downtown Kenosha is walkable with its vintage clothing stores and characterful bookstores. Discover Kenosha Public Museum and learn how mammoths once strolled nearby.
Racine, Wisconsin – The Root River meanders through the city, offering a perfect opportunity for kayaking. While in town, don't forget to try Kringle - a sweet oval pastry that has earned Racine the name of 'America's Kringle Capital.'
Two Rivers, Wisconsin – Neshotah Park & Beach is a sandy beach on Lake Michigan, perfect for visiting for a swim and relaxing in the sun.
Kewaunee, Wisconsin – You can visit the historic Tug Ludington, a World War II tugboat at Kewaunee. Want to spend some quality time by the waters? It is also a popular spot for fishing.
Green Bay, Wisconsin – Green Bay is the smallest city with an NFL team, and you can take a tour of their home, Lambeau Field. The Bay Beach is home to a Wildlife Sanctuary and amusement park that is a must-visit on this trip.
Oshkosh, Wisconsin – Besides the famous Asylum Point Lighthouse, you should walk across the wooden bridge to a small island to admire vistas over Lake Winnebago.
Green Lake, Wisconsin – This is a fantastic place to explore recreational water sports. You can visit Action Marina, where you can rent ski boats and pontoons to enjoy a day on Green Lake. It is also an enchanting spot for outdoor activities such as hiking.
Montello, Wisconsin – Montello has a former granite quarry that is now a park. The Montello Granite Park, also known as Daggett Memorial Park, is an expanse of green space with waterfalls.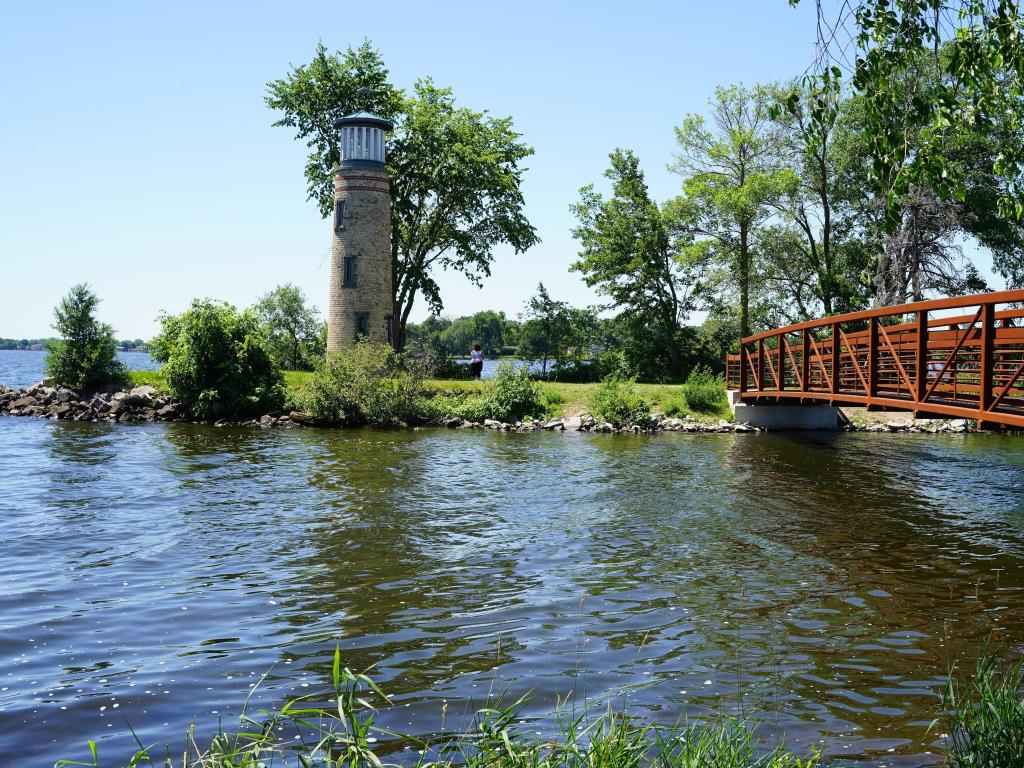 The Summer Scenic Route
Indiana Dunes National Park, Indiana – There are over 50 miles of hiking trails along the 15 miles of coastline. See how the wind and waves have shaped the landscape as you walk through dunes and woodlands.
South Bend, Indiana – White water raft through downtown at the East Race Waterway. It also offers the perfect outdoor explorations at St. Patrick's County Park and Potato Creek State Park.
Lake Michigan Beach, Michigan – Take a walk-through woodland to reach a relaxing and secluded beach.
South Haven, Michigan – Explore the trails and the pristine beaches of South Haven. See the South Pier Lighthouse at South Pier.
Kalamazoo, Michigan – In Kalamazoo, you'll find the vibrancy of a major city combined with the small-town charm. Shop the 1959 Kalamazoo Mall and dine on locally sourced traditional American food.
Rockford, Michigan – When visiting the quaint Rockford, stumble upon local breweries and restaurants after spending time at the Rockford Dam Overlook.
Muskegon, Michigan – Before jumping aboard the Lake Express to Milwaukee, spend some time in Muskegon. Known as 'Shoreline City,' you'll find outdoor activities, art galleries, and a booming downtown.
Waukesha, Wisconsin – People believed that the spring water at Waukesha had healing powers. The Fox River flows through the city, and you can walk the river trail Downtown to enjoy the nightlife.
Madison, Wisconsin – As the capital of Wisconsin, you can visit the State Capitol building with its 284-foot dome. One of the 'Top Ten Most Inspiring Gardens in North America,' Olbrich Botanical Garden is a must-see.
Lake Wisconsin, Wisconsin – Hike the flat-topped butte at Gibraltar Rock State Natural Area. At the top, you'll have panoramic views of Lake Wisconsin.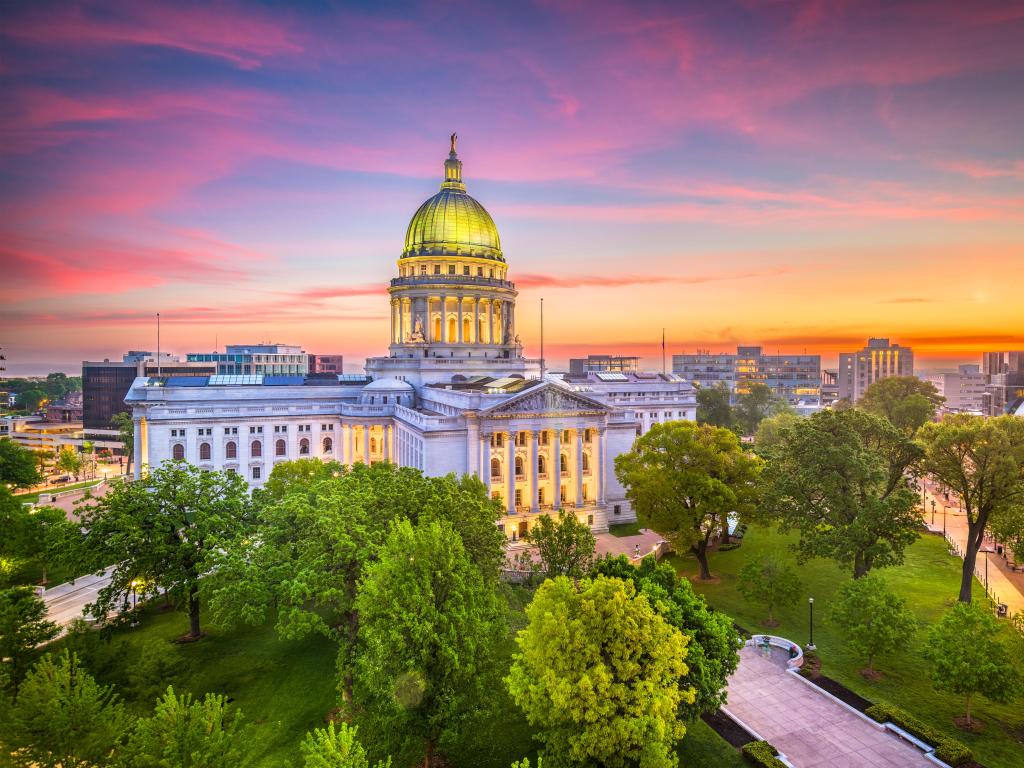 Best time to go on a road trip from Chicago to Wisconsin Dells
The bestselling feature of this lively city is the variety of theme parks and entertainment throughout the year. But just like every year-round destination, Wisconsin Dells also sees fluctuations in terms of visitors during the year.
If feasible, you must visit Wisconsin Dells during summer when the weather is warm, and the outdoor water parks are open. The average high temperatures range from 78 to 82 degrees Fahrenheit from June to August. This also makes summer the busiest time to visit the city. You can expect to pay high prices for hotels during the summer months.
During winter, you can expect particularly chilly weather, with the average temperature ranging from 19 to 37 degrees Fahrenheit during the peak winter months. There is a fair chance of snow, and the outdoor water parks close during winter. But if the indoors interest you, you can still enjoy a quieter and budget-friendly experience.
If you wish to take this trip during spring, note that most outdoor areas are open only from May. You'll not find the place too crowded, and the hotel prices also decrease. During Fall, the temperature ranges between 37 to 61 degrees, with September being the warmest. Because of the pleasant weather, it is suitable for outdoors.
While there is no one particular festival that Wisconsin Dells is known for, you can still catch some events happening throughout the year. Car enthusiasts can block their calendars for Automotion Classic Car Show on 20-21st May.
If the wine interests you, the city hosts a spring wine walk on the 29th of April and a Fall one on the 7th of October. You can also sample beer during Dells Craft Beer Walk and Dells On Tap in October.