Road Trip From Chicago To Yellowstone National Park
Driving from Chicago to Yellowstone National Park is a monumental journey that takes you from the Great Lakes to the grand wilderness of America's very first national park.
The 1,340-mile road trip from Chicago to Yellowstone takes over 21 hours of driving without stops and takes you through the wilderness of Wisconsin, Minnesota, South Dakota and Wyoming. Take at least 3 to 4 days to make the most of the scenic route.
Read on to find the best places to stop, amazing nature to explore and top tips for making the long drive to Yellowstone as enjoyable as possible.
How far is Yellowstone National Park from Chicago, and how long will the road trip take?
Possibly one of the longer journeys many people will ever make, the direct route covers 1,340 miles and takes approximately 20 hours of driving to complete.
Now, with a trip that long we certainly don't want to make it any longer than we have to. However, we are going to make a little detour, in order to make sure you get the opportunity to see absolutely everything that's on offer.
That's why the route we're going to take will cover 1,390 miles and take about 21 hours. Considering we'll be making multiple stops along the way, what's an extra 50 miles if it gives you the chance to have a number of incredible experiences you'd otherwise miss out on?
Best road trip route from Chicago to Yellowstone National Park
The route to Yellowstone may be long but most of it is pretty straightforward, as you'll be following a number of Interstates for the bulk of the journey. Don't worry about the scenery though, as these aren't the busy, built-up interstates you would see in the city, just long open roads, winding through the countryside.
Road trip route from Chicago to Yellowstone National Park
We begin by heading out on I-88 which begins in the west side of the city, and following it to its completion, near the Iowa state line. From here you'll switch to I-80 West and follow it some 285 miles, until just northwest of Omaha.
Continue west by joining I-880 where it begins and follow it a whopping 16.5 miles to its conclusion, before switching to the I-29 and taking it north to Sioux Falls.
You're now going to spend over a third of your journey on one road, as we take the I-90 west, some 556 miles across the Great Plains, to the town of Buffalo, Wyoming, at the foot of the Bighorn Mountains.
The final 220 miles of our journey will see us get off the interstate and take some smaller country roads.
Begin by taking the US-16 west, to the town of Ten Sleep, from where turn north onto Ten Sleep Hyattsville Road and follow Routes 49 and 31 to Manderson.
From Manderson, US-20 North and Route 30 West will bring you to US-14 at Burlington which will then take you all the way to Yellowstone's East Entrance.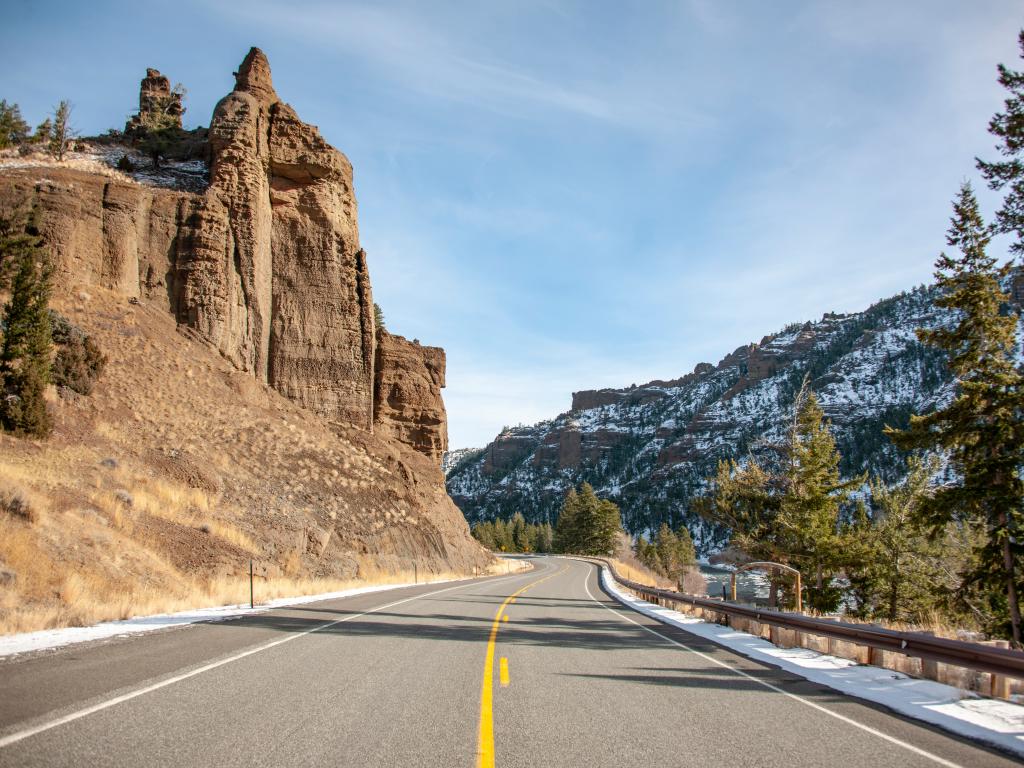 Best places to stop between Chicago and Yellowstone National Park
As you can imagine, the length of the road trip from Chicago to Yellowstone means you will need to break it up with a few stops.
While we will go through a full rundown of everything to see on the way further down, let's first take a look at the absolute best places to stop for the night and make the most of the long drive.
A relaxing stop in Des Moines
Our first stop lies some 330 miles to the west of Chicago, in the state of Iowa. The capital and largest city in the state, Des Moines is a beautiful location that doesn't get the recognition it deserves, largely due to its location.
While there's plenty to keep you entertained night and day in the city, it's an attraction just outside the city that may be the most compelling reason to visit.
Winterset is a small town just outside Des Moines and is known as the birthplace of the one and only John Wayne. An absolute must is to visit the museum dedicated to his life located in the house where he was born.
This museum will let you get to know one of the most famous movie stars of all time on a very personal level with lots of mementos and interesting displays.
Considering we're headed to Wyoming, which is widely known as cowboy country, what better stop to make than learning about the big screen's most famous cowboy along the way?
Considering this is going to be a journey full of beautiful historic locations, why not stay in a hotel brimming with history and charm at the Historical Oscar Lofquist House?
Located in the heart of Des Moines, the apartment will feel like a home away from home with welcoming hosts and everything you need to have for a great stay.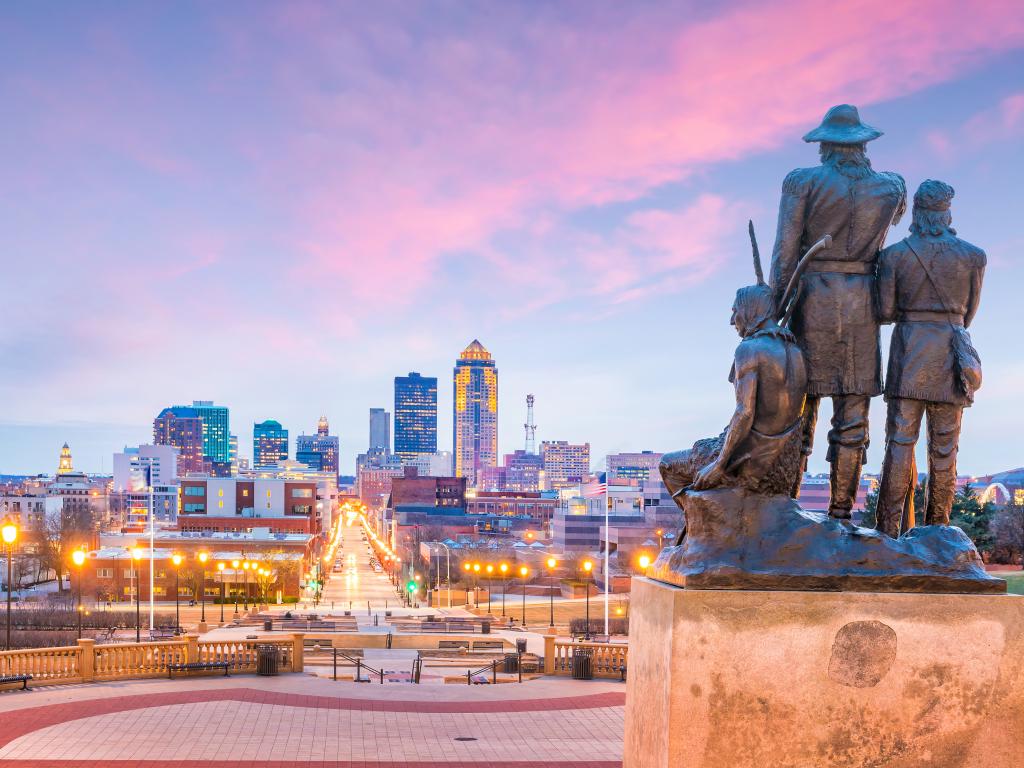 Split your trip with a stay at Sioux Falls
Located just slightly under the halfway mark on our route from Chicago to Yellowstone, Sioux Falls sits the perfect place to split the trip in two. The most populous city in South Dakota, Sioux Falls, is situated on the banks of the Big Sioux River.
It's a city most famed for its stunning collection of parks and wide-open spaces, most notably Falls Park, where the waterfalls that give the city its name can be found.
This is the perfect place to experience a small taste of what lies ahead in Yellowstone, while still being surrounded by civilization to make relaxing with a nice meal or a drink at the end of the day much easier.
Although there are a few decent lodging options, I'd recommend staying at the Clubhouse Hotel Sioux Falls - a great hotel with a very natural feel to it sitting right along the riverfront.
A not-so-rapid stay in Rapid City
After crossing the entire width of South Dakota and before looping around the Black Hills National Forest along the I-90, you'll come to Rapid City.
You have multiple national parks and forests, the historic town of Deadwood, wildlife safaris, the Sturgis Festival, the Crazy Horse and Mount Rushmore monuments all on your doorstep.
If you wanted to drive a little further, there's even the site of the famous Wounded Knee Massacre under 90 minutes southeast of the city.
With this being a trip centered around exploring the natural side of this beautiful part of the world, it only makes sense that our accommodation should do the same, which is why you simply have to stay at the Priceless Black Hills View.
Located a few miles to the west of the city, on the edge of the Black Hills National Forest, this beautiful house features stunning views of nature with wildlife all around.
Things to see on a road trip from Chicago to Yellowstone National Park
As I mentioned earlier, there are an incredible number of sights and attractions on this trip, so making sure you get to see everything you want can be quite a challenge.
Hopefully, we will be able to help you out with that though, as the following is a list of the best things to see along your journey, so you can tick them off as you go and keep track of what you've done.
Iowa Cornfields - You won't miss these vast fields on your way across the state, especially if you're driving during the summer months.
Des Moines - The capital and largest city in the state of Iowa.
John Wayne Birthplace Museum - Located in the small town of Winterset is the museum dedicated to his life and work in the home where he was born that has been restored to how it would have been back in 1907.
Omaha - The capital city of Nebraska, Omaha is worth a stop to explore its quaint neighborhoods, one of the most famous zoos in the world and vibrant food & beer scenes.
Sioux Falls -The largest city in the state of South Dakota.
Wall Drug - Sitting on the edge of Badlands National Park, Wall Drug is full of Wild West-themed stores, restaurants and, you guessed it, a drug store.
Badlands National Park – A one-of-a-kind national park with a mix of sprawling prairies and rocky canyons. Look out for bison and bighorn sheep that call Badlands there.
Rapid City - The second largest city in South Dakota has that familiar feeling even if you've never been before.
Wind Cave National Park – One of the longest and most intricate cave systems in the world is hidden under the forests and prairies of South Dakota near Custer State Park.
Deadwood -A large Wild West town in the Black Hills where you can walk the same streets as the legendary lawman Wyatt Earp and visit the spot where Wild Bill Hickok was killed.
Crazy Horse Memorial - What may one day become the world's second-largest statue is a huge carving of the native war chief that has been in construction since 1948 with no completion date in sight.
Mount Rushmore - Theworld-famous monument depicting some of America's famous presidents, carved into the Black Hills rockface.
Black Hills National Forest - A 1.25-million-acre mix of forests and mountains in the southwestern corner of South Dakota.
Devils Tower National Monument - The famous rock formation is as beautiful as it is mysterious.
Thunder Basin National Grassland - Vast flat grassland in eastern Wyoming.
Bighorn National Forest - One of the oldest protected forests in America and home to the Medicine Wheel National Historic Landmark.
Shoshone National Forest - The oldest protected forest in the United States, covering 2.5 million acres.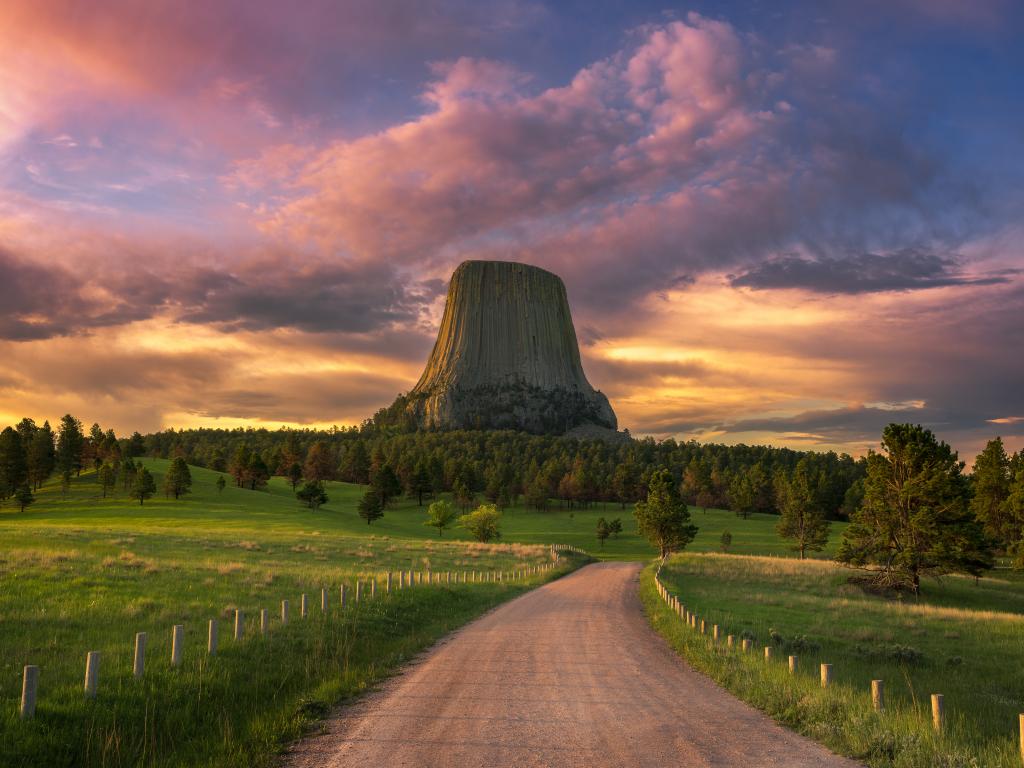 Best time to go on a road trip from Chicago to Yellowstone National Park
This is a trip that's all about experiencing the great outdoors. Everything you do from sightseeing and hiking to picnicking and possibly even camping will occur outdoors.
Therefore, if we want this trip to be any fun, we need to make sure we have good weather to do it in. Thankfully, unlike some other national parks like Death Valley of Grand Canyon, the temperature doesn't reach unbearable highs, even in the peak of summer.
The best time to make the road trip from Chicago to Yellowstone is from May to September. The weather will be warm with little chance of rain, giving you the best opportunity to explore nature. Be prepared to share your experience with tourist crowds in July and August.
Remember that some roads to and in Yellowstone close down for winter. You can still make the drive from Chicago and stay just outside the National Park, taking snowmobiles, skis or other means of getting about, but you won't be able to appreciate Yellowstone in all its glory.