Road Trip from Connecticut to Orlando, Florida
Do you enjoy thrills, spills and automobiles? Then head out on this epic American road trip from the historic state of Connecticut to the star entertainment city of Orlando, Florida. On this adventure, you will travel past incredible landscapes, cityscapes and coastlines along the way.
The 1,390-mile trip from Connecticut to Orlando, Florida, takes 24 hours, navigating New York, Philadelphia and Charleston, before Virginia, Carolina and Myrtle beaches, or George Washington and Jefferson National Forest, Roanoke and Columbia inland.
Check out some of America's top attractions, best beaches and historic sites along this glorious road trip, where there really is something for everyone. Keep reading on to see the key things to do, places to visit and where to stay on this exhilarating journey.
How far is Orlando, Florida from Connecticut, and how long will the road trip take?
Comparison of road trip routes between Connecticut and Orlando, Florida

| Route | Distance | Driving Time |
| --- | --- | --- |
| Coastal Route | 1,390 miles | 24 hours |
| Blue Ridge Parkway Detour | 1,490 miles | 26 hours |
Taking the Coastal Route to travel to Orlando, Florida, from Connecticut, takes about 24 hours to complete and covers 1,390 miles.
If you head along the Blue Ridge Parkway Detour the journey from Connecticut to Orlando, Florida, takes a little longer at 26 hours, and covers 1,490 miles.
You could cover this journey in a couple of days, but as there are so many things to see, and a chance to have some down time, we suggest taking 4-5 days. This gives you the chance to spend plenty of time exploring and relaxing.
READ MORE - Ultimate Florida Road Trip Itinerary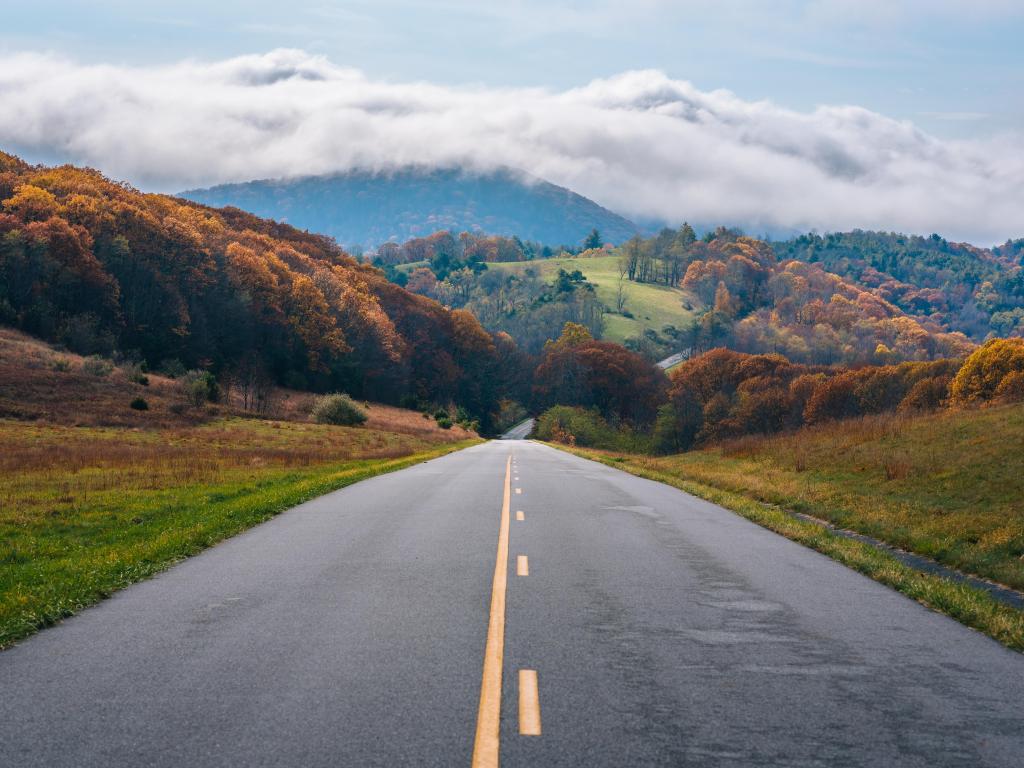 Best road trip route from Connecticut to Orlando, Florida
This exciting road trip from Connecticut to Orlando, Florida, promises to deliver thrills along the way not just at the destination. Which route is the best will depend solely on what sights you are after.
Both routes will take you through the iconic cities of the East Coast, such as New York and Philadelphia, before diverging to either follow the coast or the legendary Blue Ridge Parkway.
Journey along the Coastal Route and after more impressive sights at Baltimore and Washington, you emerge along the coastal path that tours so many beautiful beaches and forests including Virginia Beach and the lush Croatan National Forest.
Rest easy after your busy journey with some downtime at Carolina Beach or Myrtle Beach, both buzzing with plenty to do along the sandy shores.
If you head along the Blue Ridge Pathway Detour after leaving Philly, then you can expect some beautiful inland scenery this epic drive is so famous for. This detour adds a couple of hours to the total driving time, but the incredible landscape more than makes up for that.
How to drive from Connecticut to Orlando, Florida
The map above shows our suggestions for the best road trip routes between Connecticut to Orlando, Florida. Keep reading for detailed descriptions of both routes, where to stay on either, and the best things to do on the way.
The Coastal Route
Head south from Hartford, Connecticut, along Intestate 91 (I-91) until you reach New Haven, and then the I-95 along to the iconic sights of New York.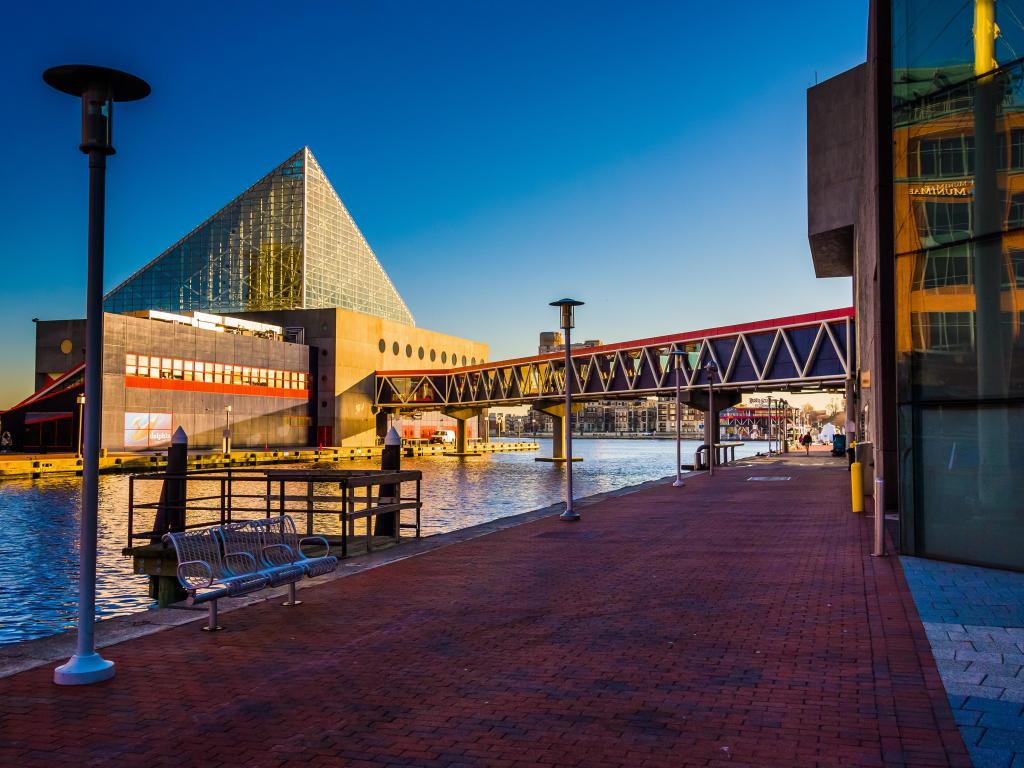 From here the I-95 takes you to Philadelphia and past Baltimore, where the chance to feed sharks at Baltimore National Aquarium might be very tempting! Once you have visited historic sites in Washington, I-64 and then I-264 takes you to a stopover at Virginia Beach.
After enjoying the beach, boardwalk and pier at Virginia Beach, head back towards I-64 and then the coastal route 17, which passes beauty spots Croatan National Forest and Myrtle Beach, all the way to Jacksonville.
From Jacksonville a simple southern trip along US-1 takes you to St. Augustine, jump on the signature Old Town Trolley Tour to see the sights, before reaching your destination in Orlando, Florida.
Check out our ultimate Florida road trip itinerary to see how to extend your trip.
The Blue Ridge Parkway Detour
Enjoy the sights of New Haven, New York and Philadelphia also, before heading inland on this beautiful Blue Ridge Parkway Route.
I-276 and then I-76 takes you past Lancaster, before taking the I-81 south to the first stop off in Roanoke to enjoy the surroundings of Blue Ridge Mountains.
From here I-77 follows past Charlotte and Columbia, where a visit to the Riverbanks Zoo and Botanical Garden is a must. This acclaimed zoo combines exotic animals with exotic plants and is a great stop off choice.
From here the journey mirrors the Coastal Route, and you can enjoy the sights of Charleston, Okefenokee National Wildlife Refuge and St. Augustine, before arriving in Orlando, Florida.
If you are looking to explore Florida, check out our ultimate road trip itinerary.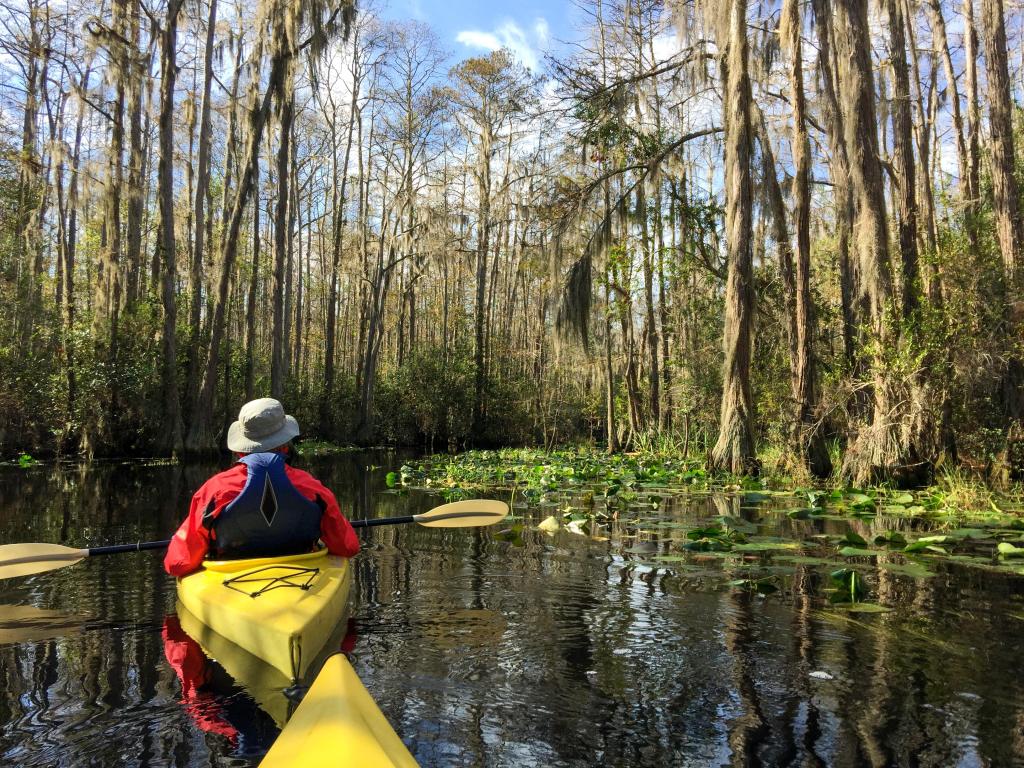 Best places to stop between Connecticut and Orlando, Florida
Both the great routes we suggest from Connecticut to Orlando, Florida travel past incredible landscapes, cityscapes and coastlines along the way.
With so much to pack in during this epic road trip we suggest staying over so that you can take time exploring the interesting sights and glorious beaches.
Relax on the beautiful sands at Virginia Beach
Around halfway along the Coastal Route you'll meet Virginia Beach, well known for its shoreline, boardwalk, entertainment and maritime history.
The first stop has to be at the Virginia Beach Boardwalk, with a saunter along the three miles of impressive coastline pathways. Take in the ocean views, before stopping to enjoy the music, entertainment, and bars, along the way.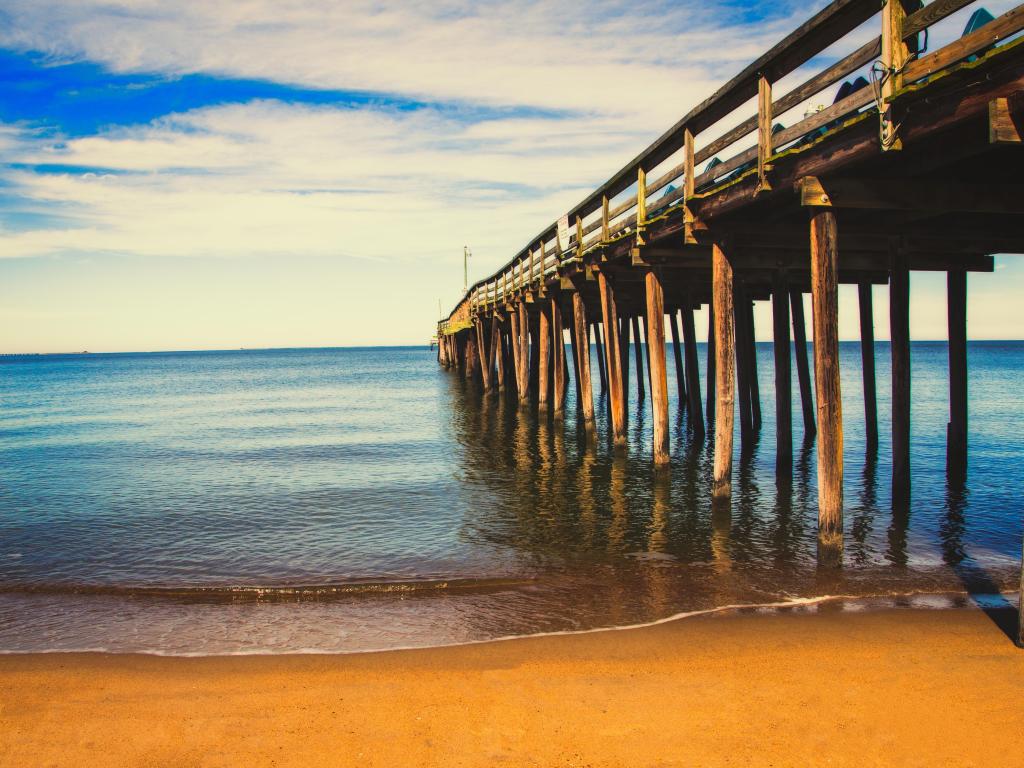 Take a unique trip to the military base to visit Cape Henry Lighthouse up close. A tour takes you round these interesting structures, and afterwards enjoy a picnic in the dunes.
For aviation fans the informative Military Aviation Museum is teeming with exhibits and one of the biggest collections of warbirds in the world.
After all that discovery head for some rest and relaxation at the beautiful Delta Hotels by Marriott Virginia Beach Bayfront Suites. The stylish and slick interior feels really luxurious, and not only is there a seasonal outdoor pool, but access to a private beach really is the icing on the cake!
Start your day off right with a terrific daily American breakfast served in Café 2800 on-site, or head for dinner at the delicious Tin Cup Kitchen + Oyster Bar, serving regional cuisine to tickle the tastebuds.
Only a short distance to many popular attractions and beautiful beaches, including Chesapeake Bay Beach, make it the ideal base for exploring.
Ramble through Roanoke
Around halfway through the Blue Ridge Parkway Detour you'll stumble across Roanoke, best known for the beautiful surroundings of the Blue Ridge Mountains to marvel and the largest illuminated star in the world – The Roanoke Star.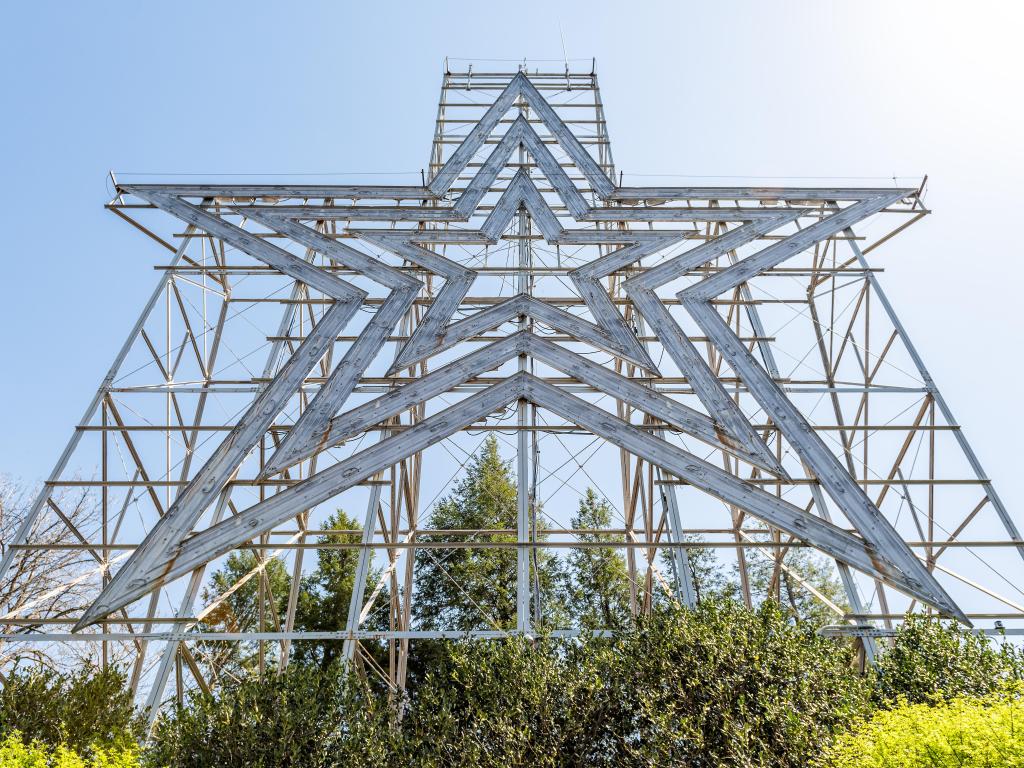 Get a better view of the Roanoke Star with a ramble up Mill Mountain, with superb panoramic views across the area. If you have more time to explore, a visit to O. Winston Link Museum is ideal for any railroad fan, teeming with interactive exhibits and steam engines.
Looking to spend time exploring the great outdoors with a hike through Roanoke Valley Greenways. Take a canoe across Roanoke River for some of the best views.
Afterwards head for your stay at The Liberty Trust, a beautiful and stylish 4-star hotel, which has been recently refurbished with a keen eye on detail. Enjoying an excellent location, this hotel has incredible city views from the delightful bedrooms and relaxation areas dotted throughout.
Head for a signature pre-dinner cocktail at the on-site restaurant and bar The Vault at The Liberty Trust. It also serves delicious international cuisine, and really is a must-visit.
Located in the heart of Roanoke, it's a great spot for exploring and very close to many popular landmarks including the Science Museum of Western Virginia, Hopkins Planetarium and Mill Mountain.
Where to stay when you reach Orlando, Florida
Stay at Caribe Royale Orlando, a stunning tropical paradise, with the best theme parks in the world on the doorstep. After a busy day of thrill-seeking head back to the beautiful outdoor pool, spa and hot tubs for some much-needed down time.
Hungry? Choose from the delicious menu of Calypso's Pool Bar & Grille offering classic American cuisine, to Venetian Chop House serving up great seafood and steak.
A stone's throw from many of the top attractions including SeaWorld Orlando, Disney's Boardwalk and Walt Disney World Resort, it couldn't be easier to explore all the wonderful sights Orlando, Florida, has on offer.
Things to see on a road trip from Connecticut to Orlando, Florida
Both the Coastal Route and the Blue Ridge Parkway Route are packed with incredible landscapes and beaches, landmarks and top attractions throughout this thrill-seeking road trip from Connecticut to Orlando, Florida.
Make sure to read our recommendations below for the best places to visit to make the most of your journey.
The Coastal Route
Airlie Gardens - Based in Wilmington, head to these pretty gardens for an afternoon stroll to enjoy the blooms and wildlife.
Baltimore National Aquarium - A very popular attraction, this renowned aquarium is packed with over 20,000 animals. How about taking the opportunity to feed the sharks?
Washington DC - Needing little introduction, there are heaps of museums and attractions to visit here. Start with a trip to the top of the Space Needle to admire panoramic views of everything on offer.
Virginia Beach Boardwalk - Stroll along the three miles of boardwalk to admire the stunning coastline, while dipping in and out of the shops and restaurants along the way.
Chesapeake - Perfect for those that love the outdoors, Chesapeake is packed with trails to explore. The Virginia Civil War Trails are particularly insightful about the nation's history.
Croatan National Forest - Set across 160,000 acres, the interesting forest landscape is beautiful to hike across – just watch out for the resident wildlife including black bears.
Carolina Beach - Hike a scenic trail along Carolina Beach State Park to Cape Fear River lookout. Afterwards settle for the afternoon along the sandy shores where surf fishing is a popular activity.
Myrtle Beach - Buzzing with things to do, the 60 mile stretch of beach is renowned. Throughout the year there are also many community and music events held.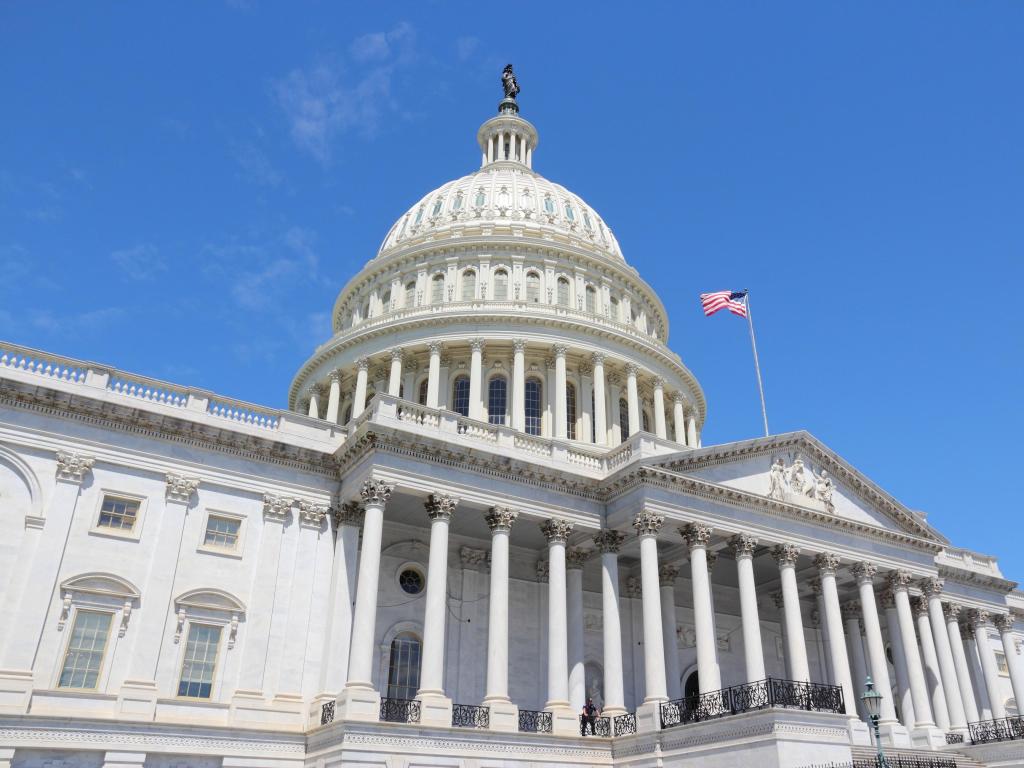 The Blue Ridge Parkway detour
George Washington and Jefferson National Forest - Named after two founders, it covers over 1.6 million acres. Walk, hike, bike and ride here and you'll be spoilt for choice on wildlife, birds and flora you will see.
Roanoke - Hike Mill Mountain to enjoy the views over Roanoke and get up close to the iconic Roanoke Star.
Charlotte Freedom Park - Take a stroll around this impressive parkland, where a river side ramble and picnic is the ideal way to while away the afternoon.
Riverbanks Zoo and Botanical Garden - Based in Columbia, and with over 2,000 animals, this is a great stop-off choice. This acclaimed zoo combines exotic animals with exotic plants.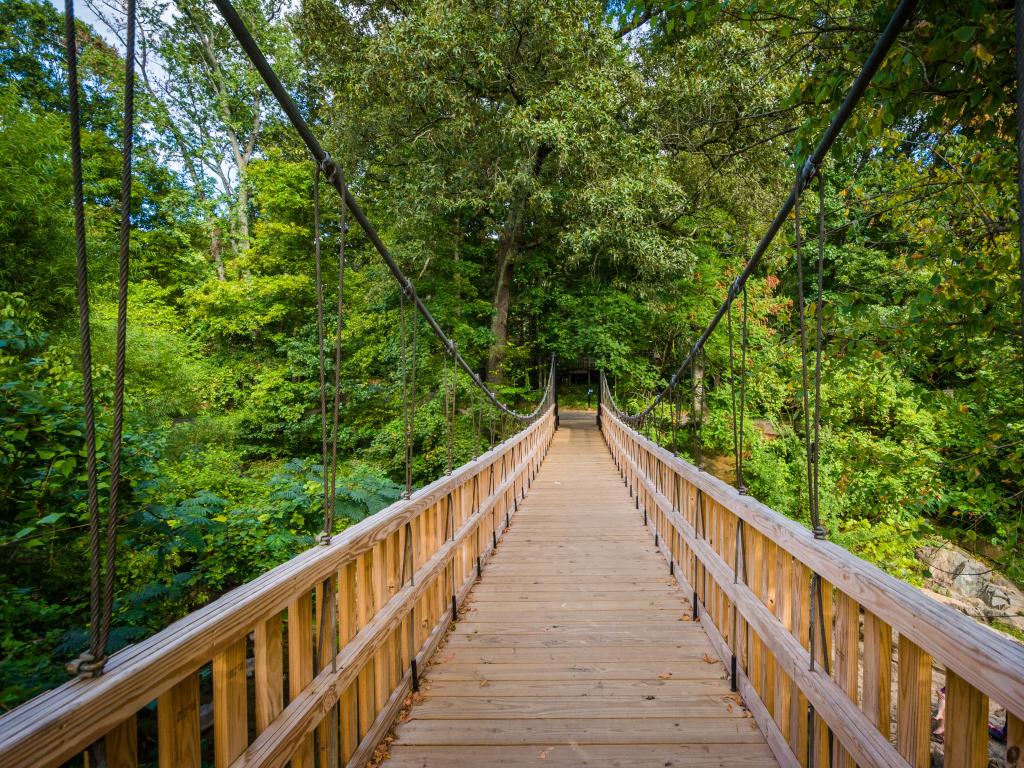 Both Routes
Yale University - Take a tour around this New Haven landmark. One of the most well-known and oldest universities in the USA, take a self-guided trip around the stunning buildings and grounds here.
New York - Stop off at world-renowned Big Apple for some of the best sights including State of Liberty and Empire State Building. After pounding the streets while away an afternoon in glorious Central Park.
Philadelphia - Steeped in history, a visit to Philadelphia is not complete without stopping by Liberty Bell, a sign of American independence and liberty and a must-see attraction.
Charleston - Head over the impressive Arthur Ravenel Jr. Bridge downtown, where you'll get unrivalled views of the harbor – with views at sunset particularly stunning.
Forsyth Park - Once you arrive in Savannah a stop off at Forsyth Park is a must. The huge fountain and impressive flowers and landscaping make this an ideal spot for a stroll and lunch.
Okefenokee National Wildlife Refuge - Over 400,000 acres of beautiful landscapes is accessible here. Head along the Orange Trail, where the few miles cover some of the best bird and wildlife watching spots.
Cummer Museum of Art & Gardens - A personal collection of Ninah Cummer, there are over 5000 pieces of art at this exhibit, with the oldest from 2100 BCE. A must for any art lover and history buff.
St. Augustine - Jump on a signature Old Town Trolley Tour to see the sights of St. Augustine. Why not head out after dark on the Old Jail circuit for some added fun?!
Daytona Beach - Step out along the beautiful boardwalk and pier to enjoy the sea air while enjoying a seafood meal.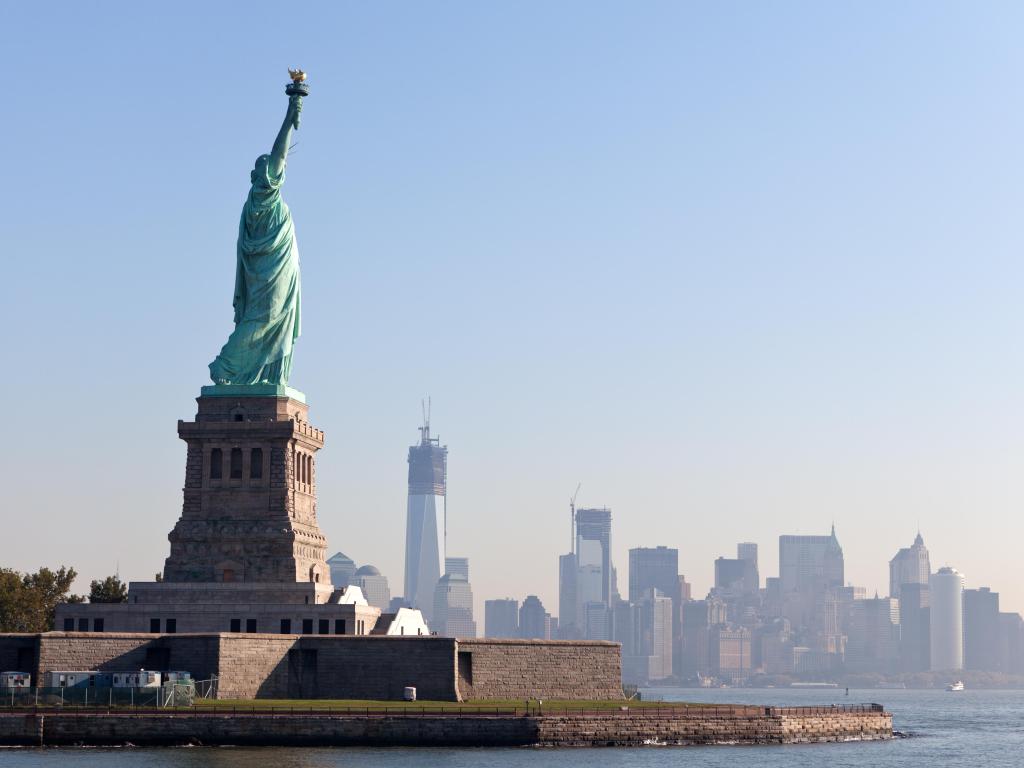 Best time to go on a road trip from Connecticut to Orlando, Florida
In Orlando, Florida, the summers are long and warm, and the winters are mild, so weather wise Orlando is perfect all year round! There are also so many activities inside as well as outdoor, so something to do whatever the season.
Summer temperatures can range from 85 degrees to 95 degrees Fahrenheit, so consider arriving either side of this summer peak is humidity is not for you. It can also be a busy time of year, with accommodation at a premium.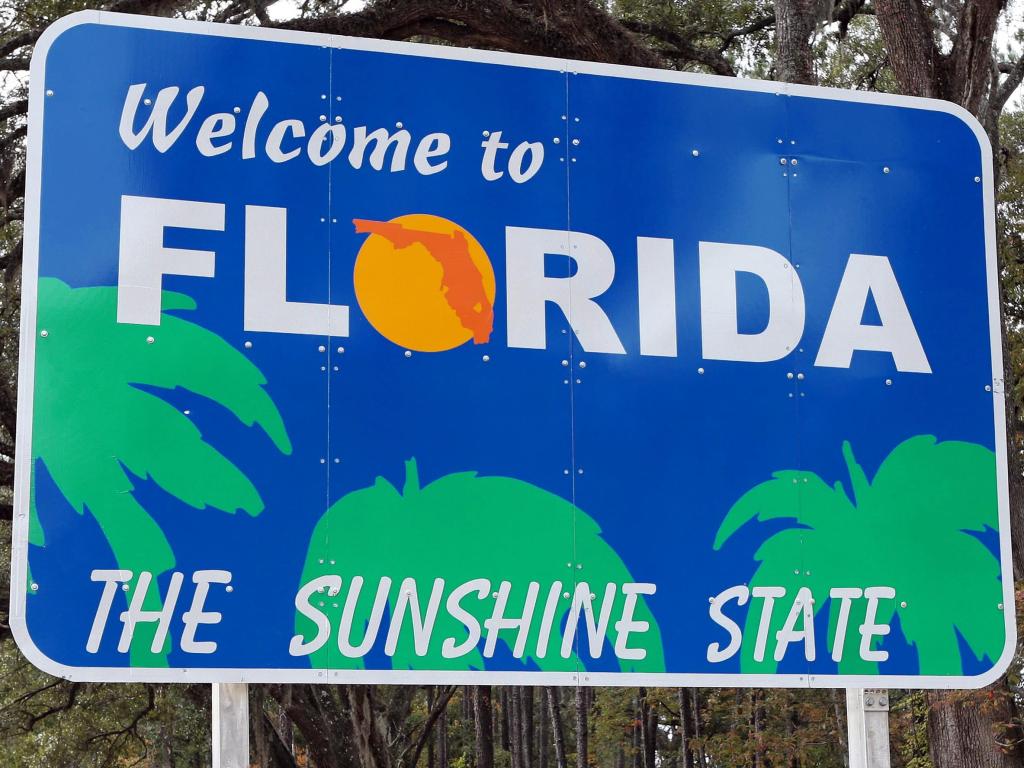 Winters remain lovely and mild with temperatures from 50 degrees up to 73 degrees Fahrenheit. With main attractions open throughout the year this is a great time to visit, with fewer crowds, which is also a plus point.
Across spring and fall temperatures range from 75 degrees to 85 degrees Fahrenheit, so wonderful weather wise and not as busy. Choosing not to visit in June and July also avoids some of the rainiest months.
Orlando, Florida, is packed with activities and attractions for a fun holiday without anything else in the diary! However, catch a festival while you are there too, and you'll really be seeing it all.
Orlando International Fringe celebrates theater, art and music and runs in January and May. In April enjoy local arts with the Fiesta in the Park, and Florida Film Festival held in April celebrates Independent and Foreign Cinema.
In July you will be mesmerized by the unique Orlando Water Lantern Festival, which brings the community together for a chance to reflect and give thanks. A beautiful display of color and light.
Head to Orlando in October and November and you will arrive in time for Pride Festival or Oktoberfest. Both are key events in the diary and lots of fun