Road Trip from Philadelphia to Acadia National Park
Acadia National Park is one of the most beautiful national parks in the country, and the journey through Maine by road is simply unforgettable. Add to that the chance to pass through iconic New York City, historic Boston or the stunning Hudson Valley, and you have the makings of a truly epic road trip.
The 580-mile road trip from Philadelphia to Acadia National Park will take around 10 hours to drive, taking you through New York, Boston, Salem, Portsmouth, Portland and Bangor, or along the stunning Hudson Valley via Woodstock and Albany.
There's so much that you can see and do along the way, so keep reading to find out the best time to visit and the route you should take to make the most out of this once-in-a-lifetime trip.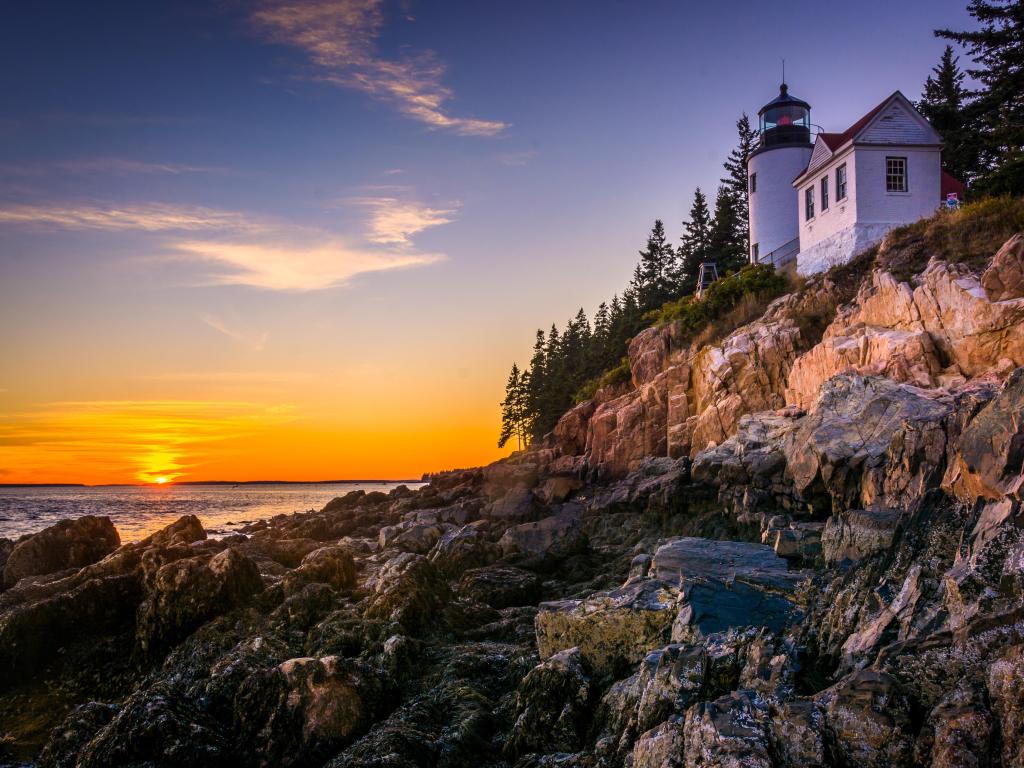 How far is Acadia National Park from Philadelphia, and how long will the road trip take?
Comparison of routes between Philadelphia and Acadia National Park

| Route | Distance | Driving Time |
| --- | --- | --- |
| Direct Route | 580 miles | 10 hours |
| Hudson Valley Route | 720 miles | 12 hours 15 minutes |
The road trip from Philadelphia to Acadia National Park is about 580 miles long if you take the most direct route, and will take between 9 to 10 hours without taking any pitstops or sightseeing into account.
While you could cover the distance in a day - getting up early to begin your trip from Philadelphia, stopping only for essentials, and making it to Acadia National Park by the evening - that doesn't sound relaxing at all.
Since you've decided to get to Maine by road, you need to make the most of the journey. There are so many interesting sights along the route that you'll want to break the trip up into at least two days so you can explore it all.
You might also want to consider taking the slightly longer route along the Hudson Valley, which comes in at 12 hours and 15 minutes of driving and covers 720 miles.
You'll be able to drive through the breath-taking Connecticut mountains and along the Atlantic coast for a truly memorable experience.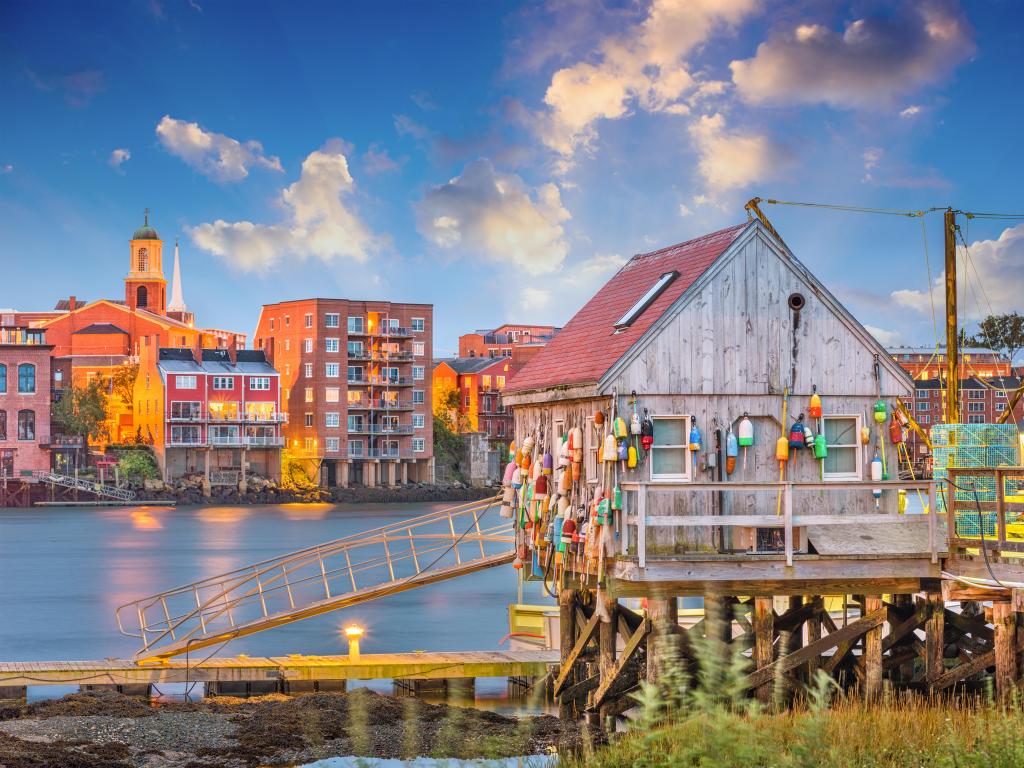 Best road trip route from Philadelphia to Acadia National Park
You have a couple of options for your road trip from Philadelphia to Acadia National Park. Both are great routes that let you see some of the best sights in the region, so whether you travel via the Direct Route or the Hudson Valley Route is probably down to personal preference.
The most direct route is also the quickest, and lets you see the sights of New York and Boston along the way. For the most part, it's an interstate drive that takes you through New York, Connecticut, Massachusetts, and the tip of New Hampshire, before entering Maine, with slight detours for some of the attractions along the road.
The Hudson Valley Route is a must for lovers of hiking and history, as you can stop at a number of historic mansions along the way as well as hiking in the stunning Catskills.
This route bypasses New York City, so if you'd rather see the country than the city, this might be the better route for you. However, as it takes at least 2 hours longer to drive you'll need a little more time to make the most out of this trip.
If you are visiting Acadia National Park and plan to drive on the Cadillac Summit Road, keep in mind that vehicle reservations might be required. Please check the national park's website to avoid any disappointment.
How to drive from Philadelphia to Acadia National Park
The map above shows our suggestions for the best road trip routes between Philadelphia and Acadia National Park. Keep reading for detailed descriptions of both routes, where to stay on either, and the best things to do on the way.
The Direct Route
From South Penn Square, get on Interstate 676 East or US Route 30 to begin your journey.
En route to the iconic State of New York, you'll merge with Interstate 95 North as you cross over the Delaware River and enter the Garden State of New Jersey.
You'll connect with US Route 9 North and enter New York across George Washington Bridge, giving you a glimpse of the famed Hudson River, then take the exit 1 C-D to merge with Interstate 87 towards Albany.
Just ahead of the picturesque Twin lakes County Park (that offers year-round equestrian lessons), you'll leave I-87 on Exit 4 for the Cross Country Parkway, then a short while later merge with Hutchinson River Parkway North. This leads you onto Connecticut Route 15 North.
As you travel through Connecticut you could make a detour to visit Yale University, or admire breath-taking mountains and gorgeous foliage.
You'll leave CN-15 at Exit 17 to take Interstate 91 North heading towards Hartford, where you'll switch to Interstate 84 East to enter the state of Massachusetts.
After Sturbridge the I-84 merges with the I-90. This road will take you into the heart of Boston, where you can visit the Freedom Trail and Fenway Park.
When you're ready to move on from Boston, leave the city via Interstate 93 then rejoin the I-95 at Exit 28A. As you carry on north you could take a short detour to Salem to visit the famous Witch Museum.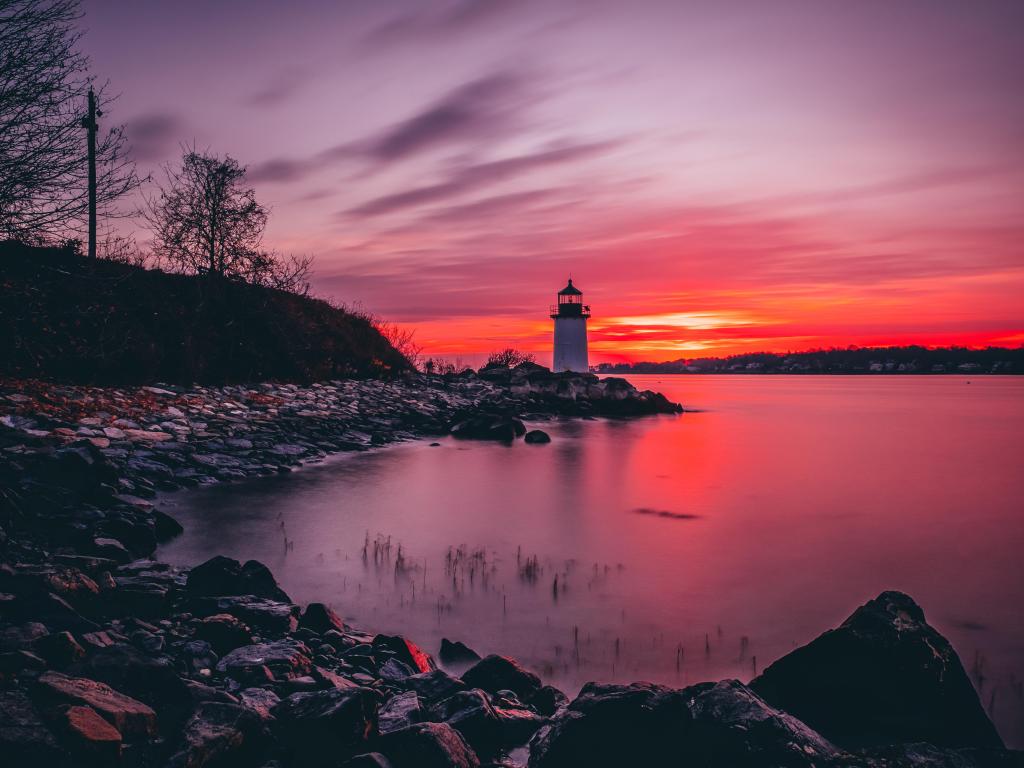 From here, the I-95 runs parallel to the shore of the Atlantic Ocean, passing Portsmouth before entering the Pine Tree State of Maine.
As you approach Portland, change onto Interstate 295 North and make your way to downtown Portland. Leave the town on the I-295, before rejoining the I-95 once again.
Follow the I-95 as far as Bangor, where you'll want to take the I-395 to cross the city before joining US Route 1A towards Ellsworth. Here, you'll join ME-3 to cross the Mt Desert Narrows and make your way to your spectacular destination, Acadia National Park.
The Hudson Valley Route
Leave Philadelphia via Interstate 76 W then change onto I-476, which you'll follow until you reach US-22 E near Allentown. Join PA-33 N which takes you onto US-209, which runs parallel to the Delaware River until it leads you to I-84 just after Milford.
Switch to the I-87 to head north along the Hudson Valley, taking some time to enjoy the riverside towns, stunning views and historic monuments that you'll pass along the way. Woodstock and Kaaterskill Wild Forest are just two of the places you could stop.
At Albany, turn onto I-787 then join NY-7 which takes you as far as the state line. On entering Vermont, you'll join Route 9 at Bennington, which winds its way right across the state and on into New Hampshire.
Route 9 joins up with Route 31 and then US-202, before leading you onto I-89 for a short stretch. At Exit 1 you'll first join I-93 then I-293 through Concord, then you'll find yourself back on US-202.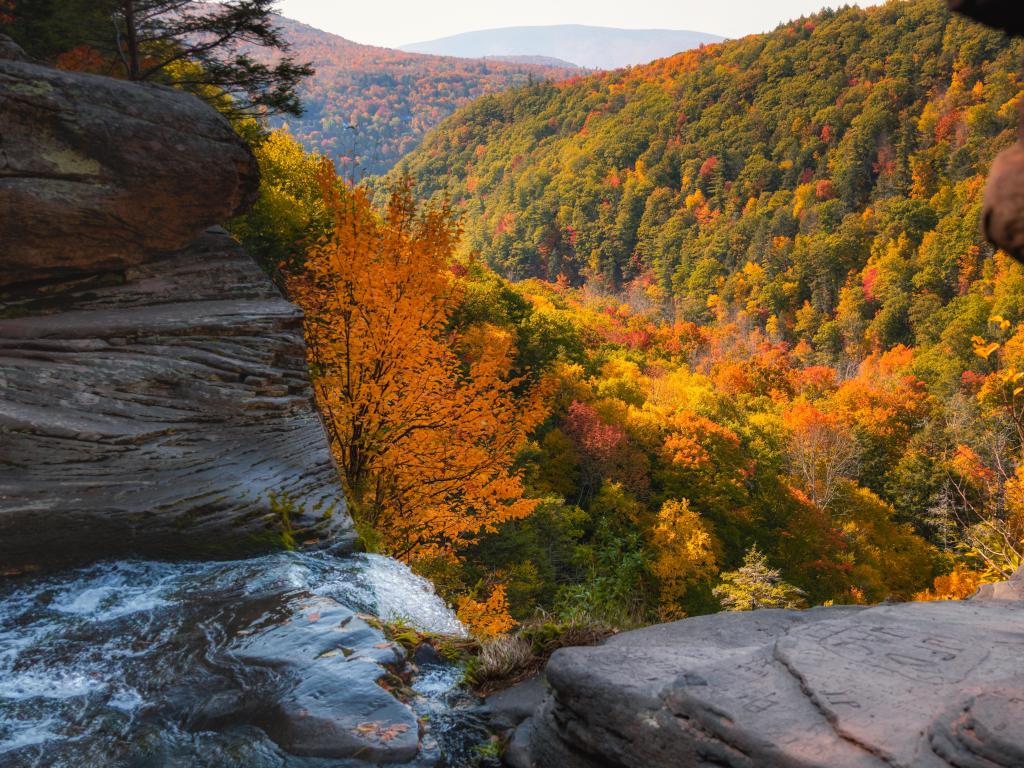 From Concord you have the option to detour south via the I-93 to include Boston on your road trip, though this extends your journey by around an hour. If you do decide to head into Boston, you'll complete your trip via the Direct Route when you've finished exploring the city.
If you're skipping Boston, simply continue on the same road as far as Northwood. From here, US-4 will take you out towards the coast to join up with Interstate 95 outside Portsmouth.
From here you'll follow the Direct Route for the northern part of your journey all the way to the beautiful Acadia National Park.
Best places to stop between Philadelphia and Acadia National Park
If you do choose to divide your trip into two or more days, there are several fantastic places you could stay along the way.
Stay overnight in New York City
If you hope to begin your road trip after the end of your workday, a stopover in New York City means you can drive for under two hours then continue with a more significant drive the following day.
The sights of the Big Apple hardly need an introduction. Even if you're only here for a night you'll have time to take a walk through Central Park then maybe catch a show on Broadway and take your pick of the city's thousands of restaurants and bars.
Of course, if you're looking to stay for longer you could fill whole days touring the city's world-class museums, with the Metropolitan Museum of Art, Museum of Modern Art, the Frick Collection and the Museum of Natural History being just a few top picks.
Assuming you're looking to wind down from a day of work and need a good night's sleep while you're in the city, staying in the Lower East side of the city would be ideal. You're in easy reach of landmarks like the Brooklyn Bridge, Soho, Manhattan Bridge, Battery Park, and more.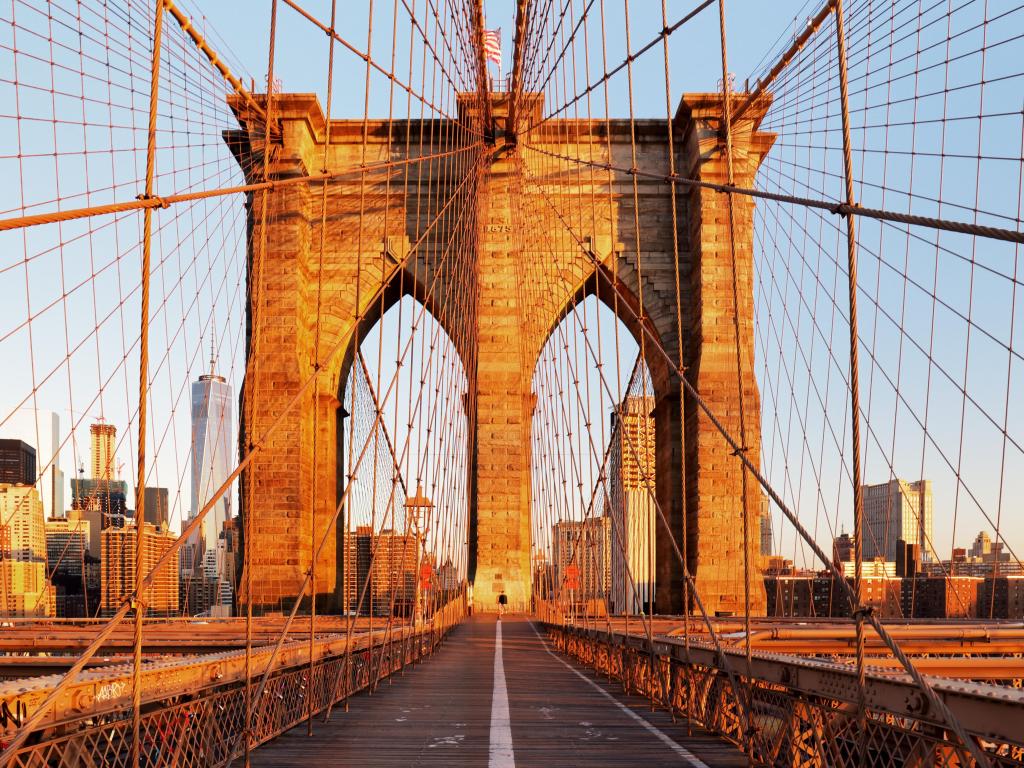 A great option in this district is the citizenM New York Bowery. The fabulous hotel is set in a skyscraper with an expansive rooftop bar, brilliant floor-to-ceiling windows in its rooms, and a modern shared space to relax before you head back out into the city that never sleeps.
At a reasonable cost (which is rare in the Big Apple), and close proximity to restaurants and other places, it's the perfect place to rest ahead of a long day of driving and sightseeing as you make your way to Maine.
Relax in Woodstock
Around one third of the way between Philadelphia and Acadia National Park on the Hudson Valley Route, Woodstock makes for a great stopover point on your first night, especially if you're looking to recharge your batteries on an escape from the city.
Famous for the music festival that had its roots here (but actually took place a few miles away), there's still a bohemian vibe in Woodstock. Tinker Street is a great place to potter if you want to check out the independently owned stores, or get something to eat. The town also has a plethora of galleries, theaters and music venues.
If you really want to reconnect with yourself while you're outside the city, then Woodstock's Tibetan Buddhist Monastery is another place to include on your itinerary.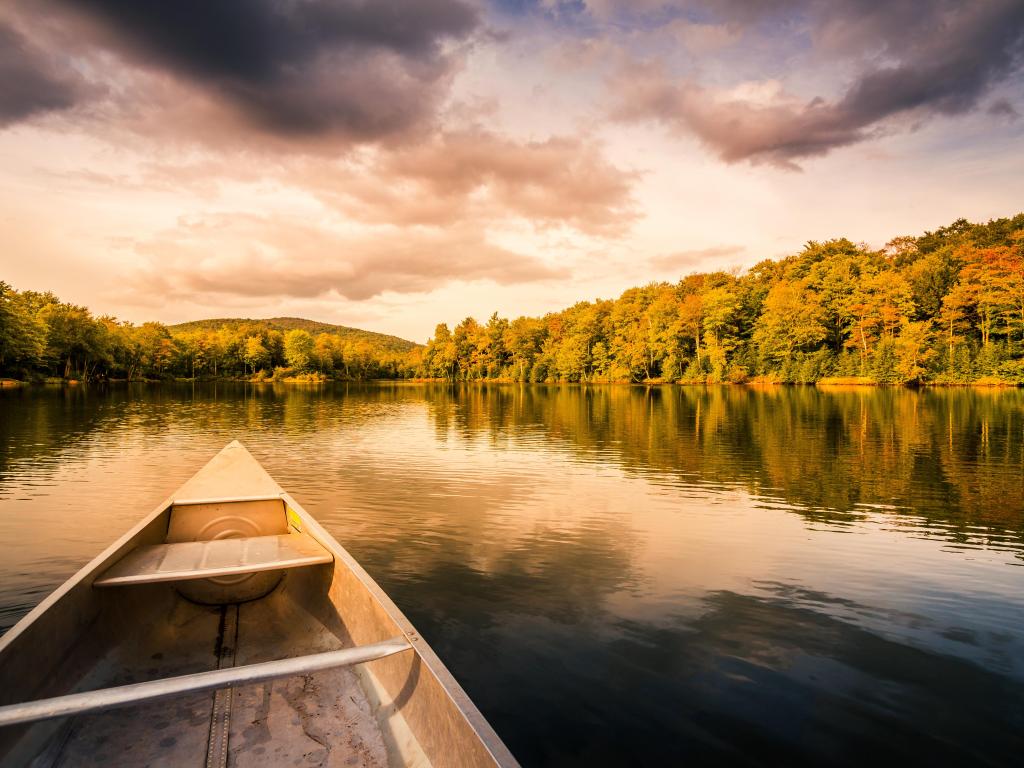 Woodstock is also a great place to base yourself if you're taking a longer trip, as you can head right out into the stunning Catskills to hike or take scenic drives.
Bearing in mind the natural surroundings and the time for relaxation you're probably looking for if you take this route, the gorgeous Woodstock Way Hotel is a perfect accommodation choice. This centrally-located hotel's comfortable cabins and rooms are nestled right by the river and they cleverly merge rustic cabin chic with on-trend design.
Spend the night in Boston
If you want to divide your trip precisely in half and also get to experience what the capital city of Massachusetts has to offer, spending the night in Boston is a perfect idea.
You'll pass right through the city on the Direct Route, or you can detour to spend a night here if you're taking the Hudson Valley Route.
There's plenty to see and do while you're in town. Take a walk by the waterfront, visit the historic USS Constitution, or enjoy the city's famous Quincy Market. If you have a little more time, you could head across the river to visit Harvard, or even take a whale watching trip.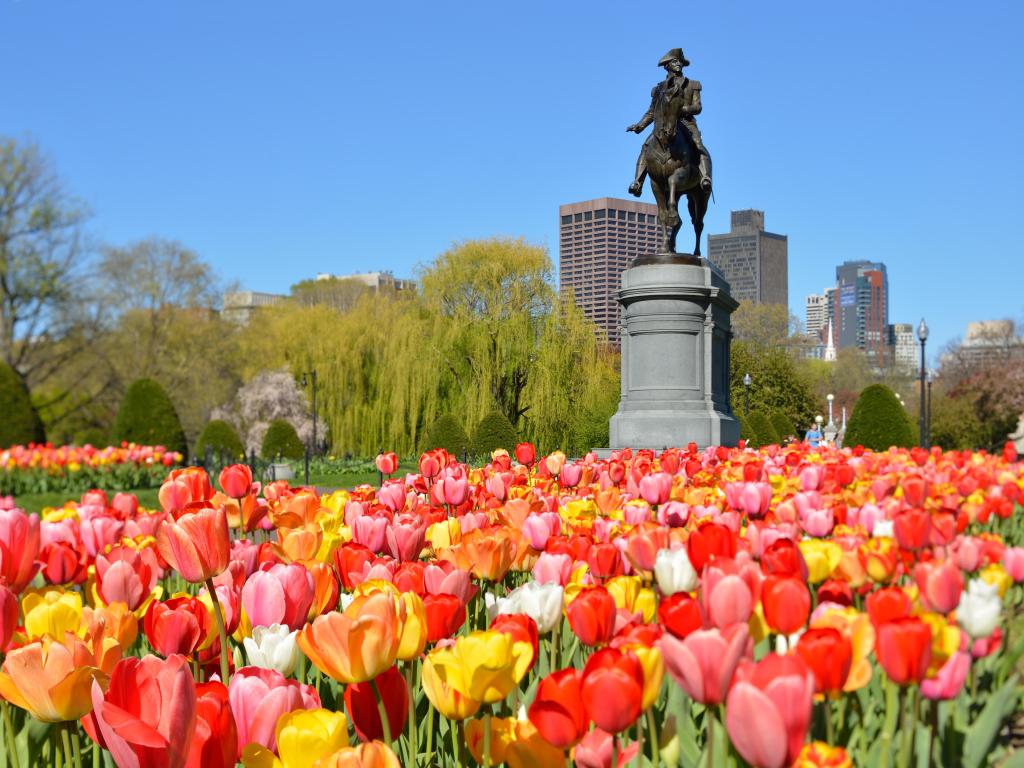 If you're staying in Boston, you'll holiday like a royal at Encore Boston Harbor, which is known for its impeccable service. Set by the magical Mystic River, it boasts a luxurious in-house casino, a spa, a whole range of restaurants, and a beautiful outdoor harbor walk.
It's located just outside the center of the city just off I-95, so it's easier to navigate to than many other options in the city, and you'll find free parking when you arrive. Plus, with regular complimentary shuttles running day and night to connect you with the nearest metro station, you'll have no problem making your way around the city during your stay.
Things to see on a road trip from Philadelphia to Acadia National Park
While on a road trip from Philadelphia to Acadia National Park, there's so much to explore and experience along the route.
Though there's plenty more to do depending on what interests you, here are some of the highlights that you'll find along the way.
Direct Route:
The Channel Gardens - Seasonal themed gardens that feature a magnificent fountain at the foot of the infamous Rockefeller Center.
The 9/11 Museum - In remembrance of the devastating events of 9/11, the 9/11 Museum pays homage to the heroes of the attack and salutes those who sacrificed their lives to help others.
The Metropolitan Museum of Art - Home to one of the largest collections of art in the world and an icon of NYC.
The Empire State Building - Famous building situated in the heart of NYC, with exhibits, flawless architecture, and observatories to catch panoramic views of the city.
Walkway over the Hudson - The world's longest, elevated bridge for pedestrians; perfect for a sunrise or sunset stroll with scenic views of the Hudson River.
Central Park - The crown jewel of the concrete jungle, this large park has boat rentals, a zoo, a reservoir, and countless running trails.
The Maritime Aquarium at Norwalk - A large aquarium situated in Connecticut, home to over 30 kinds of animals, a touch tank, café, and theater.
Wadsworth Falls State Park - A naturally preserved area near Middletown, Connecticut, with countless hiking and fishing trails, and a breathtaking waterfall.
Wadsworth Atheneum Museum of Art - A public art museum located in Connecticut, focusing on 19th and 20th-century American artists.
Freedom Trail - An iconic 2.5-mile walk in Boston that covers landmarks that played an essential role in America's Freedom Struggle.
Wickham Park - A 280-acre park in Connecticut that has numerous gardens, woodlands, picnic areas, and more.
The Mark Twain House & Museum - Again, a slight detour from the route is Mark Twain's family home for the majority of his life and the place that inspired his most famous characters.
The Mystic River & Seaport Museum - A quaint seaside town in Massachusetts, with a unique tidal river, 19th-century village architecture, and ancient ships.
Fenway Park - An expansive baseball park located in Boston, home to the famous Red Sox.
Salem Witch Museum - A slight detour from the route, it is a spectacular museum that talks about the infamous witch trials that took place in Salem in the 1600s.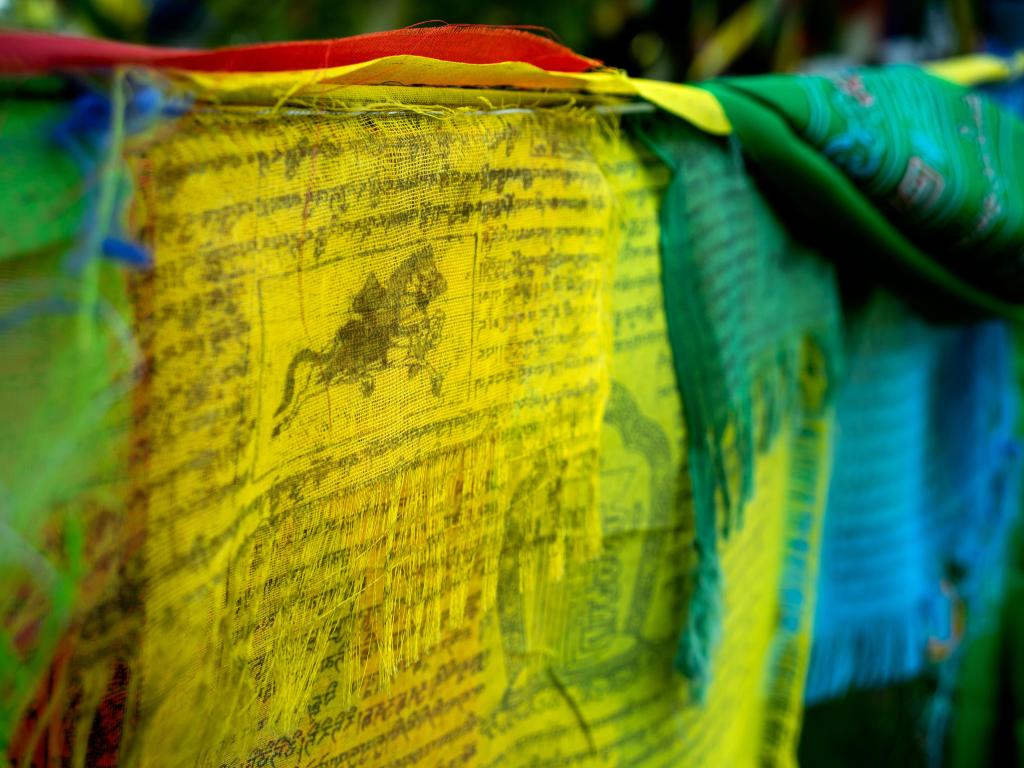 Hudson Valley Route:
Historic Huguenot Street, New Paltz - The historic stone houses that French settlers built are at the center of the museum dedicated to the stories of the original settlers of this area and the Indigenous people who already called it home.
Staatsburg State Historic Site - One of several Gilded Era mansions along the Hudson Valley, you'll get a glimpse into the past as well as stunning views of the valley.
Karma Triyana Dharmachakra - Get away from the crowds at Woodstock's Tibetan Buddhist monastery - tours are available if you don't want to participate in the daily practices.
Harriman State Park - Mile after mile of hiking trails that take you past rivers and lakes that are home to plentiful wildlife.
Zipline New York - See the Catskills from a different angle when you ride one of the fastest, longest ziplines in the whole of the United States.
Albany - Visit New York's charming state capital - one of the oldest and smallest and a real contrast to the hustle and bustle of New York City.
Both Routes:
Museum of Printing - Located in Massachusetts, an undiscovered gem that immortalizes the history of printing and the pioneers of the process.
Portsmouth, New Hampshire - Soak in the ocean views at New Hampshire's oldest settlement.
Portland, Maine - Take some time out to enjoy a stroll around the town's historic district and beautiful Casco Bay.
Whale watching in Maine - Take a boat trip out into the ocean between April and October and you might see humpback, minke or fin whales passing through.
Bangor, Maine - Experience the outdoors without leaving the city - you can explore forests and rivers in Bangor, or even enjoy skiing or snowmobiling in the winter months.
Penobscot Narrows Bridge - Located in Verona Island, Maine, it is a cable-lifted bridge with an iconic view of the Penobscot River on a clear day.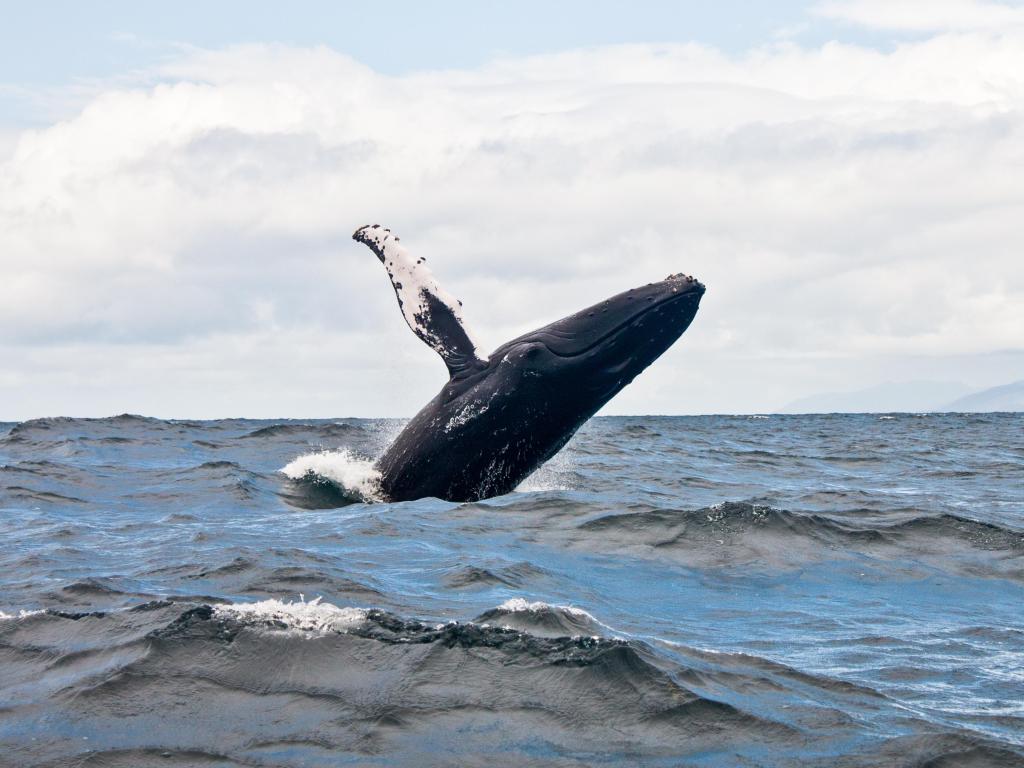 Best time to go on a road trip from Philadelphia to Acadia National Park
Although technically you can make the road trip from Philadelphia to Acadia National Park at any time of the year, you'll get much more out of your trip if you avoid the winter months.
Since your destination is Acadia National Park, you should visit when all areas and activities are open to the public. During the thick of the winter, not only are significant parts of the Acadia National Park closed, but it's also not a good time to drive through the snow-heavy states of Philadelphia, New Jersey, and New York.
May and June can be an excellent time to visit as the snow is long gone and it's not too hot to hike. Being situated this far north, and also right by the ocean, temperatures are only in the 60s at this time of year, so you'll want to pack accordingly. Throw some repellent in too - there might be a lot of bugs at this time of year.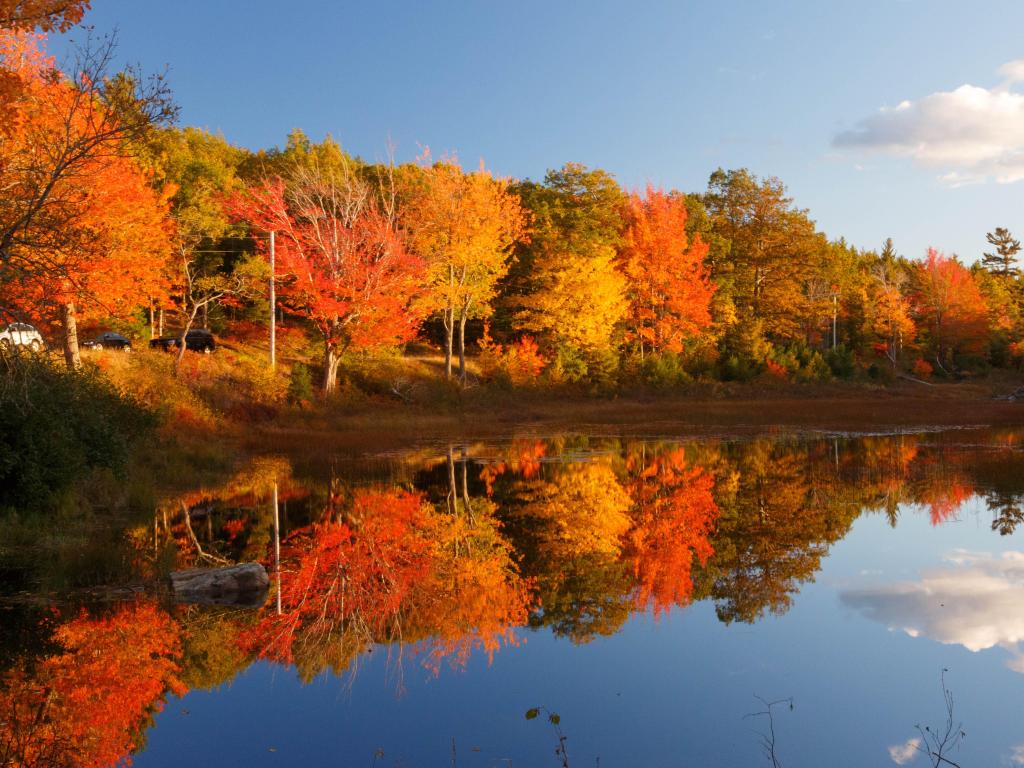 The climate in Acadia National Park is ideal for visiting between July and September, however increased visitor numbers might mean you find less peace and quiet than you were expecting.
Another option is visiting in October-November to catch a glimpse of the beautiful fall foliage and a sunrise or sunset from the mountain peaks that'll leave you awestruck. The earlier parts of the route through the Hudson Valley or Connecticut's mountains would be picturesque in the fall months too.
Irrespective of whichever time you choose to take the road trip, make sure you stop along the way to discover all that the East Coast has to offer, sing along to the ultimate road trip music, and have an unforgettable adventure.