Road Trip from Philadelphia to Boston
A road trip from Philadelphia to Boston takes you between two of the oldest, most historically important cities in all of America, and lets you enjoy some fantastic places along the way.
A 310-mile road trip from Philadelphia to Boston takes at least 5 hours and takes you through 5 states, passing through the New York Metropolitan Area, Hartford and New Haven, with an optional detour through southern New England to Cape Cod.
Read on to find out more about this fantastic journey through historic towns, ocean shorelines and one of the world's great cities.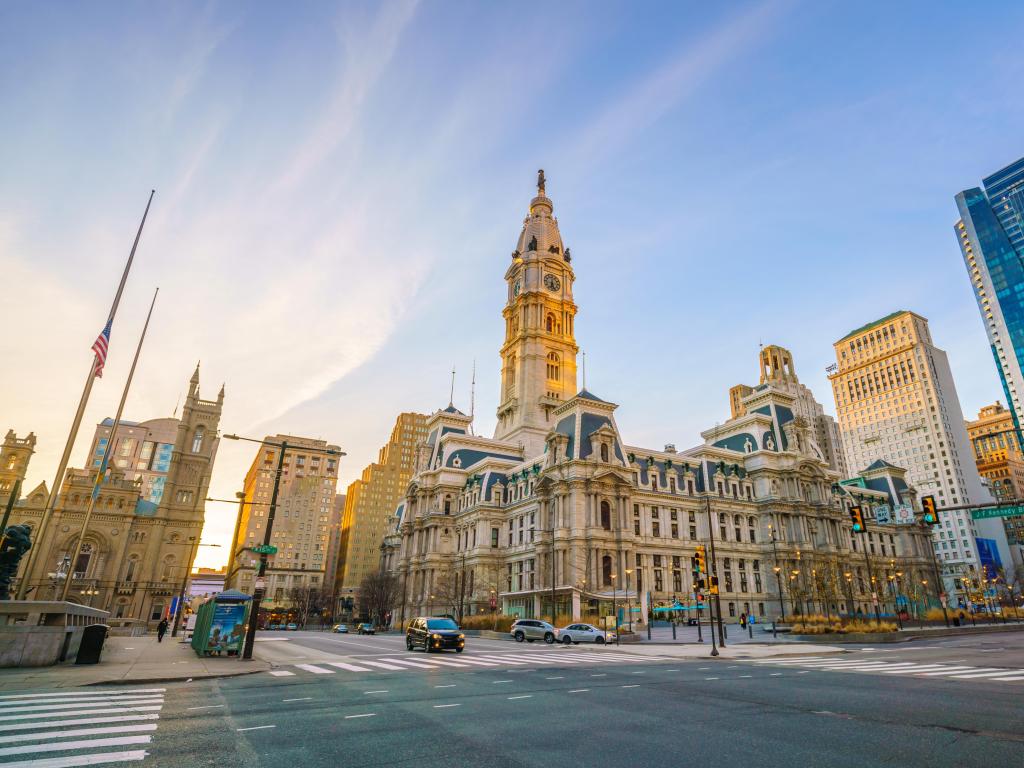 How far is Boston from Philadelphia and how long will the road trip take?
Comparison of routes between Philadelphia and Boston via New Jersey, New York and Cape Cod
Route
Distance
Driving Time
The Direct Route
310 miles
5 hours 10 minutes
The New Jersey Detour


following the Direct Route onward to Boston

320 miles
5 hours 15 minutes
The Cape Cod Routes
420 miles
7 hours
A road trip from Philadelphia to Boston covers around 310 miles and takes 5 hours to complete if you travel via the most direct route. However, you should definitely factor in some additional time for the congestion that's likely on this route through Manhattan.
If you'd prefer to detour via New Jersey in order to skip the Big Apple completely, your trip will cover a similar time and distance on paper, but you're much less likely to experience hold ups.
Alternatively, there's a longer route option via Cape Cod which extends the trip by around 100 miles and adds about 2 hours to your driving time.
Whichever route you take, this is a journey that can easily be completed in a single day. That said, depending on how much time you want to spend at some of the attractions along the way, you may prefer to split it across at least two days instead - or longer if you're taking the Cape Cod Route.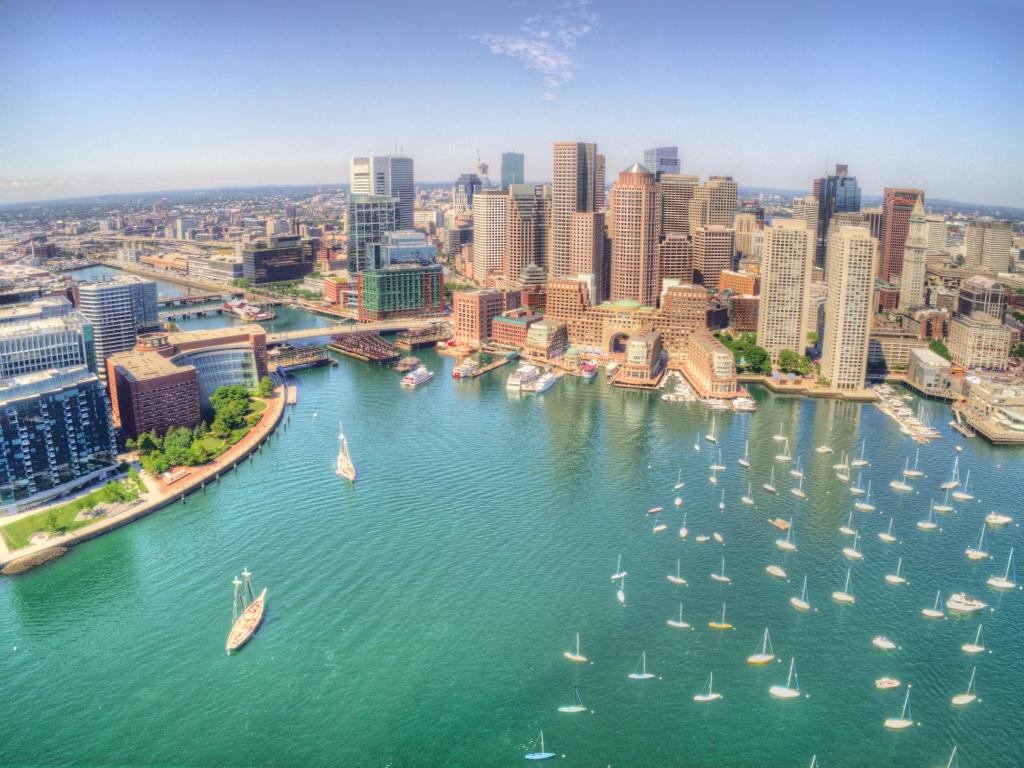 Best road trip route from Philadelphia to Boston
A road trip from Philadelphia to Boston is a relatively straightforward journey, covering a little over 300 miles and passing through the 5 states of Pennsylvania, New Jersey, New York, Connecticut and Massachusetts.
The Direct Route takes you via the sights and sounds of Manhattan, which could be a real highlight for some, but in case you'd rather skip the congestion of the big city we've also provided an alternative detour option through New Jersey.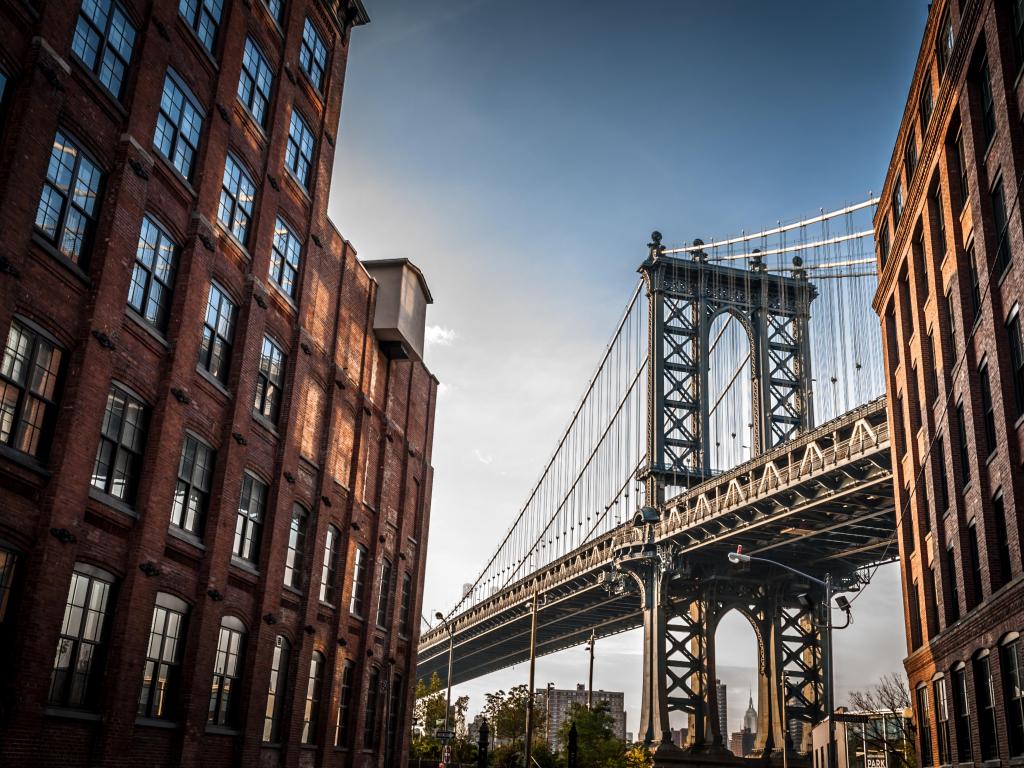 After Manhattan you have two options - either continue on the Direct Route which takes you inland through Connecticut. This is the quickest way to complete the trip, and offers some interesting stops, including New Haven and Hartford.
Alternatively, if you have a little more time for your trip, you might like to think about heading out to Cape Cod before swinging back north towards Boston. Exploring the Cape's villages and beaches is a real contrast to the big city sights of the Direct Route.
Both routes make for enjoyable and relatively short road trips, so read on to help make your decision about which route to take.
How to drive from Philadelphia to Boston
The map above shows our suggestions for the best road trip routes between Philadelphia and Boston. Keep reading for detailed descriptions of both routes, where to stay on either, and the best things to do on the way.
The Direct Route
You will begin by heading north on I-95 and following it until you reach Secaucus in New Jersey, where you change onto New Jersey Route 495 at Exit 16E. This will take you through the Lincoln Tunnel and into the heart of Manhattan.
If you're driving straight through the city, exit the tunnel north on Dyer Avenue then turn left onto West 42nd Street and follow it until you reach 12th Avenue, which you'll turn right onto.
The road will change names, first to Joe DiMaggio Highway and then to Henry Hudson Parkway, but continue following it up the western side of the island and across the Henry Hudson Bridge, until you reach Yonkers.
Here the road becomes Saw Mill River Parkway, which you will follow a short distance, before turning right onto Cross County Parkway. This will eventually merge with Hutchinson River Parkway, which will take you all the way to the state line.
When you pass into Connecticut, you'll find yourself on Connecticut Route 15, which you will follow for its entire 83 and ½ mile duration. Be aware that a portion of it will also be listed as the I-91, as they follow the same route for a while.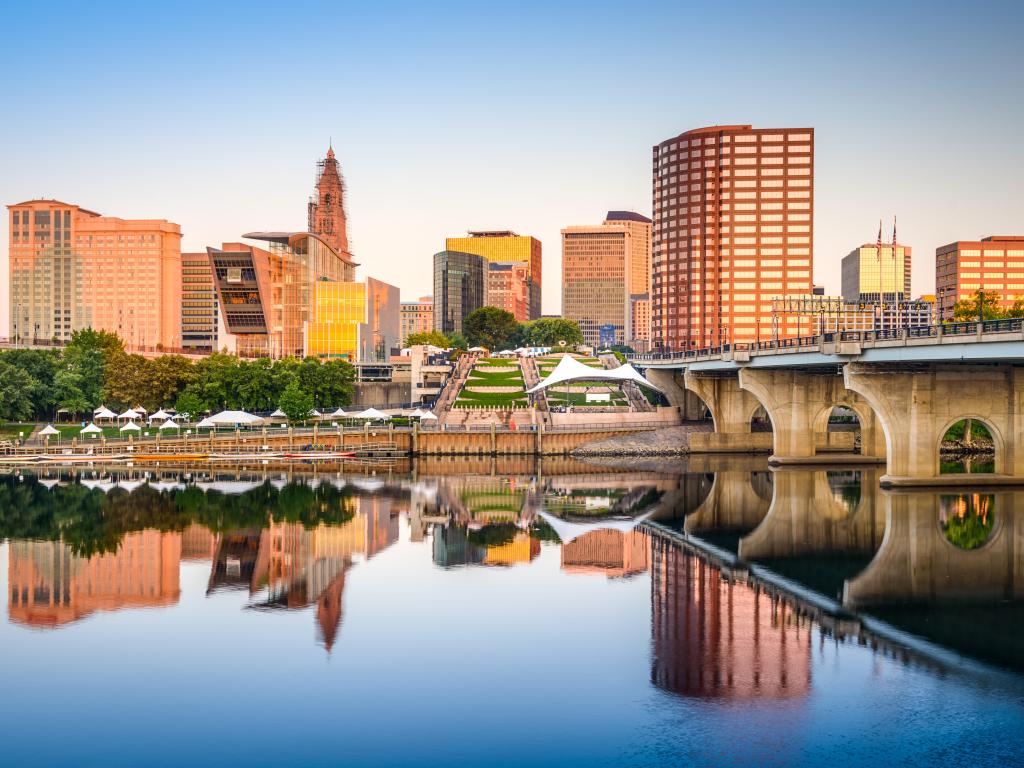 Before reaching Hartford you might also like to take a detour into New Haven - simply leave Route 15 at Exit 54 to join up with Route 1 which takes you into the town. When you're done, leave New Haven via the I-91. You'll rejoin the main route where I-91 merges with Route 15 south of Hartford.
Route 15 merges with the Interstate 84 in East Hartford. Take the I-84 until it merges with the I-90 and you can then follow this for the remainder of the journey, until you reach your destination in Boston.
The New Jersey Detour
If you don't plan on spending time in New York City during your trip, you also have the option of taking a detour that avoids the city completely.
Leave Philadelphia on the I-95 as with the Direct Route, but instead of heading into New York City, take Exit 10 onto NJ-440 which connects with the Garden State Parkway.
Follow the Garden State Parkway through New Jersey until you cross into New York State. Soon after, you'll join I-287 at Exit 14-1, which takes you across Governor Mario M Cuomo Bridge and past White Plains until you join the Hutchinson River Parkway which takes you onto Connecticut Route 15.
From here, simply follow the Direct Route into Boston.
The Cape Cod Routes
This route option also leaves Philadelphia on the I-95, and can be combined with either the Direct Route or the New Jersey Detour (as shown on the map).
If you're coming from Manhattan via the Direct Route, leave the Hutchinson River Parkway for I-287 heading East, then join the I-95 Connecticut Turnpike.
If you've started out on the New Jersey Detour, remain on the I-287 (instead of turning onto the Hutchinson River Parkway) and follow it to the I-95 as above.
Follow the I-95 through Stamford and New Haven, then join I-195 at Providence. Turn onto Route 25 at Exit 40A and follow it across the Bourne Bridge onto Cape Cod.
To head deeper onto Cape Cod, turn quickly left onto Sandwich Road then join Route 6 which takes you past Barnstaple and Yarmouth then right the way on to Wellfleet and Provincetown at the end of the peninsula, if you're traveling that far.
When you're ready to continue your journey to Boston, simply rejoin Route 6 heading West, and cross the Sagamore Bridge on Route 3. This road, also known as the Pilgrims Highway, joins up with the I-93, which will take you right into the heart of your destination, Boston.
Best place to stop between Philadelphia and Boston
While many people will complete their road trip from Philadelphia to Boston in a single day, there's so much to see along the way that you could easily stretch this trip out over a number of days.
Whichever route you take, we'd recommend making at least one overnight stop so that you can really get a feel for the places you'll pass through on the way.
Take a small detour to the Big Apple, New York City
One of the most famous cities in the world, New York City is a destination you could easily give its own trip to. However, as you are in the area anyway, it is definitely worth taking the opportunity to enjoy the Empire City for a little while as you pass through.
There is possibly no city in the world that has as many iconic locations as New York. While you're in town you're almost certain to visit places like Central Park, The Statue Of Liberty, The Empire State Building, Times Square, Grand Central Station and the Brooklyn Bridge - among others.
It even has things to make it a worthwhile stop no matter which time of year you visit. From boat tours in the summer to its legendary Christmas displays in the winter, you are guaranteed to have a fantastic time in The Big Apple, whenever you arrive.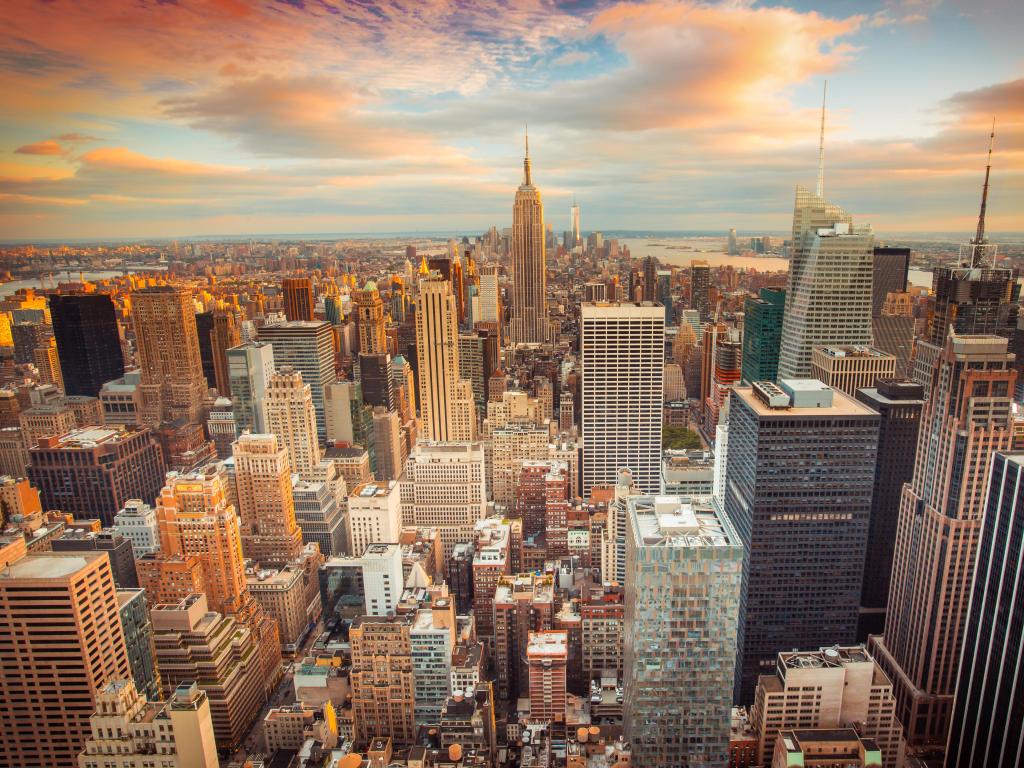 The city contains many fabulous hotels, but you can't go wrong with Radisson Hotel New York Midtown-Fifth Avenue. With a reasonable price tag for its central location, you'll be in walking distance from the Rockefeller Center and MOMA.
Alternatively, if you're really looking to see the city in style, you might want to splash out on JW Marriott Essex House. This beautiful hotel is located right on the southern edge of Central Park, with stunning views across it, as well as its own bar and restaurant.
It really is the perfect place to kick back and relax in luxury after a long day exploring the city.
Relax and unwind at Cape Cod
If you're looking for the ultimate contrast to the Big Apple, look no further than the quiet backwaters and wide open ocean views of Cape Cod.
You could easily fill a couple of days exploring the charming small towns you'll pass as you travel the length of the peninsula. Head to Wellfleet to try the famous oysters, hire a bike and cycle the Cape Cod Rail Trail, or take a whale-watching tour from Provincetown.
If you're planning on staying on Cape Cod, you'll probably be looking for somewhere that combines ocean views with great facilities. The Club at New Seabury ticks all the boxes, from its private beach and quiet location to its well appointed apartments.
You can enjoy a meal at the on-site restaurant if you don't fancy venturing out to one of the Cape's excellent restaurants. While you're here you can also take advantage of the well equipped fitness center and outdoor pool, or take a hike through the nearby countryside.
Things to see on a road trip from Philadelphia to Boston
The road trip from Philadelphia to Boston is a relatively short one, so you might think there won't be too much to see along the way. However, if that is the case, you would most definitely be wrong.
There's plenty to see and do along the way to ensure your journey is exciting and enjoyable from start to finish.
Direct Route and Cape Cod Routes
Newark, New Jersey - The largest, most populous city in New Jersey is the economic hub of the state, and as well its stunning architecture, its symphony orchestra and the New Jersey State Opera still draw visitors from far and wide.
New York City, New York - Visit legendary attractions, such as Central Park, The Empire State Building, The Statue Of Liberty, Times Square and Grand Central Station - just a few of the iconic locations that draw more than 65 million tourists to the big apple each year.
West Rock Ridge State Park - This 1,700 acre state park contains historic sites, caves, lakes and hiking trails, which make it a popular destination for history buffs and outdoor adventurers alike. It's also home to a wide variety of amphibians, birds, insects and reptiles, as well as a small number of black bears.
Hartford, Connecticut - One of the oldest cities in the country, Hartford was first settled in 1635. Attractions include America's oldest public museum, park and continuously published newspaper, its second oldest secondary school and the house of legendary writer Mark Twain, which has been converted into a museum dedicated to his life and works.
New Haven, Connecticut - Take a tour of Yale University and visit one the world class museums connected to the university, or take to the water for a boat trip along Long Island Sound.
Hammonasset Beach State Park - Just outside New Haven, you'll find 2 miles of uninterrupted sandy beach, with hiking options too.
Bigelow Hollow State Park/Nipmuck State Forest - Bigelow State Park to the east is full of lakes, ponds and streams, surrounded by stunning hiking trails, Nipmuck state Forest to its west features towering forests, which make up one of the largest, unbroken forest tracks in Connecticut.
Boston - Follow the Freedom Trail to learn about the people and places that helped shape the nation.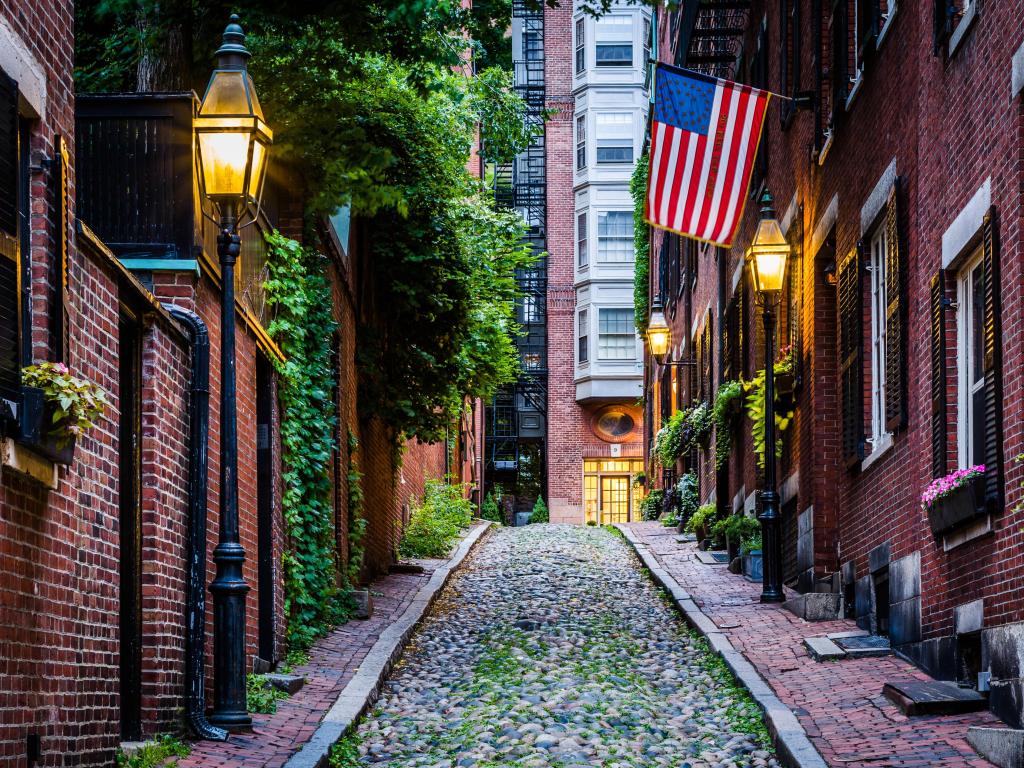 Cape Cod Routes
Stamford - Tour another Ivy League college as you make your way through New England.
Wellfleet -Famous around the world for its oysters, which have a festival dedicated to them in the fall, Wellfleet also enjoys a stunning waterside location, with a Wildlife Sanctuary that's home to many native species.
Chatham - Head to the Atwood House & Museum to learn more about the seafaring heritage that shaped the communities around Cape Cod.
Cape Cod Rail Trail - Hire a bike to explore 25 miles of easily accessible trail that lets you take a slower pace traveling between the towns and beaches of Cape Cod.
Whydah Pirate Museum - Check out the artefacts recovered from a long-lost, legendary ship wreck, rediscovered off the Cape Cod shoreline.
Provincetown - Visit small, independent galleries or take a boat ride to one of the world's best known whale watching locations from this small town right at the end of Cape Cod.
Cape Cod Province Lands Trail - This 5 and a half mile trail takes you through some of the Cape's unique Atlantic landscape, passing dunes, beaches and saltwater ponds.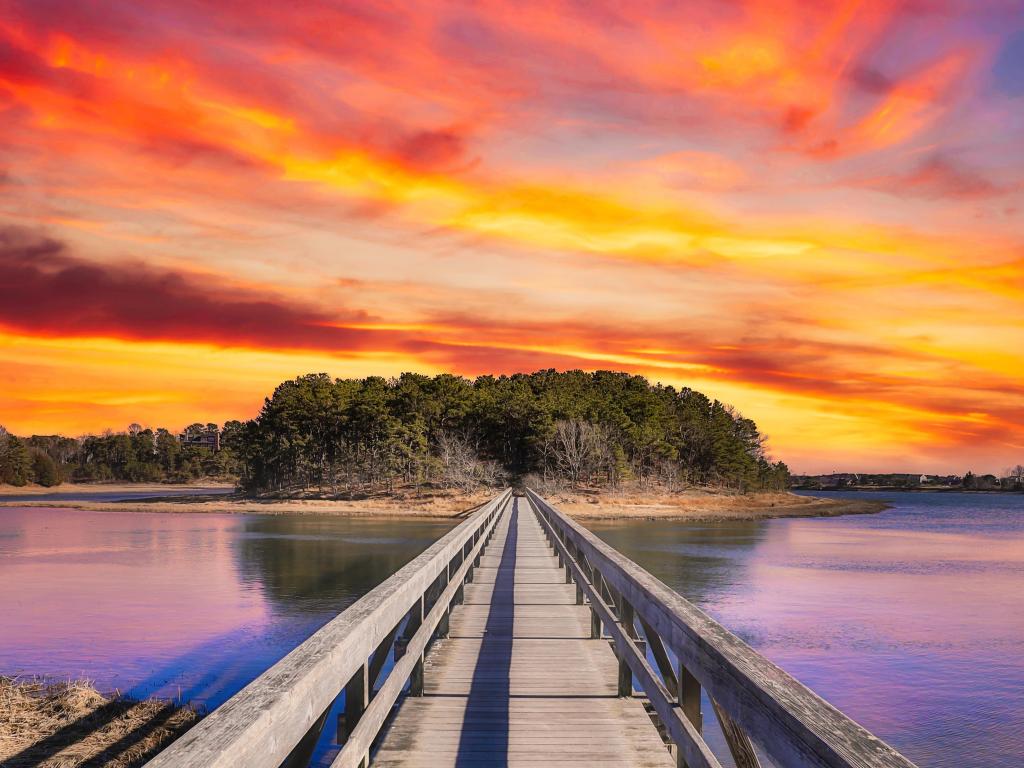 Best time to go on a road trip from Philadelphia to Boston
As with any vacation to a city, a road trip from Philadelphia to Boston is one where there is no real wrong time to take it. With activities less tied to the weather than you would find on a beach trip, you can comfortably take this trip whenever you choose.
Late May to early October is your best bet for pleasant temperatures - comfortably in the high 60s and above - and the lowest chance of rain. You'll be able to freely explore the cities and beaches en route to your heart's content, without worrying about the cold, however be aware that July and August can get uncomfortably hot and humid in the cities.
With much of this trip in easy reach of some of the largest cities in the United States, popular destinations can get busy during holiday periods and summer weekends, so be prepared for crowds if you're traveling at peak times.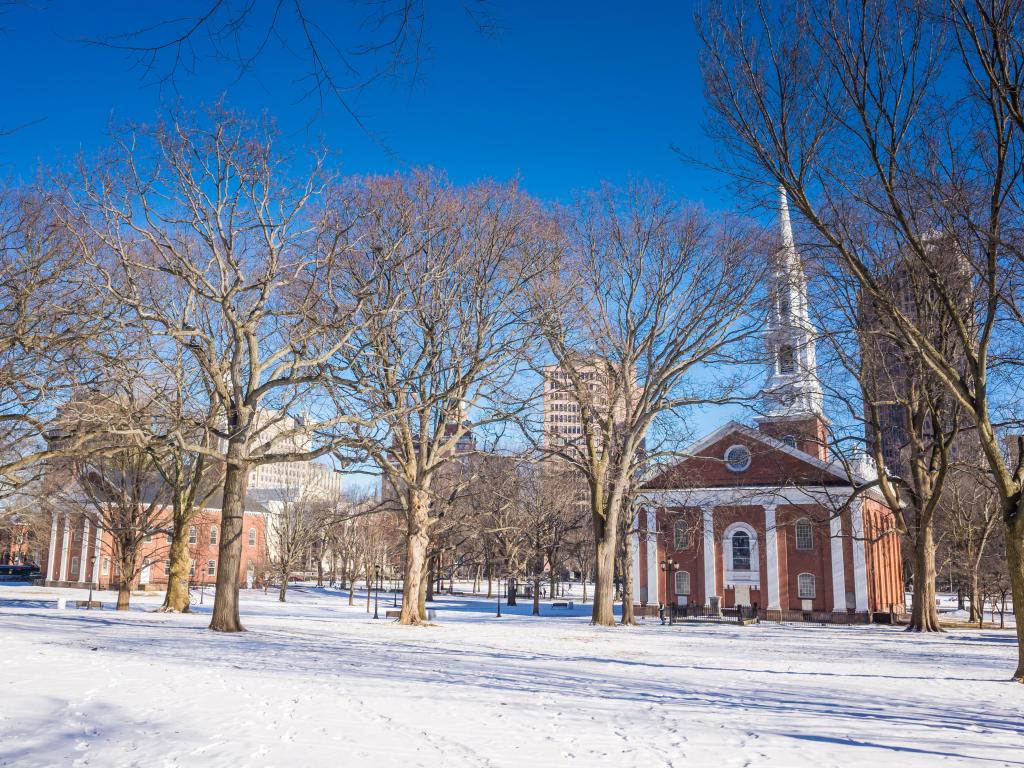 That said, Boston throws an epic Independence Day celebration in the city where it all began, so you might like to take on the crowds if it means enjoying this spectacle.
Or if you're traveling in the fall, the Wellfleet Oyster Festival on Cape Cod is a fantastic celebration of this love/hate food.
Of course, if you're prepared for plunging temperatures - and confident in driving through wintery weather - New York in December can be a magical experience. Take a sleigh ride through Central Park or simply enjoy the lavish seasonal displays that you'll find across the city.