Road Trip from Chicago to Connecticut
Tucked onto the coast of Long Island Sound, New Haven is a picturesque city in New England that's known for its green spaces, historic streets and world-class museums and galleries. So if you are looking for an adventure and can hear the road calling your name, then it's time to set off on a journey from Chicago to Connecticut.
The 1000-mile road trip from Chicago to Connecticut takes 16 hours 40 minutes to drive, via Toledo, Cleveland, Niagara Falls and the Finger Lakes. Or swing south to visit Pittsburgh, Hershey, Philadelphia and New York, plus Wayne or Tuscarora National Forests.
Traveling from the shores of Lake Michigan to the North Atlantic Coast, you'll experience as beautiful cross section of the United States that covers different cultures, histories and landscapes. Whether you're looking for forest hikes or city vibes, this road trip offers both in equal measure - keep on reading to find out what else awaits.
How far is Connecticut from Chicago, and how long will the road trip take?
Comparison of road trip routes between Chicago and Connecticut

| Route | Distance | Driving Time |
| --- | --- | --- |
| The Niagara Falls Route | 1,000 miles | 16 hours 40 minutes |
| The New York Route | 1,040 miles | 17 hours 10 minutes |
We've put together two routes which will let you explore the cultural, natural and urban highlights of this trip from the Midwest to New England. The Niagara Falls Route takes you past Lake Eerie and onto Niagara Falls, taking around 16 hours and 40 minutes to drive, covering 1,000 miles.
The New York Route heads south through some of the vibrant cities of Indianapolis and Pennsylvania before hitting the Big Apple. In theory, this 1,040-mile route is only 30 minutes longer than the Niagara Route, but allow a little extra in case you hit delays on your way through Manhattan.
You could easily drive this route from end to end within a couple of days, but we think the rich sights and experiences along the way warrants a lot longer than this. Our suggestion is to spread your road trip between Chicago and Connecticut across at least 5 or 6 days - or longer if time permits.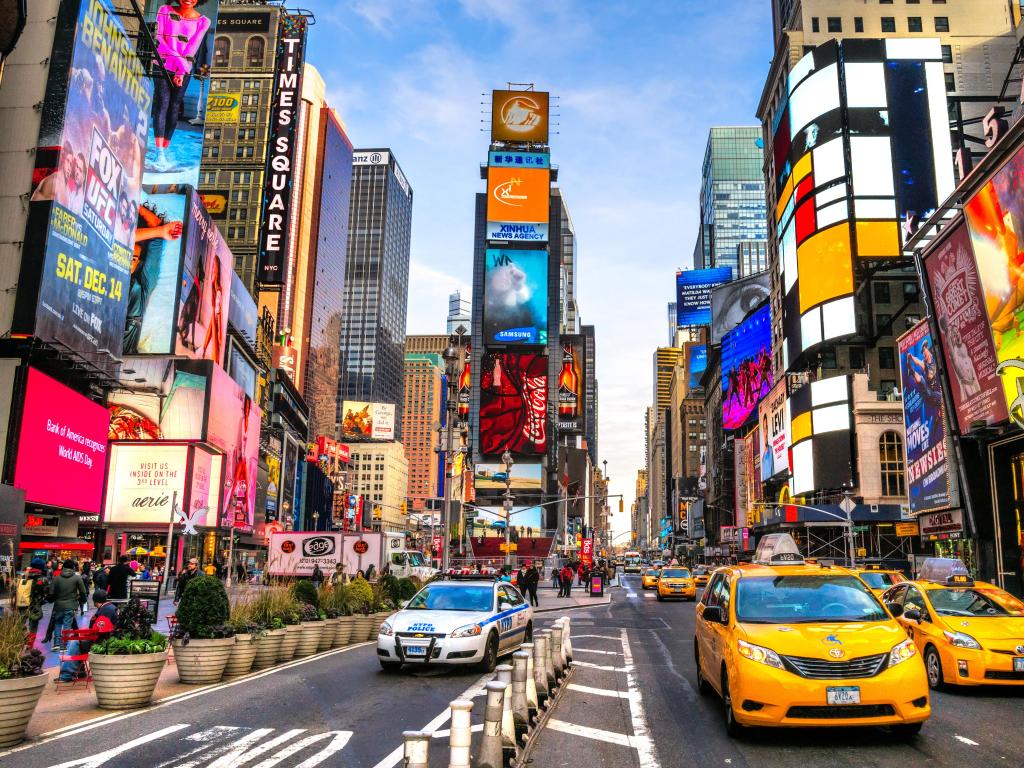 Best road trip route from Chicago to Connecticut
One of the great things about traveling from Chicago to Connecticut is that, whichever route you take, you can enjoy a fabulous balance of natural and city-based attractions. However, each route has its own distinct vibe, so keep on reading to find out which will suit you and your fellow travelers best.
The Niagara Falls Route follows the interstate for much of the way, making it straightforward to navigate. This route ushers you alongside the majestic Great Lakes, allowing you to trace the contours of Lakes Michigan and Erie, and potentially granting a brief detour to Lake Ontario.
The route also showcases the more intimate charm of the Finger Lakes and their picturesque surroundings. Their shores are an idyllic backdrop for wildlife, making this a great trip for nature enthusiasts and bird watchers.
The Niagara Falls Route also takes you to iconic places such as Cleveland, Buffalo, Niagara Falls, and Rochester. These urban enclaves brim with cultural richness, historic landmarks, not forgetting the opportunity to witness the awe-inspiring cascades themselves.
If you're looking for a more urban road trip with some natural highlights, then you might prefer our New York Route. This journey includes stops in the significant cities of Indianapolis, Columbus, Ohio, Pittsburgh, Philadelphia, and the unforgettable New York City.
As you drive, smaller towns like Lewisburg, Dayton, Wheeling, and Harrisburg emerge on the horizon, each with its own distinct character and glimpses into local life. And allow yourself time to experience the great outdoors, with short detours taking you to Wayne National Forest or Tuscarora State Forest.
How to drive from Chicago to Connecticut
The map above shows our suggestions for the best road trip routes between Chicago to Connecticut. Keep reading for detailed descriptions of both routes, where to stay on either, and the best things to do on the way.
Niagara Falls Route
Setting out from bustling Chicago, head east on Interstate 90 (I-90) and begin your adventure with a visit to scenic Indiana Dunes National Park.
Continuing east, you can make a pit stop in the port city of Toledo, Ohio, on the western end of Lake Erie. You can detour to nearby Pickerel Creek Wildlife Area if you want to spend some time in the great outdoors before carrying on towards Cleveland.
From Cleveland, the route traces the southern shores of Lake Erie. As you approach Buffalo, NY, change onto I-190 which takes you through the city then across Grand Island to reach the world-renowned Niagara Falls.
Head back towards Buffalo then rejoin the interstate, heading across the northern part of New York State. Take a break to explore the area's history at the Genesee Country Village and Museum, then turn off to visit Rochester, which sits on the southern shore of Lake Ontario.
Next, you'll follow the highway through Finger Lakes National Forest. This area of pristine woodland and beautiful lakes is definitely worth exploring as you make your way towards Ithaca.
From Ithaca, follow NY-79 to join up with I-81 which takes you to the city of Binghamton. Here, change onto I-86 and follow it as far as Windsor. Here, the journey continues to follow the East Branch Delaware River as you make the scenic drive south through New York State.
Cross the Hudson River and enter Connecticut, then follow CT-34 to reach your final destination, the historical and academic hub of New Haven.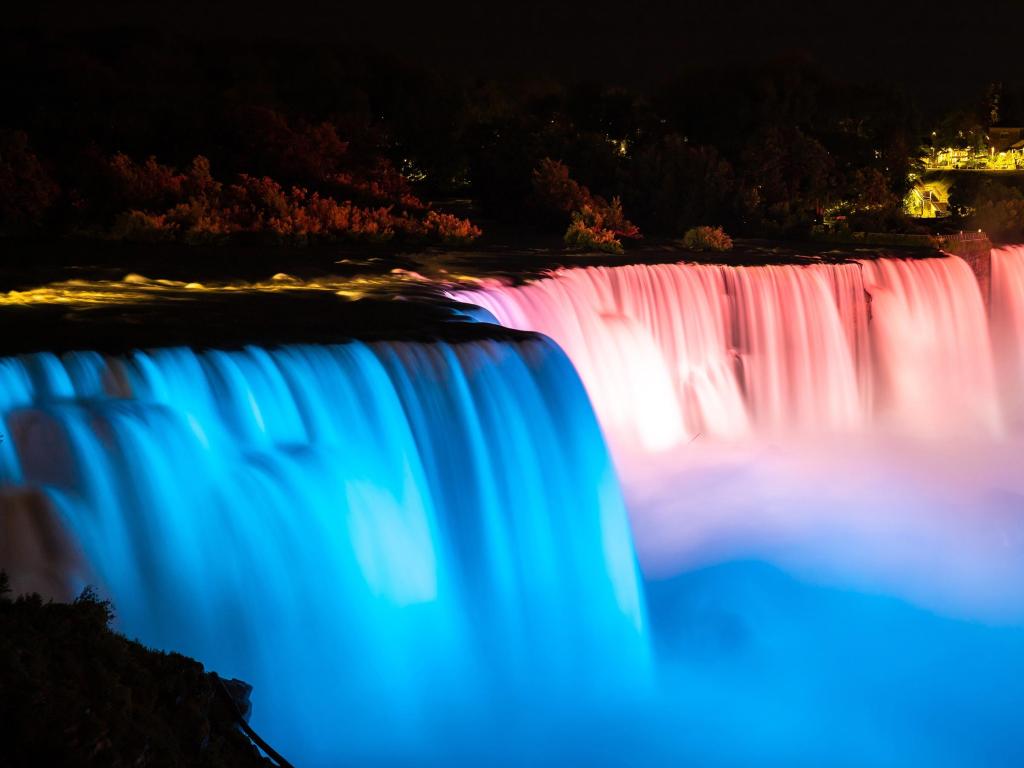 New York Route
From your starting point in the Windy City, make your way to I-65, then head south towards the charming city of Lafayette, IN. From here, carry on to Indianapolis, a city synonymous with motorsports.
Turning eastwards, your next stop will be Dayton, where aviation history comes to life at the Wright Brothers Museum. Travelers seeking a thrill can pull off along the way to visit Lewisburg Haunted Cave.
Continue east to Columbus, Ohio, a city that effortlessly blends urban sophistication with its fabulous cultural gems. Here, nature lovers can detour to visit Wayne National Forest.
Your natural journey continues with a visit to the Great Guernsey Trail and a visit to Egypt Valley Wildlife Center, a haven for flora and fauna, before you reach Pittsburgh, PA.
If time allows, leave the interstate to explore beautiful Tuscarora State Forest before continuing on to Harrisburg. Dive into the Museum of Pennsylvania here for insights into the Keystone State's vibrant history, then carry on to explore the sweet delights of nearby Hershey.
Leaving the interstate at Hershey, you'll follow the highway south through Elizabethtown to Lancaster, PA, which is known for its Amish communities and heritage.
Next, head to the historic city of Philadelphia before driving northeast into New Jersey. Your next stop will be Manhattan. When you're ready to move on and complete your road trip, pick up I-95 again to the north of the city, following it as it skirts the coast of Long Island Sound on the way to New Haven.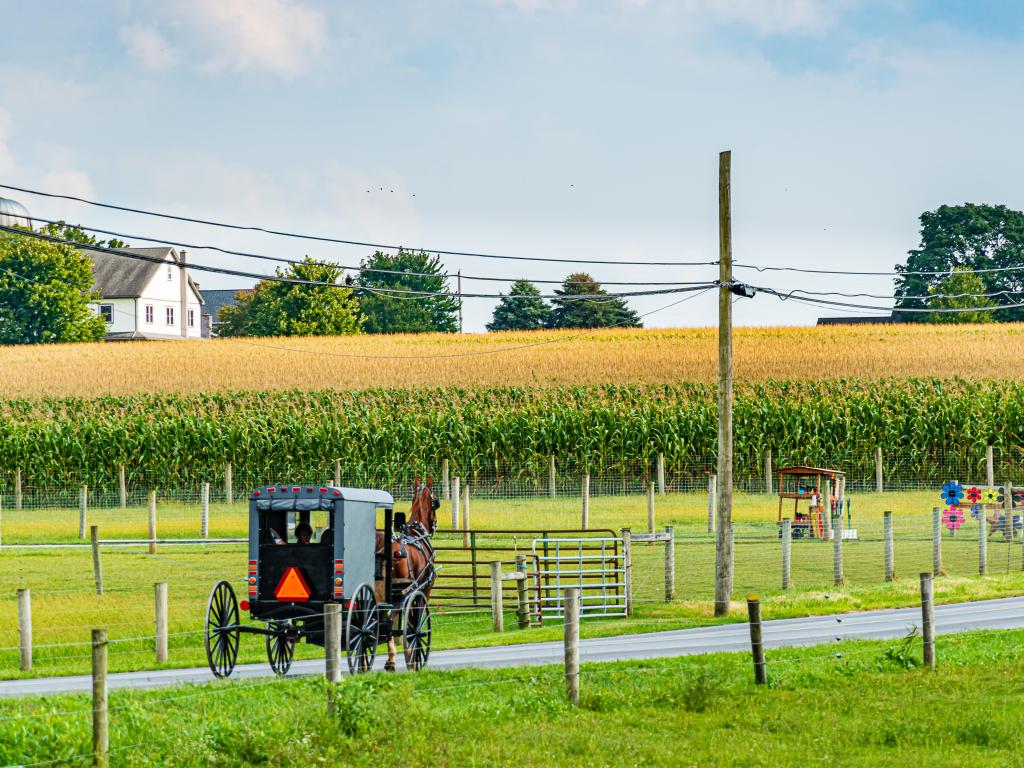 Best places to stop between Chicago and Connecticut
With so many miles to cover, you'll need to make a few overnight stops to enjoy this road trip fully. Check out our recommendations to get you started with your planning.
A charming stop in friendly Buffalo
Buffalo, often dubbed the City of Good Neighbors, sits around 8 hours along the Niagara Falls Route, and with its rich tapestry of history and culture it makes for an excellent overnight stop.
Take some time to immerse yourself in the city's architectural gems, which include Frank Lloyd Wright's Martin House, or hang up your car keys for the day and head out to savor the distinct flavors of Buffalo's myriad craft breweries.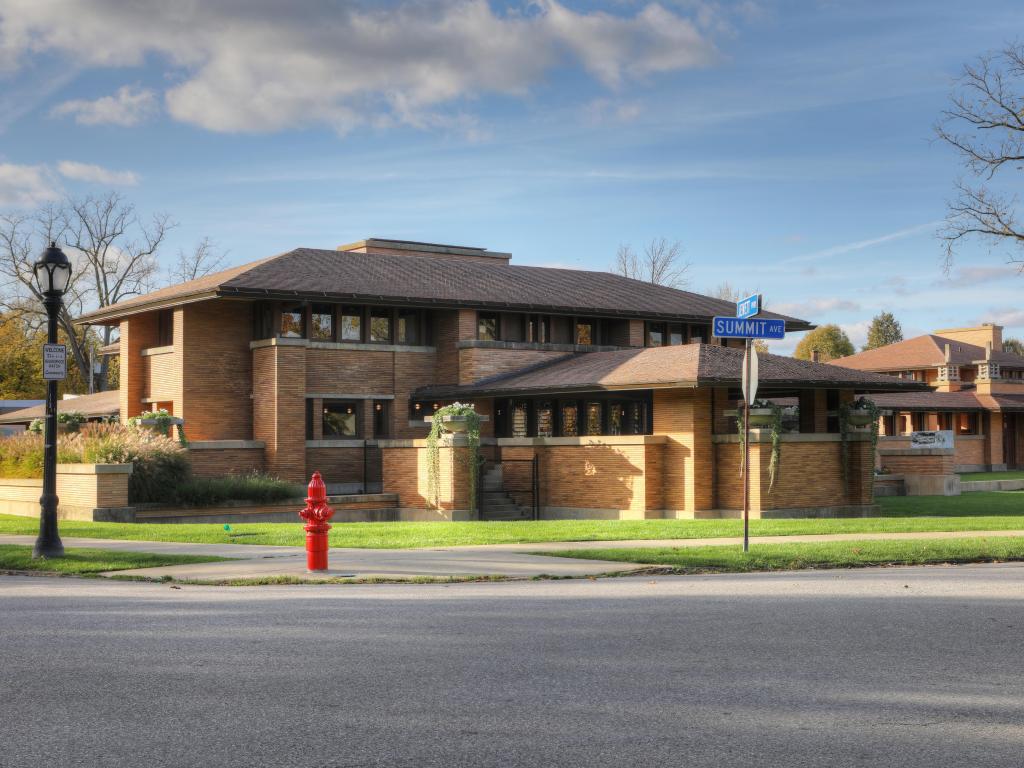 Another significant highlight is the Buffalo Zoo. Established in 1875, it's one of the oldest zoological institutions in the USA, and nowadays, it has a strong focus on conservation.
While visiting Buffalo, we recommend settling down for the night at the luxurious Richardson Hotel. This contemporary establishment, housed in a historic building, is located close to Buffalo's major attractions, promising both convenience and class.
The Buffalo History Museum and the Buffalo AKG Art Museum are both just a short distance from the hotel, and you can rent a bicycle if you want to spend longer exploring the nearby parks and trails. And build in some time to relax in the Richardson Hotel's elegant garden after a busy day in the city.
Admire the bridges of Pittsburgh
Pittsburgh is a delightful interlude on the New York Route, situated roughly 8 hours and 30 minutes into the drive. The city, famously known as the Steel City for its monumental contribution to US industry, is now home to a vivid art and culture scene.
Sitting at the confluence of the Ohio, Allegheny, and Monongahela Rivers, Pittsburgh boasts a plethora of bridges, creating a distinctive skyline that beckons exploration from every angle.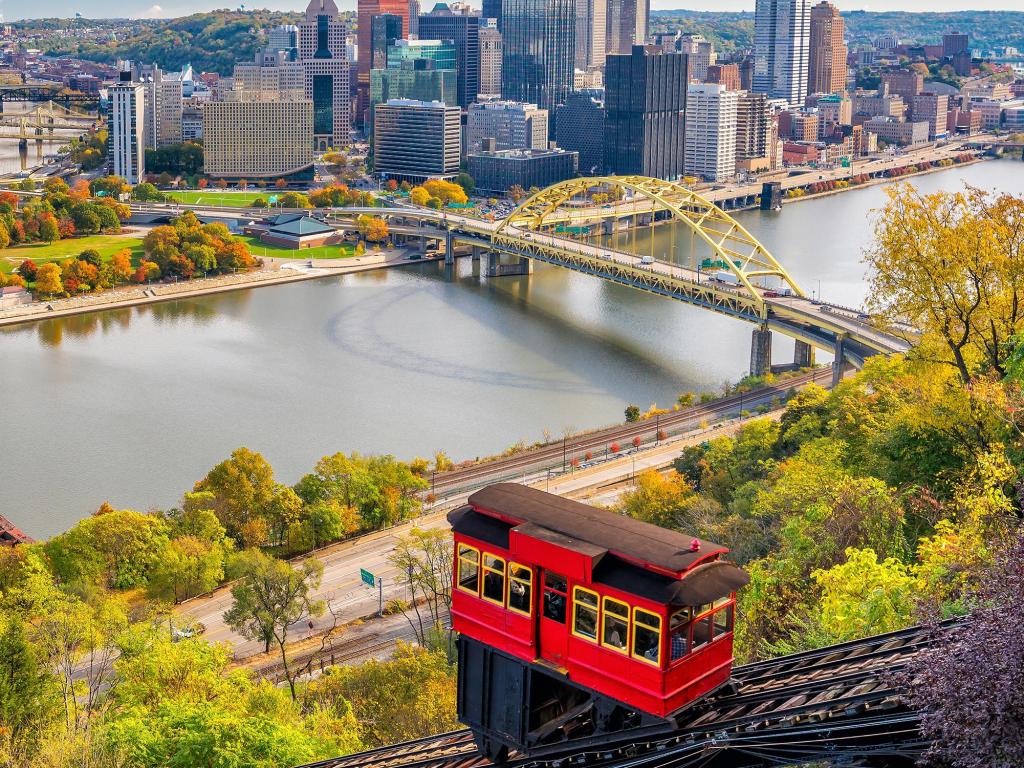 Even among the city buzz, you can still lose yourself in the peaceful natural world of the Phipps Conservatory and Botanical Gardens. Art enthusiasts should head to the Andy Warhol Museum, where you'll enjoy a deep dive into the life and works of one of America's most iconic modern artists.
During your stay in Pittsburgh, the Kimpton Hotel Monaco Pittsburgh, an IHG Hotel, comes highly recommended. Centrally located, this boutique hotel is a stylish blend of opulence and comfort. The interiors exude elegance, while spacious rooms ensure a restful slumber.
As the day wanes, the hotel's rooftop beer garden is the perfect spot to sip on a brew and watch the world go by in the warmer months.
While you're in the vicinity, Point State Park is a must-visit, offering breathtaking views and a serene environment. Additionally, the Carnegie Science Center, a stone's throw away, is packed full of interactive exhibits, making it an enjoyable experience for all ages.
Where to stay when you reach Connecticut
New Haven, Connecticut, is renowned for its rich artistic and cultural legacy and offers travelers an intimate city experience nestled between the bustling hubs of Boston and New York.
This charming city is home to Yale University, and many of its institutions are open to visitors, including the prestigious Yale University Art Gallery and the Yale Peabody Museum of Natural History.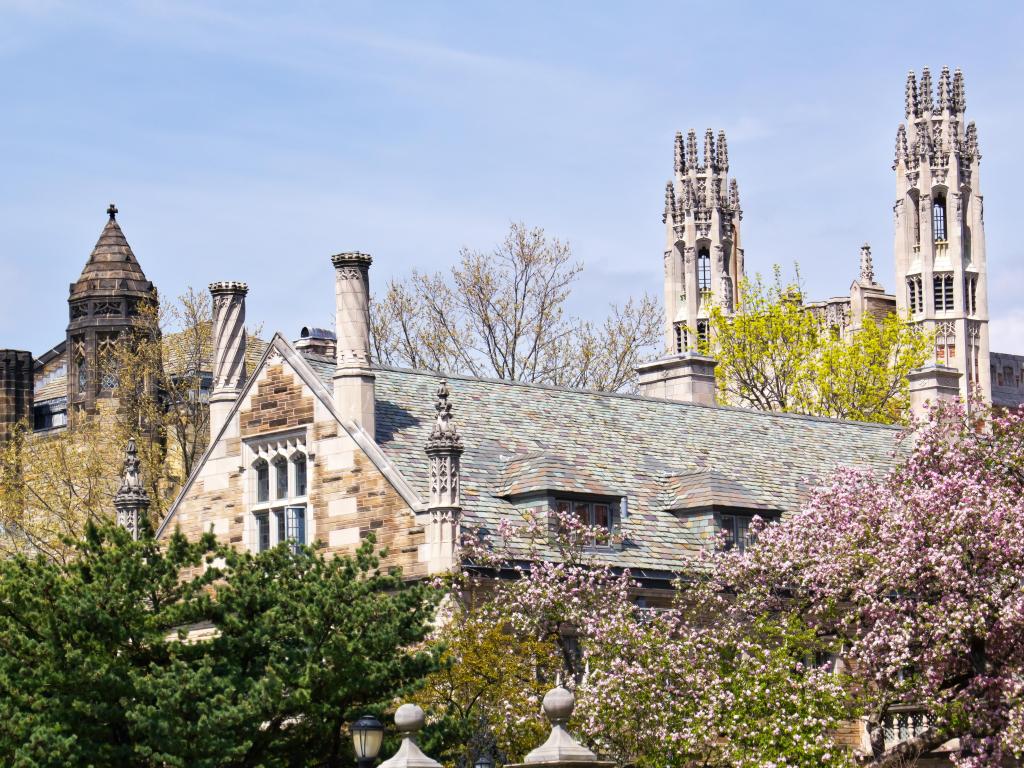 Surprisingly, New Haven also claims the title of being the first American city to implement a public tree-planting program, a testament to its commitment to greenery and the environment.
In the heart of this city lies the Graduate New Haven, a hotel that embodies New Haven's dedication to art and culture. Just a stone's throw from the city's prime cultural attractions, this stylish hotel promises guests a sojourn that mirrors the elegance of meticulously crafted artwork.
The attention to detail in the Graduate New Haven is stunning, with rooms exuding an air of sophisticated quality. A communal lobby that doubles as a café and workspace ensures that travelers can balance leisure with productivity, if necessary. And for those seeking a view, select units offer a panoramic gaze over the city's skyline.
Things to see on a road trip from Chicago to Connecticut
There are countless places to explore when you take a road trip between Chicago and Connecticut, so make sure you've allowed enough time to dip into at least a few of our favorites.
Niagara Falls Route
Indiana Dunes National Park - Stretching over 15,000 acres along the southern tip of Lake Michigan, this park boasts diverse habitats from dunes to forests, and offers recreational opportunities from hiking to bird watching.
Hall of Heroes Superhero Museum - Located in Elkhart, Indiana, this museum is a haven for comic book enthusiasts, showcasing over 80 years of superhero history with thousands of items including original artwork and props.
Toledo, Ohio - A vibrant city on the western tip of Lake Erie, Toledo is renowned for its art scene, zoo, and rich industrial and architectural heritage.
Pickerel Creek Wildlife Area, Ohio - This 3,200-acre wildlife area, located on the Sandusky Bay shoreline, is a mosaic of wetlands and uplands, providing sanctuary for waterfowl and diverse bird species.
Cleveland, Ohio - A dynamic city on the shores of Lake Erie, Cleveland is known for its rich musical heritage anchored by the Rock and Roll Hall of Fame, and its revitalized downtown area.
Lake Erie, Pennsylvania - Part of the Great Lakes system, this freshwater lake offers scenic beaches, fishing opportunities, and picturesque sunsets, particularly from the Pennsylvania shoreline.
Buffalo, New York - As the gateway to Niagara Falls, Buffalo boasts an impressive architectural heritage, a burgeoning food scene, and vibrant arts and culture anchored by theaters and galleries.
Niagara Falls - One of the world's most iconic natural wonders, Niagara Falls is a breathtaking series of three massive waterfalls straddling the border between the USA and Canada.
Genesee Country Village and Museum - This 19th-century living history museum in Mumford, NY, transports visitors back in time with over 60 historic buildings, costumed interpreters, and interactive experiences.
The National Museum of Play, Rochester - Located in Rochester, this interactive museum celebrates the joy of play with exhibits dedicated to toys, video games, and the world's largest collection of dolls.
Finger Lakes National Forest - Nestled between Seneca and Cayuga Lakes, this is the only national forest in New York and offers diverse recreational activities, from hiking and camping to snowmobiling and horseback riding.
Ithaca Falls, Ithaca - A stunning natural cascade located in the heart of Ithaca, these falls offer a serene setting for visitors, best viewed after springtime rains.
Binghamton, New York - Often dubbed the "Carousel Capital of the World," Binghamton is a city with rich history, beautiful parks, and a unique blend of culture.
Motorcyclepedia Museum, Newburgh - A motor enthusiast's dream, this museum in Newburgh houses over 500 motorcycles from 1897 onwards, showcasing the evolution of the machine.
Danbury Railway Museum - Located in a historic station in Danbury, Connecticut, this museum offers rail enthusiasts a journey through time with vintage train rides, exhibits, and artifacts.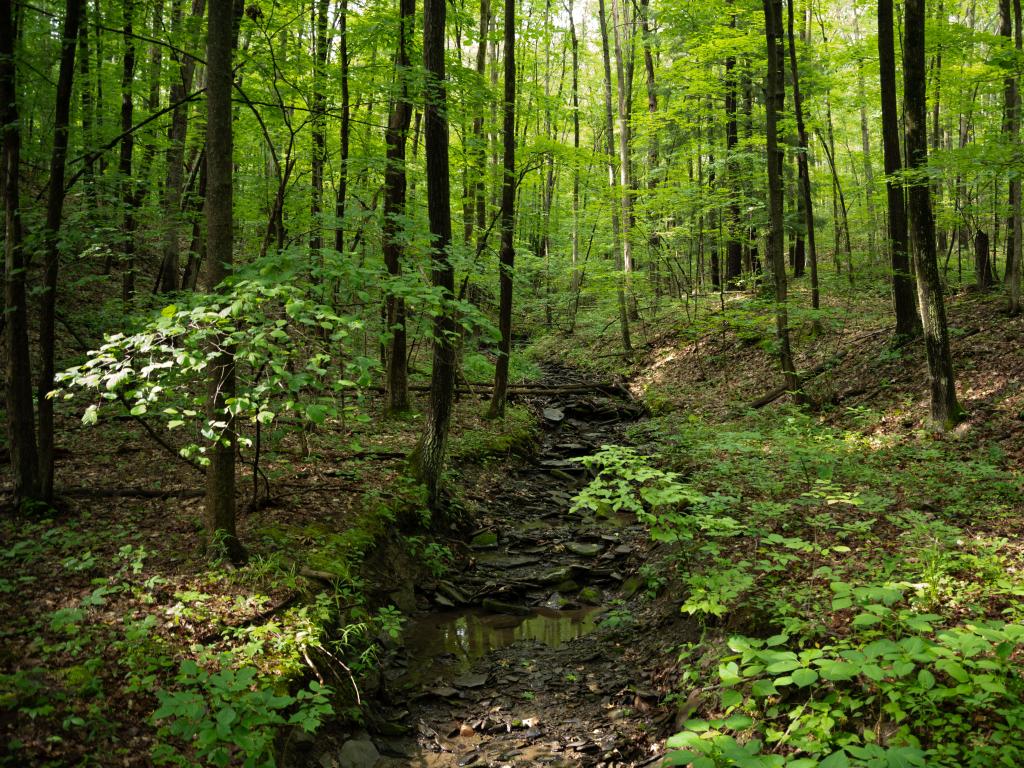 New York Route
Lafayette, Indiana - A vibrant city on the banks of the Wabash River, Lafayette boasts a rich history, a thriving arts scene, and is home to Purdue University.
Indianapolis - The state capital of Indiana, Indianapolis is renowned for its motorsports with the iconic Indianapolis Motor Speedway, as well as its bustling downtown filled with museums, shops, and restaurants.
Indiana Basketball Hall of Fame - Located in New Castle, this museum celebrates the state's rich basketball heritage with exhibits that honor players, coaches, and other major contributors to the sport.
Lewisburg Haunted Cave - Situated in Lewisburg, Ohio, this limestone cave is said to be haunted and offers underground tours that combine natural beauty with spooky tales. Enter if you dare...
Wright Brothers Museum, Dayton - This museum honors the aviation pioneers Orville and Wilbur Wright and showcases their journey from bicycle shop owners to inventors of the first successful airplane.
Columbus, Ohio - As Ohio's capital, Columbus is a dynamic city known for its diverse cultural scene, historic districts, and the sprawling campus of Ohio State University.
Great Guernsey Trail - Located in Cambridge, Ohio, this scenic trail stretches for nearly 7 miles, offering visitors picturesque views, perfect for biking or a peaceful walk.
Egypt Valley Wildlife Area - Spanning over 18,000 acres, this wildlife area in Belmont County is a haven for outdoor enthusiasts with its diverse habitats supporting a variety of wildlife.
Kruger Street Toy and Train Museum - Situated in Wheeling, West Virginia, this museum delights visitors with its vast collection of vintage toys, trains, and interactive displays.
Pittsburgh, Pennsylvania - Nestled at the confluence of three rivers, Pittsburgh is a city of bridges known for its rich industrial history, burgeoning arts scene, and passionate sports culture.
Tuscarora State Forest - Covering over 95,000 acres, this forest in Pennsylvania offers an array of recreational opportunities from hiking and fishing to winter sports.
Hershey, Pennsylvania - Known as "The Sweetest Place on Earth", Hershey is synonymous with chocolate, boasting attractions like Hershey's Chocolate World and the thrilling rides of Hersheypark.
Lancaster, Pennsylvania - At the heart of Pennsylvania Dutch Country, Lancaster offers a blend of modern city life, rolling farmland, and Amish heritage, with traditional markets, theaters, and horse-drawn buggies.
New York - Often dubbed "The Big Apple", New York City is a global hub of culture, finance, and entertainment, known for iconic landmarks like the Statue of Liberty, Times Square, and Central Park.
Greenwich, Connecticut - An affluent enclave just outside New York City, Greenwich boasts scenic coastlines, historic homes, and a bustling downtown with upscale shops and restaurants.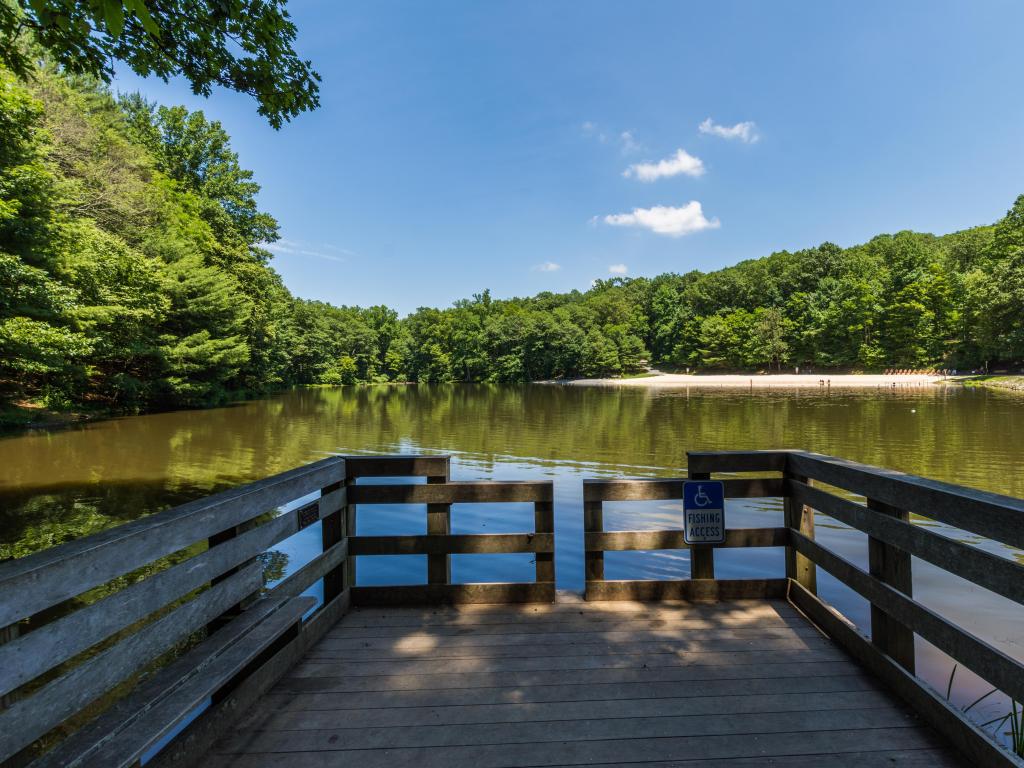 Best time to go on a road trip from Chicago to Connecticut
The journey from Chicago to Connecticut, be it through the Niagara Falls Route or the New York Route, will be shaped by the season of your travel.
Connecticut, being located in the northeastern US, experiences cold winters with temperatures usually between 30-40 degrees Fahrenheit. If you are traveling in winter, the drive can be challenging due to snowfall.
Conversely, summers are inviting, with daytime temperatures in New Haven climbing to a balmy 70-90 degrees Fahrenheit. The city's vibrant International Festival of Arts & Ideas is held in August, or if you're following the New York Route, you can dip into the Columbus Art Festival, held in June each year.
Despite the great weather, some travelers will prefer to avoid taking this trip between June and August, when tourists flock to Niagara Falls, the Finger Lakes region, and cities along the way, sometimes causing congestion and a spike in accommodation prices.
Spring is arguably one of the best times to visit Connecticut. New Haven boasts mild temperatures ranging between 50-70 degrees Fahrenheit, perfect for wandering around Yale University or attending the New Haven Restaurant Week in April.
If you're following the Niagara Falls Route around this time, you could also time your trip to enjoy the Cleveland International Film Festival, held each year between March and April.
Fall paints New Haven in hues of amber and gold, while temperatures gently descend to the 45-70 degrees range. It's a popular time to drive across the region, so don't be surprised if the roads are busier than normal, especially if you're driving through the Finger Lakes.
If you're traveling in the fall, check out the National Buffalo Wing Festival, which takes place in September, or park up to enjoy October's Philly Wine Fest if you're taking the New York Route.