Road Trip from New York to Maine
Maine is a gem of the United States, filled with beautiful scenery, stunning small towns... and some truly great seafood. If you are looking for a fun weekend or week-long adventure, consider a road trip from New York to Maine. This short trip is filled with things to do, taking you through some of the prettiest towns and cities in America.
The 470-mile road trip from New York to Maine will take you at least 8 hours 30 minutes to drive, without breaks. Notable stops along the way include Stamford, New Haven, Hartford, Portland (Maine), and Acadia National Park.
If the sound of a road trip like these interests you, read on for more information about what route to take, where you should stay, and some of the best things to do along the way.
How far is Maine from New York and how long will the road trip take?
The road trip from New York to Maine will cover 470 miles and take you at least a day to drive. However, we think you should avoid rushing and give yourself at least two days, if not more, for this trip.
This route will take you from New York into beautiful Connecticut, through the forested state of Massachusetts, before taking you along the spectacular coastline of Maine to Acadia National Park.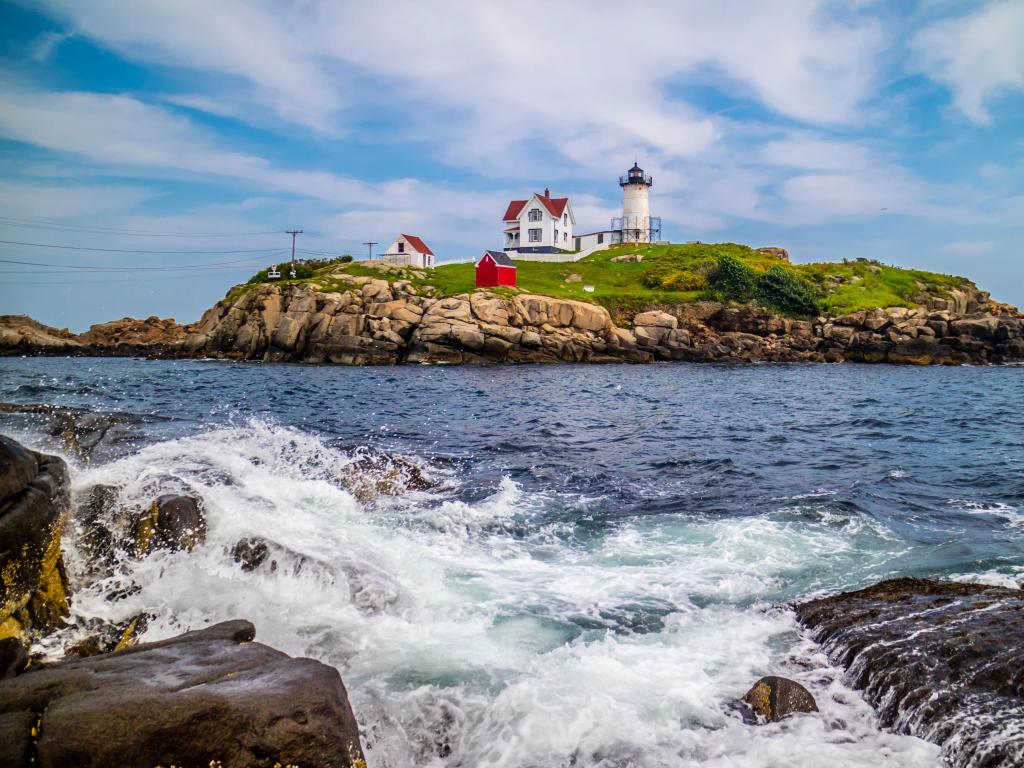 Most of the driving takes place on a network of interstates, as you navigate out of the city towards quieter roads. Once you reach Portland, Maine, you turn onto Highway 1, which is going to be one of the best parts of this trip.
Traffic could be an issue on this route, as you pass through some densely populated areas. From New York to Hartford, you may encounter your heaviest traffic, so try to travel this first stretch of the journey outside of rush hour.
If you'd like to explore Maine further, check out our ultimate itinerary:
READ MORE - Ultimate Maine Road Trip Itinerary
Best road trip route from New York to Maine
A road trip from New York to Maine is a great length for a weekend or week-long trip. However, figuring out the best route and your ideal via points can be challenging. Read on for more information about the best route from New York to Maine.
Note: if you are visiting Acadia National Park and plan to drive on the Cadillac Summit Road, keep in mind that vehicle reservations might be required. Please check the national park's website to avoid any disappointment.
Road trip route from New York to Maine
Assuming that you begin your journey on Manhattan, you will need to take FDR drive north until you reach Randall's Island. Here, take I-278 north, through the Bronx, and out of New York City.
Merge onto I-95 taking you towards New Rochelle. Stay on I-95 as it leads you along Long Island Sound towards New Haven.
At New Haven you will join I-91 taking you away from the coast towards Hartford. In East Hartford, you will exit I-91 and merge with I-84.
Follow I- 84 up to Sturbridge, where you will join I-90. Follow I-90 to Auburn. At Auburn turn onto I-290, taking you towards Worcester and I-495.
You will stay on I-495 for a good distance, passing Lowell, Lawrence, and Haverhill. I-495 will take you back towards the coast, where you can then link up with I-95.
Follow the Interstate up to Portland. Here you want to get onto I-295 and then US Highway 1. Highway 1 will be the highlight of your time on the road, as it winds along the beautiful coastline of Maine.
You can follow US-1 along the coast to Ellsworth, where you can join Route 3 to take you to Acadia National Park, crossing Trenton Bridge just before you reach your destination.
Best places to stop between New York and Maine
If you are looking for a few places to stay on your road trip from New York to Maine, then this next section is here to help. Here are our top recommendations for some beautiful places to stay on your trip.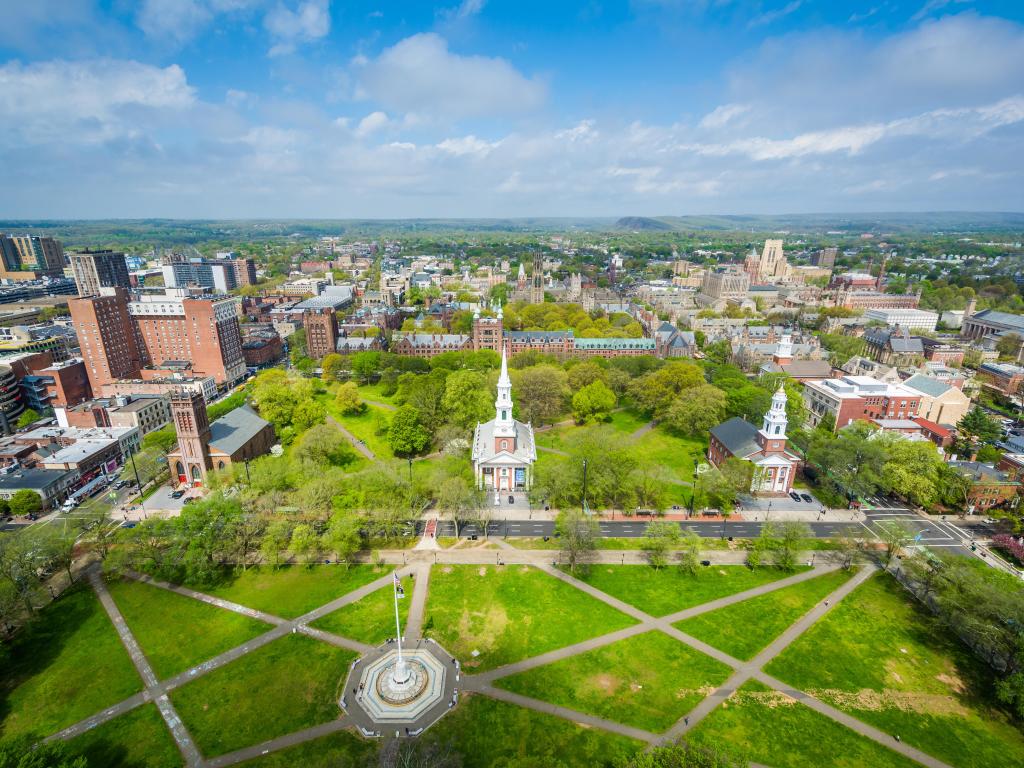 Be a student of culture in New Haven
Home to world-renowned Yale University, New Haven has a rightful claim as a cultural and intellectual center.
While New Haven is situated just an hour and a half north of New York City, this coastal city is still a great stop for an overnight stay. A tour of Yale University - as well as its museums and Art Gallery - is a must on any intellectual's bucket list, and the city is home to many outstanding restaurants, too.
As far as accommodation is concerned, The Study at Yale, in New Haven, oozes charm and sophistication. If you are looking for a relaxing place to stay on your road trip, look no further than The Study.
The Study is at the center of New Haven, making it a perfect place for you to enjoy everything on offer in this pretty city. As soon as you arrive at the hotel you will be impressed by its class and sophistication. The décor is classic, utilizing lots of leather and wood for a very scholarly feel, which fits the city perfectly.
An on-site bar gives you a place to relax and enjoy a drink after a long day of driving or sightseeing. The Heirloom restaurant is on-site and specializes in using local ingredients to make exceptional food.
Dine like a locavore in Portland, Maine
Famous for its exceptional seafood cuisine, Portland is an absolute no-brainer when it comes to choosing somewhere to stop over and enjoy an evening meal. The city is thought of by many as the best food town in New England: and that extends well beyond just shellfish.
Thanks to Portland's enviable position, right on the coast, it's no surprise that the cuisine is wholeheartedly "locavore" - i.e. focused on locally-sourced, seasonal ingredients. Portland's creative foodie scene is second to none.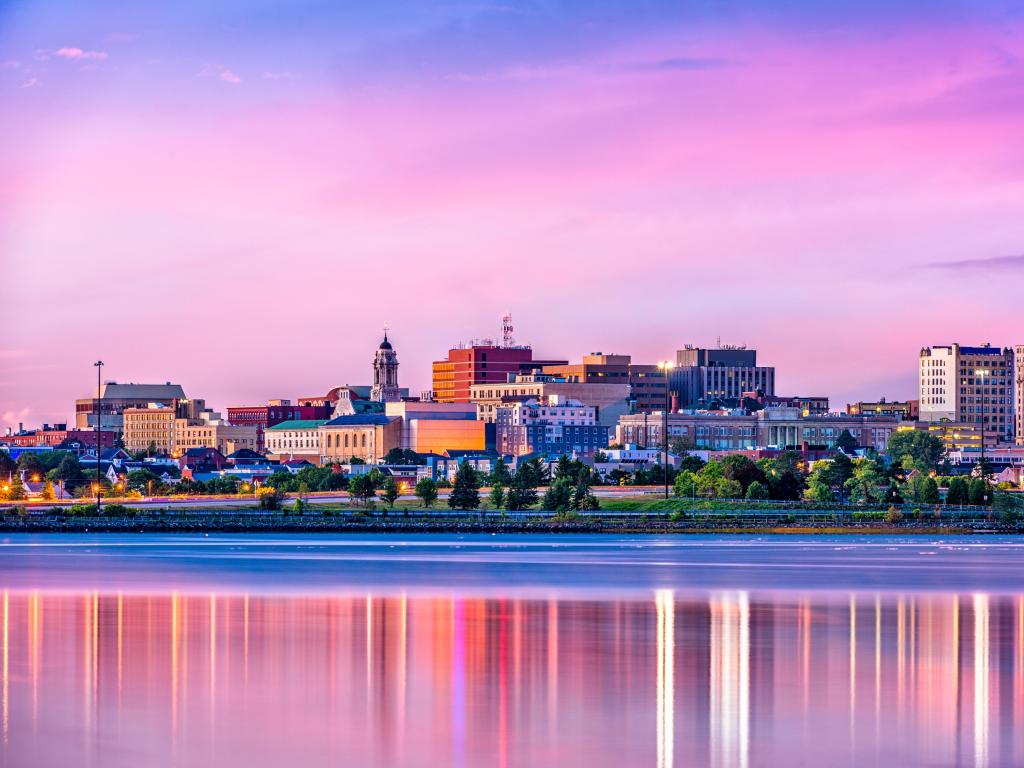 With this in mind, you'll want to make sure you stay as close to the waterfront as possible - poised to browse Portland's numerous vibrant restaurants and working seafaring industry.
The Portland Harbor Hotel combines upscale luxury with a decidedly maritime flair and waterfront location. Relax in the hotel's sumptuous surroundings, safe in the knowledge that you're only a few steps away from the action.
And the action isn't limited to eating and drinking: make the most of your time in Portland by visiting the Portland Museum of Art and taking a trip out on a boat tour in Casco Bay.
Where to stay when you reach Acadia National Park
Once you arrive in Acadia National Park, we'd recommend staying on Mount Desert Island itself so that you can completely relax and unwind in this unspoilt oceanfront spot.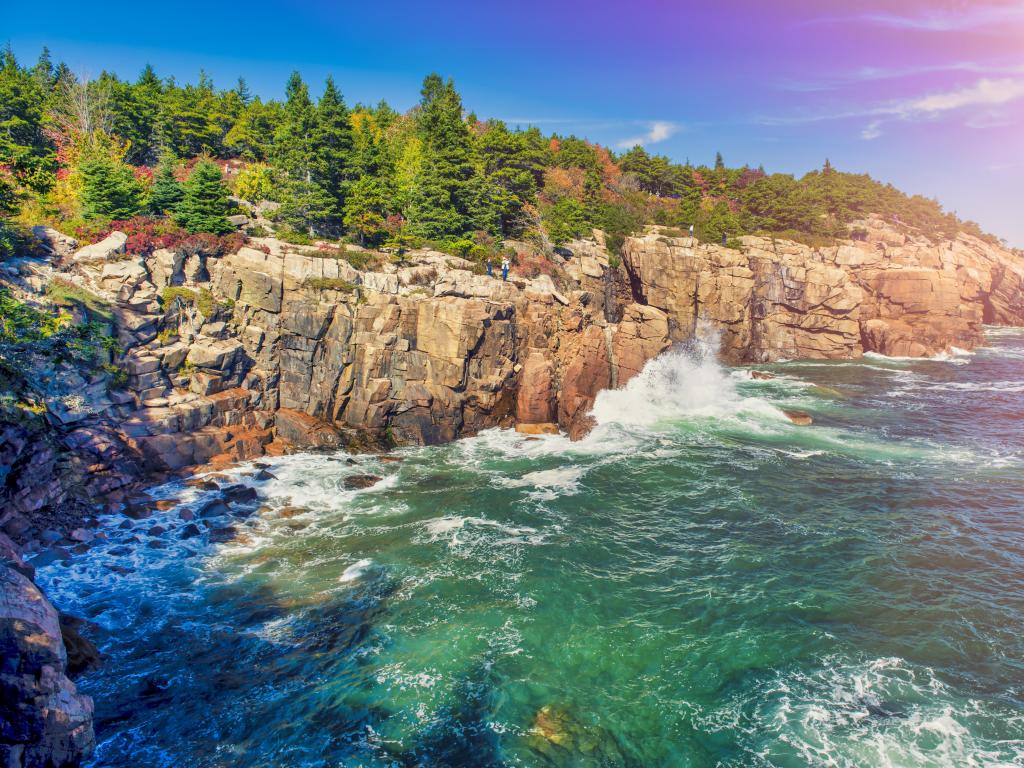 Our top choice for a stay here is the Bar Harbor Inn and Spa, with its luxurious on-site spa and views of Frenchman Bay. As the highest-ranked hotel in the area, you simply can't go wrong with a stay here.
The hotel also has easily accessible, free parking on site, which is always an added bonus for a weary road tripper!
Places to see on your road trip from New York to Maine
On your road trip you want to make sure you plan time for sightseeing and activities. TO help you figure out where you might want to stop, we have listed some of the top attractions along this route. However, we encourage you to give yourself additional time to do your own exploring.
Stamford - Just a short drive out of New York, this city has a great mixture of things to offer like breweries, theatres, and a pretty coastline nearby
New Haven - New Haven is a trendy University city with lots of museums and very interesting, beautiful architecture
Hartford - Continuing the theme of history, Hartford is home to the Mark Twain Museum and the Wadsworth Atheneum Museum of Art
Worcester - Like many of the cities on this route, Worcester is also home to an impressive range of attractions, from museums of art and natural sciences to breweries and restaurants
Nubble Lighthouse - The first attraction in Maine, Nubble Point and its lighthouse are worth the short detour to get your first taste of the Maine coastline
Portland Head - Another very photogenic lighthouse sits on Portland Head, nearby Crescent Beach State Park is also worth a visit.
Portland - A very pretty city that we recommend spending a few days in. Make sure you stroll along the Old Port waterfront and visit the western promenade
Camden Hills State Park - If you feel like getting active, and the weather is on your side, plan a hike in Camden Hills State Park
Fort Knox - The lesser known of the two Fort Knox's. This one is an impressive structure that sits on the banks of the Penobscot River
Acadia National Park - A beautiful park set along a rugged stretch of Maine's coastline, home to wildlife like bears, moose, and numerous seabirds
Bar Harbor - A pretty little town that sits on the edge of Acadia National Park, a great place to stay while exploring the park and nearby coastline
Sand Beach - Just down the road from Bar Harbor, this is a pretty beach on an even prettier stretch of coastline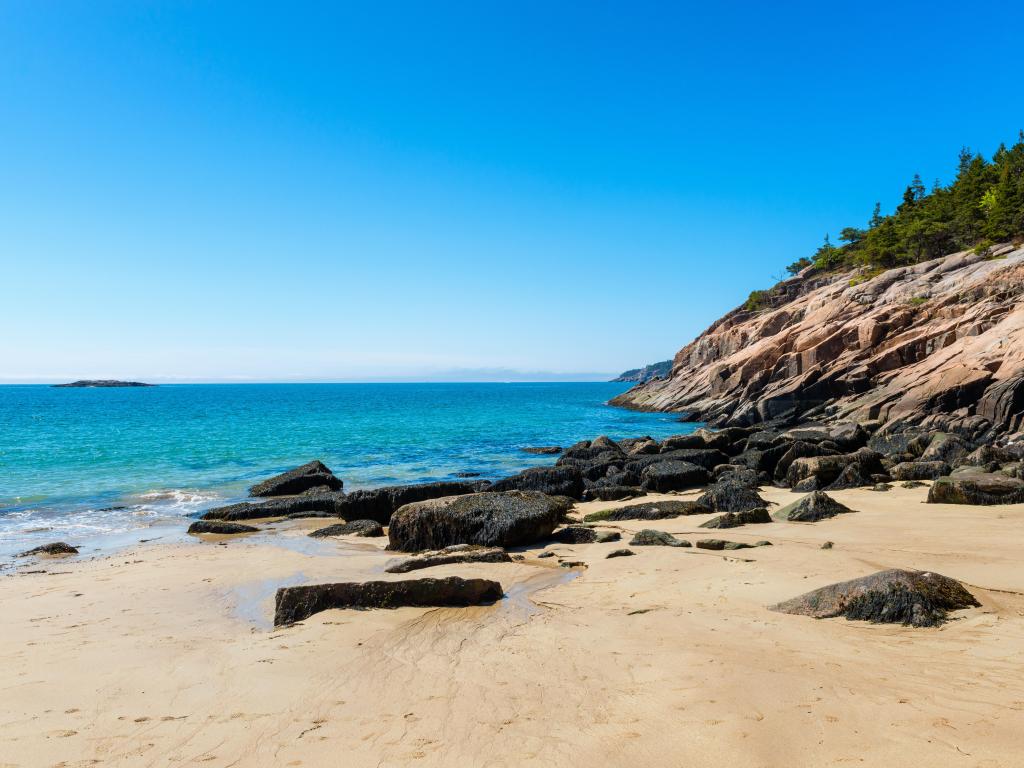 Best time to go on a road trip from New York to Maine
Both New York and Maine can get very cold during winter. Unless you like the cold and are prepared for it, it probably isn't the best time for a road trip from New York to Maine. That being said if you don't mind the cold there is plenty to do indoors to keep you entertained on this trip - just make sure you bundle up with plenty of layers!
Winter will bring with it the cheapest hotel prices, and very low tourist numbers. If both of these things appeal, then winter might just be the season for you.
Be warned, however, that these northern states can get very cold and experience a lot of snow, in our opinion you are best off sticking to the shoulder seasons or summer.
If you don't like the cold but still want to travel in a quieter season, have a look at going in spring or fall. The shoulder seasons offer a great compromise between weather, tourist numbers, and hotel prices.
You may get unlucky and experience some unpleasant weather, but you may also have a beautiful fall or spring day to explore Maine. Fall is particularly nice as the deciduous trees set the forest ablaze with their crimson, yellow, and orange leaves.
If you enjoy a bit more peace and quiet, fall could definitely be a great time for you to go to Maine.
Summer is going to be the busiest time of year. Nice weather makes it easy to get outside and enjoy your road trip. However, it also brings lots of tourists and higher prices. It's a good idea to think about what your priorities are and then you can find a season that works for you.