Road Trip from Kansas City to Orlando, Florida
If you love scenic forests, breathtaking mountains, and bucket-list cities with great nightlife, then a road trip from Kansas City, Missouri to Orlando, Florida is just the perfect adventure for you. This road trip of a lifetime is jam-packed with unforgettable sights and experiences.
The 1,520-mile road trip from Kansas City, Missouri to Orlando, Florida takes 26 hours to drive. Highlights include Kansas City, Ozark National Forest, Little Rock, Memphis, New Orleans, and Orlando, as well as Knoxville, Asheville, and Savannah.
This epic drive will take you through some of America's most culturally rich cities, natural landmarks, and diverse scenery. Keep reading to learn about the best routes, places to visit, and the best time of year to make this incredible road trip.
How far is Orlando from Kansas City, and how long will the road trip take?
Comparison of road trip routes between Kansas City and Orlando

| Route | Distance | Driving Time |
| --- | --- | --- |
| The Atlantic Route | 1,520 miles | 26 hours |
| The Emerald Coast Route | 1,650 miles | 28 hours |
The quickest route is via the Blue Ridge Mountains and the Atlantic Coast. This scenic drive will take 26 hours directly and cover a distance of 1,520 miles.
Our recommended option will be slightly longer but will take you through some of America's most culturally rich cities and unparalleled scenery. This route will take 28 hours, if you drive without stopping, and cover a distance of 1,650 miles.
Because you'll be driving a long distance and there are so many incredible stops along the way, you should plan to spend five to eight days completing this drive. As you travel, you will be busy stopping at National Parks, exciting cities, and incredible viewpoints that will make time go by fast.
READ MORE - Ultimate Florida Road Trip Itinerary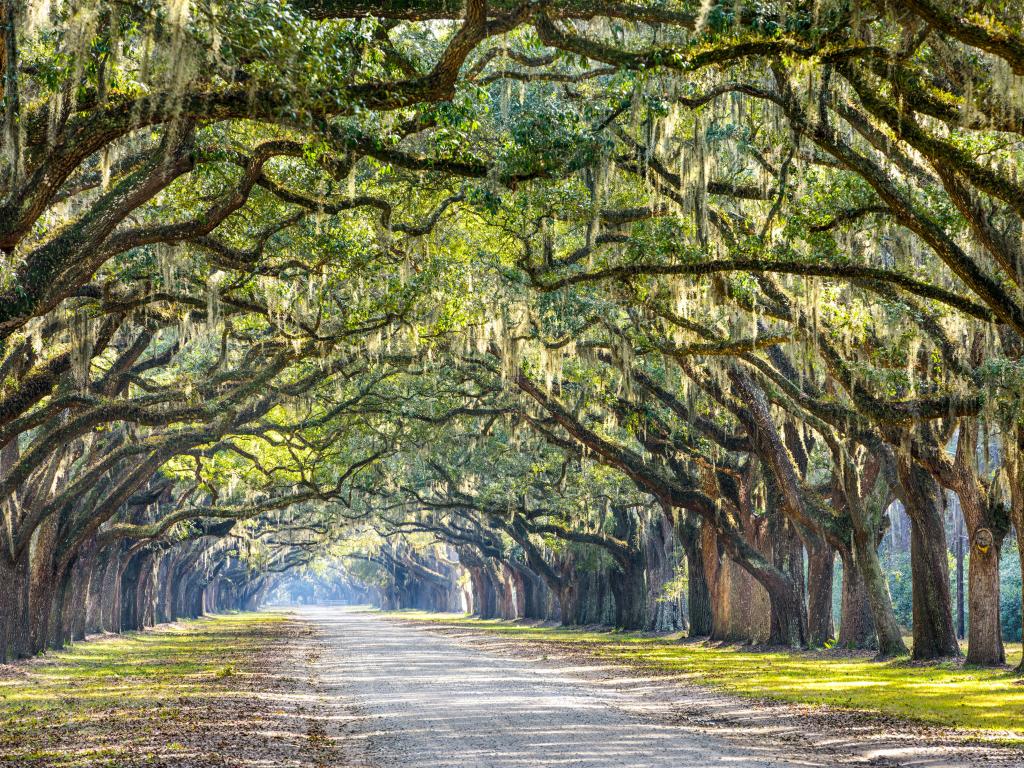 Best road trip route from Kansas City to Orlando
Both routes will take you through amazing landscapes and cultural treasures. The route you choose will depend on what you're interested in seeing. Whether you love country music and want to stare out over the Blue Ridge Mountains or dance on the streets in New Orleans, each route has something for everybody.
Our Emerald Coast Route begins in the plains of Missouri and takes you south through the Ozark Mountains and the river lands of Mississippi until you reach New Orleans. From "The Big Easy" you'll drive along Florida's beautiful panhandle to Orlando.
This route features numerous stops, including national parks, cultural landmarks, and some of America's most celebrated cities. It does, however, add a couple of hours onto your drive.
The best alternative route is our Atlantic Route. This drive will take you east, through the musical hills of Tennessee, through the famous Blue Ridge Mountains, and eventually along the Atlantic coastlines of Georgia and Florida.
Like the Emerald Coast Route, the Atlantic Route takes you through some of America's cultural hotspots. Along the way, you'll pass miles of beaches, hiking trails, and spectacular views.
How to drive from Kansas City to Orlando
The map above shows our suggestions for the best road trip routes between Kansas City and Orlando. Keep reading for detailed descriptions of both routes, where to stay on either, and the best things to do on the way.
The Emerald Coast Route
Begin in Kansas City and head south on Interstate 49 (I-49) into Arkansas and drive through the lush Ozark National Forest. Here you'll pass waterfalls, hiking areas, and incredible viewpoints as you drive east.
From here, take AR-21 south into Clarksville, located on the Arkansas River and head towards Little Rock. Follow the I-40 through beautiful Little Rock and head east to Memphis. If you have time, take a break to explore all the history, food, and culture this city offers.
Next, continue south for a stop at Tunica Resorts to try your luck at one of its many casinos and then continue south until you get to charming Jackson, Mississippi.
From Jackson, follow the interstate to New Orleans. Spend some time in the birthplace of jazz and experience some of America's most vibrant nightlife.
Once you get your fill of New Orleans, head east on the I-10 past Mobile, Alabama and into Pensacola. You will drive through Destin and Panama City, Florida, next. Here, you can walk along endless white sand beaches and check out the famous St. Andrew State Park Peer.
The interstate will then take you through Tallahassee, Florida. From here, follow the signs for Orlando and soon you will arrive at your destination.
Check out our ultimate Florida road trip itinerary for further information.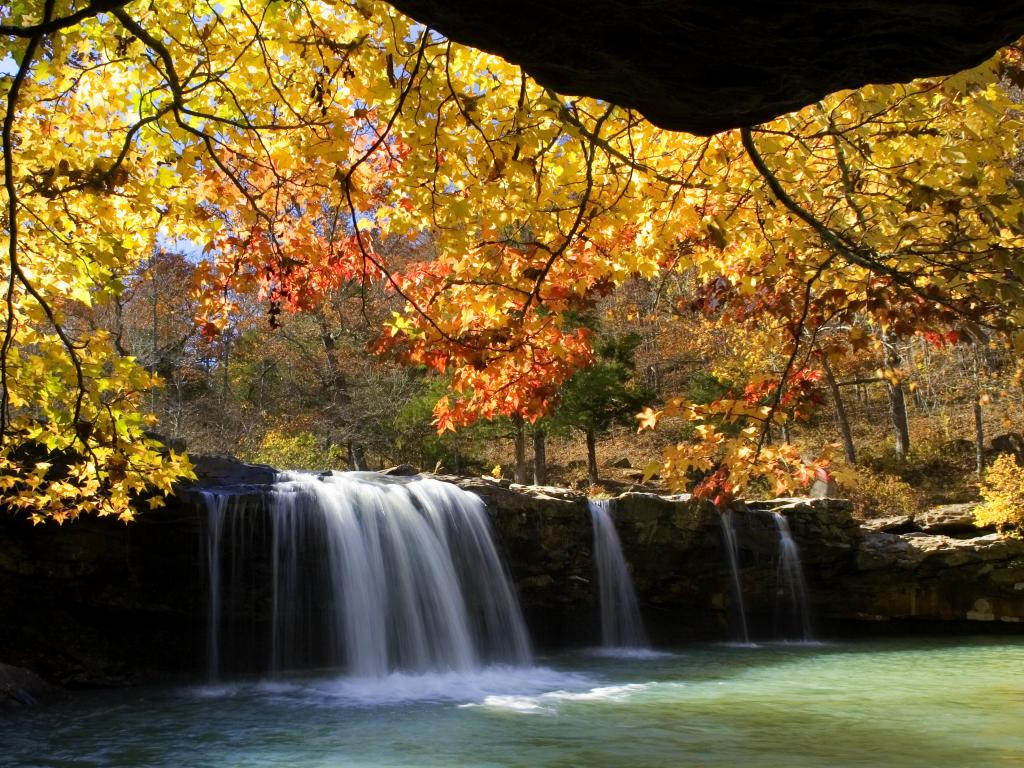 The Atlantic Route
Start in Kansas City and drive east on I-70 and drive into St. Louis, where you can visit the famous Gateway Arch. From here, continue east and cross the mighty Mississippi River into southern Illinois. The interstates will merge past Shawnee National Forest.
Driving through western Kentucky, cross the border and head towards Nashville, Tennessee. Here you can explore America's music city and its exciting food scene.
From Nashville, continue east to Knoxville, making a stop in "The Marble City." Then, drive towards the postcard-worthy Cherokee National Forest. Here you'll enter the mighty Appalachian Mountains.
Continue on through the spectacular scenery into Asheville, North Carolina. Take a break and walk along its charming streets and small shops. Soon after, you can stop off to visit the iconic Chimney Rock National Park or drive along the forested coastline of Lake Lure.
From the mountains of North Carolina, continue south into South Carolina and follow the interstate through Columbia and into historic Charleston. Here you can visit the Fort Sumter National Monument. Then, head south into Savannah, Georgia.
Take I-95 into Florida and drive through Jacksonville and St. Augustine. Make a stop or two along the way to enjoy their incredible beaches. Finally, merge onto the I-4 W towards Orlando.
Here is our ultimate Florida road trip itinerary.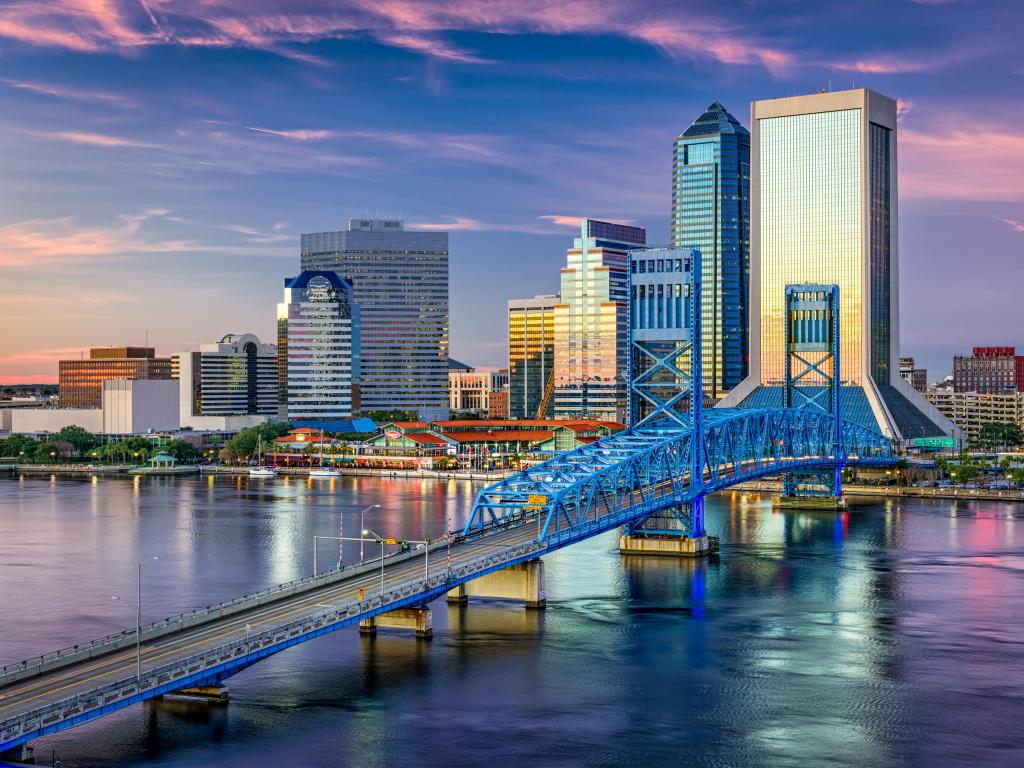 Best places to stop between Kansas City and Orlando
With so many beautiful beaches, views, and cities to visit between Kansas City and Orlando, you will have an unforgettable road trip on either route.
To help you with your trip, we've chosen our favorite locations for staying the night. With all the great options for lodging in these cities, we've picked our favorites.
Celebrate in style in New Orleans
The perfect city to rest on the Emerald Coast Route is New Orleans. The city, known for its culture, architecture, and food, is about two-thirds of the way to Orlando from Kansas City, which makes it an ideal stop before traveling east along the Gulf of Mexico.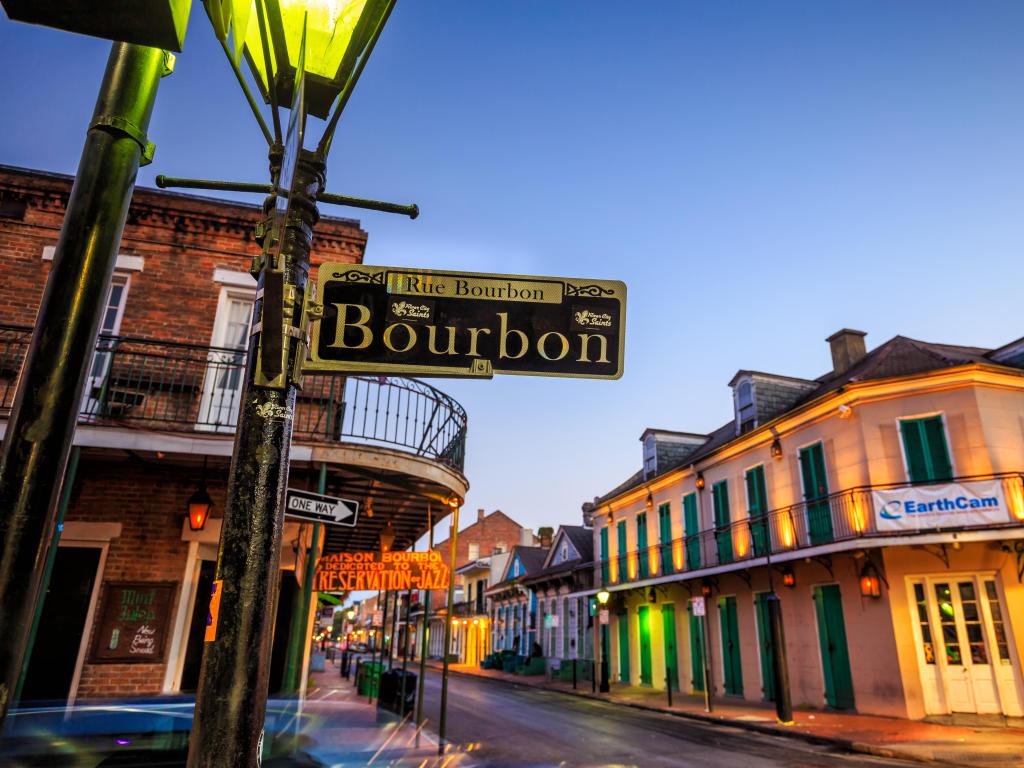 While in New Orleans, walking through the French Quarter is essential. It's a historic part of the city that dates back to 1718. With its age-old French-style architecture, art galleries, and restaurants, it embodies the soul of the city.
An excellent hotel for exploring The Big Easy is the Four Seasons New Orleans. After a long drive, make sure to take advantage of its valet parking, spa treatments, and outdoor pool. As can be expected, the luxurious rooms feature either a fantastic city or a scenic river view.
The hotel is situated in the center of the city. Don't miss the famous Bourbon Street, just a short ten-minute walk away. Jackson Square and the famous Louisiana State Museum are just a touch further, but still within walking distance.
If you feel like venturing outside the city, you can grab a cruise through the bayou. There are swamp tours where you can ride on pontoon boats and learn about the ecosystem. On top of all this, you may spot an alligator or two-which will be a sight to remember!
Rest in nature in Asheville, North Carolina
Halfway between Kansas City and Orlando on the Atlantic Route is Asheville, North Carolina. Famous for its surrounding Blue Ridge Mountains, the city has a quaint southern charm surrounded by some of the most beautiful natural scenery in the USA.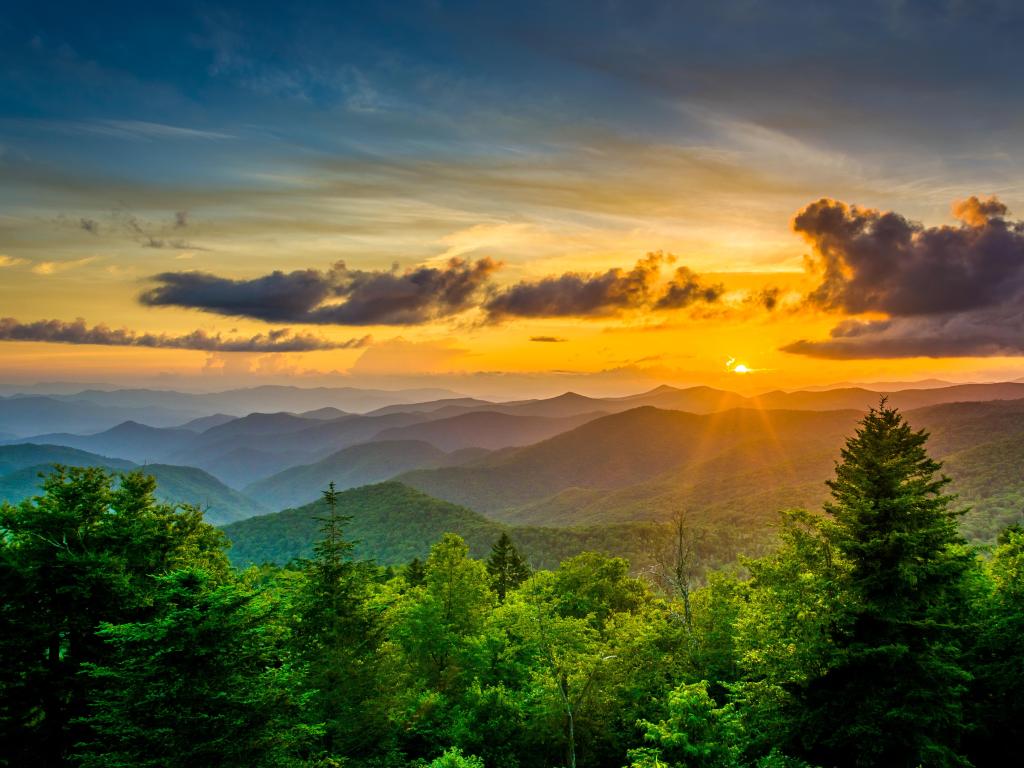 Asheville is a very walkable city, known all over the south for its music and art. You can listen to live mountain music in small bars or see big acts at the ISIS Music Hall. While you're there, explore downtown's locally owned shops, restaurants, and craft breweries.
For a relaxing and event-filled stay, we recommend staying at the Kimpton - Hotel Arras, and IHG Hotel. With on-site parking, you can leave your car behind and hop on one of the free bikes on offer to explore downtown Asheville and the many local parks.
All rooms come with a view of the Blue Ridge Mountains and a terrace to enjoy the fresh mountain air, so you don't need to be an avid hiker or climber to appreciate the awe-inspiring views.
When you walk out of your hotel, you'll find yourself in the heart of downtown. Enjoy chic bars, restaurants, the Asheville Museum of Science, and the Asheville Music Hall, all just a couple minutes' walk away.
Let your inner child out in Orlando
Once you arrive in Orlando there will be so much to do and see, so you will want to stay in a central location with easy access to all the city has to offer. We recommend staying at Universal's Hard Rock Hotel which checks all the boxes.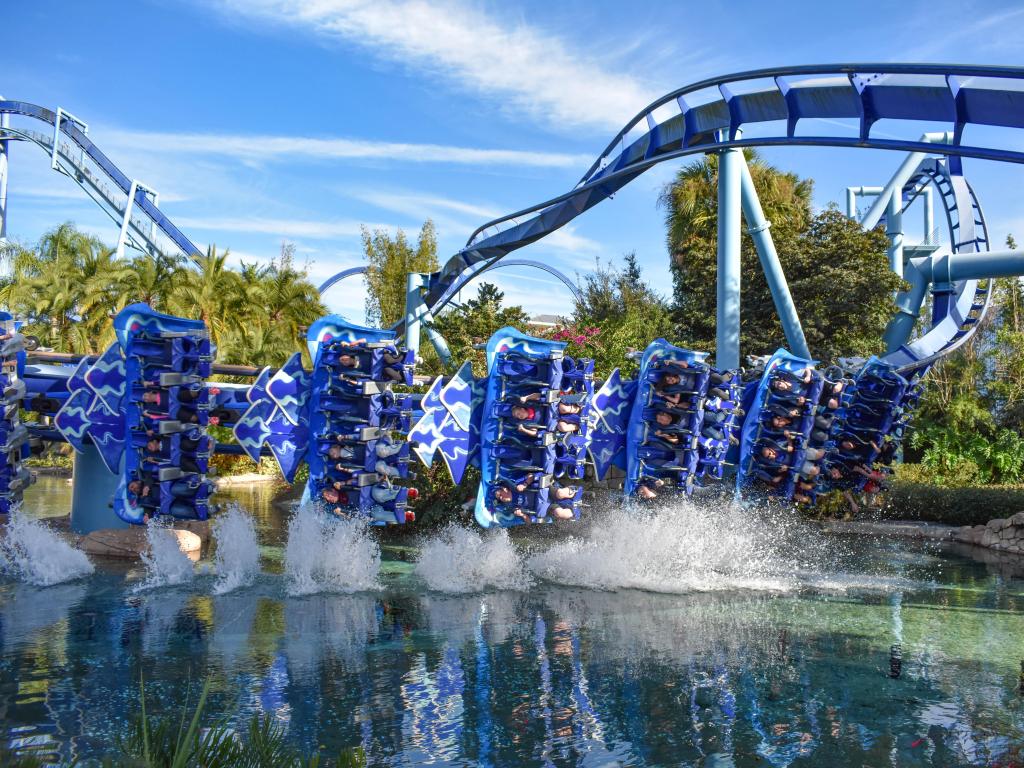 If Universal Studios is on your to-do list, then the Hard Rock Hotel makes life easy. You'll receive Universal Express Unlimited passes to skip the queues and walk right into the park or take the shuttle.
If you want to take a day or two to relax after your road trip adventure, the hotel has a fantastic pool where you can relax and unwind and a fabulous restaurant on-site, which means you don't even have to leave unless you want to!
Things to see on a road trip from Kansas City to Orlando
Both routes are jam-packed with exciting things to check out. You will visit some of America's most historic cities, music capitals, and foodie hotspots. Not to mention, you will drive through natural scenery that will take your breath away.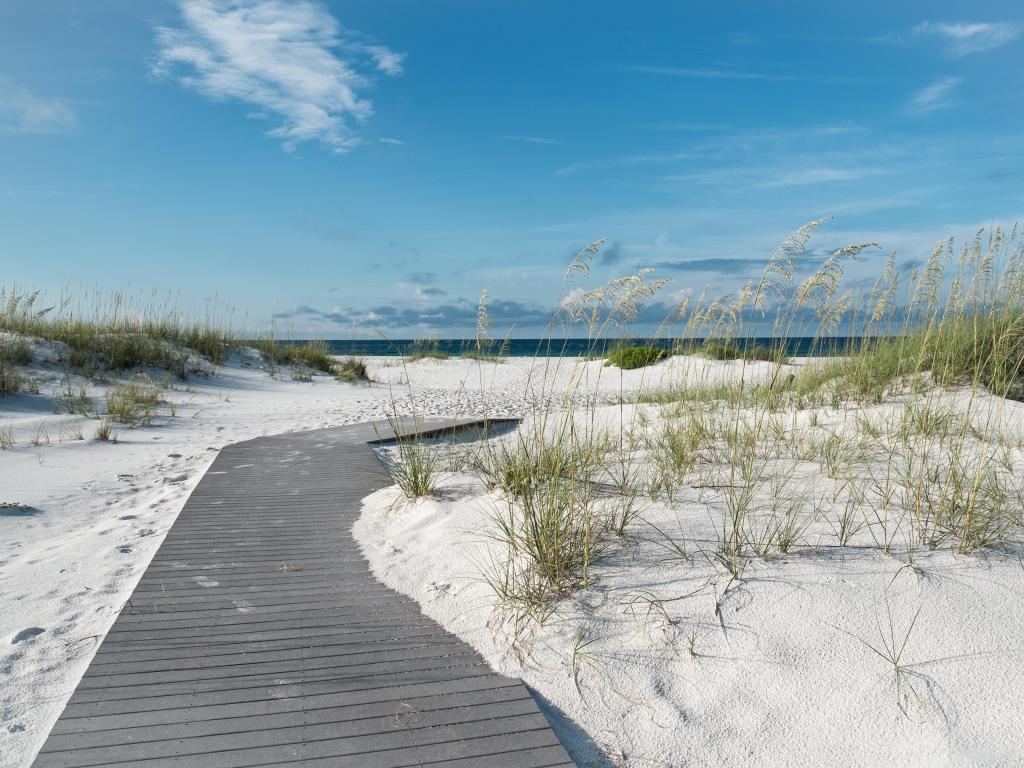 The Emerald Coast Route
Joplin, Missouri - Although not well known, Joplin is worth a stop to experience the Grand Falls. Dip your feet beneath the 163-foot-wide ledge and go for a swim beneath the waterfall.
Ozark National Forest, Arkansas - This is one of the most stunning areas of wilderness in the United States. Trek to the Boston Blue Hole, also known as the Big Hole, to enjoy swimming in a quiet mountain creek.
Little Rock, Arkansas - Explore the charming downtown and restaurants of Little Rock. If you love hiking and have time before getting into the city, hike up Pinnacle Mountain. It's a challenging climb and will take an hour to summit, but the views are well worth it.
Memphis, Tennessee - Enjoy the vibrancy of the Beale Street nightlife. Home of the blues and birthplace of rock and roll, you'll discover musical landmarks such as Graceland, the home of Elvis.
Tunica, Missouri - After leaving Memphis, stop at Tunica and try your luck in a casino. Known as "Little Vegas," there are plenty of casinos to roll the dice in.
Clarksdale, Missouri - Enjoy the blues at Ground Zero. A club co-owned by actor Morgan Freeman. Visit the famed crossroads where, as the tale goes, Robert Johnson sold his soul.
Pensacola Beach, Florida - Your first stop on the Emerald Coast is Pensacola Beach. Nearby Navarre Beach is one of the quietest places to take in the sun on America's Gulf Coast.
Destin, Florida - Destin is famous for its white sand beach and emerald water. Destin's beaches are the most popular on this stretch of shoreline.
St Andrew State Park, Panama City, Florida - St Andrews State Park gives you another chance to absorb the white sandy beaches of the Emerald Coast. Swim in the Gulf of Mexico and stroll along the towering pines. If you're a fan of beach camping, this is your ideal spot.
Tallahassee, Florida - As a big university city, the nightlife in Tallahassee is full of energy. Visit the Railroad Square Art District for Bohemian vibes, galleries, and quirky boutique shops.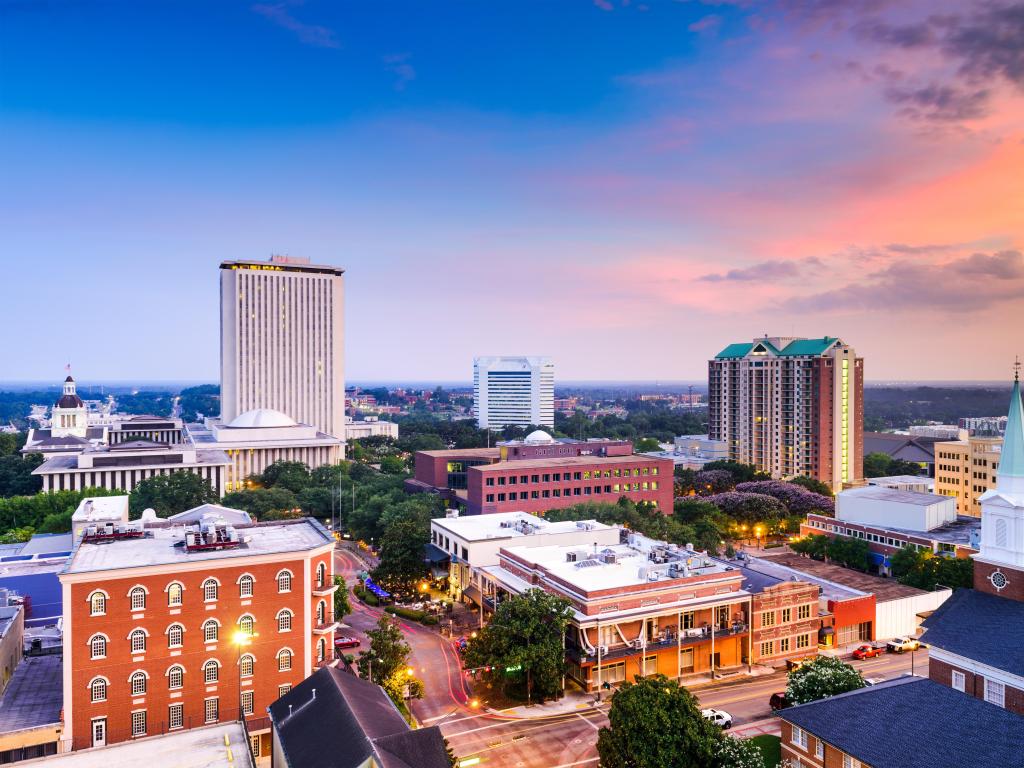 The Atlantic Route
St Louis, Missouri - Explore the city's famous Jazz scene and admire the towering Gateway Arch. A little known fact is that you can actually go to the top on a tram for panoramic views of the city.
Nashville, Tennessee - Learn about icons like Johnny Cash and visit the Grand Ole' Opry and the Country Music Hall of Fame. Finish the day by listening to live music on Broadway and sampling Nashville's famous hot wings.
Knoxville, Tennessee - Walk through Market Square, a peaceful part of downtown Knoxville. For nature lovers, go to Ijams Nature Center, where you can hike and walk along river boardwalks.
Lake Lure, North Carolina - Lake Lure is a place to relax and marvel at the surrounding rocks and trees. Lake Lure is famous for the lake scene in the movie Dirty Dancing.
Francis Marion & Sumter Forest - Come visit for hiking, biking, and white-water rafting on the Chattooga River. There are trails to suit all levels that will lead you through luscious scenery and waterfalls.
Charleston, South Carolina - Charleston is a historic city with spending some time in. Take a walking tour through the cobblestone streets and antebellum architecture and explore one of America's most celebrated food scenes.
Savannah, Georgia - Take a trolley tour of this classic southern city. The Historic District is a must-see, with buildings, museums, and churches featuring classic southern architecture.
Jacksonville Beach, Florida - This beach city provides you with glorious stretches of coastline. Dip your toes in the Atlantic, play beach volleyball, and go surfing. There are also unique eateries and a famed golf course.
St Augustine, Florida - After a visit to St Augustine, you can say you've visited the oldest city in the USA. Established in 1565 by the Spanish, the Castillo de San Marcos highlights the incredible history of this lovely city.
Ormond Beach, Florida - Soak up the Florida sun at Ormond Beach. It's a small town with glorious beaches. Try Romano Beachfront Park for easy parking.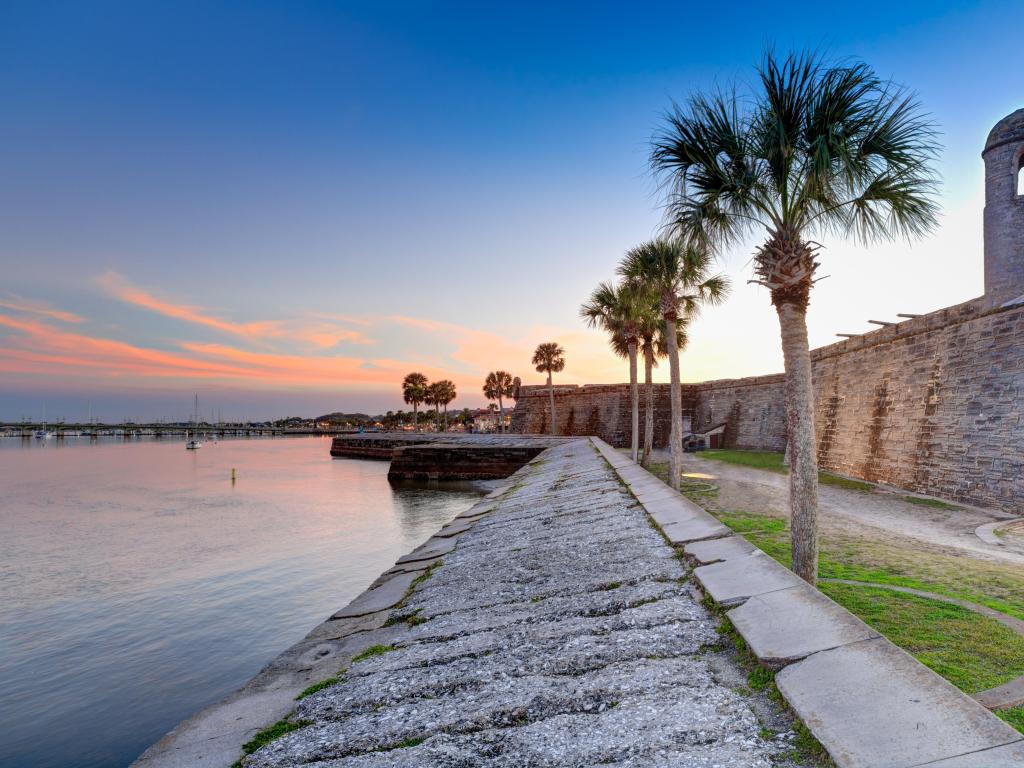 Best time to go on a road trip from Kansas City to Orlando
Orlando is a year-round vacation destination because of its warm weather. Major attractions stay open throughout the year, including Disney World and Universal Studios, which are open 365 days a year, even on Christmas Day.
The warmest months are July and August, with average temperatures of 82 degrees Fahrenheit. Temperatures seldom dip below 77 degrees in May, June, and September. With the heat, come the crowds. If you want to avoid them, visit outside these months.
Temperatures in January, February, November, and December range from 59 to 68 degrees Fahrenheit on average. The coldest month is January, yet the attractions continue to run smoothly.
Christmas is a crowded season for the parks in Orlando, so avoid it if you want a more peaceful experience. It's been known for parks to stop entry during the week of Christmas after reaching full capacity.
Spring and fall are pleasant times to visit the city. The average temperature in March and April is around 70 degrees. October has a pleasant average temperature of 75 degrees. So, if you forgo Halloween and visit in early October, you'll have better weather and fewer tourists.
Orlando is packed with entertainment, and with the wonderful weather, there are events all year long. Visit during the fall months to enjoy spooky Halloween festivities, such as the Howl O Scream at Busch Gardens between September - October.