Road Trip from London to Amsterdam
If you're looking for a road trip to see some of Europe's metropolitan cities and most picturesque towns, this amazing cross-country road trip is just the one you have been looking for! You will travel from London, the iconic capital of England, across the English Channel, into mainland Europe and the vibrant, colourful city of Amsterdam.
The 440-mile road trip from London to Amsterdam will take 10 hours to drive, crossing the English Channel via ferry or Eurotunnel. Notable stops are Calais, Dunkirk, Gent, Bruges, the Hague, Rotterdam, Brussels, Antwerp and The White Cliffs of Dover.
There are many more fascinating towns with rich histories and awe-inspiring natural beauty to explore along the way, so read on to discover the best routes, amazing places to visit, where to stay and the best time to set off on this unforgettable road trip.
How far is Amsterdam from London, and how long will the road trip take?
Comparison of road trip routes between London and Amsterdam

| Route | Distance | Driving Time |
| --- | --- | --- |
| The Ferry Route | 280 miles | 7 hours 30 minutes |
| The Tunnel Route | 420 miles | 9 hours 40 minutes |
The road trip from London to Amsterdam will be 420 miles long if you follow the Tunnel Route, which will take you across the English Channel via Channel Tunnel. This route will take 9 hours and 40 minutes to drive without accounting for any stops.
If you choose to cross the channel by ferry, you will cover a shorter driving distance at 280 miles, which will take 7 hours and 30 minutes to drive, making this a faster way to reach Amsterdam, though you would not travel via as many exciting attractions as on the Tunnel Route.
Although you could drive this route in one day, we recommend taking 2-3 days for this road trip, to allow enough time to stop at the many fascinating cities and beautiful natural areas along the way.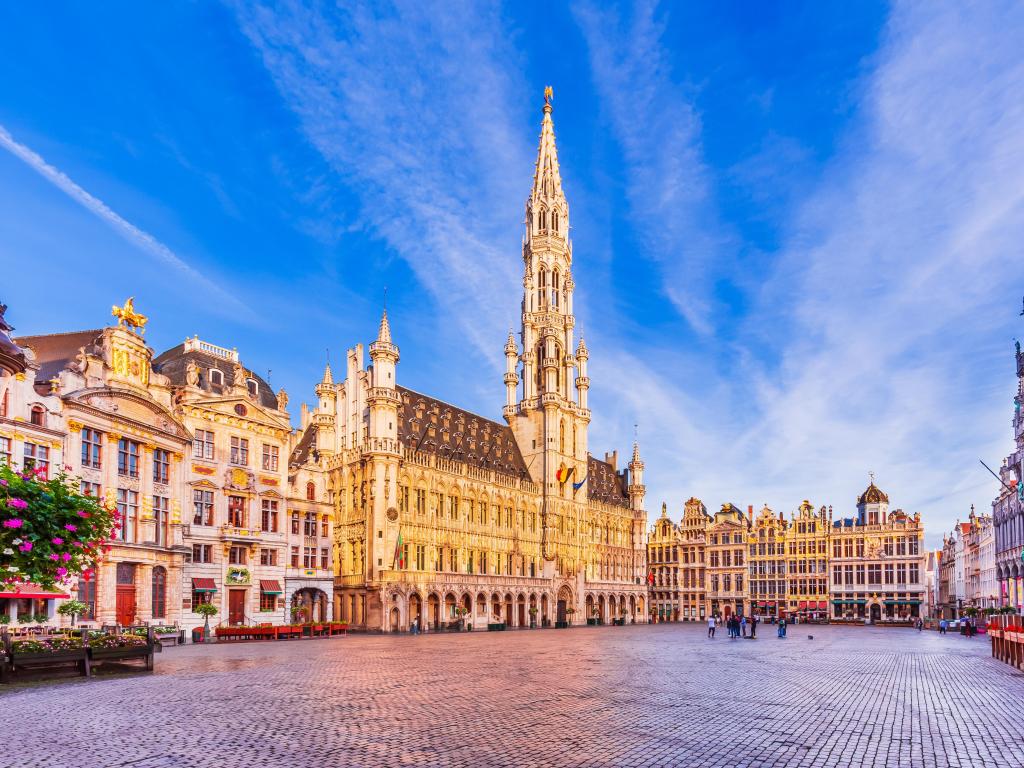 Best road trip route from London to Amsterdam
With culturally and historically interesting cities, as well as beautiful natural scenery to see on either route, the choice of which route to take depends on which landmarks and attractions you would like to see and how much time you wish to spend on the road trip.
The Tunnel Route will take you through the historic city of Sevenoaks, with an option to make a detour to Surrey Hills Area of Outstanding Natural Beauty that will add about an hour to the drive, and to Folkestone Eurotunnel Terminal near Dover.
After crossing the channel via the tunnel, you'll reach France and may then stop over at the many picturesque, medieval cities of northern France, Belgium, and the Netherlands, such as Calais and Bruges.
The Ferry Route takes you to the East Coasts of England, past Dedham Vale Area of Natural Outstanding Beauty, to Harwich, a port town with a historic city centre.
You'll cross the channel with the ferry (operated by Stena Line) and reach the Netherlands via The Hook of Holland. From there, the road trip takes you past Rotterdam and The Hague to Amsterdam.
The Tunnel Route
If you want to make a detour to Surrey Hills Area of Outstanding Natural Beauty, take highway A3 south from London. Otherwise, follow M25 out of the London area to drive through Sevenoaks, a beautiful, historic town, and join the A2 to drive towards Dunkirk.
From there, you may wish to make a stop at The White Cliffs of Dover overlooking the sea, before heading on to enter the Eurotunnel at Folkestone.
After the tunnel, why not have a sip of wine or a taste of French cheese in Calais, before continuing on Highway A16 towards Belgium?
Visit Bruges, "The Venice of the North", or Ghent, another picturesque Belgian city, before entering Brussels, the capital of Belgium. From there, take route E19 to Antwerp and The Netherlands.
If you have time, take a boat tour in the stunning De Biesbosch National Park, right by the historic city of Dordrecht, before continuing on to Rotterdam, The Hague, and finally, Amsterdam.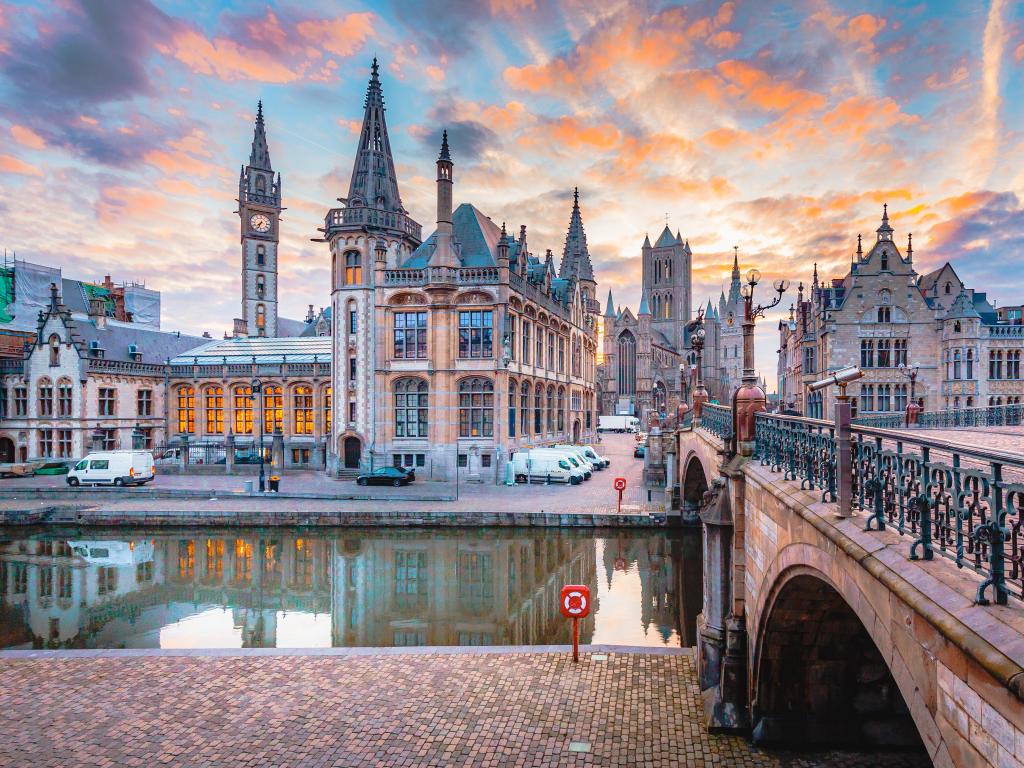 The Ferry Route
From London, take Highway A13 east towards Colchester. Visit this historic town known for its Victorian architecture or marvel at Colchester Castle.
Follow signs towards Harwich but do make a stop along the way at Dedham Vale Area of Outstanding Natural Beauty, a place of mystic meadows and ancient woodlands.
In Harwich, take a walk in the historic city center before you enter a ferry at the Stena Lines Ferry Terminal. You'll reach The Netherlands at The Hook of Holland, from where it is a short drive to Rotterdam.
If you have time, explore Rotterdam and its modern architecture and rich culture before heading up the A4 to The Hague. If you'd like to make a detour, visit the famous Scheveningen Beach for a relaxing break and drive up past Leiden to Amsterdam.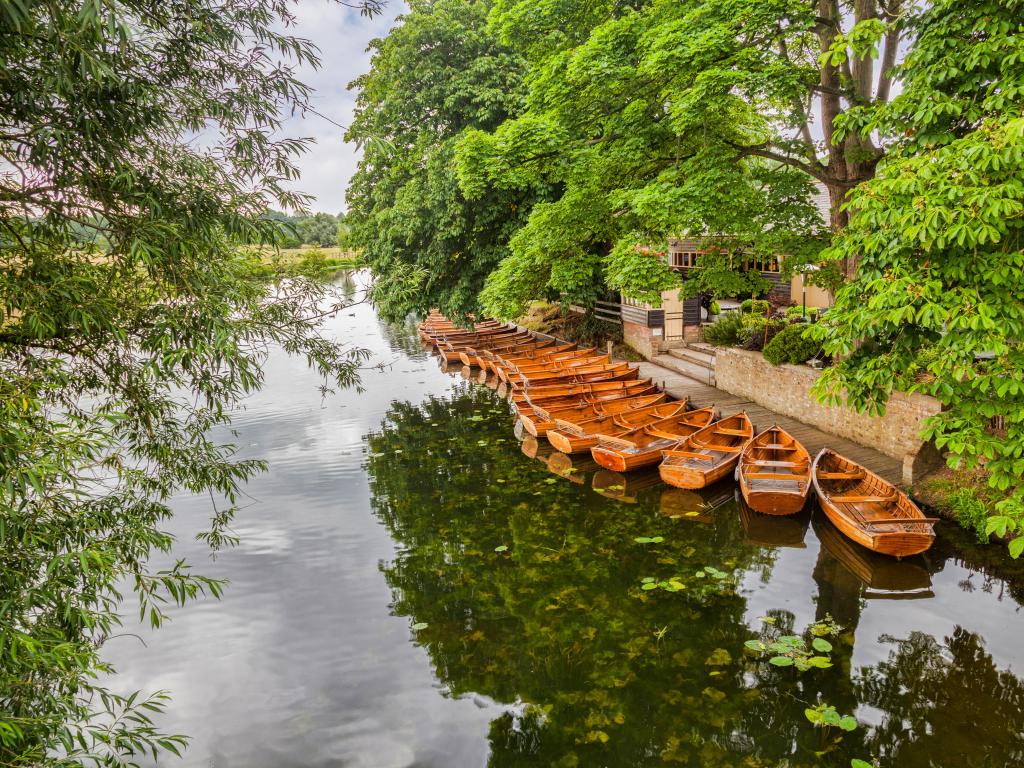 Best places to stop between London and Amsterdam
Both route options include many enthralling attractions, from medieval town centres and buildings to world-renowned museums, beaches, and natural areas, so you might want to take some time to explore these and have a stopover or two to extend your trip.
We have selected some favourite places to stay overnight, with recommendations for what to do and where to visit during your stay.
Explore the medieval Bruges
Situated about halfway along the Tunnel Route, Bruges is an inspiringly picturesque and historic Belgian city. Bruges is most known for its medieval city centre which is full of small canals, narrow streets, and beautiful cathedrals, churches and museums.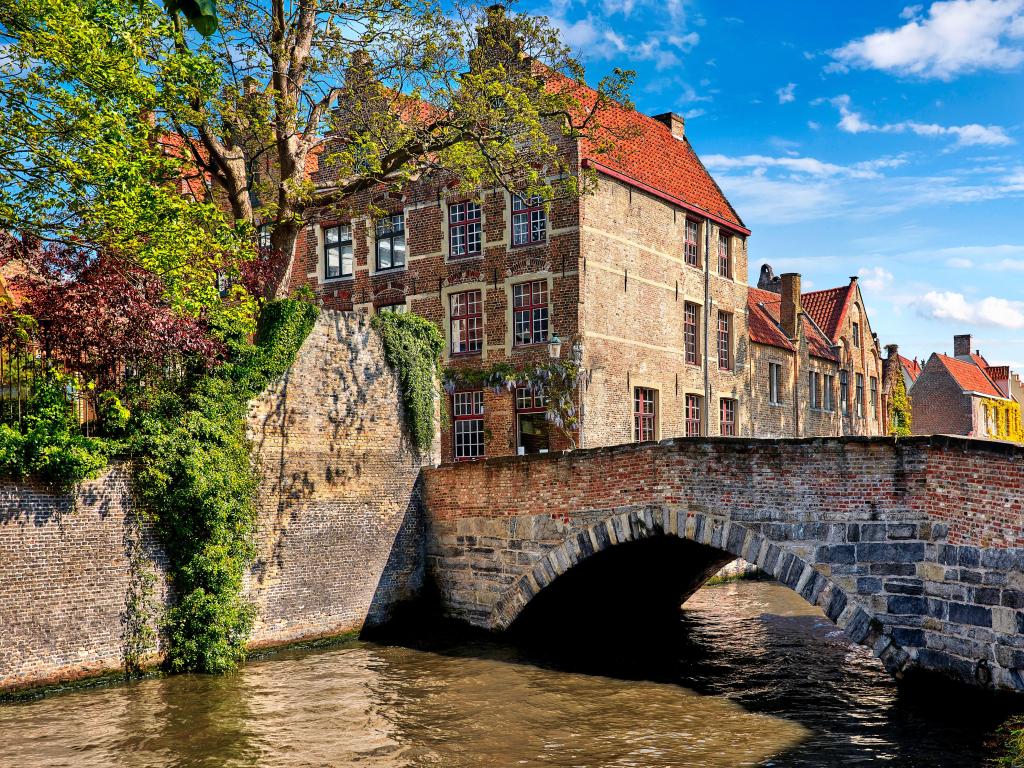 There are lots of famous landmarks worth visiting, including the beautiful Church of Our Lady, with the second-highest brick spire in the world, and the Belfry of Bruges, a 13th-century bell tower and the most prominent landmark in Bruges, from where you have amazing views over the city.
You may also enjoy taking a walk along the Rozenhoedkaai and other beautiful canals found in the historic town centre or visiting the Lace Center or Lace Jewel to get an appreciation for the craft of lace making the city is famous for.
For a comfortable stay in this captivating city, we can recommend Boutiquehotel 't Fraeyhuis, located just a stone's throw away from the scenic Minnewater Lake. The beautiful hotel is also close to the old town centre and right by the romantic canals.
You will love the tastefully decorated rooms of this postcard-perfect boutique hotel. If you want to admire the beautiful surroundings of this fairytale setting, the property boasts a fantastic restaurant with a terrace that features stunning views.
The hotel is close to the highway taking you further on your journey the next day. It is within a short walk of all the main landmarks and attractions of the city, such as Bruges Concert Hall and the Basilica of the Holy Blood, and you'll also find lovely restaurants nearby.
Explore modern architecture and rich culture in Rotterdam
Located about two-thirds of the way along the Ferry Route, Rotterdam is a pleasant, big city, with lots of interesting buildings, museums, and local attractions to explore. Rotterdam is known as Europe's largest seaport and as a place of modern architecture and rich cultural life.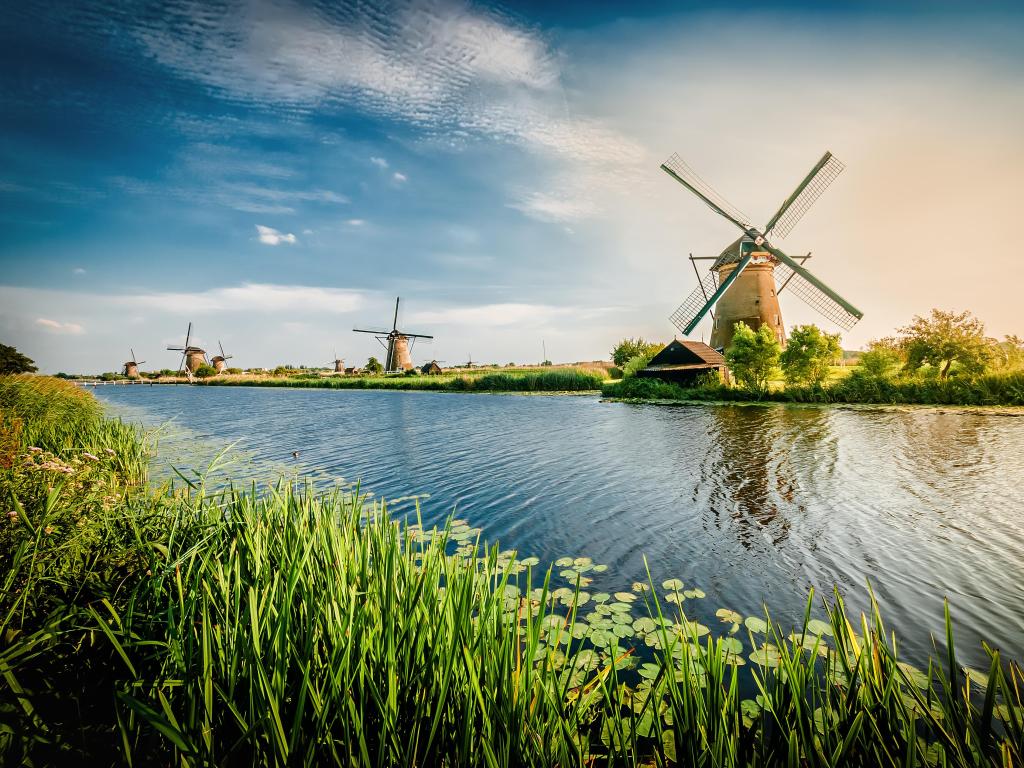 Take time to visit the Erasmus Bridge, from where you may admire the Kop van Zuid, an area of many impressively tall skyscrapers, or visit the Euromast Observation Tower for stunning views over this historic yet modern city.
For a moment in nature, make a trip to Arboretum Trompenburg, a beautiful botanical garden a few miles from the city centre.
With much to see and do in Rotterdam, you'll find a very comfortable overnight stay at the hotel The James Rotterdam. This modern hotel has luxurious, comfortable rooms, and it is located in the heart of Rotterdam.
The James Rotterdam is close to popular shopping streets and fantastic restaurants, and it is within 15 minutes' walk from major attractions, such as the World Trade Centre Rotterdam, Euromast, and the city hall, Stadhuis Rotterdam.
Many museums are also located near the property, including the Maritime Museum of Rotterdam and Museum Boijmans van Beuningen. There is convenient parking available at the hotel, so you can leave your car behind as you set off to explore.
Where to stay when you reach Amsterdam
With so much to do and many enthralling attractions to explore in Amsterdam, you'll want to stay somewhere central to enjoy your stay. Hotel Estheréa is a charming hotel located by the Singel Canal close to the heart of Amsterdam.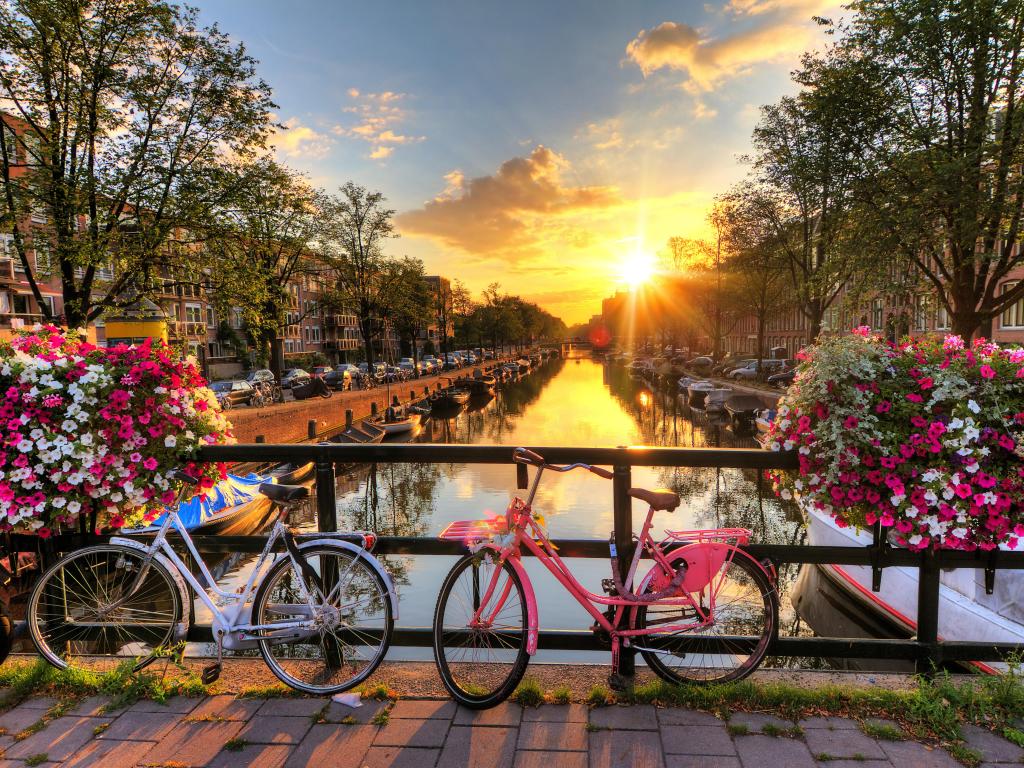 The hotel has spacious, comfortable rooms with wonderful bathrooms. Parking and an amazing breakfast are available at the hotel.
The hotel is within a short walking distance of the most popular attractions such as the Royal Palace, Dam Square, and Madame Tussaud's. Close by, you'll also find the major shopping streets of Amsterdam, and a range of fantastic restaurants and cafés.
Things to see on a road trip from London to Amsterdam
This road trip, traversing some of the most culturally rich, and modern, areas of Western Europe, has an amazing variety of things to do and see along the way. We have collected some of the most impressive options here for your inspiration: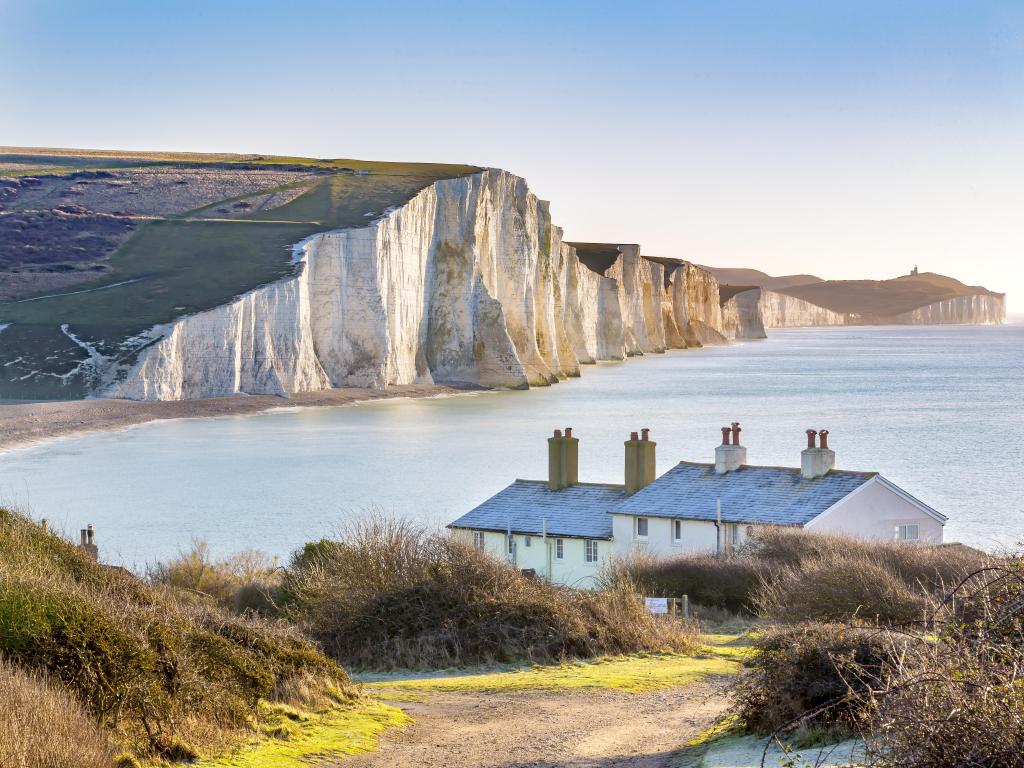 The Tunnel Route
Surrey Hills Area of Outstanding Natural Beauty, UK - Enjoy some of the most beautiful countryside landscapes that England has to offer in this glorious natural area.
Sevenoaks, UK - This historic English town is located in beautifully green Kent, and has some lovely buildings, parks and gardens to admire.
The White Cliffs of Dover, UK - If you have a moment, pop over to The White Cliffs of Dover before entering the Eurotunnel, to admire this striking landscape by the sea.
Calais, France - You may wish to enjoy some French wine or cheese in Calais or explore its sandy beaches and cliffs along the seaside.
Bruges, Belgium - This medieval city is called "The Venice of the North" due to its picturesque canals and beautiful, historic buildings.
Ghent, Belgium - It is worth having a walk around in the medieval center of Ghent, now also known as a vibrant student city.
Brussels, Belgium - There is much to see and do in the capital of Belgium, also one of the central cities of the EU administration and a place of rich culture and many nationalities.
Antwerp, Belgium - Antwerp is another delightful Belgian city, where you might enjoy tasting Belgian beer at the central square or walk along the city's many cobblestone streets.
National Park de Biesbosch, The Netherlands - If you have a chance, do take a boat tour in this stunning wetland area just outside of the beautiful city of Dordrecht. Biesbosch is full of birdlife and gorgeous little waterways.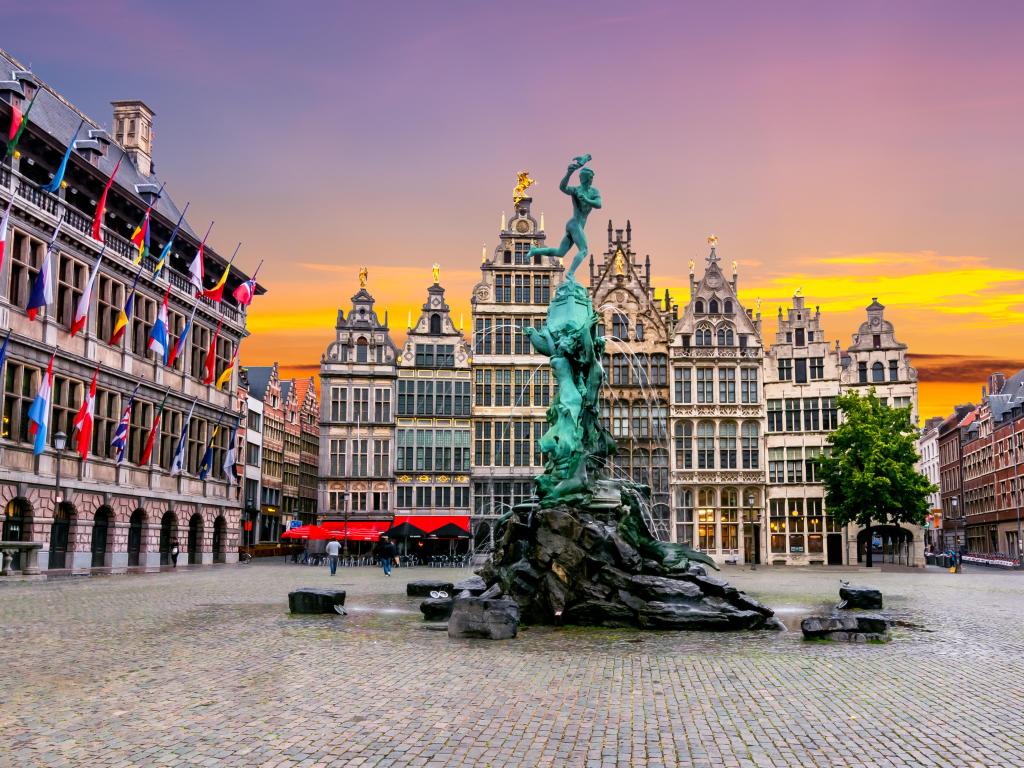 The Ferry Route
Colchester, UK - Colchester is known for its Victorian architecture. You may also visit the medieval sites of Colchester Castle and St. Botolph's Priory.
Dedham Vale AONB - If you have time, take a walk in this beautiful natural area that includes ancient woodlands, meadows, and fens.
Harwich, UK - Visit the old part of Harwich, known for its architectural heritage, or admire the lighthouses or take a walk by the seaside.
Both Routes
Rotterdam, The Netherlands - You may admire the stunning modern architecture as well as old buildings and Europe's largest port in this seaside city.
The Hague, The Netherlands - The Hague is a lovely location to explore due to its gorgeous historic architecture as well as the sandy beaches, of which Scheveningen is the most famous and well worth a visit.
Leiden, The Netherlands - You'll find many interesting museums, restaurants, and cafés in Leiden, as well as The Netherlands' oldest university.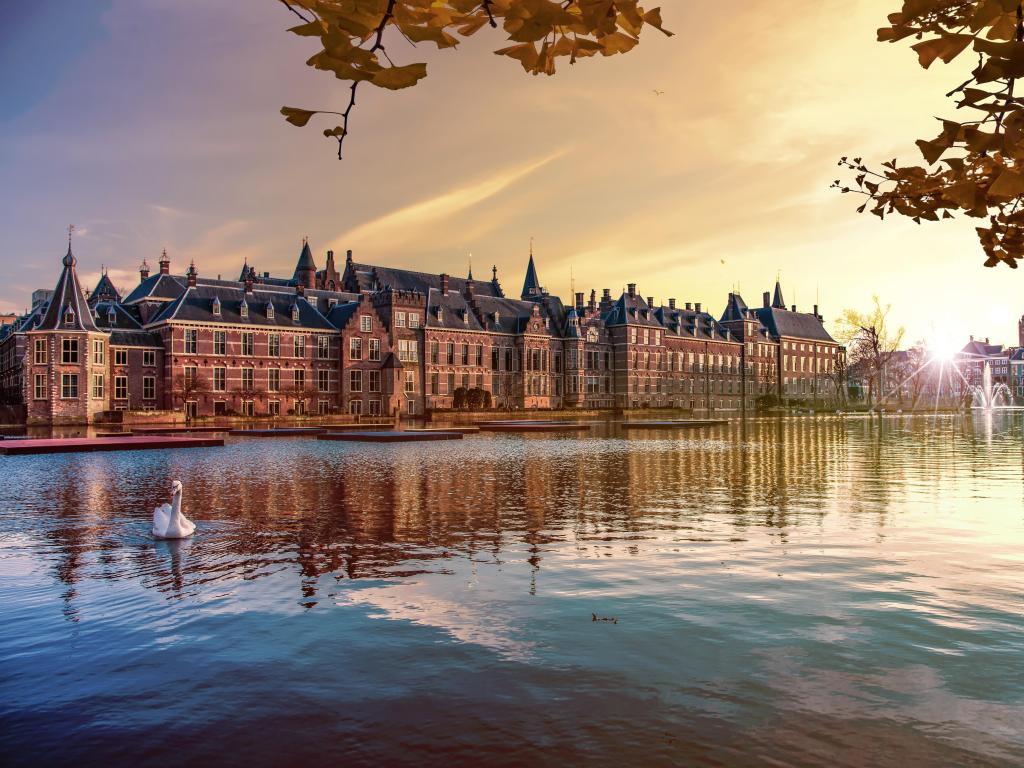 Best time to go on a road trip from London to Amsterdam
Amsterdam, situated close to the sea, is known as a lovely destination to visit all year round. Its historic streets and beautiful parks are worth exploring at any time of the year.
Before Christmas, you may enjoy the Christmas markets and the winter atmosphere, whereas, in the summer, you'll enjoy spending time by the many canals and waterways of Amsterdam. However, winter temperatures are sometimes freezing, and you'll need to be prepared for that.
In the summer, between June and August, the streets of Amsterdam will be especially crowded with temperatures reaching 30 degrees Celsius. Thus, if you wish to avoid the thickest crowds, you may choose to visit Amsterdam during other seasons.
Winters in Amsterdam can get cool, with temperatures below zero degrees Celsius during the months December-February. Snowfall can be expected during these months.
However, the city's many historic landmarks, museums, canals and parks all remain open throughout the year, and in winter you'll at least experience slightly less tourist crowds than in the busiest summer months.
Spring and autumn can be lovely times to visit Amsterdam, due to moderate temperatures and slightly fewer tourists than in the busy summer months. However, take into account that in the autumn especially it often rains a lot.
Amsterdam hosts some amazing festivals and events all year round. You may want to consider these when planning the timing of your road trip.
King's Day, on the 27th of April, is always a feast to see, with orange colours being showcased everywhere, and all Dutch cities turning into sites of street and market festivals. Holland Festival in June is the biggest performing arts festival in the country, and Amsterdam Gay Pride at the end of July is a vibrant event that usually gathers large crowds.