Road Trip from London to Wales
A road trip from London to Wales is the perfect way to escape the hustle and bustle of city life in the capital. Within a short drive, you'll be walking up rolling hillsides and through lush pastures. The journey also takes you to significant historical landmarks and deep into British culture, before winding through the beach walks and quaint harbour towns of Wales.
The 310-mile road trip from London to Wales takes 8 hours 30 minutes to drive. You'll head through North Wales via the Cotswolds, Oxford, Cheltenham and the Shropshire Hills, or enter South Wales through Stonehenge, Bath, Bristol and the Brecon Beacons.
Discover the varied landscapes of England and Wales on this Great British road trip, encompassing historic cities, characterful villages and endless green fields.
How far is Wales from London, and how long will the road trip take?
Comparison of road trip routes between London and Wales

| Route | Distance | Driving Time |
| --- | --- | --- |
| North Wales Route | 310 miles | 8 hours 30 minutes |
| South Wales Route | 400 miles | 11 hours 30 minutes |
The most direct route takes you from London into North Wales, where you'll spend 8 hours 30 minutes covering a distance of 305 miles.
This route takes you via main roads which are unlikely to encounter impactful extreme weather, though there are some stretches of single lane driving that may slow you down. You may also encounter tractors during the more rural parts of the itinerary.
The South Wales Route is longer than the alternative, so you may need to plan extra overnight stops. You may encounter traffic around the major hub of Bristol, so plan ahead to avoid peak times. The A487 between Pelcomb Bridge and the Pembrokeshire Coast is a single lane road which may also slow your journey.
Whichever route you choose, we recommend taking anywhere from 3 to 6 days to complete the trip, depending on how much time you'd like to spend exploring the landscapes and towns you'll pass through.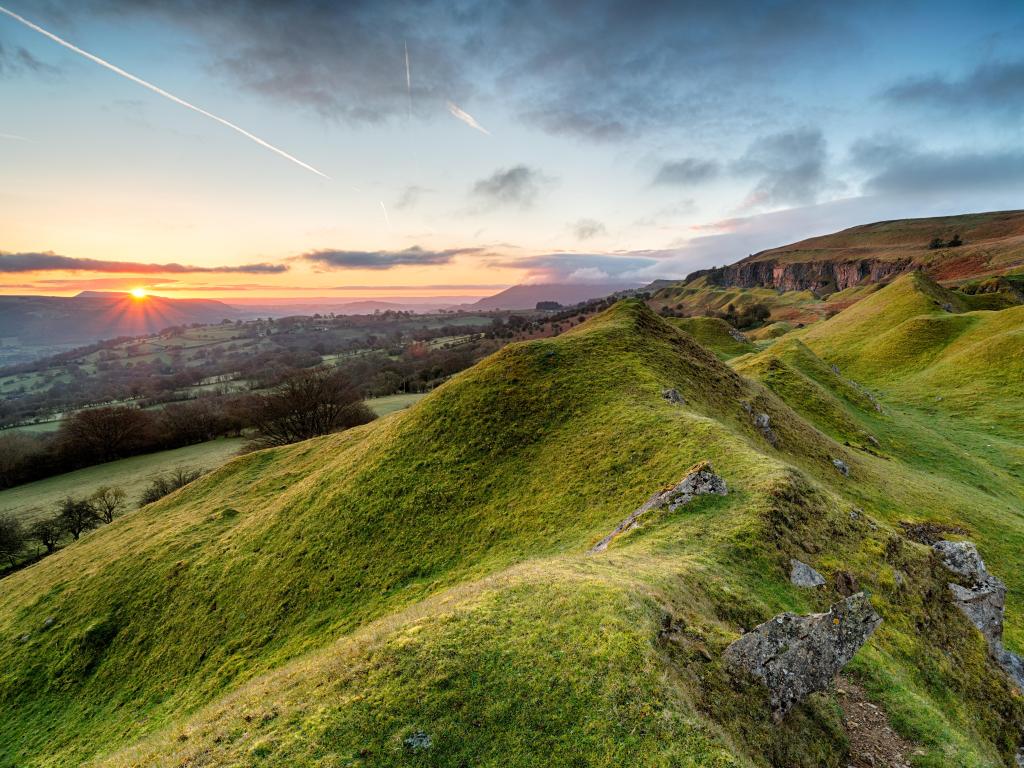 Best road trip route from London to Wales
The North Wales Route takes you through charming towns and cities that feel far removed from the starting point of London. You'll get to encounter all manner of historical architecture, from mediaeval ruins to Georgian buildings.
There are opportunities to walk through forests and up hillsides to escape deep into the countryside. As you wind up your trip, you'll explore the royal port town of Caernarfon with its UNESCO castle before concluding at Colwyn Bay to walk the three-mile promenade.
Meanwhile, the history on the South Wales Route goes back thousands of years. You'll witness the iconic Stonehenge and Roman Baths, then onto the cosmopolitan city of Bristol to cast your eyes over world-renowned artworks by Banksy.
Once crossing the border into Wales, you'll experience natural beauty in the Brecon Beacons, with scenic trails and waterfalls. Travelling deeper into Wales, you'll walk along one of Europe's most beautiful beaches before concluding the trip to Pembrokeshire Coast National Park, which has over 186 miles of coastal walks.
The North Wales Route
Follow A40 west out of London, passing through the iconic carnival district of Notting Hill. Join M40 to head up through the Chiltern Hills, an area of natural beauty with plenty of hiking and cycling trails to explore.
Take exit 8 to follow A40 and A20 to Oxford. There are 44 colleges in this famous university town, many of which feature historic limestone walls and immaculately groomed quads.
Take B4044 to rejoin A40, and follow this road up to the Cotswolds. This quintessentially English landscape is known for its charming villages and chocolate-box cottages. Follow A40 to reach Cheltenham, home of the famous horse races.
Get on the M5, then take A38 and B4211 to arrive in Great Malvern. Follow A44 and A49 up to Ludlow, which has historic Georgian houses around a market square.
Take A49 up through the Shropshire Hills, which are the perfect place to stop for a stroll. Cross the border into North Wales, then take A458 and A470 to reach Orielton Wood, on the shores of St. George's Channel.
Continue up the coast on A496 to wind through a handful of villages to reach Portmeirion, a tourist destination built in the style of an Italian village. It's a short hop up the A497 to Porthmadog, then continue on this road to reach Caernarfon Castle, which dates back to the 11th century.
Continue on A487, then take the North Wales Expressway around the outskirts of Gwydir Forest Park. Cross River Conwy to arrive at your destination in Colwyn Bay.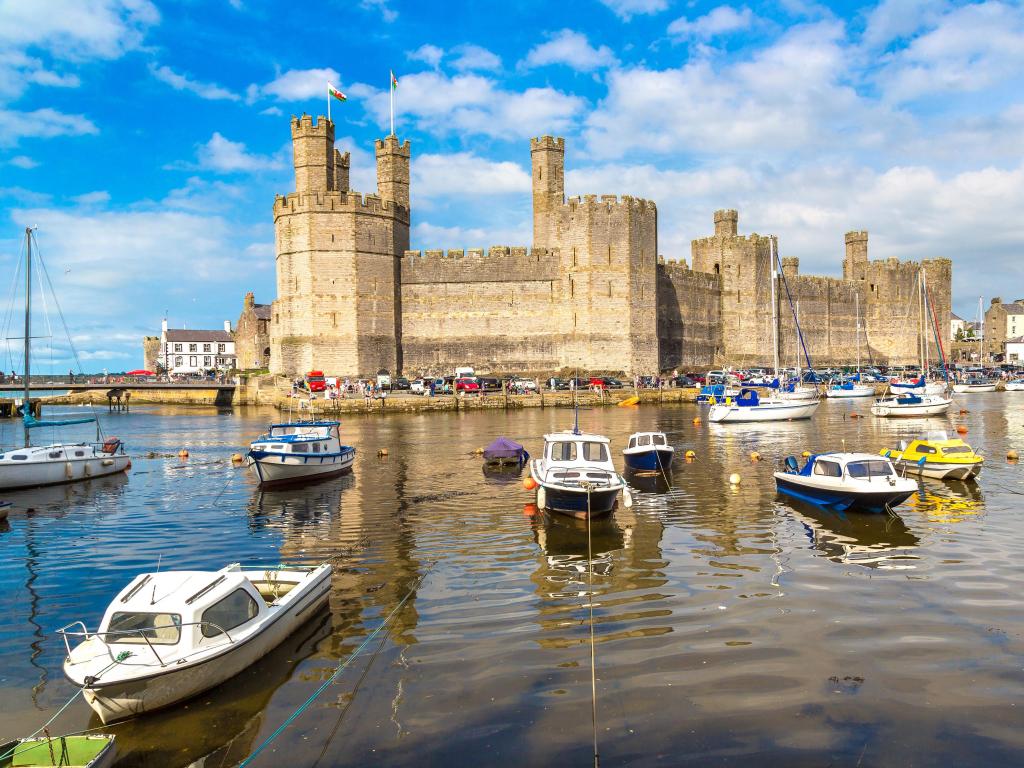 The South Wales Route
Head south out of London through Battersea, then take A3 south through Wimbledon and take A243. Take A24 to reach Surrey Hills, an Area of Outstanding Natural Beauty which is conserved by The National Trust.
Take A25 east, then follow A248 to and take the exit for Guildford. This county town is known for its cobbled high street and quaint shops, centred around the mediaeval Guildford Castle.
Follow A31 and A331 to reach the M3, then take the exit for the A303 to reach Stonehenge. You can park at the site to explore this Neolithic wonder on foot, and wonder at how the ancient stone circle came into being.
Take A360, then join A36 to circumvent the town of Warminster, which is a great market town to stop for lunch. Continue on A36 and take the exit for Bath. Visit the spa here to dip in the famous thermal waters that are thought to cure ailments.
Take A36 out of Bath and take A4 to arrive in Bristol. Follow M32 up past Oldbury Court Estate, which has a playpark and woodland walking trails. Join M4 and continue onto M48 to cross the River Severn and arrive in Wales.
Join A466 to follow the River Wye up to Tintern. This village and its ruined abbey was immortalised in the famous poem by Wordsworth. Head up past Trelleck to join A40 and pass through Raglan. Continue on A40 to head up into the mountainous landscape of the Brecon Beacons.
Take A470 south to bypass Cardiff, then follow M4 around Swansea Bay and take A484 to reach Gower. The Gower peninsula is known for beautiful beaches, cliffs and woods, and is great for surfing and birdwatching.
Continue on M4 and A48, with the option to stop off at the National Botanic Garden of Wales. Follow A40 west to the coast to reach your destination at Pembrokeshire Coast National Park.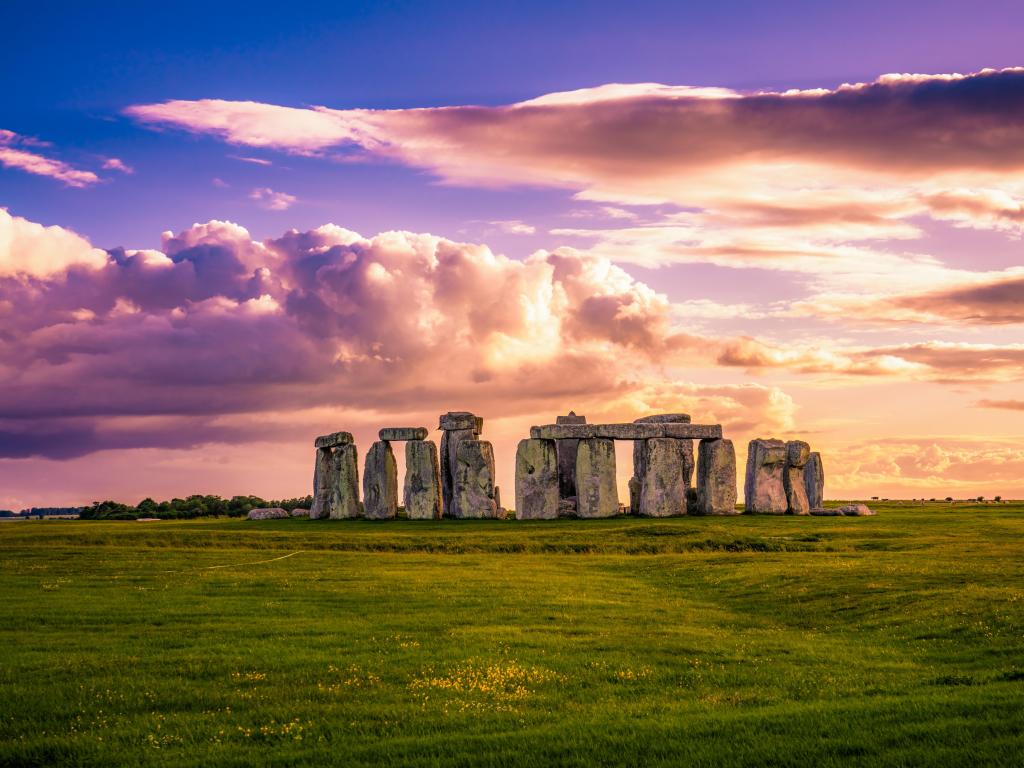 Best places to stop between London and Wales
Both routes offer a wealth of friendly places to stop off and stay. We've selected a few of our highlights to help decide where to spend the night, complete with local activities to enjoy.
Take to the hills in Great Malvern
At around 125 miles into the road trip, you'll reach Great Malvern. It's a touch under halfway along the North Wales Route, so an ideal spot for an overnight stay. Besides practicality, Great Malvern has plenty of star attractions to explore.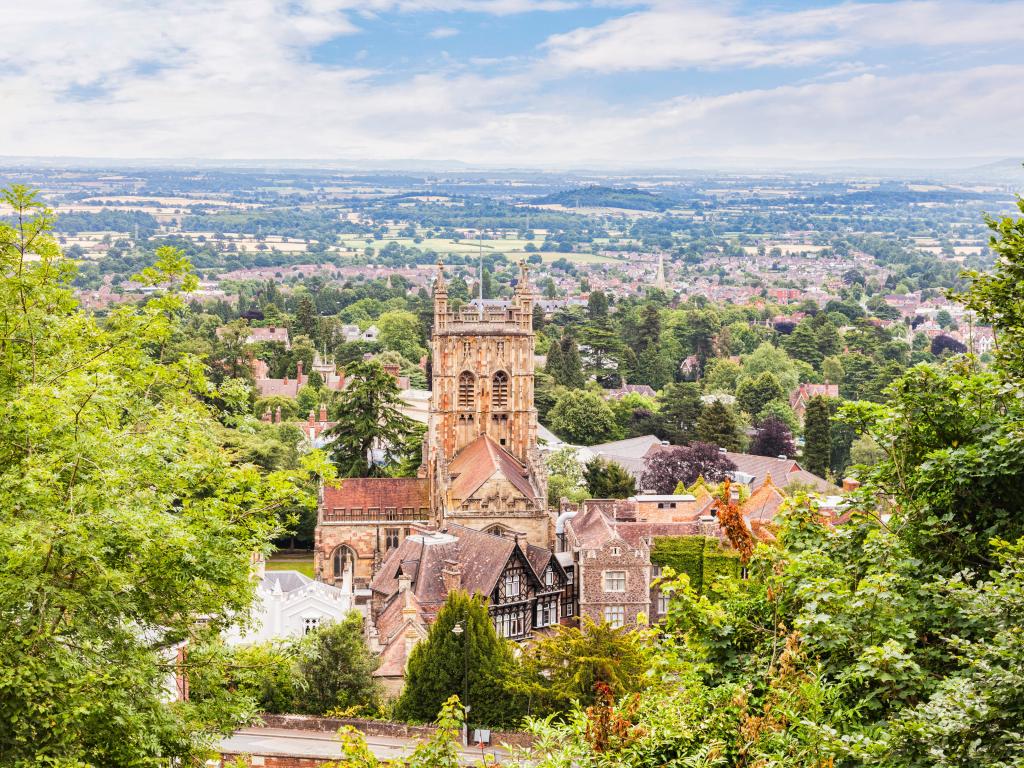 Great Malvern is known as a spa village in the town of Malvern. It's famous for its history and architectural significance and is accredited as an 'Area of Outstanding Beauty'.
Founded in 1085, Great Malvern Priory is a parish church with a rich history. Go inside to see the 15th-century stained glass windows and mediaeval floor tiles.
Inside a mediaeval gatehouse you'll find the Malvern Museum. Learn about the small town's past and experience a water room where famous guests have travelled to sample the natural Malvern water, which was thought to cure ailments.
Take a hike in the Malvern Hills. There are plenty of trails for different capabilities, from beginner to expert, so anyone can roam the open hilltops and take in the view.
See a show at the Malvern Theatres. Originally completed in 1885, this theatre showcases prominent productions on tour.
Have a relaxing stay at The Malvern, an adults-only hotel with a swimming pool and fantastic spa facilities such as a steam room, sauna and hydrotherapy pool. Enjoy holistic therapies and massage treatments, and nourish yourself at the organic on-site restaurant.
The rooms have comfy beds and you won't need to travel far to reach many of Great Malvern's attractions - Malvern Shopping Park, Malvern Theatres, Great Malvern Priory and the car park to access the Malvern Hills are all within a short drive.
Take a stroll through historic Bristol
Break your journey into thirds and stop at Bristol, which is an ideal stop to refresh after the first part of the drive.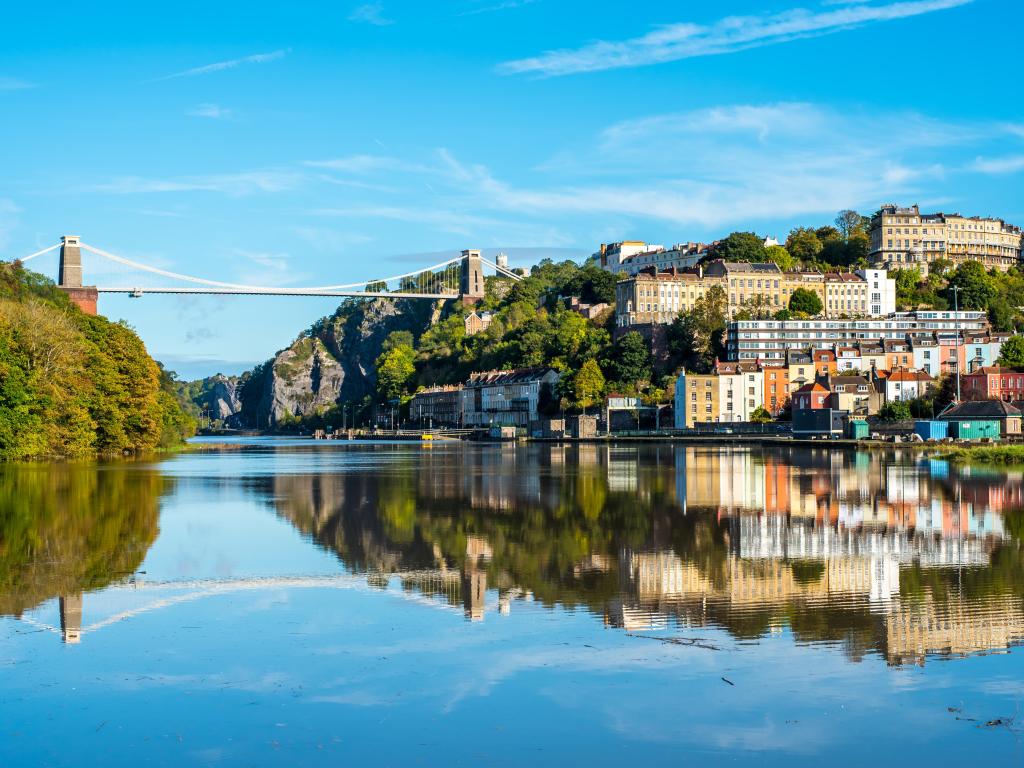 Bristol is known as a progressive city and was the first British City named a European Green Capital. It's said to be the hometown of graffiti artist Banksy, and is a cosmopolitan city with quaint neighbourhoods to explore.
Once you're there, marvel at the engineering wonder that is Clifton Suspension Bridge. Top tip - walk the Clifton Downs for panoramic views of the River Avon and see the suspension bridge first opened in 1864.
Roam the streets of Bristol to admire the graffiti. There is even a Banksy walking trail which you can follow to try and spot his earliest work.
From Egyptian mummies to Romanticism artwork, Bristol Museum & Art Gallery has something for every history buff or art lover - you can also see Banksys 'Paint-Pot Angel' here.
Visit the historic dockyard and go aboard the Brunel's SS Great Britain - the first ocean liner launched from here in 1843!
Located in the old town, Bristol Marriott Royal Hotel is a classic Victorian-style hotel filled with artwork. You can enjoy a hearty breakfast at the hotel, as well as a meal at the on-site Miller & Carter steak restaurant.
There are gym facilities available if you want to work up a sweat, or you can rent a bike to explore the nearby area. Plenty of attractions are close by, including Castle Park Bristol, Bristol Museum & Art Gallery, Brunel's SS Great Britain and Clifton Suspension Bridge. It's close to the M32, so you can easily merge back onto your journey the following day.
Where to stay when you reach Colwyn Bay
Once you reach your destination in North Wales, book a stay at the Escape Boutique B&B. It is within walking distance to the beachfront so you can head straight out to the sea in the morning.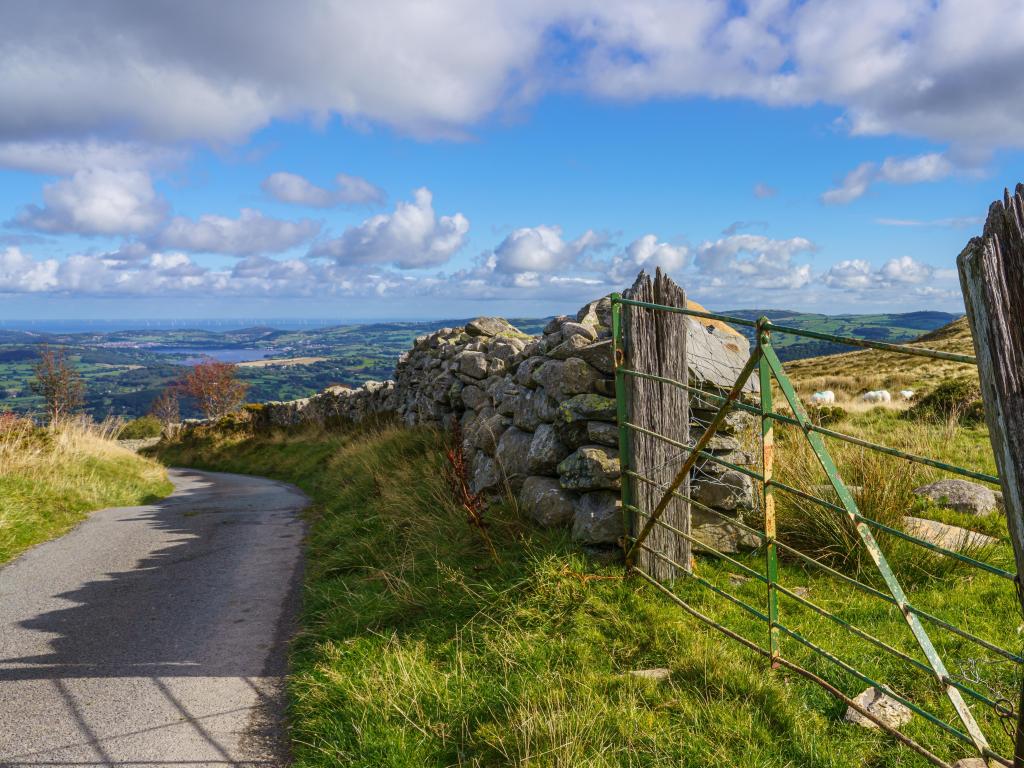 It's a classic seaside property, with idyllic rooms that have copper baths. They also serve a delicious breakfast with ingredients sourced from nearby award-winning butchers.
The hotel has free parking so you can forget about your car and enjoy the beautiful local area on foot.
Where to stay when you reach the Pembrokeshire Coast
For a memorable stay, book a room at Roch Castle, a genuine 12th-century castle! This impressive hotel overlooks St Brides Bay from a fantastic vantage point and blends cosmopolitan decor with the many historic features.
Despite its age, the hotel has great facilities, including massage and beauty facilities - plus free parking.
Things to see on a road trip from London to Wales
There are so many good reasons to stop the car on this road trip, with plenty of quirky landmarks, friendly villages and walkable landscapes. We've pulled out some of the highlight stops that should be on your list.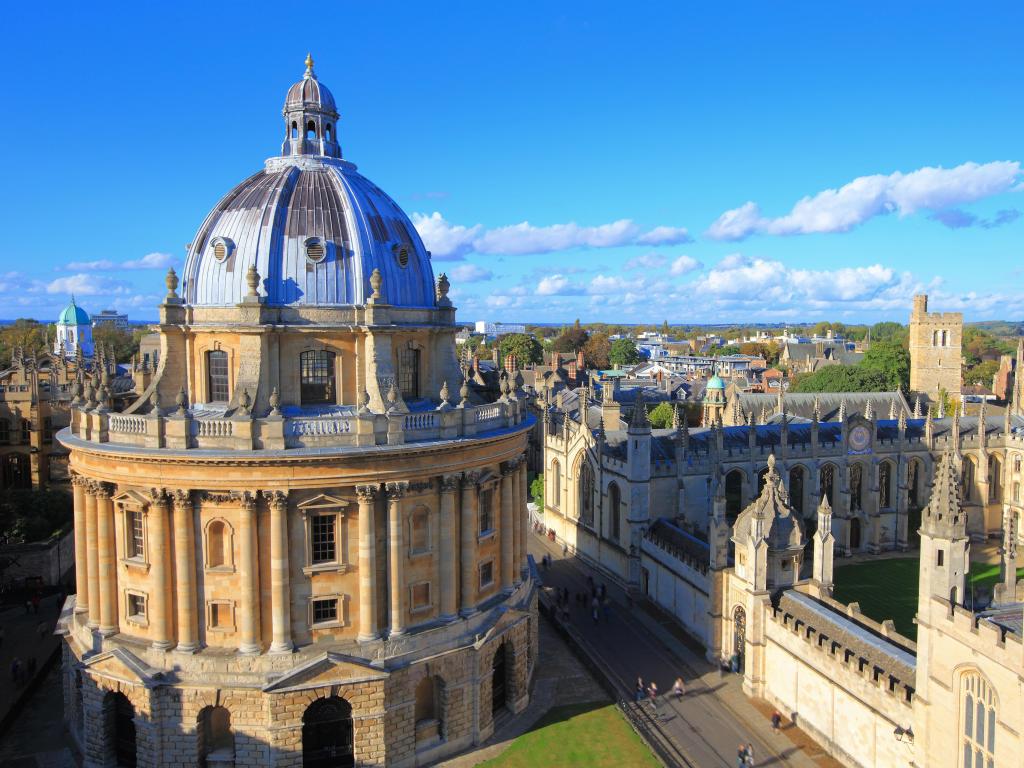 On the North Wales Route
Chiltern Hills, Buckinghamshire - Take a brief stop at Junction 5 to walk the Aston Rowant Discovery Trail. Although you can hear the motorway, it's an excellent place to spot Red Kites!
Oxford, Oxfordshire - Admire the architecture of Oxford at the Radcliffe Camera, Bodleian Library and the many college buildings. You can even stumble upon some Harry Potter filming locations!
Cotswolds, Bourton-on-the Water - Bourton-on-the-Water is your chance to discover the Cotswolds without a considerable detour. See the stone buildings and see a mini replica at The Model Village.
Cheltenham, Gloucestershire - Inside the many Georgian buildings, you can look in on boutique shops and restaurants. If you time your visit right, try your luck at the famous Cheltenham Racecourse.
Ludlow, Shropshire - A market town with mediaeval ruins, Ludlow is a scenic place to stop for lunch in a traditional British pub.
Shropshire Hills, Stokesay - Nestled in the Shropshire Hills is the small town of Stokesay. Stokesay Castle is a hidden gem where you can walk inside a mediaeval manor.
Orielton Wood, Gwynedd - Hike the steep forested hillsides and find a spot to admire the colourful landscape. Aim for the Panorama Walk, Barmouth for the best views.
Portmeirion, Gwynedd - A unique visit, Portmeirion is famous for its striking similarity to an Italian Village. Remember to treat yourself to a piece of the famous Portmeirion pottery.
Porthmadog, Gwynedd - A harbour town, Porthmadog is between the Cambrian coast and the Snowdonia National Park. Enjoy sea walks, craft shops and independent restaurants.
Caernarfon Castle, Gwynedd - This castle from the Middle Ages is considered one of the best in the world. Nearby Llanberis is also an ideal base to explore Snowdonia.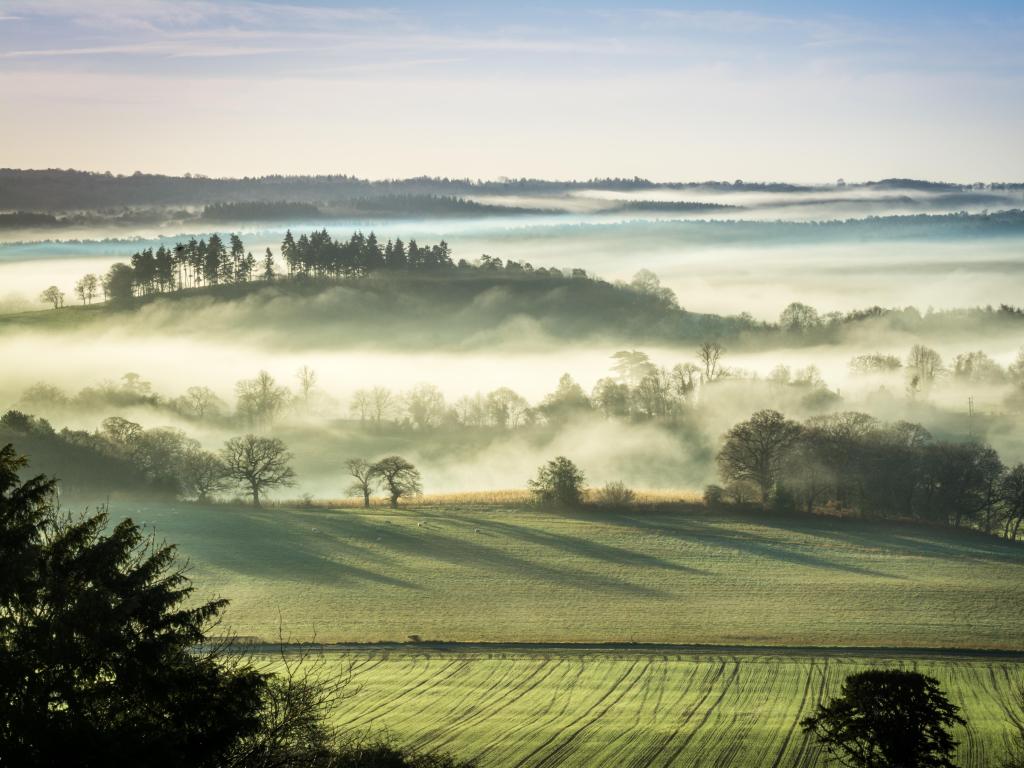 On the South Wales Route
Surrey Hills, Surrey - Park at Surrey Hills Car Park and enjoy walks up Box Hill or tip-toe over the magical Stepping Stones Walk.
Guildford, West Surrey - Stroll around Guildford Castle, taking the time to admire the colourful flower beds. For an immersive art experience go to the Watts Gallery - Artists' Village.
Stonehenge, Wiltshire - Take photos at the world-famous Prehistoric monument that is Stonehenge. Said to be built 5000 years ago, its existence remains a mystery.
Warminster, Wiltshire - Experience life as a royal in an Elizabethan stately home. Take a guided tour of Longleat House and learn of its 450 years plus of history.
Bath, Somerset - Bath is full of historic landmarks, including the Roman Baths which are very well-preserved considering they were used up until the 5th century.
Tintern, Monmouthshire - Refuel with a coffee at the Old Station Tintern and hike down the old railway track.
Raglan, Monmouthshire - Pop into the Untapped Brewing Company in this quaint village to try local crafts. After that dawdle through the ruins of Raglan Castle.
Brecon Beacons, Monmouthshire - Hike through the diverse landscapes of the Brecon Beacons. Four Falls Trail is a popular walk taking you to picturesque waterfalls.
Gower, Glamorgan - The Gower Peninsula was the first place crowned an Area of Outstanding Natural Beauty in the UK. Head to Rhossili Bay, a beach coined the best in Europe.
National Botanic Garden of Wales, Llanarthne - Meander through the pristine gardens and lakes. There's also an indoor glasshouse with vibrant flowers if the weather is bad!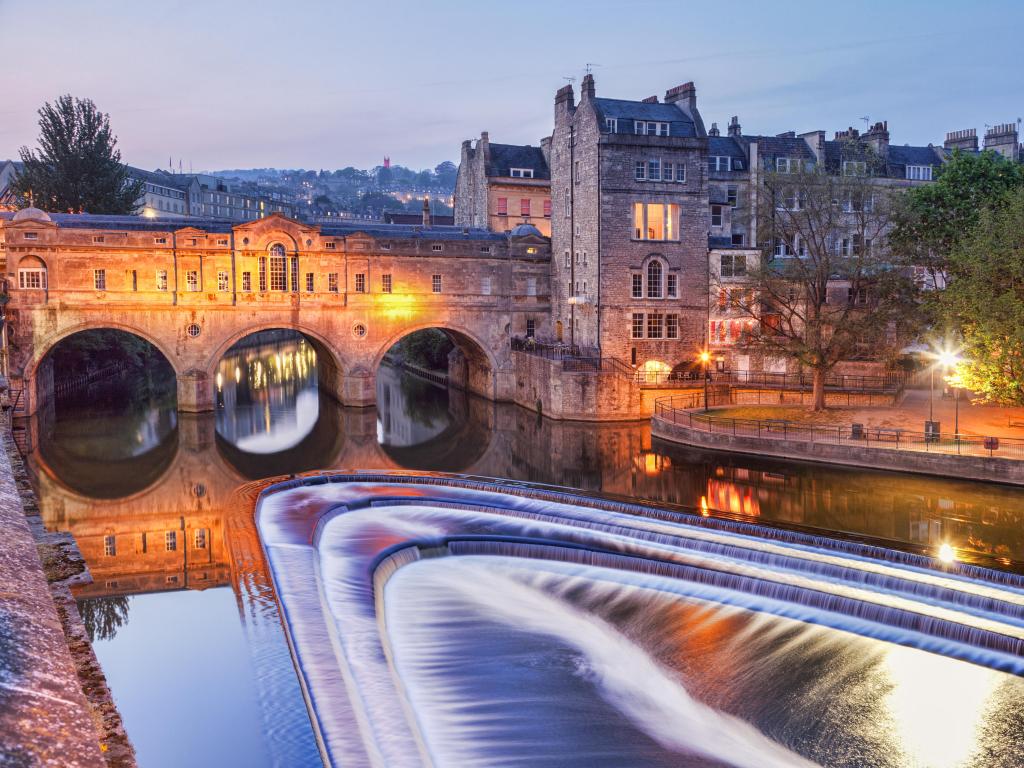 Best time to go on a road trip from London to Wales
Visitors go to Wales all year round, but the busiest months are June and July because of the weather when people flock to the beaches. Even so, there are green spaces all round Wales to enjoy that are unaffected by tourists heading out for a beach day.
Often Wales can get busy in sporadic bouts of sunshine, which is hard to predict, but in general, the school holidays are the periods to avoid. Easter between mid to late April, and the summer holidays between late July and late August are when hotel prices rocket.
Wales is comfortable in the summer - June, July, and August are the hottest months with average temperatures ranging from 14 to 17 degrees Celsuis. These months also coincide with school holidays, so July and August are particularly busy.
January, February and December are the coldest months when you can expect temperatures averaging between 4 and 5 degrees Celsuis. A lot of campgrounds and holiday parks close for Christmas in December. However, hotels often remain open and you might get a bargain if you're not put off by the wind and clouds!
Spring is a good time to visit Wales because the weather is dry but it will be less crowded. Don't expect to be sunbathing on the beaches though, as temperatures average 12 degrees Celsuis. Similarly, October and September can be a good time to visit because the school holidays are finished but it isn't too cold.