Road Trip from Louisville to New Orleans
This epic road trip takes you from Louisville, Kentucky, to vibrant New Orleans, exploring the musical cities, stunning roads, and diverse landscapes spanning majestic oceans and incredible mountains.
The 860-mile road trip from Louisville, Kentucky to New Orleans takes you through Nashville, Memphis, and Natchez via a direct route over 13 hours drive or along a scenic route, visiting Knoxville, Chattanooga, Birmingham, Mobile, Biloxi and Gulfport.
Either way, you're in for an adventure, and this incredible journey will not disappoint you. To make the most of this trip, we have detailed the best routes to travel, places to rest, hotels to stay, things to see, and seasons to visit.
How far is New Orleans from Louisville, and how long will the road trip take?
Comparison of road trip routes between Louisville and New Orleans

| Route | Distance | Driving Time |
| --- | --- | --- |
| The Musical Heritage Route | 860 miles | 13 hours 30 minutes |
| The Scenic Route | 910 miles | 14 hours |
The drive to New Orleans from Louisville, Kentucky, via The Musical Heritage Route takes around 13 hours and 30 minutes to cover 860 miles without food breaks and stopovers.
Alternatively, opt for a slightly longer Scenic Route, covering 910 miles over 14 hours of driving, not considering gas stops or detours.
Whichever way you choose, you must spend at least two days taking this Southward Road trip and absorbing the wonderful music, exciting culture, beautiful scenery, and visiting all the different landmarks.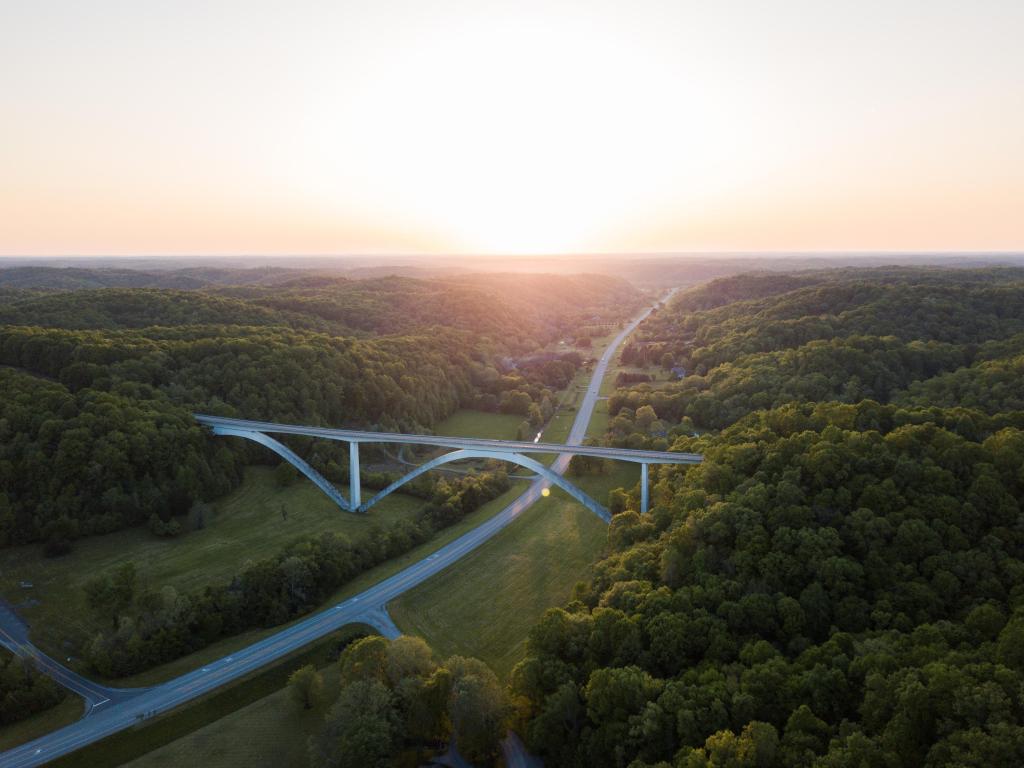 Best road trip route from Louisville to New Orleans
We have highlighted two fantastic route options for this road trip, and both have their USPs.
The Musical Heritage Route is the quickest way to reach New Orleans from Louisville. You'll visit four Southern US states on this trip, visiting some of the incredible music capitals of the country. Rightly named the musical route, you'll have many opportunities to learn about music history in Nashville and Memphis.
While driving on the legendary Natchez Trace Parkway between Jackson and Natchez is a massive bonus for this route, you'll miss out on the drive along the Gulf of Mexico.
Instead, you could also take The Scenic Route visiting Tennessee, Alabama, and Louisiana, with plenty of detour options from Knoxville, like Pigeon Forge, Gatlinburg, and the Great Smoky Mountains National Park. If you crave a city vibe, detour to Atlanta after Chattanooga.
The main attraction on this road trip route is the last lap of the journey along the Gulf of Mexico. The lovely seaside views will enchant you and fuel you for the adventures ahead.
The Musical Heritage Route
As you leave the iconic city of Louisville behind, take the I-65 out of the city to Nashville. After exploring the musical capital and visiting the major attractions, head west on I-40 toward Memphis.
Take I-55 out of Memphis and admire the changing landscapes. Driving through the Mississippi Delta, you'll see beautiful fields and rustic countryside. After reaching Jackson, take a break before you cover the rest of the trip.
Take the iconic Natchez Trace Parkway to enjoy breathtaking views of the Mississippi River. Soak in the gorgeous countryside views and the ultimate scenic drive before arriving in historic Natchez.
As you continue to drive parallel to the mighty Mississippi River, take the US-61 out of Natchez all the way to Baton Rouge. Leave Baton Rouge by taking I-10 in the southeastern direction.
The marshy wetlands of Louisiana will soon welcome you. Enjoy the exotic landscape and stop for pictures before finally reaching New Orleans.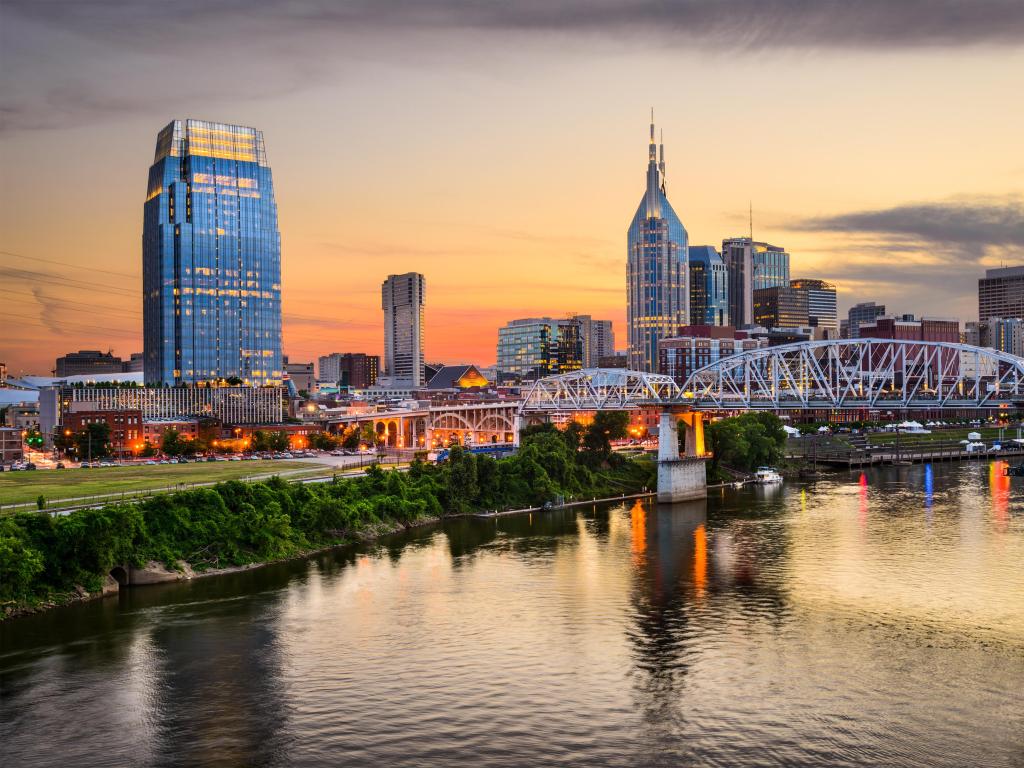 The Scenic Route
For The Scenic Route to New Orleans, head on I-64 to exit Louisville. Continue straight to Lexington and switch to I-75 to continue the southward journey.
As you drive through the lush greenery, notice the Daniel Boone National Forest pass by. If you have spare time, you can explore the vast park for outdoor activities. Also, admire the stunning views of the Appalachian Mountains on the way to Knoxville.
Continue I-75 to Chattanooga, passing by a string of gorgeous national forests to your left. The region offers fantastic river and mountain views, so soak in all you can as you head to Birmingham, taking I-59.
Continue driving through Alabama on I-65 to Montgomery and visit Cahaba River National Wildlife Refuge en route. Explore the historic Montgomery and continue the journey to Mobile. On the way, check out the Conecuh National Forest for its diverse ecosystem.
Take I-10 and drive past breathtaking views of the Gulf Islands National Seashore. Soak in the stunning Gulf of Mexico views before reaching Biloxi. Drive along the coast, taking US-90 via Gulfport, and follow it till it meets the interstate highway I-10 again.
Ensure you stop by Bayou Sauvage National Wildlife Refuge for birdwatching and other recreational activities before reaching New Orleans.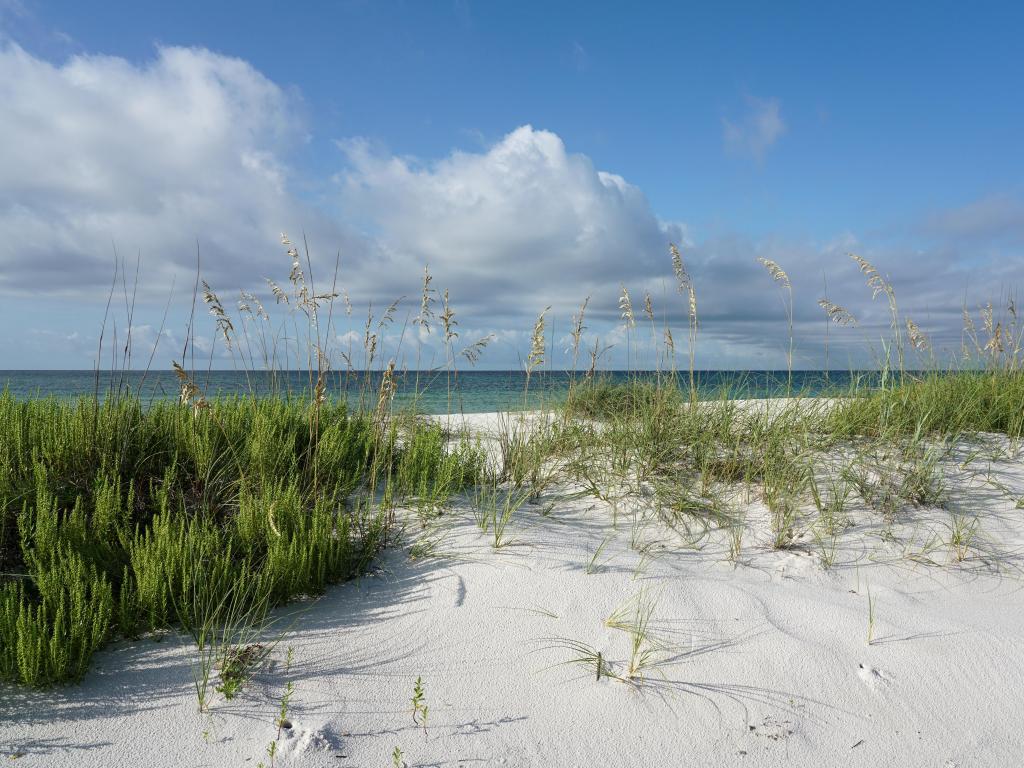 Best places to stop between Louisville and New Orleans
This road trip offers excellent stopover options to rest and explore leisurely. We have shortlisted some of our favorite locations and the best hotels for a comfortable overnight stay on both routes.
Rock n' Roll in Memphis
Halfway through the journey along The Musical Heritage Route, you'll come across the beautiful city of Memphis. This city is renowned for being the birthplace of Rock n' Roll music and the home of the Blues. So, it is naturally considered one of the important musical centers in the US.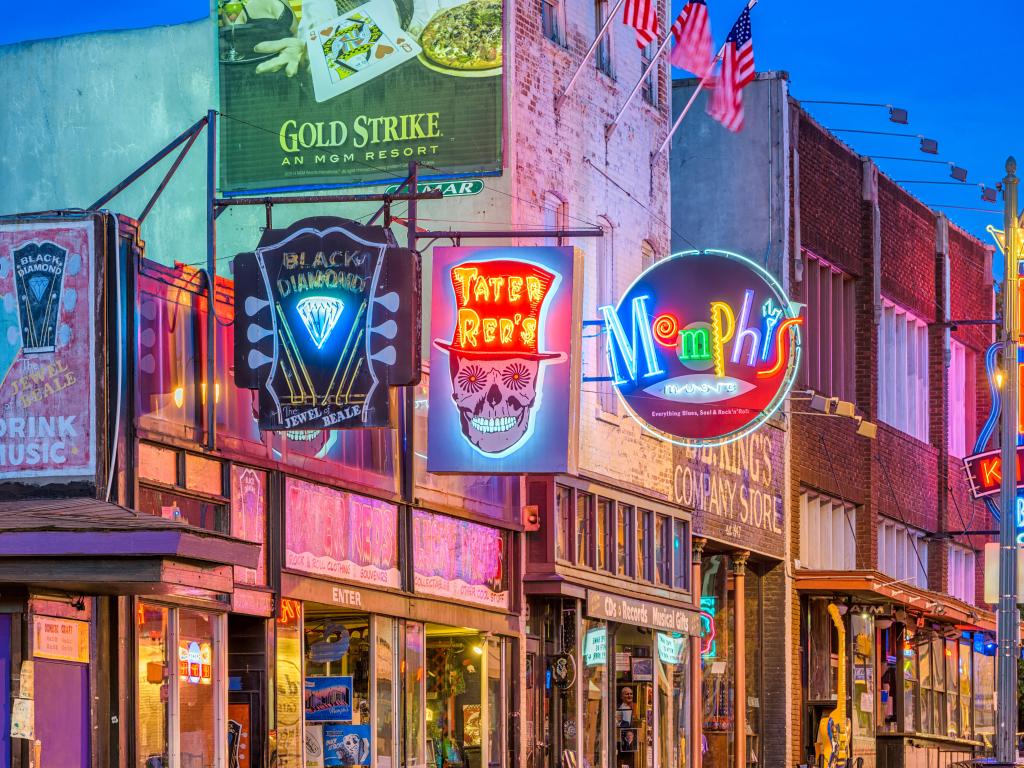 Memphis is an incredible spot for music history lovers as this city is dedicated to the growth of music. And it is unsurprising that most prominent tourist attractions also revolve around music. You can visit the Sun Studio, where Elvis and Johnny Cash started their careers.
For a quick recap of local music history, head over to the Memphis Rock n' Soul Museum in the city. The city is also rich in culture and offers incredible entertainment everywhere. For one such enriching live music experience, visit the lovely Beale Street.
Located in the heart of Memphis and close to the top attractions, our vote goes to ARRIVE Memphis for your overnight stay. The hotel offers private parking, which makes it perfect for a road trip stopover.
You can get your caffeine dose any time at their on-site all-day café. Not to mention there are two fantastic on-site bars offering various food & drink options.
Besides enjoying full-size apartment-style hotel accommodations, you can also indulge in their special entertainment section featuring a shuffleboard bar and poker room.
Peaceful stay at scenic Chattanooga
Six hours into your journey along The Scenic Route, you'll find yourself in the beautiful town of Chattanooga. Nestled just outside the incredible Smoky Mountains, this stopover is a treat for people who love the outdoors.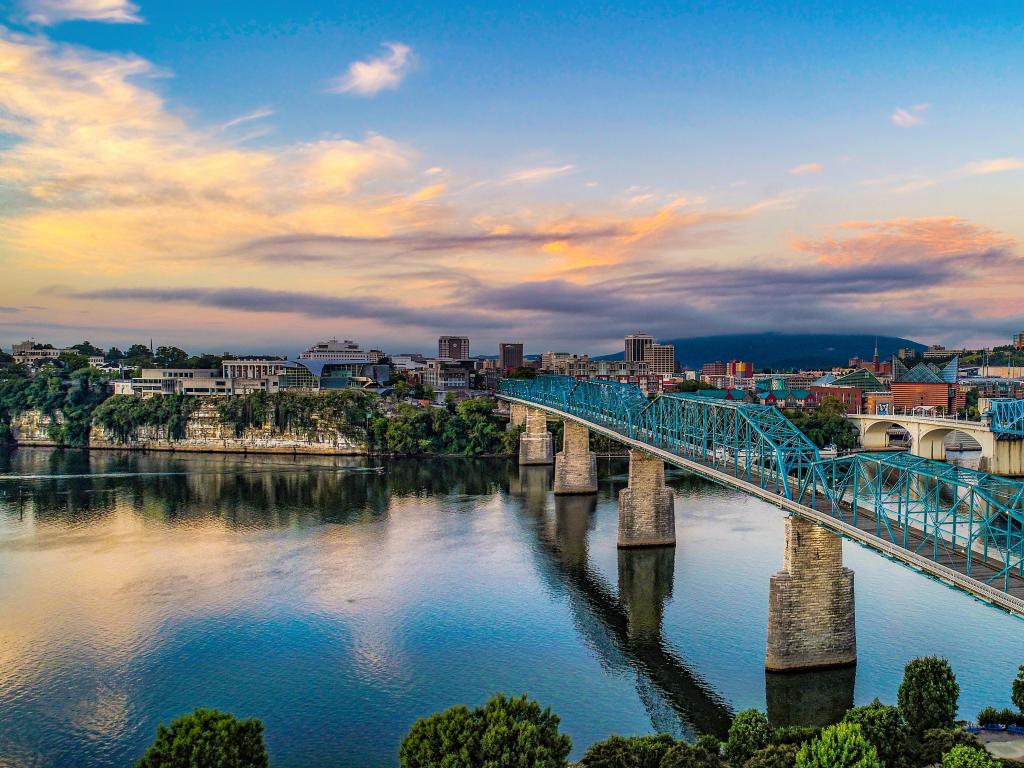 Not just an escape into the beautiful mountains, ridges, and valleys, the city has also played a vital role railroad industry. You'll find a charming little Tennessee Valley Railroad Museum showcasing vintage trains and offering train tours to guests.
Besides spending time outdoors indulging in hiking, trailing, and climbing mountains, you can also visit the interesting Raccoon Mountain Caverns for a unique trip down an underground cave with historical stories to tell.
Conveniently located in the city center and right off the main highway, The Read House is our top recommendation for your stay in Chattanooga. You'll be enamored by its historic yet modern architecture with a hint of a 1920s vibe.
Decorated with a lush lounge, billiards room, and an indoor pool, this glamorous hotel is perfect for a romantic getaway. You can enjoy a delicious steak at their on-site steakhouse and shed off those calories at their well-equipped fitness center.
The hotel is also perfect for exploring local attractions like Tennessee Aquarium, Lookout Mountain, and Walnut Street Bridge.
Where to stay when you reach New Orleans
After arriving in New Orleans, soak in the city vibe, and we promise you'll fall in love with the incredible experiences offered in this city. Known for hosting one of the most significant Mardi Gras events, learn more about their unique history, culture, and food.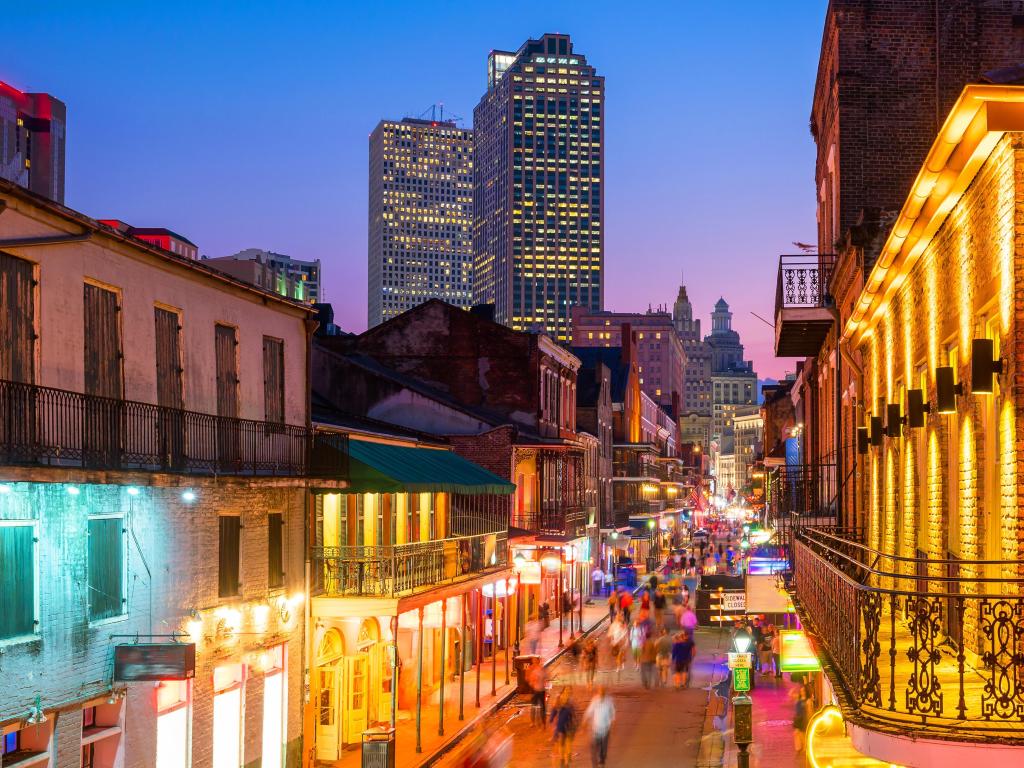 Considering you'll have an extended stay in the city, we suggest you check out this modern boutique One11 Hotel. You'll have luxury at your feet with excellent rooms, a lovely outdoor swimming pool, and a spacious terrace area.
Also, with the restaurant and bar serving classic dishes with a Creole twist, you'll be spoilt with indulgence. Located in the famous French Quarter, you can walk to the attractions like the National World War II Museum and the famous Jackson Square.
Things to see on a road trip from Louisville to New Orleans
On this journey from Louisville to New Orleans, you'll find a superb mix of various indoor and outdoor things to see and do.
To give you a head start with trip planning, we have shortlisted a few of our favorite locations to visit along the way.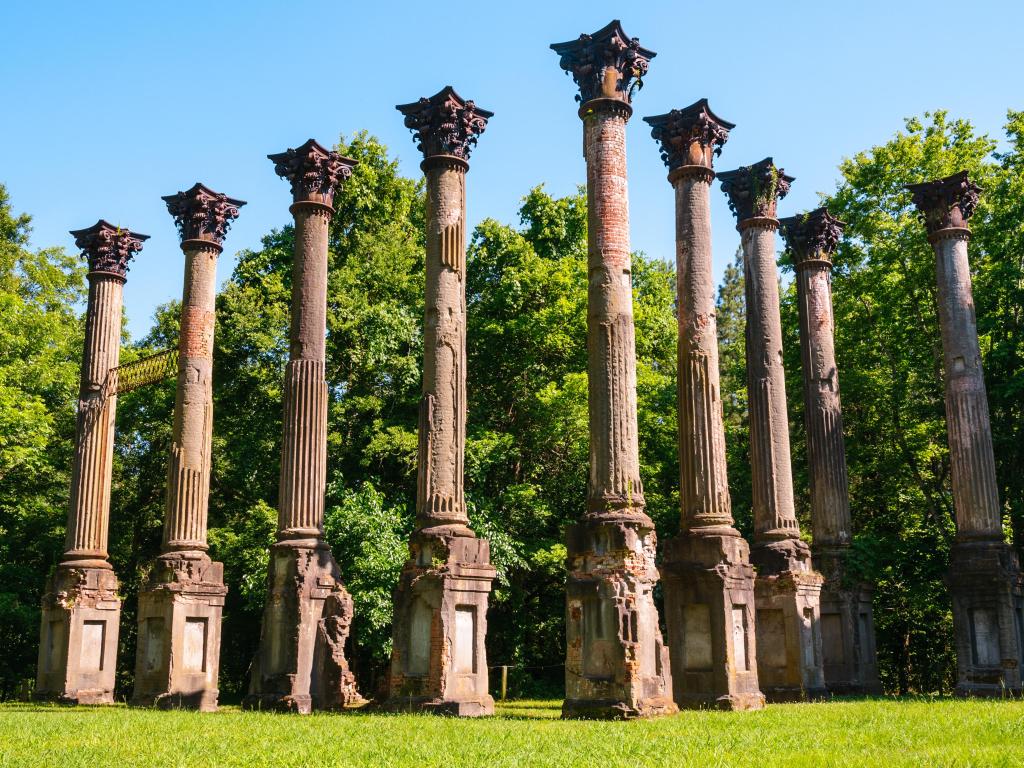 The Musical Heritage Route
Mammoth Cave National Park – This unique landmark is a must-visit for its thousand-year-old extensive cave system. Not to mention it is also now a UNESCO World Heritage Site.
The Parthenon, Nashville – No time to visit Greece, no problem. Experience the full-scale replica of the Parthenon structure from Athens, Greece, at this monument in Nashville.
Birdsong Hollow and Double Arch Bridge – Located on the parkway, this bridge used to carry Natchez Trace travelers 1,648 feet across the valley.
National Civil Rights Museum, Memphis – Built around the Martin Luther King Jr assassination site, this site is now a museum dedicated to the civil rights movement.
Mynelle Gardens, Jackson – What was a simple flower shop in the 1920s has now transformed into a large and relaxing garden for guests.
Windsor Ruins, Port Gibson – What used to be a large mansion built in 1861 can now be viewed as Windsor Ruins. The columns have stood the test of time over 130 years now, also surviving the Civil War.
Natchez – The charming city of Natchez offers a great getaway to visit historic sites and landmarks, including Melrose & Choctaw Hall, Stanton, and Longwood mansions.
Capitol Park Museum, Baton Rouge – This branch of the Louisiana State Museum has two large exhibits showing the history and culture of Louisiana.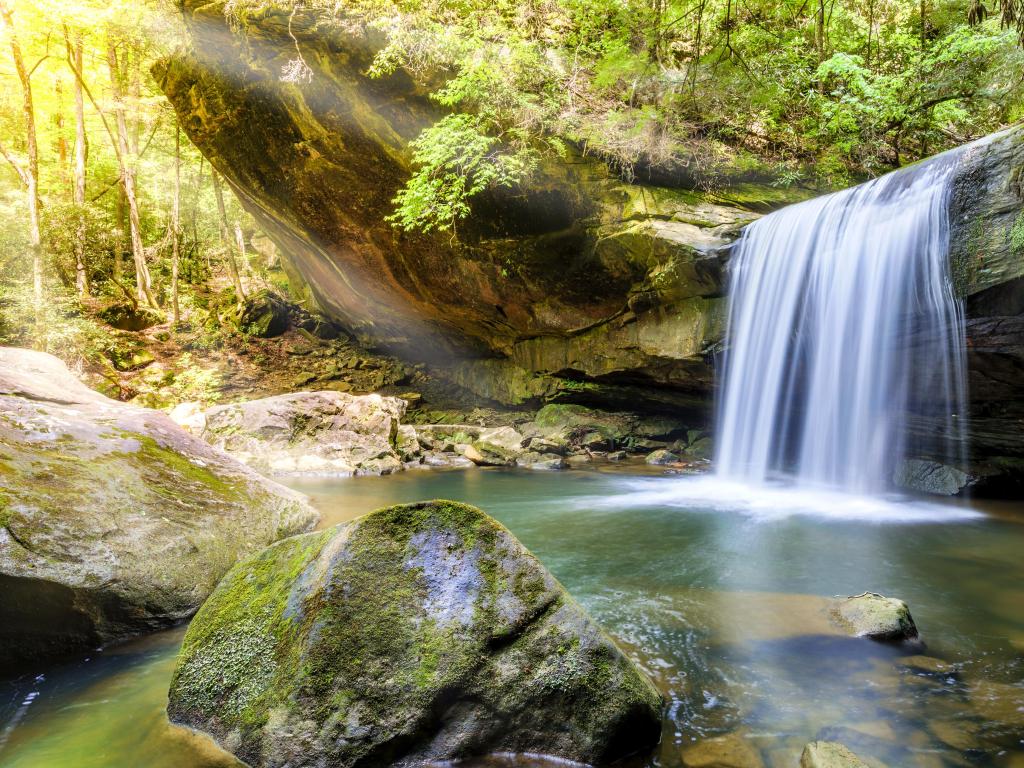 The Scenic Route
Kentucky Horse Park, Lexington – What used to be a house farm is now an educational theme park and a venue for hosting international equestrian competitions.
Daniel Boone National Forest – Enjoy nature at its best in this forest located in the Appalachian Mountains.
Tennessee Theatre, Knoxville – Movie palace downtown that focuses on hosting classic films and is home to the Knoxville Symphony Orchestra.
Walnut Street Bridge, Chattanooga – This restored pedestrian bridge connects the city across the Tennessee River.
Vulcan Park and Museum, Birmingham – This statue of the Roman god Vulcan looks over the city and symbolizes the city's roots in the iron and steel industry.
The Legacy Museum, Montgomery – This museum showcases the history of slavery in America and its efforts to overcome racial and diversity issues.
Mobile Carnival Museum, Mobile – This history museum tells the story of the last 300 years of Carnival and Mardi Gras.
Beauvoir, Biloxi – A historic estate in Biloxi and former home of Jefferson Davis, Beauvoir features exhibits about the Civil War, the Confederate army, and Jefferson Davis.
Chandeleur Island Brewing Company, Gulfport – Enjoy the chill vibes of the beach at this local brewery. It provides an incredible atmosphere and feels of the local community.
Bayou Sauvage National Wildlife Refuge – Just before you enter New Orleans, you'll see this massive marsh area, where you'll find a huge variety of wildlife, including deer, alligators, and migratory birds.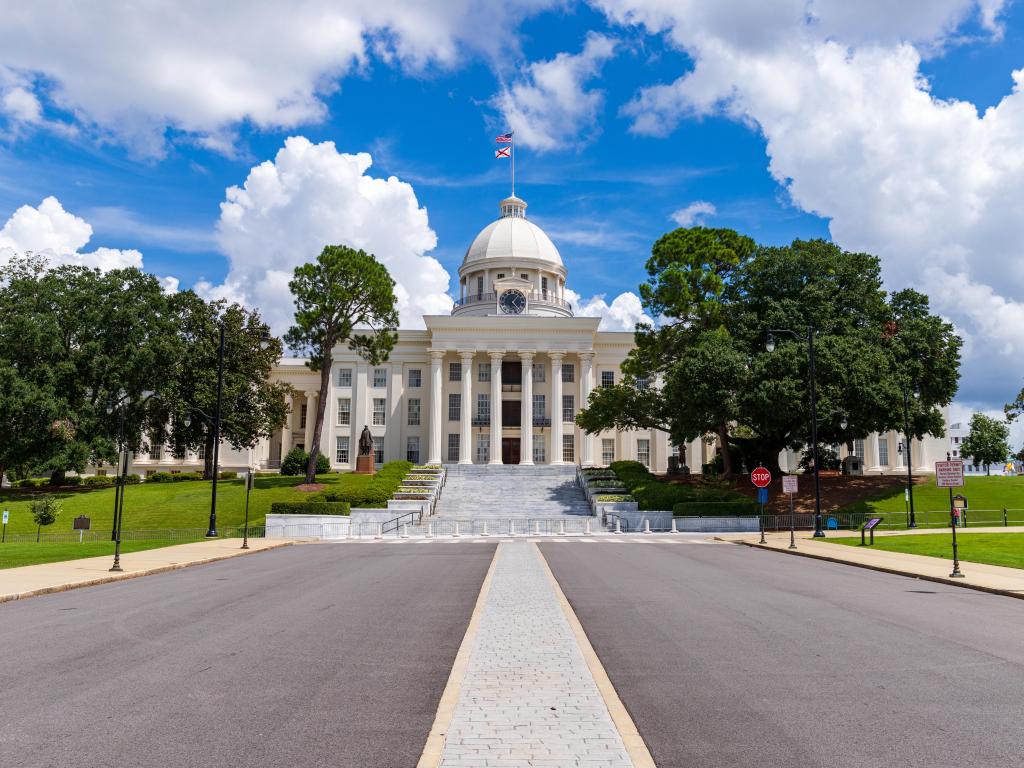 Best time to go on a road trip from Louisville to New Orleans
New Orleans is a great year-round destination because of the sheer variety of things to do there. The weather varies a bit as you travel from North to South, but the climate along the Gulf of Mexico is crisp all year.
New Orleans is overcast by the fear of hurricanes during summer, making it an off-season for tourism and a more affordable destination. Hurricane season runs from mid-May to mid-October so the weather can be unpredictable.
Summers can be mild to moderate, and temperatures average between 75 and 80 degrees Fahrenheit.
You do not have to worry about harsh winters when planning this trip. You may come across some snow and cold in the more Northern states, but it usually doesn't snow in New Orleans. Only if you detour to the Smoky Mountains may you encounter snow. The temperature averages between 35 to 55 degrees Fahrenheit.
Because there are tons of outdoor activities to enjoy on this route, you need pleasant weather conditions. Spring and fall have desirable climates and are some of the best times to visit New Orleans. The spring brings new blooms, and the foliage colors during fall are breathtaking.
Although many people visit New Orleans during these seasons, you'll find the place only mildly crowded. The temperatures average between 50 and 70 degrees Fahrenheit but will be warmer as you move South.
The major festival New Orleans hosts at the beginning of the year is the Mardi Gras Festival. The festivities begin on January 6th and continue till February 21st making it the busiest month. You may be familiar with a part of the tradition called "Fat Tuesday," which brings people to New Orleans from all over the world.