18 Best Day Trips From Cincinnati, Ohio
If you live in Cincinnati or just visiting the Queen City, there are a lot of places you can explore only a short drive away from the city. Located at the place where Ohio, Indiana and Kentucky meet, the day trips on our list span the three states.
While doing some research, I found a lot of suggestions for places like Cleveland, Chicago and Detroit but unless your idea of an ideal day trip is spending 10 hours of it in the car, we've only gone with genuine places you can visit within a reasonable drive of downtown Cincinnati.
From exploring nature in State Parks to amazing city visits and fun family adventures, here is our list of the 18 best day trips from Cincinnati.
1. Indianapolis, IN
1 hour 45 minutes from Cincinnati (112 miles)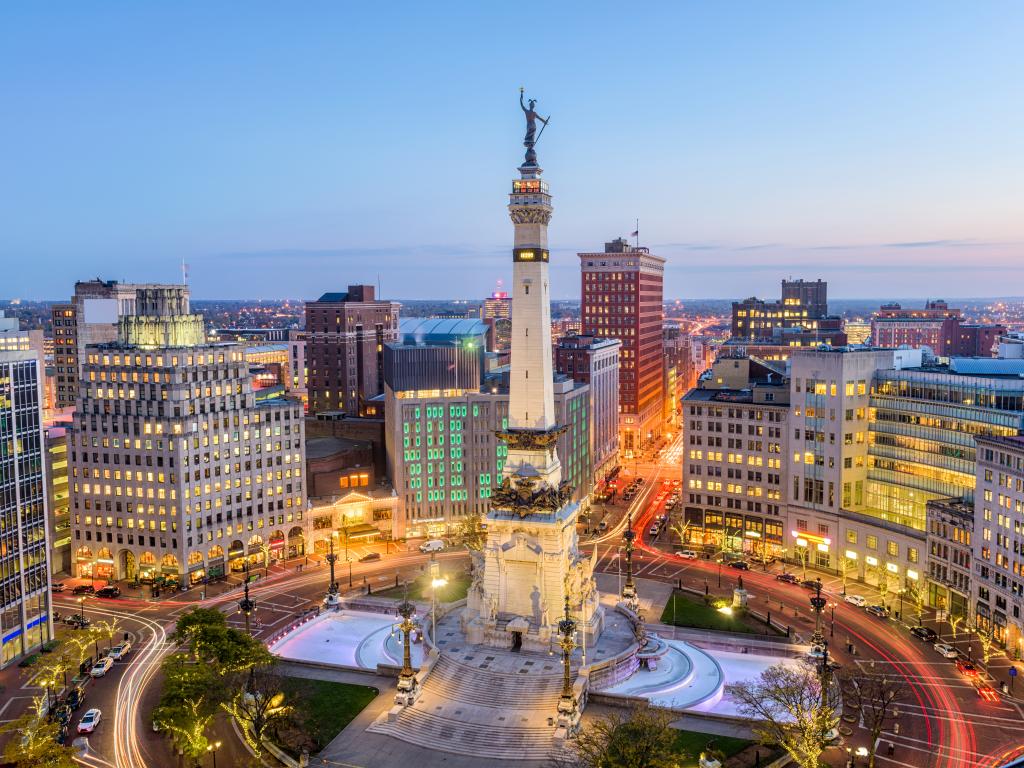 Indianapolis may be most famous for its Motor Speedway which hosts the Indy 500 race every year. If you're planning on going somewhere around Memorial Weekend and the idea of loud cars completing 500 miles of racing over 200 laps appeals, this is the obvious choice for you.
The rest of the year, you can still visit the oval track and the Indianapolis Motor Speedway Museum which tells a rich history of the local motorsport and the historic track.
But the Circle City has a lot more about it than the screaming of V6 engines. The surprisingly small and very walkable downtown sits just off White River flowing through Indianapolis.
There's good restaurants and cafes and be sure to take a look at the impressive Soldiers/Sailors monument in the heart of the city surrounded by a circular road paved in pretty brick.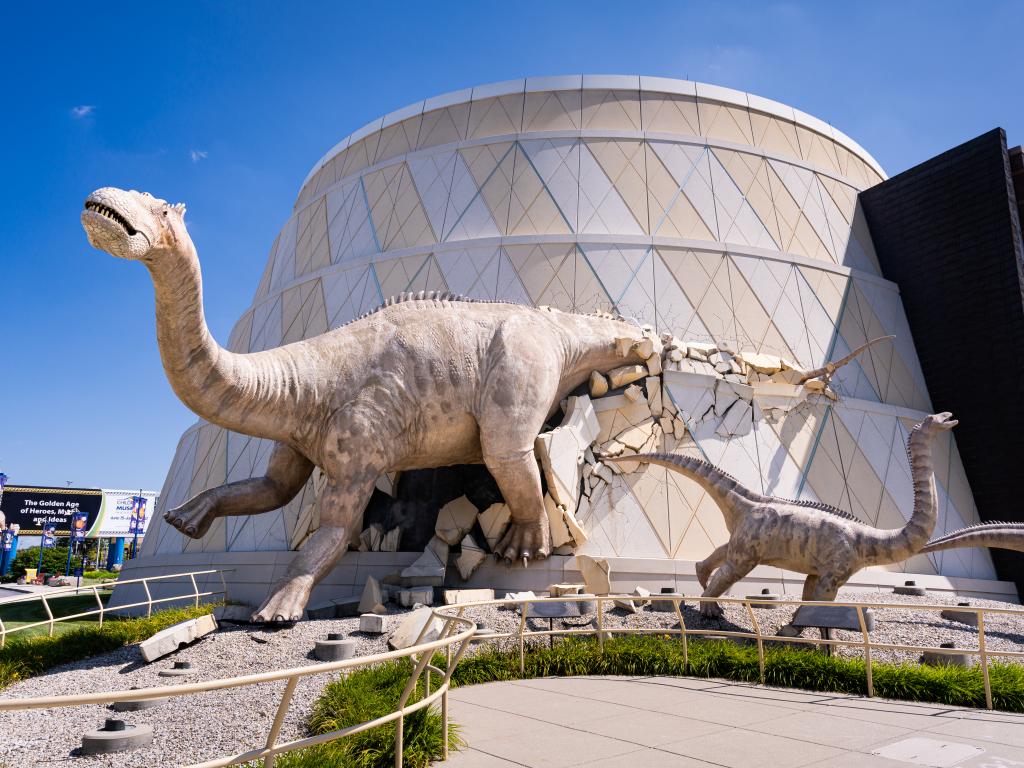 Some of the better sights are further out so jump back in the car and head to the Indianapolis Museum of Art (IMA) at Newfields and the Children's Museum a few miles north.
The IMA is the 9th oldest and the 8th largest art museum in the United States so whether you like Chinese ceramics, Impressionist paintings or contemporary art forms, you'll find it here.
2. Columbus, OH
1 hour 45 minutes from Cincinnati (107 miles)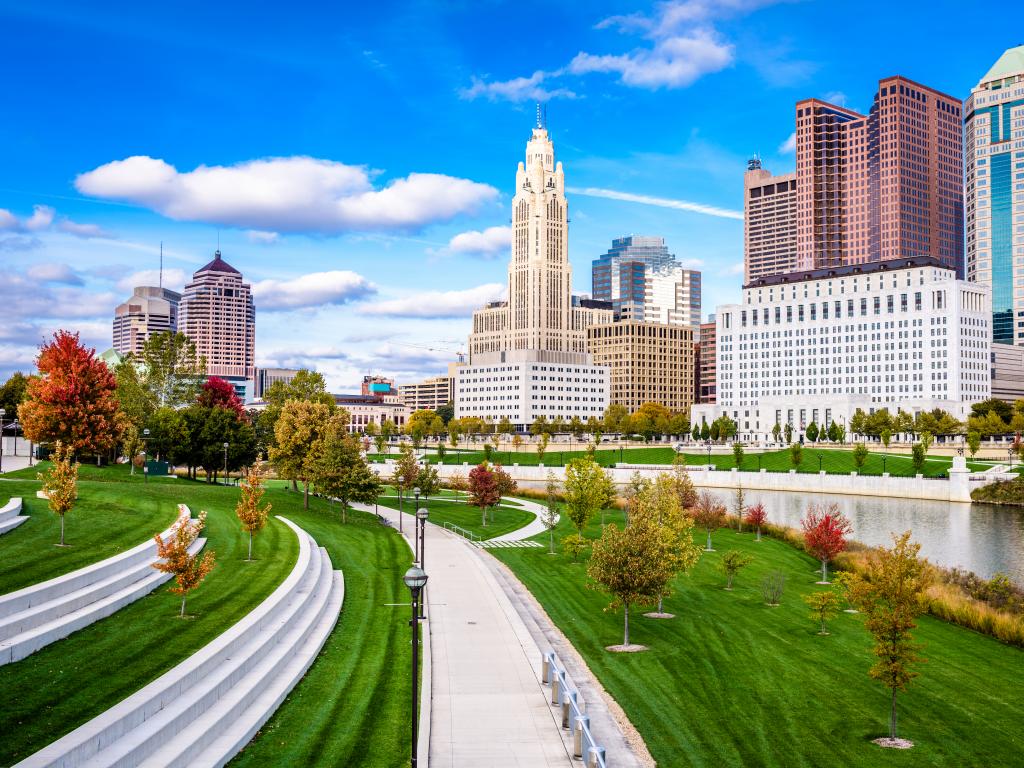 Let's stay on the theme of state capitals and move on to Columbus, Ohio. Getting here is equally easy. Instead of I-74, find the I-71 in downtown Cincinnati and follow it northeast until you've arrived in Arch City.
Once you've parked in one of the two large garages right in the middle of the city in Columbus Commons, it's time to check out the Ohio Statehouse. You can roam around on your own, but it's well worth getting in on one of the free tours to hear some interesting stories about the place.
A couple blocks towards the river is the Scioto Mile - a calm place for a walk along Scioto River and relax. The Bicentennial Park at the south end has a huge interactive fountain that is popular in the summer and if you pick the right day, you can catch a great concert in the park as long as you're happy to drive back to Cincinnati a little later on.
One place you have to stop by is North Market - it may not look like much and it is a market selling things like meat and vegetables, but it really sums up the community and the variety of Columbus and is as interesting for exploring the culture as it is for getting great prices on fresh steak.
If you want to visit a real neighborhood, Germantown is a short walk south from Downtown. You'll notice the buildings and restaurants are still proud of the heritage of the German settlers who first moved here. A late lunch can include hearty bratwurst or a schnitzel with a giant stein of cloudy beer.
3. Hoosier National Forest, IN
2 hours 30 minutes from Cincinnati (164 miles)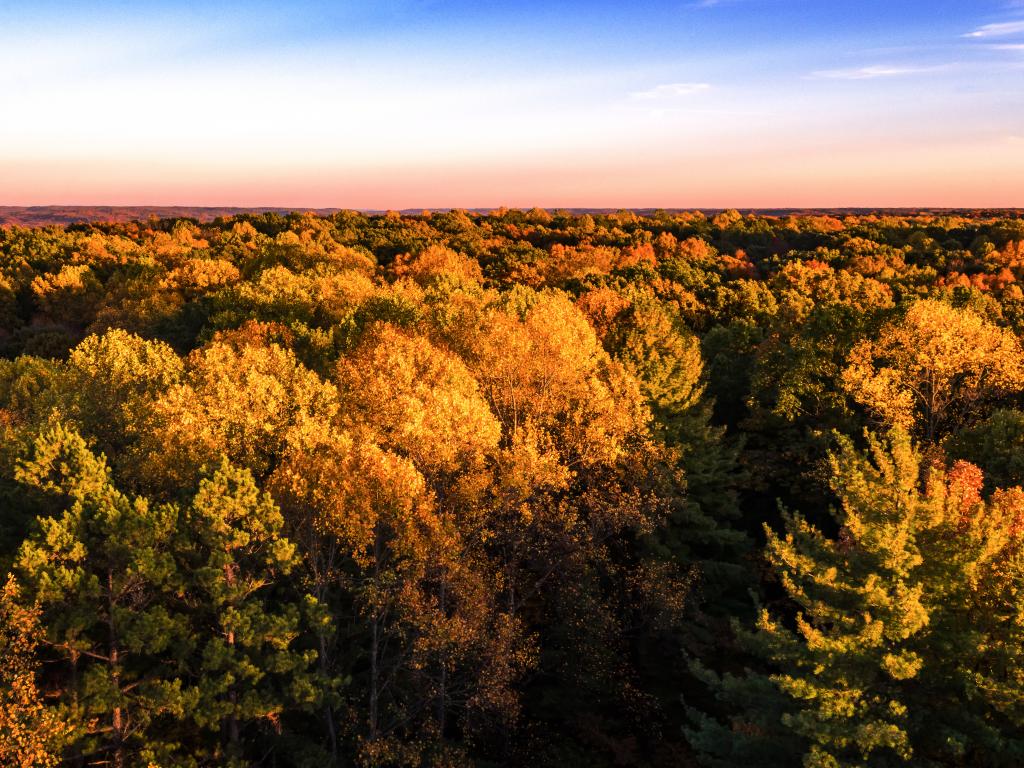 The Hoosier National Forest covers a large area stretching from the border with Kentucky along Ohio River in the south to the city of Bedford in the north.
There's a lot of different parts you can and should visit - the two and a half hours is how long it takes to Patoka Lake which is one of the prettiest locations in the forest.
Then there's Hemlock Cliffs, Indian-Celina Lake and Tipsaw Lake which will all have a high chance of making you want to abandon city life and move into a small cabin in the woods for the rest of your life.
You can spend the day hiking, horseback riding, fishing or mountain biking in the fresh clean air to the tune of birdsong. Beware that all of the above except hiking need a permit (yes, even mountain biking) so get yours purchased for $5 at one of the stores or camps in the forest.
At over 2 hours each way, Hoosier National Forest may be a little stretch for a day trip from Cincinnati, especially if you're heading to the lakes and rivers further south.
You might want to consider extending it into a weekend getaway and finding a campsite or hotel locally to spend the night and make the most of your time.
4. Louisville, KY
1 hour 40 minutes from Cincinnati (99 miles)
Louisville is the largest city in the Bluegrass State and at under 2 hours' worth of driving, it is one of the best city breaks you can go on from Cincinnati.
The drive from Cincinnati to Louisville is another straight Interstate job - the I-71 takes you right door to door making for an easy journey.
One of the best things to do in Louisville is to just stroll around and pop into places you like the look of for a drink or to grab lunch.
Walk over the Big Four Bridge to get amazing views of the city while listening to the gentle music that is played for those taking a stroll. Then make sure you check out the local stores in Jeffersonville on the other side before heading back.
The rich cultural and music scene will make you want to stay longer and if you're coming over the weekend, you absolutely should. That will give you a good opportunity to actually try the famed local bourbon while listening to live music at one of the bars on 4th Street.
5. Yellow Springs, OH
1 hour 15 minutes from Cincinnati (70 miles)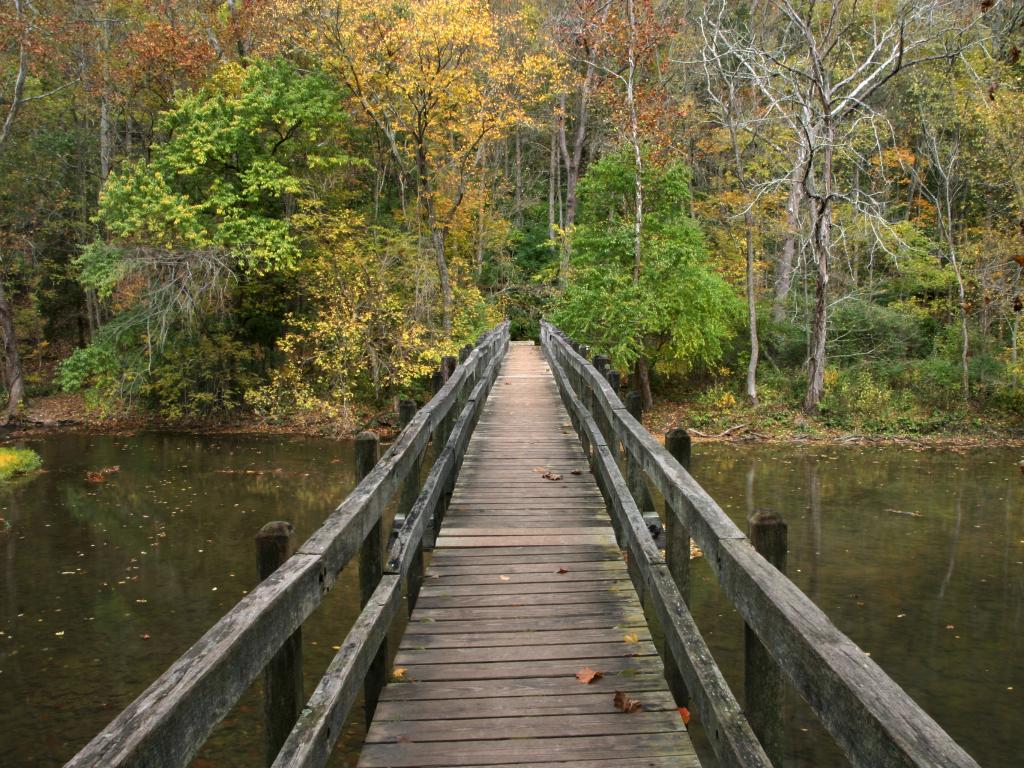 If you like your towns to have bright colors, a good dose of hippie vibes and funky local shops that don't seem to have changed for decades, Yellow Springs is the place you should pick for your day trip from Cincinnati.
The main part of the town lies along U.S. Route 68 - there's a traditional sweet shop with large jars of candy all around, the Village Herb Shoppe where you can find every kind of herbal tea or essential oils and pretty much anything else made from herbs.
If the weather is good and you fancy a walk, Glen Helen Nature Preserve is right next to the town - you can find the trails down Corry Street and there's around 20 miles of hiking routes, The Cascades falls and a Raptor Center where you can see a number of different birds of prey.
If you want a bit more in the way of hiking and nature, Clifton Gorge and the John Bryan State Park are close - it's not a huge amount of wilderness, but you'll find relaxing views of the Little Miami River flowing through a gorge surrounded by forest.
6. Rabbit Hash, KY
40 minutes from Cincinnati (29 miles)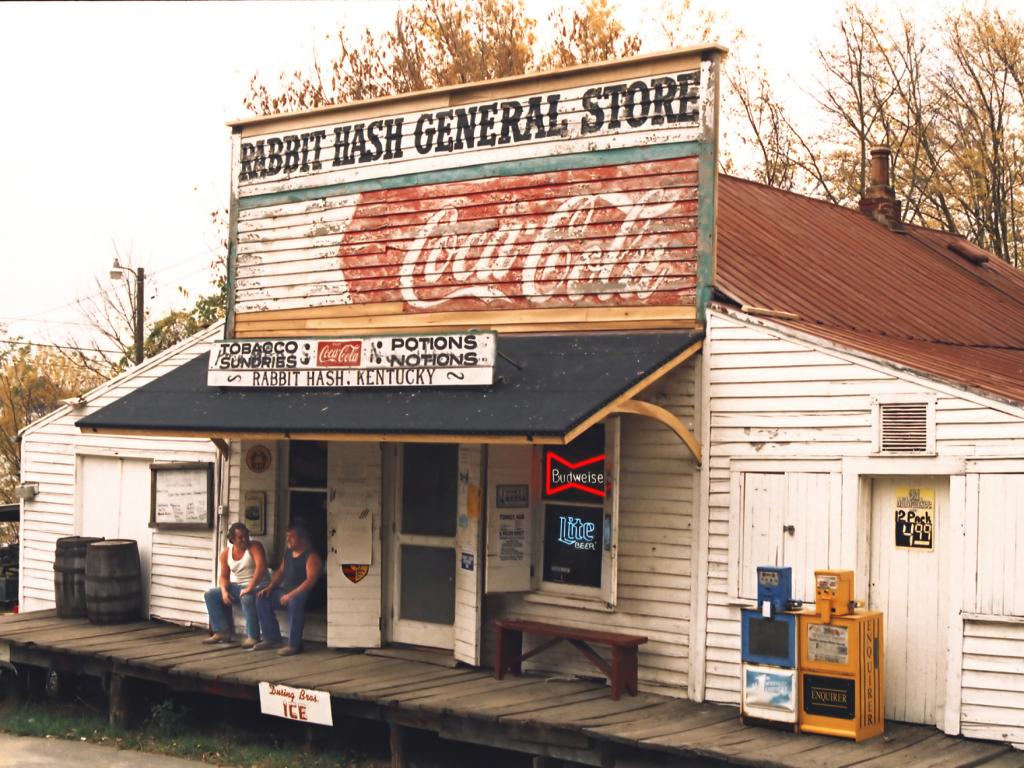 Rabbit Hash is a small hamlet sitting on the Ohio River, a short drive away from Cincinnati, but this quirky town is an absolute must visit for anybody that likes discovering amazing local towns.
Rabbit Hash got its name in the 1840s after it became apparent that the dish was so popular the locals were having it for Christmas. Local rabbit hash became so popular that people would stop on their way down the river or when driving across the country just to try it.
The main attraction in Rabbit Hash is the General Store. The store has been here since 1831 and is a major attraction for tourists. After an extensive fire in 2016, it was rebuilt using original timber and other reclaimed wood from the era.
The store is so important that it is on the National Register of Historic Places - how is that not reason enough to drive down here?
If you love it so much you want to stay, there is a one-room Old Hashienda Inn by the store with a river-facing porch and a wood stove. You need to book ahead and check in can be done at the store.
If you want to get a feel for exactly how quirky this place is, consider the fact that the current mayor for the town is none other than Brynn Pawltro, a pit bull that was elected into office in 2016. Previous mayors include Lucy Lou (a Border Collie), Junior Cochran (Black Labrador) and Goofy (mixed breed) who started off the tradition by winning the election in 1998.
7. Big Bone Lick State Park, KY
30 minutes from Cincinnati (25 miles)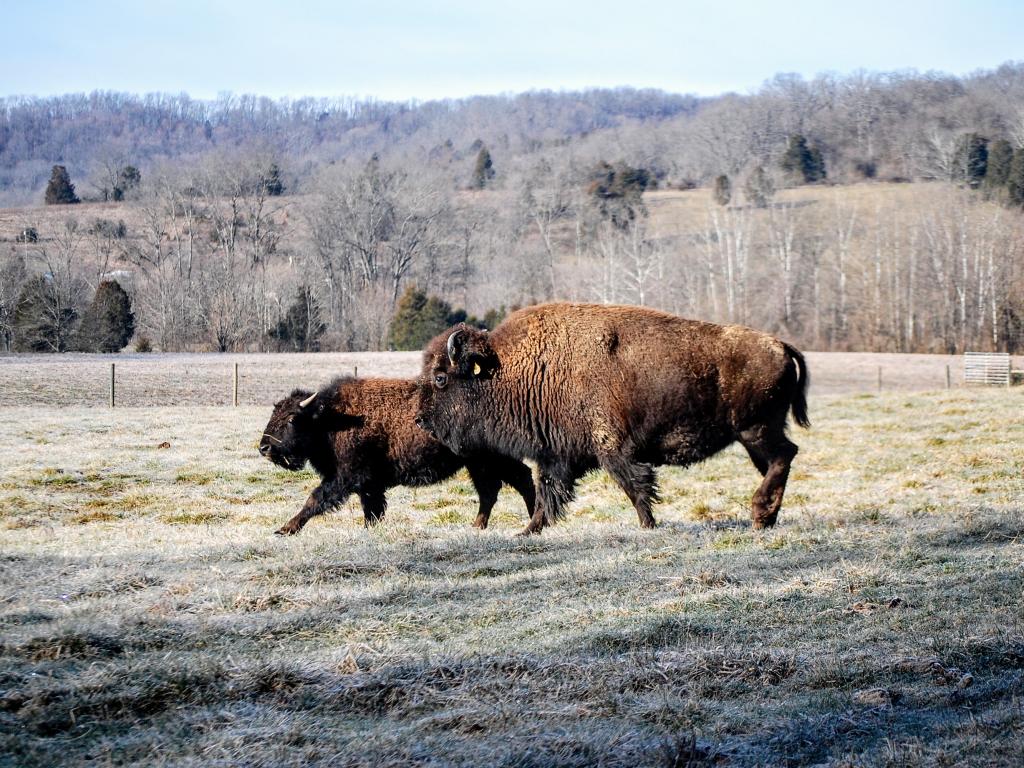 Big Bone Lick State Park got its name after a large number of animal fossils were discovered here during excavations in the 19th century. The salt deposits around the local sulphur springs brought mammoths, bison and dozens of other species to the marshes.
Today it is a large park with long hiking trails, a campground (only open in the summer), an onsite museum and outdoor displays showing what the ancient animals would have looked like.
For those who like their animals live, there's a herd of bison that roams around the park and you may well spot them as you make your way around.
The museum is larger than you might think - there's a lot of information regarding the fossils and paleontology, some local Native American history and the history of local science and wildlife research.
If you have spare time, Rabbit Hash is only a short drive along the Ohio River and is a worthwhile detour to see a really interesting small riverside town - see #6 above.
8. Dayton, OH
1 hour from Cincinnati (54 miles)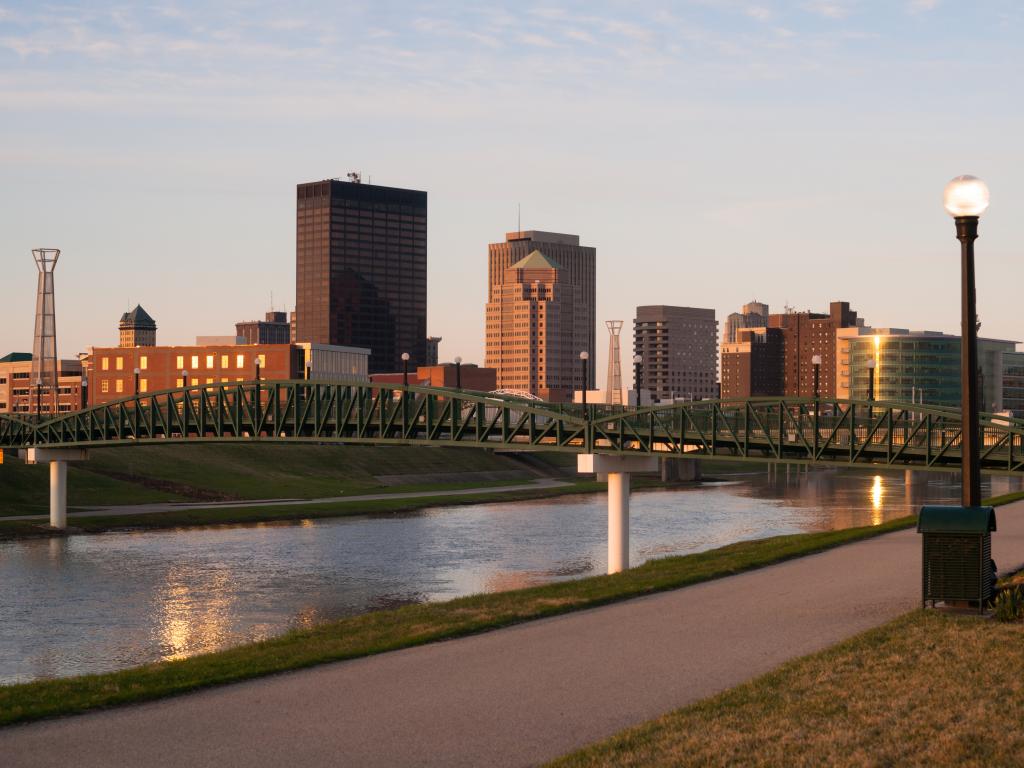 An hour north of Cincinnati along the I-75 is the closest big city - Dayton, Ohio. Dayton is particularly famous as the birthplace of Wilbur and Orville Wright, who were the brothers that invented and flew the first aircraft in history.
Today the city continues to have a strong link to aviation - The Wright-Patterson Air Force Base is just outside the city and has the oldest, largest and, according to many aviation experts, the best aviation museum in the world.
From classic bombers to modern fighters, there's seemingly every type of plane and helicopter on display. You can go inside the Presidential Air Force One aircraft used by the likes of Roosevelt, Kennedy, Truman, Nixon, Ford, H.W. Bush, and Clinton.
The two other main sights in town are also linked to history and both are amazing visual and interactive displays.
The Carillon Historical Park is spread over 30 buildings on a large campus showcasing local history from the 1700s through to the 20th century. Local inventions are the pride and joy of the museum - the cash register and electric car ignition were both born in Dayton.
There's a lot to see here - classic train carriages, examples of local factory setups and and an exhibit dedicated to The Great 1913 Flood that devastated the local area.
The second place is the Dayton Aviation Heritage National Historical Park. Aside from having an exhaustive amount of interesting things to see to do with the Wright Brothers, it is set around the original bicycle shop where the brothers were starting their invention journey.
9. Loveland, OH
30 minutes from Cincinnati (24 miles)
No - we didn't accidentally add a picture from southern France into this list of day trips from Cincinnati.
This impressive castle is officially called Chateau Laroche after a French military hospital where Harry D. Andrews was stationed during World War I. He had a vision of building a medieval castle and started work on it in the 1920s building it one stone at a time from stones he found in the Little Miami River flowing below.
After he ran out of stones, he began making his own using a mix of materials and drink cartons. In his quest to keep the castle as authentic as a 20th century castle in Ohio can be, he made sure not to install plumbing and reportedly built secret hidden rooms into the structure.
The castle continues to be developed after the founder's death - it was left to the Knights of the Golden Trail boy scouts and today operates as a museum.
Other than the castle, the town of Loveland is a great day out. There's friendly local restaurants where you can grab a bite to eat and local trails and walks as well as many river-based activities in the summer - you can hire canoes and kayaks right in the middle of town.
10. Grayson Lake State Park, KY
2 hours 20 minutes from Cincinnati (127 miles)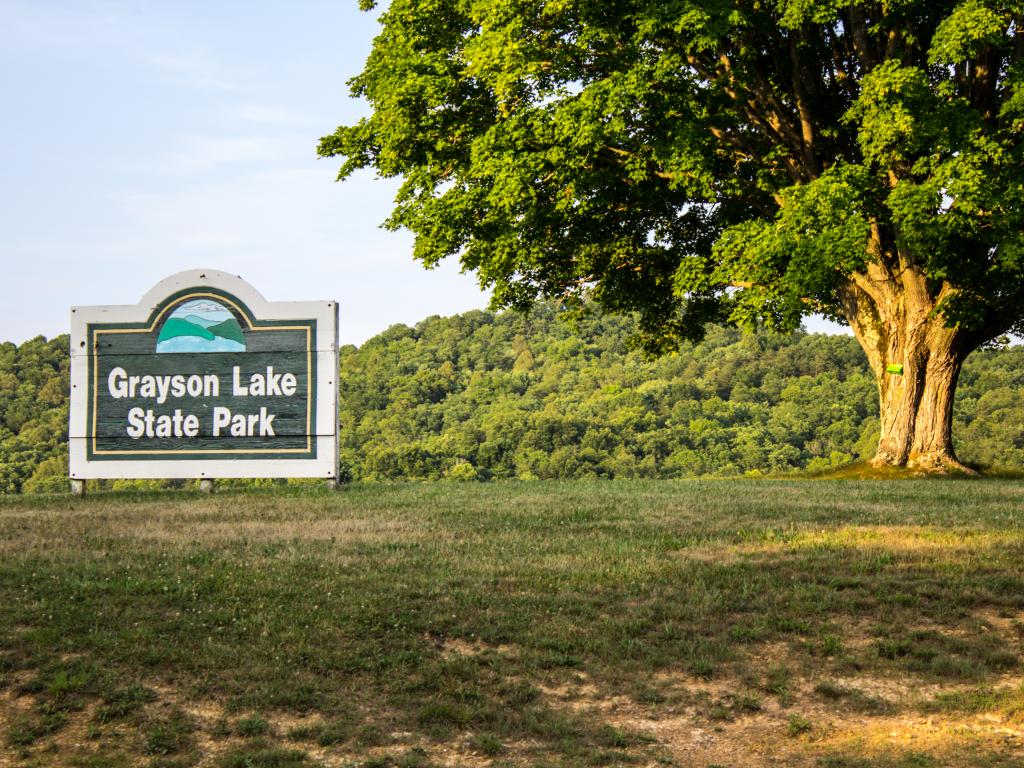 Although Grayson Lake State Park is open all year round, you really want to make the drive out during the summer to make the most out of the various activities and things to do.
At over 2 hours away, it's about as far as you'd want to go for a day trip but it's still doable. The park has a campground in case you want to make it a 2-day visit and stay overnight.
The wooded park sits around Grayson Lake and the list of activities includes hiking, fishing, canoeing, paddling, boating and fishing in the lake and a decent golf course.
Canoes are a great way to spend a few hours - you can find your way into the rocky canyons coming off the lake and enjoy views of the trees lining the shore.
11. Ohio Caverns, OH
1 hour 45 minutes from Cincinnati (145 miles)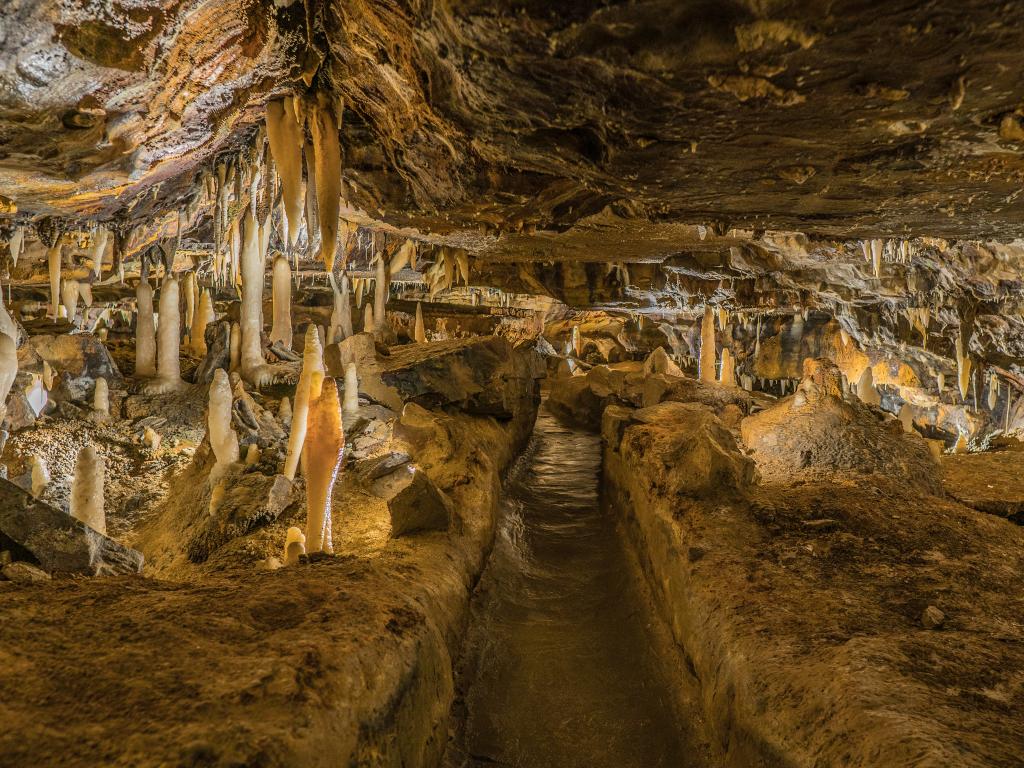 The Ohio Caverns are the largest known cave network in the State of Ohio with over 2 miles of passageways through the rocks deep below the ground.
They were discovered accidentally when a small sinkhole formed above one of the entrances to the cave system and a local boy decided to see what lay below.
The caverns are open 9 a.m. to 5 p.m. from May to September and 10 a.m. to 4 p.m. from October to April. It actually doesn't matter when you decide to visit because the caverns' unique ecosystem means the temperature inside is 54 °F all year round whether it's boiling hot or freezing outside.
Tours run through the day with the last one starting an hour before closing time - one of the tour options lets you see some of the caves in their unspoiled natural state as they were found when the caverns were first discovered in 1897.
The stalactites and stalagmites here come in different shapes, sizes and colors in different parts of the cavern network. The best known one is a white stalactite called Crystal King and has grown to around 5 feet over 200,000 years.
12. Hocking Hills State Park, OH
2 hours 30 minutes from Cincinnati (136 miles)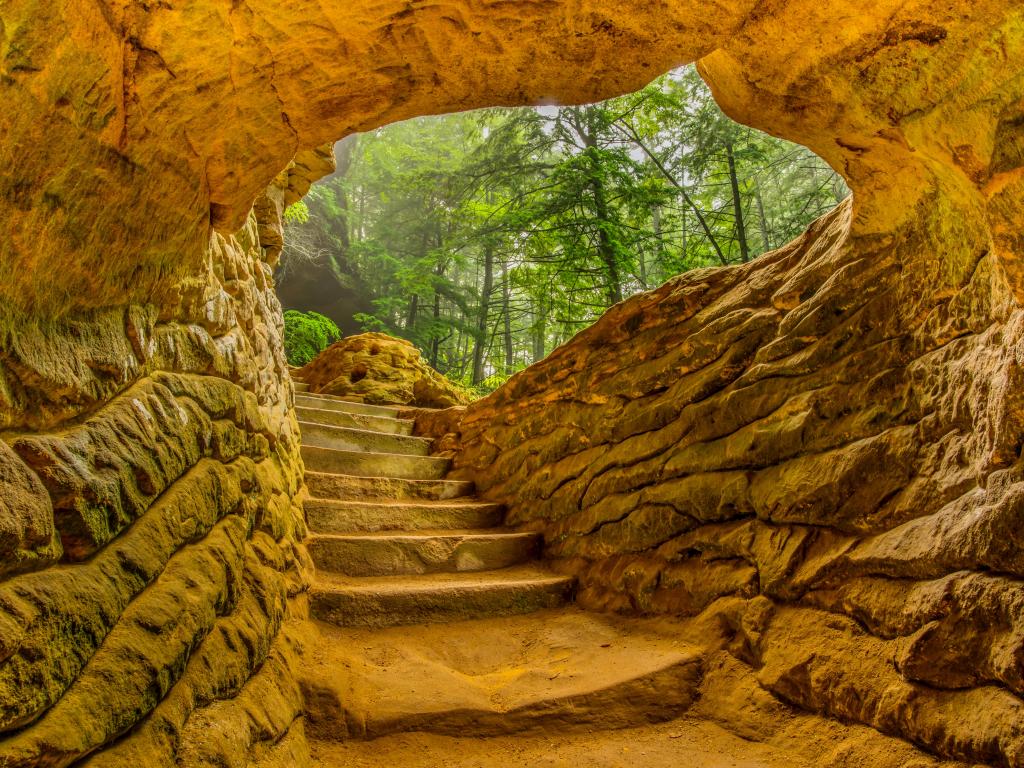 Hocking Hills may be a relatively long drive away from Cincinnati for a day trip, but it offers a lot more than many other parks and it can be well worth it to get up that little bit earlier and make a day of it.
If you like caves and rocks, you'll find what you're looking in Hocking Hills. Old Man's Cave and Ash Cave are the two most popular spots and they do look spectacular.
The one real cave in the park, however, is the Rock House which stories claim was a favoured hideout for famous robbers and bandits over the years.
If that's not enough rocky nature for you, go on a hike to Cedar Falls or go and explore Cantwell Cliffs - just be careful as leaves and plants can obscure sharp vertical drops.
Other attractions in Hocking Hills include the Hocking Valley Scenic Railway, the Paul A Johnson Pencil Sharpener Museum (yep - totally serious and it's free!) or a tour of the local Hocking Hills Winery.
Kayaks and other ways to explore creeks, streams and lakes are great on hot summer days and back on dry land, you can try horseback riding, mountain bikes and even zip lines. Name your favorite outdoor activity - Hocking Hills most probably has it!
13. Bourbon tasting in Versailles, KY
1 hour 30 minutes from Cincinnati (93 miles)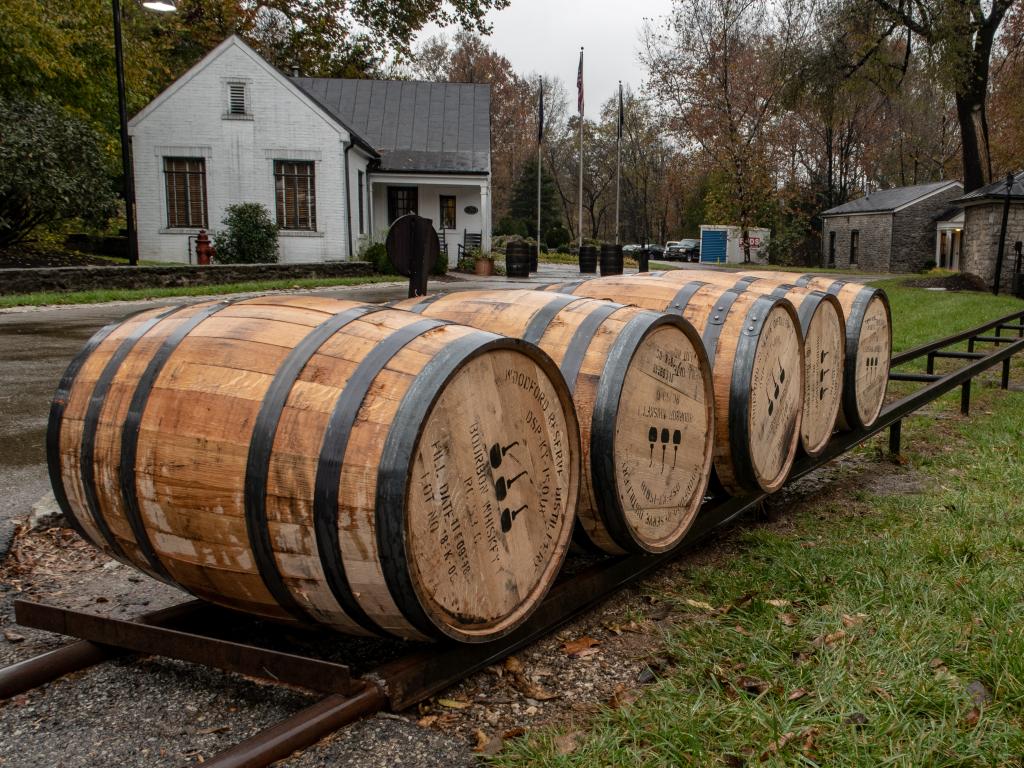 We've made it as far as lucky number 13 on our list without mentioning bourbon despite plenty of day trip options into Kentucky so it's time to correct this wrong.
While many associate bourbon with southern Kentucky, Versailles is one of the best places you can come to visit the world-famous distilleries.
Woodford Reserve is a few miles north of Versailles, on the way to the state capital Frankfort. You may have tried their whiskey before, but there's a special Woodford Reserve Double Double Oaked which you can only buy on the estate.
Yes - it's not a typo - it's Double Double oaked to a 90.4 proof sweet tasting whiskey which sells in small 375ml bottles.
Wild Turkey and Four Roses, which some claim to be the definitive bourbon, are also based nearby so you can pick your favorite!
Other than whiskey, the local area is also home to some of the leading horse farms - it's the bluegrass horse country after all! Some of these farms will offer tours or you can have a go at riding if you are up for it.
If the allure of bourbon makes you feel like staying the night instead of driving back to Cincinnati, the Kentucky Castle Hotel is worth trying out.
This hotel took the Versailles name to heart and created a mini version of the infamous French palace complete with turrets and a castle wall - I know it might seem a little on the kitsch side of life, but sometimes you've just got to try it, right?
14. Natural Bridge State Resort Park and the Red River Gorge, KY
2 hours 15 minutes from Cincinnati (146 miles)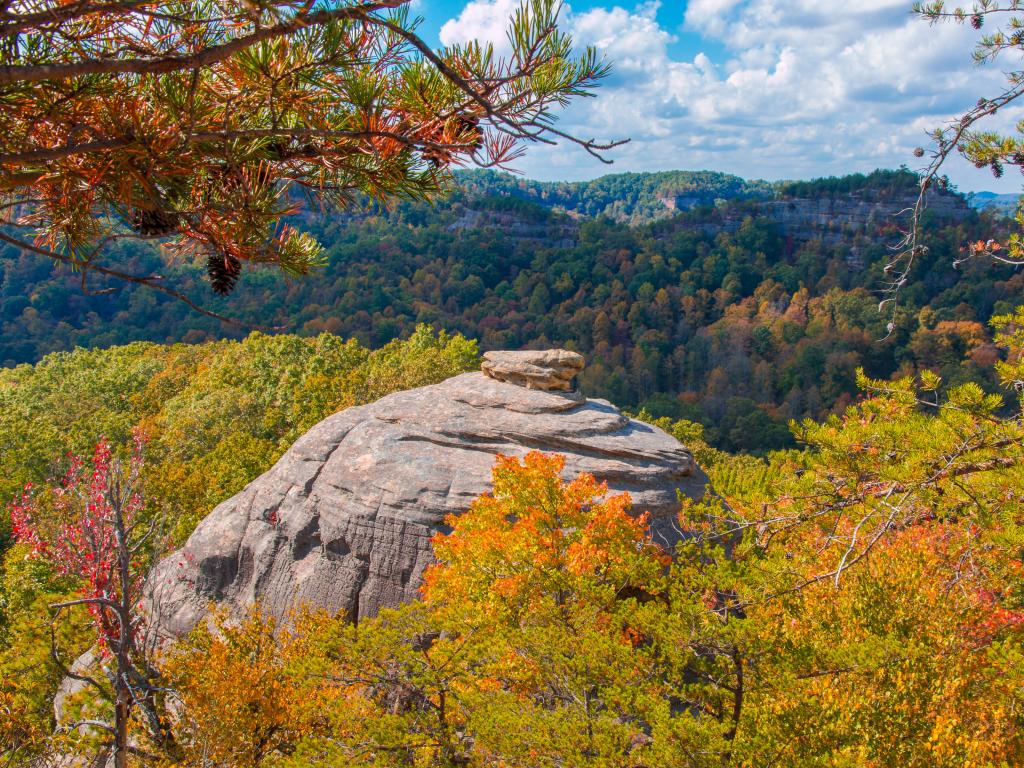 The Red River Gorge is an incredibly scenic part of the Daniel Boone National Forest in eastern Kentucky. Think trees, more trees, sandstone cliffs, hills and rock arches and then add a few more trees - that's roughly what this place looks like.
The Natural Bridge State Park is centered around a unique rock formation which has produced a bridge carved out of the surrounding rock that looks a little like an elevated rail track.
There are over 20 different hikes in the area, some you simply have to do because of their names.
Fat Man's Squeeze leads down from the bridge and, as you might have guessed, it get's a little tight in places. Lover's Leap is also near the bridge and offers a good photo opportunity of the bridge itself.
Some of the hikes can get quite difficult, but lead to the top of some of the cliffs offering amazing views down into the valleys - if you're up for it the rewards are worth it.
If you are a seasoned rock climber or you want to try it out for the first time, this is one of the best places in the country with natural climbing walls all around.
If that sounds like too much hard work, there's always the option of rappelling down the rock or zip lining from the top down into the valley below.
15. Pyramid Hill Sculpture Park & Museum
35 minutes from Cincinnati (30 minutes)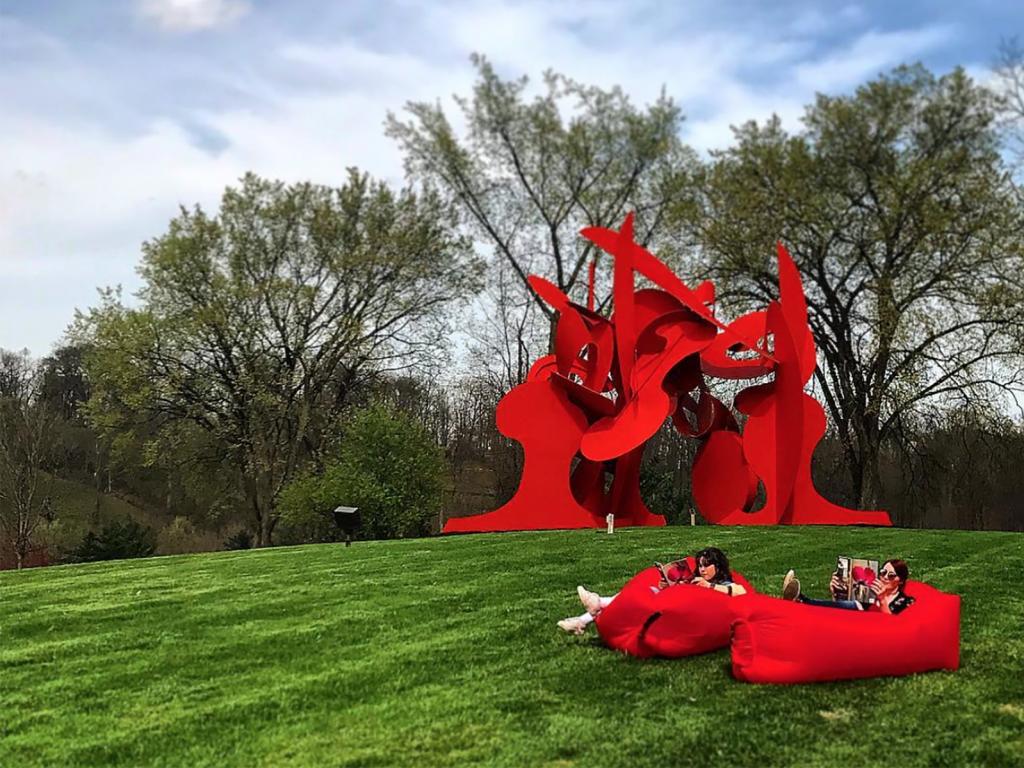 Pyramid Hill is only just over half an hour from downtown Cincinnati and when you get here, you'll be greeted by a landscape of rolling hills with a mix of large modern sculptures.
There are over 80 different sculptures that are spread in-between trees, hills, valleys, lakes and large open fields. The best way to explore the park is on foot but if you feel that the walk may be too long, you can hire one of the golf carts (first-come, first-served).
The sculptures range from large metal installations to carved rocks and the official position is that you are welcome to touch, but not climb on the structures, although there are some where kids are let off.
The museum within the grounds of the Pyramid Hill Sculpture Park continues the line with showcasing art by local and regional artists in their gallery but adds in pieces from ancient Egyptian, Roman, Green and other civilizations.
16. Kings Island Amusement Park, OH
30 minutes from Cincinnati (23 miles)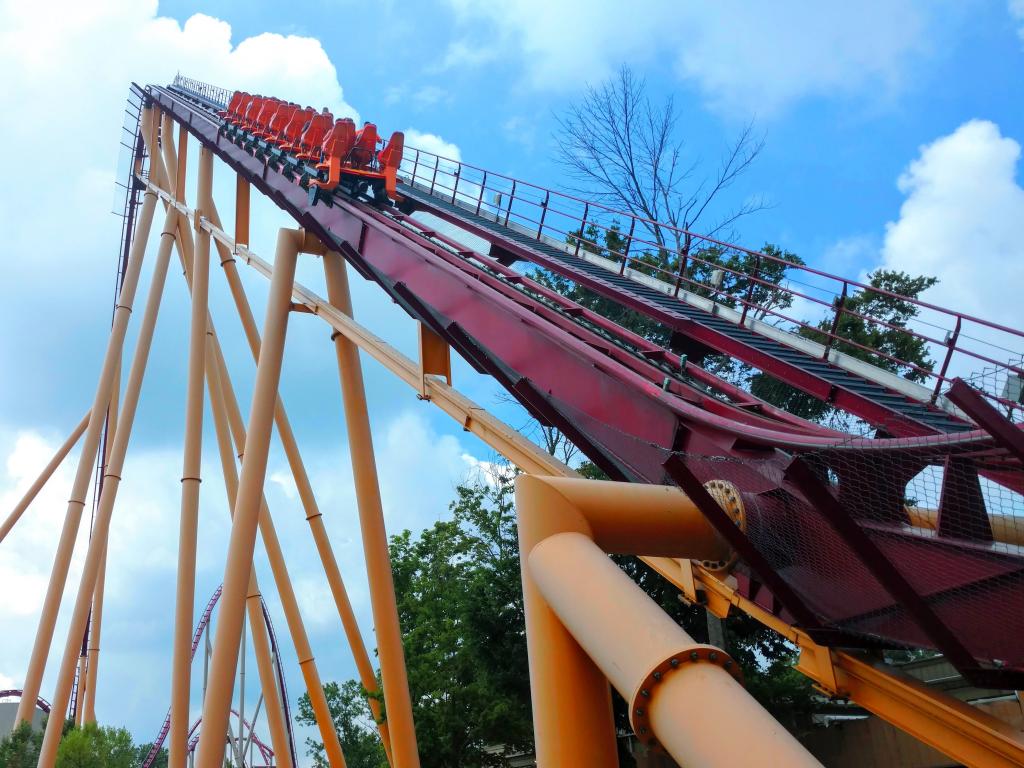 Sometimes a day trip to an amusement park is the best way to spend the day and enjoy time together as a family and for those times, the Kings Island Amusement Park is the perfect remedy.
Located just a short drive out of the city, Kings Island is a classic and very popular theme park that has become particularly known for some of its record-breaking roller coasters.
The Racer is a classic wooden coaster that was built for the park's opening in 1972. The Beast debuted in 1979 as the fastest, longest and tallest wooden roller coaster and the Banshee is the longest inverted roller coaster in the world.
The Orion opening in April 2020 is set to become the park's flagship attraction as one of only 9 giga roller coasters in the world (defined as having a vertical drop of over 300 feet). With speeds reaching an impressive 91 mph, this is the ride you really want to try out in Kings Island.
Don't forget that Kings Island also includes the Soak City Water Park. There's pools and slides that are perfect at the peak of summer so bring your swimming gear with you!
17. Lexington, KY
1 hour 20 minutes from Cincinnati (83 miles)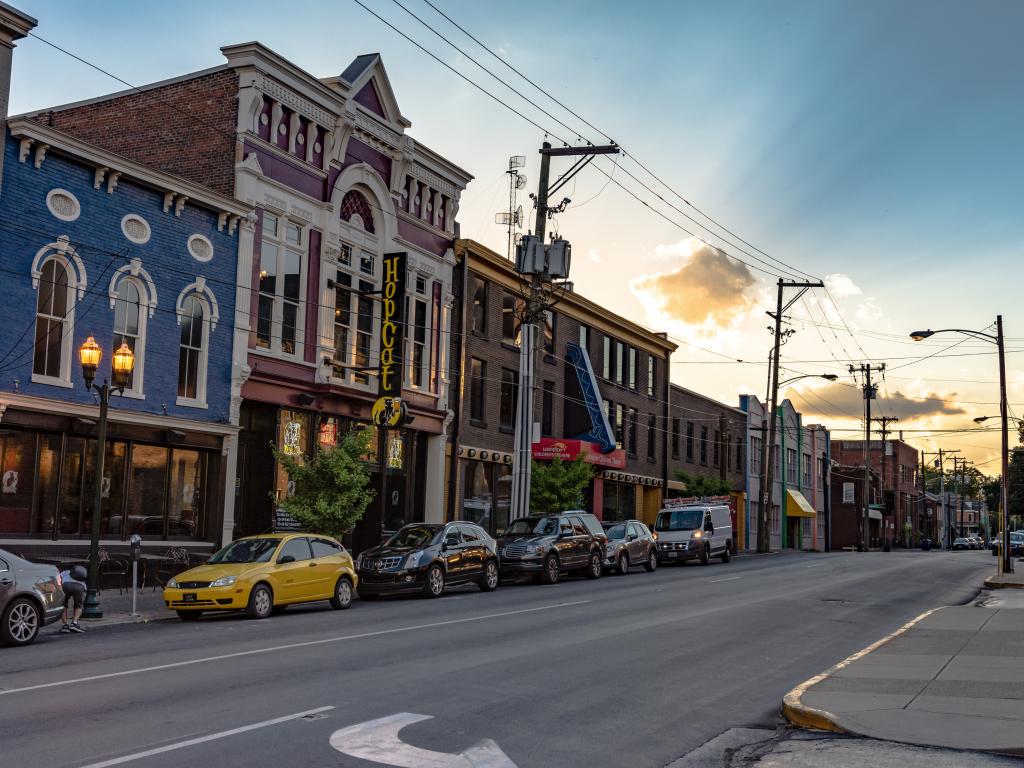 Lexington is often overlooked by those looking for city breaks in favor of nearby Louisville, Indianapolis, Columbus or Nashville. A number of the day trips we've mentioned in this list pass right by Lexington and it's well worth visiting the city whether on the way somewhere or just on its own.
The self-proclaimed Horse Capital of the World, Lexington combines all the Kentucky staples - there's a few distilleries in the city itself, a number of bars where you can listen to live music.
If you want to get more of a feel for the place, come and go to Keeneland on a race day - the Kentucky Derby in Louisville may be the race that everybody has heard of, but the pros will tell you that some of the best racing and up and coming riders can be seen here in Lexington.
If you have time on your hands and want to stretch the day trip into more of a weekend, you can pop into Versailles nearby to see some of the most famous bourbon spots in the world and make stops at Big Bone Lick State Park (#7 above) and Rabbit Hash (#6) on the way down and back up to Cincinnati.
18. Carter Caves State Resort Park, KY
2 hours 15 minutes from Cincinnati (116 miles)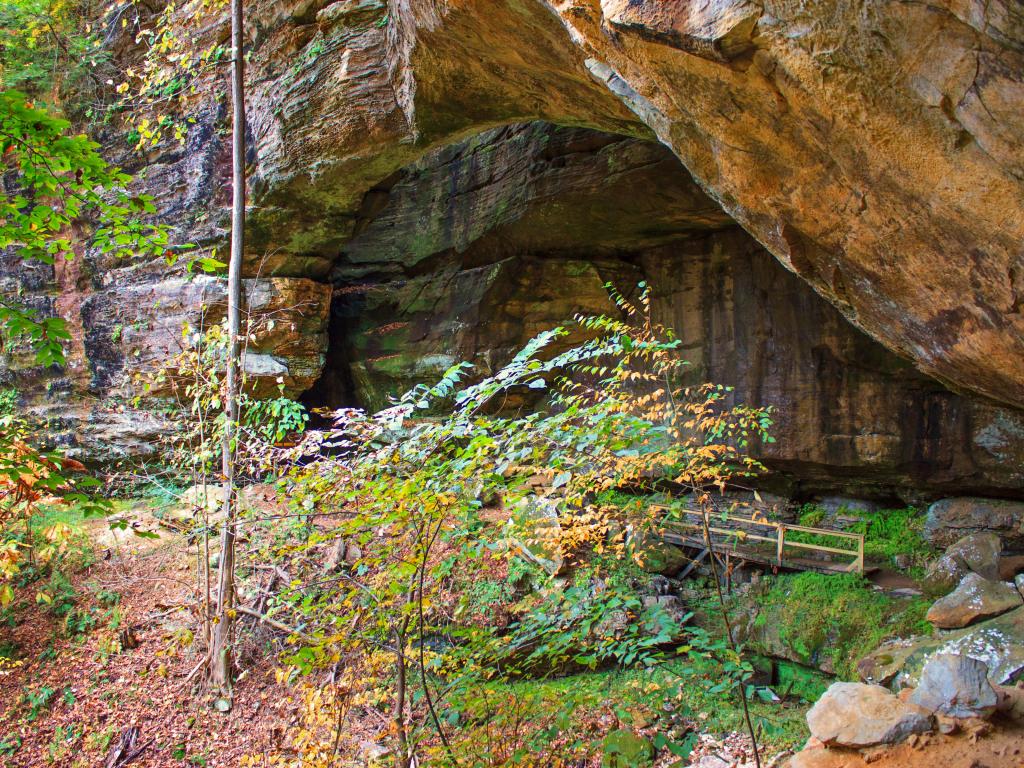 Carter Caves State Park is also located in eastern Kentucky, a couple hours further north than the Red River Gorge we mentioned in #14 above.
Carter Caves has over 20 caves and caverns spread through an area that is covered by forest with creeks, hills and lots of big rocks.
The caves here are not the stalactite and stalagmite type you'd find in places like the Ohio Caverns (#11 above) and more like rocky indentations into the hills where you can shelter from the elements while looking outside.
It's a beautiful place to visit, but you need to love being in a wild forest without amenities or cell signal and you need to be comfortable with hiking - the hikes here can be a little challenging and longer to get to some parts of the park so make sure you're prepared.