Road Trip from Montreal to Gaspé
If you want to experience a journey that will take you through a perfect blend of city life, culture, and nature, then a road trip from Montreal to Gaspé - traversing "La Belle Province" - will be right up your alley.
The 1020km road trip from Montreal to Gaspé takes 11 hours to drive. Key stops include Rimouski, Percé, Quebec, Bas Saint-Laurent and Kamarouska, as well as Bic National Park, Perce Rock, Old Quebec, Gaspesie National Park and Forillon National Park.
There are countless breathtaking spots to discover on this ultimate road trip, so please read on to find out more about them, as well as where to stay and the best time to make this beautiful journey.
How far is Gaspé from Montreal and how long will the road trip take?
The road trip from the busy hub of Montreal to the more laid-back scene of the Gaspé Peninsula spans a distance of 1,020km and stretches alongside the St. Lawrence River.
Following route-132 to Gaspé will take around 11 hours and 30 minutes without stops, meaning you could complete the trip in as little as two days, if you are really stretched for time.
That said, with all the breathtaking seascapes and mountain views rolling by your windows, we recommend stretching the journey into a 4-7 day trip, or even longer depending on how fast or slow you want to go.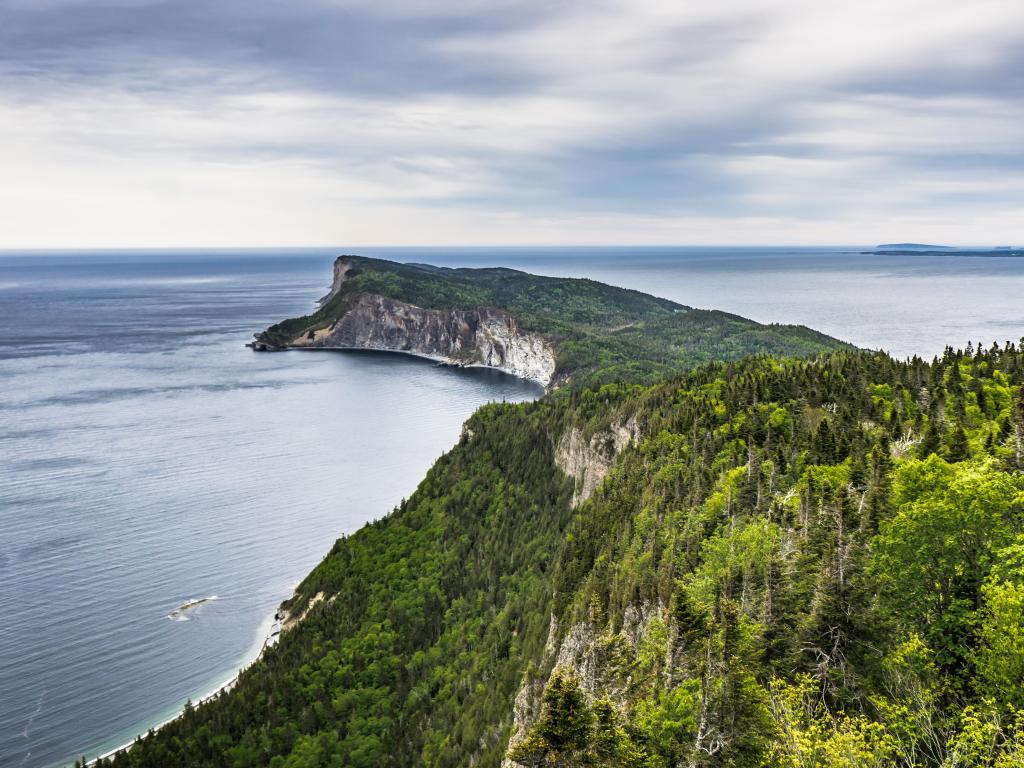 Best road trip route from Montreal to Gaspé
There are several detours you can take on a Montreal to Gaspé road trip, but the ultimate route to sample the best offers of this French-speaking region will take you along Route-132.
Following this road, you'll come across endless opportunities for relaxation or outdoor exploration. Whether you loves camping in the mountains, hiking up trails, kayaking or simply watching wildlife, there's an abundance of options that will certainly get you out of the car.
Although this is both a direct and scenic route, you could always take a detour on your way back to Montreal by crossing the St. Lawrence at Riviere-du-Loop on a ferry. From there, you can visit the city of Quebec as well as the equally enchanting maritime village of Tadousacc.
Road trip route from Montreal to Gaspé
Leave Montreal by hopping on Autoroute 20, heading east towards Drummondville. As you pass Levis, you could take a detour to Quebec City and nearby Laurentides Wildlife Reserve, or continue on A-20 alongside the St Lawrence River.
The route takes you through the hidden gems of the Bas Saint-Laurent before arriving at Trois-Pistoles - a great stop for visiting nearby Lac-Temiscouata National Park.
Follow the river on route 132 as you pass Bic National Park. The nearby town of Rimouski would make a great overnight stop if you wanted to explore more of this area.
Next continue through the photogenic villages to Matane and Sainte-Anne-des-Monts. Take a detour to visit the stunning Gaspesie National Park, before you will reach the end of the Peninsula at Gaspé City, where you will see the iconic Perce Rock looming in the distance.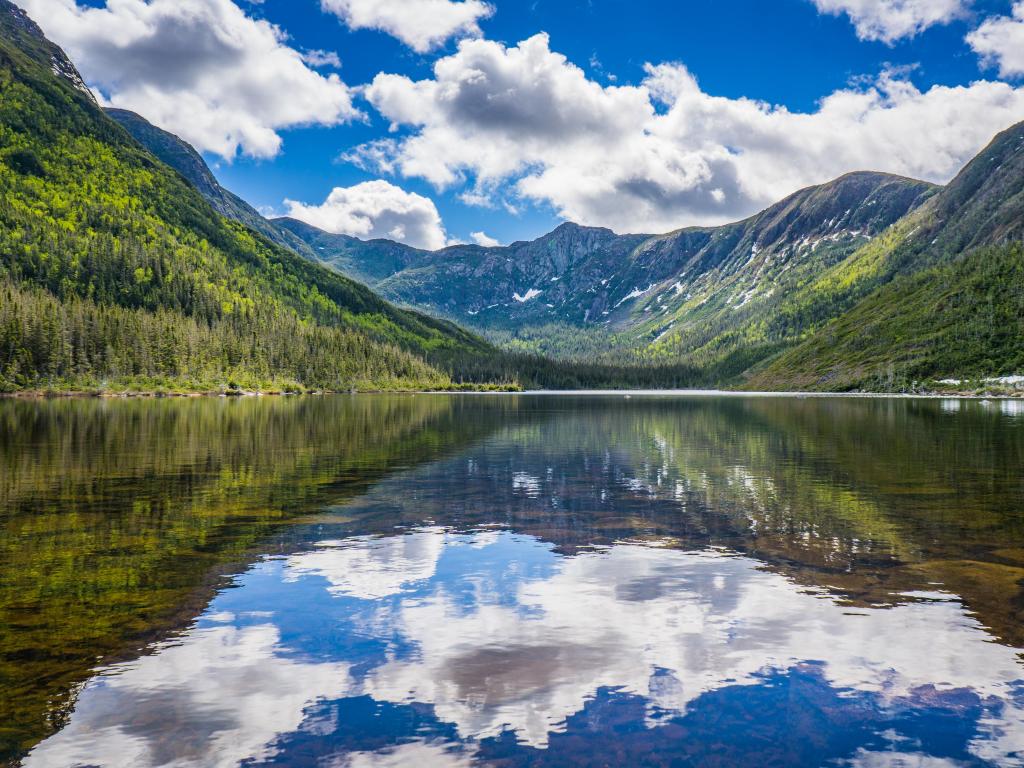 Best places to stop between Montreal and Gaspé
The La Belle province doesn't fall short on fun activities and jaw-dropping sights, so unsurprisingly there are quite a few options for places to stop on the road trip between Montreal and Gaspé.
Of all the great places to stop en route, here's the ones we think you should keep an extra eye out for:
Reconnect with nature at Rimouski
Located 384km from Gaspé, Rimouski is an ideal spot for an overnight stop. This Quebec city is located in the Bas-Saint-Laurent region, at the mouth of the Rimouski River and offers fantastic scenery, as well as an array of historic sites.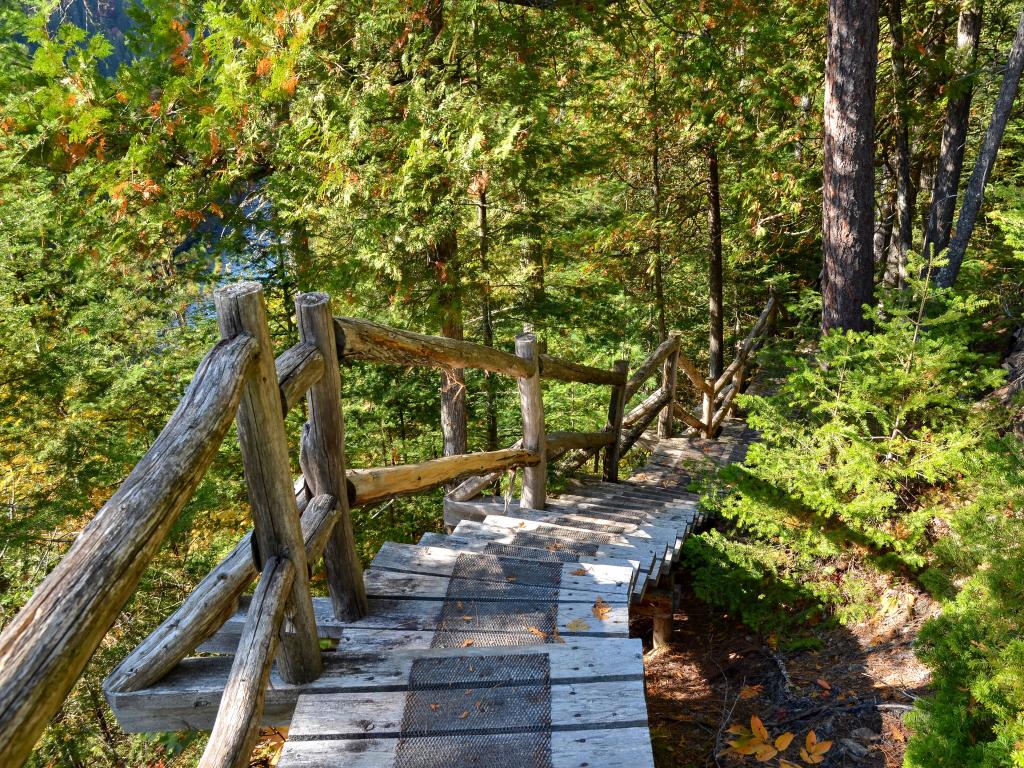 Discover Canada's first submarine, open to the public or explore Rimouski's diverse culture. Alternatively, take a day trip to the nearby Bic National Park which features an assortment of coves, islands, mountains, and wildlife.
To complete your stay, a stop at Hôtel Le Navigateur is a fantastic choice. This modern hotel, conveniently located in Rimouski city centre, offers on-site dining, an indoor hot tub and modern, stylish rooms.
The hotel also offers free parking, fantastic views of the city and the waters of St. Lawrence and a great bar and lounge area. If you come during the summer till early fall, you might even spot grey seals lounging along the shores at the harbor.
Go on an excursion in Percé
If you have an extra day or two, another great option for an overnight stop is in Percé. Less than an hour's drive from Gaspé, this city is situated at the tip of the Peninsula in Quebec and features spectacular scenery.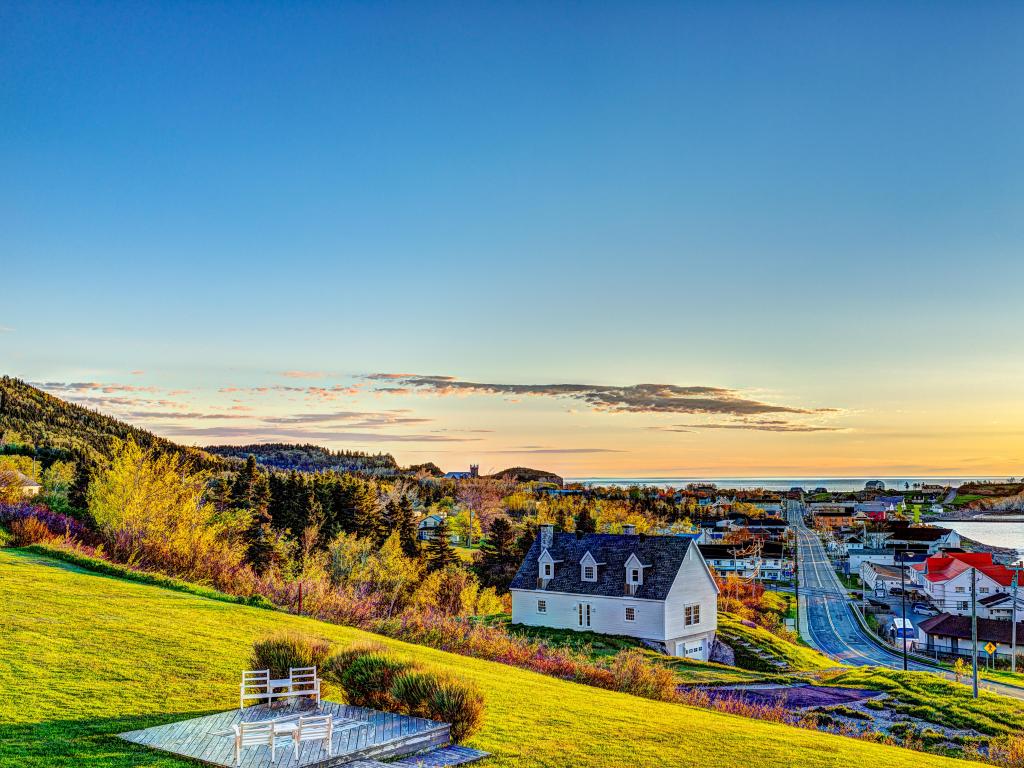 From Percé, you can hop on a boat to get up close to the famous pierced rock, or take a guided tour of Bonaventure Island which is North America's largest bird colony. You can even go whale-watching for a true wildlife experience.
Offering beautiful views of Percé Rock and Bonaventure Island, a stop at the Hôtel le Mirage in Percé is a great option. This country-themed hotel features a seasonal outdoor pool and an onsite restaurant, they can even book your nearby excursions for you.
With free parking, a tennis court and spectacular views of the iconic Percé Rock and the surrounding coast, the Hôtel le Mirage won't disappoint.
Unwind at Old Quebec
Whether you have decided to take the detour on your way to Gaspé or back to Montreal, Old Quebec is a great place to visit. This city sits on the Saint Lawrence River in Canada's mostly French-speaking Québec province and yet is less than three hours from Montreal.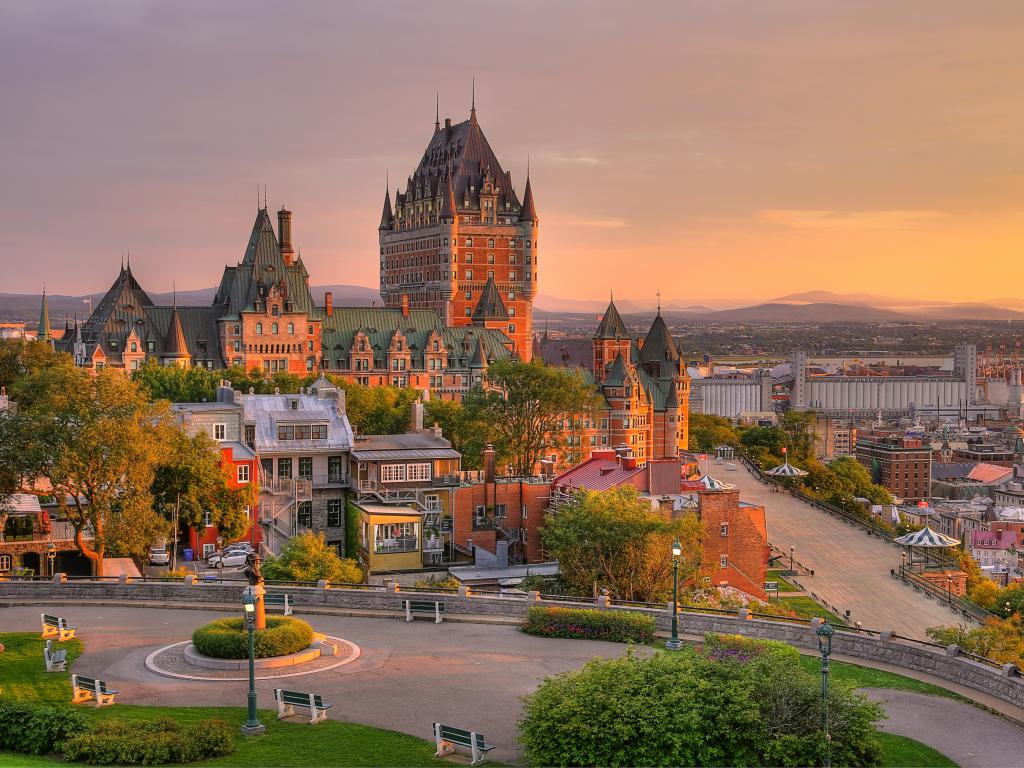 Enjoy wandering through the narrow cobblestone streets of Petit-Champlain to discover quaint little cafes, antique shops, and picturesque architecture, or capture a panoramic view of the city from the top of the Observatoire de la Capitale.
There's no better place to relax than at the Fairmont La Chateau Frontenac, which sits right at the heart of Old Quebec. This stunning 5-star heritage hotel boasts views of the St. Lawrence River and has onsite restaurants offering a variety of dining options, from classic to regional dishes.
The elegant, European-style rooms of Fairmont Le Chateau Frontenac are glamorous and yet modern, while the indoor pool, hot tub and steam rooms guarantee you will relax and unwind.
With a fantastic location (The Notre Dame Cathedral is just a 3-minute walk away) and sensational views from the hotel itself, the Fairmont Le Chateau Frontenac is worth every penny for a truly luxurious and unique stay.
Things to see on a road trip from Montreal to Gaspé
With such a vast distance between Montreal and Gaspé, you will not run out of things to see. The sceneries are varied - from bustling cities, rustic neighborhoods, river and coastal views, mountains to forests.
If you are pressed for time, here are some of the top attractions you won't want to miss: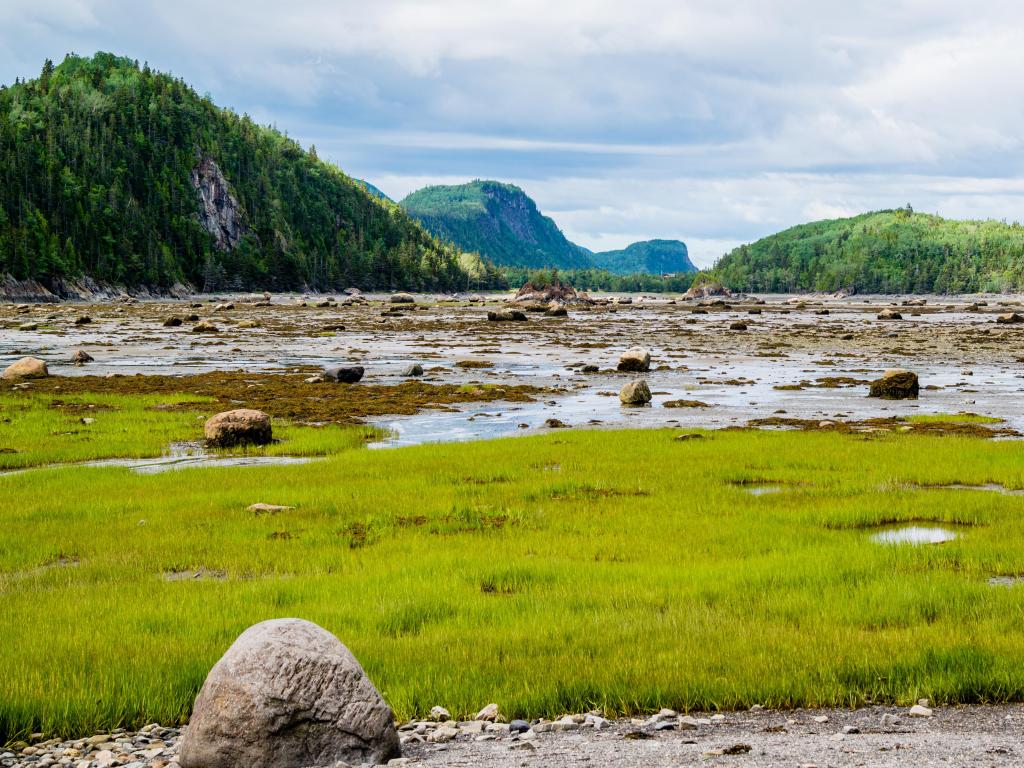 Kamouraska - Although the Bas Saint-Laurent is a picturesque region in itself, Kamarouska simply has the best sunset views in the Quebec province.
Le Sainctuaire St-Majorique, Drummondville - This stunning place features several accessible trails into a natural forest where you can see the local wildlife.
Laurentides Wildlife Reserve - This wildlife reserve in Quebec offers great opportunities to fish, hike or just enjoy the stunning scenery and wildlife.
Pointe-au-Père Maritime Historic Site, Rimouski - Visit the Onondaga submarine, explore the Empress of Ireland Museum and climb the second tallest lighthouse in all of Canada.
Bic National Park - Just a short drive from Rimouski, this vast natural area and year-round recreation spot is great for hiking, kayaking and birdwatching.
Saint- Anne- des- Monts - Explore this little town nestled between the sea and the Chic-Choc mountains, which is home to beautiful natural parks and hiking grounds.
Gaspesie National Park - Explore untamed nature, hike the park's many altitude peaks, go camping or observe diverse wildlife such as moose and the endangered Gaspesie caribous in their natural habitat.
Forillon National Park, Gaspé - Discover the large sanctuary at the Gaspé Peninsula's "land's end" boasting of ancient but well-maintained hiking trails and various outdoor activities, whether you feel like taking a quiet stroll along the lovely Gaspesie beach or diving to discover impressive underwater sceneries.
Cap-des-Rosiers Lighthouse, Gaspé - Find the tallest lighthouse in Canada and a National Historic site.
Percé UNESCO Global Geopark - Featuring geocaching activity, 4-seasons camping sites, and a suspended glass platform to see Percé from above.
Taddousac - Although a bit of a detour, Taddousac is Canada's premier whale-watching destination and is a great town to visit.
Eastern Townships - A big tourist region with quaint old buildings, stunning outdoors and great wine bars.
La Malbaie - Drive through picture-perfect towns and farms set against a backdrop of mountain ranges on the one side, and the St. Lawrence on the other.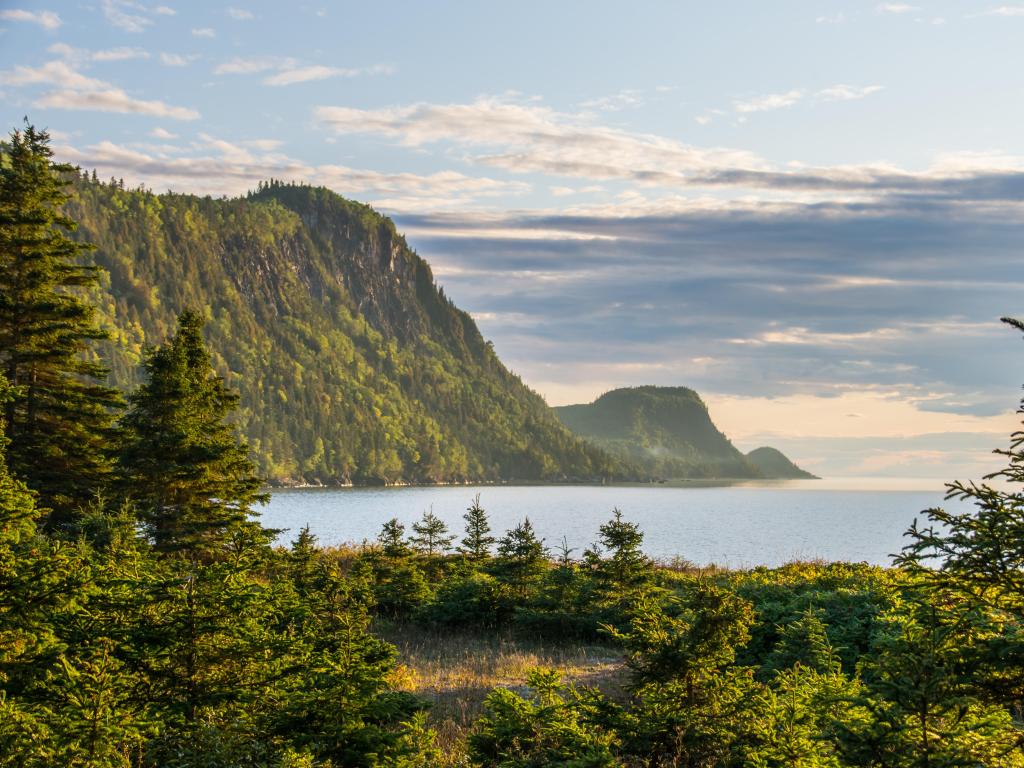 Best time to go on a road trip from Montreal to Gaspé
The route from Montreal to Gaspé offers magnificent sights that transform with the season. With that in mind, the best time to embark on this epic road trip depends on the activities you plan to do.
Generally speaking, the Gaspé Peninsula is humid all year round, resulting in relatively cool temperatures (and windy weather). The warmest months are between June to August, with an average daily high temperature of 63 degrees Fahrenheit.
It's worth noting that Quebec observes the "construction holidays" that last for two weeks during the summer, so try to travel outside these dates to avoid large crowds and heavy traffic in Montreal.
Meanwhile, early August is the peak season in Gaspé, so if you would like to have a relatively pleasant road trip experience, try to travel in early summer.
Outside of the winter months, where temperatures drop below 26 degrees on average, spring or fall are good months to travel. You will escape the heavy crowds and cold months, though of course if you prefer to ski, you'll find December to February ideal.
If you'd like to tie your trip in with seeing an event, the Festival Musique du Bout du Monde is a great choice. This festival fills the streets of Gaspé with magnificent shows featuring sounds from around the world. Held in August for 4 days, this festival will finish your road trip off with a bang!