Road Trip from New York to Quebec City
The epic road trip from New York to Quebec City will take you from one iconic city to another as you journey through history in this fascinating and memorable adventure. You'll discover incredible museums, stunning lakes and mountains and some of the best cities en route.
The 640-mile road trip from New York to Quebec City takes 12 hours to drive. Key stops include Albany, Montreal, Boston, Salem, Hartford and Portland as well as Lake Placid, Whiteface Mountain, Saratoga Springs, Lake George and Minnewaska State Park.
There's a huge amount to explore and see on this trip, from rugged mountains and stunning lakes, to fascinating towns and cities and scenic state parks. To help you get the most of your adventure, we've set out the best routes, our favorite places to stop along the way and the best times of year to make the trip from New York to Quebec City.
How far is Quebec City from New York, and how long will the road trip take?
Comparison of road trip routes between New York and Quebec City

| Route | Distance | Driving Time |
| --- | --- | --- |
| The Coastal Route | 640 miles | 12 hours |
| The Cultural Route | 740 miles | 15 hours 10 minutes |
There are two standout routes you can follow to drive from New York to Quebec City. The most direct of the two follows the coast and spans a distance of 640 miles and will take 12 hours of non-stop driving.
A longer route, taking a more cultural journey, will take you closer to 15 hours and 10 minutes to drive and covers a distance of 740 miles.
Both routes are too long to drive in a single day and are instead best enjoyed between two and six days, depending on your preference. This will give you plenty of opportunities to explore the attractions you'll pass along the way and full immerse yourself in the adventure.
Regardless of which way you decide to travel from New York, the trip will involve you crossing the Canadian border before arriving at Quebec City. Therefore, it's important you check ahead of travelling what documentation you'll need and to ensure you have proof of identity with you.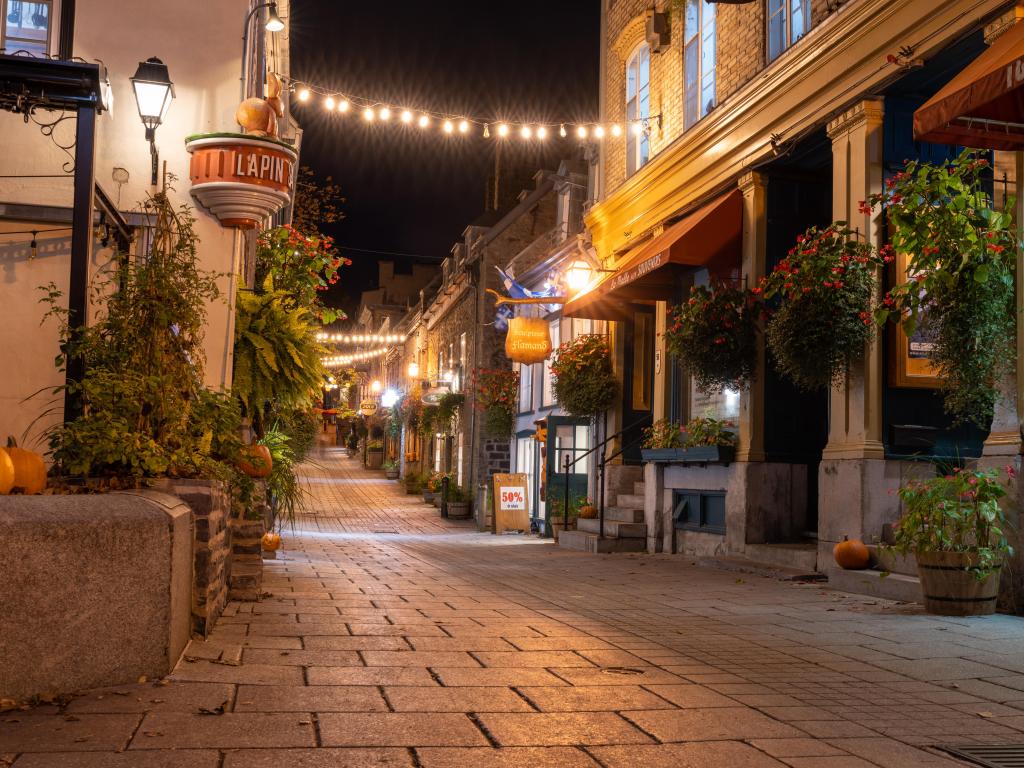 Best road trip route from New York to Quebec City
There's no best road trip from New York to Quebec City, moreover the route you choose will ultimately depend on what kind of attractions you would like to see along the way.
The quicker of the two - our Coastal Route - might be best if you are limited on time because despite it taking several hours less than our alternative option, it takes you along the northeast coast and allows for stops in the popular cities of Salem and Portland.
If you'd prefer to stay inland, our Cultural Route really takes you on a historic adventure. Despite taking you through less cities, this option makes the most of the stunning natural scenery, as well as beautiful parks, lakes and mountains. If you want to escape civilization - this is the trip for you.
Of course, if you have several weeks at your disposal, you could always follow one route to Quebec City and then follow the other back to New York giving you the chance to see all of the possible attractions along the way.
How to drive from New York to Quebec City
The map above shows our suggestions for the best road trip routes between New York and Quebec City. Keep reading for detailed descriptions of both routes, where to stay on either, and the best things to do on the way.
The Coastal Route
Leave New York by taking Interstate 95 north, passing through Stamford, Bridgeport and Hamden before arriving in Hartford, the capital of Connecticut and home to the famous Mark Twain House & Museum.
After a stop, continue on I-84 towards Sturbridge, where you'll take the exit to follow I-90 and continue heading east, just south of Worcester, passing Westborough.
Take exit 134B to Boston, a great city to plan an overnight stop and explore the surrounding area and attractions. When you leave the city you'll be following I-95 north before continuing on MA-128 to Salem, Massachusetts - another super city to explore.
Following I-95 north, the road will follow the coast through several pretty towns, giving you plenty of opportunities to stop along the way.
Keep on I-95 until you reach Old Orchard Beach, where you'll take I-195 and I-295 to the stunning port city of Portland. Spend some time here visiting Cape Elizabeth and the stunning Casco Bay.
You'll briefly join US-1 a short stretch after leaving Portland, before taking I-295 north and then I-95 inland to Waterville. Take exit 130 and follow US-201A past Madison, before taking ME-16 west to Bigelow Preserve, a stunning park in Maine.
Follow ME-27 North at Eustis and follow the road until you reach the Canadian border, whereby the road will become QC-161. Continue heading north by taking QC-204 and QC-269.
You can take an optional detour to visit Frontenac National Park at Beland, or continue north through Canada's pretty towns, changing to Autoroute 73 which you follow to Levis and then onto Quebec City itself.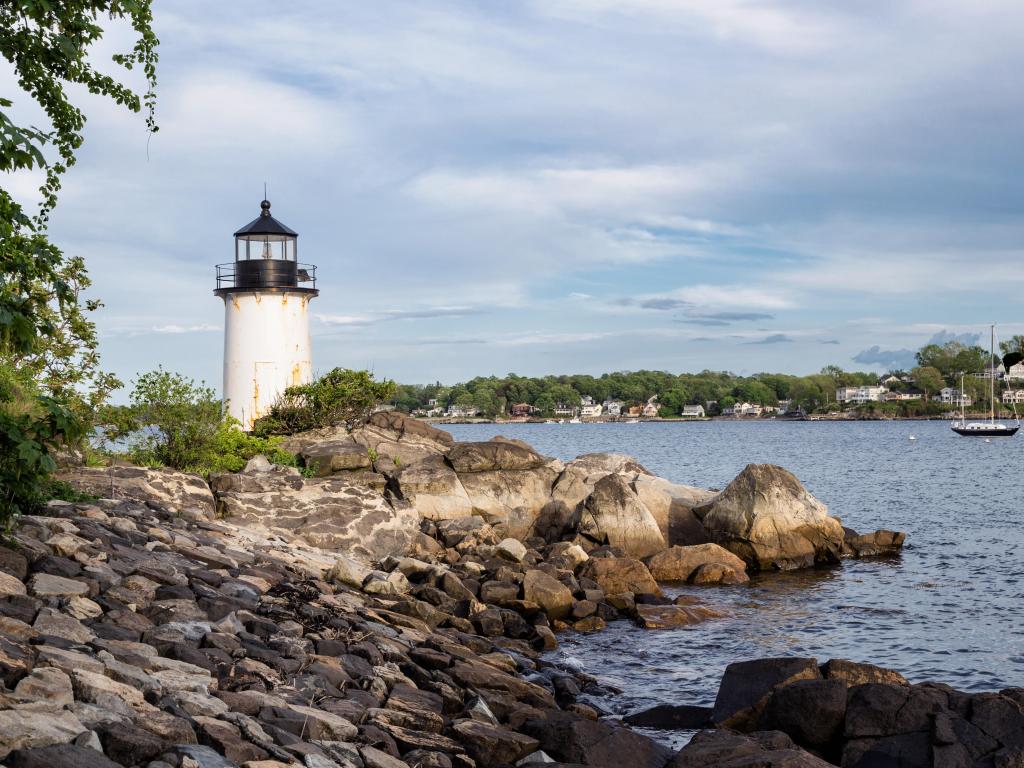 The Cultural Route
The longer route - which is more cultural and historical - will see you leave New York by following Interstate 87 and heading north. Continue until you reach the Walkway Over the Hudson State Historic Park and spend some time western side of the river at Minnewaska State Park Preserve.
Continue to follow I-87 north as you pass by Big Indian Wilderness, another great optional detour, before continuing to Albany, the capital of New York State. A good idea would be to stop here and explore its museums and striking arts center.
When you leave the city, carry on I-87 to Saratoga Springs before changing several times to visit Bennington Battle Monument and Hildene, if you're a history fan. The stretch will take you alongside the Green Mountain National Forests, a stunning place for a hike.
Take the exit to follow NY-22 and then US-9 to Lake George, where you can stop and explore several forests and wilderness areas if time allows it.
Take US-9 north, alongside Pharaoh Lake Wilderness Area and stop at Fort Ticonderoga before continuing north and following NY-73 to Lake Placid. From here, you can explore Whiteface Mountain or Saranac Lake too.
Follow signs for I-87 which you will then follow north as far as Champlain where you will cross into the Canadian border and the road becomes Autoroute 15. Follow this road to Montreal, one final big city stop, before taking Route Transcanadienne all the way to Levis and then Quebec City.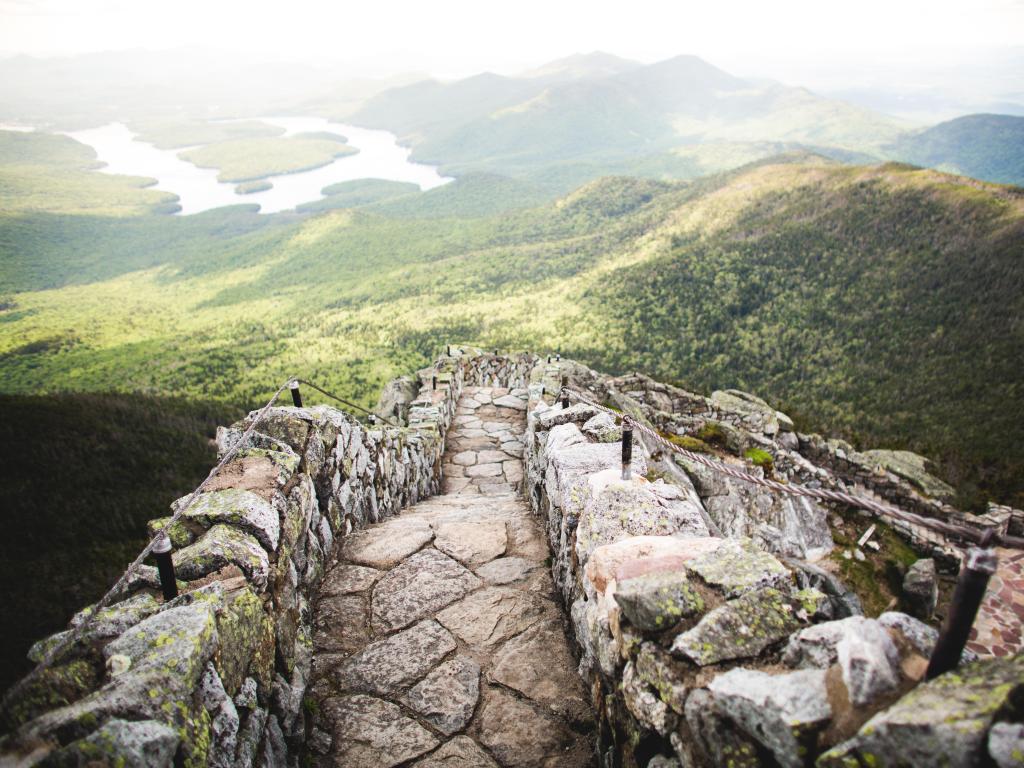 Best places to stop between New York and Quebec City
Given the sheer distance covered on the road trip from New York to Quebec City, you'll definitely want at least a couple of overnight stops along the way.
There's a fantastic choice of big cities and smaller towns you can spend the night, but of all the great hotels you'll pass along the way, these are some of our favorite options:
A lodge retreat at Lake Placid
A little over halfway to Quebec City, Lake Placid makes for an interesting stop if you've decided to follow the Cultural Route. Surrounded by water and mountains, this tourist hotspot will ensure there are plenty of hotel and dining options.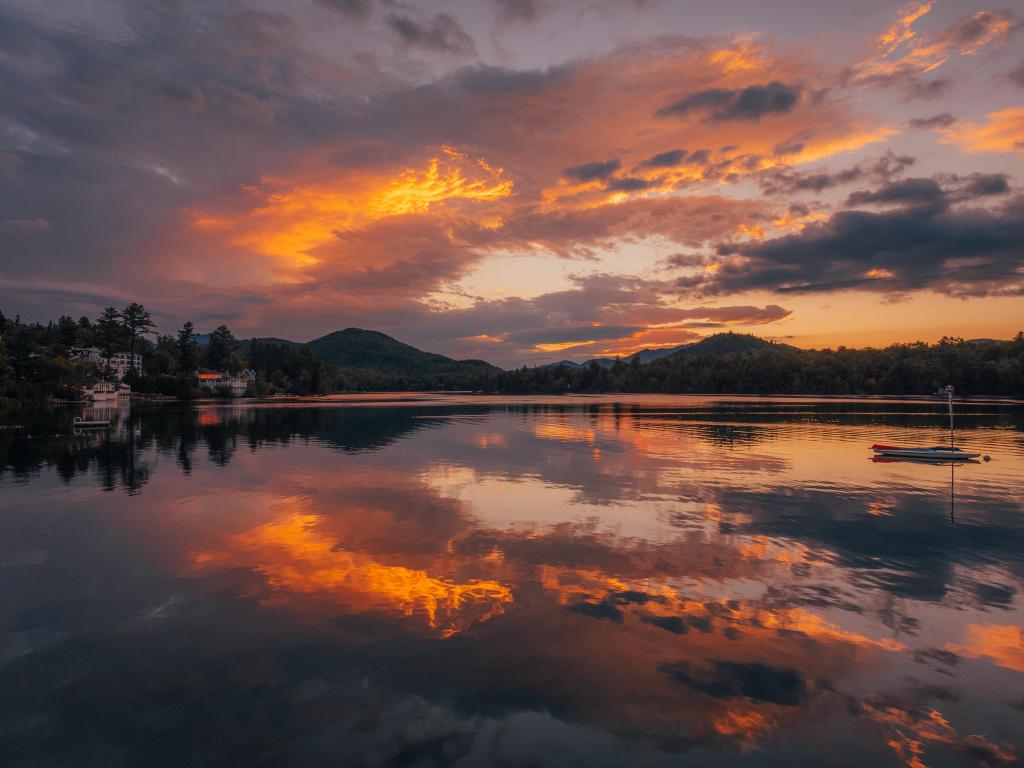 Best known for its Winter Olympics and snow sports, Lake Placid offers fantastic water sports and hiking trails, including Mount Jo where you can follow a trail leading up to a lookout at the summit.
This pretty village, named after the lake it sits beside, also offers a museum packed full of Olympic history, as well as a picture-postcard streets to meander on. It's the stunning natural scenery that surrounds it makes Lake Placid a top destination all year round.
There's a good choice of accommodation in and around Lake Placid, but one of the best is The Whiteface Lodge. This 5-star hotel is located near both Lake Placid and Mirror Lake and has hot tubs, outdoor and indoor pools, an on-site spa, a movie theater plus a seasonal skating rink.
This wooden lodge, with a rustic and stylish interior, really gives you an outdoorsy feel to make the transition from your water sports on Lake Placid that much easier. The free parking is just a bonus at this wonderfully located hotel.
A port city with a difference - Portland, Maine
If you're following the coastal route from New York, a stay near the sea makes the obvious choice. Set a little over halfway to Quebec City, Portland in Maine is a great option for some well-deserved rest.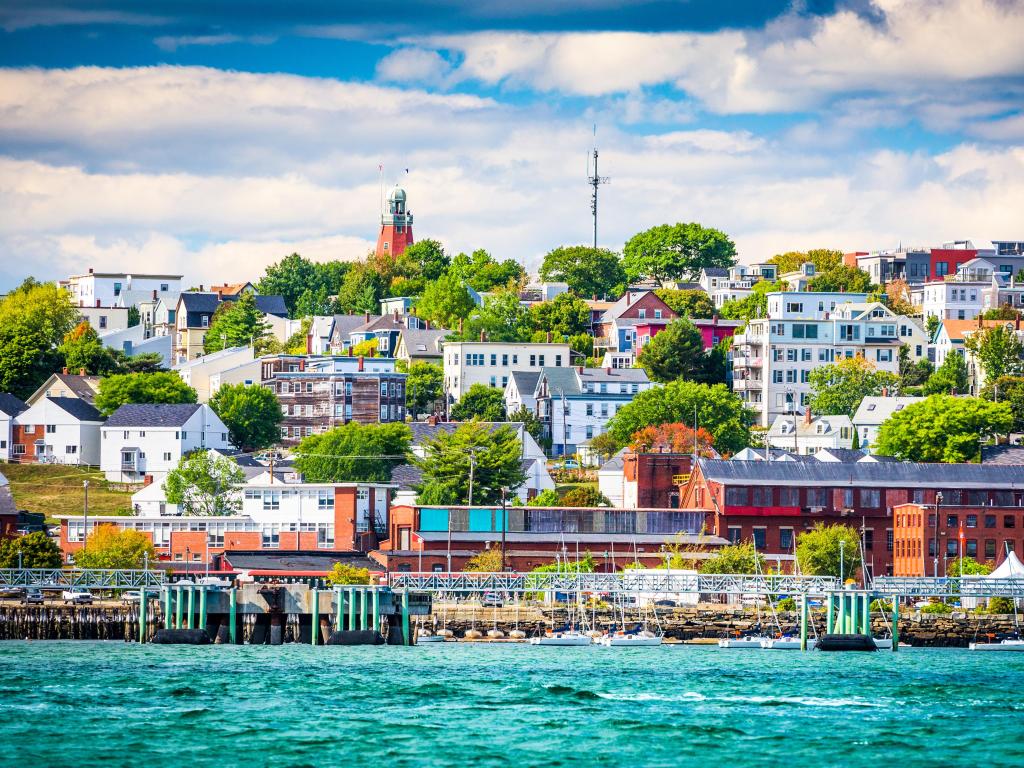 Famous for its fishing and agriculture industry, Portland is a quaint city with its cobblestone streets, red brick buildings, and boutiques galore. It'll feel like you're in Europe without having to cross an ocean.
Be sure to visit the Western Promenade, a stunning walkway sitting on a bluff overlooking the river, with mountain views or its Old Port waterfront which offers trendy restaurants from converted warehouses. There's also the Portland Head Light - a must-see attraction.
Set within an easy walking distance from Portland Downtown Historic District, Wadsworth Longfellow House and Victoria Mansion is The Press Hotel, Autograph Collection.
This 4-star hotel offers updated and modern rooms, a great contrast to the surrounding historical buildings, and incredible city views. Just some of the amenities here include an onsite restaurant, parking and a stylish bar.
A castle retreat in Quebec City
Set on the Saint Lawrence River in Canada's mostly French-speaking Quebec province, Quebec City is a stunning place to explore. As one of the oldest cities in Canada, the place is rich with history, culture and incredible old-world character and charm.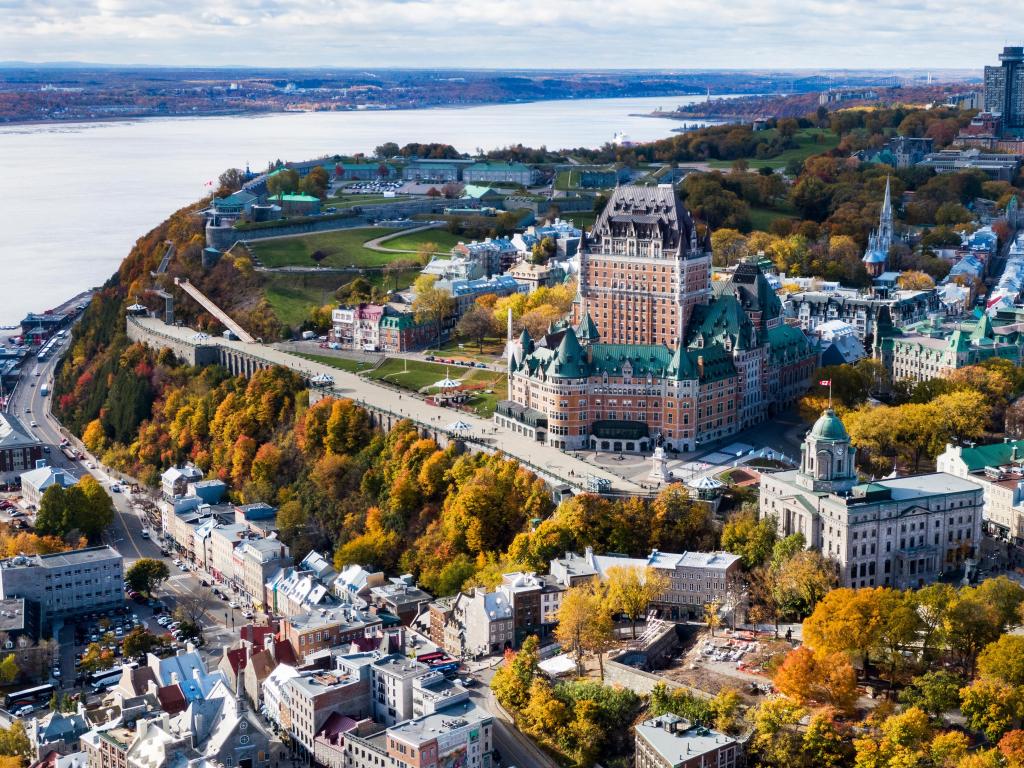 Spend some time visit Montmorency Falls, the Museum of Civilisation, one of the city's great art galleries or marvel at the many shops and restaurants and you'll still only be scratching at the surface of what Quebec City has to offer.
A great base for all that exploring is the stunning Fairmont Le Chateau Frontenac. This world-class hotel sits on a cliff overlooking Lawrence River in Old Quebec.
Looking like something out of a fairytale, especially in the winter, this hotel offers modern, updated and spacious rooms well as access to Spa du Château.
The 5-star hotel is located just steps away from the city center, 500m from the Citadel of Quebec, and a three-minute walk from the Notre Dame Cathedral, meaning that once you check-in here, you may never want to check-out!
Things to see on a road trip from New York to Quebec City
There's so much to see and do on the road trip from New York to Quebec City that you could easily spend several weeks visiting them all along the way.
If you're pressed for time, our top picks will help ensure you make the most of your trip: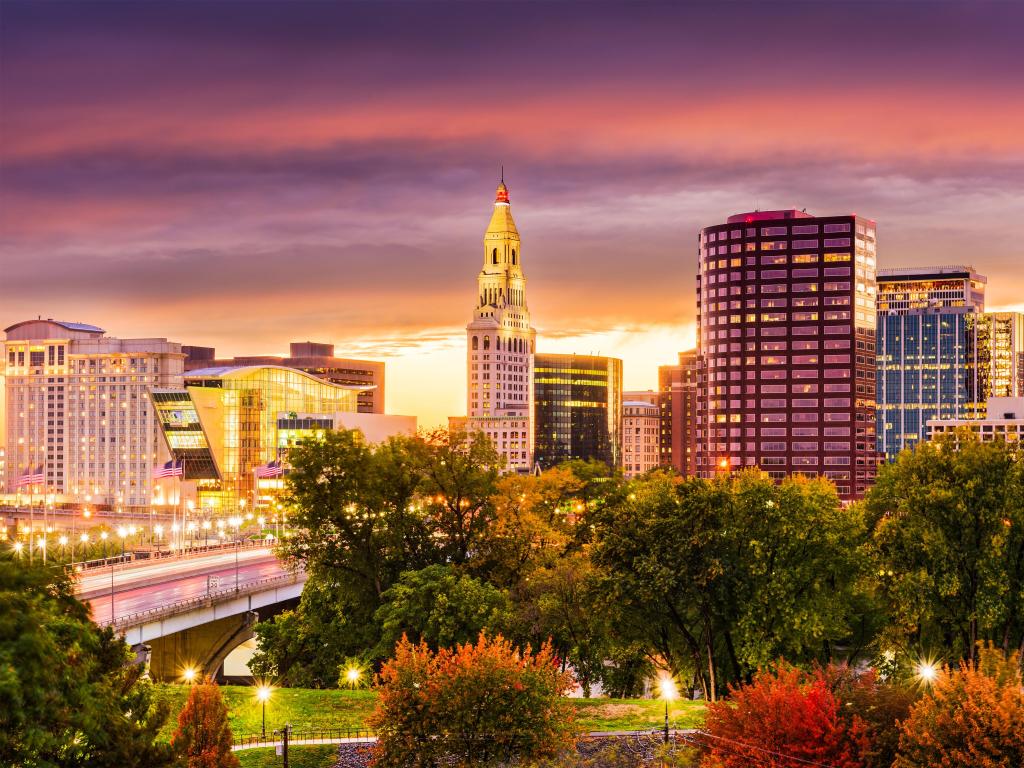 The Coastal Route
Hartford, Connecticut - One of the oldest cities in the US, Connecticut's capital is a bit of a walk through history, with the Mark Twain House & Museum and Harriet Beecher Stowe Center on the list of things to do. It's especially beautiful in the fall!
Boston, Massachusetts - The northeast corner of the US is rich in history and Boston is no different. Catch a game at Fenway Park, walk the iconic 2.5-mile Freedom Trail, or go whale watching in Boston Harbor where the famed Boston Tea Party occurred.
Salem, Massachusetts - Known for the Salem Witch Trials in the 17th century, Salem is considered by many to be haunted. Considering its macabre past, it's easy to see why this is a particularly intriguing destination for spooky tourists.
Portland, Maine - Wander to the Old Port waterfront, take a stroll along the Western Promenade, which sits on a bluff that offers river and mountain views, or visit West End, a district full of Victorian-era homes.
Bigelow Preserve - 36,000-acre state park offering hiking trails and scenic views along a segment of the Appalachian Mountains. With Flagstaff Lake at its base, you're sure to enjoy some quality time with nature.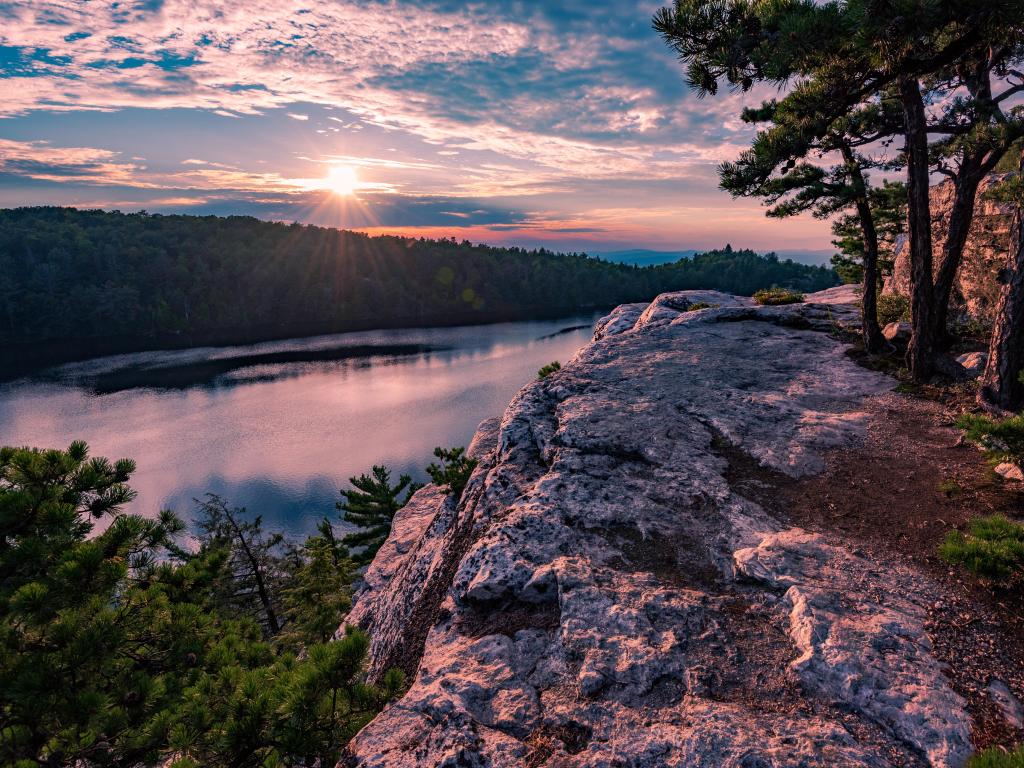 The Cultural Route
Walkway Over the Hudson State Historic Park - Scenic pedestrian bridge over the Hudson River, connecting Highland on the west to Poughkeepsie on the east. This steel bridge has been standing since 1889!
Franklin D. Roosevelt Presidential Library and Museum - The presidential library and former home of 32nd US president, FDR, serves to encourage education about Franklin's and Eleanor's lives.
Minnewaska State Park Preserve - This park features waterfalls, three beautiful lakes, scenic views, and over 50 miles of biking, walking, or hiking trails.
Albany - Capital city of New York State with many things to do and see, such as the New York State Museum, USS Slater, and Washington Park, among others.
Saratoga Springs - Known for its horse racing culture, Saratoga Springs also boasts Saratoga Spa State Park with mineral baths and Saratoga Automobile Museum, exhibiting vintage and race cars.
Bennington Battle Monument - This 306-foot limestone monument stands as a commemorative reminder of the American Revolutionary War.
Hildene, The Lincoln Family Home - The former summer home of Robert Todd Lincoln, Abraham Lincoln's eldest son, stands today to carry on the values of 16th US president, Abraham Lincoln.
Lake George - This small town, named after the lake it sits on, contains the Prospect Mountain Veterans Memorial Highway with gorgeous views over the lake and the Adirondack Mountains.
Fort Ticonderoga - Star-shaped fort built by the French in the 18th century that sits at the south end of Lake Champlain. It was captured in the late 1700s during the American Revolutionary War.
Lake Placid - Another village named after the lake it sits on, Lake Placid is known as a hub for snow sports and as a Winter Olympics venue.
Whiteface Mountain - One of the High Peaks of the Adirondack Mountains, Whiteface Mountain stands at 1,483m high, making it the fifth-highest mountain in New York State.
Montreal - The largest city in Quebec province, Montreal sits on an island in the Saint Lawrence River. Some things to do include the Grand Staircase of Mount Royal, the Notre-Dame Basilica of Montréal, and the Biodome.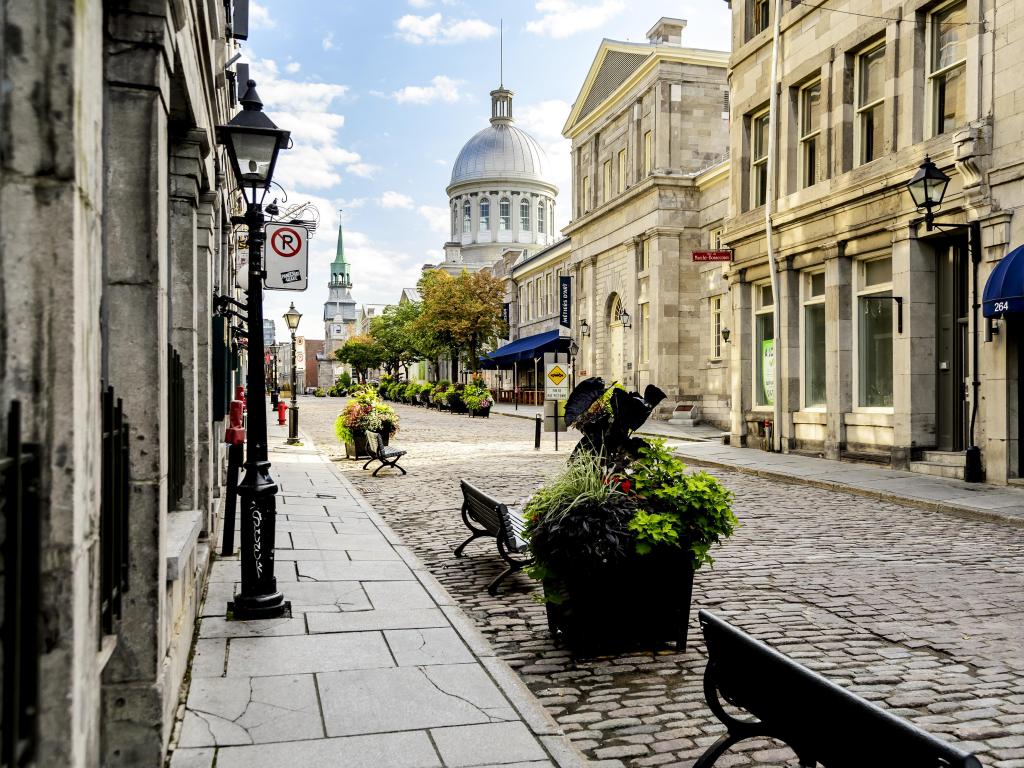 Best time to go on a road trip from New York to Quebec City
The trip from New York to Quebec City is definitely one that can be enjoyed all year round. It will be absolutely baltic in the winter and feel quite nice in the summer; so when you visit really just depends on what you're going for.
November through to March proves to be a period with a lot of snow, so if you're looking for a white Christmas or to spend some time skiing, this is a great season for you.
Although the weather can be particularly harsh and cold during the winter, Quebec City is still a popular destination during this time. The temperatures will be around 20 degrees Fahrenheit and will drop to the teens at night, but there is plenty to do both outdoors and indoors here.
The most popular time to visit is in the summer, when it has the warmest weather. Temperatures will be in the slightly chilly high 60s and low 70s, offering a nice respite from the heat if you're coming from the south. Though be prepared for larger crowds, especially passing the cities.
Quebec City experiences winter weather well into the spring, until it finally starts to dissipate in May, giving way to slightly warmer weather. But if you're after beautiful scenery en route, then fall is one of the most beautiful times of the year to visit.
Discover trees are aglow with gorgeous reds, oranges, and yellows and pleasant temperatures around 50 degrees - making this a perfect season for some outdoor activity.
Finally, if you're looking to plan your trip around a festival or two, you'll be pleased to hear that the Quebec province hosts over 900 festivals annually. Some of the more popular ones include Quebec Winter Festival in February and Festival d'été de Quebec, a music treat held in July.