Road Trip From Boston To Montreal
If you're in the market for a quick but impossibly scenic adventure, look no further than the road trip from Boston to Montreal. Taking you from the crowning jewel of Massachusetts to one of Canada's most iconic cities, this is a journey you won't soon forget.
The 300-mile road trip from Boston to Montreal takes 4 hours 45 minutes to drive. Key stops include Green and White Mountain National Forests, Mount Mansfield State Forest, America's Stonehenge, as well as the cities of Manchester and Lawrence.
Read on until the end for some tips on what to see and where to stop on this incredibly scenic road trip from Boston to Montreal.
How far is Boston from Montreal and how long will the road trip take?
The road trip from Boston to Montreal takes just under 5 hours of driving and covers 300 miles. You can definitely make the drive in a single morning and explore Montreal by lunchtime, but a better move would be to take it easy and explore along the way.
The White Mountains of New Hampshire are particularly filled to bursting with stunning nature trails and one-of-a-kind outdoor adventures you'll need time to enjoy, so consider finding somewhere to spend the night before you get back behind the wheel.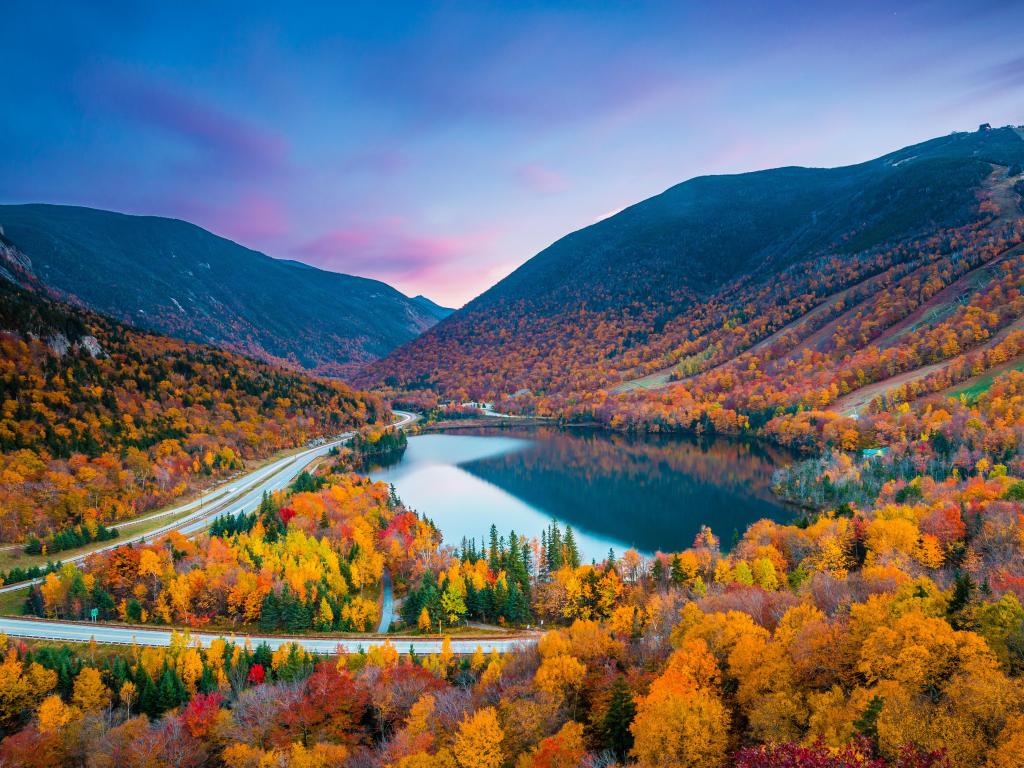 The route features a good number of cities you can catch a breather in - between that and the abundance of forests and landmarks, you'll have plenty of resting stops along the way.
On top of all that, you'll be sticking to major roads for the entire trip, so you can expect little to no congestion in between cities. You can get held up in the more urban parts of the drive, but you can easily plan around that with a traffic monitoring app and some tactical stops.
Best road trip route from Boston to Montreal
Despite being short, the road trip from Boston to Montreal is impossibly scenic. You won't be running out of towns or hiking trails to visit, and you can even hit Burlington before crossing the border – the town sits right on the shore of Lake Champlain.
If you have time and a good map, there's no limit to which detours you can take, just as long as the weather is mild, and the road conditions permit it.
Road trip route from Boston to Montreal
Take Interstate 93 out of Boston, and be sure to stop by Cambridge before driving through Middlesex Fells Reservation and detouring to Salem. Past Harold Parker State Park, stop at Lawrence before crossing over into New Hampshire.
Visit Concord and Manchester, then take a westward detour to Green Mountain National Forest before returning to Interstate 93 and following it to Concord. From here, take Interstate 89 and pass Lake Sunapee, then detour to White Mountain National Forest and Bretton Woods.
Back on the interstate, visit Mount Mansfield State Forest and cross the Canadian border along the Missisquoi River. Once you're there, simply follow Routes 133 and Autoroutes 35 and 10 the rest of the way to Montreal.
Best places to stop between Boston and Montreal
The way to Montreal from Boston is rife with cool historical heritage sites, hiking trails and ski slopes. There's almost too much to do, so If you're looking to break up your trip, here are some great places you can make an overnight stop.
Enjoy the view at Manchester
Despite the relatively short drive, Manchester is definitely one of the places you'll want to unwind in along the way. There are several great hotels here, but if you want the best of the best, DoubleTree By Hilton Manchester Downtown has the best rooms in the area by a landslide.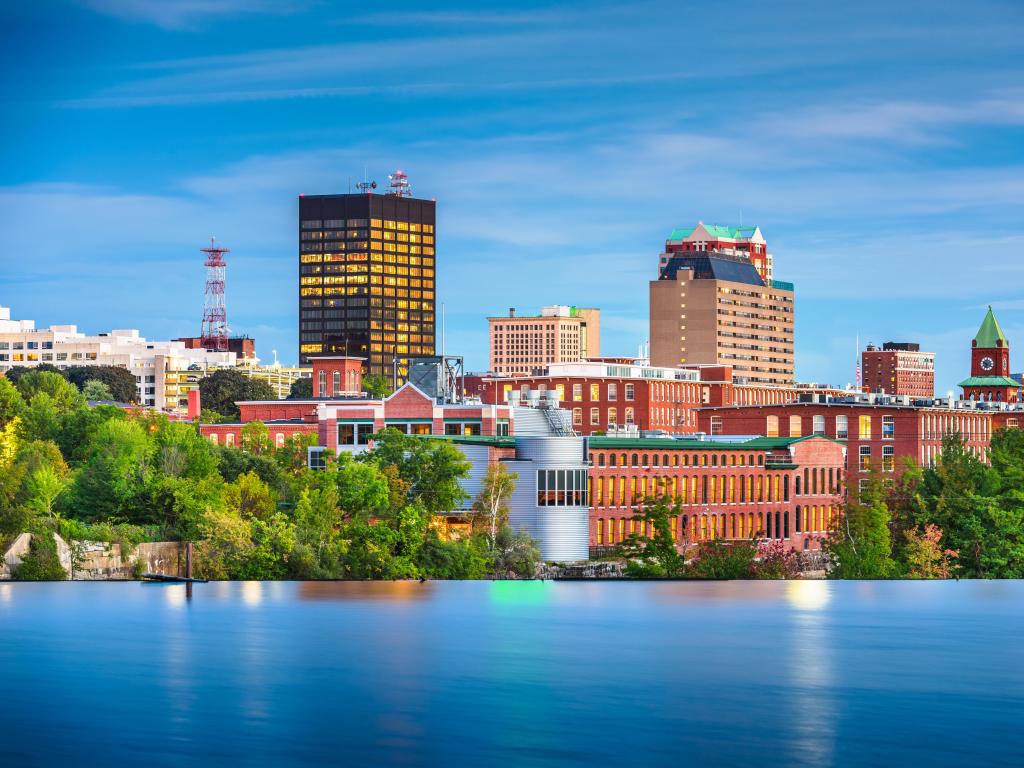 After enjoying a relaxing night's sleep in the incredible suites, you can start off your day in a variety of ways - you could work up a sweat in the amazing fitness area, or even go for a swim in the spectacular swimming pool.
The Daily Brew and The Current Kitchen & Bar are just a couple of the on-site places you'll want to check out. A cup of coffee and a hearty breakfast will perk you right up and prepare you for a nice day out in Manchester.
The hotel is incredibly affordable for just how much it has to offer, and it's close to just about every major attraction the town has to offer. Taken with the amazing amenities and service, this makes it the best hotel in the region by a wide margin.
Go on an outdoor adventure in Montreal
Among other things, Montreal is one of the best cities in Canada when it comes to amazing hotels. In a sea of great options, Hôtel Birks Montréal stands out thanks to its breathtaking interior and endless list of services.
Every inch of this place, from the rooms to the jaw-dropping lobby, is brimming with style and elegance. There's no feeling like looking out of a floor-to-ceiling window or relaxing on a gigantic balcony with a cup of coffee and an incredible view of the city.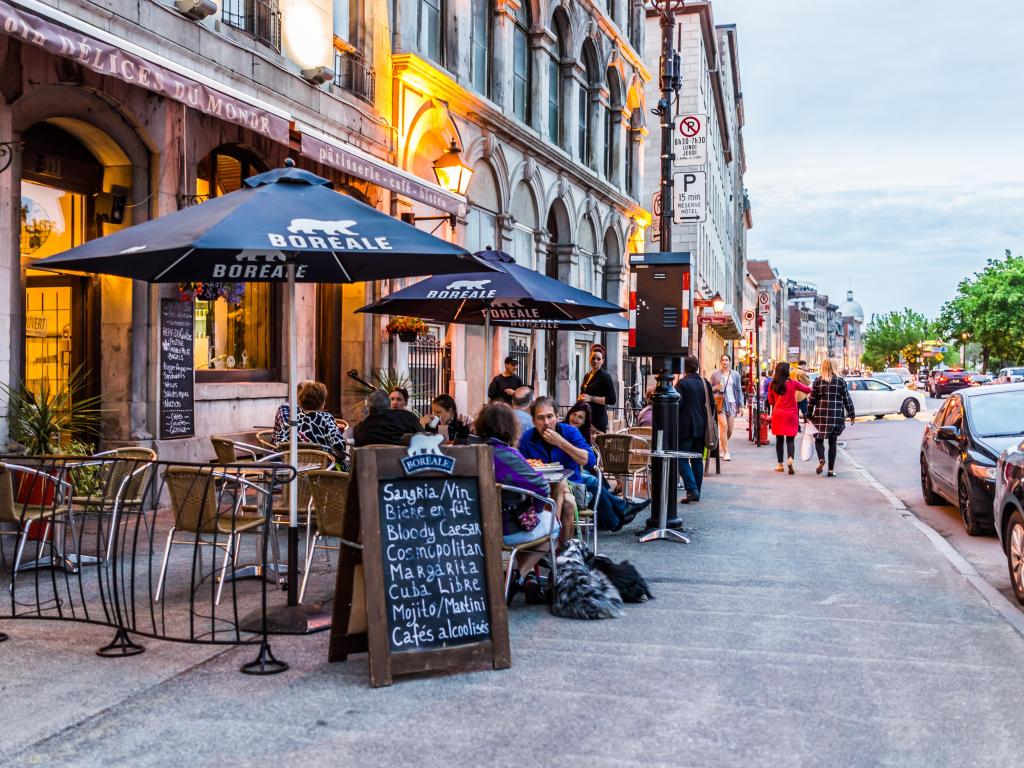 Breakfast will never taste sweeter than it does at Restaurant Henri Brasserie Française, the on-site restaurant that puts any five-star eatery to shame. If you've never tried French cuisine, this is an amazing introduction to Europe's rich culinary world.
If you have some time to kill, Spa Valmont is the perfect place to get rid of the tension in your joints and make your skin silky smooth. If you're looking to energize yourself, you can also hit the amazing fitness area.
Things to see on a road trip from Boston to Montreal
Although it's short, the road trip from Boston to Montreal is full of places to visit and things to do. Whether you feel like breaking out the hiking boots or finding somewhere cozy to settle in, here's a list of places you might find worth the detour:
Cambridge - If you're starting in Boston, you might as well visit Cambridge. It's home to both Harvard and MIT and plenty of cool historical landmarks.
Salem - Go on guided walking tours, attend a costume ball or visit some haunted historical sites.
America's Stonehenge - As the name suggests, this group of rocks is reminiscent of the classic Stonehenge monument.
Portsmouth - This historic seaport is a popular tourist destination, and there are loads of museums and preserved buildings you can visit. You can walk around 17th-century houses at Strawbery Banke Museum, or shop for antiques at downtown Market Square.
Green Mountain National Forest - A beautiful assortment of natural vistas and scenic waterfalls call this forest.
White Mountain National Forest - Spectacular mountain views and one of the most amazing skiing spots in these parts of The States.
North Conway - Take advantage of tax-free New Hampshire and get some shopping done at Settlers Green. If you miss the outdoors, you can visit several spots on the drive down Kancamagus Highway, linger off the beaten path at Diana's Baths' waterfall, or book a ride on the Conway Scenic Railroad. There are also plenty of museums and observatories for the kids.
Bartlett - Ride a snowmobile on a guided tour up and around the White Mountains or visit the local amusement parks and museums (Storyland is popular with the kids). At the sprawling Attitash Mountain Resort, there are ski slopes, go on a zip tour and ride the great Attitash Mountain Coaster.
Bretton Woods - There are plenty of fun hiking trails and tours, but if your feet are tired, you can see the top of Mount Washington on a mountain-climbing Cog Railway train. There's even a fun canopy tour full of ziplines and rope bridges over the trees.
Jefferson - Definitely worth the detour if you're an animal lover- you can book a day tour adventure with adorable rescues at the Muddy Paw Sled Dog Kennel. The excitement doesn't end there- Santa's Village is fun for the kids all year.
Franconia – In the heart of the White Mountains, you can swim at Echo Lake, head up Cannon Mountain on the aerial tramway or spend the day exploring Franconia Notch State Park's hiking trails and Flume Gorge.
Lincoln - The frozen Ice Castles are a must-see in the winter, and you can ride horse-drawn sleighs through the woods.
Magog - Take a relaxing day trip to the eastern townships, spend the day at the Parc de la Poiinte-Merry or walk the trails at Marais De La Rivière Aux Cerises. The view from the peak of Mount Orford is also gorgeous in the fall. You can bike, hike or rent kayaks, and it's not too far from some skiing lodges.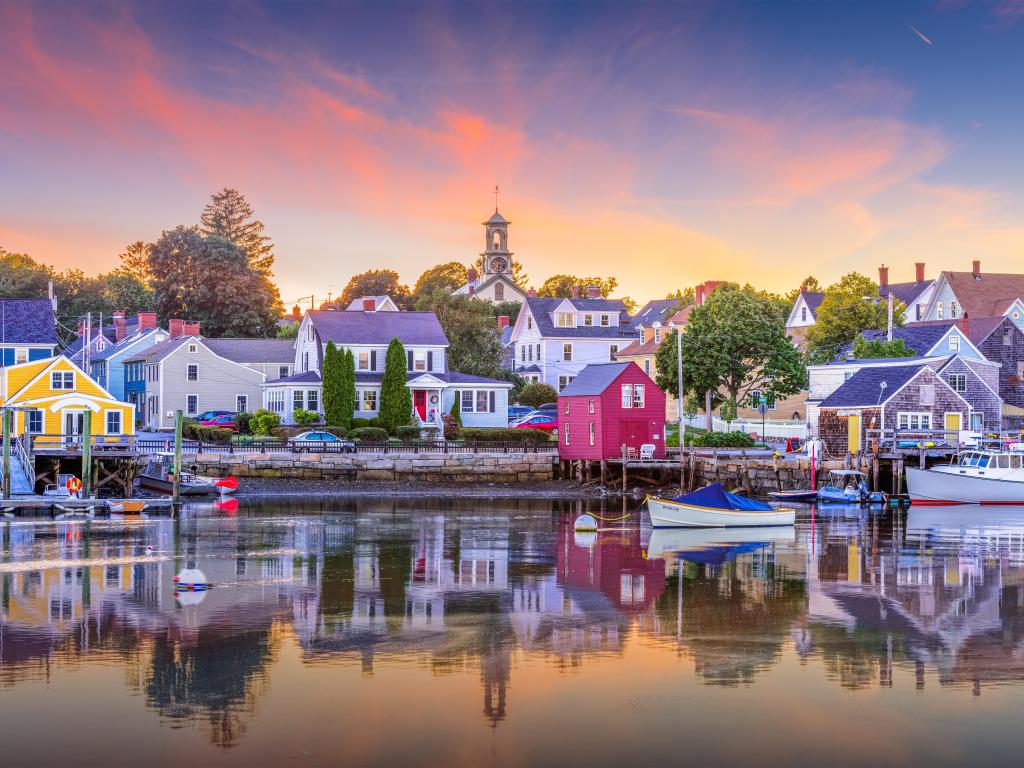 Best time to go on a road trip from Boston to Montreal
There's really no bad time to visit Montreal - it all depends on when you can go and what you'd like to do. Even though peak tourist season is in the summer, there are plenty of fun festivals until fall, and it's a bona fide winter wonderland throughout the holidays.
Just keep in mind that if you'll be driving up from Boston after November, the winter roads might not be for drivers inexperienced with snow. Even though the trip isn't very long, don't overextend if you're not comfortable driving in harsher weather.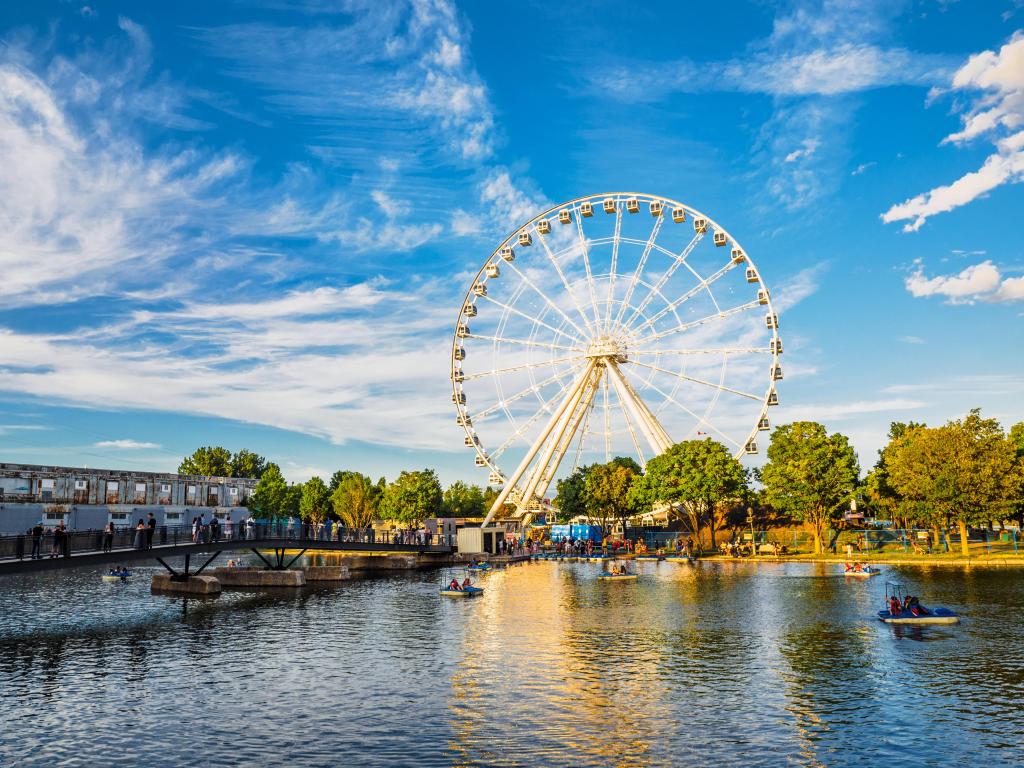 The days are shorter this time of year, so you'll be running on less light, and you'll need snow tires. Also, later into the winter, you can expect an increased likelihood of bad weather and ice storms. Update your maps and plan your trip carefully.
Consider making the trip sometime between September to October for milder weather and better prices. Traveling in the fall is the perfect time to see the colors changing, not to mention the best way to enjoy a hike down the mountainsides.
Make sure to prepare your passport, and if you're renting a car, to check with the company if it's allowed to cross the border. Also, be sure to pack some warmer clothes as Canada is a bit chillier than the northernmost parts of the States.