25 Best Road Trips From Montreal, Quebec
If you live in Montreal or just visiting Quebec's largest city, there are some truly outstanding road trip options in virtually every direction whether you want to explore nature, discover historic towns or hop across the border to the USA.
From National Parks either side of the border to some of the most interesting cities in North America and even vineyards and castles, we've got the ultimate list of road trips from Montreal for you to choose your next adventure.
Starting with the shortest, I've listed these in order of how long it will take you to get there. If you're looking for a road trip that will take you further away and have a week or two to spare, feel free to scroll further down!
1. Cross the border to Adirondack Park, NY
1 hour 35 minutes from Montreal (129 km)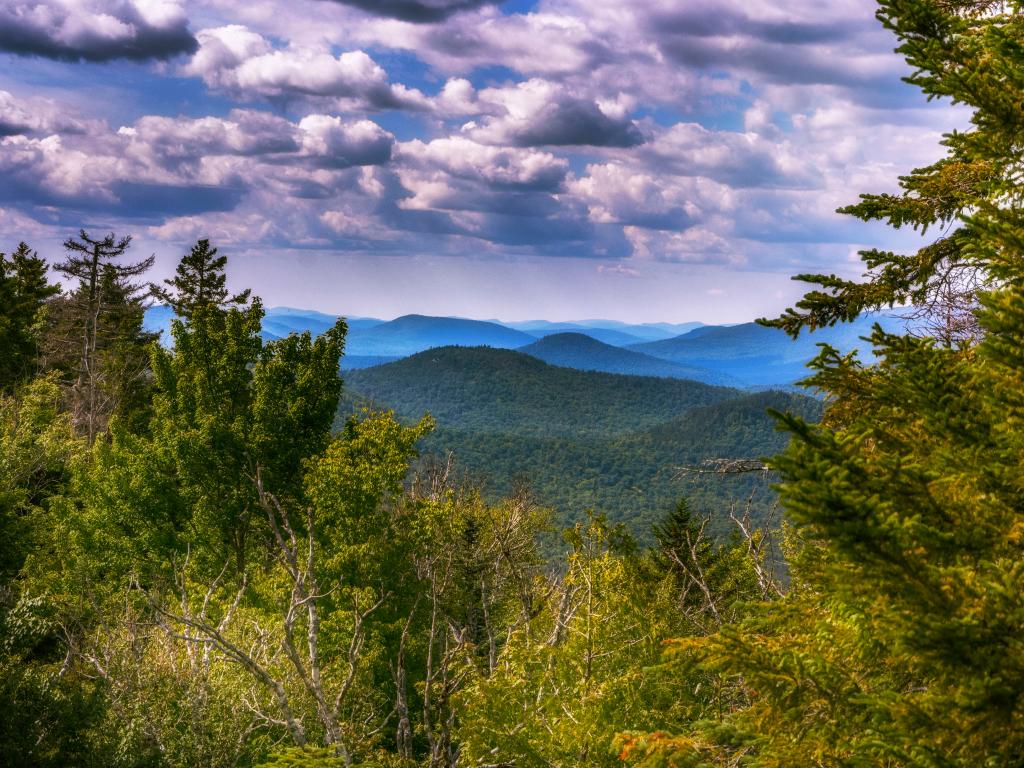 The shortest road trip on our list doesn't mess about and heads straight for the border south of Montreal, crossing into the United States. Adirondack Park is a huge Forest Preserve covering much of the northern part of New York State.
The area is home to the Adirondack Mountains, some 10,000 lakes and endless rivers. The vast area covers 9,375 square miles which start almost as soon as you cross the border from Canada - that's only a fraction smaller than the entire neighbor state of Vermont!
If you love nature, Adirondack offers plenty of ways to explore it - the hiking here is second to none and you can explore the waterways by canoe or kayak.
The weather here can get very cold and harsh in the winters with temperatures dipping below -30 °F (-35 °C) but there's lots of winter sports on offer whether you like Nordic or Alpine skiing. Lake Placid is located within the park and is famous for being one of only 3 cities to have hosted the Winter Olympic Games twice.
To get to Adirondack Park, head south along Autoroute 15 that becomes the I-87 once you cross into the United States. The park hugs the shoreline of Lake Champlain and spreads west and south from there.
If you're looking to really escape civilization, head for the High Peaks Wilderness just south of Lake Placid - the drive down from Montreal is a little over 2 hours and you'll find some beautiful scenery that is a great spot for hiking.
2. A weekend road trip to Montebello
1 hour 35 minutes from Montreal (130 km)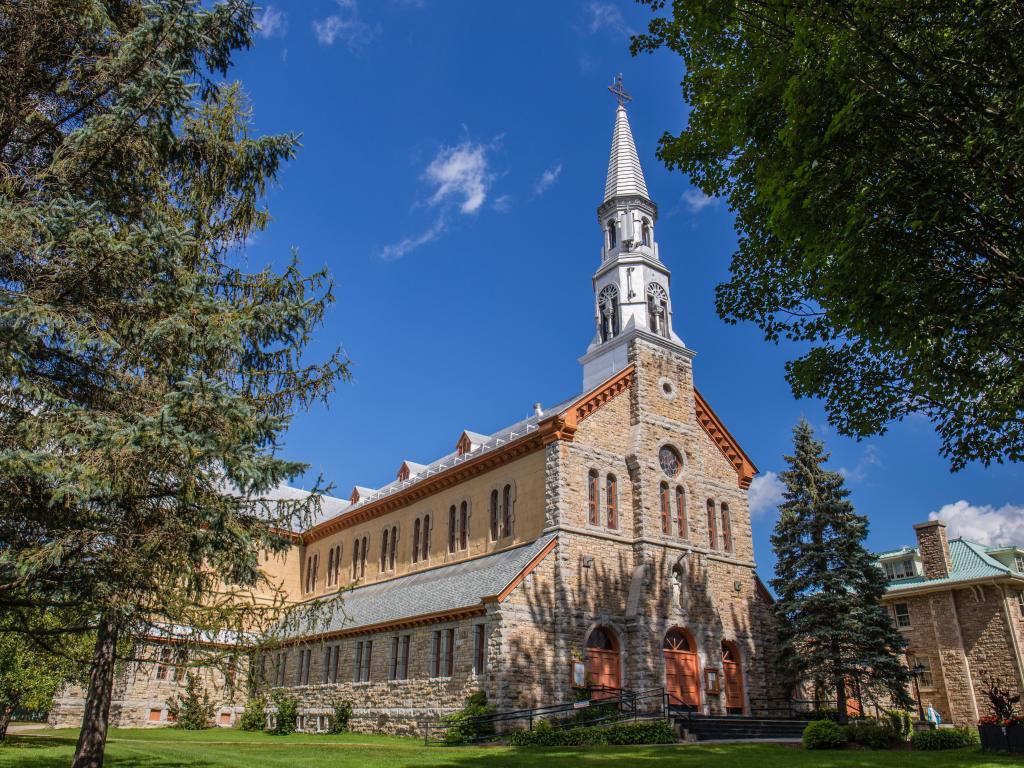 The small but charming town of Montebello sits on the Ottawa River about halfway from Montreal to the Canadian Capital and is surrounded by beautiful forests.
The short road trip from Montreal to Montebello will take about 90 minutes - follow Autoroute 50 west out of Montreal towards Gatineau and look for the turn off after about 30km.
A famous politician called Louis-Joseph Papineau made his home here for several decades as he lived at the Manoir Papineau and the town took on the informal name he gave to his estate.
Along with the historic manor building, Montebello boasts the world's largest log cabin - the Hotel Fairmont Le Chateau Montebello. With a spa and a very decent restaurant, this is a great option to stay a night or two if your wallet allows it!
If you are foodie, you're in major luck. The local Fromagerie Montebello has some amazing cheeses that have won major international awards, there's an artesan chocolate shop called Chocomotion and even a local craft brewery - Les Brasseurs de Montebello.
3. Relax in Burlington, VT and Lake Champlain
1 hour 45 minutes from Montreal (154 km)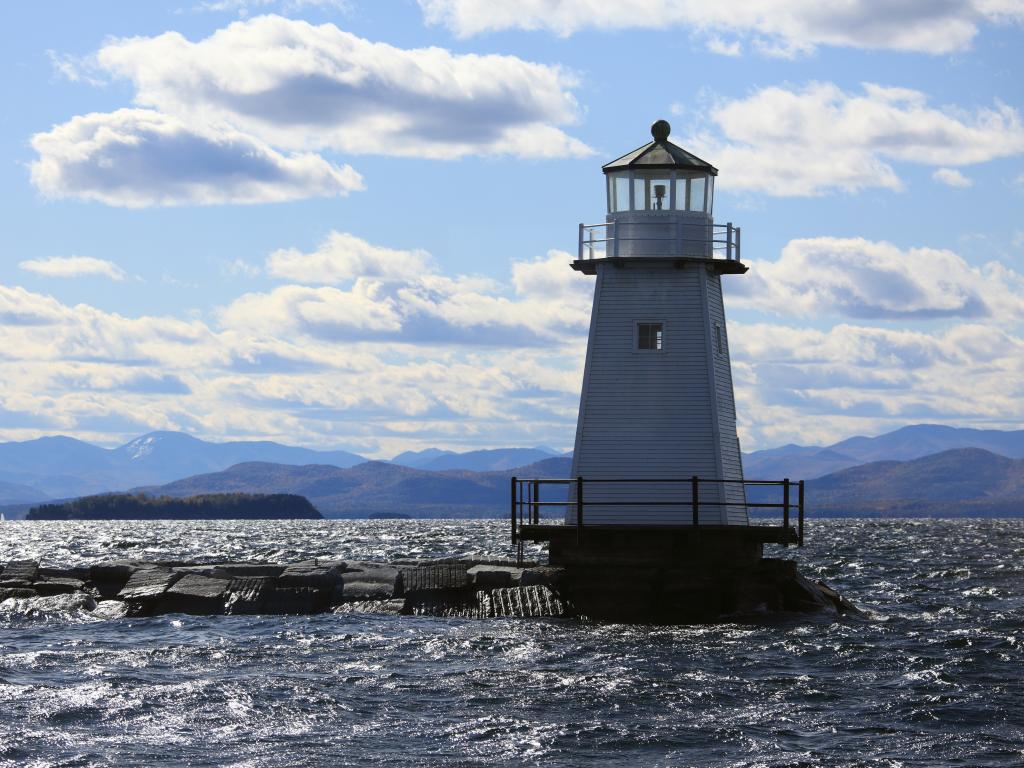 If you're looking for a destination where you can sit and watch the water of a picturesque lake flow for a few days and do absolutely nothing else, then you need to head across the border from Montreal to Vermont.
Lake Champlain is right in the north of the state and splits Vermont from New York State to the west. Burlington is a pretty town that sits on the water and has a historic downtown with cobbled streets and old buildings dating back to the 18th and early 19th centuries.
It might seem like a small sleepy town (which it is!), but Burlington is by far the largest city (we'll use that word sparingly!) in Vermont with a population of 60,000 if you include its neighbour South Burlington.
There's plenty of nature to explore all around if you want to get out and about to break up life in the slow lane and a short drive away you'll find the capital of Vermont - Montpelier.
Going with the theme of not being very densely populated, this is the smallest capital of any U.S. State with a population of under 8,000 but it's great for a stroll day trip out!
4. Walk the border in Stanstead, QC and Derby Line, VT
1 hour 45 minutes from Montreal (161 km)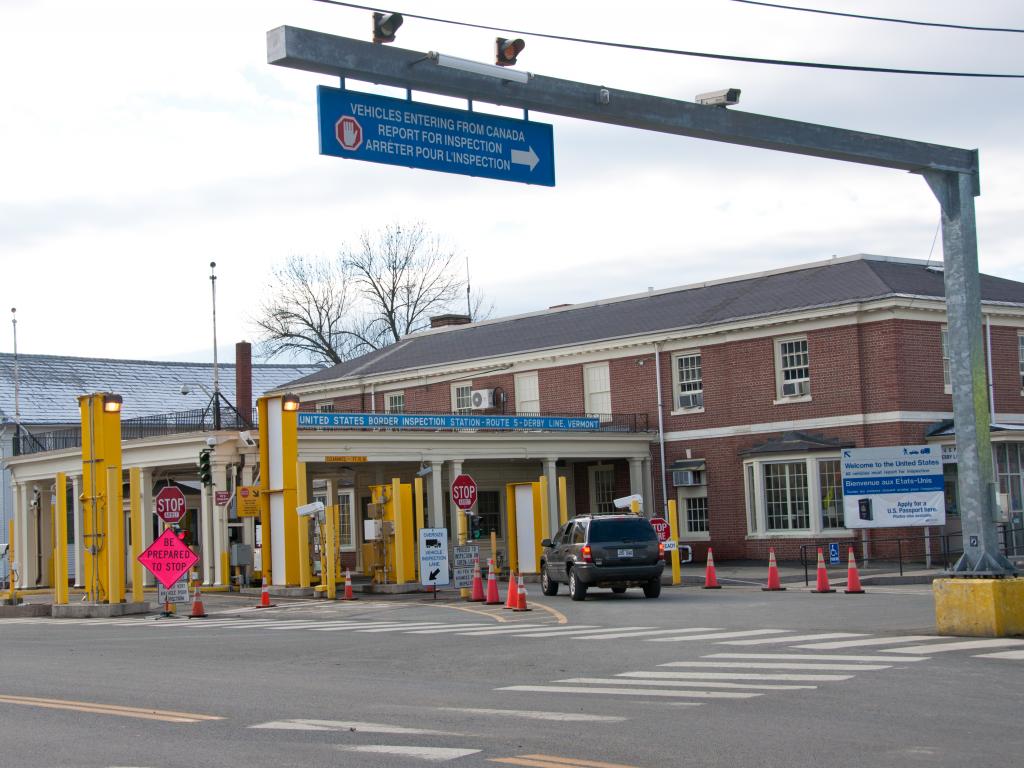 For the most part, the border between the United States and Canada runs far away from any towns - it follows lakes and rivers, goes through wild mountain terrain and areas with very sparse populations between northern Montana, North Dakota, Saskatchewan and Manitoba.
The same cannot be said for the border between Quebec and Vermont that cuts right through the towns of Derby Line (VT) and Stanstead (QC), a short road trip from Montreal headed south.
These two sleepy towns either side of the border are worth visiting just to see the hilarity of this border that not only goes right through the middle of the town, splits streets into a Canadian and a U.S. side, but also splits a lot of the buildings including a computer shop and the local Haskell Library which has separate entrances from either country.
Although it is rather amusing that long stetches of road here have houses in different countries on either side, enforcement of the border has stepped up in recent years so be careful not to accidentally cross over as you could get into actual trouble for illegally crossing.
To check out life on the other side, there are 4 official border crossings where you can get between the two countries - it might take a few minutes as your documents and car will be checked, but it's usually a fairly straight-forward process.
5. Road trip to Mont-Tremblant National Park and the town
1 hour 55 minutes from Montreal (142 km)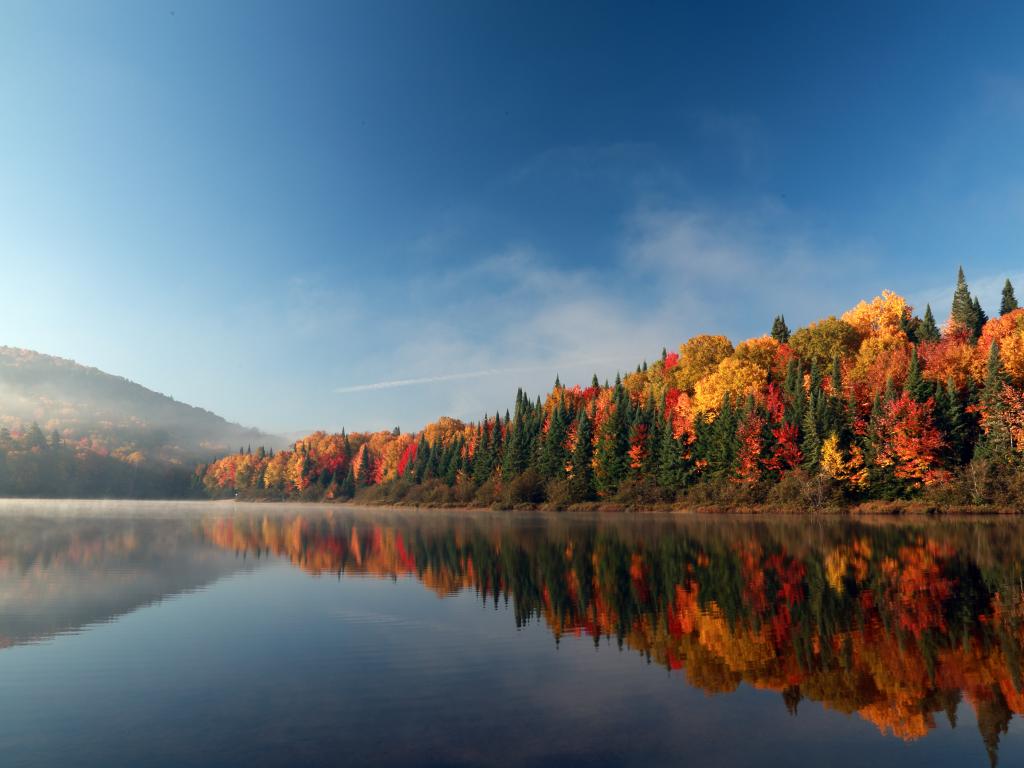 A perfect weekend road trip from Montreal, Mont-Tremblant is about 90 minutes up Autoroute 15 with the National Park a little further north from the town.
The town is a perfect place to spend a night or two - we're talking charming small cobblestone streets, almost European-looking buildings, 2 local craft breweries, a Scandinavian spa, and even cheese fondue at La Savoie restaurant.
In the winter, Mont Tremblant is a popular ski destination. The ski area is relatively small and it can get busy at weekends with Montreal and Ottawa not far away, but if you're only going for a short stay, it can be a perfect place to relax - just remember that it can get mighty cold during the winter.
In the summer, the National Park has some of the best hiking routes in Quebec - the forests and mountains create for a very picturesque landscape. There's waterfall trails, kayaking and lots of different ways to explore local nature.
For those who like a bit more adrenaline, the Via Ferrata Du Diable course will have you crossing rope bridges and scaling rocks 200 metres above the Devil River flowing below.
6. Road trip to Canada's Capital - Ottawa and Gatineau
2 hours 10 minutes from Montreal (198 km)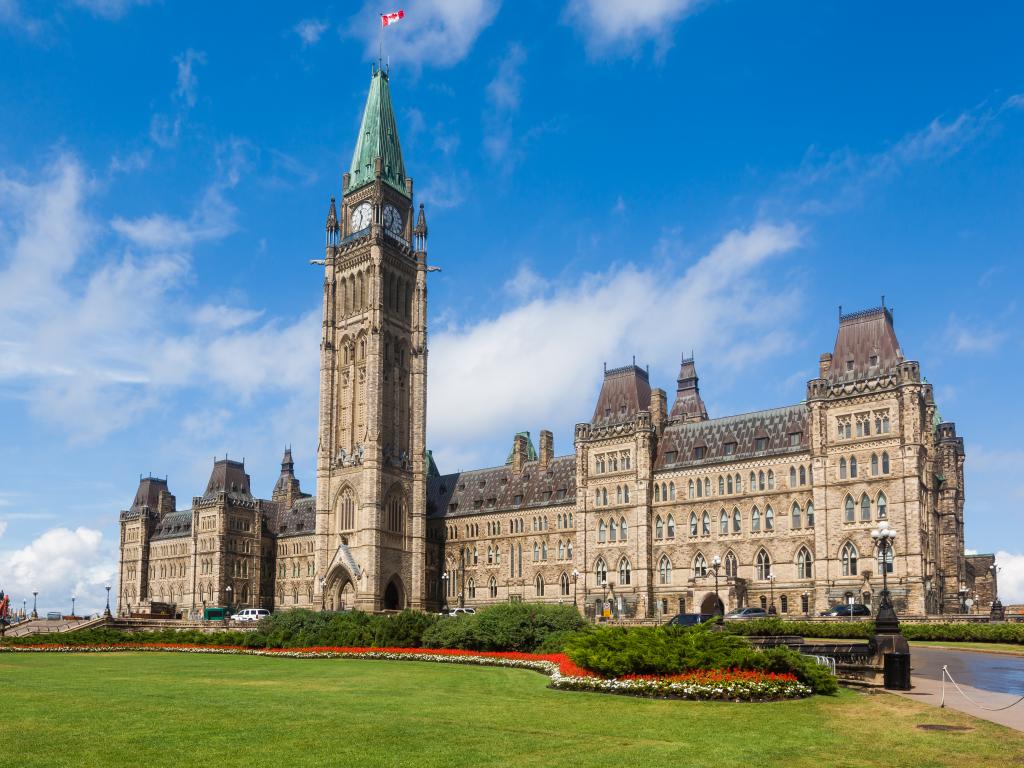 The road trip from Montreal to Ottawa will take a little over 2 hours. You can follow Autoroute 50 along the northern bank of Ottawa River, Highway 17 along the southern bank, Ontario 417 or drive along St Lawrence River to Cornwall and head north from there.
There's little difference between the routes in terms of time so you might as well go and come back via different routes with French signs on the way and English ones on the way back.
Ottawa is Canada's capital and the seat of the country's parliament and this is the best place to start your trip around town.
The Centre Block building on Parliament Hill looks very European as does a lot of Ottawa. Not only can you go inside, but there's free tours that will tell you all about the building's history.
Then walk along the Rideau Canal or see it by boat in the summer, pop into the ByWard Market and explore the many museums and art galleries in the city.
Gatineau is just across the river in Quebec and is well worth a visit too. It feels more like a neighborhood of Ottawa than a completely separate city.
Gatineau Park and the Canadian Museum of History should both be on your agenda - the latter is the most visited museum in Canada and has stunning exhibitions as well as an IMAX theatre.
7. Go skiing in Stowe, Vermont
2 hours 25 minutes from Montreal (207 km)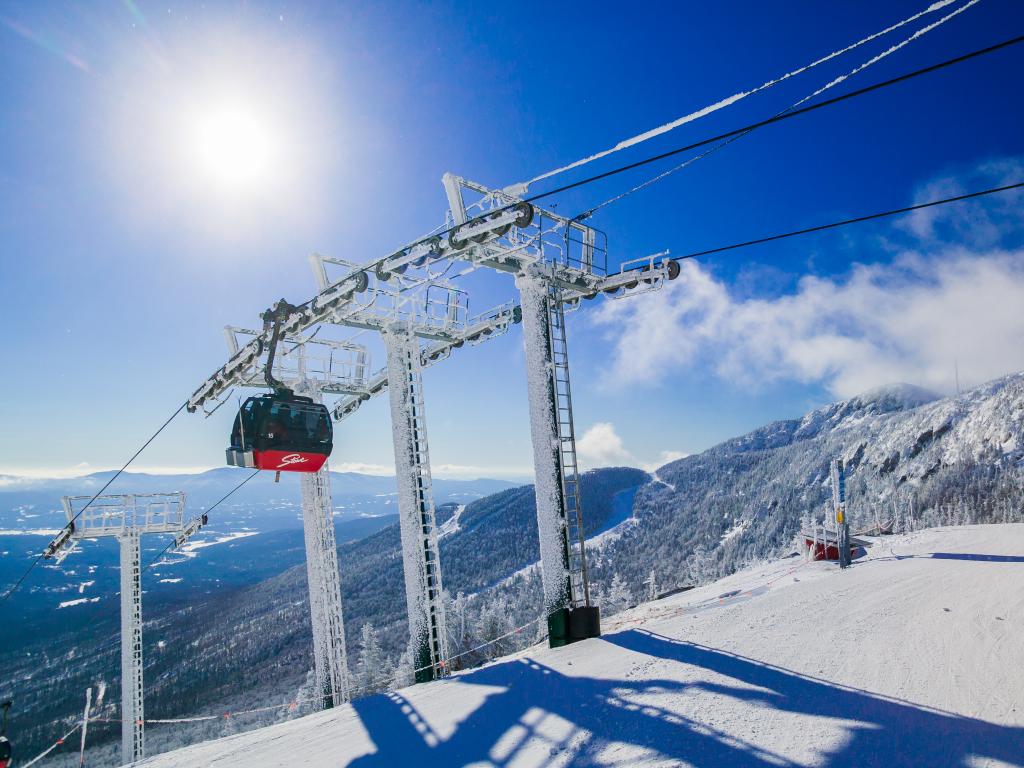 Stowe is a massively popular ski resort in Vermont, located about 45 minutes from Burlington (see #3 above) and half an hour from Montpelier, the state's capital.
Yes, this is another one of the many road trips from Montreal across the border to the United States, but it's worth it!
The fastest and easiest route to Stowe is to cross into the United States at the Highgate Springs–St. Armand/Philipsburg Border Crossing and to follow the route south to Burlington. From there I-89 will take you further into Vermont and you'll see signs for Stowe when you reach Waterbury.
Although Stowe is in the United States, Montreal is the closest big city to the resort. With other ski destinations closer to Boston and New York, this means that Stowe doesn't get as busy as places like Killington.
It's not a big resort - there's only 12 lifts going up the mountain, although these are predominantly big chairlifts and there is a fast gondola going up to Cliff House.
If you want to do more skiing, the smaller Smugglers Notch ski area is only 15 minutes' drive away.
Off the slopes, the town of Stowe is full of charm and history - the buildings clad in timber are home to local shops and restaurants and the hotels are generally very good, if a little on the pricey side.
8. Explore the Thousand Islands National Park and Boldt castle
2 hours 30 minutes from Montreal (226 km)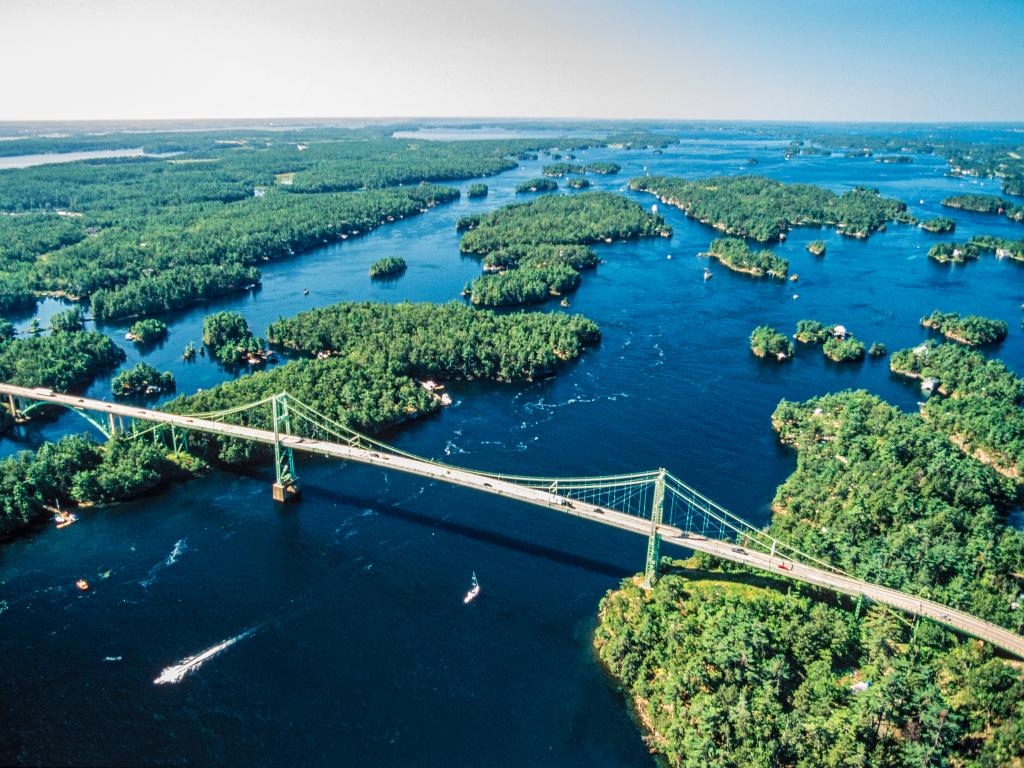 The Thousand Islands area sits on the border between Canada and the United States at the point where the St Lawrence River flows out of Lake Ontario.
The National Park is on the Canadian side and encompasses a huge number of islands ranging from the biggest one called Wolfe Island to many much smaller islands dotted around.
Some of the islands in the area are privately owned, including the mysterious Deer Island reportedly owned by the Skull and Bones secret society, so you'll need to check which you can visit.
There's lots of boat tours and cruises you can go on from Gananoque and Kingston (see #13 below) or you can hire your own boat to explore the are - just be careful as the international border runs through the river with parts of the island group across in the USA!
Boldt Castle is on one of the islands that is across the border. This castle was originally built by the millionaire George Boldt but the construction halted in 1904 and the castle was never finished. It is open to visitors through the summer months and the castle construction is still ongoing using the proceeds although at the current pace, that's likely to take some time.
9. Road trip from Montreal to Quebec City
2 hours 40 minutes from Montreal (255 km)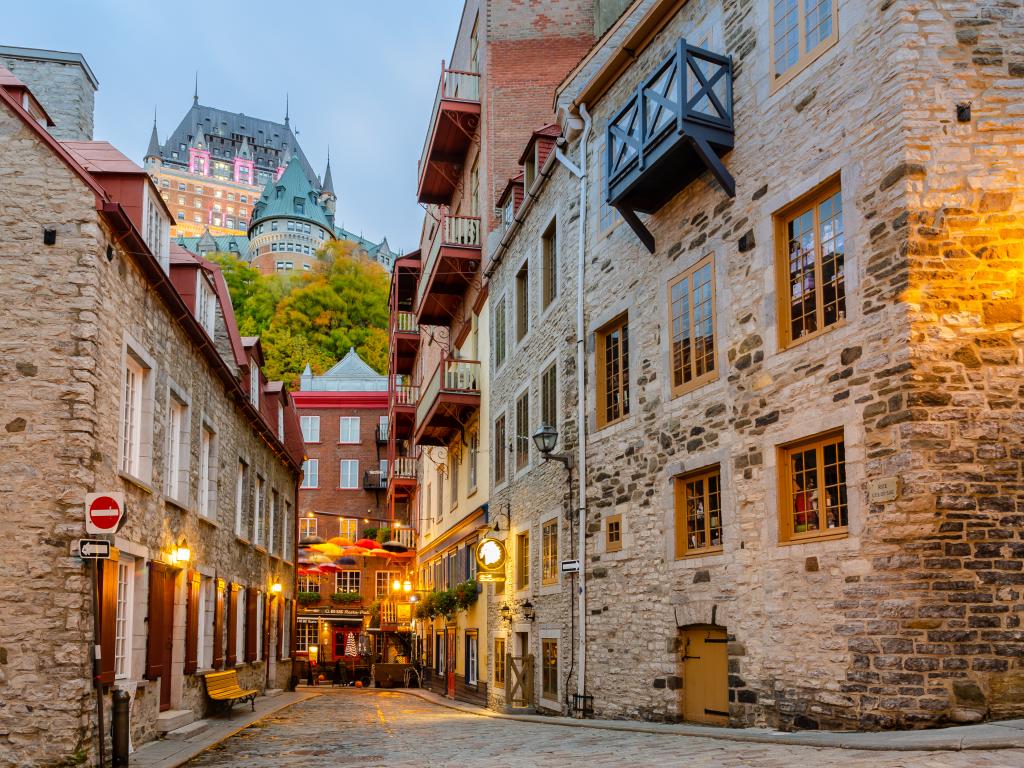 Quebec City lies further down the St Lawrence River from Montreal - Autoroute 40 along the north bank of the river will take a little over 3 hours but you can shave 20 minutes off your journey by taking the Trans-Canada Highway along Autoroute 20 instead.
One of the oldest cities in North America, Quebec City and the entire province are named after an old Algonquin word which means "Where the river narrows".
Founded in 1608, Quebec City boasts the only Fortified historic old town in Canada or the United States. You've got cobblestone streets, a Chateau sitting on top of the hill and beautiful stone buildings throughout.
Quebec City is perfect for a city break - it's big enough for some great museums, galleries and restaurants, but small enough to make it very walkable.
You can also use Quebec City as a base or a stopover point for trips further afield - Jacques Cartier National Park (#12 below) is not far from the city and Tadoussac (#18) and Saguenay Fjords (#19) are further along St Lawrence River.
10. La Mauricie National Park and Trois-Rivières
3 hours 10 minutes from Montreal (230 km)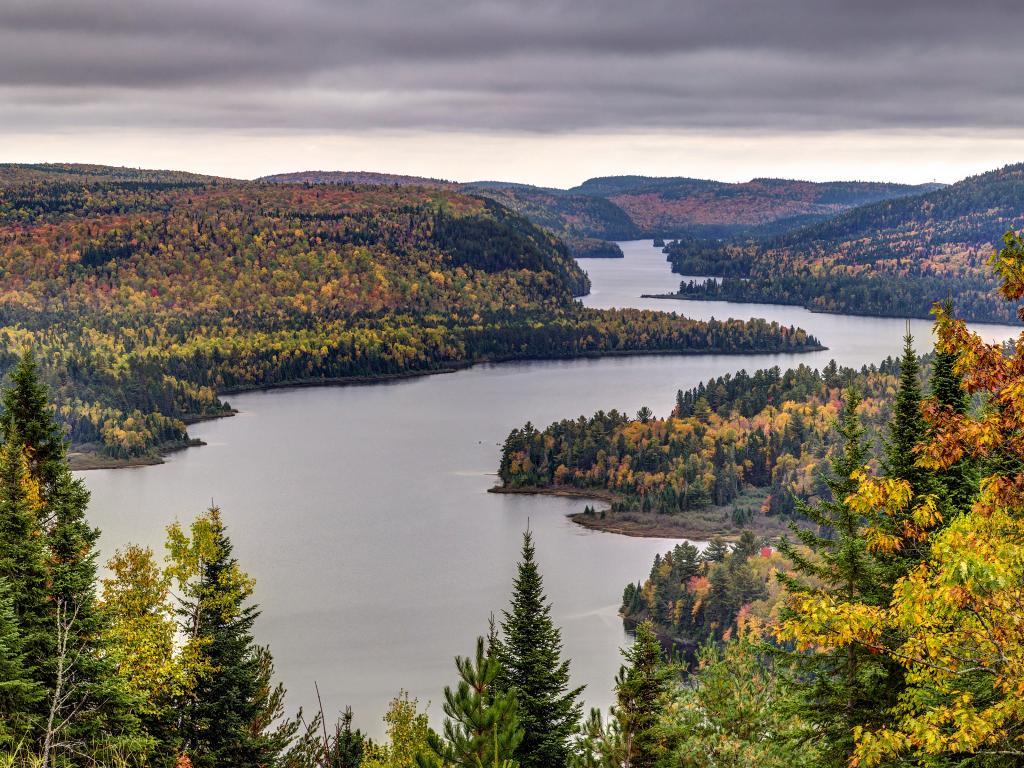 It may be a little unfair to put a time of over 3 hours for a trip to the La Mauricie National Park and many people who live in Montreal will tell you it's only about 2 hours away.
However, the road that loops through the park can take some time to drive depending on where in the park you are going.
Sure - the entrance near Shawinigan is just about a 2-hour road trip from Montreal, but popular destinations like Waber Falls or Caribou Lake are another 45 minutes further into the park and Lake Edouard is the place that'll take over 3 hours to get to.
Hiking routes and trails along lakes, streams and waterfalls are all on the menu - head up to Trois-Rivières along Autoroute 40 and then turn north when you get there - the park entrance is not far from Grand-Mère.
Don't forget to stop in Trois-Rivières on your way there or back. This is the second oldest city in Quebec after Quebec City and was founded back in 1634.
The old city is not big but you'll see a lot of pretty historic buildings along Rue des Ursulines with some dating back to the 17th century.
11. White Mountain National Forest, New Hampshire
3 hours 10 minutes from Montreal (285 km)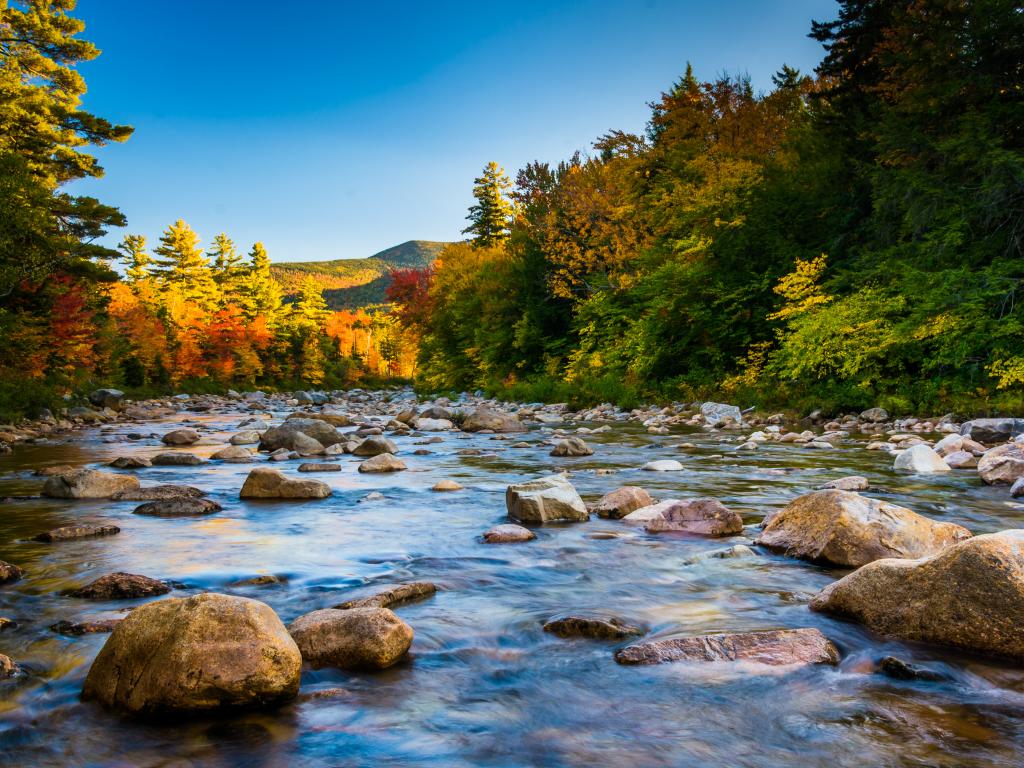 White Mountain National Forest covers a massive 1,200 square miles of New Hampshire. The best way to get here is to avoid the busier crossing at Philipsburg and instead head east along Autoroute 10 to Magog. From there, head south towards the Stanstead - Derby Line crossing (which is worth a stop in its own right! See #4 above).
I-91 followed by I-93 will take you to Connecticut River which acts as the border between the states of Vermont and New Hampshire. Whiet Mountain National Forest starts almost as soon as you get across the river and drive past Littleton.
There's a lot of amazing hiking routes, camping opportunities and every kind of outdoor activity you may want.
The tallest mountain in northeastern United States is also here and if you don't fancy hiking up it, you're in luck. A $31 payment per car plus $9 per passenger let you go all the way up in your car. The views are spectacular but do take care - the road gets twisty and very steep in places.
Winds can be very strong when you get higher up and even if you're coming in the summer, remember that it can feel much much cooler when you get there.
12. Road trip to Jacques Cartier National Park
3 hours 10 minutes from Montreal (301 km)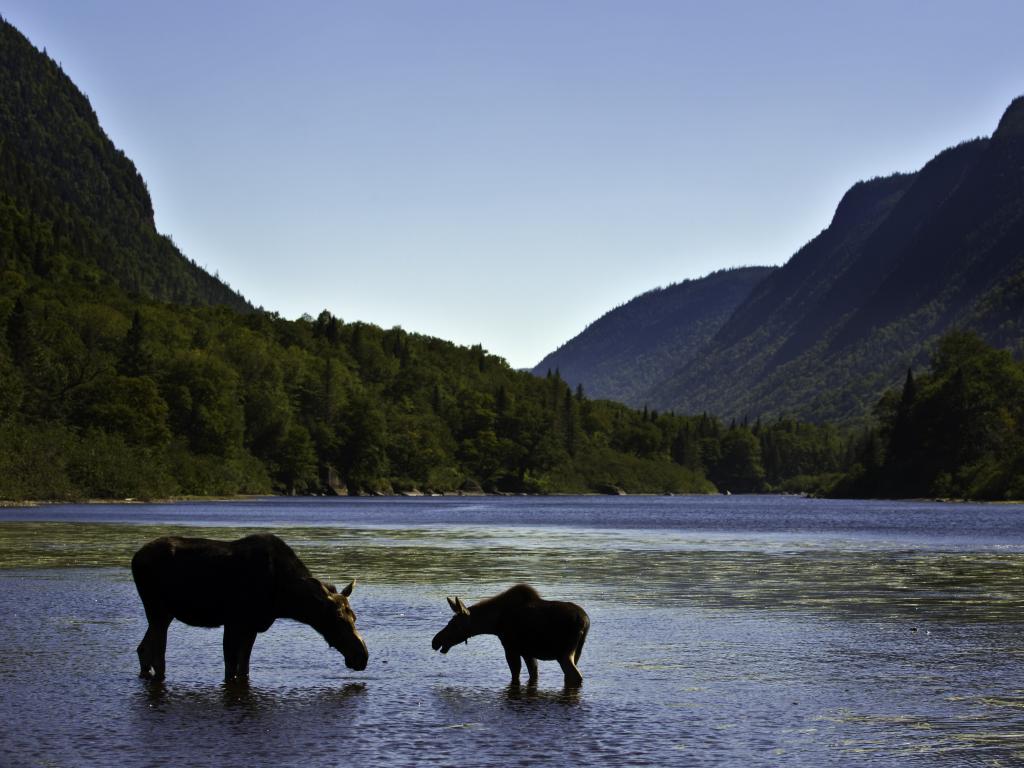 The entrance to Jacques Cartier National Park is less than 30 minutes from Quebec City (see #9 above) so if you're coming on a road trip from Montreal, you can choose between a base in the old city, a wooden chalet within the park or go wild and camp.
The drive from Montreal is pretty straightforward - follow the Trans-Canada Highway along Autoroute Jean-Lesage to Quebec City and then take Autoroute 73/QC-175 north.
The entrance to Jacques Cartier National Park and small roads coming off the Autoroute that will take into the park will come up in half an hour.
A mix of lakes and hilly forests means you've got jaw-dropping views in every direction and the good news is that the Chemin du Parc-National follows the Sautauriski River right into the heart of the park making a lot of it very accessible.
If you want to spend some time fishing instead of hiking, this is one of the better places to come fish for trout, but remember you'll need to buy the (relatively expensive) licence first.
If you have more time and want to explore more nature, you can keep going northeast to Saguenay Fjords (#19 below) and then to Tadoussac (#18) for some of the best whale watching in the world.
13. An almost European road trip to Gananoque, Kingston and Prince Edward County
4 hours from Montreal (371 km)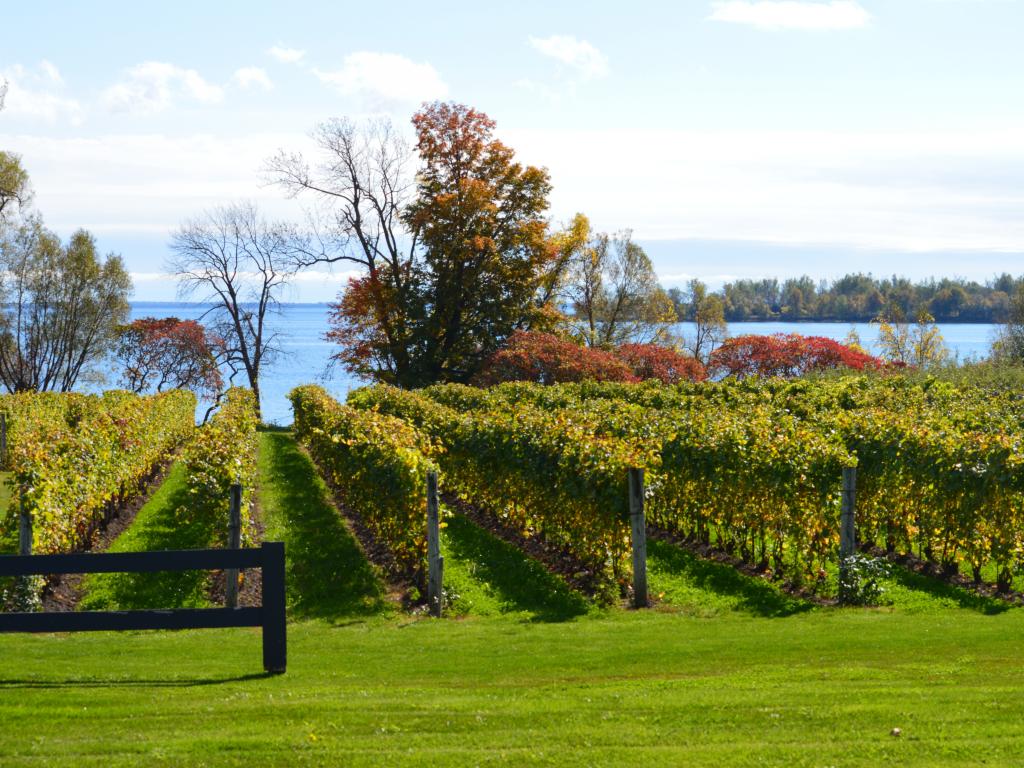 The town of Gananoque sits at the point where the Gananoque River flows into St Lawrence River - you'll come across it as you're making your way west past the Thousand Islands National Park (see #8 above).
Many visitors to the town will completely ignore it and head straight for the boats and cruises taking them to one of the Thousand Islands and that's a big mistake.
The name of the town derives from a First Nations language meaning a "Town on Two Rivers", but once you get here, you may notice the distinctly European look and feel - many of the buildings would feel as much at home in a provincial French town.
Kingston also makes a lot of its European roots and is a little further west at the point where St Lawrence River flows out of Lake Ontario. After appreciating the town's charm, make sure you visit Fort Henry which is a UNESCO World Heritage Site just before you cross the river into Downtown.
Prince Edward County is a further 30 minutes' drive along the north shore of Lake Ontario and occupies a large island sticking out into the lake. You can get onto the island along the Quinte Skyway Bridge or try your luck by heading to the ferry at Adolphustown - just beware that this local ferry can only carry 21 cars per crossing so you may have a long wait to get across to Glenora.
If you are a foodie, this may be the best road trip from Montreal you can take. Prince Edward County is known for its amazing restaurants and the area is home to some rather good wineries. Try a few before you scoff at the thought of drinking Canadian wine and you might find yourself very pleasantly surprised.
14. Explore the lakes of the Algonquin Provincial Park
5 hours from Montreal (439 km)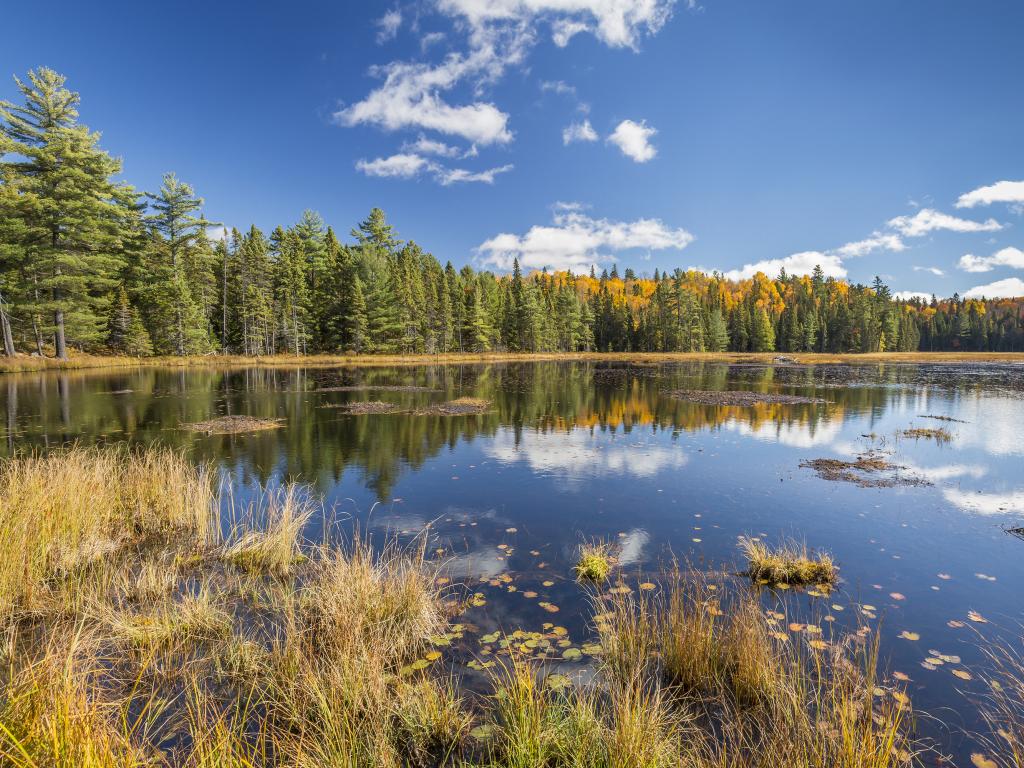 If you want to escape somewhere truly remote that you can get to within a relatively easy one day's drive from Montreal, The Algonquin Provincial Park over in Ontario is the perfect place to come.
Sure - there's National Parks aplenty in Quebec and plenty of nature to explore in almost every direction if you drive 5 hours from Montreal, but Algonquin Provincial Park is somewhere you can really feel that you've got far away from the busy grind of the city and unwind.
Algonquin is a beautiful mix of dense conifer forests and literally thousands of lakes - there's around 2,400 of them within the park's bounds!
The easiest way to get here is to take the Trans-Canada Highway through Ottawa and then follow ON-60 from Renfrew that will take you right into the heart of the park. Small roads head north into the park to your spot of choice looking out to an unspoiled lake surrounded by fir trees.
Hiking is popular here as are canoes which allow you to see some amazing views as you navigate the network of streams, rivers and lakes. Take care as the wilderness is home not only to moose, deer and many beavers but also has a large population of wolves and bears.
15. The ultimate city break in Boston, Massachusetts
5 hours from Montreal (496 km)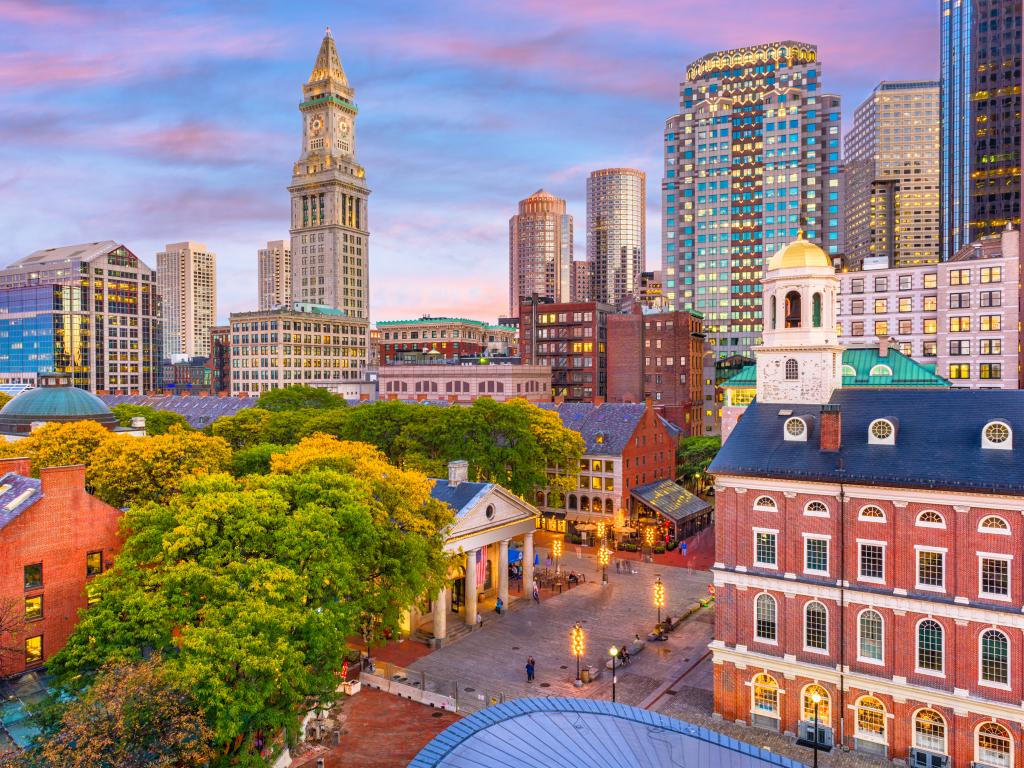 If you're looking for the ultimate city break where you can combine history, culture, the feel of the big city and the touch of a cozy local town, then the 5 hour road trip from Montreal to Boston is what you need to do.
The I-89 route through Burlington (#3 above) and the I-91/I-93 route though the White Mountain National Forest (#11) will both take you a touch under 5 hours before taking stops into account so you may want to drive down and back up via different routes - both offer some great scenery along the way.
As one of the most historic cities in the United States, there are endless museums and art galleries - the Museum Of Fine Arts is an absolute must if you're only going to go to one.
To see most of the iconic sights in the city, you can spend a morning or afternoon following the Freedom Trail which is a 2.5 mile walk around the city that you can do yourself without the need to book onto a tour.
If you're a sports fan, then time your trip to make the most of Boston's amazing sports scene - the Patriots (American football), Red Sox (baseball), Celtics (basketball) and Bruins (hockey) are each one of the most decorated teams in their respective sports so take your pick!
16. Discover the New England charm of Portland, Maine
5 hours 10 minutes from Montreal (420 km)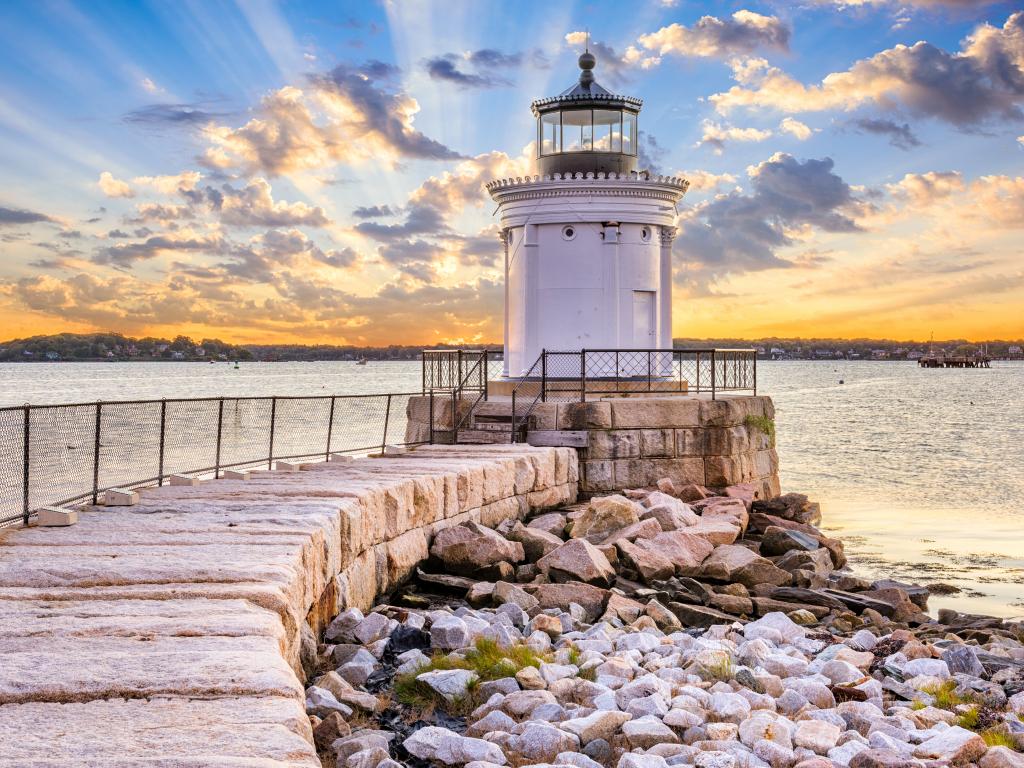 When people think about visiting new England, they often think about Boston (#15 right above), Cape Cod or Providence, Rhode Island (#25 below).
For those who want to see the real soul of New England without the crowds, Portland is the perfect place. That and the fact that the road trip from Montreal here is a lot quicker than the other options.
Don't follow your navigator if it's telling you to follow the "fast" interstate route along the I-89 and I-95 route through Manchester and Portsmouth.
It might take about as long on paper, but you're going to cover an extra 150 km which means you are both more likely to hit some traffic along the way and need an extra stop.
The most scenic route is to head south along the I-91/I-93 to Littleton and then make your way through the White Mountain National Forest before eventually reaching Portland. It might be smaller local roads, but you'll enjoy it a lot more!
The Old Port part of the city is where you want to head. This is the historic downtown that comes with lots of red brick, great local shops and places to eat. You can't visit Portland and not try the lobster roll.
The Portland Head Lighthouse is just outside the city in Fort Williams Park and is the most photographed lighthouse in the United States which is quite a feat.
If you want to extend your trip and see some nature, the Acadia National Park (#22 below) is not too far up the coast and is an absolutely stunning place which will be well worth the detour.
17. Road trip to Toronto
5 hours 20 minutes from Montreal (542 km)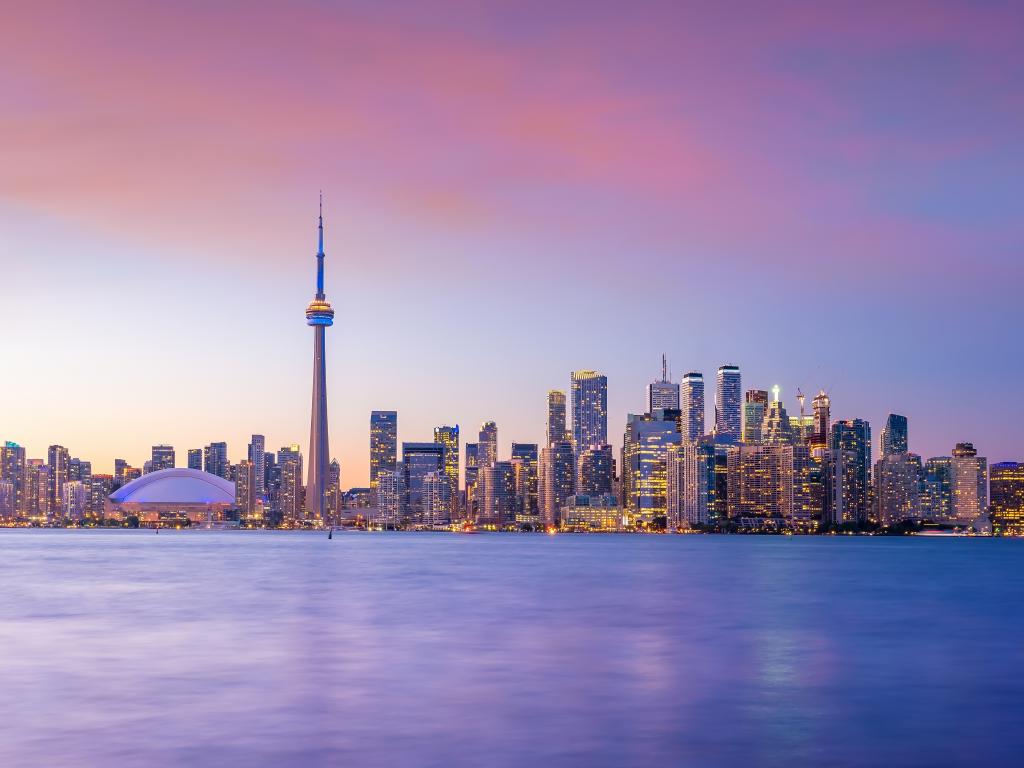 Toronto is Canada's largest city, the place where most of the country's business takes place and the heart of a huge number of cultures and communities.
The road trip from Montreal to Toronto is very straight-forward. ON-401 that starts as you cross from Quebec to Ontario just outside Montreal will take you the entire way, following St Lawrence River past the Thousand Islands (#8 above), Gananoque, Kingston and Prince Edward County (#13) before making it to the hustle and bustle at the western tip of Lake Ontario.
You will notice the towering skyscrapers are you approach the city - Toronto has inherited the US love of tall buildings and the CN Tower is the tallest structure in the western hemisphere - you won't miss it!
A unique thing about Toronto is the huge number of different cultures that mix in the city to create its unique atmosphere. It also means there is a great deal of art, neighborhoods and food for you to explore.
From Chinatown that dates back to the 19th century to the Distillery District where just about everything from roads to buildings is made of red brick, you can spend days exploring different parts of Toronto and not see most of it.
Toronto is also a great stop off point if your road trip will take you further - it's right on the way from Montreal to Niagara Falls (#21 below), Bruce Peninsula National Park (#23) or Manitoulin Island (#24) if you're getting the ferry.
18. Whale watching in Tadoussac
5 hours 40 minutes from Montreal (472 km)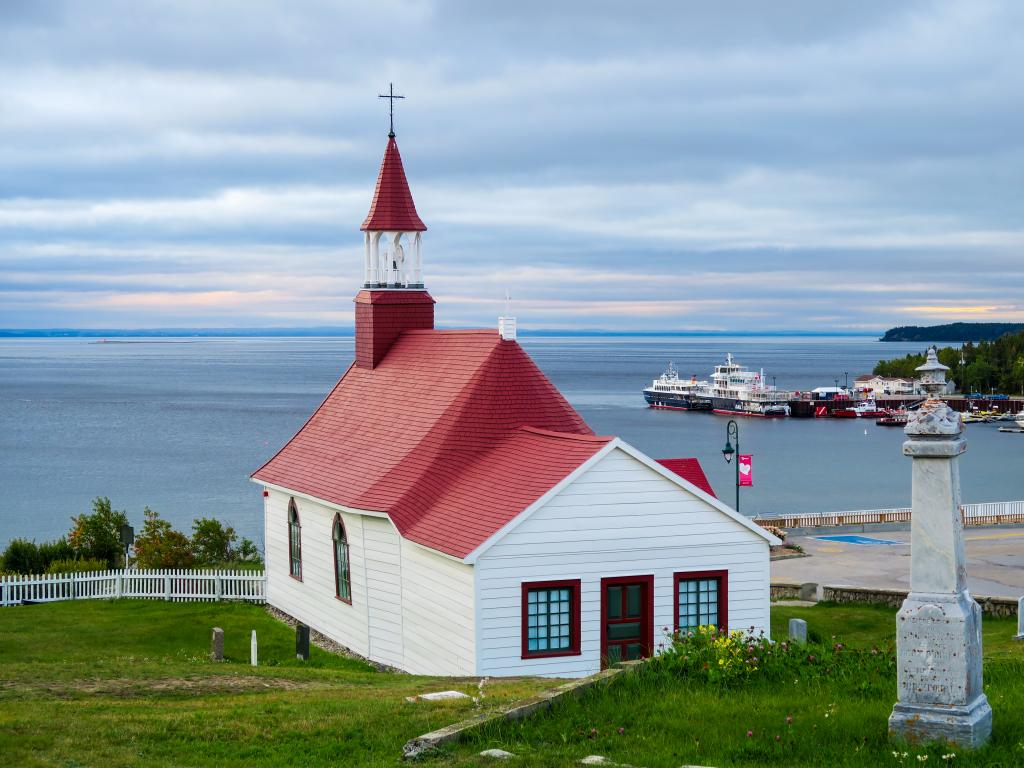 Tadoussac is a pretty small town downstream St Lawrence River from Montreal at the point where the Saguenay River flows into it.
At this point the river gets as much as 20 km wide as it begins approaching the Gulf of St Lawrence and that means one thing. It's big enough for whales to come in from the North Atlantic.
The currents flowing from the two rivers that join here make a unique environment that makes plankton thrive and as this is what whales love to eat, over a dozen different whale species come to the area from the beluga whale up to the giant blue whales.
You can go on boat tours or simply hire a kayak and paddle out - if you spend a few hours you may well spot a few different whales nearby. Just remember that it can get very cold even on a warm summer's day so wear layers.
To get to Tadoussac, you'll need to make your way to Quebec City (either along the river or the slightly faster Trans-Canada Highway route) and from there keep going along the northern bank of the river.
When you get to Saguenay River, your road trip will have to go over the water in a ferry - the nearest bridge is all the way up in Saguenay. The town of Tadoussac is right next to the ferry terminal on the other side.
19. Saguenay Fjord National Park
5 hours 40 minutes from Montreal (524 km)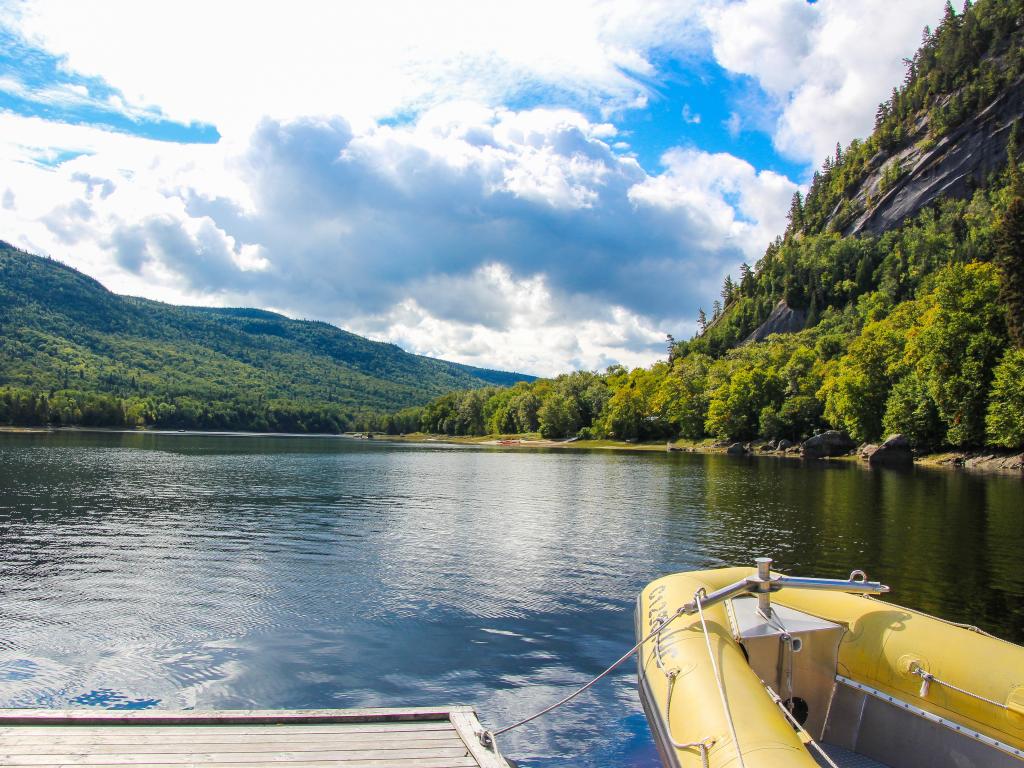 Saguenay Fjord is the valley through which the Saguenay River flows from Lake Saint-Jean to St Lawrence River. This is one of the prettiest parts of Quebec and is well worth the long drive from Montreal.
There are two different routes for a road trip from Montreal to the Saguenay Fjord. For both routes you first have to get to Quebec City (see #9 above). From there the slightly faster route is to follow Route 175 up to Saguenay before driving down the Fjord or you can follow St Lawrence River to Saint-Siméon and then drive up Route 170 instead.
The Saguenay Fjord National Park is very remote - Saguenay to the north and Tadoussac to the south are 1 and 2 hours away respectively and both are very small towns. Quebec City is a 3-hour drive so to make the most out of your visit, you'll want to camp.
The Baie-Éternité campsite near the park entrance on Rue Notre Dame is a great option and if you don't have a tent, you can glamp in one that is already set up or go all out and stay in a chalet depending on how close you want to be to nature.
Along with hiking routes, kayaking down the fjord and bike trails, you can try out the Via Ferrata - it is a secure and guided climbing route that will take you high above the valley with stunning views and the opportunity to cross a gorge along an 85-metre-long suspension bridge.
Make sure you book ahead to avoid disappointment!
20. New York, New York
6 hours from Montreal (598 km)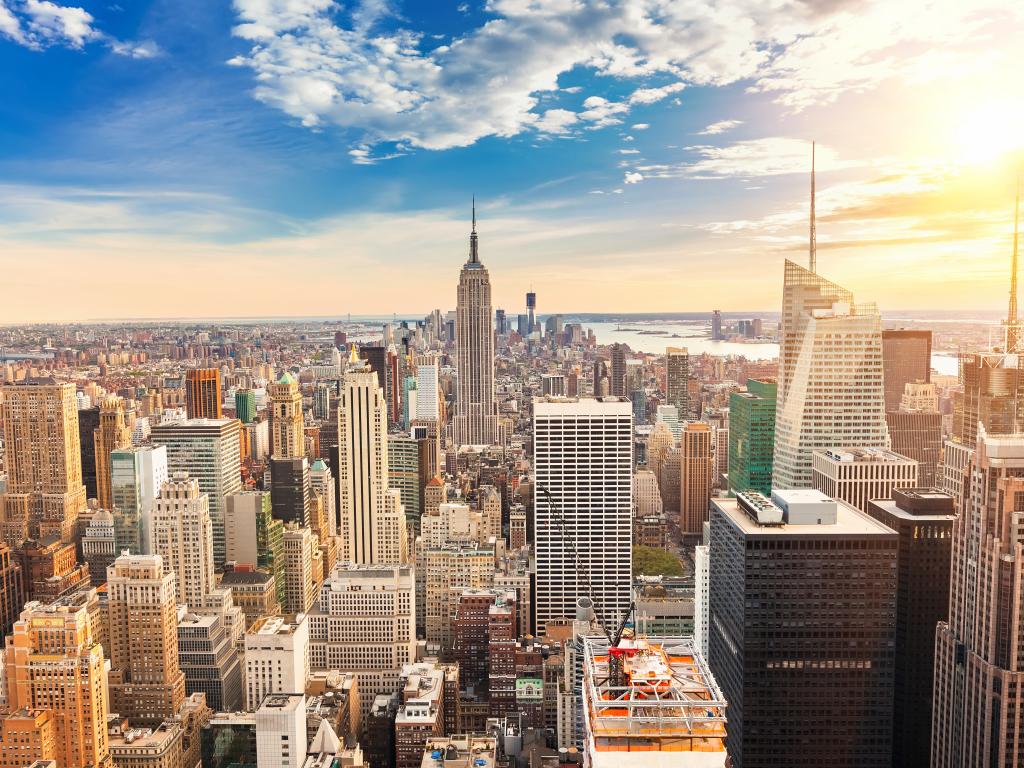 The Big Apple seems a world away from Montreal and before you actually look at the route, you may well think it will take much longer to get there than the 6 hour drive to New York City.
In truth, most people visiting New York will opt to take the plane with frequent flights between the two cities. But if you consider the time it will take you to get to the airport, check in and pass security, wait for your flight, fly over, get out, pass security and collect your bags at the other end before making your way into the city from the airport, you'll probably have as long a journey.
And better still, driving means you can stop at any of the amazing places on the way including Lake Champlain (#3 above), Adirondack Park in upstate New York (#1) or take a detour via Long Island or New England.
Once in New York, however, it's a good idea to park the car for the duration of your stay - the subway and taxis are a much better option for getting about.
The options for things to do don't need much introduction. From the Central Park to taking snaps of Manhattan from Top of the Rock to staring at the bright lights of Times Square, there is a reason why New York draws so many visitors from all over the world.
The selection of restaurants is probably the best in the world, Broadway musicals and theatre productions will make for amazing nights out and the different New York boroughs offer unique neighborhoods that you can spend weeks exploring.
21. Road trip to Niagara Falls
6 hours 40 minutes from Montreal (535 km)
The Niagara Falls may just be the most famous group of waterfalls in the world sitting on the border between Canada and the United States.
There are three waterfalls in total here - the Horseshoe Falls, American Falls and Bridal Veil Falls and you can easily access them from either the Canadian or The US sides.
Amazing though they are, it's a long drive just to come and see the waterfall, so you will probably want to mix in a stop or two along the way - whether it's roaming the streets of Toronto or relaxing with a glass of wine in Prince Edward County.
It takes almost the same amount of time to get to Niagara Falls whether you drive around the north or the south shore of Lake Ontario but the northern route is not only more scenic, but will offer more good stopping options.
The spectacular waterfalls have a huge amount of water pass through them every day, but surprisingly as much as three quarters of the water is diverted to a hydroelectric power plant which generates a large proportion of the electricity used in both, Ontario and New York State.
Don't miss the town of Niagara-On-The-Lake - it's well worth a stop in its own right and is great for an afternoon stroll or an overnight stay if you want to see the falls bright and early before the tourist crowds get here from Toronto and further afield.
22. Acadia National Park, Maine
6 hours 20 minutes from Montreal (668 km)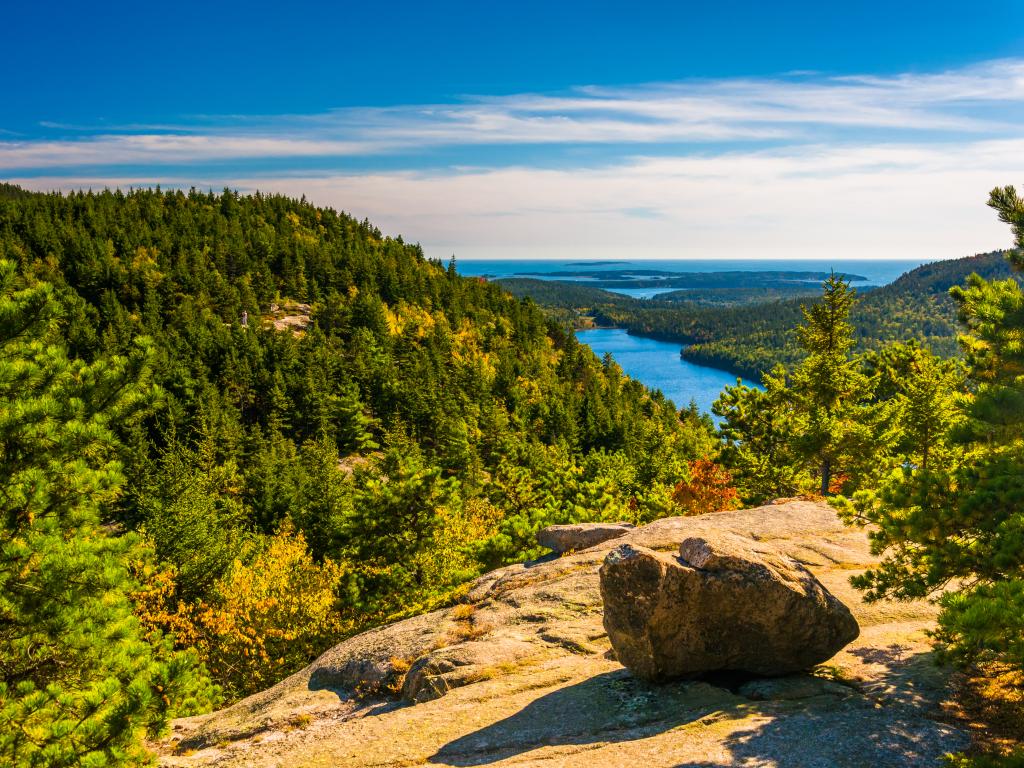 It's true - if you're going on a road trip from Montreal and want to spend some time in a National Park, you are spoiled for choice in Quebec and Ontario. There's 4 on this list and plenty of other places you can hike and camp under the stars.
But there is a really compelling reason why you should consider driving all the way to Maine to visit the only National Park in New England - Acadia is seriously stunning.
The drive will take a whole day with over 6 hours of pure driving to do and although the route is very scenic, you won't pass through any cities or notable places to stop.
You'll cut right across the Appalachian Trail as you drive through the mountainous Bigelow Preserve just before you get to the well known Sugarloaf Mountain ski resort.
Acadia sits on the Mount Desert Island off the Maine Coast - it's the second largest island along the Eastern Seaboard after New York's Long Island and Acadia National Park covers most of it.
This may just be the best National Park for casual exploring - the hiking routes are amazing, the views are stunning, there's gorgeous rocky cliffs protruding into the ocean and there are small towns and great restaurants dotted around so you can stop for lunch.
You can spend a week here and not cover the majority of the amazing hiking routes and on top of that there's boat tours and quirky local museums (the Seal Cove Auto Museum in the western part of the island is a great stop). Please note that, if you are visiting Acadia National Park and plan to drive on the Cadillac Summit Road, vehicle reservations might be required. Please check the national park's website to avoid any disappointment.
If you want to see more of New England on your road trip, you can drive along the coast to Portland, Maine (take it slow along Route 1 instead of the interstates) and keep on going south into Massachusetts to spend some time in Boston.
23. Bruce Peninsula National Park
8 hours 30 minutes from Montreal (811 km)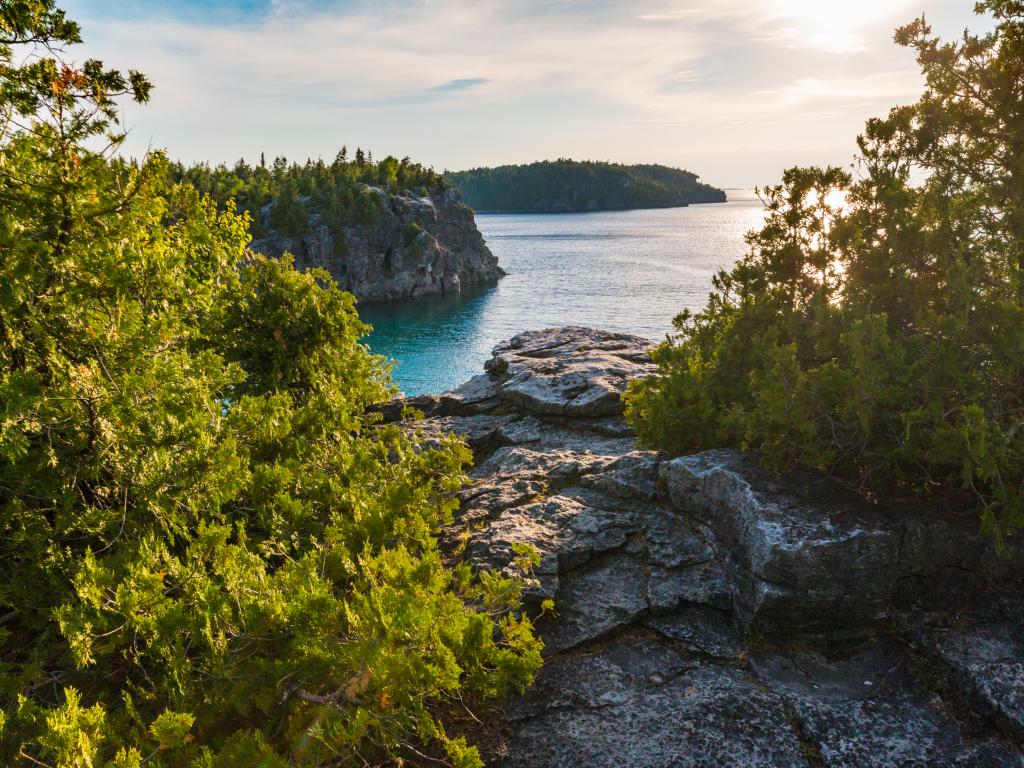 Bruce Peninsula is a rocky outcrop that splits Georgian Bay off from the rest of Lake Huron in Ontario, to the northwest of Toronto.
The road trip from Montreal to Bruce Peninsula will take you west along St Lawrence River and then along the length of Lake Ontario's north shore before turning northwest at Missisauga.
It's a long drive if you're thinking of doing it in a day and if you're planning on camping at the other end, you won't be wanting to arrive at your campsite in the dark. Luckily, many of the itineraries above, including the Thousand Islands National Park (#8 above), Gananoque, Kingston and Price Edward County (#13) and Toronto (#17) are all great options for a stopover.
Bruce Peninsula National Park is best known for its nature. From chipmunks to black bears, there's a lot of wildlife around and some really amazing hiking routes.
The best known route is the Bruce Trail which actually runs a mighty 900 km (550 miles) all the way from the Niagara River on the border with the United States to the northern tip of the Bruce Peninsula - parts of it that approach the northern tip offer really amazing views including the well-known Overhanging Point.
Remember that parking and camping can be oversubscribed during the warm months so make sure you book ahead. Think about your itinerary - you'll need to book parking separately if you want to visit places like the Grotto and although it'll set you back the best part of $20, it's well worth the trip.
24. Make the long drive to Manitoulin Island
9 hours 30 minutes from Montreal (855 km)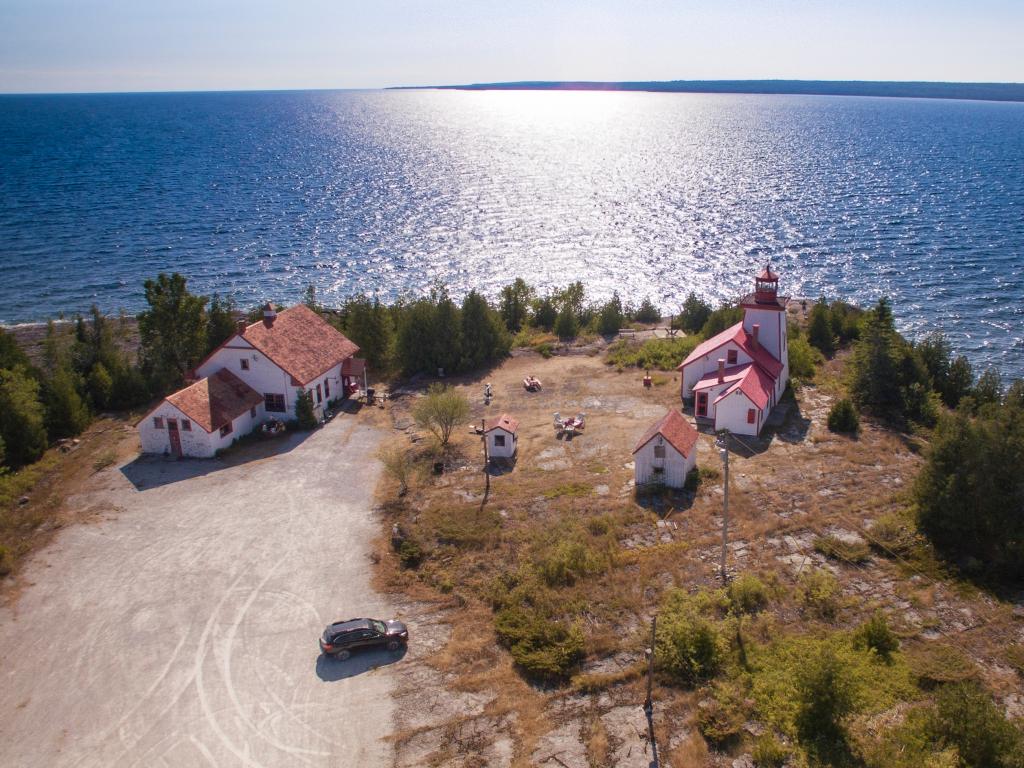 Manitoulin Island sits north of the Bruce Peninsula splitting Georgian Bay from Lake Huron and is famous for being the largest freshwater island in the world.
It's so big that it has over 100 lakes within it and many of these lakes have islands of their own! Before your mind wanders into an Inception-like never-ending sequence of islands inside islands, let's cover the two ways you can get to Manitoulin.
The fastest route from Montreal to Manitoulin is to follow the Trans-Canada Highway passing through Ottawa (see #6 above), around the Algonquin National Park and past North Bay and Sudbury. Highway 6 south jumps from island to island before landing you right on Manitoulin Island.
The alternative route is to follow the north shore of Lake Ontario all the way into Toronto and then drive north to the Bruce Peninsula before taking a ferry. This option will add about 2 hours to what is already a long journey and be sure to book your ferry spot in advance so your car can get on!
To keep things interesting, you're best off getting to the island and combing back via different routes. This way you can also add the many stops along the way we cover in shorter road trip itineraries above!
As well as the stunning nature on the island, there's some interesting culture to explore with the local Anishinaabe population having dedicated reserves and interesting towns to visit.
A top tip is to get to the Cup and Saucer hiking trail nice and early one day - this route up through the trees will take you to a jaw-dropping rock overlook which might just be the best view on the island but come early to avoid the much busier period later on in the morning.
25. Rhode Island, Cape Cod & Islands
10 hours from Montreal (800+ km)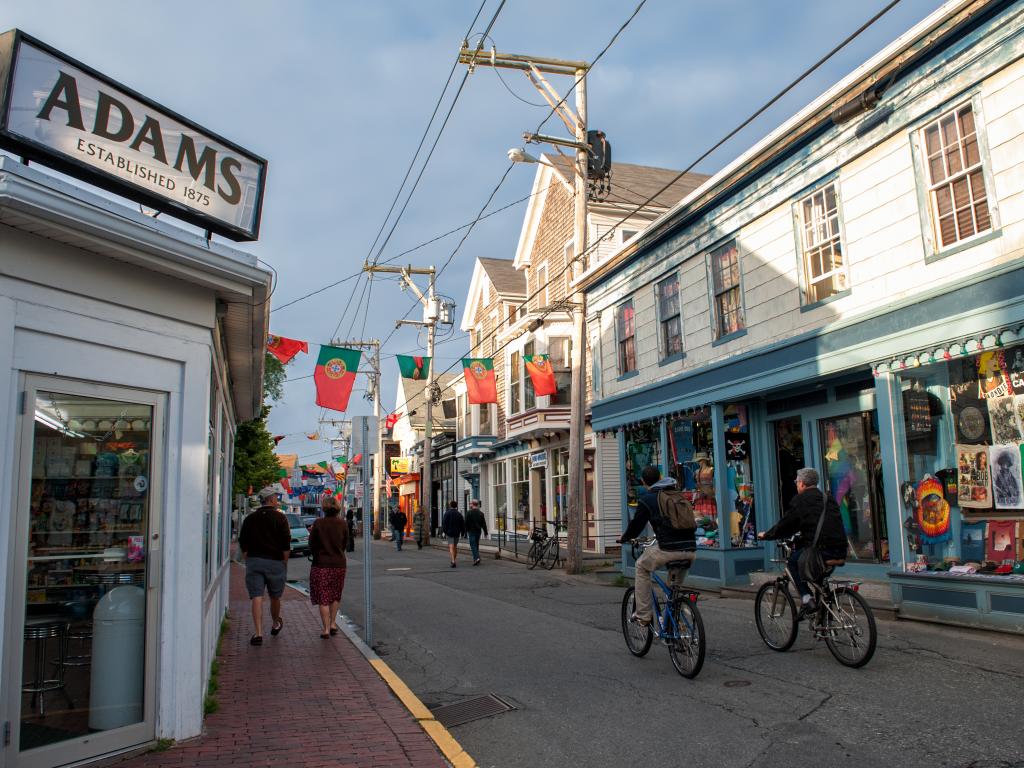 This one is going to take you some time, but if you have at least a week and want to see some of the most historic parts of the United States and quintessential New England towns, this is an amazing road trip from Montreal through the United States.
Take your pick of the I-89 past Lake Champlain or the I-93 through the White Mountain National Forest to get to Boston (#15 above) - you can easily do the drive in a day with stops along the way.
After spending some time exploring the historic city, you can visit some of the historic towns surrounding it - Salem and Rockport are great options as is Plymouth - the oldest city in New England.
Cape Cod curves around the Cape Cod Bay and has great small towns, relaxing long beaches along the Cape Cod National Seashore and Provincetown at its tip. This is a relaxed seaside town that comes with bucketloads of history - afterall this is where the Mayflower Pilgrims first set foot on American soil.
There are two islands south of the Cape - Martha's vineyard is closer and easier to get to and Nantucket a little further out. You can get a ferry to both but make sure you book ahead - car spaces can be limited and the ferries can be relatively expensive so you may want to pick just one of the islands for your trip.
To complete your exploration of the historic New England, head across into Rhode Island and visit Newport and Providence before completing your road trip and returning back north to Montreal.