Road Trip from Toronto to PEI (Prince Edward Island)
A road trip from Toronto to PEI will take you between the most and least populated provinces in all of Canada, making it a great mixture of both urban and peacefully scenic road trip.
The 1,780-kilometre road trip from Toronto to PEI takes 17 hours to complete, passing Lake Ontario, Niagara, Albany, the Berkshires, Boston, Acadia National Park and the New Hampshire, Maine and New Brunswick coasts.
Read on to discover what awaits you on your journey east, past lakes, rivers and mountains to the rugged and spectacular North Atlantic coast.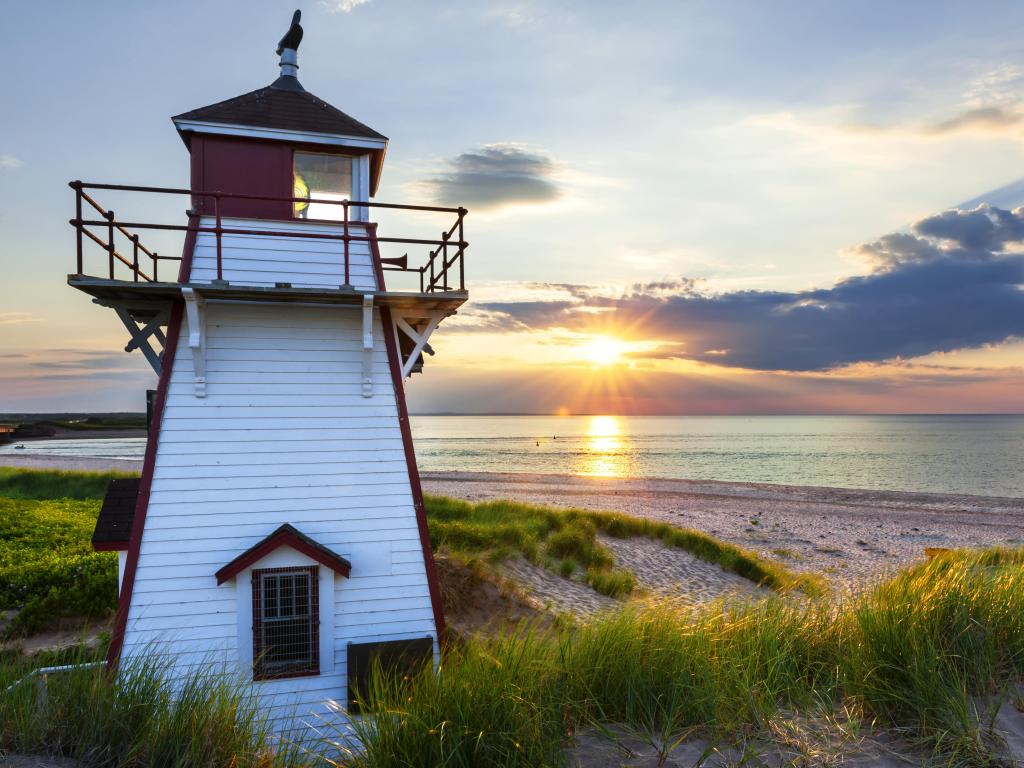 How far is PEI from Toronto and how long will the road trip take?
This route offers two really different options, depending on whether you want to cross the international border

| Route | Distance | Driving Time |
| --- | --- | --- |
| International Route | 1,780 km | 17 hours |
| Canadian Route | 1,790 km | 17 hours 50 minutes |
A road trip from Toronto to PEI covers a minimum of 1,645 kilometres (1,020 miles) and takes at least 16 hours to complete.
However, when you're planning a road trip you aren't necessarily looking for the quickest way to get somewhere, but instead want the most exciting journey, within reason of course.
That's why we've come up with two contrasting routes, which both cover 1,780km and take around 17 hours to complete.
Your first option, the International Route, covers four states and three provinces to take you over the Canada/US border and back again through beautiful New England.
Meanwhile the Canadian Route, as its name suggests, follows the lakes and rivers of eastern Canada to get you to Prince Edward Island.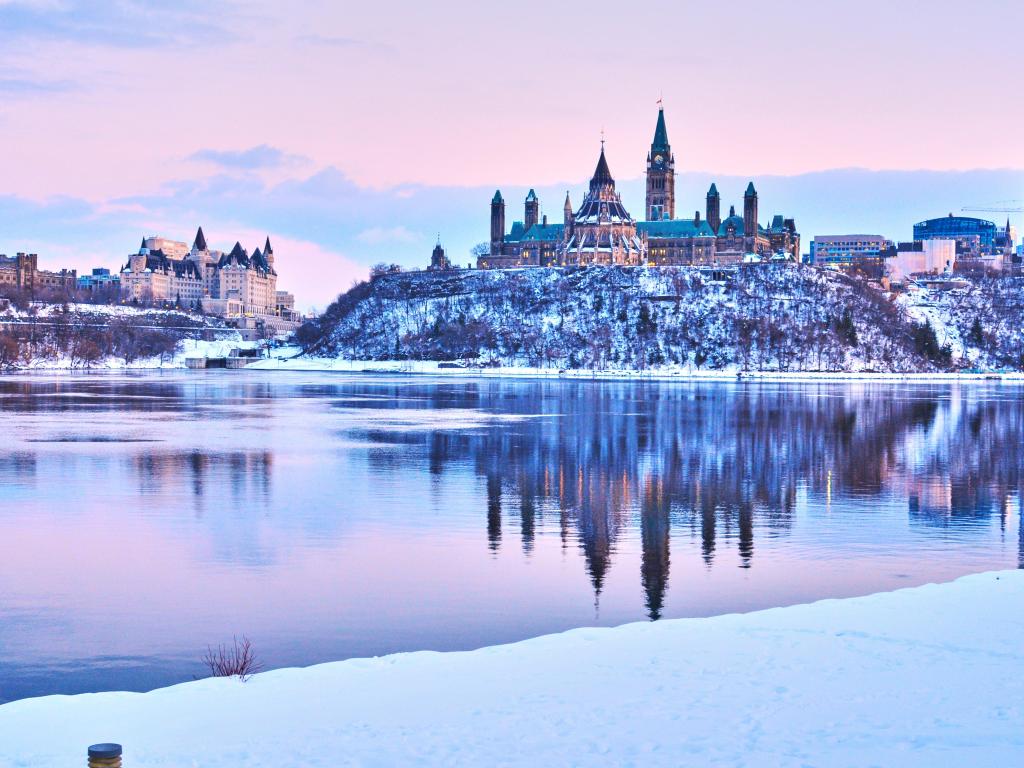 We would also suggest that a journey as long as either of these options is best broken up across a number of days.
While two drivers could possibly complete the route in a single hit, splitting it over the course of 2, 3 or maybe even 4 days will make for a much more pleasant experience, giving you time to stop and take in the sights.
Of course, with so many places on the way, there's always the option to stretch this route out into a longer trip if you want time to rest up and explore between stretches of driving.
We've put together the information you need to get the most out of this trip, whether you're fitting it into 3 days or 3 weeks.
Best road trip route from Toronto to PEI
Both of these trips offer you stunning views and interesting places to stop along the way as you journey from Toronto to Prince Edward Island. So the deciding factor is likely to be whether or not you want to cross the international border (twice) as part of your trip.
While the International Route probably offers more big-name sights, the Canadian Route is by no means a second best. After all, sometimes the best road trips are the ones which take the roads less traveled.
The International Route
Our international route for this road trip from Toronto to PEI takes us from Ontario, through the American states of New York, Massachusetts, New Hampshire and Maine, before re-entering Canada in the province of New Brunswick, on the way to our destination of Prince Edward Island.
Set out on Queen Elizabeth Way heading west and follow it around the south-western shore of Lake Ontario, before exiting onto Ontario Highway 420, which you'll use to cross Rainbow International Bridge into the US. Be sure to check ahead of time whether you need any additional travel documentation to make the border crossing.
Once across the border, follow Rainbow Boulevard south a way, before turning right onto John Daly Boulevard. Almost immediately after joining the road, cross the roundabout onto Niagara Scenic Parkway. It goes without saying that you can't leave town without stopping to admire the iconic view of the falls.
Follow the Scenic Parkway to its conclusion, where it joins I-190, and begin heading south. You'll follow the I-190 across Grand Island and then, just after crossing the Niagara River back onto the mainland, exit onto I-290.
A relatively short road, follow it its entire duration, to where it meets I-90 and take that east. In contrast to the previous road, I-90 is the longest Interstate in America, and you'll now follow this to just outside Auburn, Massachusetts.
On the way, you'll pass the cities of Buffalo, Syracuse, Albany and Springfield, and the picturesque Finger Lakes are also only a short detour from the Interstate.
Once you cross the state line into Massachusetts, the beautiful Berkshires are right on your route. Exit Lee to explore this magnificent expanse of forest and mountain.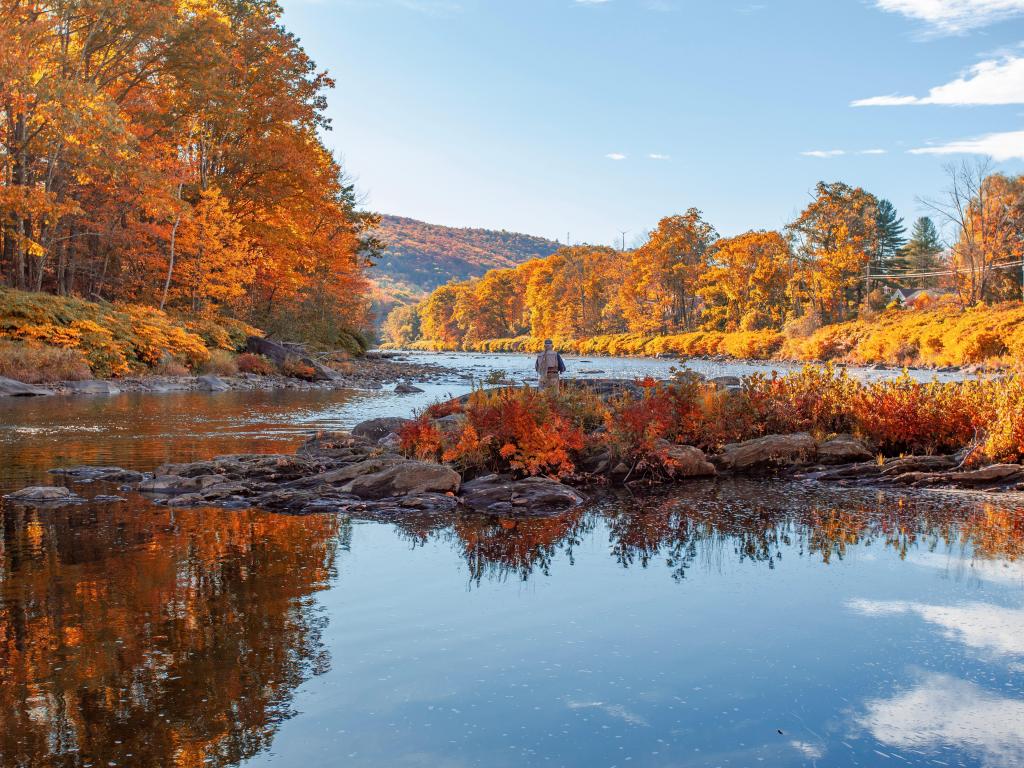 Alternatively, detour along Route 2 from Albany to try out white water rafting on the Deerfield River at Shelburne Falls, before heading down I-91 to rejoin I-90 on the run in to Boston. For anyone wanting to make a stop in Boston, continue on I-90 to its conclusion in the heart of the city.
For everyone else, take I-290 north. While not the same road as its namesake we were on earlier, it is similarly short, and we will again follow it for its duration.
From here take the I-495 north and follow it until it meets the I-95 in Amesbury, just before the New Hampshire state line.
Another incredibly long road, you'll be on this for most of the remaining journey on the US side of the border. Along the way you could make a stop in Portsmouth to explore New Hampshire's oldest settlement, or enjoy the views out to sea from Portland, Maine. Or maybe take a whale watching trip to search for the gentle giants that also follow this coastline from April to October.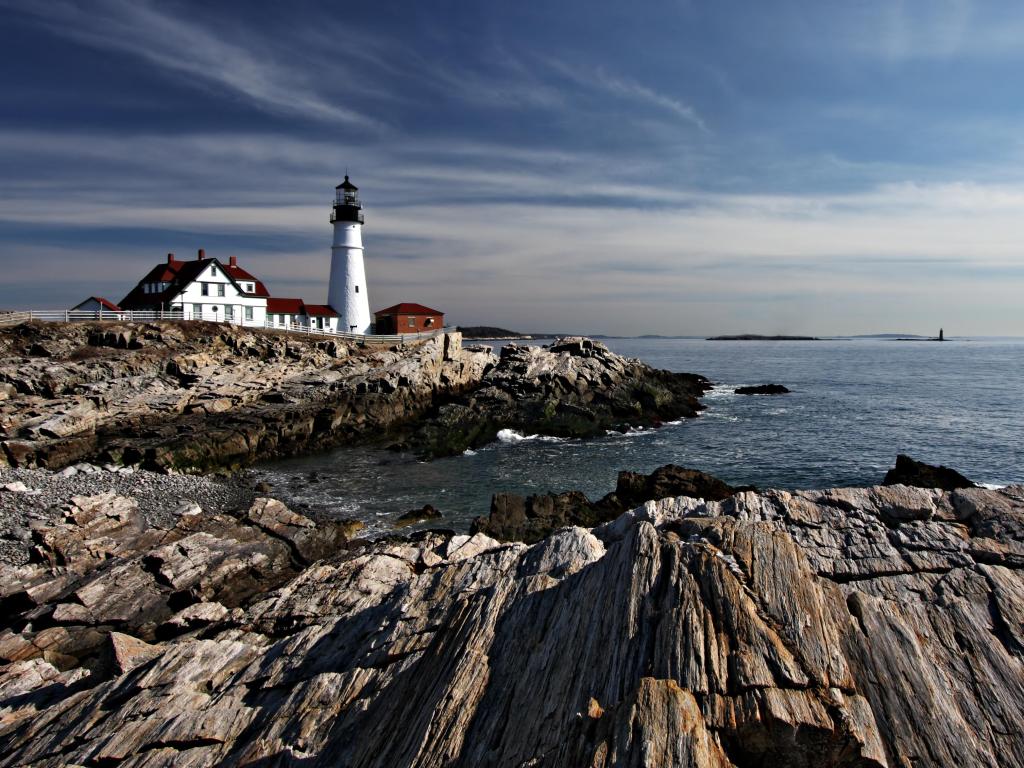 Once you reach Bangor, Maine, simply take State Route 9 into Canada.
Once you've crossed into New Brunswick, take NB Route 1 until it merges with Trans-Canada Highway 2, just before Moncton. Follow this around the outskirts of the city until the exit for NB Route 15.
This will take you to Port Elgin, where you can pick up the Trans-Canada Highway again to take you across Confederation Bridge and into PI (Prince Edward Island).
The Canadian Route
Leave Toronto on the ON-401, following it the whole length of Lake Ontario and along the St Lawrence River towards Montreal.
There are some great places to stop and explore the lake shore along the way, including the beaches of Prince Edward County or the Thousand Island Parkway between Gananoque and Butternut Bay. If you want to spend some time in Ottawa, it's only an hour's drive off the route.
Stay on ON-417 to leave the city before joining Regional Road 174 which takes you a pleasant route along the Ottawa River before becoming the A40 right into Montreal.
For a more direct route, simply stay on ON-401 until you reach Montreal. Along the way there are some great places to stop and explore.
To slow the pace a little, head to Morrisburg and follow the road through Riverside Village and Upper Canada Village to visit the Migratory Bird Sanctuary. After Ingleside, turn onto the Long Sault Parkway Scenic Route, before returning to ON-401 via Moulinette Road.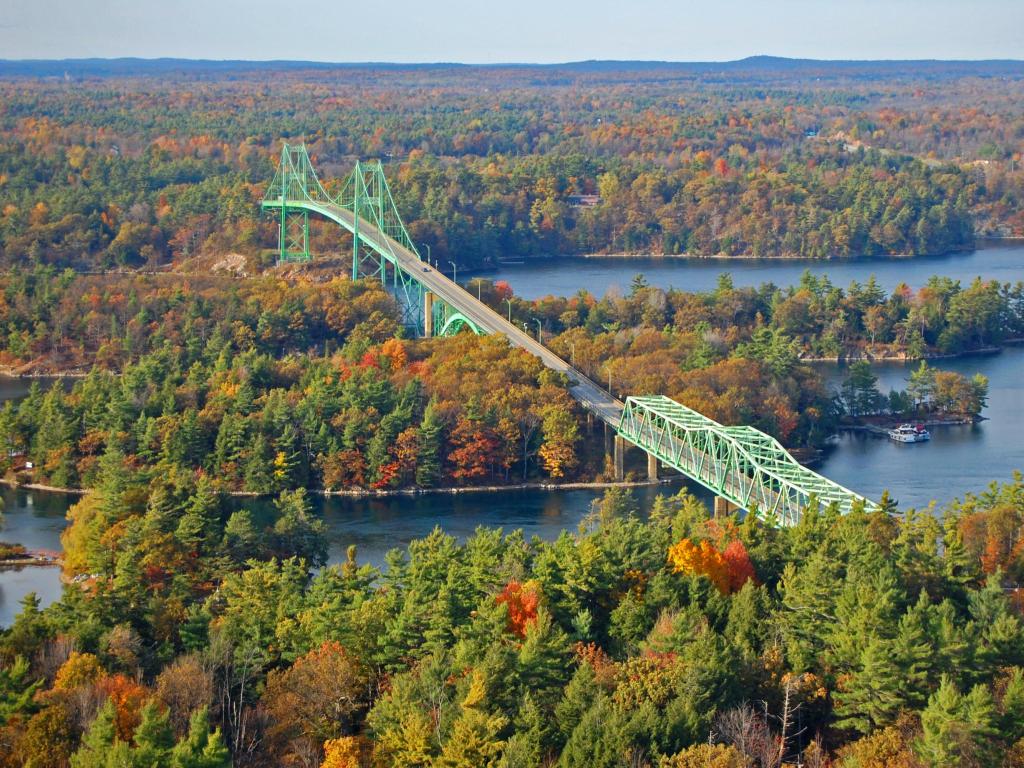 If you want to spend some time in Montreal, stay on the A20 which will take you right into the heart of the city. Rejoin the Trans-Canada Highway. There are plenty of small towns tucked away along the route where you can break your drive, including lovely Kamouraska with its salt marshes.
Just before Riviere-du-Loup, turn onto the A85 following signs for New Brunswick. On entering New Brunswick, the road becomes New Brunswick Highway 2, following the Canada/USA border for many kilometers without ever crossing it.
Following the St John River now, the road swings to the east, passing Foshay Lake and Moncton, where you'll leave the Trans-Canada Highway at exit 467B to take the Veterans Highway.
For your first views of PEI across the water, take a short detour along NB-950 before rejoining NB-15 at Shemogue and following it as far as Port Elgin. There, join NB-16 which takes you across the Confederation Bridge to Prince Edward Island.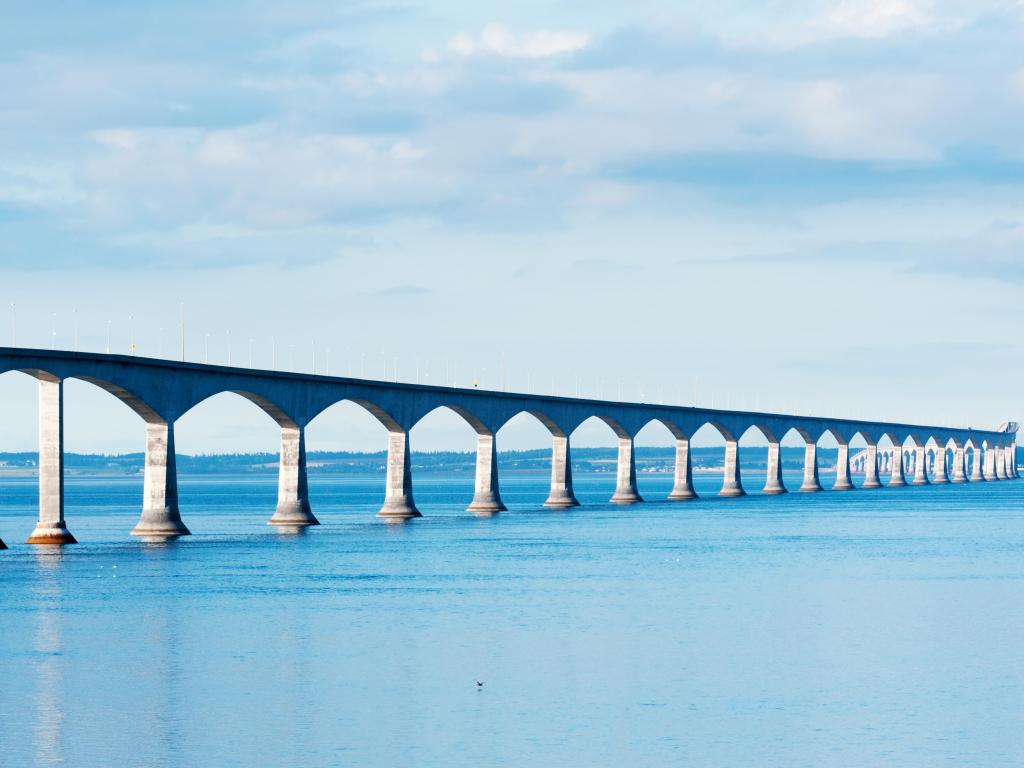 Best place to stop between Toronto and PEI
At a length of 17 hours, our road trip from Toronto to PEI is realistically going to need to be split up over two days at the very least.
Now, with our route going through so many great cities and near such wonderful attractions, there will be plenty of places that people choose to stop along the way, for a variety of reasons.
However, considering almost everyone will be making at least one stop on this journey, it's convenient that there is also one location along our route that I would comfortably recommend everybody to check out.
Study up on some American history in Boston
Just under halfway into our International Route (at around the nine-hour mark), Boston is a fantastic option for an overnight stop. One of the oldest cities in America, Boston is an incredible location, full of unique history, art and culture.
Whether you want to visit the sites of some of the most historic events in American history, catch a game featuring one of the country's most decorated sports teams, or simply enjoy the stunning views, food and culture of America's 6th largest state capital, Boston is a fabulous city that everyone should experience.
Considering how unique of a city Boston is, it seems only right to stay somewhere that properly represents it, which is why we highly recommend staying at The Bostonian. A luxurious hotel located in downtown Boston, you're perfectly situated for not only convenience but for stunning views of some of the city's most historic sites.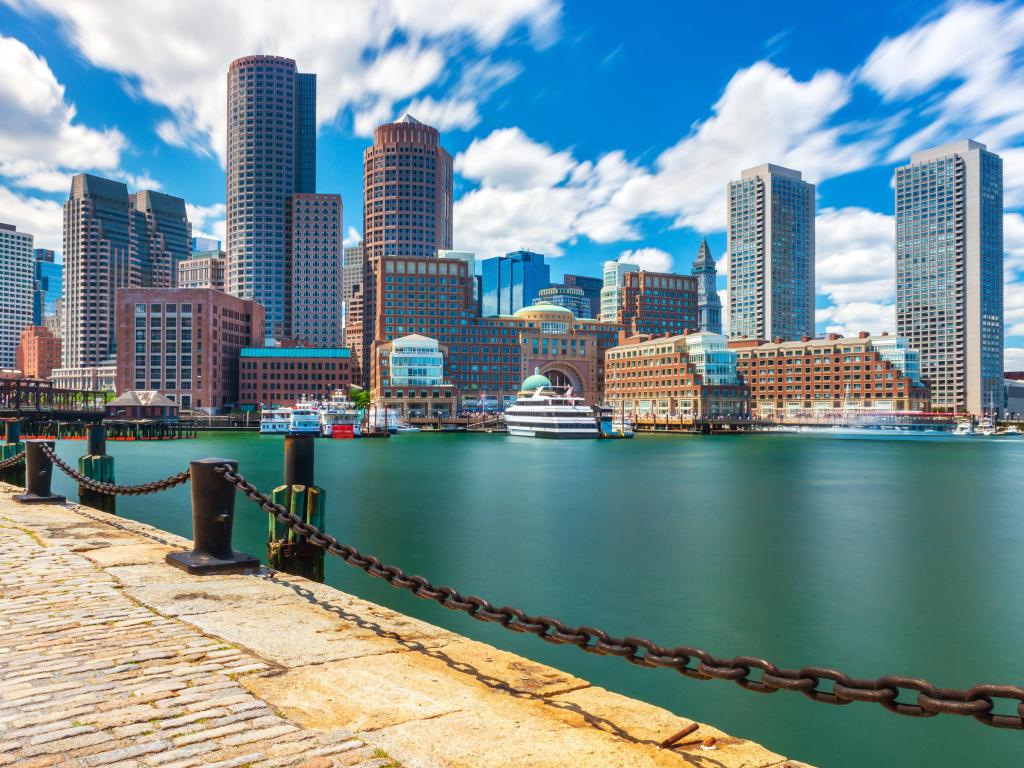 Listen to the waves on the shore at Portland
You'll have traveled a long way (on our International Route) by the time you reach Portland, and with around 8 hours of driving still to go, this is a great place to rest up and enjoy some rest and relaxation.
With its long history, bayfront location, and even the chance to see whales off the coast, Portland really does offer something for everyone.
There are many good accommodation options available in Portland, but if you're looking for somewhere that offers the trio of character, location and an affordable price you can't get better than the Portland Harbor Hotel.
Right by the waterfront, this hotel adds a splash of maritime color to its spacious rooms. It offers guest parking, and seeing as it's just a short walk from Portland's Historic District and beautiful Casco Bay, you'll be able to take a well-earned break from the car during your stay.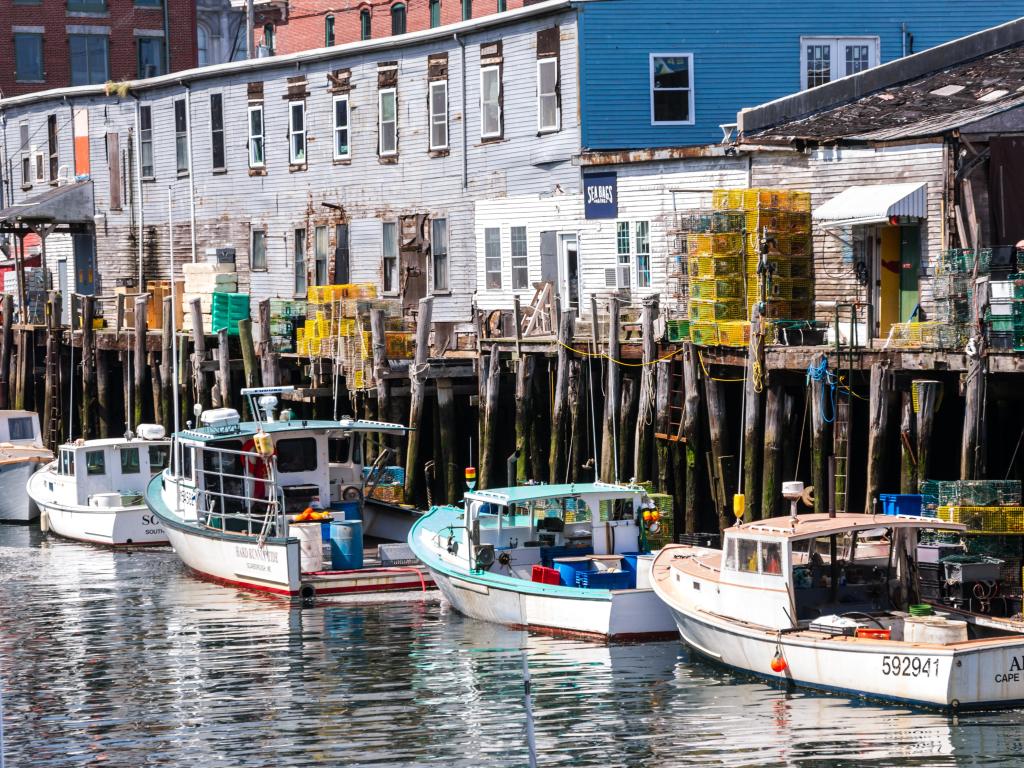 Explore Canada's French history in Quebec City
If you choose to take the Canadian Route for your road trip from Toronto to PEI, then Quebec City is an obvious choice for a stopover at around eight hours into the journey.
Just a short hop off the route, the drive across the St Lawrence River to Quebec City can almost feel like it's taken you back in time.
The cobbled streets and beautiful buildings of the old town are a fantastic place to lose yourself for an hour or two. And if that's not enough, with its waterfront location and some great restaurant choices, you can really relax when you arrive in town.
A beautiful hotel choice right in the centre of things is Hôtel Le Germain Québec, which is near the waterfront and in walking distance of many of the city's main attractions.
You can enjoy a meal here at the fantastic on-site restaurant, or head out to explore the quaint old town. It even has on-site parking, which is a rarity in this part of the city.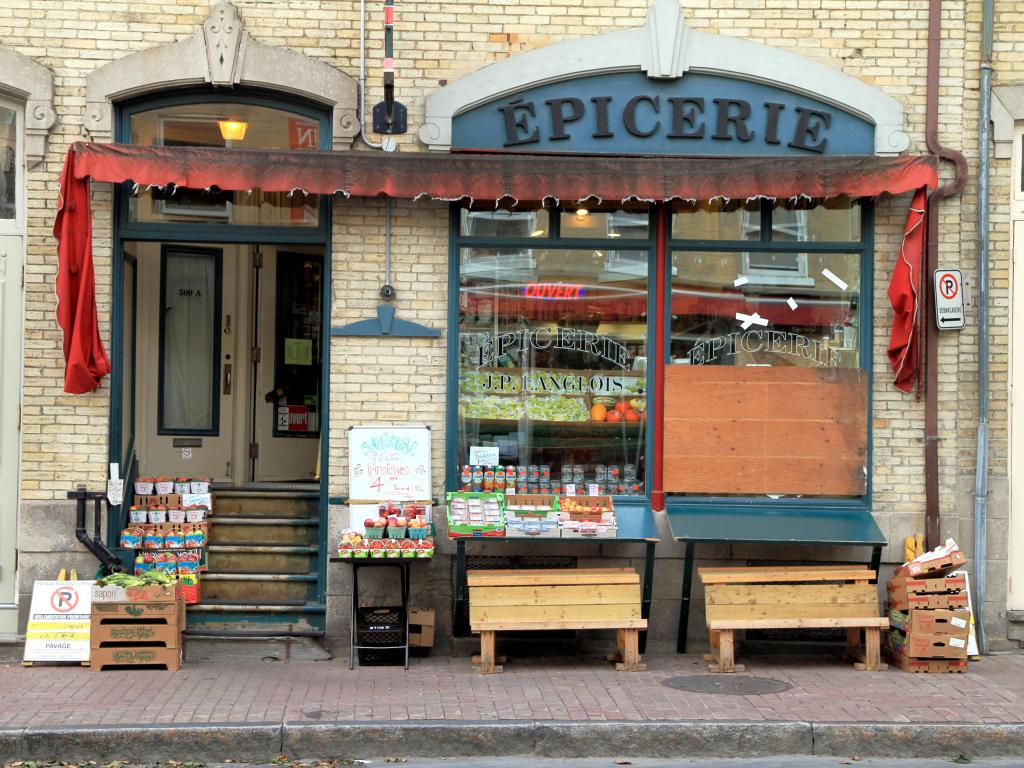 Things to see on a road trip from Toronto to PEI
With your road trip from Toronto to PEI covering such a huge distance, across so many states, provinces and even countries, there's plenty to keep you occupied along the way.
With so many kilometers to cover we can't list every place that's worth visiting, so we've pulled out some top picks for both routes.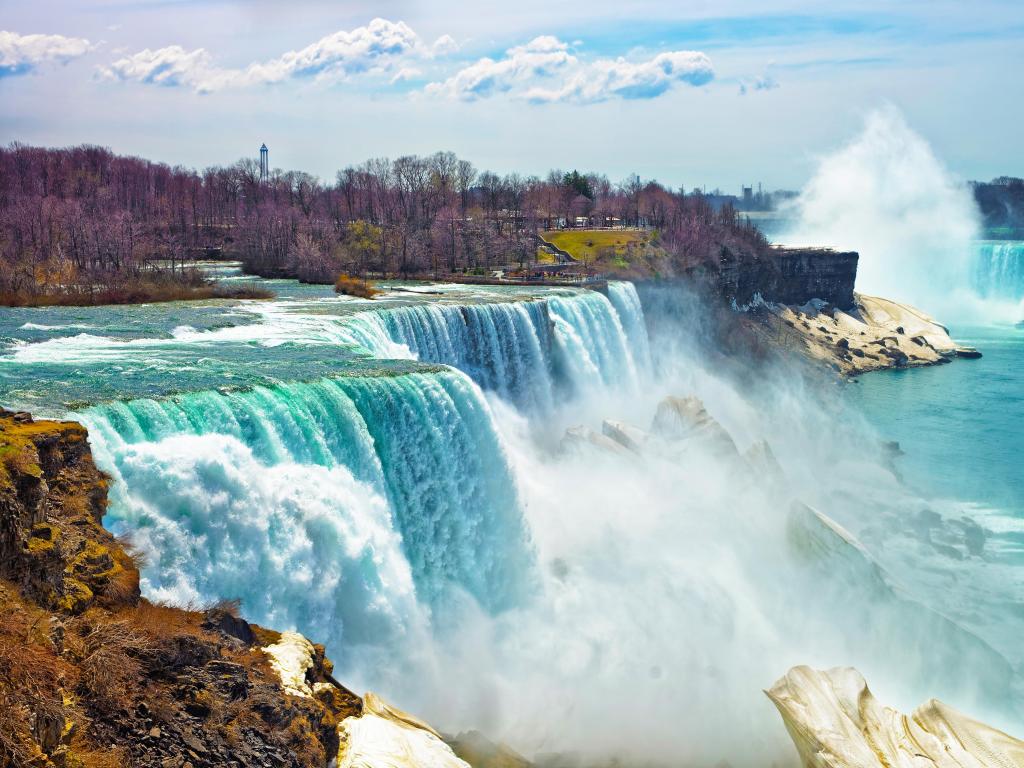 The International Route:
Lake Ontario - The smallest of the 5 great lakes is still the 13th largest lake in the entire world, with beautiful lakeside beaches to enjoy and landscapes that change with the seasons.
Niagara Falls - The most powerful falls in North America, Niagara is actually made up of three waterfalls and is an important source of hydroelectricity as well as being a popular natural attraction.
Albany, New York - This small city on the banks of the Hudson River, is capital of New York state and the perfect place to discover some of the Empire State's colonial history. Attractions include the stunning state capitol building, New York State Museum and the Irish American Heritage Museum, or stroll through the historic Arbor Hill district.
White water rafting in the Berkshires - Detour from Albany along Route 2 to ride the beautiful Deerfield River at Shelburne Falls
Boston, Massachusetts - The capital and largest city in the state of Massachusetts, Boston is also one of the oldest cities in the entire country, first settled in 1630.
Portsmouth, New Hampshire - The state's oldest settlement allows you to dip in to explore a slice of history while also admiring the sparkling view out to sea.
Whale watching in Maine - Your chances of spotting nature's giants are best from April to October, when humpback, minke and fin whales come to feed in the waters off Maine.
Bangor, Maine - From hiking and hunting to sailing and fishing, plus skiing and snowmobiling in the winter, Maine's third largest city is blessed with forests, parks and waterways. It really can provide the experience of the great outdoors, in the confines of a city.
Acadia National Park, Mount Desert Island - This stunning location combines beautiful forested mountain landscapes with views out onto the islands of the Gulf of Maine. It's a great place to spot wildlife including beavers, mink and snowshoe hares, and the waters surrounding the island are home to dolphins, seals and whales.
Moosehorn National Wildlife Refuge - A beautiful wilderness area at the most north eastern point of the United States, the area is home to bears, bobcats, otters and lynx, in addition to the moose that it's named after.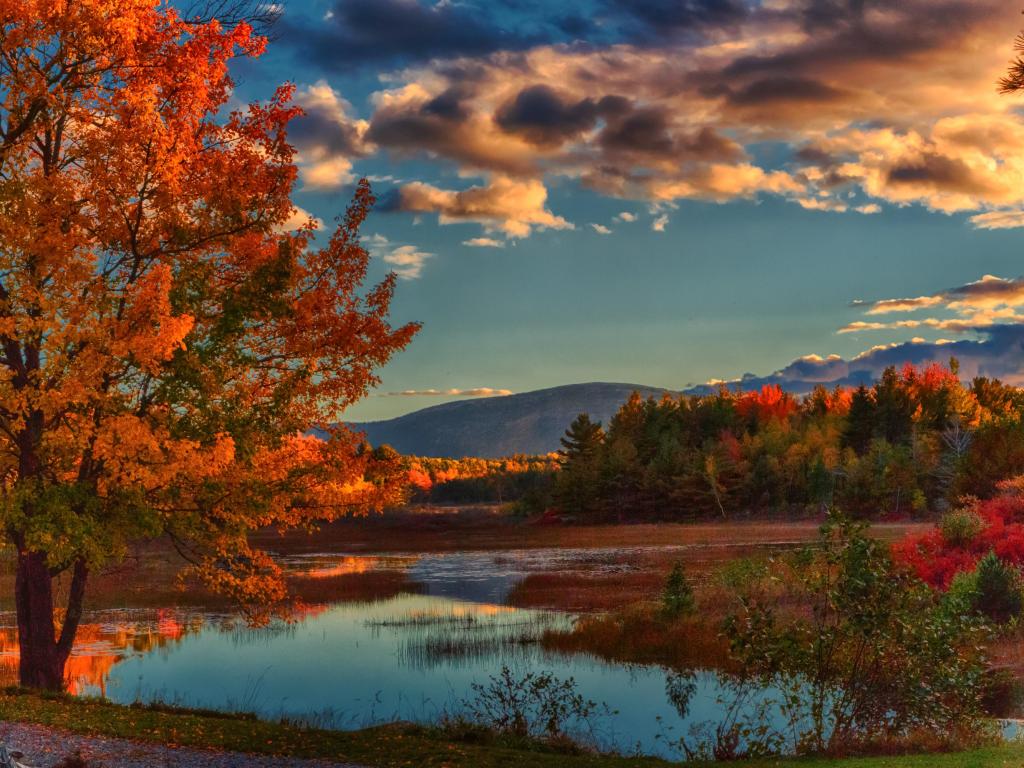 The Canadian Route:
Sandbanks Provincial Park - On the shore of Lake Ontario, the wide sandy dunes and wildlife havens are a fantastic place to explore.
Kingston Penitentiary - For something a little different, take a tour of this notorious maximum security prison, which housed some of Canada's most dangerous felons for nearly 200 years.
Ottawa - Stop off to enjoy Canada's vibrant capital city.
Long Sault Parkway Scenic Route - Starting at Ingleside, follow this detour across a string of sandy islands that run parallel with the Canada/US border.
Quebec City - Take a walk from the waterfront through the quaint old town, past Notre Dame de Quebec, the Museum of Civilization and the Museum of French America.
Hartland - Hop off the freeway to visit the historic covered bridge - one of the longest in the world.
Foshay/Grand Lake - Hike or fish on the shores of the lake, the largest freshwater lake in the province.
Joggins Fossil Cliffs - Take a detour to this UNESCO World Heritage Site on the Bay of Fundy where at low tide you can spot fossils around the exposed cliffs.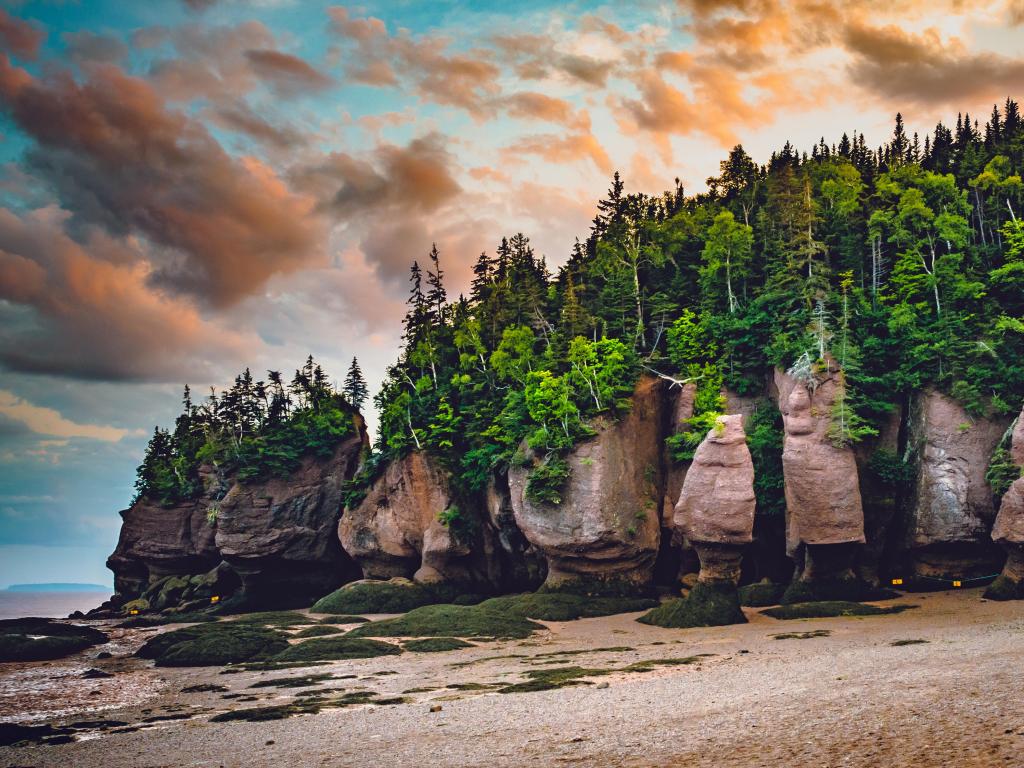 Best time to go on a road trip from Toronto to PEI
It should come as no surprise that Canada and the northern United States can have some pretty harsh weather if you choose to visit at the wrong time. That's especially true for areas along the coast, such as Prince Edward Island, where the added wind can chill you to the core.
Given that most of the stops we've suggested along the way are outdoor activities and locations, it's even more important to choose the right date for a road trip from Toronto to PEI.
If you particularly want to experience the trip in the snow then anytime from late November to early April should have you covered. You can even catch Quebec City's German Market in December. Just be prepared for extreme temperatures, harsh conditions and road closures which might prevent you completing the full route - unless you have a really strong yearning for snow, this isn't the best time to make this trip.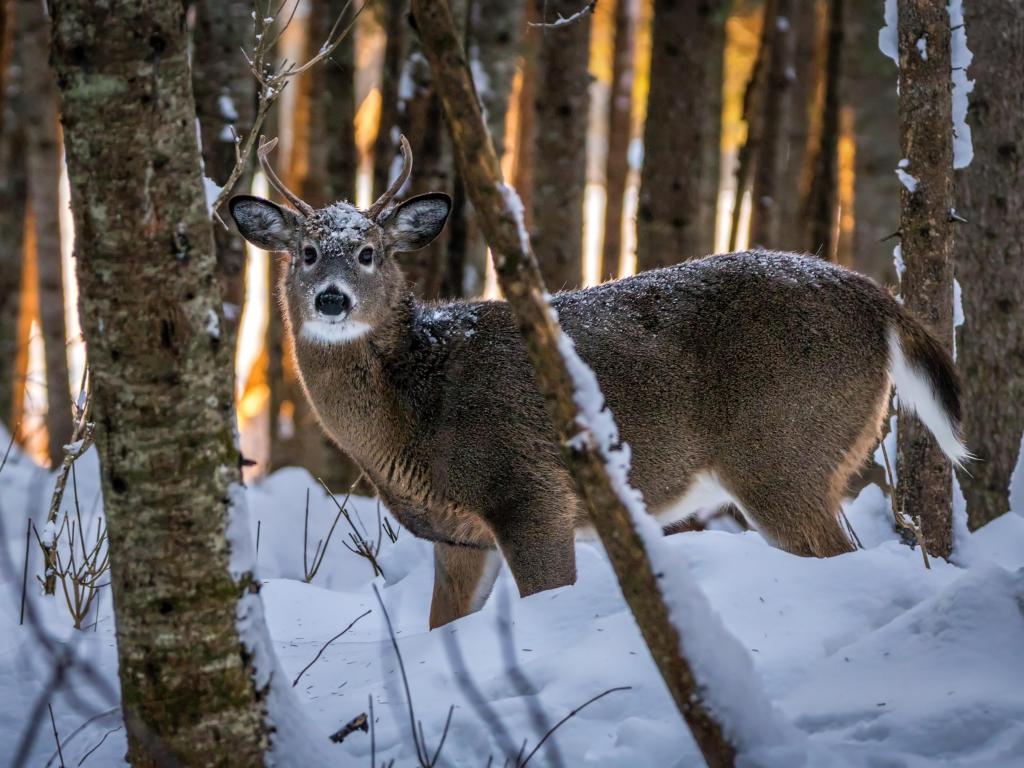 If you're hoping for the warmest weather, the best window to travel is late June to early September. Temperatures in New Brunswick rarely soar though, with an average high of 22 degrees in July and rain possible throughout the year. Further south on the International Route, you should be lucky with warmer, more predictable weather for a longer stretch of the year.
Le Festival d'été de Québec, an 11 day music festival which takes place in July, is the perfect time to enjoy Quebec City. Or the Berkshires are also known for their summer arts festivals, spread out throughout the season.
For the iconic fall driving experience, time your drive on the International Route to take in the magnificent colours of Massachusetts, New Hampshire and Maine in October.
One last thing to add is that, if you're taking the International Route in summer or at holiday times, be sure to factor in a little extra time for your border crossing. The Rainbow Bridge crossing in particular can get really busy at peak times, and delays of up to an hour aren't unknown.