Road Trip from Montreal to New York
The road trip from Montreal to New York City takes you from the largest city in Quebec, across mountains and rivers to the most populous city in the entire United States. If you're looking for a fun-filled journey with great scenery and cities - then this is the trip for you.
The 720km road trip from Montreal to New York City takes 7 hours to drive. Key stops include Hartford, Burlington, Catskill, Albany, Woodstock, New Haven and Springfield, as well as Mount Mansfield State Forest, Big Indian Wilderness and Camels Hump.
There are lots of great places to see along this epic road trip journey. So please keep reading until the end to learn all about them, plus our tips on where to stay, and the best time of year to travel.
How far is New York City from Montreal and how long will it take to get there?
Comparison of road trip routes between Montreal and New York City

| Route | Distance | Driving Time |
| --- | --- | --- |
| The Connecticut Route | 720 km | 7 hours 30 minutes |
| The Catskill Route | 670 km | 8 hours |
The road trip from Montreal to New York City takes a minimum of 6 hours and covers at least 600 km. That said, we're going to suggest two slightly routes to allow you to take in more of this often-overlooked region of America.
The first slight detour route takes you through Connecticut and covers a distance of 720 km. This option will take you around 7 and 30 minutes to drive non-stop.
The second option takes you through Catskills and offers up views of Big Indian Wilderness. At 670 km and taking 8 hours to drive, it's a similar distance but offers up different attractions along the way.
Regardless of which route you select, this is a trip that could be completed in a single day. However, in order to make the most of the scenery along the way, we recommend splitting the trip over a period of two to three days.
As both routes begin in Canada's Montreal before crossing the US border, it's important that you check you have the correct documentation and proof of identity to allow for a smooth journey.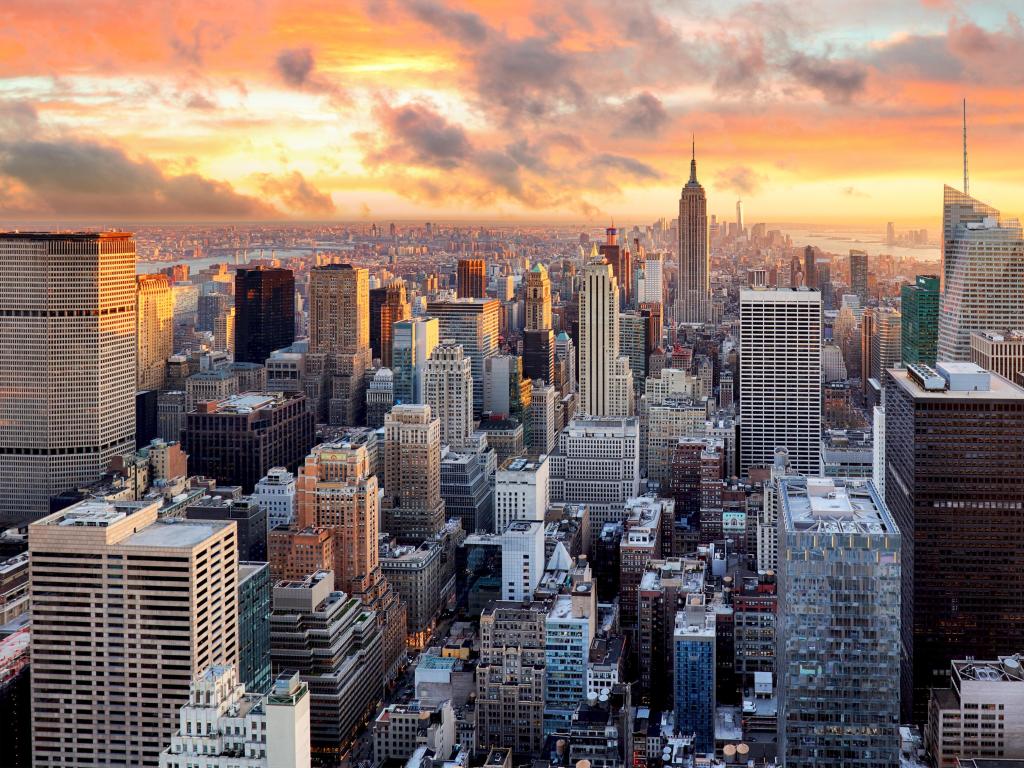 Best road trip route from Montreal to New York City
The two options for the road trip from Montreal to New York City offer great views of mountains, rivers and cities along the way. With similar distances and travel time, your decision really will be based on which attractions you most want to see.
The Connecticut Route will take you from the Canadian province of Quebec, across the international border into the American state of Vermont, and through Massachusetts and Connecticut, before bringing you to the state of New York.
Meanwhile, the Catskill Route takes you on the other side of Lake Champlain, alongside Pharaoh Lake Wilderness Area and through some of New York's great cities before arriving at New York City itself.
How to drive from Montreal to New York City
The map above shows our suggestions for the best routes between Montreal and New York City. Keep reading for detailed descriptions of both routes, where to stay on either, and the best things to do on the way.
The Connecticut Route
Begin by taking Quebec Autoroute 10 across the St Lawrence River, to just south of Chambly, where you'll go south on Quebec Autoroute 35. Follow this to its conclusion before switching to Quebec Route 133, which will take you to the American border.
Once you pass into Vermont, you'll be on Interstate 89 and remain on it for 210 km (130 miles), passing Camel's Hump State Park and CC Putnam State Forest, until you reach White River Junction.
Here you'll change to I-91 and follow it south, passing Springfield and Hartford, two worthy stops for a chance to explore more of the cities and surrounding attractions.
Continue south on I-91 until you arrive in New Haven, Connecticut. This coastal city is worthy of an longer stay, if time allows, otherwise you will follow the I-95 the remaining 105 km (65 miles), alongside the coast and through some pretty towns, before arriving at the New York City borough of The Bronx.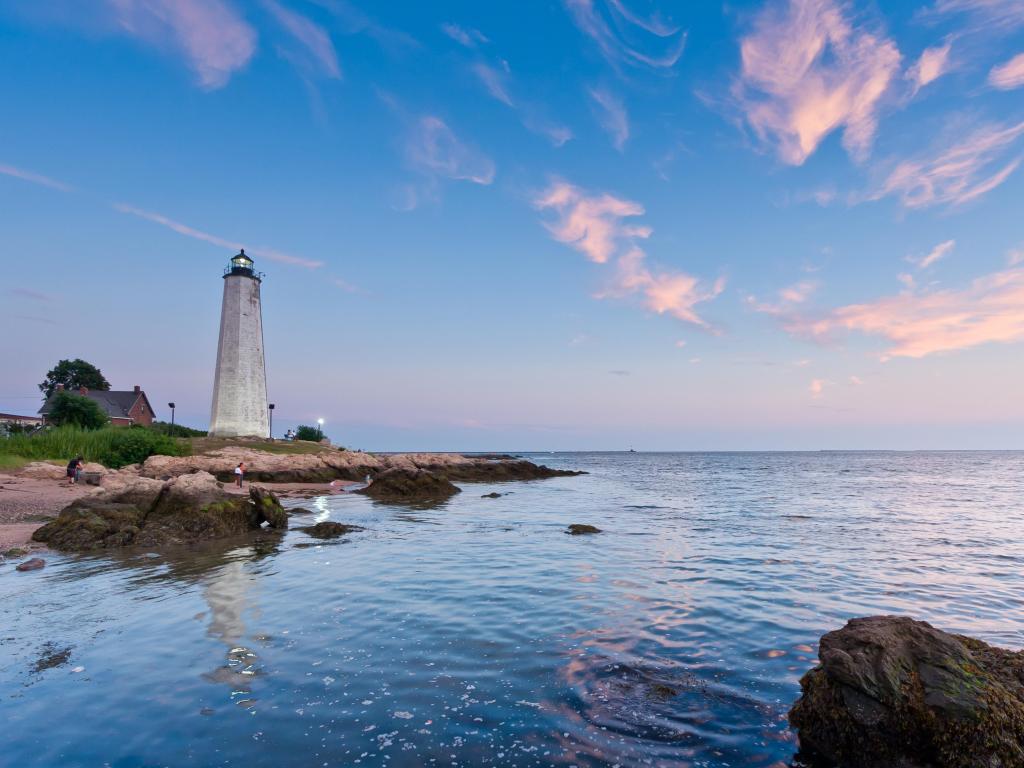 The Catskill Route
Follow A15 south from Montreal and pass Napierville before crossing the US border at Champlain. The road merges to become Interstate 87, which you will then follow through several towns, including Plattsburgh and Elizabethtown.
From North Hudson, you could consider a stop and detour to visit Mt Marcy and the High Peaks Wilderness, or Hoffman Notch or Pharaoh Lake Wilderness Area. Regardless, your route will pass alongside them and you'll get fantastic views en route.
Continue south on I-87, through Queensbury and Ballston Spa, to name a few towns. You could take a detour and stop at Albany, New York's capital, or continue south before following the turn off to Catskill.
Follow NY-214 through Hunter before arriving at Phoenicia, an ideal spot to stop and explore Big Indian Wilderness. Next follow the road to Woodstock, where you will continue south at Kingston on US-44 to Poughkeepsie.
Take NY-9D south to Beacon, before taking exit US-6 and drive alongside Harriman State Park. The next stretch will take you south and through Manhattan to New York City.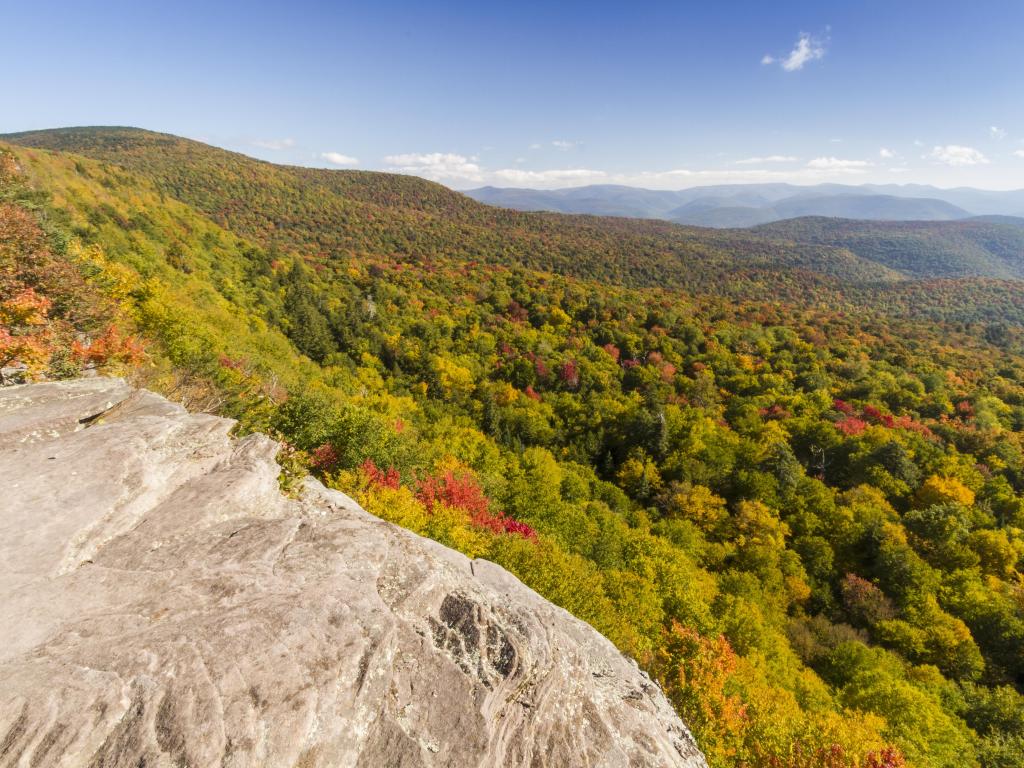 Best places to stop between Montreal and New York City
If you have decided to split your road trip from Montreal to New York City across at least 2 days, then you're going to need somewhere to stay. While there are plenty of beautiful, historic locations along our route, here's the ones you won't want to miss:
Have a historic hiatus in Hartford
As both the capital and fourth most populous city in the state of Connecticut, Hartford is bound to draw attention from those passing through the area. If you've opted for the Connecticut Route, then Hartford is also ideally situated at just over 5 hours from Montreal.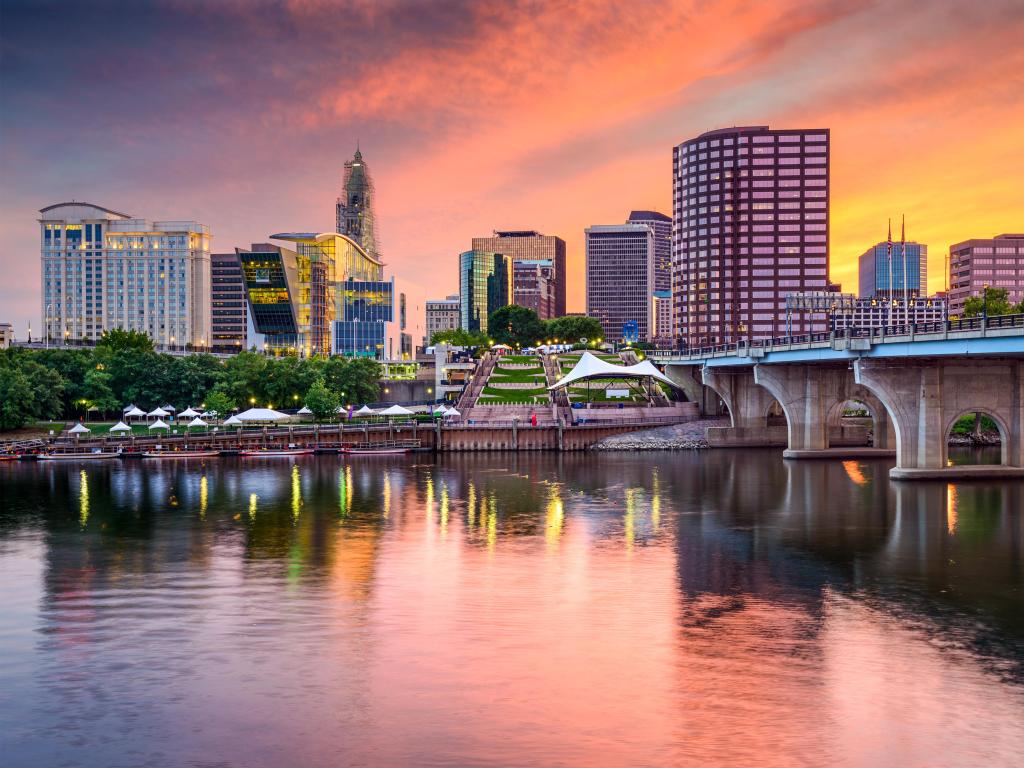 However, it is the incredible history of the city that is its true selling point. First settled in 1635, Hartford is one of the oldest remaining cities in all of the United States. As such, there are historic locations and attractions almost everywhere you turn.
Some of its more prominent historical features include having the oldest public museum, park and continuously published newspaper in the country, as well as being home to the Mark Twain House, the legendary writer.
A historic stop like this also deserves a historic place to stay while you're in town, and The Goodwin is the perfect place to do just that. Originally built as a high-end apartment building in the late 1800s, it has since been converted into a stylish hotel.
Despite its history, the hotel has been thoroughly modernized and now boasts boutique rooms and a fantastically modern bar and restaurant. Situated in the heart of the city and featuring stunning views, you'll get a memorable stay at one of the city's premier locations.
Get back to nature in Woodstock
Only a few hours drive on our Catskill Route to New York City, an overnight stop at Woodstock is an absolute must. This lovely town in Ulster County, New York, lies within the borders of Catskill Park and is a great location for visiting some of the stunning nearby forests and parks.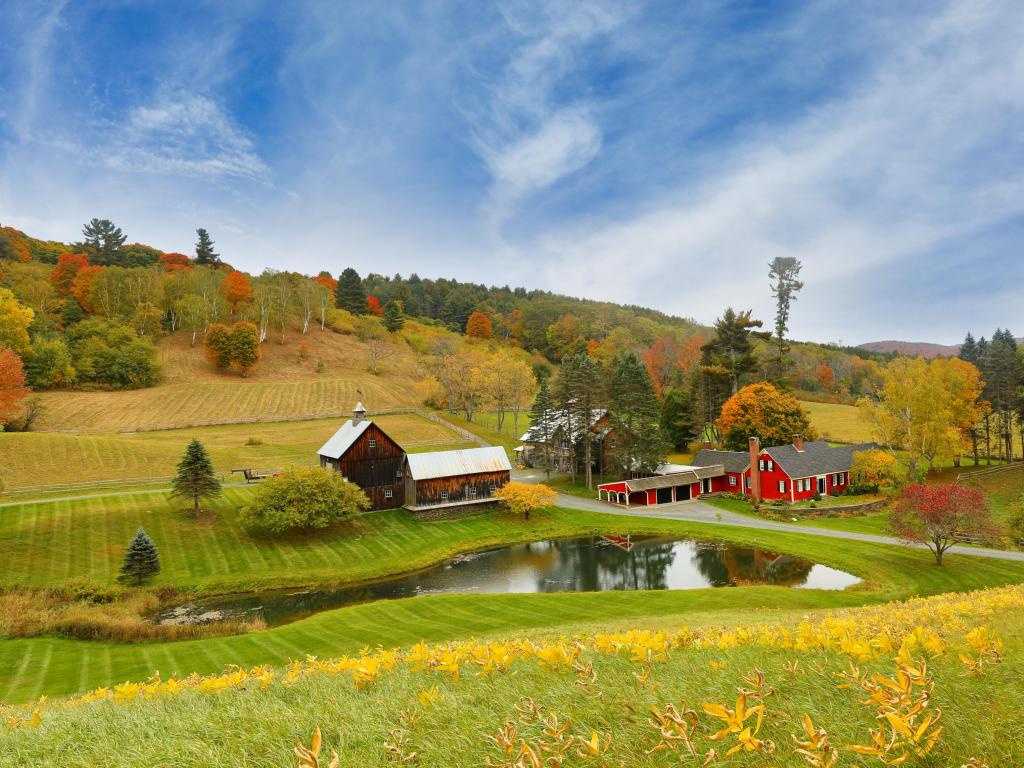 Probably best known for its Woodstock Film Festival, held in the fall, this charming town is a great location for exploring its art, music and theatre scene. After exploring the town, you're only a short distance from some breathtakingly beautiful spots, including Indian Head Mountain and Wilderness.
After exploring the local area, there's no better place to soak up the atmosphere than a stay at Woodstock Way Hotel. Set amongst the trees and looking more like a cabin than a hotel, this Woodtstock resort is unique and delightful.
Situated in the center of Woodstock, Woodstock Way Hotel features free bikes and a stunning garden to explore, plus an onsite restaurant, fantastic terrace and a bar. All rooms and cabins come with private outdoor areas - ideal for stargazing or just relaxing after a long drive.
Where to stay when you arrive in New York City
Of course on this road trip, the route is only half the journey. When you arrive in New York City, you will want to ideally stop the night and explore all that this incredible city has to offer - even then, you'll be hard pressed to fit it all into a couple of days!
New York City, compromises 5 boroughs sitting where the Hudson River meets the Atlantic Ocean. As its core is Manhattan, the world's major commercial, financial and cultural centers. Its iconic sites include skyscrapers such as the Empire State Building, as well as its famous Central Park.
After spending time at Times Square or visiting its many famous theatres, you'll want to stay in somewhere equally as glitzy and glamorous. The Empire Hotel in Manhattan has everything you could want from a New York Hotel. Its stunning exterior is matched with a modern and elegant interior.
Guests at the Empire Hotel can enjoy a seasonal rooftop pool which is surrounded by a sun deck, providing panoramic views of New York City. Just 200 yards from Central Park, this hotel is the perfect spot for exploring - that is if you can drag yourself away from the hotel itself.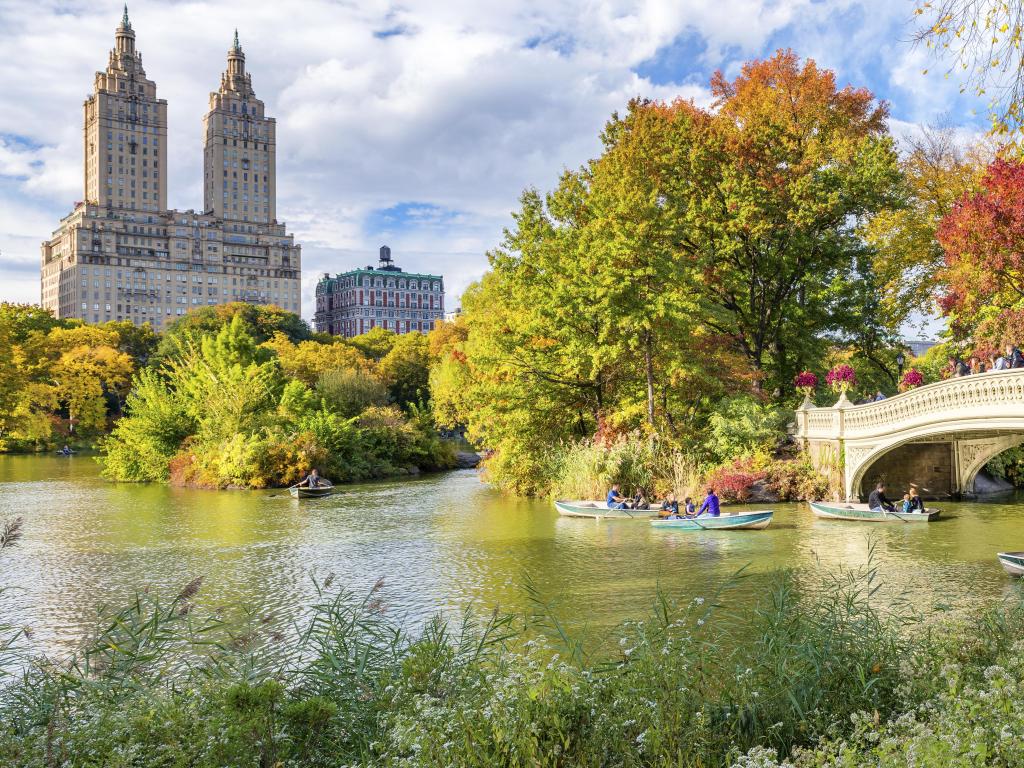 Things to see on a road trip from Montreal to New York City
The road trip from Montreal to New York City takes in some fantastic places to visit as well as mountains and lakes to explore.
You could comfortably spend several weeks exploring them all, but if you are pressed for time, we have come up with the most impressive ones you'll see along the way.
Connecticut Route
St Lawrence River - At a length of 1,200 km (745 miles) including its estuary, it connects Lake Ontario to the Atlantic Ocean, running through 3 Canadian provinces and along Ontario's border with the US state of New York.
Burlington, Vermont - The most populous city in the state of Vermont, it is also the least populated city in America to hold such a distinction. Known mostly as a college town for its two universities, it was also the first city in America to run solely on renewable energy.
Mount Mansfield State Forest - The largest state forest in Vermont, it features 4 separate state parks within it. It is home to Mount Mansfield, the highest peak in the state, and is a popular destination for its wide variety of outdoor activities, including hunting, fishing, boating, skiing, swimming, cycling, hiking, camping and studying wildlife.
Camels Hump State Park - The home of Camels Hump, the third highest mountain in Vermont and one of the state's most recognisable features. Featuring incredible views from the top and a wide variety of plant life, this is understandably a popular destination among hikers, with around 26,000 visitors trekking to its peak each year.
CC Putnam State Forest - A scenic area covering more than 34 miles, with 3 separate peaks to climb (Mount Hunger, Mount Putnam and Mount Worcester), as well as the Moss Glen Falls Natural Area, which contains one of the highest waterfalls in the state.
Montpelier, Vermont - The least populous state capital in the entire United States, its population of less than 8,000 is estimated to almost triple during the day, due to the amount of people who commute into the city for work.
Mount Ascutney State Park - A beautiful location in central Vermont, this State Park features miles of hiking trails, travelling through parts of the park listed on the National Register For Historic Places, to the Cascade Natural Falls and even to the peak of Mount Ascutney itself.
Mount Holyoke Range State Park - A popular destination for hikers, located in the Connecticut River Valley of Massachusetts, Holyoke range is known for its scenic views and its historic locations, such as the Horse Caves and Mount Holyoke Summit House.
Hartford, Connecticut - Founded in 1635, Hartford is one of the oldest cities in America, as well as the being the capital and fourth most populous city in the state of Connecticut.
Bridgeport, Connecticut - The largest city in the state of Connecticut, Bridgeport is a historic city for a number of reasons, including being home to legendary showman P.T Barnum.
Stamford, Connecticut - The third largest city in Connecticut and known primarily for its financial district and for being the home of numerous high-end corporations, the city also has plenty of entertainment, including theatres, museums, galleries and libraries.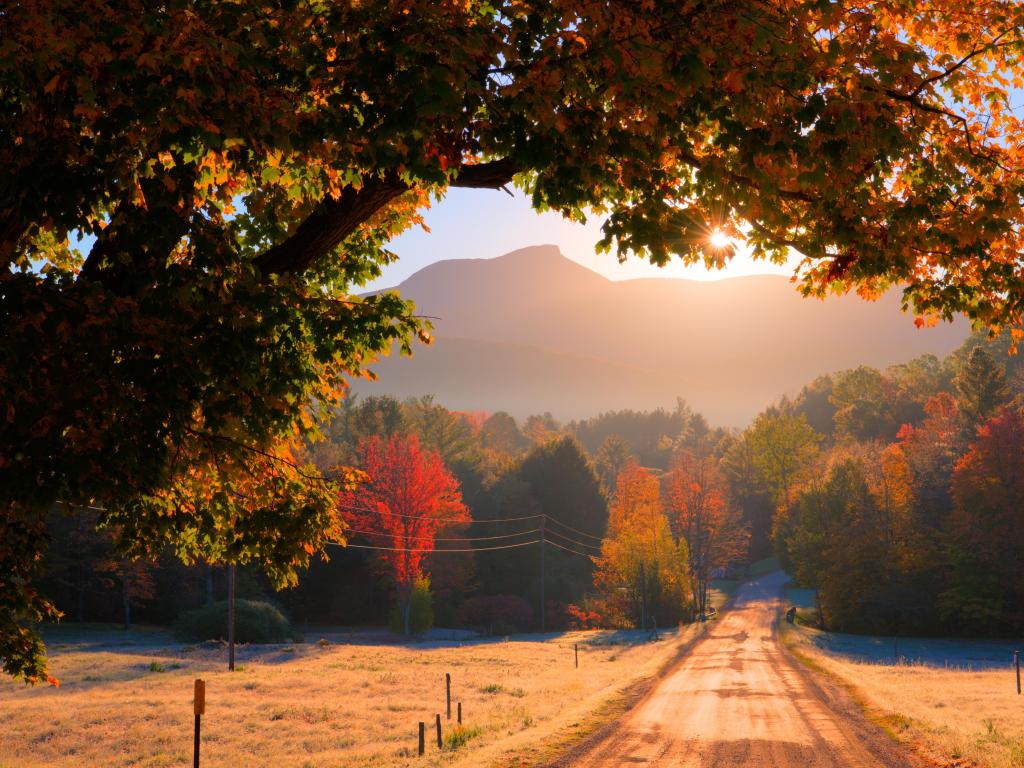 Catskills Route
Lake Champlain - This natural freshwater lake borders the US and Canada. It's known as being home to some of the oldest fossil reef in the world. There's also 587 miles of shoreline and 54 public beaches on the lake, making it a popular destination in the summer months.
Albany - The New York capital is a historic and cultural place of interest. Visit the Empire State Plaza or the New York State Museum, there's so much to see at this fantastic city.
Dix Mountain Wilderness - The nature preserve in North Hudson offers great hiking trails and fantastic scenery.
Woodstock - This town lies within the borders of the Catskill Park and is a great location for visiting some of the stunning nearby forests and parks.
High Peaks Wilderness - This area is the largest forest preserve in New York State and features dense woodland, beautiful lakes and great trails.
Big Indian Wilderness - Found within the Catskill Park, Big Indian Wilderness is a great place for hiking, snow-shoeing and camping. With 33,500 acres and 30 miles of foot trails, it's a hiker's paradise.
Catskill - Surrounded by mountains, this small town is another great base for exploring the nearby Catskill Mountains.
Pharaoh Lake Wilderness Area - This tucked-away lake with mountain and forest views, is great for boating, fishing or just relaxing along its pretty shore.
Beacon, New York - This city in New York is a popular oasis for city-weary New Yorkers with its promise of art and nature-filled activities. From Beacon, you can travel to the nearby Fahnestock State Park.
Harriman State Park - Another hiker haven, this state park is the second largest in New York State and has over 200 miles of trails to explore, as well as a waterfall to discover.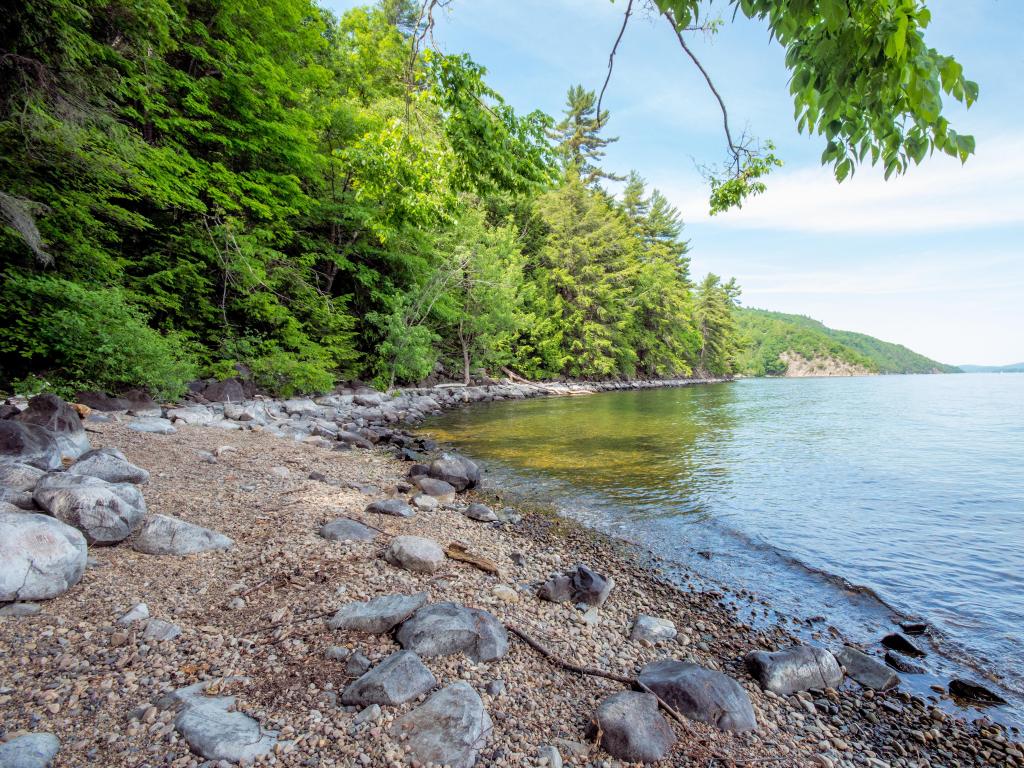 Best time to go on a road trip from Montreal to New York City
Choosing the perfect time to take a road trip from Montreal to New York City is a task that will be different from person to person, as this is a city that can present two distinctly different sides.
In the summer it can be a destination with warm, sunny weather and temperatures as high as 76 degrees Fahrenheit - perfect for strolling through its parks or taking a boat ride in its surrounding waters.
However, in the winter it is a bitterly cold city, known for snow and ice and tempertaures as low as -2 degrees at night. That said, Mid Hudson Valley and the Catskills have more moderate winter temperatures that are not quite so cold.
Winter in this part of the US still draws a large crowd, particularly those looking to experience some of its world-famous Christmas displays or indulge in a spot of shopping. Like the summer months, you'll find the city and its attractions busy at this time of year.
If warm temperatures and big crowds don't put you off, how about timing your visit to New York with the world's biggest Pride celebration, held throughout July. This month-long festival promises to be a spectacular of color and fun.
Alternatively, if you want to experience New York during milder and quieter months, then a visit during late spring or early fall will be an ideal time.