Road Trip from Montreal to PEI (Prince Edward Island)
The epic adventure from Montreal to Prince Edward Island will take you from the most populous city in Quebec to the least populated province in all of Canada, passing through America's Maine as well as stunning national parks and amazing wildlife preserves.
The 1,040 km road trip from Montreal to Prince Edward Island will take 12 hours to drive. The route passes Woburn, Madison, Bangor, Port Elgin and Moncton, as well as Sherbrooke, Mont-Megantic National Park, Acadia National Park and Bigelow Preserve.
The incredible adventure taking you to the east coast of Canada offers stunning scenery, beautiful views and exciting cities and towns to explore. To help you make the most of your journey, we've set out the best route, places to stop overnight, our favorite things to do and the best time to make the trip from Montreal to Prince Edward Island (PEI).
How far is PEI from Montreal and how long will it take to get there?
The road trip from Montreal to Prince Edward Island spans a distance of 1,040 km and will take 11 hours and 45 minutes to drive without stopping.
While there is a more direct route you could follow, to make the best of the fantastic parks, beautiful scenery and fascinating cities along the way, it's worth adding a few short detours.
At just under 12 hours, this is a trip that's best enjoyed over a minimum of two days. That said, if you can stretch it to three or four days, you'll be able to include a couple more overnight stops and explore more of rugged Canada and the incredible cities in Maine.
Despite the fact that the trip begins and ends in Canada, you'll still be crossing into the US part of the way. Therefore, you'll need to make sure to check with documents you'll need, as well as remembering to bring proof of identity in order to cross the border smoothly.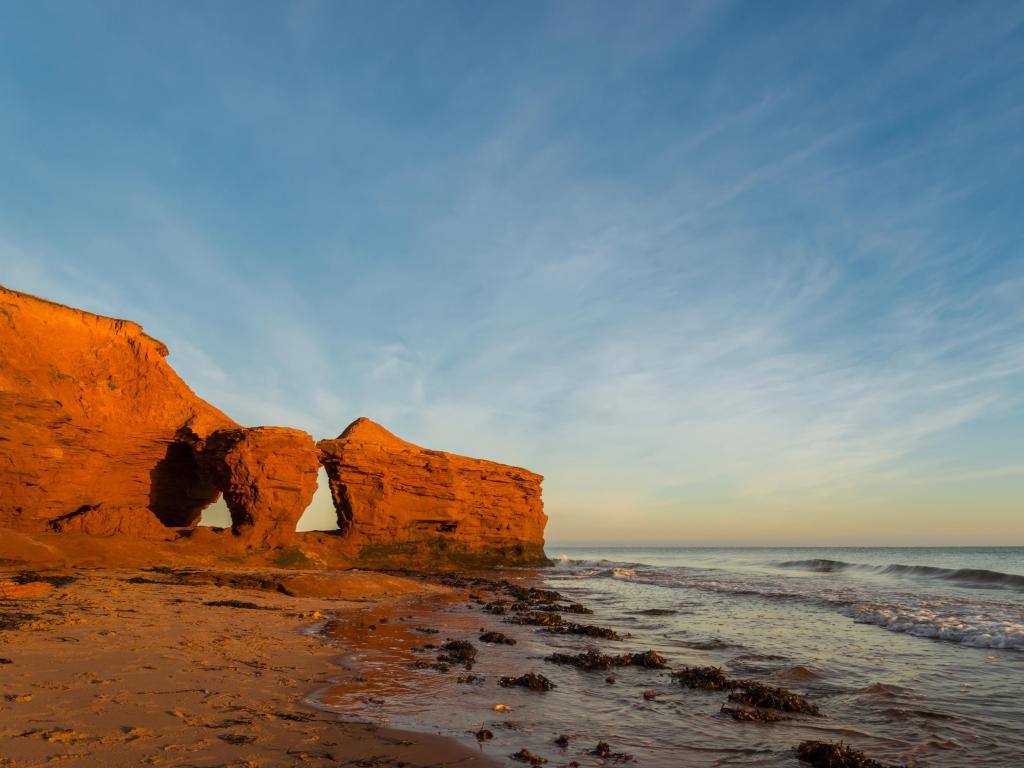 Best road trip route from Montreal to PEI
The best route for the road trip from Montreal to PEI will take you from Quebec, through the American state of Maine and the Canadian province of New Brunswick, before bringing us to our destination of Prince Edward Island.
While you could get there without crossing into the US, by heading north to Quebec City and then east to New Brunswick, you'll be missing out on exploring the interesting cities of Madison and Bangor in Maine, not forgetting several beautiful nature reserves along the way.
Road trip from Montreal to PEI
Begin by setting out on Quebec Autoroute 10 and following it for its entire 145km duration to the city of Sherbrooke. From here you will then switch to QC-108 east, passing Cookshire-Eaton before changing to QC-212 and arriving at Woburn.
After leaving Woburn, the road will merge into ME-27 at the US border. After a short drive, you will arrive at Eustis, a great place to explore the nearby Bigelow Preserve.
Continue heading south on ME-27 through Kingfield in Maine before turning right onto US-210A and arriving at Madison, a great option for an overnight rest.
Next, follow the road east on State Route 148. At Martin Corner turn right onto Russell Road and follow that to Skowhegan. The next section is a little complicated, with a number of quick changes. This will eventually merge with US-2.
Continue on US-2 to Newport, where you'll join Interstate 95 and take exit 183 to Bangor, another great city in Maine. If you have the time, you could take an optional detour to visit the coast.
When you leave the city, follow State Route 9, which will take you all the way to the Canadian border. Make a stop to explore Moosehorn National Wildlife Refuge.
After passing into New Brunswick, take NB Route 1 past Loch Alva Wilderness Area and the city of Saint John, to where it merges with Trans-Canada Highway 2 outside Moncton. Take this around the outskirts of the city, until you come to NB Route 15.
Continue on this road until you arrive in Port Elgin, a beautiful Canadian village, before joining the Trans-Canada Highway and follow it across Confederation Bridge and into Prince Edward Island.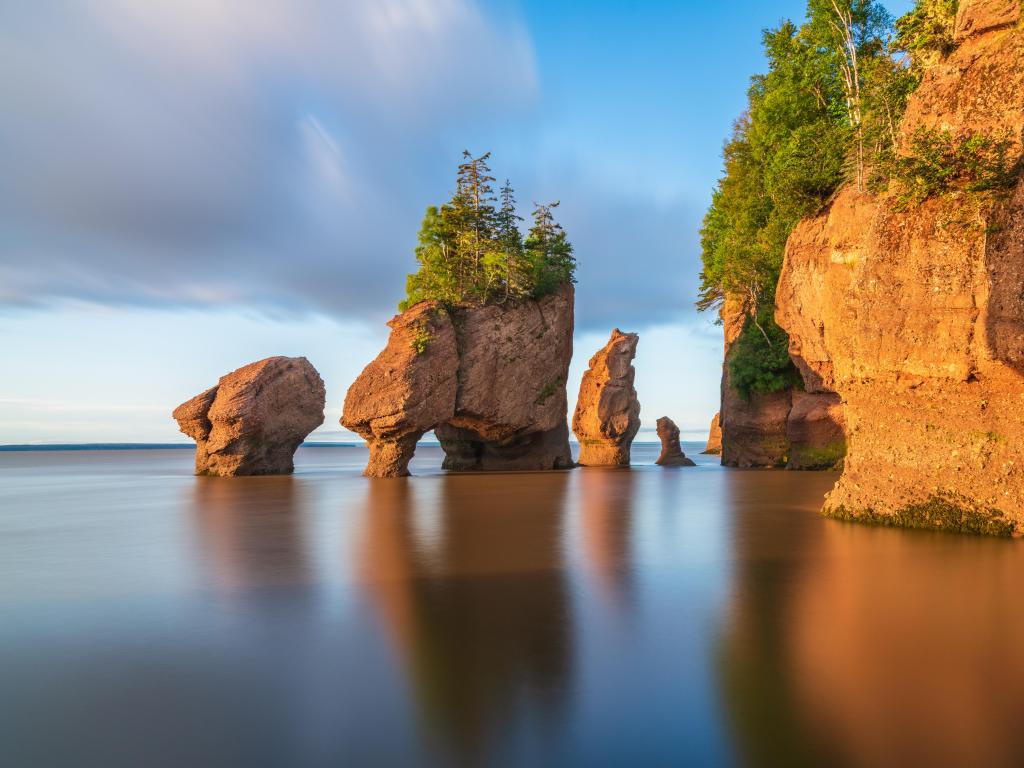 Best place to stop between Montreal and PEI
While at a stretch you could complete the road trip from Montreal to Prince Edward Island in a single day, you really wouldn't have many opportunities to enjoy the scenery or attractions along the way.
Instead, if like the majority of people you will be looking to split the journey over at least two days, here are a few of our favorite hotels that you might just want to consider:
Stay in the Queen City of the east in Bangor
Located in southern Maine, Bangor is an ideal stop on this trip as it's just 6 hours from your final destination. Compared to most cities in the US, Bangor is unique, selling itself less on being a built-up metropolis and more on being a place that embraces the great outdoors.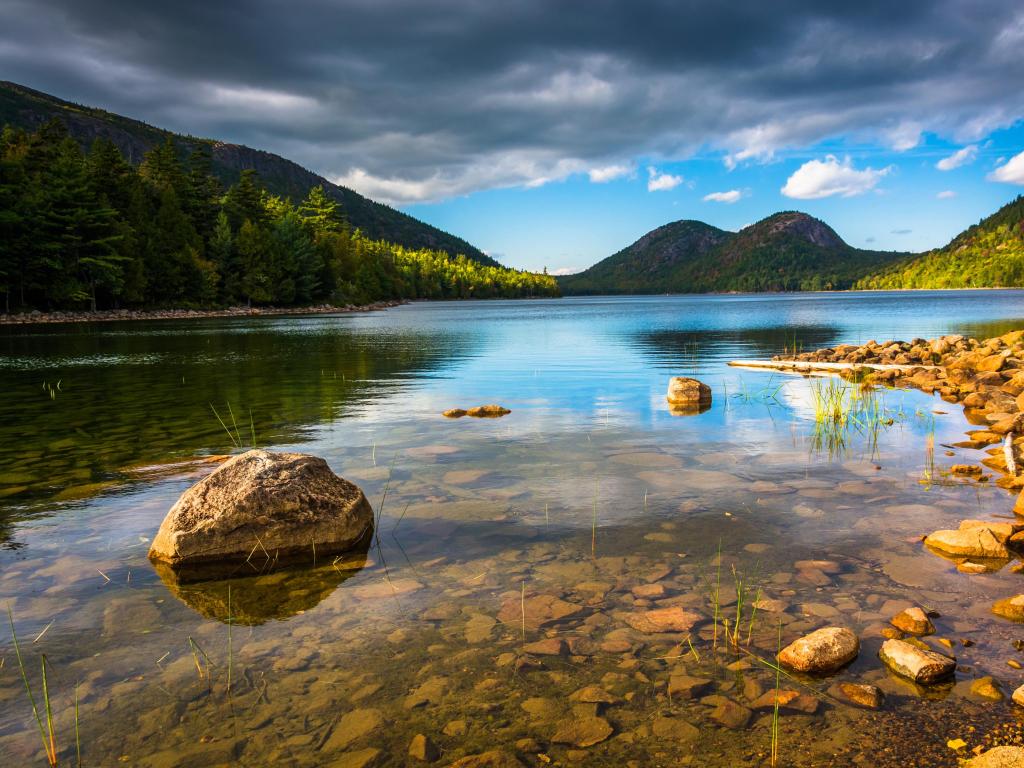 The combination of both containing and being surrounded by numerous stunning parks and forests, as well as its warm summers and snowy winters, make this a place that offers something for everyone.
From beautiful lakes and incredible forests that offer scenic hiking trails, to fishing spots in the summer, as well as hunting areas in the fall, Bangor is also popular with those looking to ski or go snow-shoe hiking.
An ideal resort to unwind at is the Best Western White House Inn. Located conveniently beside the interstate and yet surrounded by 30 acres of land, this inn offers many amenities and facilities while being perfectly situated to explore nearby Bar Harbor and Acadia National Park.
This beautiful and comfortable hotel features a seasonal outdoor heated pool and indoor hot tub. Nearby there's a handy 24-hour restaurant plus the hotel's own lounge which offers light bites and a deluxe hot continental breakfast. There's even free parking.
A coastal retreat at Prince Edward Island
After a long drive to your destination of Prince Edward Island, you're going to want great accommodation to stay in while you explore all that this fabulous island has to offer.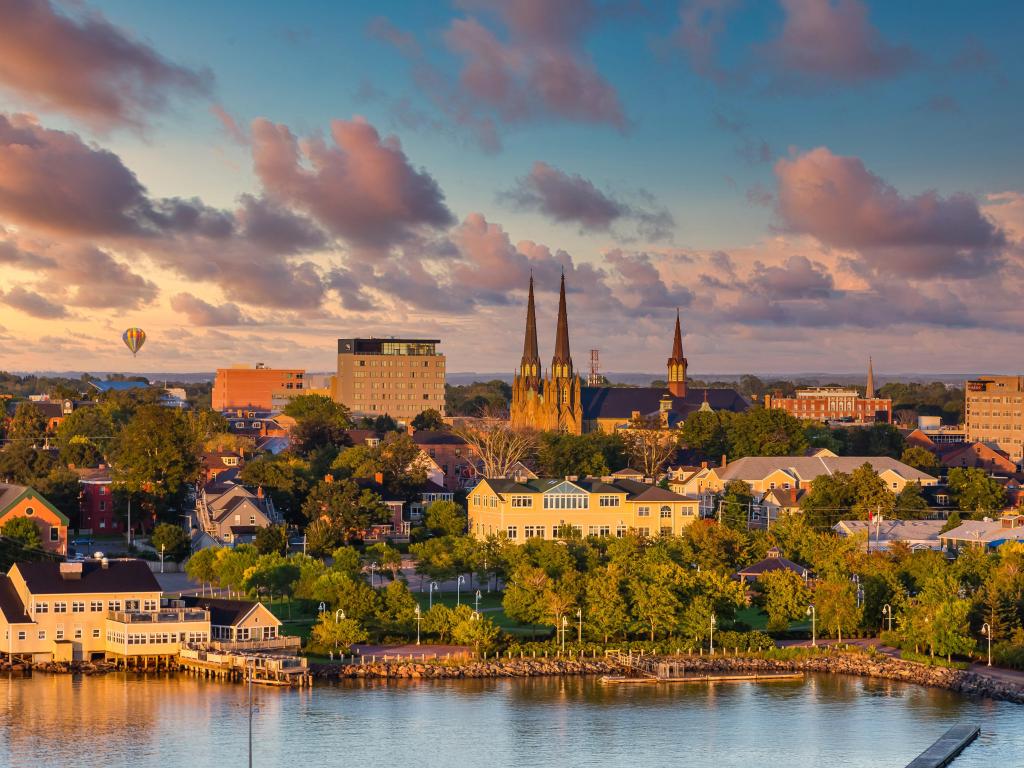 For one of the best resorts around, why not stop at Rodd Crowbush Golf & Beach Resort? This incredible 5-star hotel is located among the Prince Edward Island dunes and is just a short drive from Prince Edward Island National Park.
Featuring a par 72 golf course plus a spa, ideal for unwinding after a long road trip. The hotel has all the amenities you could want to ensure you experience world-class service, including fine dining overlooking the golf course, stunning rooms, an indoor pool and gorgeous views.
If you can tear yourself away from this resort, the island itself has several red-sand beaches, stunning lighthouses and amazing seafood to enjoy. Nearby Charlottetown, the capital, is home to Victorian government buildings and the modern Confederation Centre of the Arts, with a theatre and art gallery.
Things to see on a road trip from Montreal to PEI
With the epic road trip from Montreal to Prince Edward Island taking you several days to complete, the number of stops you make along the way depends largely on whether you break the journey up or do it in one hit.
For those who plan to do the former and make the most of the journey, the following are just some of the places to stop along the way: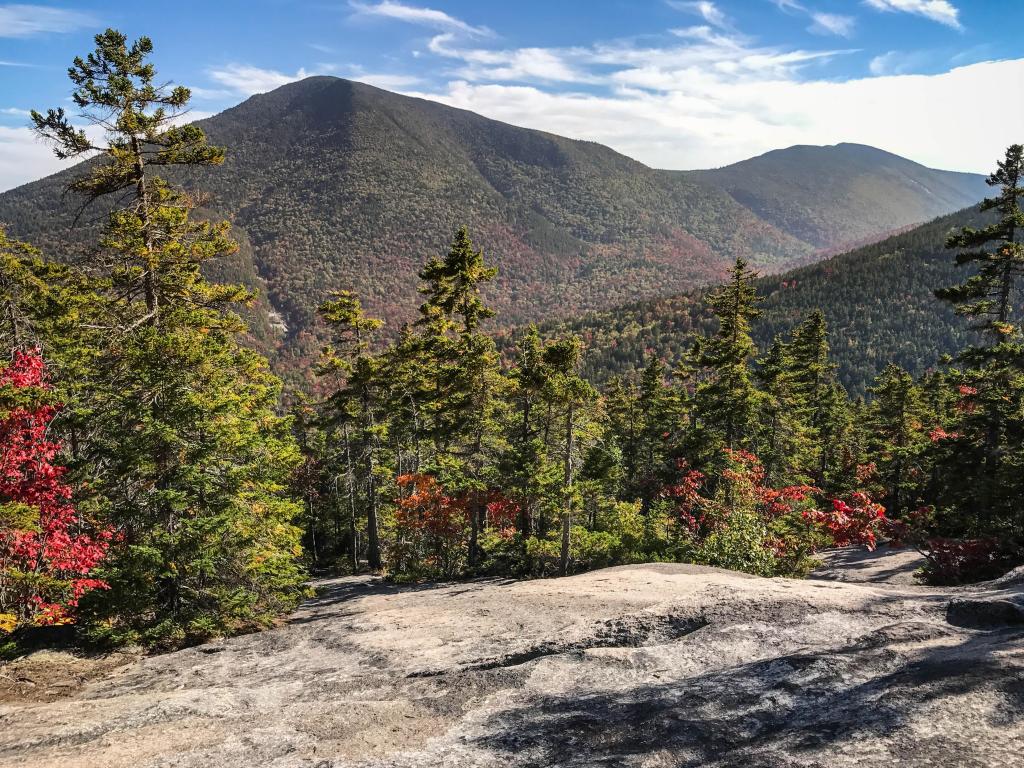 Mont-Orford National Park - A national park known for its collection of mountains, it's popular with outdoor enthusiasts for its wide selection of activities available year-round, including hiking, swimming, boating and skiing.
Sherbrooke, Quebec - The fourth most populous city in Quebec, Sherbrooke is surrounded by lakes, mountains and rivers. It used to be known as the "Queen of the Eastern Townships", due to being considered the centre of the Estrie region.
Mont-Megantic National Park - Named after Mont Megantic, the highest peak in Quebec accessible by car, this stunning national park features a scientific observatory at the top, which contains the most powerful Ritchey-Chretien telescope in North America.
Bigelow Preserve - Home to Mount Bigelow, one of the highest mountains in the state of Maine, as well as the stunning Flagstaff Lake, this is a great place to escape the bustle of city life and enjoy the great outdoors.
Bangor, Maine - The third largest city in the state of Maine, known for having warm humid summers and cold, snowy winters, which allow it to provide year-round outdoor activities.
Acadia National Park - Located just off the eastern coast of Maine, on Mount Desert Island, Acadia is one of the most visited national parks in the US. It's a remote location with stunning views and landscapes and the perfect place to get lost in nature for a while.
Moosehorn National Wildlife Refuge - Located right on the border, this beautiful wildlife preserve is home to a wide variety of unique and unusual animals, including the moose it is named after. It's also home to a range of species of migratory birds.
Fundy National Park of Canada - The world's highest tides await visitors at this national park, ideal for kayaking, exploring the seafloor or just enjoying the trails that surround it.
Moncton, New Brunswick - The most populous city in the province of New Brunswick, nicknamed the "Hub City" for its central location and history with both road and rail travel.
Prince Edward Island National Park - Hike woodlands, overlook ponds, discover local wildlife before heading to one of many beaches to enjoy this spectacular national park on PEI.
Charlottetown, PEI - The capital of Canada's Prince Edward Island, discover the Province House National Historic Site, boutique shops, restaurants and the Confederation Centre of the Arts, with its musical based on "Anne of Green Gables."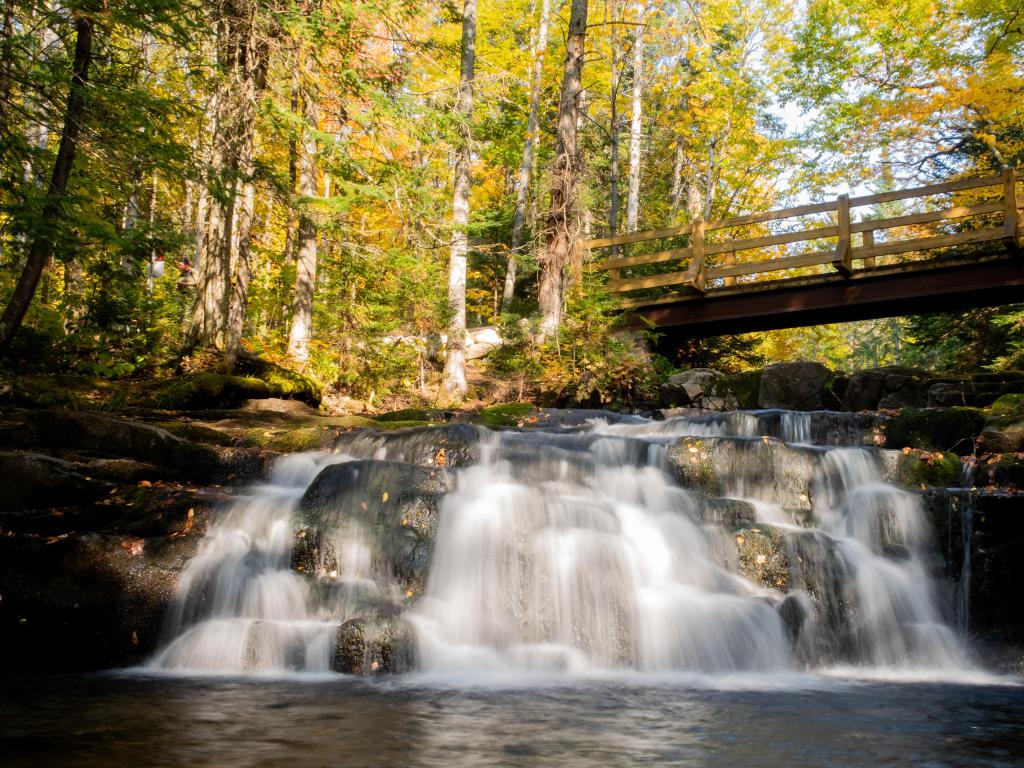 Best time to go on a road trip from Montreal to PEI
While you can definitely enjoy the road trip from Montreal to Prince Edward Island at any time of the year, the best season will largely depend on what it is you're hoping to get out of the trip.
With PEI experiencing long, cold winters, like much of Canada does, those of you looking for a snow-filled adventure in the great white north shouldn't have a problem.
If you travel any time from late November to early April, you should experience ideal conditions for winter sports. Though with temperatures getting as low as 11 degrees Fahrenheit on the island, you'll definitely need those extra layers.
If instead, you're looking to enjoy the beaches and stunning parks en route, you could aim for the summer months. From late June to early September the island tends to have mostly pleasant weather, with average temperatures between 70 and 93 degrees Fahrenheit.
If you're looking to enjoy the natural beauty of Prince Edward Island during long, sunny days with plenty of beach activities and an abundance of festivals, then this window is undoubtedly your best bet.
Another great option, which still makes the most of the pleasant weather but avoids the larger crowds, is either spring or fall. These seasons offer fantastic scenery in the many national parks you'll visit, while you'll find that hotels are less busy.
You could always aim to visit in September and catch the International Shellfish Festival or the Summerside Highland Gathering in June. You'll be spoilt with choice since PEI boasts more festivals per capita than any other Canadian province!