Road Trip from Montreal to Quebec City
If you're up for a short but stunning trip, crossing between Quebec's two largest cities and passing wildlife parks and stunning nature reserves, then a road trip from Montreal to Quebec City is the perfect journey for you.
The 330km trip from Montreal to Quebec City takes 4 hours to drive. The routes passes Saint Gregoire, Sorel-Tracy, Shawinigan City and Saint-Narcisse, as well as St Lawrence River, Batiscan River Park, Parc De La Peninsule and Batiscan River Park.
While not a huge journey in terms of distance, this trip is full of great scenery and places to visit. Please keep reading until the end to discover our favorite route, places to stay along the way, plus the best times of year to travel.
How far is Quebec City from Montreal and how long will the road trip take?
The road trip from Montreal to Quebec City is a fairly short journey that covers a distance of 255km and takes 2 hours and 50 minutes.
While you could easily manage this trip in a day, our recommended route takes you along a couple of extra detours on the way, making the actual distance 326km and just over 4 hours of non-stop driving to complete.
Despite the distance being short enough to complete in a day, this epic road trip has plenty of attractions to see on the way that a better move would be to spread it over two to three days, allowing for at least one overnight stop.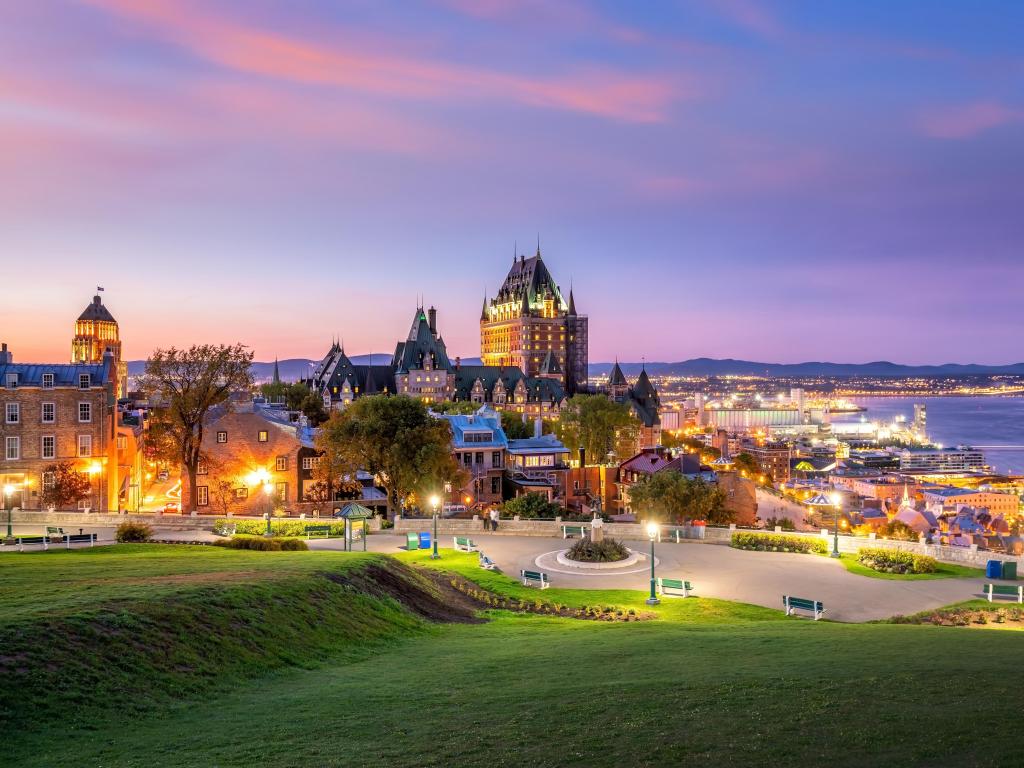 Best road trip route from Montreal to Quebec City
The most direct route from Montreal to Quebec City falls in a straight line, as you follow A-20 through a couple of towns. While being a straight forward journey, there aren't as many interesting places to visit en route.
The alternative and slightly longer route only adds an extra 71km to your journey but takes you through the most enjoyable and interesting locations between Montreal and Quebec City.
If you choose to follow the route from the west side of St Lawrence River, you will be able to stop and see a few nature reserves. The east side of the river offers attractions such as beautiful small cities.
Our recommended route covers a bit of both and the added detours allow you to see stunning nature reserves, pretty towns and fascinating cities along the way.
Road trip route from Montreal to Quebec City
Begin by taking Quebec Autoroute 10 across the St Lawrence River to Brossard, where you will take Quebec Autoroute 30 north-east, passing right by Mont-Saint-Bruno National Park.
Continue on A-30 to its completion is Sorel-Tracy, where you'll switch to Quebec Route 132, the longest highway in the province.
Follow this for 65km to Saint Gregoire, passing Nicolet Bird Sanctuary, where you will then change to Quebec Autoroute 55 going north.
Take this road back across the St Lawrence River and just as the road ends and Route 155 begins, exit onto Quebec Autoroute 40 going east and arrive at Trois-Rivieres, a great city for museums and galleries.
Next exit onto Route 359 just north of Champlain to Saint-Narcisse Take this until the exit for Route 352, which takes you to Saint Narcisse. From here, Route 361 will take you back to Quebec Autoroute 40.
Continue on Quebec Autoroute 40 past The Devil's Hole Cave and through delightful towns, following St Lawrence River all the way to Quebec City.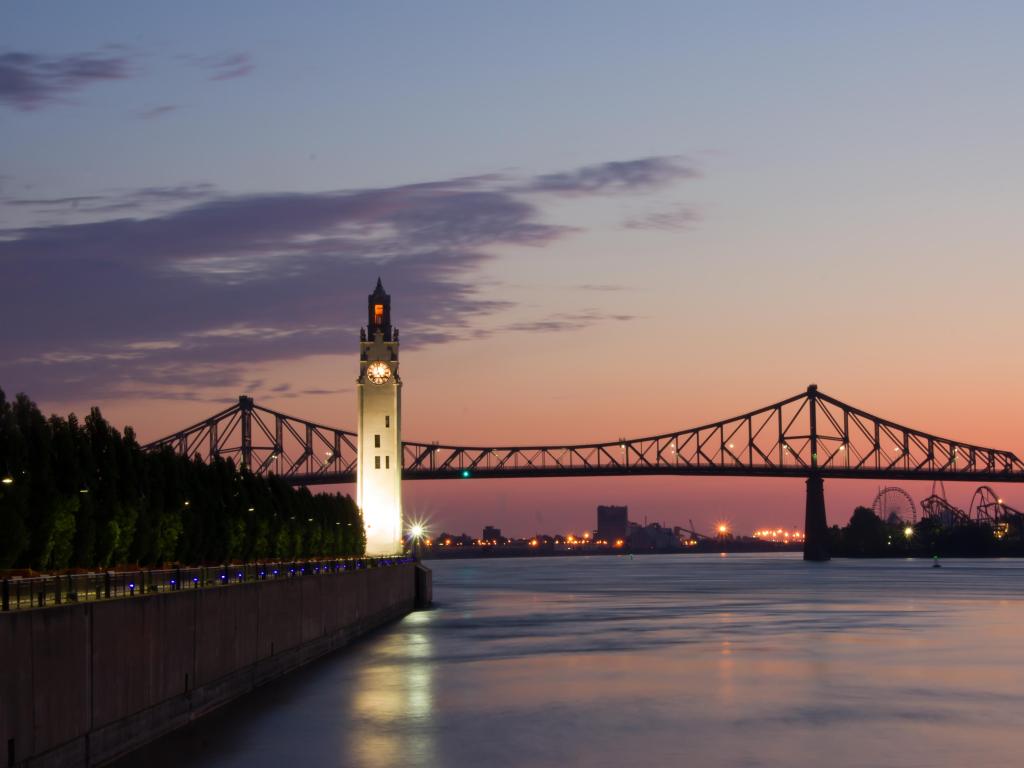 Best places to stop between Montreal and Quebec City
While you could complete the road trip from Montreal to Quebec City in a single day, a much better option would be to include one or two overnight stops en route.
There are some lovely places to stay on this short but scenic journey. Here are some of the best ones you'll pass:
Stay on the banks of three rivers - Trois-Rivieres
At 159km and halfway through your road trip, an ideal overnight stop is the beautiful city of Trois-Rivieres. The second oldest settlement in Quebec, Trois-Rivieres was founded in 1634 and is considered to be the cultural and economic hub of the Mauricie region.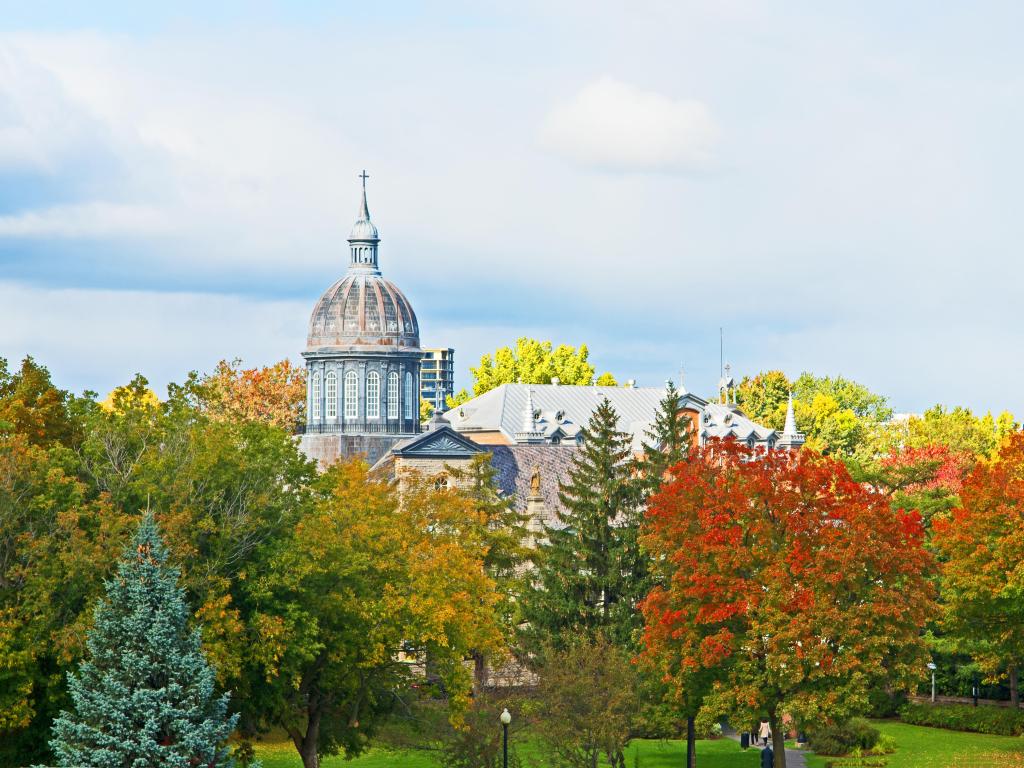 Trois-Rivieres, French for "Three Rivers", is located alongside the Saint Maurice and St Lawrence River. Due to its age, city is full of history, with many of its buildings over 100 years old and features an 18th century monastery, basilica and foundry.
Beyond its history it also has numerous attractions to draw in visitors, including its wonderful collection of islands, rivers, parks and, throughout the summer months, its fabulous selection of festivals.
After a day of sightseeing, an excellent place to stay would be at Kinipi Spa Nordique & Hebergement. This incredible spa hotel will leave you wanting to book a second trip, with 'thermal experience' relaxing treatments surrounded by soft lighting and waterfalls.
Once you've had your treatments head to the superb hotel restaurant Kinipi à la bouche on-site, serving up options including high tea and dinner - and make sure to catch cocktail hour. You are also close to many local sites including Parc Masse and Parc du Cardinal-Roy, and popular Parc Pie-XII.
It's the ideal setting to recharge before the final stretch of the road trip.
The heart of the city - Quebec City
After driving the final stretch to Quebec City, it is worth staying an extra night if you can to to explore different areas of the city and more of the surrounding attractions.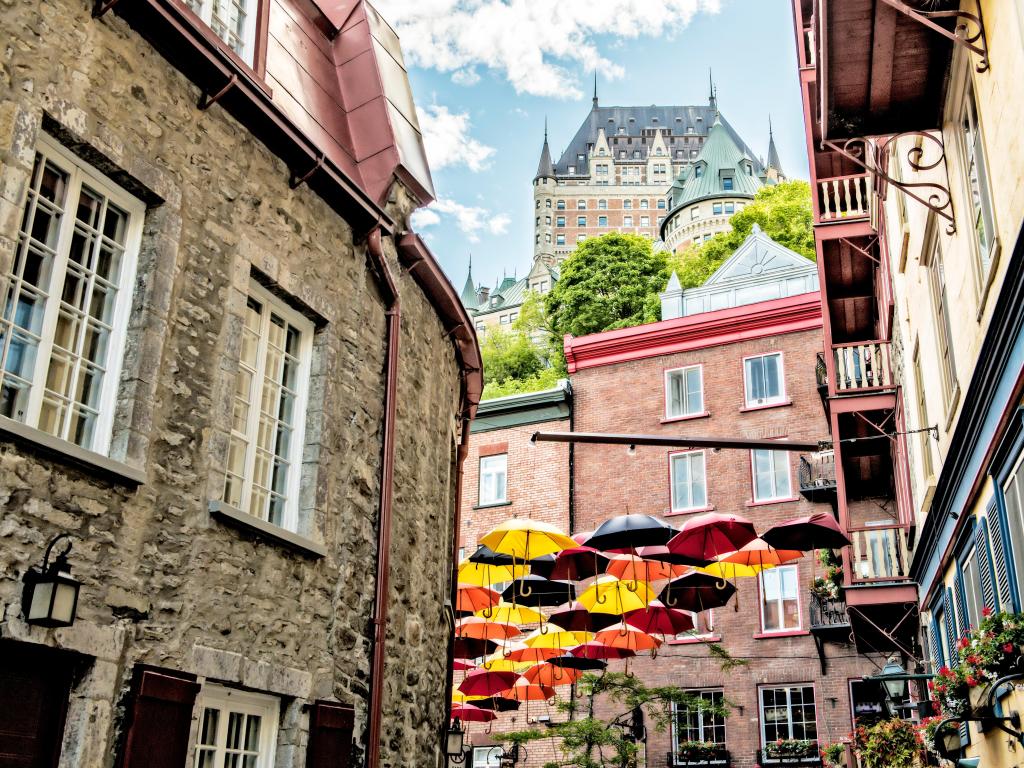 As a popular tourist destination, Quebec City has a wide range of things to see and do. Sitting on the St Lawrence River in Canada's mostly French-speaking Quebec province, this city dates back to 1608 and has a fortified colonial core.
Discover Vieux-Québec and Place Royale, with stone buildings and narrow streets and the imposing Citadelle of Québec. You can also explore the Petit Champlain district's cobblestone streets which are lined with bistros and boutiques.
Quebec City unsparingly offers a wide range of hotels to choose from. But for a really luxurious stop at the heart of the city, a stay at Le Capitole Hotel is difficult to beat.
This 4-star hotel is in the walled city of Old Quebec and is within a 6 minute walk of the Fontaine de Tourny. Attached to a restaurant and theater, Le Capitole Hotel features beautifully modern designed rooms and a stunning bar and lounge area.
The luxurious rooms have wonderful views of the old city, and being so close to the all the amenities, you are only ever a short walk to the shopping and dining establishments. You will truly feel within the heart of the city at Le Capitole Hotel.
Things to see on a road trip from Montreal to Quebec City
Despite the fact that the road trip from Montreal to Quebec City is a short journey, there is still plenty of incredible places to see along the way.
If you are pressed for time, here are our top suggestions of places to visit: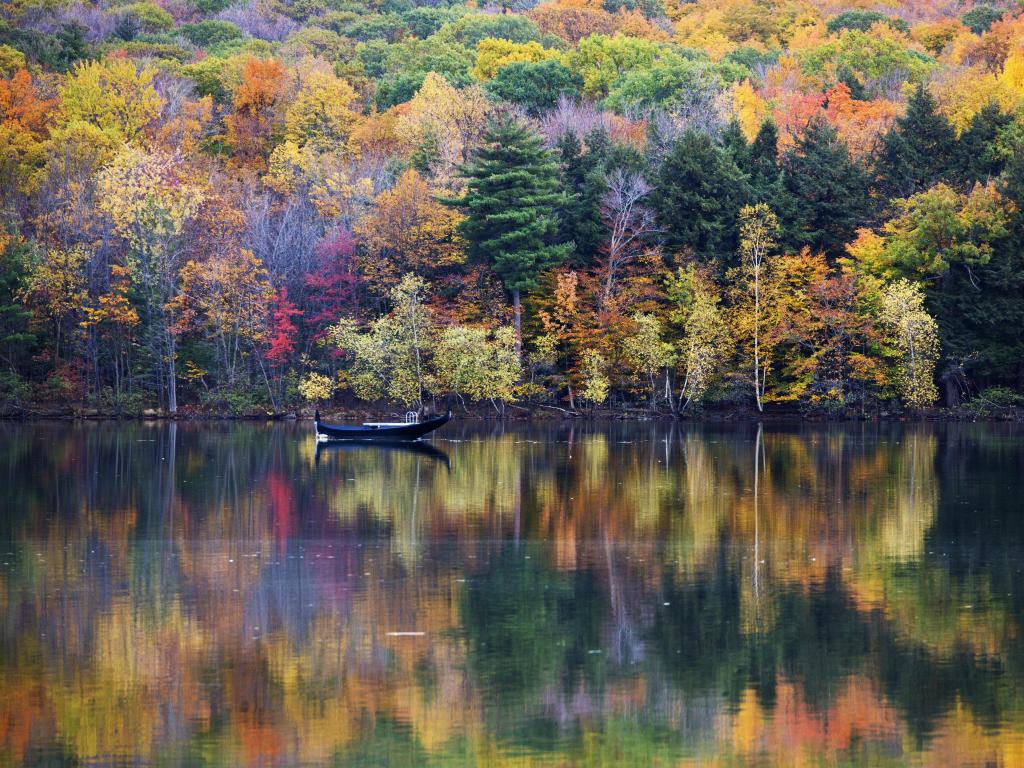 Mont-Saint-Bruno National Park - This large park has a great number of trails for hiking as well as five lakes and a chance to spot local wildlife.
St Lawrence River - At a length of 500km, the St Lawrence River connects Lake Ontario to the Atlantic Ocean and separates Canada from America, along the New York-Quebec Border.
Sorel-Tracy - One of the youngest cities in Canada, founded as recently as 2001, this place is best known for its links to the metal industry, particularly steel, and for being the launching point of the ferry to the Saint Ignace De Loyola islands.
Parc récréoforestier Saint-Mathieu – This park is located south of La Mauricie National Park of Canada, in the heart of the Laurentian Forest. There are 48 lakes as well as waterfalls and cascades to discover plus mountain range, lakes and valleys to admire.
Shawinigan City – Located on the St Maurice River, this small city offers stunning views, wildlife, as well as museums, and beautiful architecture. Make sure you see the beautiful Shawinigan Waterfalls - it's definitely worth a visit.
The Sanctuaire Notre-Dame-du-Cap - With its immense, modern basilica, old sanctuary and magnificent gardens, offers religious, spiritual, cultural and even tourist activities, this beautiful sanctuary is a host to plenty of cultural and art events too.
Nicolet Bird Sanctuary - Located on the shores of Lake Saint Pierre, the Nicolet Bird Sanctuary is one of 28 migratory bird sanctuaries located within Quebec. Stop here to spot Canada Goose, ducks, sparrows and tern.
The Devil's Hole Cave - Explore one of Quebec's best cave systems. The second longest cave in Quebec, take a guided tour and learn about its formation of the cave as well as the origins of its name.
Trois-Rivieres - The second oldest city in the province of Quebec, first settled by French Colonists in 1634. Located where the St Lawrence and Saint Maurice rivers meet, it is considered to be the cultural and economic hub of the Mauricie region.
Batiscan River Park - Located on the banks of the stunning Batiscan River, this park features towering forests, alive with wildlife from a wide range of species. It is a popular destination for campers, hikers and wildlife enthusiasts, as well as fans of a variety of water sports.
Parc De La Peninsule - Parc De La Peninsule features camping spots and beaches for those who want to kick back and relax, while offering a selection of pools and the highest water slides in the region, for those looking for a more exhilarating experience.
Village Vacances Valcartier – located on the East of Quebec City, this leisure complex has a wide range of waterslides, spa centre, and sports activities. If you wish to relax and extend your trip to two days, we recommend visiting this resort.
Reserve Naturelle Du Marais-Leon-Provancher - A beautiful nature reserve, located just west of Quebec City, that features rivers, marshes and campsites, full of wildlife, including deer, fish and a wide variety of different species of birds.
Parc de la Plage-Jacques-Cartier – This park, located on the outskirts of Quebec City, has plenty of outdoor activities and is ideal for those looking to hike or just enjoy a picnic. The park also hosts various events throughout the year.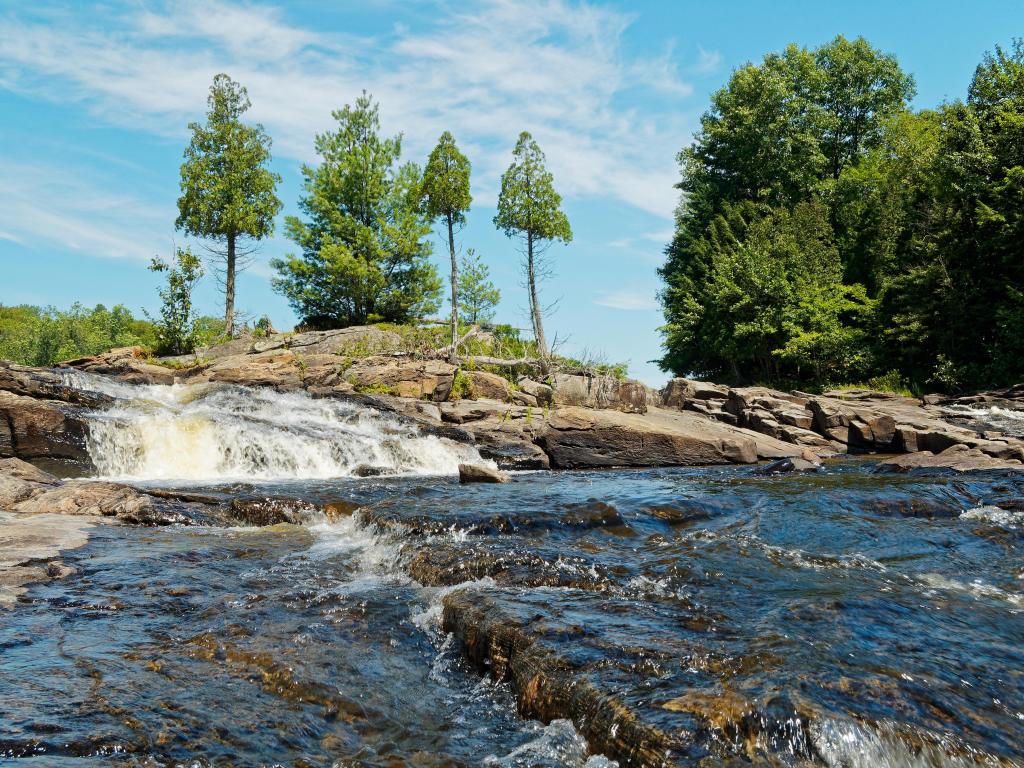 Best time to go on a road trip from Montreal to Quebec City
With the road trip from Montreal to Quebec City taking you to a more northern part of an already notoriously cold country, selecting the right time to make your journey is important, to ensure you can make the most of it.
The temperature in this part of Canada in winter can reach as low as 20 degrees Fahrenheit during December and January, unless you are looking to enjoy some winter sports, the cold will make it difficult to get the most of all of the outdoor attractions.
The best time to visit Quebec City is between June and September, when you will be able to enjoy the warm weather and temperatures a comfortable average of around 55 degrees.
That being said, if you'd rather avoid the tourist season, a visit in April or May would be better. The weather is still a pleasant 30-41 degrees and you can enjoy the stunning spring foliage.
Similarly fall is an equally wonderful time to visit, where you will be swapping spring flowers for autumn leaves. It's a great time for those who love nature to make the most of the fantastic parks and nature reserves along the way.
If you'd rather time your visit with an event or two, the summertime is full of festivals such as KWE!, an indigenous people festival and Festival duet de Quebec, an 11-day music festival.