Road Trip from Montreal to Toronto
A road trip from Montreal to Toronto takes you between the two most populous cities in Canada. Despite is being on a short drive, with beautiful lakes and natural scenery en route, you can easily stretch it out over two or three days.
The 560km road trip from Montreal to Toronto takes 5 hours to drive. Key stops along the way include Ottawa, Arnprior, Lake Ontario, Kingston and Kawartha Lakes, as well as Ganaraska Forest, Sandbanks Provincial Park and Prince Edward County.
Read on to discover more about the amazing places to visit and things to see on this journey between Canada's two most famous cities.
How far is Montreal from Toronto and how long will the road trip take?
Comparison of road trip routes between Montreal and Toronto

| Route | Distance | Driving Time |
| --- | --- | --- |
| The Direct Route | 560 km | 5 hours 30 minutes |
| The Ottawa Route | 600 km | 6 hours 30 minutes |
| The Scenic Route | 660 km | 7 hours |
A road trip from Montreal to Toronto takes between 5 and 6 hours to drive and covers a distance of at least 560km (335 miles).
While driving between Canada's two most populous cities (and its two largest provinces), the journey may not be the longest or most complicated, but it certainly passes through a number of beautiful and historically significant locations.
There are a couple of different routes you can take along the way and plenty of additional detours to really make this trip as scenic and exciting as possible. Therefore rather than trying to complete it quickly, a much better option would be to spread it over two to three days.
Best road trip route from Montreal to Toronto
At a distance of 560 kilometres and taking 5 hours to drive, a road trip from Montreal to Toronto is a reasonably easy journey to make, both in terms of duration as well as the ease of the route. However, there are a number of different route options to consider.
Don't be tempted to think that the direct route is necessarily the best. If you want a real adventure, then you should consider taking the Ottawa Route (at 600km) to visit the splendid Rideau Canal, amongst other places.
That said, if wild and rugged scenery is more your thing, then our Scenic Route, with its incredible views of inland Ontario, known for its lakes and wilderness, might be best. At 660km, this option is our furtherest distance but still could be completed in 7 hours.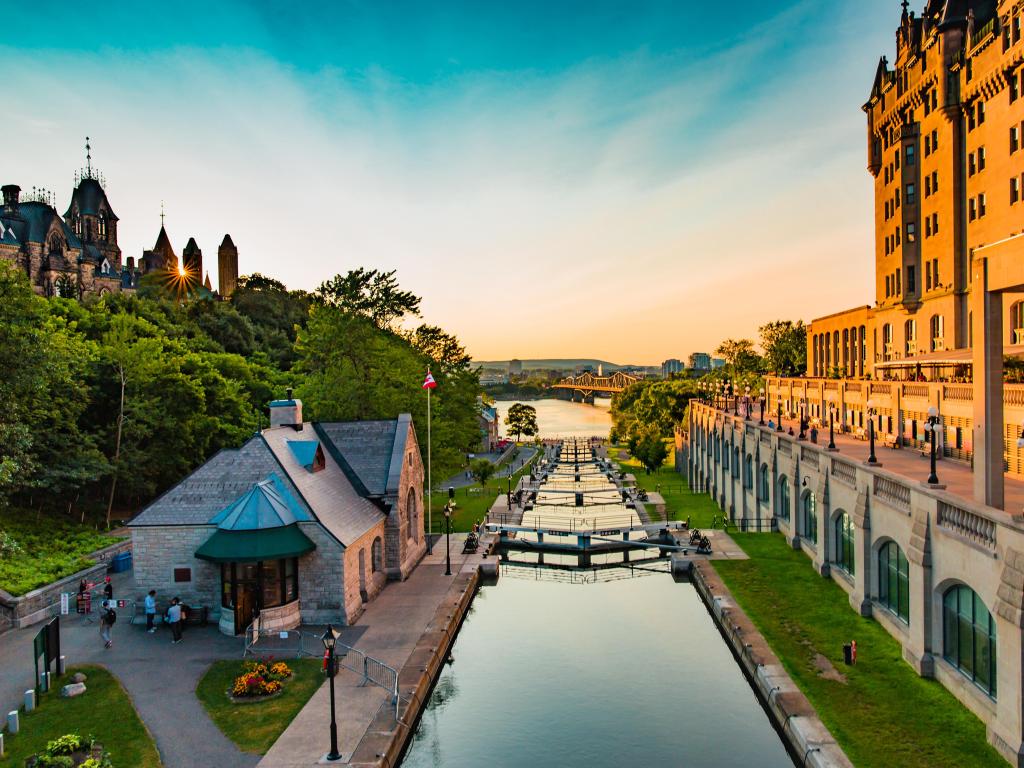 The Direct Route
For the quickest route, leave Toronto west on A-20. This road cruises alongside the stunning St Lawrence River and merges with Highway 401.
Continue through a few smaller towns until you reach Kingston, an ideal overnight stop where you can explore more of the smaller and beautiful islands.
Next continue heading west on ON-401 past Odessa and consider a detour to visit the stunning Prince Edward County. The remainder of this simple route follows the shore of Lake Ontario, giving for further opportunities for a stop before arriving at Toronto.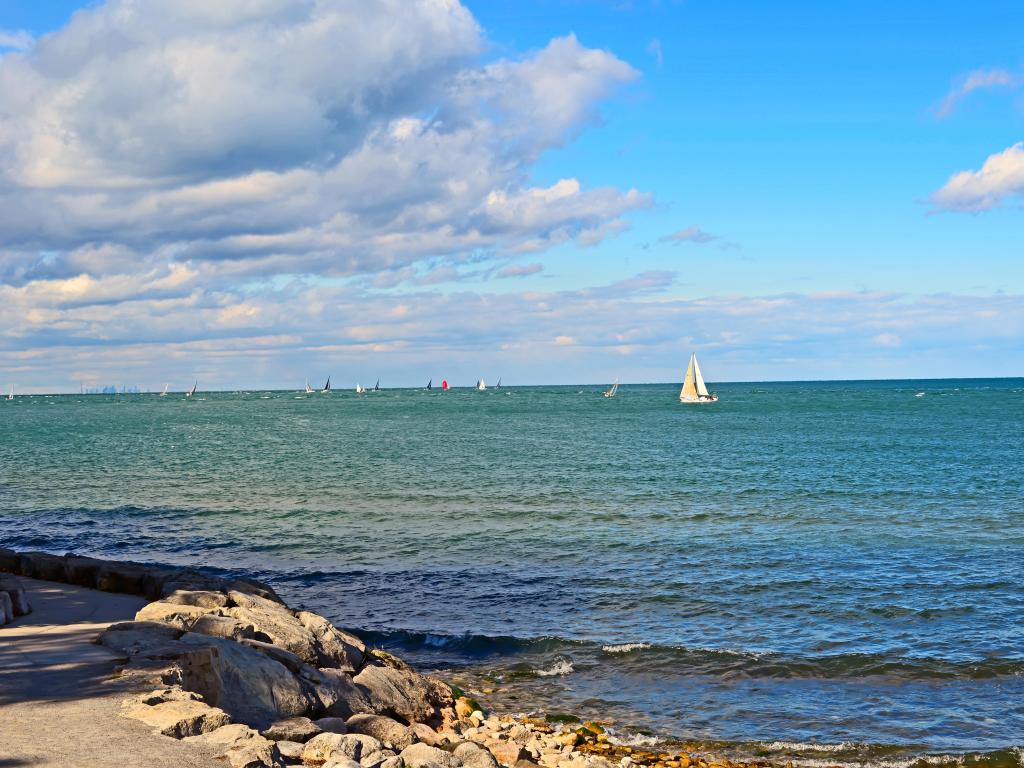 The Ottawa Route
If you have a bit longer to spend on this trip, the Ottawa route combines pretty scenery with some great cities.
From Montreal, take Autoroute 40 past several towns including Rigaud, before crossing the border from Quebec and into southern Ontario. From here the road merges into Highway 417 which will take you to the splendid city of Ottawa.
Follow the Ottawa River on Highway 417 until you pass Kanata, where you'll take Highway 7. You can take a short detour on this section to visit Bon Echo Provincial Park, before taking Highway 115 and following it to Kirby where you'll take Highway 407 to Markham.
The final stretch will take you on the Don Valley Parkway to downtown Toronto.
The Scenic Route
Although only a few hours longer than the direct route, the trip along highway 28 lets you take your time to enjoy more rugged views of Ontario.
Starting the same way the Ottawa Route on Autoroute 40 and Highway 417 past Ottawa, this route takes you further alongside Ottawa River to Thompson Hill. Next take Highway 132 through Mayhew and Dacre before merging with Highway 41 and Highway 28.
Continue on Highway 28 until you reach Bancroft, a stunning area which really makes the most of the Canadian countryside before heading south and taking in the views at Kawartha Highlands Provincial Park.
As you pass Peterborough, take Highway 115 a short distance before taking Highway 407 and follow the signs to Toronto.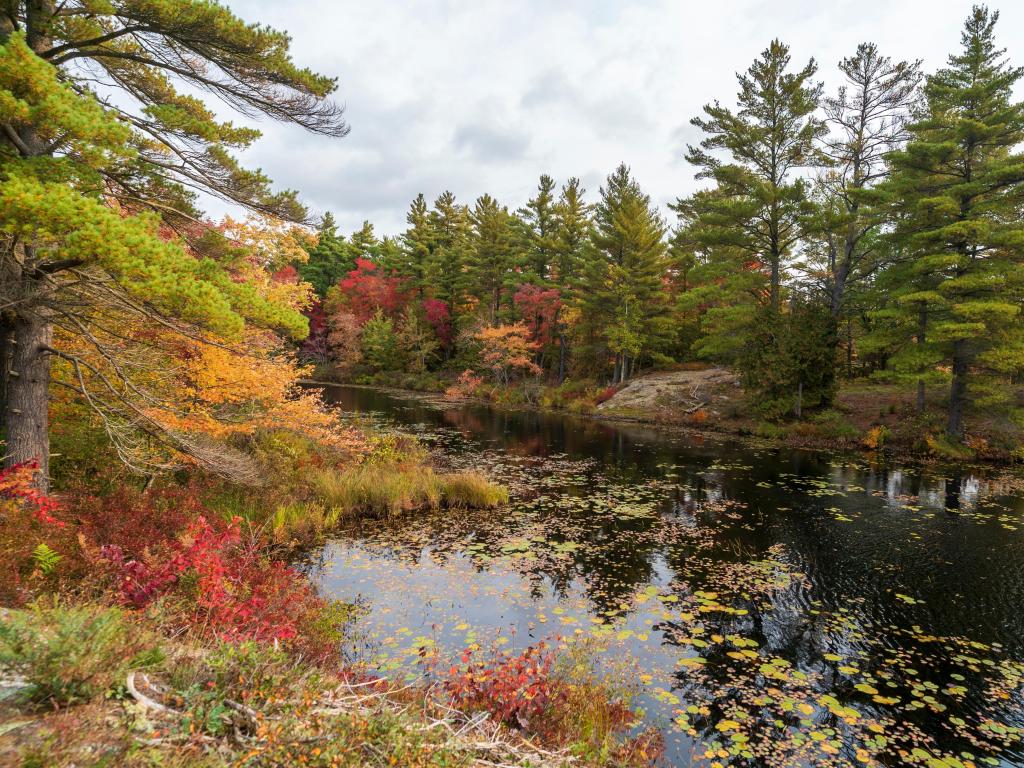 Best place to stop between Montreal and Toronto
While the road trip from Montreal to Toronto could be completed in a single day, there are so many interested detours and places to visit along the way that a better option would be to include at least one overnight stop.
Of all the lovely places en route, here are the ones we think you should keep an eye out for:
Explore historic Kingston
A great option for an overnight stop if you choose the Direct Route is Kingston. Set just over halfway to Toronto, it's ideally placed, allowing you to enjoy the surrounding and unwind before embarking on the final stretch.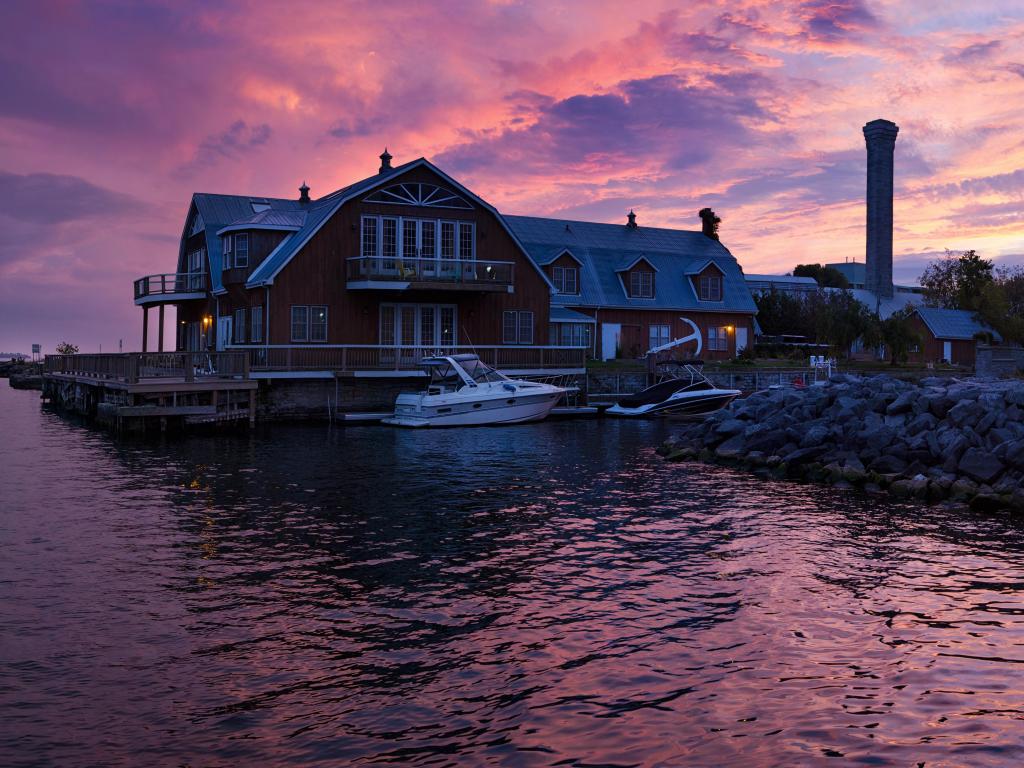 One of the most historically significant cities in Canada, Kingston was the very first capital city in the country. First settled as a French trading post, Kingston gives you an opportunity to experience an abundance of history that you may not find anywhere else in the country.
Discover the Rideau Canal and its historic fortifications, which is designated as a World Heritage Site or just explore its many grand 19th-century buildings, including the Kingston City Hall and Bellevue House National Historic Site.
After a long day of sightseeing, a great option for accommodation is a stay at the stunning Delta Hotels by Marriott Kingston Waterfront. This 4-star hotel is located on Confederation Harbor within historic Kingston and boasts a fabulous rooftop indoor pool and incredible lake views.
This luxurious and modern hotel also houses an award-winning restaurant and stylish rooms, bar area and dining rooms with breathtaking views. It really is the perfect place to take in the best of Kingston while relaxing in comfort.
Stay in Canada's city, Ottawa
Whether you've chosen to take the Scenic or the Ottawa Route on this road trip, a stop at Canada's Capital is a great option. Just a few hours' drive from Montreal, you can really make the most of your visit to Ottawa and take in all that this city has to offer.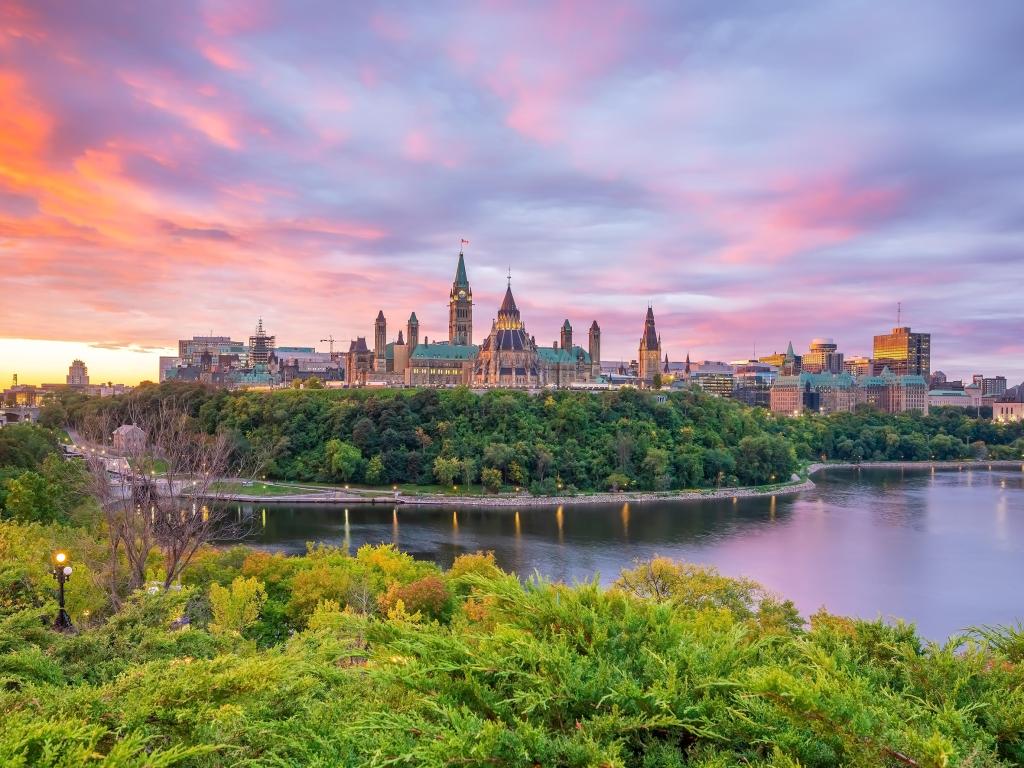 Ottawa has plenty to see and do. Why not take a visit to some of its fantastic parliament buildings, tor visit the Rideau Canal, museums and National Gallery. There's even the winter skating rinks which make for a great visit.
This laid back city also has a huge range of restaurants and bars to choose from, making it a great place to visit any time of the day.
There are plenty of hotel options to choose from in this city, but a great option is the Lord Elgin Hotel. Located directly across from the National Arts Centre, this stunning hotel is only a few steps away from all the major attractions.
With fabulous views of the historic city, an indoor pool, onsite restaurant and modern, stylish rooms, you would be hard pushed to find a hotel better situated offering the same level of luxury and comfort in Ottawa.
A luxury stay in Toronto
If you have the chance, we suggest you spend at least a few days in Toronto at the end of your road trip to really make the most of this adventure.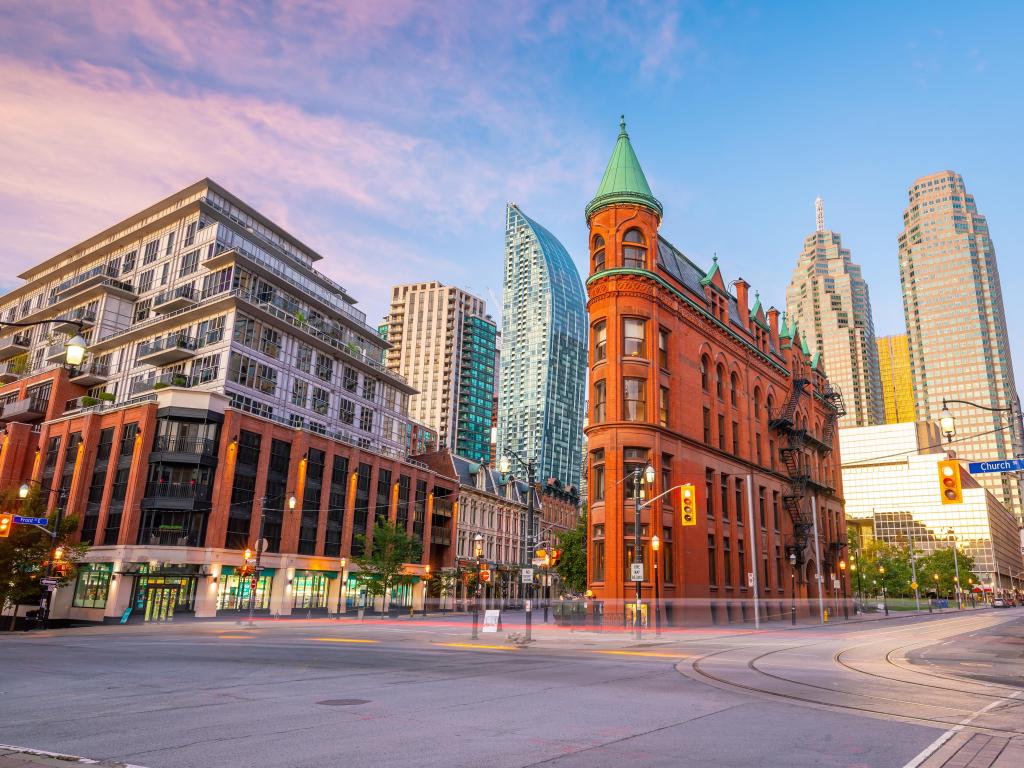 The capital of the province of Ontario, Toronto is a major Canadian city along Lake Ontario's northwestern shore. It's a dynamic metropolis with a core of soaring skyscrapers, including the iconic, free-standing CN Tower.
As well as great architecture, Toronto also has plenty of green spaces to explore, from the orderly oval of Queen's Park to High Park and its trails, sports facilities and zoo.
As you would expect, there's an equally exciting range of hotels to stop at, but for a truly luxurious end to your road trip, a stay at Hotel X Toronto by Library Hotel Collection is guaranteed to be unforgettable.
This 5-star hotel features combines stunning waterfront and city views. Situated on the historic exhibition grounds, it has an exceptional rooftop pool with stunning views, incredible onsite dining and stunning rooms with access to unique spa treatments.
Elegant rooms, beautiful gardens and incredible facilities, there's no finer way to finish your trip than a stay here.
Things to see on a road trip from Montreal to Toronto
With a road trip from Montreal to Toronto being a journey that can enjoyed over either one or two days, it will largely be the number of attractions you want to see along the way that determine which of the two options you select.
The following list is just some of the best bits you'll pass en route, if you are pressed for time: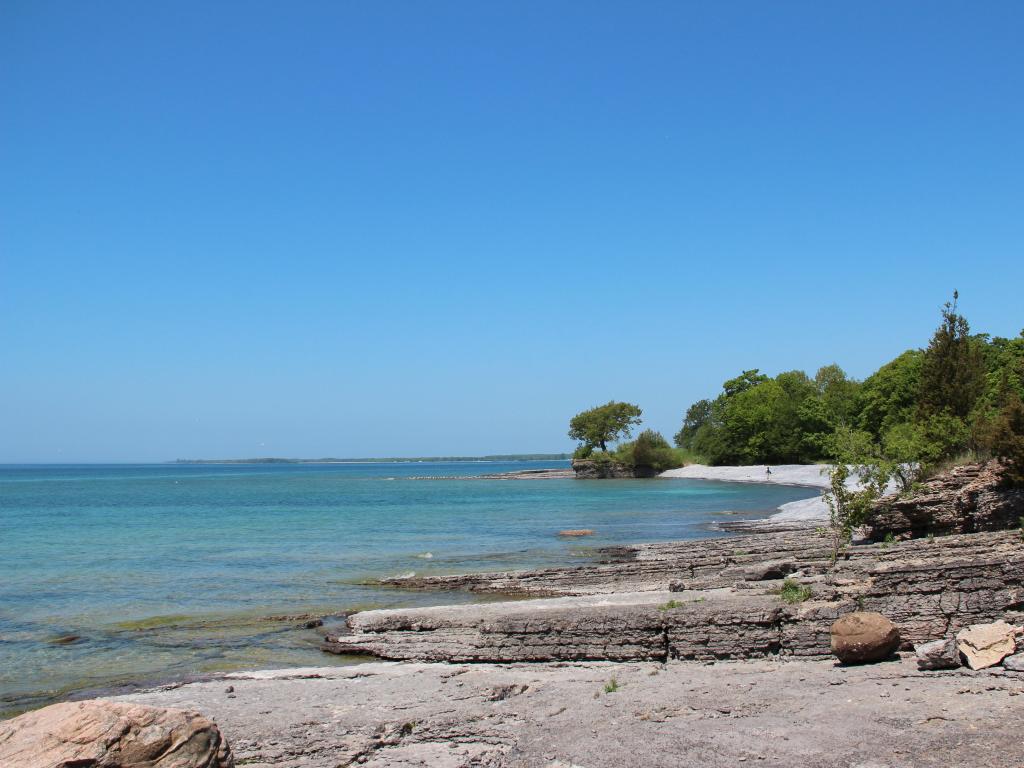 Brockville Railway Tunnel - The remains of Canada's first ever railway tunnel, this historic location has been converted into a piece of art and a popular tourist attraction. Illuminated by multi-coloured LED's, the tunnel allows you to experience the history of the region.
Thousand Islands Parkway and Howe Island - At the mouth of the St Lawrence River you will find a collection of stunning islands. Discover the second largest lighthouse in the province or visit Howe Island and drive along its shores.
Kingston, Ontario - One of the most historic cities in Canada and the country's original capital, located where Lake Ontario and the St Lawrence River meet.
National Gallery of Canada, Ottawa - While visiting Ottawa, make sure you take in this wonderful gallery which combines indigenous and Canadian art with an impressive selection of international works.
Prince Edward County - While technically considered an island, it is connected to the mainland by a number of bridges, as well as one natural link and features some of the region's premier attractions.
Sandbanks Provincial Park - Explore this area of beaches and dunes on Lake Ontario – it's a great place for hiking, kayaking and bird watching.
Mississippi Lake National Wildlife Area - This refuge for migratory birds is also a great opportunity for hiking or to just enjoy being close to the water.
National Air Force Museum Of Canada - For any fans of history or aviation this is an absolutely unmissable attraction. Containing a complete history of the Canadian Air Force.
Marmora - Explore this 200-year-old waterside town or take a trip across nearby Crowe Lake to visit a spectacular disused mine.
Canadian Museum of History, Gatineau - Housed in a spectacular modern building, this is Canada's most visited museum. Its grand hall makes for a thought provoking exhibition space, including one on the culture of the First Peoples of Canada's Pacific coast.
Ganaraska Forest - A pair of forests, located between Peterborough and Oshawa, they offer a unique and exciting way to experience the natural beauty of the region.
Jungle Cat World Wildlife Park - A beautiful wildlife park, where you can witness big-cats of a variety of species, in large, natural enclosures. There are also numerous other animals that are allowed to roam freely around the park.
Lake Ontario - The smallest of the Great Lakes by area and second smallest (ahead of Lake Erie) in terms of volume, Lake Ontario ranks as the thirteenth largest lake on the planet and has a stunning shoreline to explore.
Kawartha Highlands - This wilderness area is home to black bears, moose, wolves and beavers and is another great place for hiking and canoeing.

Brighton Provincial Wildlife Area - A short detour off highway 401, this wildlife area is a great place to visit in the summer for a hike or to try out cross-country skiing in the winter.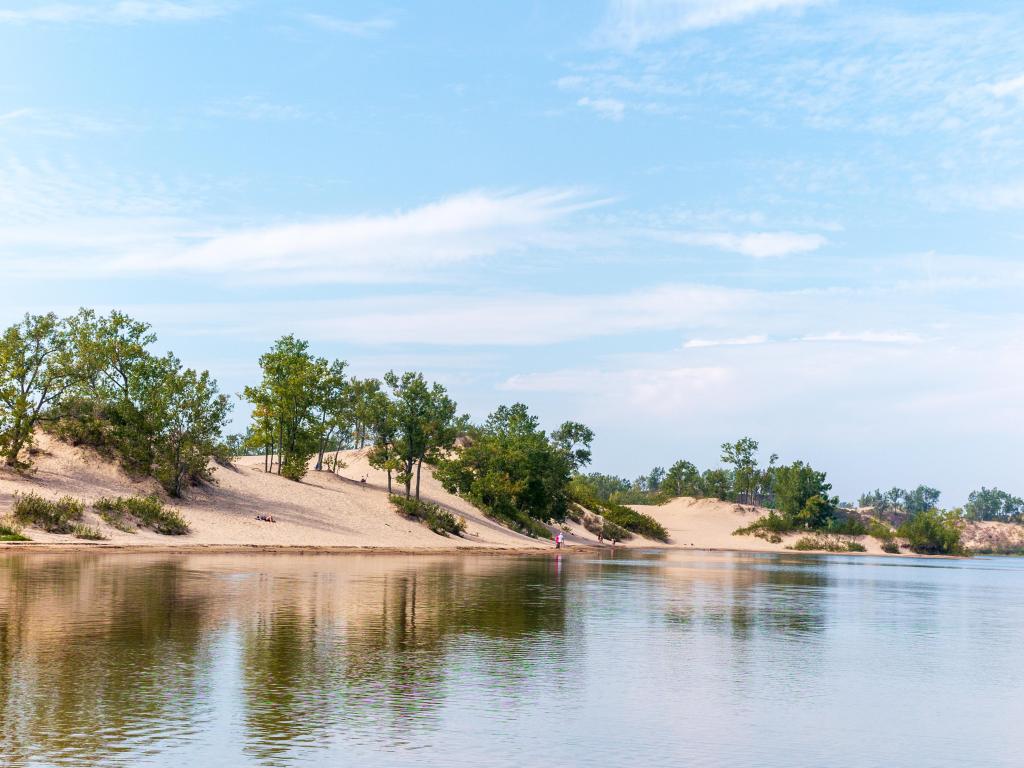 Best time to go on a road trip from Montreal to Toronto
The best time to make the road trip from Montreal to Toronto is between late May and early October. The climate in this part of Canada is continental, with very cold winters and pleasant, warm summers.
Unless you are looking to time your trip with some winter sports, it's best to avoid winter especially the months of December and January when temperatures can be as low as 18 degrees Fahrenheit.
In comparison, summer is a great time to travel to this part of Canada as it doesn't get too hot, ranging between 68 and 95 degrees. For those really warm days, you can always plan a stop at one of the lakeside beaches.
While you might find the cities and beaches are busy in the height of summer, there are some fantastic local events and festivals that you can time your visit with. Particular noteworthy ones include Toronto's Pride Week in June and Toronto's Caribana carnival held in August
If big crowds and busy hotels aren't high on your priority, you could plan your visit in fall and instead enjoy the stunning colors of the parks and forests en route. Just bear in mind, however, that temperatures will start to drop at this time and you will want extra layers for the evenings.