Road Trip from Nashville to Louisville
Set off on a history-rich country road trip dotted with heritage, charm and tradition. On your journey from Nashville to Louisville, you'll see America's country-music heartland and experience incredible food, Bourbon, incredible natural scenery, and much more.
The 420-mile road trip from Nashville to Louisville will take about 8 hours to drive. You'll see highlights like Evansville, Lexington, Berea, Lake Kentucky, Hoosier National Forest, Bluegrass Parkway, Park City, and Mammoth Cave National Park.
This road trip of a lifetime through the American heartland will surely stay in your memory for a long time. Read on to learn more about our recommended routes, what to see and do along the way, where to stay, and the best time to go.
How far is Louisville from Nashville, and how long will the road trip take?
Comparison of road trip routes between Nashville and Louisville

| Route | Distance | Driving Time |
| --- | --- | --- |
| The Lexington Route | 350 miles | 6 hours 20 minutes |
| The Evansville Route | 420 miles | 7 hours 40 minutes |
There are two wonderful routes that will bring you to Louisville from Nashville. The Evansville Route covers around 420 miles and takes around 7 hours and 40 minutes to complete without detours.
The alternative Lexington Route covers about 350 miles and takes around 6 hours and 20 minutes to reach Louisville.
While you could do these trips in a day, we recommend giving yourself 2-3 days for a leisurely and enriching experience. That way, you'll be able to really take in all the area has to offer.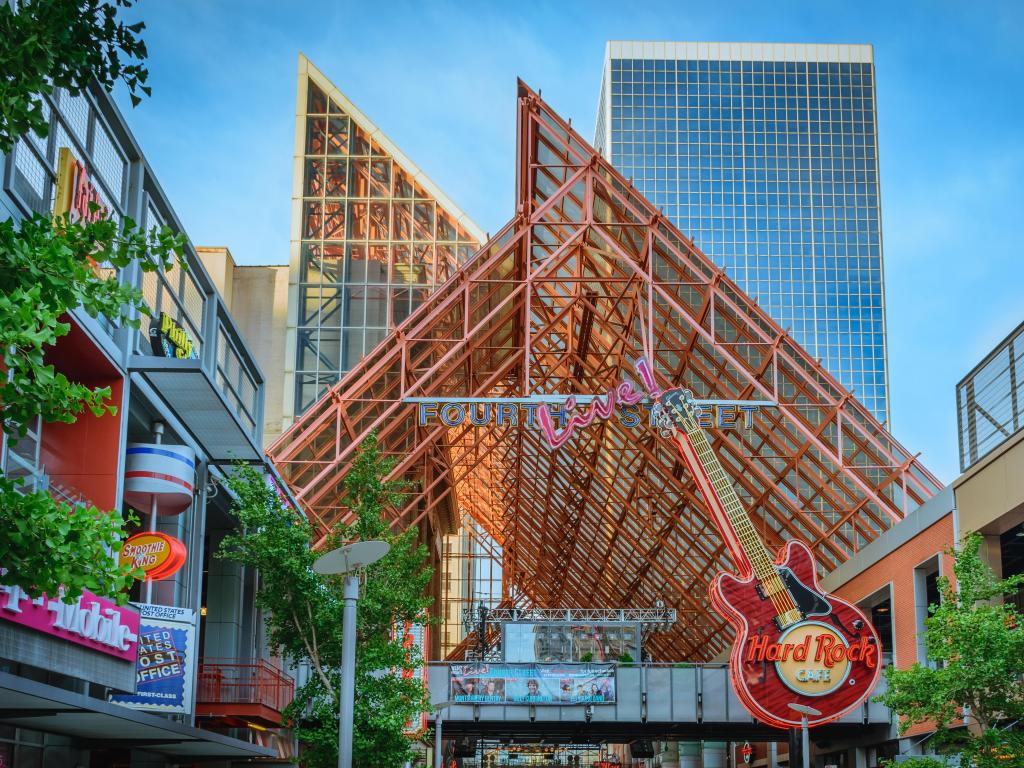 Best road trip route from Nashville to Louisville
While both routes have a rich blend of natural and cultural attractions, each has its own unique qualities. Which route you choose depends on what sights and experiences you want.
The Evansville Route will bring you into the heart of rural America, with diverse landscapes and natural scenery. A highlight for many road trippers is the Woodland Trace National Scenic Byway, which meanders between Lake Kentucky and Lake Barkley, giving you fantastic waterfront views along the way.
Further into your journey, you'll reach Grand Rivers, a town often dubbed the prettiest in Kentucky. If you love nature, the trails of Hoosier National Forest are perfect for hiking.
If you want to experience a mixture of culture, heritage, and natural beauty, the Lexington Route is the way to go. This route follows a stretch of the scenic Bluegrass Parkway, famous for its rolling landscapes and picturesque views.
As you travel further, you'll find yourself in Park City, where you can explore Mammoth Cave National Park and its gigantic caverns.
Whiskey aficionados will love this route as it follows a good-sized portion of the Bourbon Trail, giving you plenty of opportunities to drop by renowned distilleries. And although you'll miss the vastness of Hoosier National Forest on this route, its own unique stops will make it the perfect road trip.
How to drive from Nashville to Louisville
The map above shows our suggestions for the best road trip routes between Nashville and Louisville. Keep reading for detailed descriptions of both routes, where to stay on either, and the best things to do on the way.
The Evansville Route
Start your adventure by heading northwest out of Nashville towards Clarksville, following Interstate 24 (I-24). As you reach Clarksville, stop at the Dunbar Cave State Park.
Continue on to Murray, Kentucky, following the I-24 and US-79 N and see the beautiful Kentucky Lake. From here, drive northeast to Grand Rivers, which connects two of the largest artificial lakes in the world—Lake Kentucky and Lake Barkley.
Next, head to the Land Between the Lakes National Recreation Area. Take in the scenery of the Two Lakes Loop, or check out the Elk and Bison Prairie.
As you head to Evansville, check out the beautiful Wesselman Woods Nature Preserve. Continue northeast towards the Hoosier National Forest, near Bedford, Indiana. Close by, you can see Patoka Lake and the Indiana Caverns.
Finish your journey by heading east to Louisville, Kentucky.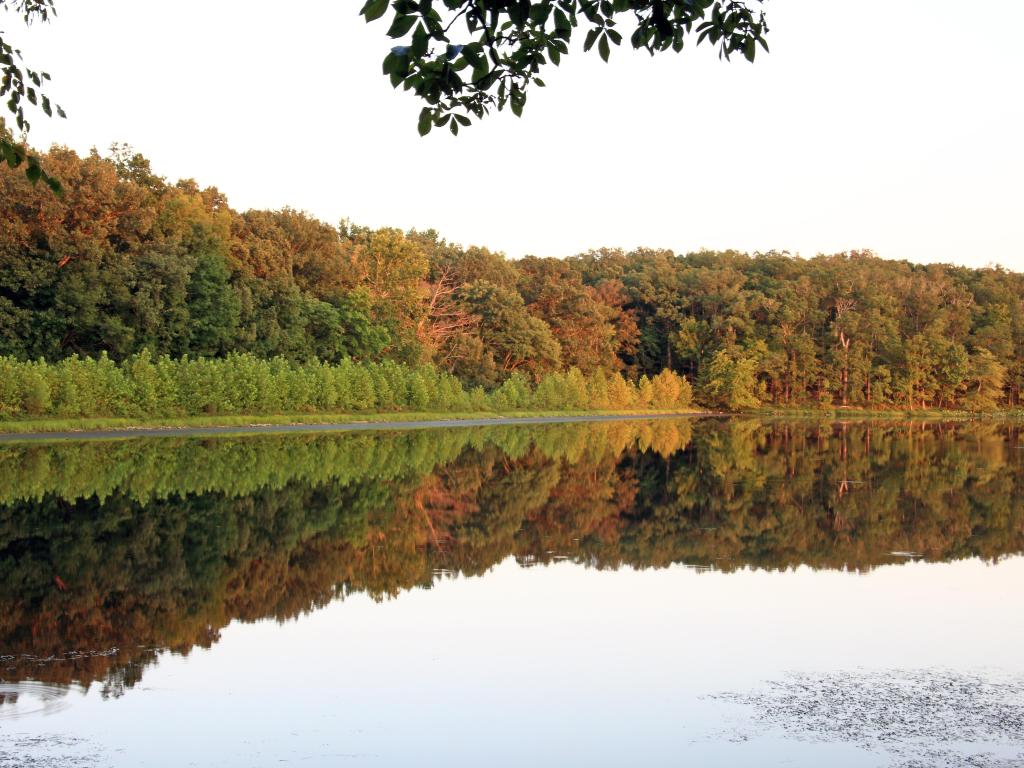 The Lexington Route
Begin your journey on the Lexington Route by heading northeast out of Nashville on I-65. As you reach Bowling Green, you can visit the National Corvette Museum.
Continue on the interstate to Cave City, the gateway to the Mammoth Cave National Park. After exploring the cave, continue on to Bardstown, home to the Heaven Hill Bourbon Experience and My Old Kentucky Home Museum.
Take the Bluegrass Parkway, an expressway named after Kentucky's famous fields, eastward to Berea. Continue driving to Lexington, the horse capital of the world.
From Lexington, head west to Frankfort, Kentucky's state capital, via US-60 W. Here, you can visit the Kentucky History Center and Museums. Finally, head north to your destination in Louisville.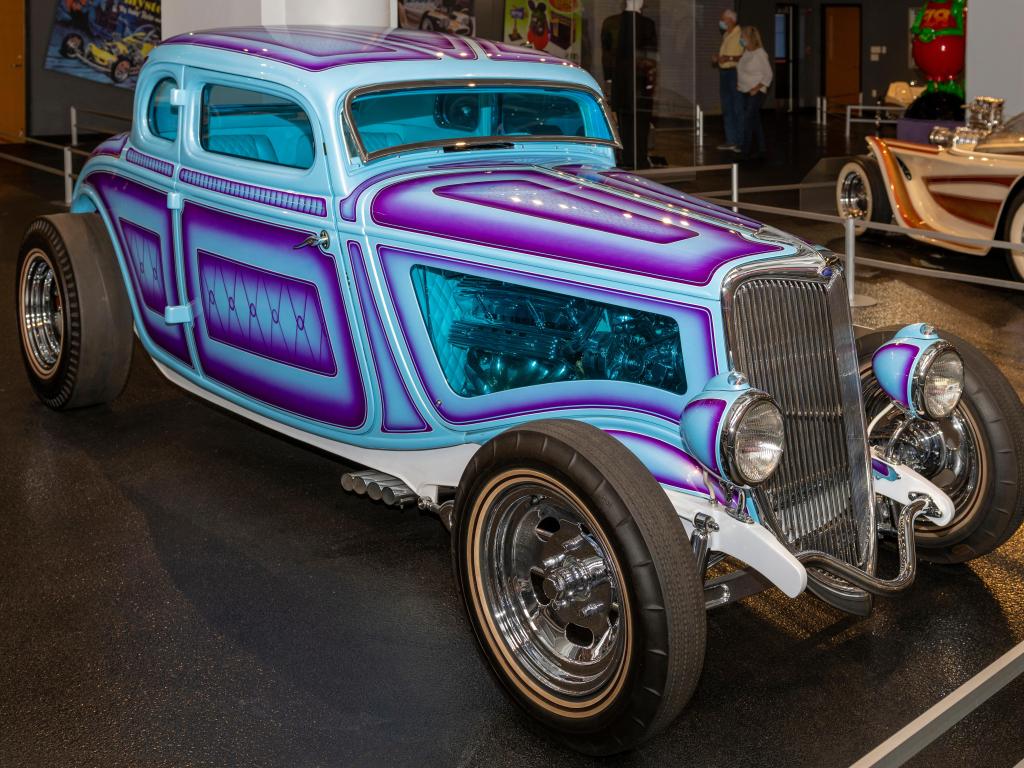 Best places to stop between Nashville and Louisville
With so much to see and do, you're going to want to stop for the night to rest and explore. Below are our top stopover destinations, which will give you plenty of fun activities and comfortable places to stay.
Go museum-hopping in Evansville
Evansville is a must-visit location on the Evansville Route from Nashville to Louisville, located about 2 hours and 30 minutes into your drive. It's the largest city along this route and has several amazing attractions, great dining options, and a rich tapestry of history and culture.
Visit the Evansville Museum of Arts, History, and Science. If you love museums, you are in luck because Evansville is dotted with them. Learn about the amazing tales and contributions of African Americans in the region at the Evansville African American Museum.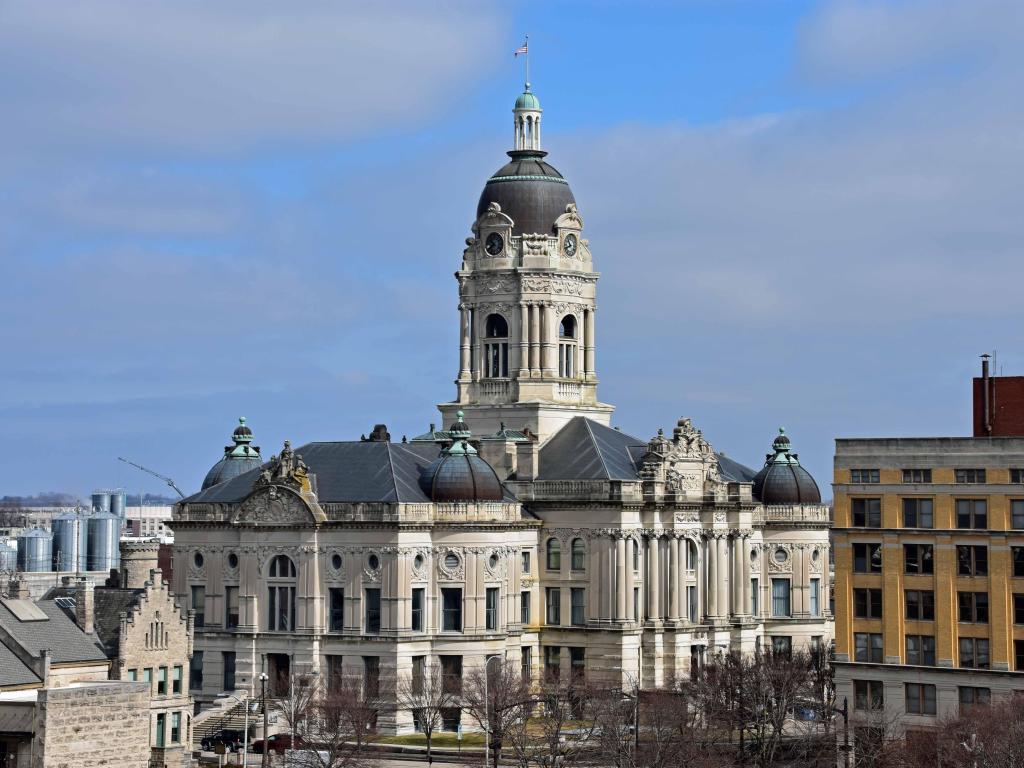 Maritime enthusiasts can board the USS LST 325, an emblematic World War II landing ship. If you're traveling with kids, the Evansville Children's Museum is full of fun-filled activities for the young and the young at heart.
If you love nature and history, you will appreciate a stroll in the Hartman Arboretum and exploring the Angel Mounds State Historic Site, a testament to the region's Native American heritage.
Once you reach Evansville, we recommend staying at the highly-rated and luxurious Hyatt Place Evansville. This modern hotel is in a prime central location downtown, close to all the major attractions, plenty of restaurants and shops, scenic walks, and picturesque views.
You will be located a short walk from the Museum of Arts, History, and Science, as well as other museums. When you finish exploring, you can enjoy the hotel's private pool and other amenities to help you relax.
Learn about the history of Bourbon in Bardstown
Bardstown is just a brief detour on the Lexington Route from Nashville to Louisville, around 2 hours and 20 minutes from Nashville. Bardstown is the second oldest town in Kentucky, established in 1780, and has a beautiful historical charm, and is the home to the world's oldest Bourbon Bar.
There are over 200 buildings recognized on the National Register of Historic Places. Walking along its quaint Main Street is like stepping into the past and reliving the days of a bygone.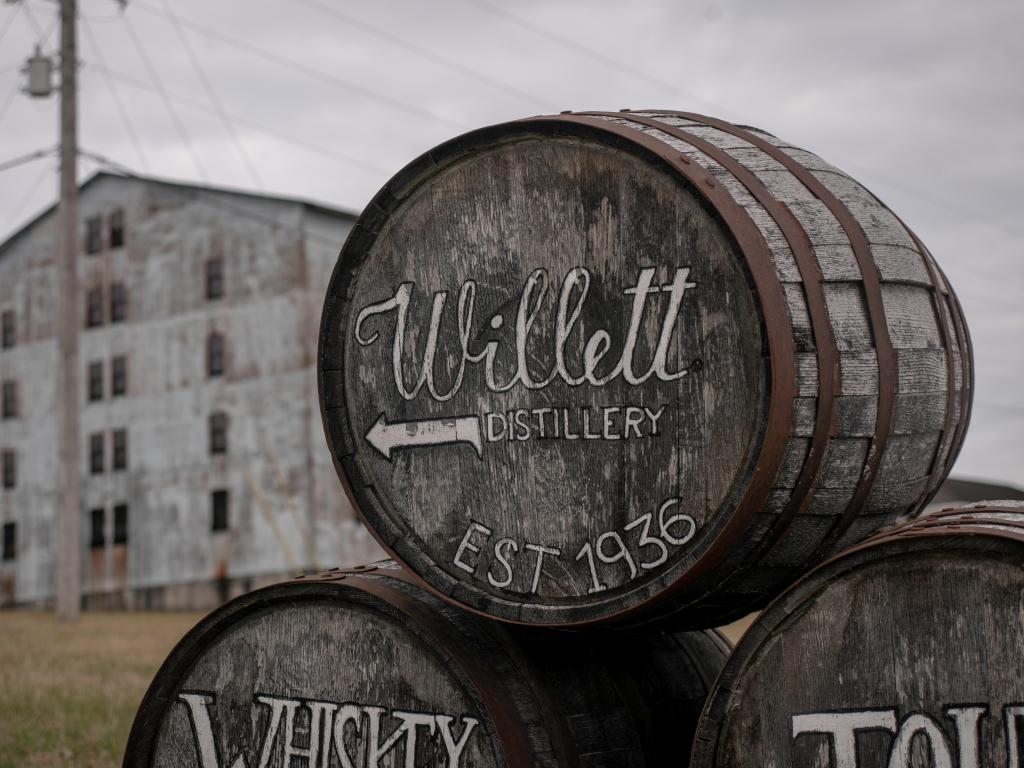 When in Bardstown, there are plenty of amazing sights and activities to explore. The Civil War Museum and Women's Civil War Museum stand as reminders of the area's role in this pivotal period of American history.
Include a visit to the serene Abbey of Gethsemani and the Wickland estate, which was once home to three governors. It gives a glimpse into the lives of some of Kentucky's past leaders.
For those wanting an authentic Bardstown stay, we recommend staying the night at the stunning and historic Bourbon Manor Bed & Breakfast Inn. Nestled in a historic pre-Civil War plantation property, this accommodation is mere steps from the heart of town.
You can pamper yourself using the spa services (available upon prior booking) and take advantage of the delicious breakfast options. A highlight of the bed-and-breakfast is the on-site bourbon bar, offering a taste of the local Bourbons in an elegant setting.
The bed-and-breakfast is a short walk from the Oscar Getz Museum of Bourbon and My Old Kentucky Home Museum, as well as other downtown highlights.
Where to stay when you reach Louisville
Louisville is a city of history, art, and culture. It's famous for hosting the Kentucky Derby race, Bourbon, and as the birthplace of the legendary boxer, Muhammad Ali.
Once you arrive, make a stop at the Muhammad Ali Center, a testament to the life and career of the boxing champion. Next, visit the Kentucky Derby Museum to learn more about the world of horse racing.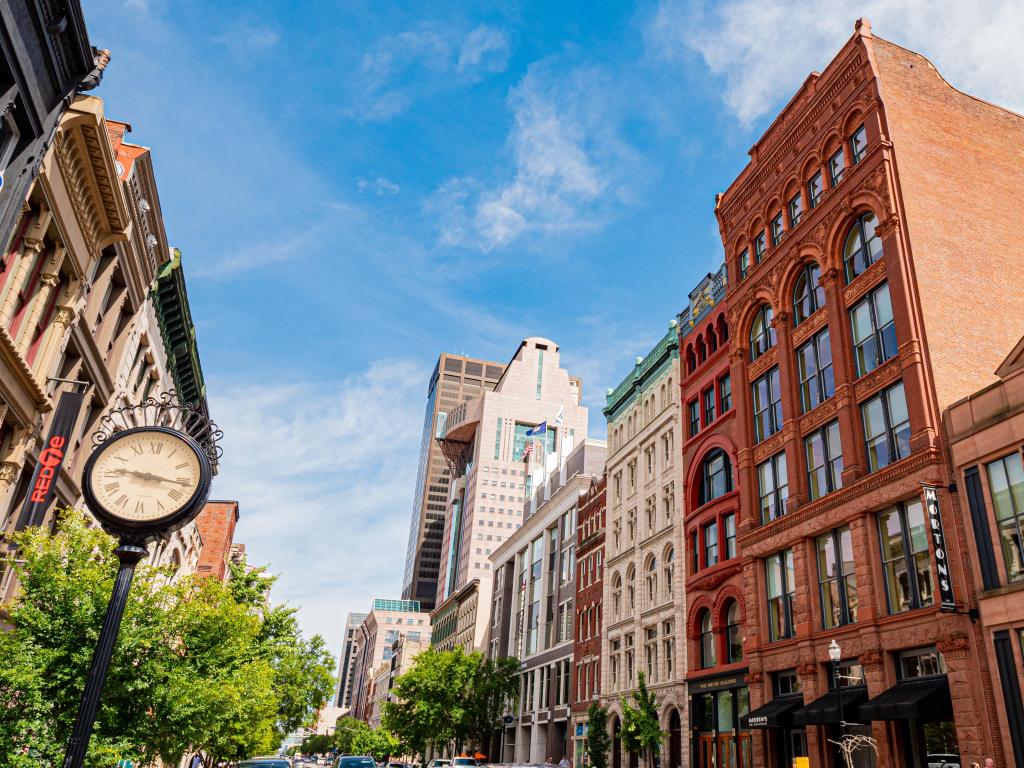 If you can, take a tour through the Kentucky Bourbon Trail. Here you can stop at the amazing distilleries and try some of the finest spirits America has to offer.
Adventure lovers should check out the sprawling Louisville Mega Cavern. If you love baseball, make your way to the Louisville Slugger Museum.
We recommend resting in the city's bustling center at the highly rated and charming Inn at Woodhaven. This boutique bed-and-breakfast is located in a meticulously restored old house, echoing the charm and history of Louisville itself.
It stands proudly on the National Register of Historic Places, with convenient on-site parking and upscale amenities available for guests.
Mornings at the Inn feature a mount-watering breakfast spread with home-cooked breads and pastries, crafted using organic produce sourced locally-something you won't come across often! If you love spirits, especially Bourbon, the Inn offers Bourbon tasting sessions guided by the knowledgeable owners.
Things to see on a road trip from Nashville to Louisville
Louisville is a famous all-American city full of culture, sports history, Bourbon, and fun activities for the whole family. Below, we've included our favorite stops on your way to Louisville so you can pack your itinerary and not miss a beat.
Evansville Route
Wing Blade Falconry - Experience the age-old art of falconry and marvel at the majesty of raptors in flight at Wing Blade Falconry, where hands-on sessions bring you closer to these magnificent birds.
Dunbar Cave State Park - Delve into Tennessee's subterranean wonders at Dunbar Cave State Park, which boasts a rich history and offers guided tours of the impressive cave system.
National Quilt Museum, Paducah - Located in Paducah, the National Quilt Museum showcases exquisite quilted masterpieces, celebrating the art and heritage of quilting.
Badgett Playhouse - Step into the world of live theater at Badgett Playhouse, known for its captivating performances that range from classic plays to lively musicals.
Patti's 1880 Settlement - Reminisce in the charm of yesteryears at Patti's 1880 Settlement, a recreated log cabin village offering delightful dining and unique shopping experiences.
Land Between the Lakes National Recreation Area - Embrace the great outdoors at this vast recreation area, which offers a medley of activities including hiking, camping, and wildlife viewing between two stunning lakes.
Elk and Bison Prairie - Visit this scenic prairie to witness North America's majestic elk and bison in their natural habitats, roaming freely across the expansive grasslands.
Playhouse in the Park - Located in Murray, Playhouse in the Park offers a rich repertoire of theatrical productions, bringing stories to life on stage in an intimate setting.
Two Lakes Loop - Take a breathtaking hike along the Two Lakes Loop, a trail that winds its way around two serene lakes, offering picturesque views at every turn.
Rickenbaugh House - Step back in time at the historic Rickenbaugh House, a testament to 19th-century architecture and the stories of the families who once resided there.
Indiana Caverns - Plunge into one of America's longest cave systems at Indiana Caverns, where guided tours take you through awe-inspiring underground landscapes with stalactites and stalagmites.
Waterfront Botanical Gardens - Immerse yourself in a green oasis at the Waterfront Botanical Gardens, featuring diverse plant species and more.
Patoka Lake - Relish in the tranquility of Patoka Lake, a popular spot for boating, fishing, and picnicking, surrounded by lush forests.
Hoosier National Forest - Stretching across Indiana, the Hoosier National Forest offers a vast expanse of pristine woodlands, perfect for hiking, camping, and immersing oneself in nature's splendor.
Wesselman Woods Nature Preserve - Explore the enchanting old-growth forest of Wesselman Woods Nature Preserve, a haven for nature lovers, offering serene trails, interactive exhibits, and a window into the region's rich biodiversity.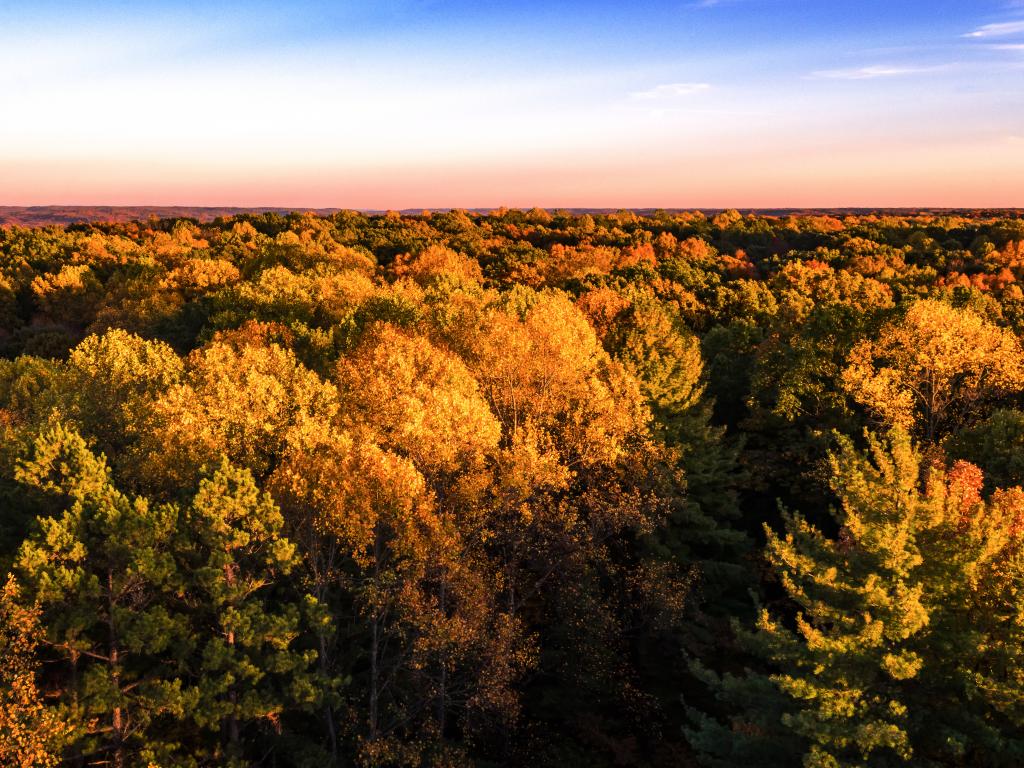 Lexington Route
The Abraham Lincoln Birthplace National Historic Park - Visit the hallowed grounds where America's 16th president, Abraham Lincoln, was born and immerse yourself in the humble beginnings of a leader who would shape the nation.
Heaven Hill Bourbon Experience, Bardstown - Dive deep into the rich history and art of bourbon-making at Heaven Hill, offering captivating tours, tastings, and interactive exhibits in the heart of Bardstown.
Old Town Artisan Village, Berea - Step back in time in Berea's Old Town, where artisans showcase traditional crafts, handcrafted goods, and the town's rich cultural heritage.
Keeneland, Lexington - Experience the thrill of thoroughbred racing and horse auctions at Keeneland, an iconic racecourse deep in the heart of horse country.
National Corvette Museum - Celebrate America's sports car at this dynamic museum showcasing the history, design, and cultural impact of the iconic Corvette.
Mammoth Cave National Park - Journey into the depths of the world's longest cave system, revealing stunning underground landscapes and subterranean wonders.
My Old Kentucky Home Museum - Step into the world of Stephen Foster's famed song, exploring the historic plantation that inspired the nostalgic anthem of the South.
Oscar Getz Museum of Bourbon - Immerse yourself in the spirited history of bourbon-making with antique artifacts and memorabilia chronicling America's native spirit.
Perryville Battlefield State Historic Site - Walk the grounds of one of the Civil War's most intense battles, remembering the bravery and sacrifice of the soldiers who fought here.
Bernheim Arboretum and Research Forest - Experience nature's serenity in this vast expanse of forests and gardens, blending conservation, research, and natural beauty.
Boone Trace Trail - Retrace the footsteps of pioneers on this historic trail, marking the path Daniel Boone and early settlers took to enter the Kentucky frontier.
Berea Pinnacles - Hike the breathtaking trails leading to panoramic views and the geological and natural beauty of the Berea region.
Kentucky Horse Park and Thoroughbred Farms - Experience the world of equestrian excellence, from museums and tours to witnessing the majestic thoroughbreds that call this park home.
The Arboretum State Botanical Garden of Kentucky - Wander through a living museum showcasing the diverse ecosystems and natural beauty of Kentucky.
Castle and Key Distillery - Marvel at the unique blend of history and modern bourbon-making at this restored distillery, set against the backdrop of a picturesque castle.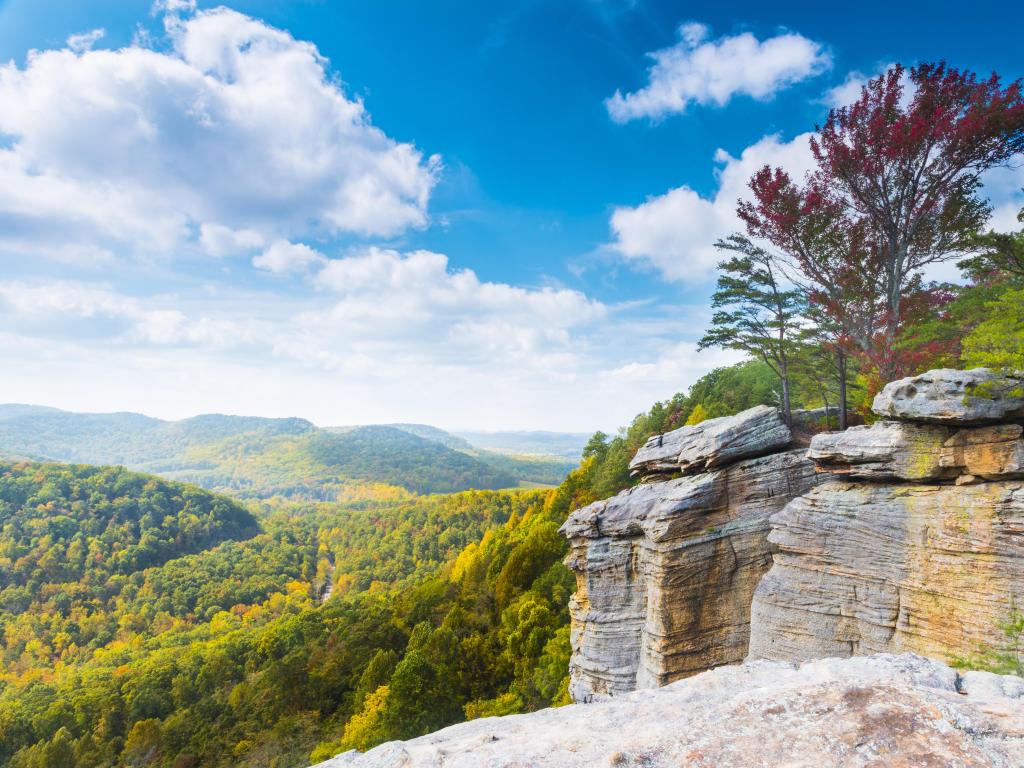 Best time to go on a road trip from Nashville to Louisville
Louisville offers a unique blend of Southern charm and urban sophistication regardless of the season. However, your experience driving through this amazing region depends on the time of year you choose to travel.
Winter in the region is mild but does experience some snowy days. If the Lexington Route is more your taste, be careful traveling in winter when snow storms sometimes sweep through the area. The winter temperatures in Louisville range between low 30 degrees to 40 degrees Fahrenheit.
Summer is hot and humid, so bring plenty of sunscreen and water. You will find that the temperatures will be between 60-80 degrees Fahrenheit.
Summer on the Lexington Route will allow you to see the bustling US 25 Yard Sale in Berea in June and the Woodland Art Fair in August. This fair offers a feast for the senses for art aficionados.
Summer is also the time for experiencing the thundering hooves at the world-renowned Kentucky Derby in May. You can also visit the Bourbon and Beyond festival, or let the electric vibes of Louder than Life wash over you, both unfolding in September.
In the scorching summer heat of Louisville, visit the Kentucky State Fair in August, with its diverse displays, epitomizes the heart and soul of Kentucky. Grab some world-famous lemonade to refresh yourself in the heat.
Spring and fall are perfect times to visit the region, with cooler temps and plenty of activities. This season is ideal for exploring the city's rich cultural tapestry, bourbon-soaked trails, and historic landmarks.
If you travel during the fall, you can see events such as the West Side Nut Club Fall Festival in Evansville or the Hunters Moon Festival in Grand Rivers. Along the Evansville Route, fall is a magical time, with a chance to see the enchanting Monarch Butterfly Migration at The Trace.
Regardless of when you visit, you'll find endless activities and fun in this beautiful and unique region. So start planning your trip and prepare for endless memories in one of the most iconic regions in the USA.