Road Trip from Nashville to Yellowstone National Park
If you're looking for a monumental road trip that will feed the adventurer in you, a journey from Nashville to Yellowstone National Park is bound to be the one! This amazing trip will take you through the iconic landmarks of middle America: with everything from Wild West monuments to relaxing hot springs for you to enjoy along the way.
The 1,590-mile road trip from Nashville to Yellowstone National Park will take you 24 hours of pure driving. Notable stops include St. Louis, Kansas City, Lincoln, Lake Manawa State Park, The Gateway Arch, and Strawberry Park Natural Hot Springs.
Keep on reading to find out more about Yellowstone National Park, how to get there, and where to stop along the way.
How far is Yellowstone National Park from Nashville, and how long will the road trip take?
Comparison of road trip route options between Nashville and Yellowstone National Park

| Route | Distance | Driving Time |
| --- | --- | --- |
| Direct Route | 1,590 miles | 24 hours |
| Mt. Rushmore Detour | 1,705 miles | 25 hours |
The most direct route from Nashville to Yellowstone National Park is 1,590-mile long and will take you about 24 hours of nonstop driving and that is without accounting for the inevitable detours you'll end up taking.
You will also have the option to make an unforgettable detour to Mt. Rushmore National Memorial on your way to Yellowstone National Park, which will only add an hour to the total driving time.
The road trip, with or without the Mt. Rushmore detour, is pretty long, and while it is possible to cover the distance across four days, constantly driving while only stopping for essentials doesn't quite sound like the relaxing start to a vacation.
Hence, it is ideal to split up your trip into at least a week and stop along the route at stunning places like the Elkhorn River and Freedom Park as well as exploring the sights of attractions like the Fantastic Caverns, the Lake Manawa State Park, and Cahokia Mounds State Historic Site.
Best road trip route from Nashville to Yellowstone National Park
There are several routes you can take on a road trip from Nashville to Yellowstone and the best one will depend on how much time you have and what you would like to see on the way.
The most direct route will take you through some amazing landmarks and attractions in Missouri, Nebraska, and Wyoming. The route mainly follows interstates with minor detours in case you choose to spend time at any of the museums, parks, or historical sites along the way.
If you are not pressed on time, we suggest taking a detour into South Dakota to visit the legendary Mt. Rushmore National Monument. This memorable detour will only add an extra hour to your trip.
How to drive from Nashville to Yellowstone National Park
The map above shows our suggestions for the best road trip routes between Nashville and Yellowstone National Park. Keep reading for detailed descriptions of both routes, where to stay on either, and the best things to do on the way.
Direct Route
Begin your journey by getting on I-40 West via George L Davis Boulevard, and continue to I-65 North. Merge onto I-24 West and drive for over 150 miles as you bypass through the states of Kentucky and Illinois.
As you drive through the plains of Illinois, take Exit 44B after you cross the Ohio River to merge with I-57 North heading towards Chicago.
Keep left on the road past Mt. Vernon to continue to I-64 West to head towards St. Louis, an iconic Illinois city home to the City Museum, Saint Louis Zoo, and the iconic Gateway Arch.
Proceed to enter Missouri as you reach the city. After driving on I-64 W for a while, use Exit 1A to merge with I-70 West heading towards Kansas City, which you'll stay on for over 200 miles.
Driving through Columbia, cross the Missouri River. Past Boonville, you will have the option to take a detour to visit the Lake of the Ozarks by following MO-5 before reaching Kansas City.
Exiting the city, take a left to continue onto I-29 North which will lead you to the charming state of Iowa. After taking Exit 10 for IA-2 West, continue onto NE-2 West to make your way to the beautiful midwestern state of Nebraska.
As you reach Lincoln, merge with US-77 North, which will lead you to I-80 West after your visit to this charming city. You'll drive on I-80 West for over 200 miles and take Exit 126 at Ogallala for US-26 West to enter Wyoming.
Merge onto I-25 North and take Exit 189 at Casper for US-26. Turning right onto US-20 and then left onto WY-120 will ultimately lead you to US-14 past Cody and take you to Yellowstone National Park, an oasis of hot springs, waterfalls, and scenic landscapes.
Detour to Mt. Rushmore National Monument
To make this detour, follow the Direct Route until you reach Kansas City. Keep on I-29 as you exit the city and follow it north into Iowa. The interstate will take you all the way to Sioux Falls in South Dakota.
Get on I-90 after visiting this city and cross the Missouri River. Drive through Nebraska National Forest to reach Rapid City.
Take Exit 61 for US-16, which will take you to Mt. Rushmore National Monument. You will drive through the scenic views of Custer Park and Black Hills National Forest.
Merge onto I-90 and drive past Thunder Basin National Grassland and Bighorn National Forest as you get back onto US-16 briefly. Following WY-31 and WY-30 will take you to Cody, where you will merge with the Direct Route to reach your destination.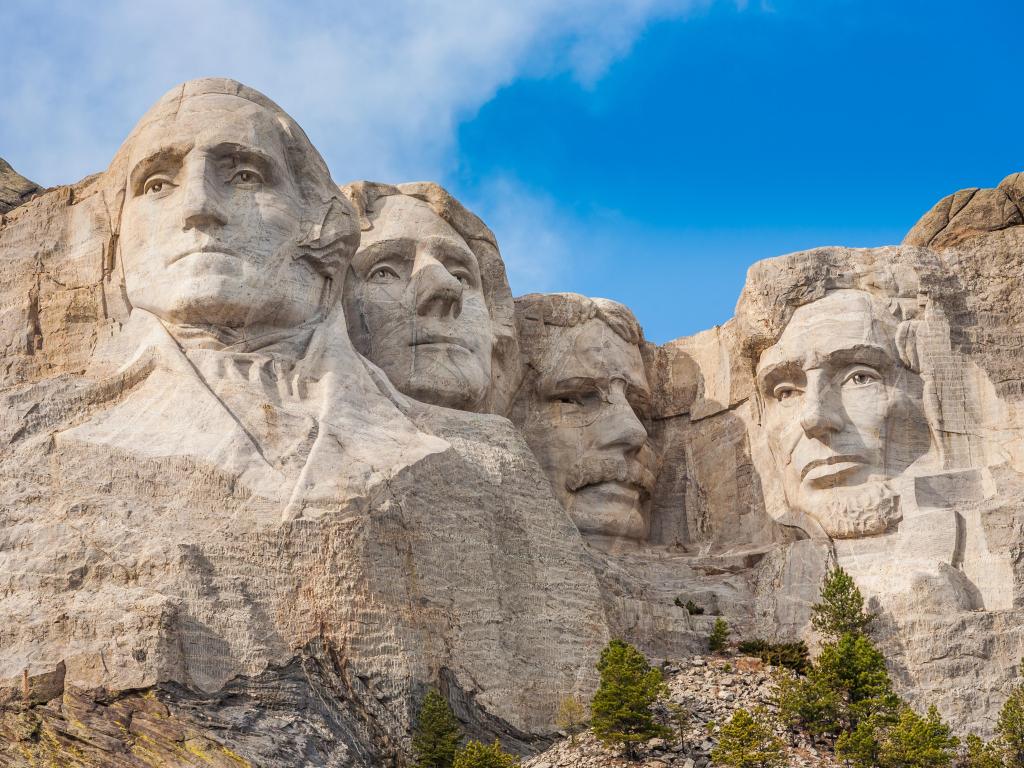 Best places to stop between Nashville to Yellowstone National Park
You will cover impressive distances during this mammoth road trip and will need to make several stops to explore the fantastic attractions on the way and rest up for the next leg of your adventure.
There are plenty of options for where to stop and if you do decide to break up your trip into four days, you'll find plenty of places along the way to discover, stay in, and get the most out of. Below, you will find some of our recommended places to stay.
Explore the vibrant metropolis life in St. Louis
While on a road trip from Nashville to Yellowstone National Park, one of the best parks in the country, you'll drive through the city of St. Louis in Missouri, which sits conveniently about 4 hours and 30 minutes from Nashville.
As the second-largest city in the state, St. Louis is known for many things, especially the Gateway Arch, a massive 630-foot structure that pays tribute to America's expansion in the Western world.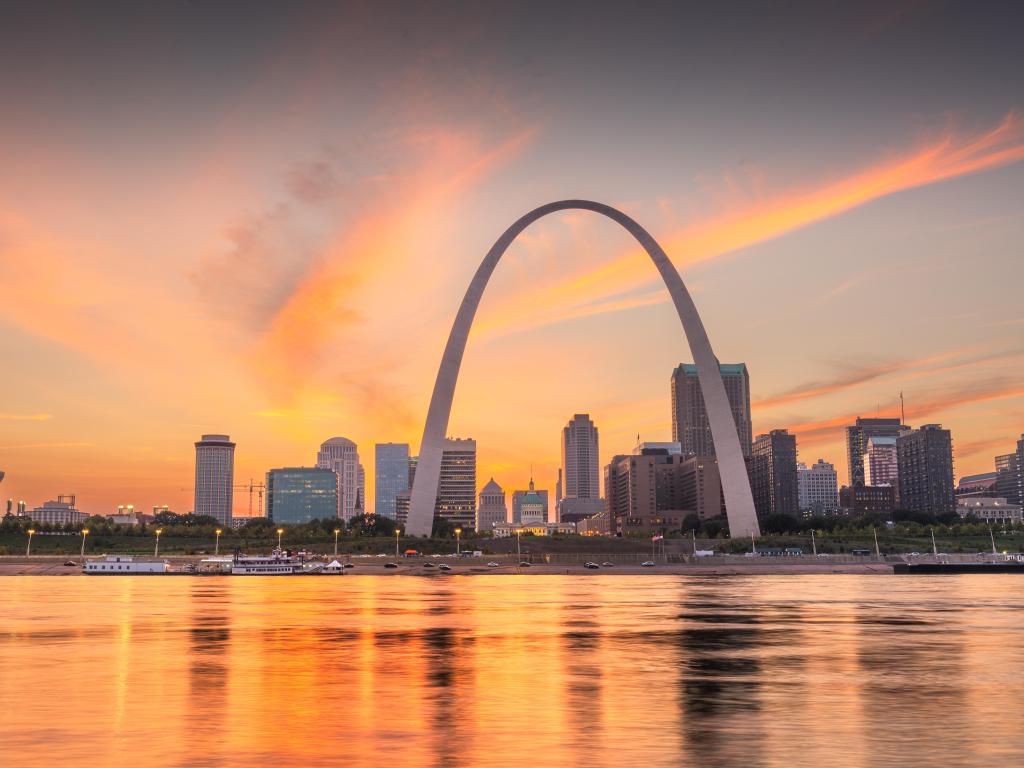 With so much to see and do, staying at the Angad Arts Hotel, located in the heart of the city, is an excellent idea. A truly unique 5-star hotel, the architecture and modern décor of the building as well as the artistic design of its luxurious rooms will leave you in awe.
Located in close proximity to the Old Courthouse, the Gateway Arch, the Fox Theater, Forest Park, City Museum, and so many more top attractions, you'll be able to get the most out of your stay in this vibrant metropolis.
Forest Park, which houses St. Louis Zoo, Saint Louis Art Museum and Missouri History Museum is only a short drive away from the hotel, which is bound to be a stellar way to explore and wind down from the hours of driving, making it the perfect pit stop on the way to your destination.
Explore the historic and artistic soul of Lincoln
One of the many cities you'll pass through while on this mega road trip is Lincoln, a hubbub of food, culture, arts and history located about 11 hours from Nashville, which makes it an amazing second stop on this epic adventure.
There are many accommodation options in the city, but none come even close to the luxury and comfort Graduate Lincoln offers. This fantastic 4-star property is a boutique designer hotel that features top amenities and stylish rooms.
You'll be within walking distance of the most popular Lincoln landmarks like the Pinnacle Bank Area, Sheldon Art Museum, Lincoln Children's Museum and Frank H Wood Telephone Museum, which you can visit on foot on your day out.
In addition to being a city brimming with historic and artistic attractions, Lincoln also offers tranquil experiences to soothe the soul. The stunning Sunken Gardens is an urban oasis located nearby that will wash away any weariness you might have after a long drive.
After a long day of sightseeing, and exploration, you can head back to the hotel to relax with some wine, and head out to dine at the hotel's in-house gourmet restaurant, Single Barrel, or reenergize by taking a dip at the hotel's fabulous pool.
Discover the tranquil side of Rapid City
If you are not pressed for time, we suggest driving some extra miles and making the Mount Rushmore Detour. This spectacular sculpture of four legendary presidents of the US, craved into granite, is one of the most popular attractions worldwide, and deservingly so.
While exploring this colossal monument and its surrounding areas, you can surely stay in the center of Rapid City, which sits about 7 hours away from the Yellowstone National Park, but then you wouldn't be able to enjoy and admire the stunning Black Hills National Forest.
Summer Creek Inn sits on the border of the city that overlooks this awe-inspiring forest, with amazing amenities and luxurious rooms with hot tubs and fireplaces for the utmost relaxation of both the body and the mind.
You might want to spend your day unwinding at the accommodation's incredible spa, but if you are ready for outdoor adventures, Custer Park and the gorgeous Black Elk Peak are within driving distance.
After enjoying some of the most scenic hikes of your life, you can return to the hotel to enjoy a cocktail at the sun terrace, which boasts beautiful views of a waterfall and a landscaped garden.
Things to see on a road trip from Nashville to Yellowstone National Park
While on a road trip from Nashville to Yellowstone National Park, you'll encounter so many different landmarks to tour and museums to visit that will make your journey so much more exciting. Though not all the places you can see, here are some that you must not miss out on:
Fantastic Caverns, Springfield - You'll find underground caverns formed due to a now-extinct river with tram rides and guided tours.
Buffalo Bill Center of the West, Cody - This is an interactive museum with exhibits paying tribute to the legendary figure of Buffalo Bill as well as to the ecological history of the Yellowstone region.
The Gateway Arch, St. Louis - A historical landmark located in St. Louis standing at a massive height of 630- feet paying tribute to Lewis and Clark's exploration of America and its expansion in the Western world.
Six Flags St. Louis, St. Louis - A famous and family-friendly amusement park with rollercoasters, rides for guests of all ages, and live music and performances.
Cahokia Mounds State Historic Site, St. Louis - A historic site located across from the Mississippi River in St. Louis that pays ode to the pre-Columbian Native American settlement situated in the region.
Saint Louis Zoo, St. Louis - A local pride, the St. Louis Zoo is spread across 90 acres and houses animals from penguins to elephants, along with many interactive exhibits, shows, and a free train ride.
Forest Park, St. Louis - A public park spanning over 1,326 acres in St. Louis, it is home to beautiful flora and fauna and has been the site for several special events, including some events of the 1904 Summer Olympics.
National WWI Museum & Memorial, Kansas City - This is the only public museum in the state that pays tribute to WWI and those who lost their lives defending the country during this tumultuous time.
The Nelson-Atkins Museum of Art, Kansas City - This museum houses an extensive art collection along with a unique sculpture garden where you can take a stroll.
Sheldon Museum of Art, Lincoln - An art museum located in Lincoln with a collection honoring the art styles and cultures of the 19th and 20th centuries.
Strawberry Park Natural Hot Springs, Steamboat Springs - This area is a historically recognized site for its cold and hot spring pools and lodges which is the perfect stop for some R&R.
Elkhorn River, Nebraska - A river in northwestern Nebraska where you can go tubing and kayaking to explore the region in a unique way.
Lake of the Ozarks State Park, Missouri - A vacation destination popular with hikers, bikers, backpackers and equestrians, this park boasts stunning views of woodlands, sunny glades, small springs and streams.
Freedom Park, Omaha - Spread across a vast area, this is an outdoor park and museum located on the bank of the Missouri River in Omaha.
Omaha's Henry Doorly Zoo and Aquarium, Omaha - Located in Omaha, an iconic zoo with a dome is home to the world's most extensive indoor forest and desert, along with other fun exhibits.
Lake Manawa State Park, Iowa - A scenic state park in Iowa with numerous biking and hiking trails accompanied by a picturesque lake, especially at sunset.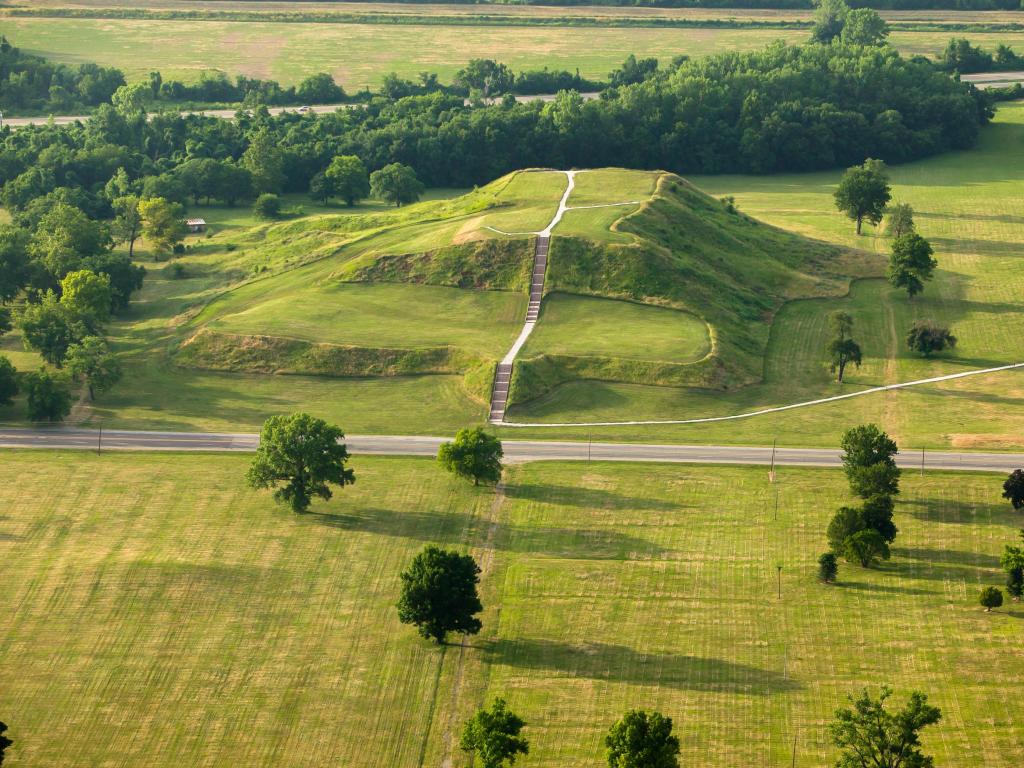 Mt. Rushmore National Monument Detour
Sioux Falls, South Dakota - The most populous city in the state, Sioux Falls is home to the famous Falls Park, SculptureWalk & Arc of Dreams Monument, Butterfly House & Aquarium, and the Great Plains Zoo.
Nebraska National Forest, Chadron - If you are craving some quiet time away from the crowds, exploring this tranquil forest and grassland area will give you the perfect opportunity.
Rapid City, South Dakota - The perfect gateway to both Mt. Rushmore National Monument and Black Hills National Forest, Rapid City's main attractions include Bear Country USA, Reptile Gardens and South Dakota Air and Space Museum.
Mt. Rushmore National Monument, Keystone - One of the most famous landmarks in the world, this colossal sculpture features the portraits of 4 legendary American presidents.
Custer State Park, Custer - A stunning park that boasts crystal-clear mountain waters and granite peaks, you can enjoy camping, hiking, biking, swimming, fishing, or simply relaxing here.
Black Hills National Forest, South Dakota and Wyoming - Also called "The Island in the Plains", this forest has something for everyone. The recreational opportunities include hiking, biking, fishing, horseback riding and hunting.
Thunder Basin National Grassland, Douglas - This beautiful area is perfect for a stop to stretch your legs after a long drive. You can enjoy leisurely hikes and sightseeing opportunities here.
Bighorn National Forest, Sheridan - Conveniently located halfway between Mt. Rushmore and Yellowstone National Park, this forest will surely impress you with its breathtaking scenery.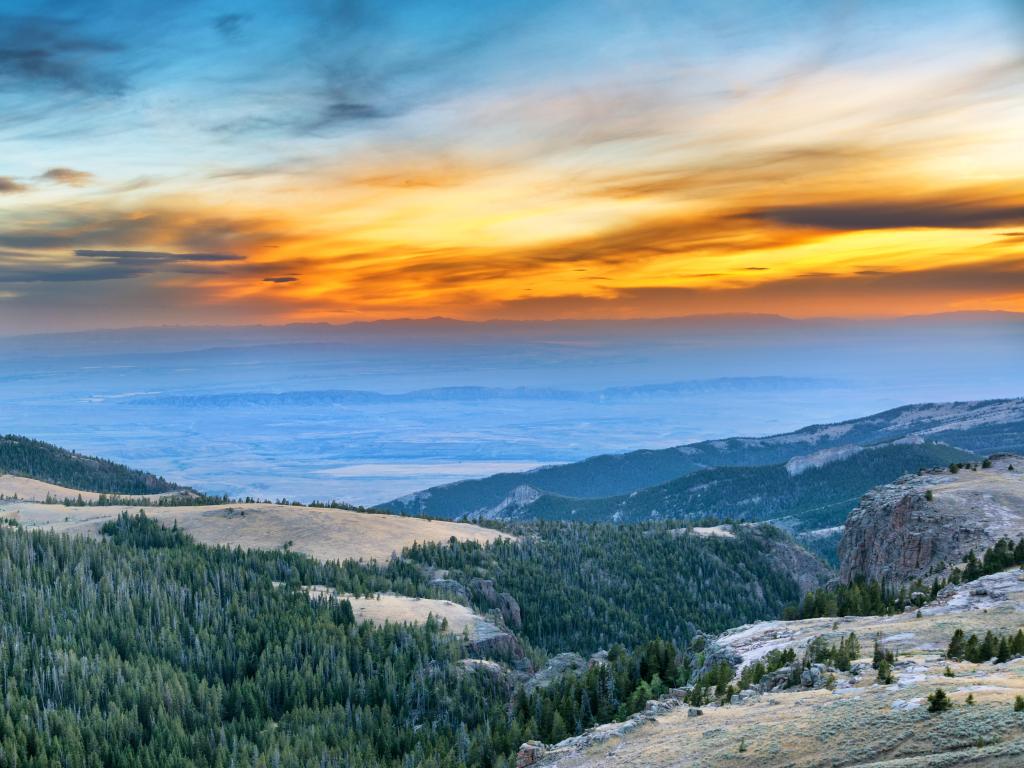 Best time to go on a road trip from Nashville to Yellowstone National Park
While you can take a road trip from Nashville to Yellowstone during any season, your experience will be better in some seasons than others.
Though Yellowstone is an all-weather park, it is believed that the best time to visit Yellowstone is either April or the fall months of September and October when the temperatures linger around 60 degrees Fahrenheit.
During this time, you'll be able to get the most out of the park with more wildlife sightings (especially the iconic Black and Grizzly Bears) without the extreme summer heat and crowds.
If you're looking to enjoy winter sports such as snowboarding and skiing, the winter is also a great time to make the trip; however, you will have to brave the cold (as the temperatures range from zero to 20 degrees Fahrenheit) and may be faced with road closures.
Keep in mind that the West Entrance to Yellowstone usually closes for wheeled travel in November, whereas the North to Northeast Entrance is open year-round.
Though the temperatures can peak above 80 degrees Fahrenheit, the summer months are when the park is the most bustling, with full campgrounds and packed parking.
Summer is also when the stunningly unique colors of the Grand Prismatic Spring in Yellowstone, created by thermophilic bacteria, are at their most vibrant.
If that's the way you'd like to explore the park's sights, July and August are the times to go. Be sure to keep yourself hydrated, as the heat can quickly get to you due to the region's unique topography.
Ultimately, whichever time you end up making this iconic road trip from Nashville to Yellowstone, be sure you plan your pit stops in advance, carry all your favorite snacks, and explore as many places along the way to have a trip that you're sure to remember for years to come.