Road Trip from New Orleans to Washington DC
If you're in search of an adventure that includes stunning mountain scenery, natural parks, vibrant cities, and lets you appreciate the modern history of America's South, then the road trip from New Orleans to Washington DC will tick all your boxes.
The 1,100-mile road trip from New Orleans to Washington DC takes around 17 hours, passing Birmingham, Knoxville, Asheville, the Great Smoky Mountains National Park and the Blue Ridge Mountains, or via Montgomery, Atlanta and Charlotte in the south.
Keep reading to get to know more about this fantastic road trip, where all you can stop, and all the other details you need for the journey to be a memorable one!
How far is Washington DC from New Orleans, and how long will the road trip take?
Comparison road trip routes between New Orleans and Washington DC
Route
Distance
Driving Time
Northern Route

1080 miles
16 hours 20 minutes
Southern Route
1,100 miles
17 hours
BRP Detour


(Total route length)

1,210 miles
20 hours 10 minutes
The road trip from New Orleans to Washington DC covers 1,100 miles and will take you nearly 17 hours of driving, without taking into account any snack pitstops or detours to visit the attractions along the way.
There is an alternative Northern Route that will take you a similar time to drive at 16 hours and 20 minutes, covering 1,080 miles.
However, if you want to make the best of your journey, you could take a longer Blue Ridge Parkway Detour, which will add several hours to your drive and span a distance of 1,220 miles, but you won't regret choosing to travel on "America's favorite drive" despite the extra miles.
You'll find so many things to explore along the way that you'll want to spread out the drive as much as possible, discover sights you had never even heard about, and truly absorb all that the route has to offer.
It would be ideal to divide the trip into two or three days and take your time forging through the George Washington and Jefferson National Forest, hiking in the Great Smoky Mountains National Park, and driving through the Blue Ridges to have the time of your life.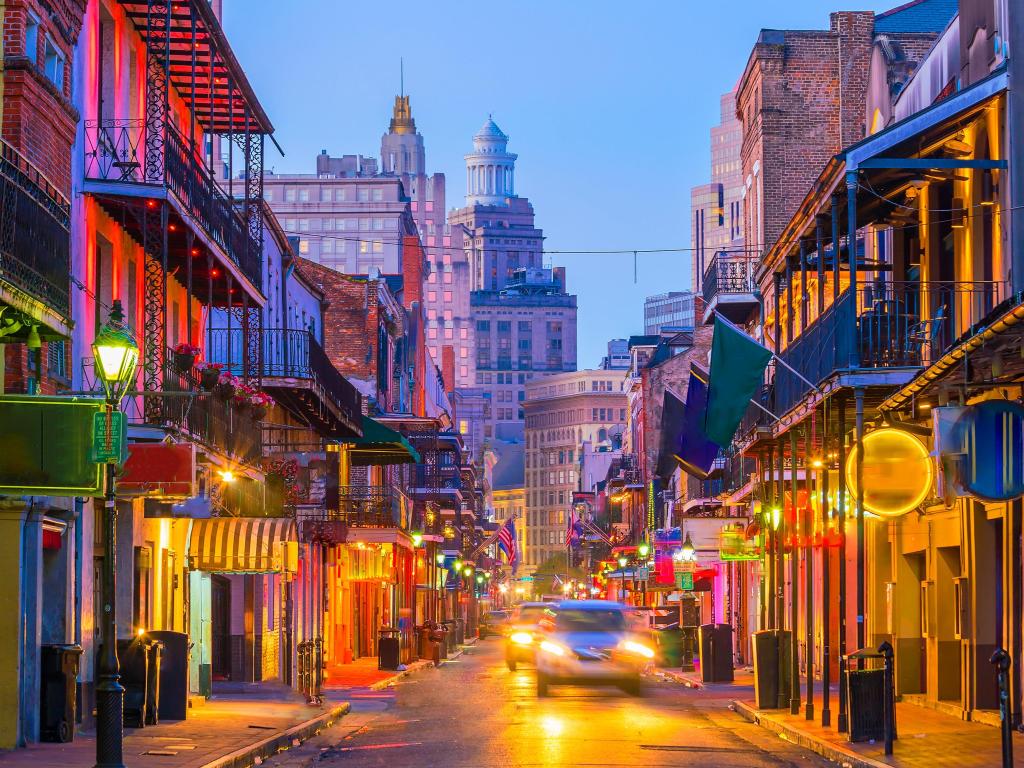 Best road trip route from New Orleans to Washington DC
There are two possible routes for the road trip from New Orleans to Washington DC, plus an optional detour through the Blue Ridge Mountains if you have time to wind your way slowly up through North Carolina.
The Northern Route is more scenic compared to the Southern Route, and also gives you the option of detouring along the Blue Ridge Parkway via Knoxville and Asheville.
You'll make your way from New Orleans through the Chattanooga Forest, the Blue Ridge Mountains, and small but charming towns until you reach the capital city, Washington DC.
This route is primarily an interstate drive with few state routes depending on the attractions you choose to stop over for.
As an alternative, the Southern Route passes through iconic US cities like Mobile, Montgomery, Atlanta and Charlotte. You can really immerse yourself in the history of the South if you take this route, as well as experience the sights and sounds of the cities here.
As an added bonus, the Southern Route also starts off with a short stretch near the Alabama coast, making for a refreshing start to a long, largely inland drive.
The Northern Route
You'll begin your trip in New Orleans in the magnificent Southern state of Louisiana by taking Interstate 10 East via Tulane Avenue, then joining Interstate 59 North which takes you into Mississippi in the direction of Hattiesburg.
As you begin the drive north, you'll drive along the beautiful Pearl River and Forest. Eventually, you'll approach Meridian, where I-59 joins up with Interstate 20 for a while as you pass the city.
You'll drive by the iconic "Welcome to Sweet Home Alabama" sign, following which you should keep left at Y junction to stay on I-59 North following signs towards Gadsden.
I-59 and I-20 will take you right the way across Alabama, passing Birmingham and Gadsden before you briefly enter and then exit Georgia. Just before you cross the state line into Tennessee, take the exit onto Interstate 24 towards Chattanooga.
As you enter Tennessee you'll drive through the lush forests of Chattanooga. Look out for Exit 185B to get on Interstate 75 North and follow it until it joins up with Interstate 40 E.
Soon, you'll find yourself driving right through Knoxville - the famous Great Smoky Mountains National Park is just a short detour from here.
Your ride through the Blue Ridge Mountains is sure to be one of the most scenic drives ever, but if you want to see more of the area, see below for our suggested separate detour option.
If you're carrying on along the Interstate though, you'll continue along Interstate 40 East, then take Exit 421 on the left to get onto Interstate 81 North towards Bristol.
After continuing on I-81 North almost the whole length of Virginia, the route passes near the magnificent George Washington and Jefferson National Forest, before merging with Interstate 66 East at Exit 300.
From here, continue along I-66 East to enter the District of Columbia, home to the White House, the United States Capitol, and so much more.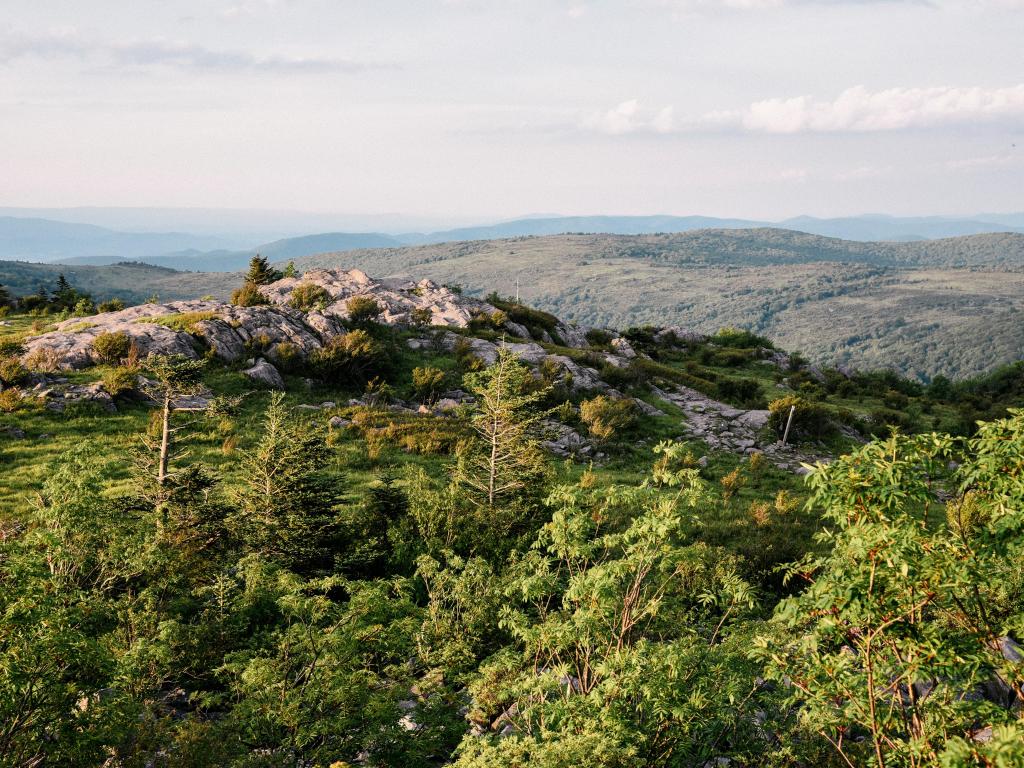 The Southern Route
Leave New Orleans via I-10 E, which runs parallel to the Mississippi Coast until you cross into Alabama. Along the way, you might like to detour to Biloxi to dip your toes in the ocean and admire the famous lighthouse.
Approaching Mobile, switch to Interstate 65 at Exit 20 and follow it all the way to Montgomery, where you'll probably want to stop and spend some time.
When it's time to move on, take Interstate 85 N to leave Montgomery, following it past Tuskegee National Forest and Opelika before crossing into Georgia.
I-85 takes you right through the center of Atlanta, then across the Savannah River at Lake Hartwell into South Carolina. Continue along I-85, passing Greenville, before you enter North Carolina.
Here, Interstate 85 you through Charlotte then continues its way north through Greensboro before taking you around the outskirts of Durham. If you'd like to spend some time visiting the 'Triangle' of Durham, Raleigh and Chapel Hill, simply detour along I-40 as you approach Durham.
After entering Virginia and crossing Roanoke Rapids Lake, I-85 joins up with I-95 North at Petersburg, which then takes you through Richmond and Fredericksburg, almost all the way to Washington DC.
Outside Springfield, Virginia, follow the signs to merge onto I-395, which you'll follow across the Potomac River before switching onto US Route 1 which takes you to your final destination, Washington DC.
The Blue Ridge Parkway Detour
The scenic drive through the Blue Ridge Mountains has been voted 'America's favorite drive', and in our view, it's well worth making a detour to appreciate this experience in person if you have enough time.
Our Blue Ridge Parkway Detour starts out by following the Northern Route past Knoxville. Then, where the Northern Route branches off from I-40 onto I-81, the detour continues along I-40 towards Asheville.
Just after Asheville, take Exit 5A onto NC-694. Then, after just a couple of minutes, follow the sign directing you onto the Blue Ridge Parkway.
Once you're on the Parkway, it's a simple but stunning drive. There are hiking trails and viewpoints aplenty as you make your way up through North Carolina, so it pays to build in some extra time to enjoy them.
Although you can carry on even further, we'd suggest exiting the Parkway a little way after Lewis Fork and the Lump Overlook. You'll see a sign towards NC-16 North - follow this in the direction of West Jefferson, as far as Mouth of Wilson.
Turn left at Mouth of Wilson, where NC-16 joins up with US Route 58 for a short distance. When the roads split again, you want to stay on NC-16, continuing north through Troutdale and Sugar Grove.
This brings you to Interstate 81 North. From here, follow the Northern Route right the way up to Washington DC.
Best places to stop between New Orleans and Washington DC
If you decide to break your trip into a couple of days and choose to explore the attractions along the way, there are several places for you to spend the night so you can discover nearby attractions and sleep comfortably.
Spend time in Magic City, Birmingham
One-third of the way along the Northern Route 5 hours from New Orleans is Alabama's second most populous city, Birmingham. This bustling city has so much to offer, and you can explore it all by staying in the heart of the city at Courtyard by Marriot Birmingham Homewood.
You can check in to the hotel after a long day of driving and grab a bite at The Bistro before heading for a visit to the nearby Birmingham Zoo. Alternatively, you can venture out and explore the city's restaurants and get an early night in to recharge.
If you feel energetic, you can explore Oak Mountain State Park, only twenty minutes from the property. Be sure to get your camera and hiking shoes ready as there is a majestic and incredibly photogenic waterfall located in the park.
The city is called the Magic City because it naturally has all the elements needed to make iron ore, which you can learn more about at the city's museums and attractions like the Birmingham Civil Rights Institute and Birmingham Museum of Art to feed your curious mind.
Catch panoramic views at the Great Smoky Mountains National Park
The Northern Route also takes you close to one of the most visited National Parks in the country, the Great Smoky Mountains National Park. It's just a short detour off your route to the country's capital, making it a perfect place to stop over and absorb nature's wonders.
This is a particularly good stopover option if you're not planning on heading along the Blue Ridge Parkway - you'll get a taster of the scenery and sounds of this mountain region, even if you can't add all that extra driving to your trip.
If you choose to break your trip into a couple of days, you must take out the time to spend a night at Historic Tapoco Lodge. This beautiful property is located right by the river and surrounded by greenery.
After checking in, take a stroll through the park, go river rafting if you visit during the season, and even go on a sunset hike atop one of the park's peaks to catch a breathtaking view of the entire park.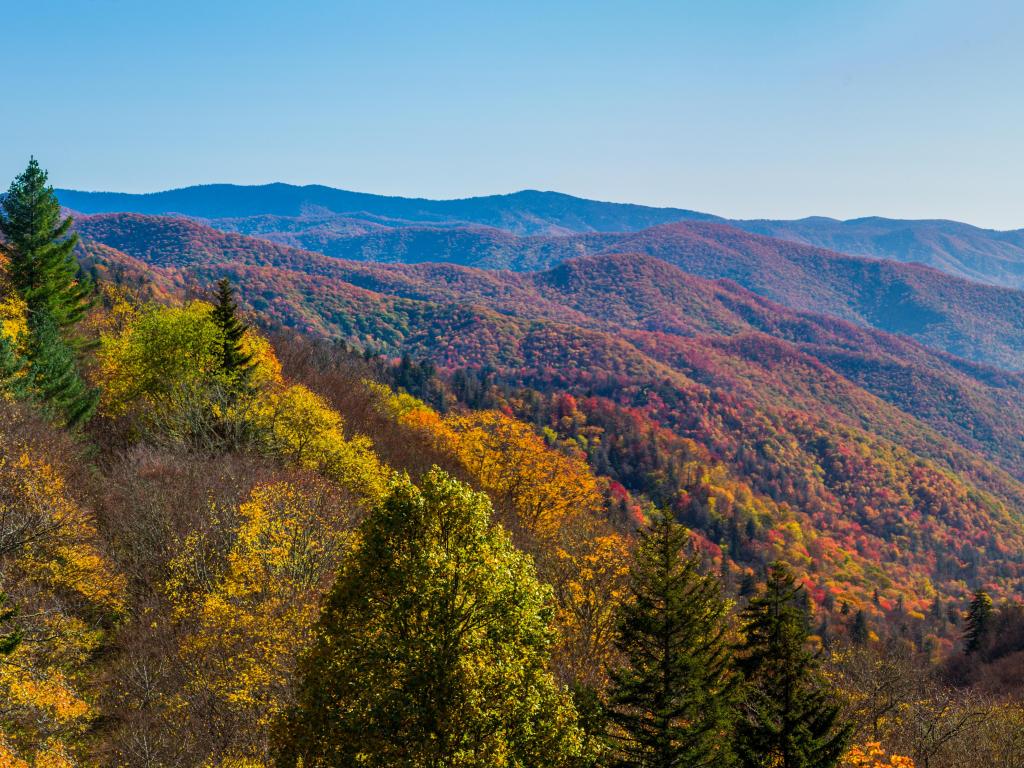 Take time out in Queen City, Charlotte
If you're taking the Southern Route, you'll find Charlotte, North Carolina, at roughly the halfway point a little over than 6 hours from Washington DC.
Centered around the Catawba River, it's a fabulous combination of history and artistic districts, so you can enjoy the urban vibe here before continuing along your cross-country road trip.
You'll get a real feeling of luxury if you plan a stay at The Ivey's Hotel while you're in town. With beautiful rooms and stunning design right through the building, it's a pleasure to check in at this 5-star downtown hotel.
The hotel is right next to the Mint Music of Craft Design, and the Blumenthal Performing Arts Centre is close by too, so you can squeeze so much into your visit even if you're only in town for a night.
Of course, one of the top attractions in Charlotte is the NASCAR Hall of Fame - and seeing as it's only a short distance away from The Ivey's, you can easily include a visit there during your stay.
When you want to wind down, you'll find restaurants and bars on your doorstep here so take the opportunity to enjoy a great meal in one of Charlotte's fantastic restaurants. Alternatively, you can head to the popular cocktail bar located in the hotel to treat yourself.
Watch the sunrise over the Blue Ridge Mountains at Blowing Rock
If you're taking the Blue Ridge Parkway Detour, you'll want to factor in somewhere to stay, as accommodation options can be limited along this stretch of the drive.
We'd recommend spending a night at Blowing Rock, which is around halfway along the section of the Parkway included in our route. While you're in town, a great place to stay is Chetola Resort at Blowing Rock, which is centrally located and offers impressive lakeside views.
The resort can arrange bike hire or horse riding for you too if you'd like to explore from a different perspective. Not only is it perfectly located to give you the maximum time to enjoy your stunning surroundings, but the hotel is also a stone's throw away from the charming town center.
If you have time, you should definitely take the short walk from the property up to Blowing Rock Art and History Museum, where you can learn more about the fabulous Appalachian region.
We're guessing you'll have spent at least some of the day hiking the trails of the Blue Ridge Parkway, so the indoor pool at Chetola Resort is likely to be a welcome relief - rest your aching legs then get a great night's sleep.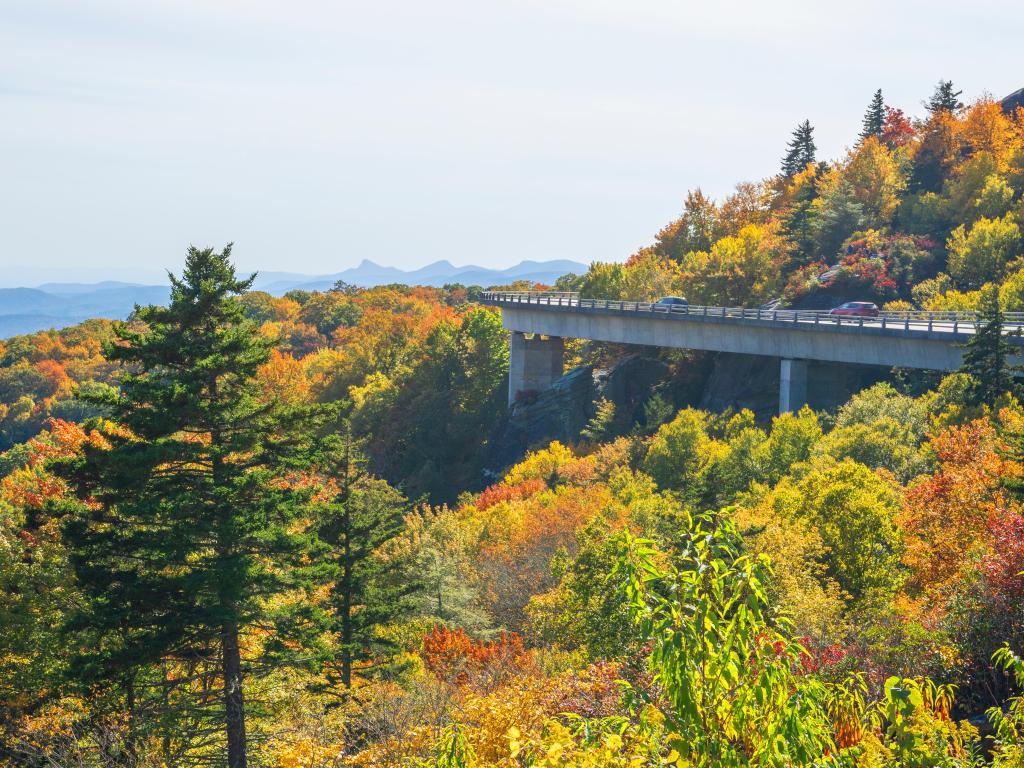 Things to see on a road trip from New Orleans to Washington DC
While on a road trip from New Orleans to Washington DC, there are several attractions to explore and many natural gems to discover along the way.
Here is a shortlist of some of the top places that, if you're interested, you really should visit:
Northern Route
Meridian, Mississippi - This small city that's right on your route is known for having one foot in the past, in the best possible way. Stop a while here to get a feel for what America was like in years gone by.
Oak Mountain State Park, Alabama - The park is located in Alabama, South of Birmingham, and boasts a very peaceful atmosphere with a magnificent waterfall
US Space & Rocket Center, Alabama - A slight detour from the route, near Huntsville, you can explore rockets and other fun exhibits at this interactive space museum.
Birmingham, Alabama - Explore the history of the civil rights movement or immerse yourself in art at the South East's biggest gallery, Birmingham Museum of Art.
Dollywood, Tennessee - This award-winning theme park set in the stunning Great Smoky Mountains is a great place to enjoy a day or two.
Knoxville, Tennessee - Come here to enjoy some country music, or spend some time in buzzing Market Square.
Great Smoky Mountains National Park - One of the most visited National Parks in the country, clad with greenery and tall mountains that boasts panoramic views
Ruby Falls, Chattanooga - Located in a limestone cavern in Lookout Mountain, this 145-ft underground waterfall will leave you in awe
Tennessee Aquarium, Chattanooga - An expansive aquarium with numerous interactive exhibits, live events, and many species of birds, aquatic animals, butterflies, and more.
Natural Bridge State Park, Virginia - A historic landmark in Rockbridge County that has a 215-ft tall natural arch and tranquil surroundings
Skyline Drive - a 105-mile-long road that runs parallel to I-81 through the Shenandoah National Park in the Blue Ridge Mountains, offering a picturesque drive like no other. Its largely forested areas are home to beautiful flora and fauna, including black bears.
Luray Caverns, Virginia - Cave located west of Luray in Virginia, it is home to many natural wonders like mirrored pools, columns, and more
Southern Route
Biloxi, Mississippi - This town on the beach is known for its stunning sands, historic lighthouse, and also for its casinos, where you might like to try your luck before you carry on north.
USS Alabama, Mobile - This WWII battleship has been docked at a memorial park and is open for visitors to explore and learn about its history.
De Soto National Forest - This vast national forest is an important and protected area of the gulf coast, known as a refuge for wildlife and home to some rare trees.
Montgomery, Alabama - Head to Montgomery Museum of Fine Arts, the Alabama Shakespeare Festival, or simply enjoy a stroll through the city's charming parks.
The Legacy Museum, Montgomery - The history of slavery sits hand in hand with the growth of the southern states. This powerful and impactful exhibition discusses the region's past and its ongoing legacy.
Martin Luther King Jr National History Park, Atlanta - The civil rights leader and activist grew up in Atlanta, and his childhood home now sits in this 35-acre park.
Georgia Aquarium, Atlanta - One of the largest aquariums in the country, this fascinating attraction is home to more than 100,000 underwater creatures.
Charlotte, North Carolina - Most populous city of North Carolina, Charlotte is known for its amusement parks, Ramsey Creek Park, Mint Museum Uptown and NASCAR Hall of Fame.

Nantahala National Forest, North Carolina - A detour north of I-85 brings you to this stunning national forest, which has ancient ties to generations of Cherokee settlers and is home to some old trees.

Visit Charlotte, North Carolina.

Kevin Ruck/Shutterstock.com
Blue Ridge Parkway Detour
Gatlinburg, Tennessee - As well as being a route into the Great Smoky Mountains National Park, this is a great place for outdoor activities as varied as rafting, bird watching or riding a zipline with fantastic views.
Blowing Rock, North Carolina - Hike out along into the Blue Ridge Mountains from here.
Linn Cove Viaduct, North Carolina - You'll drive along this masterpiece of 20th Century engineering as part of your route, but make sure you take time to stop and admire it fully, along with views across Grandfather Mountain.
Stone Mountain State Park, Roaring Gap - There are fantastic climbs here which seasoned rock climbers will absolutely not want to miss. For everyone else, it's possible to hike the natural granite dome that forms such an impressive landmark here.
Best time to go on a road trip from New Orleans to Washington DC
Though you can take the road trip from New Orleans to Washington during any season, your trip will be better in some seasons than others since you'll be driving through the mountains and by national parks.
The best time to visit Washington DC is ideally between September to November or March to May, since the winters get pretty chilly with average daily highs below 50 degrees Fahrenheit, and in the summer it can be unpleasantly humid and packed with tourists.
From late March to mid-April, the National Cherry Blossom Festival comes into bloom in Washington DC, creating a magical candyfloss pink backdrop to the historic city. Take a walk around the Tidal Basin to see the trees in full bloom.
Although snow-covered slopes make for some great photos, if you're traveling along the Blue Ridge Mountains or spending time in the Great Smoky Mountains National Park or Shenandoah National Park, winter weather can make driving difficult.
Away from the interstate, routes can be closed due to snow, so we wouldn't recommend taking this trip during the winter if you are following the Northern Route or the Blue Ridge Parkway Detour.
However, one of the major attraction points of these routes is the chance to see the gorgeous foliage displaying its red and gold colors as fall progresses. You can travel in October for temperatures which can still top 70 degrees Fahrenheit, giving you the best of both.
Whether you choose to visit in the summer or the spring, be sure to stop over at the numerous attractions, gorge on your favorite road trip nibbles, and make memories that you'll remember for a lifetime!