Road Trip From Austin To New Orleans
If you're looking to enjoy some music in the blues capital of America and follow it up with a visit to the States' city of jazz, a road trip from Austin to New Orleans is exactly what you need.
The 510-mile road trip from Austin to New Orleans takes 8 hours to drive. Stops include Bastrop State Park, the cities of Houston, Lafayette, Lake Charles, and Baton Rouge, as well as Atchafalaya National Wildlife Refuge and Lake Pontchartrain.
Read on to find out more about what there is to see and do on this sensational southern adventure.
How far is New Orleans from Austin and how long will the road trip take?
The road trip from Austin to New Orleans covers 510 miles and takes right around 8 hours to complete. While you could make the drive in a day, if you want to make the most of the journey, you may want to consider splitting the trip across 4 or 5 days.
While some trips require you to detour to make the experience more scenic, a lot of what there is to see during this trip is located right along the most direct route, so there's no need to do much off-roading.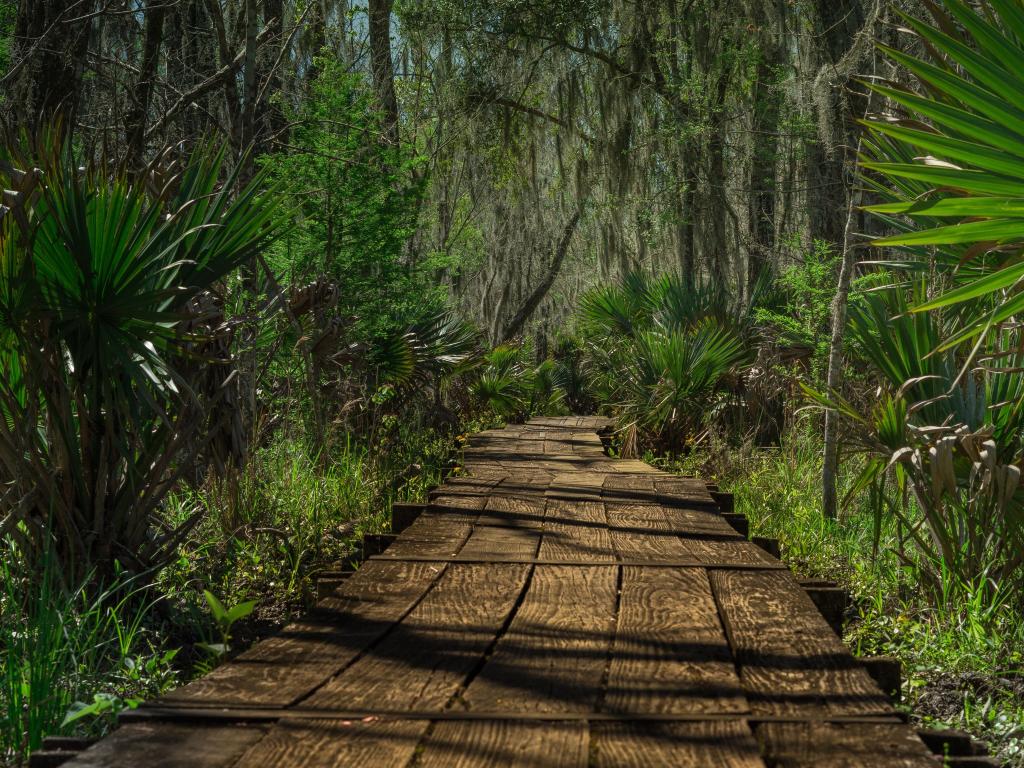 With that said, veering off-course (particularly to the south) will reward you with some of the most scenic sights along the Gulf of Mexico, so consider taking the time to explore them if your schedule allows for it.
Something you may want to keep in mind is Baton Rouge's difficult traffic - this is the part of the drive that's most likely to slow you down, so if you get caught up in a rush hour, take the time to see as much of the city as possible.
Best road trip route from Austin to New Orleans
The route for our road trip from Austin to New Orleans is a very direct and straightforward one, meaning you can spend your time enjoying what you're seeing, as opposed to worrying about where you're going.
Road trip route from Austin to New Orleans
Take Texas State Highway 71 out of Austin, passing Bastrop State Park before pulling into La Grange. Get your bearings here, then continue south to Interstate 10, and check out Stephen F. Austin State Park before eventually reaching Houston.
Explore as much of the city as you can, then cross over into Lynchburg and detour to Baytown Nature Center, as well as Anahuac and McFaddin National Wildlife Preserve before getting back on the interstate and following it to Beaumont.
Once you're done, cross over into Louisiana (never straying from the interstate), and try to visit Sabine National Wildlife Refuge before reaching Lake Charles. Further east, detour to Lacassine National Wildlife Refuge before reaching Lafayette.
Before reaching Baton Rouge, pay a visit to Atchafalaya National Wildlife Refuge. Not long after crossing the Mississippi River, you'll pass the Maurepas Swamp Wildlife Management Area - continue along Lake Pontchartrain until you reach New Orleans.
Best places to stop between Austin and New Orleans
With the road trip from Austin to New Orleans being relatively straightforward, you may be tempted to power through it as quickly as possible, but if you can help it, you should definitely consider stopping at some of the route's most impressive hotels. These are your best options:
Spend an unforgettable weekend in Houston
When it comes to picking out must-see spots for this road trip, Houston is one of the no-brainers. As for places to stay, you'll want the best of the best, and for the finest swimming pool and fanciest interior in town, you'll definitely want to stay at The Post Oak Hotel.
On top of being incredibly comfortable and elegant, the rooms at this hotel make for ideal workstations, courtesy of the serene environment and the awe-inspiring window views - also, few restaurants can match the romantic vibes of the dining section of each suite!
Still, if you're feeling a bit more social, you always have the option of running down to the on-site restaurant for some quality American cuisine. After that, you can burn off the calories at the top-of-the-line gym.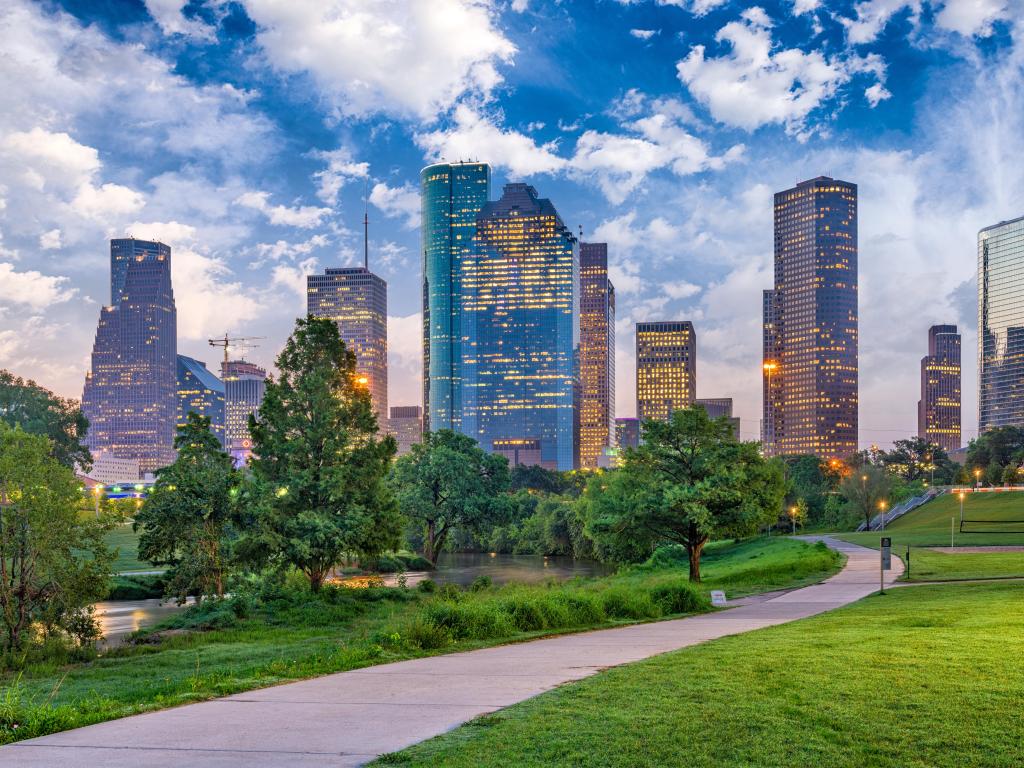 After catching some rays in the pool area and drying off by the firepit, you'll definitely want to head out into town and do some sightseeing, as everything you may want to visit in the heart of Houston will be within walking distance.
On the whole, this is probably the most expensive resort in all of Houston, but when you take into account just how much it has to offer, there's no better place to stay if you want to make this trip a memorable one.
Enjoy a culture-filled visit to Baton Rouge
If you want to enjoy a peaceful stay in the otherwise bustling Louisiana capital, Baton Rouge has a wide selection of incredible hotels. For the perfect blend of history, immaculate style, and unmatched comfort, Hilton Baton Rouge Capitol Center is the place for you.
The cozy rooms come with some amazing views and evoke feelings of home with their inviting interior design, and the lobby and dining hall are some of the most luxurious you can find in the region.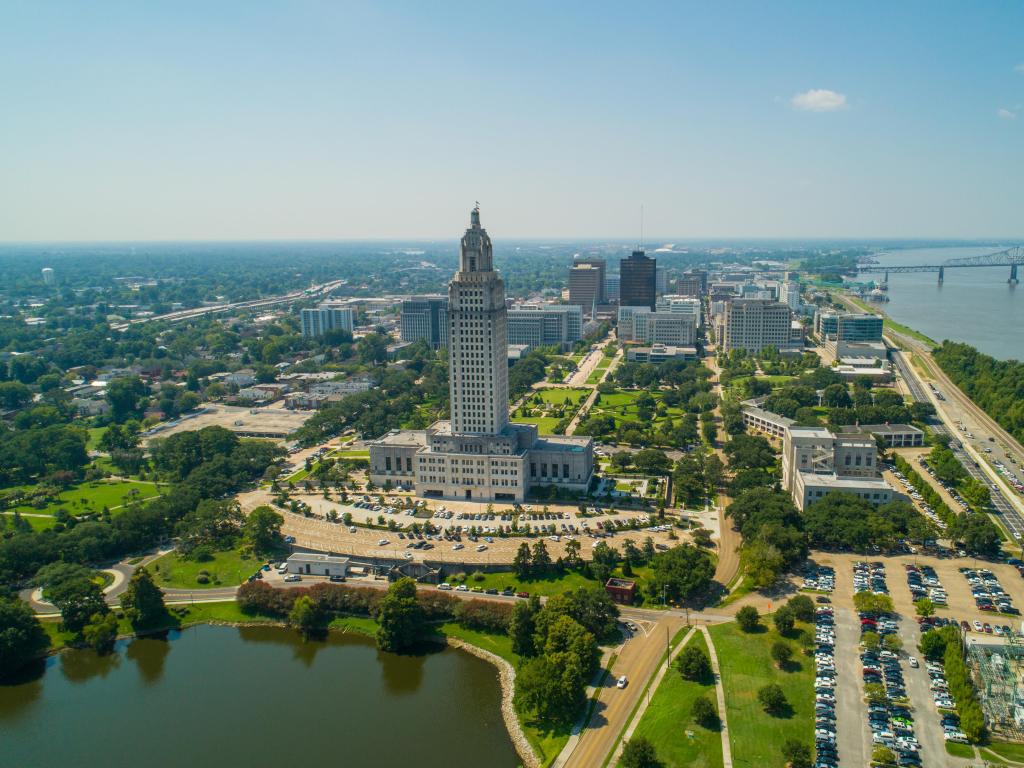 Speaking of dining, The Kingfish Restaurant offers the ultimate Cajun food experience and will keep you nice and fed for a day of exploring. Once you're full, you can relax in the beautiful swimming pool or work out in the fitness area.
The State Capitol Building is a stone's throw from the hotel, making it one of the best-connected resorts in Baton Rouge. On top of that, the price is a lot lower than what you might expect from a hotel of this caliber, so don't hesitate to spend a while in town before continuing east.
Things to see on a road trip from Austin to New Orleans
Despite the fact that a road trip from Austin to New Orleans isn't an overly long journey, it will still be quite an endeavor for newer road trippers.
Thankfully, there are plenty of attractions located along the way to keep you entertained - these are some of the places you can't afford to miss out on:
McKinney Roughs Nature Park – A beautiful location, featuring cycling, hiking, and nature trails, that provide a fabulous trip into the wilds for people of all interests. There is even a science center to learn about everything you have just seen when you're done.
The Dinosaur Park – Located adjacent to the nature park, you've learned about the current wildlife so why not find out about the area's past too? Here you can find a museum and sculptures, showing you how the wildlife of the area has changed over the centuries.
The Gas Station – A must-see attraction for film and horror fans, here you will find the gas station from the original Texas Chainsaw Massacre, which has been converted into a horror museum by the actor who played Jason Voorhees in the original Friday the 13th. Take the opportunity to see some history, buy some souvenirs and enjoy some BBQ. For dedicated fans, you can even spend the night in one of their small collection of traditional cabins.
Bastrop State Park – An idyllic mix of crystal-clear lake water, forests, and scenic hiking trails on the outskirts of Bastrop.
Houston – The most populous city in the state of Texas and 4th most in the entire US, known worldwide for its history with space exploration and for being the home of NASA.
Sam Houston National Forest – One of only four national forests in Texas, this is the perfect place for a hike and snapping some amazing nature photographs.
Brazoria & San Bernard National Wildlife Refuges – Located south of Houston, these refuges offer some amazing natural attractions and countless scenic vistas that incorporate The Gulf of Mexico.
Anahuac and McFaddin National Wildlife Refuges – Unlike their more western Gulf of Mexico counterparts, which capitalize on their hiking trails, these refugees are some of the region's finest fishing spots.
Lake Charles – If you want to get a taste of Louisiana's rich and vibrant history, this city's Historic City Hall Arts & Cultural Center is a must-see.
Lafayette – The 4th-largest city in the state of Louisiana, known as the "Hub City" and home to the famous Ragin Cajuns athletic teams of the University of Louisiana.
Atchafalaya National Wildlife Refuge – Covering 1.5 million acres, the refuge is made up of bayous, lakes, and swamps. It is home to a wide variety of birds and smaller mammals, as well as a limited population of Louisiana Black Bears.
Baton Rouge – The capital and second-most populous city in the state of Louisiana, located on the bank of the Mississippi River.
Lake Pontchartrain – Covering 630 square miles and located just outside New Orleans, it is home to the famous Lake Pontchartrain Causeway, the longest continuous bridge over water in the world.
Jean Latiffe National Historic Park & Preserve – This nature preserve near New Orleans features some of the state's most scenic natural vistas.
Best time to go on a road trip from Austin to New Orleans
With the road trip from Austin to New Orleans taking you through some of the traditionally warmer parts of the country, you may feel like there isn't a bad time to make your trip.
Unfortunately, that isn't quite the case here, as anytime you travel around the Gulf of Mexico, you need to be aware of potential hurricanes. This is especially true if you intend on exploring the wildlife refuges in the area, of which there are plenty.
Hurricane season is officially listed as June to November so, if at all possible, planning your trip outside of this time might just be your best move if you want to stay dry.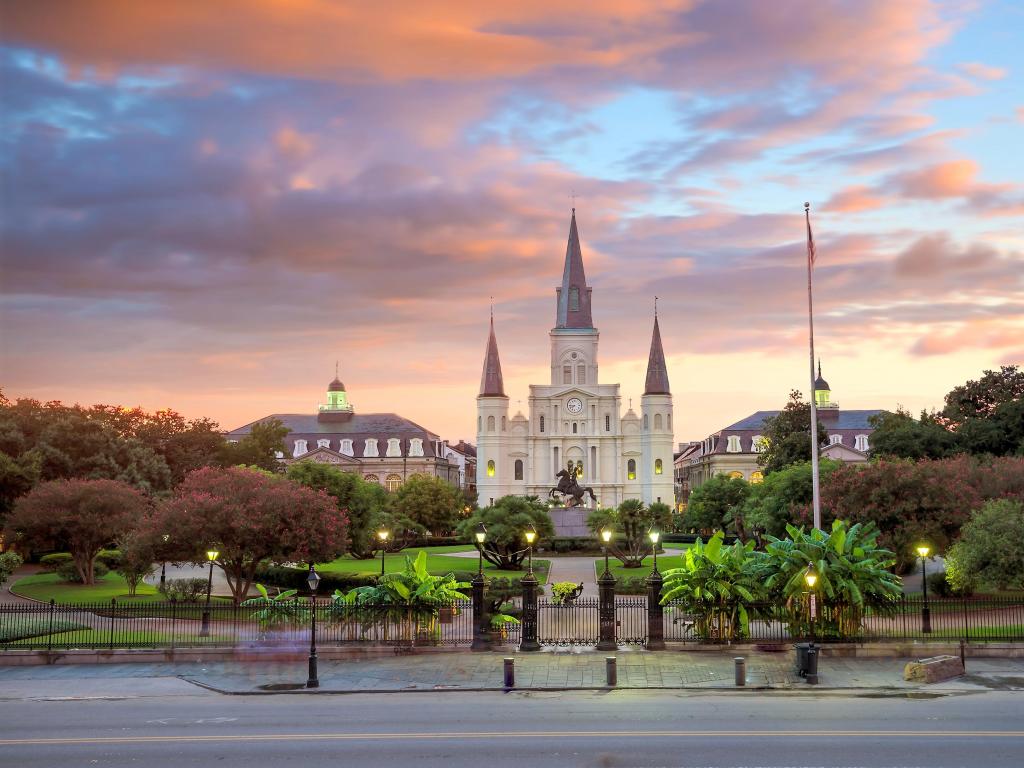 However, if you're keen to visit during the warmer months, the height of the season occurs between late August and late September. With that said, the city gets heavy crowds around this time, so you may want to steer clear if you want your stay to be on the quiet side.
Outside of this timeframe, the region is, as you may have expected, beautiful year-round. So, other than a bit of rain, there's really nothing to stop you going whenever you like between December and May.