Road Trip From Washington DC to New Orleans
Few drives across eastern United States are as rewarding as the road trip from Washington DC to New Orleans. Featuring the Blue Ridge Mountains and a slew of amazing parks and forests, this trip is guaranteed to leave a lifelong impression.
The 1,080-mile road trip from Washington to New Orleans takes around 16 hours to drive. Sights include the Great Smoky Mountains National Park, Blue Ridge Parkway and the cities of Charleston, and Jacksonville if you take the Coastal Route.
Keep reading to for all the details of this epic itinerary and the different road trip route options.
How far is New Orleans from Washington DC and how long will the road trip take?
The road trip from Washington DC to New Orleans covers around 1,080 miles and can be covered in just under 16 hours of driving.
After you add in stops for food and fuel, doing the drive in a single day is not an option - not that you'd want to try with all the amazing scenery.
A standout feature of this particular route is the option to take the Blue Ridge Parkway near the start, a 550-mile road along the Blue Ridge Mountains, filled to the brim with stunning parks and forests.
Driving the full route of the Blue Ridge Parkway takes some time and commitment, however, so you'll want to add in a week, give or take, if you want to drive it in full.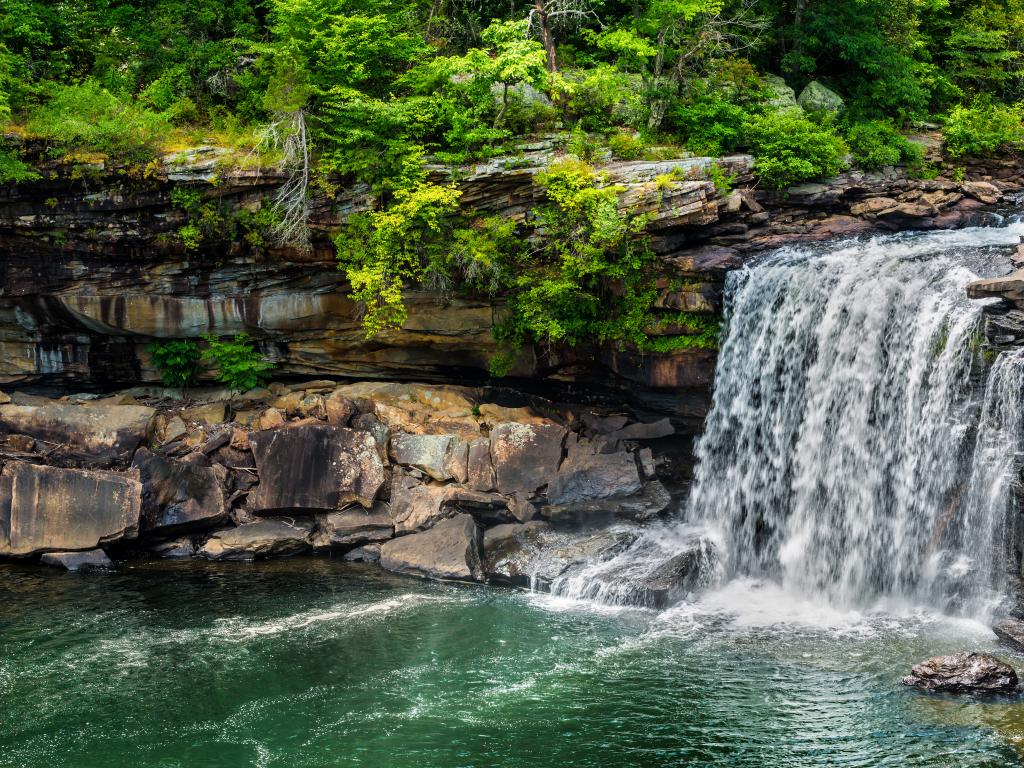 If you don't have the time or you're worried about the mountain roads, the freeway that runs parallel to the Blue Ridge Parkway is the fastest way to do the trip – you can detour to most of the major attractions from the interstate and still make good time on your way to New Orleans.
Driving through Florida is another way to go - you'll be driving fairly close to the Atlantic Coast as you go further south, making for a good list of cities to visit and scenic spots to check out.
As an added bonus, although you can visit a number of beautiful cities like Wilmington and Savannah along this route, all of them (except for Jacksonville) are entirely optional.
This road trip route may seem longer on a map, but it'll take only marginally longer to drive.
Route
Distance
Driving Time
The Direct Route
1,090 miles
15 hours 30 minutes


(Longer via Blue Ridge Parkway)

Coastal Route
1,260 miles
19 hours
Best road trip route from Washington DC to New Orleans
You can make a case for either of the outlined routes being the best way from Washington DC to New Orleans – the Direct Route is incredibly scenic even without taking the Blue Ridge Parkway, and the Coastline Route lets you drive along the ocean instead.
The Coastline Route adds 130 miles onto the journey and will take 90 minutes longer than the fastest option but it lets you come back a different way if you are making the drive back too.
How to drive from Washington DC to New Orleans
The map above shows our suggestions for the best road trip routes between Washington DC and New Orleans. Keep reading for detailed descriptions of both routes, where to stay on either, and the best things to do on the way.
The Direct Route
Take Interstate 66 out of Washington, passing Manassas National Battlefield Park and Sky Meadows State Park. Past Cedar Creek and Belle Grove National Historical Park, get on Interstate 81, driving between Shenandoah National Park and Monongahela National Forest.
After George Washington and Jefferson National Forests, you can visit Daniel Boone National Forest just before entering Tennessee. While here, you'll want to check out Knoxville and Nantahala National Forest via Interstates 40 and 75.
In Georgia, pass Cloudland Canyon State Park along Interstate 59 and visit Chattahoochee National Forest. Then, follow the interstate past Little River Canyon National Preserve in Alabama.
Further south are Talladega National Forest and Birmingham – rest up there and leave the city by taking Interstate 20, hopping back onto 59 after crossing the Tombigbee River.
Follow the interstate through a series of small towns, passing Bienville and De Soto National Forests on the way. Once you've made it into Louisiana, join Interstate 10 past Pearl River Wildlife Management Area and drive over lake Pontchartrain to get to New Orleans.
If you want to check out the Blue Ridge Parkway and still see all the scenic landmarks on either side of the freeway, you can get on the midpoint of the parkway near Roanoke and drive to Stone Mountain State Park - from there, get back to the interstate via Highways 21 and 58.
The Coastline Route (via Jacksonville)
Leave Washington via Interstate 95, passing by Prince William Forest Park and through the city of Richmond. Pass Pocahontas State Park just out of town, and check out Medoc Mountain State Park before reaching Rocky Mount.
Past Wilson, you can detour to the coast to Croatan National Forest or continue south to Fayetteville, passing Raven Rock State Park. Just past Fayetteville, you have the option to detour to Wilmington or Myrtle Beach or stay on the interstate and check out Congaree National Park.
Past Lake Marion, check out Francis Marion National Forest and the city of Charleston - after that, get back to Interstate 95, passing Savannah and Fort Frederica National Monument. Past Crooked River State Park, cross Saint Marys River and visit Jackson and its surrounding forests.
Leave Jackson via Interstate 10 through Osceola National Forest, then check out the forests around Tallahassee, most notably Apalachicola National Forest.
Not long after passing Ecofina Creek National Wildlife Area, dip into the southernmost tails of Alabama and Mississippi, right by De Soto National Forest. Soon after that, cross Lake Pontchartrain to get into New Orleans.
Best places to stop between Washington DC and New Orleans
The road trip from Washington DC to New Orleans offers an endless number of places you can stop - you can break up your journey and spend weeks exploring or make the drive over a few days if you don't have the time.
Here are a few great places to stop along the route.
Explore the Great Smoky Mountains
The Great Smoky Mountains are one of the most popular destinations in the United States with millions of visitors flocking to the Great Smoky Mountains National Park every year.
And given it is only a short detour off the Direct Route, if you have some time on your hands, this is a great place to stop on your drive to New Orleans.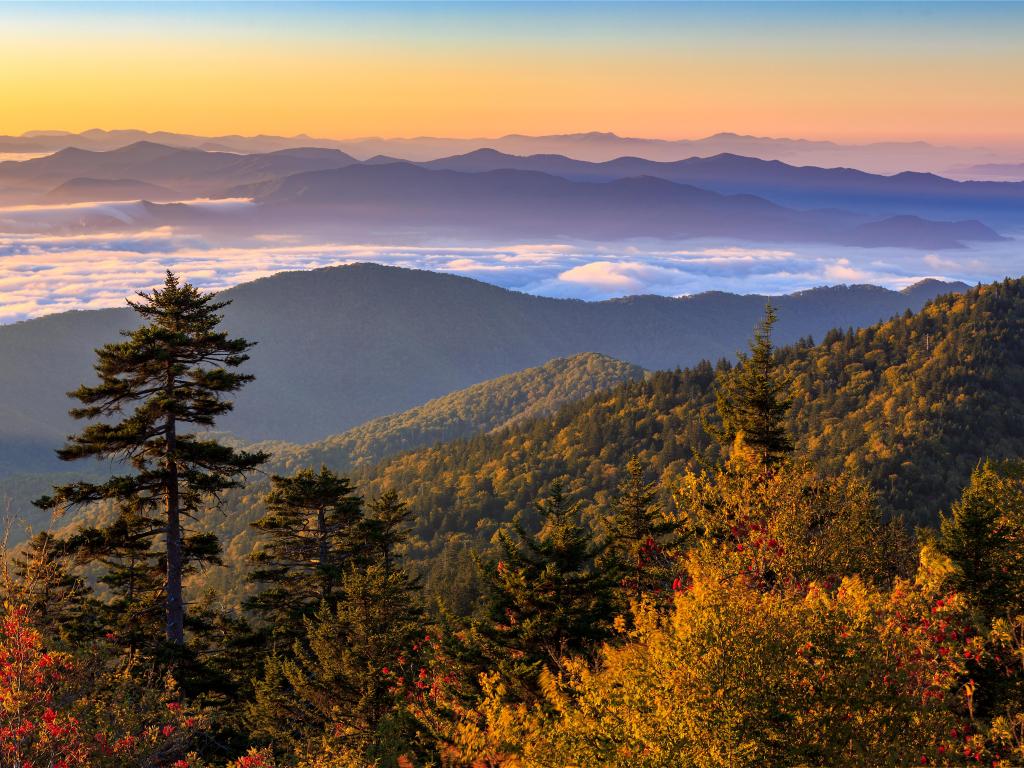 Sitting in the southwestern part of the Great Smoky Mountains National Park and right on the edge of the water is the tranquil Historic Tapoco Lodge. Whether you want to unwind in peace or hike the local trails, this is the perfect place to do it.
With lakes and rivers in every direction, there is plenty to explore and it's not as far off the route to New Orleans as many parts of the National Park.
Relax by the ocean in Charleston
If you're set on exploring the coast on your way to New Orleans, you won't find a better place to stop than Charleston. There are a number of amazing hotels here, but Charleston Place stands out thanks to having the fanciest interior design in town.
In keeping with the city's gorgeous aesthetic, the rooms at this resort are as stylish as they come. This also holds true for the various on-site dining areas, such as the Charleston Grill and Palmetto Café, not to mention the breathtaking outdoor seating areas.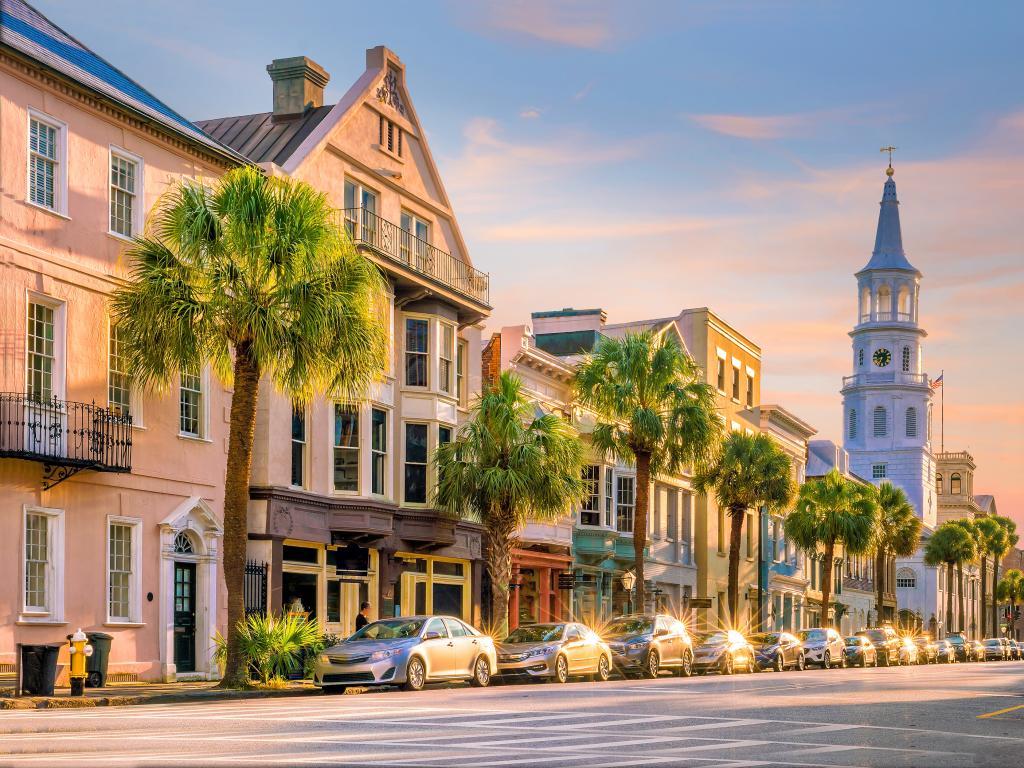 If you're physically active, your regimen will definitely appreciate the state-of-the-art gym and fitness area. For a more casual form of unwinding, you can take a dip in either the indoor or outdoor swimming pool, followed by a drink at the incredible Clockwork Terrace Bar.
While this resort falls somewhere around the middle in terms of local hotel prices, the service and overall experience are second to none - all the aforementioned qualities, combined with the hotel's proximity to the city's Historic District, make the investment more than worthwhile.
Enjoy the epic city views in New Orleans
New Orleans is definitely no slouch in the accommodation department, and although it's hard to single out a resort, The Roosevelt Hotel boasts a swimming pool that'll leave you breathless.
The rooms at this hotel are the prototypical luxury suites - the cloudy beds and the soothing colors of the décor will help you get to sleep as soon as your head hits the pillow. Once you're rested, you can enjoy a delicious Italian meal at the on-site restaurant before hitting the town.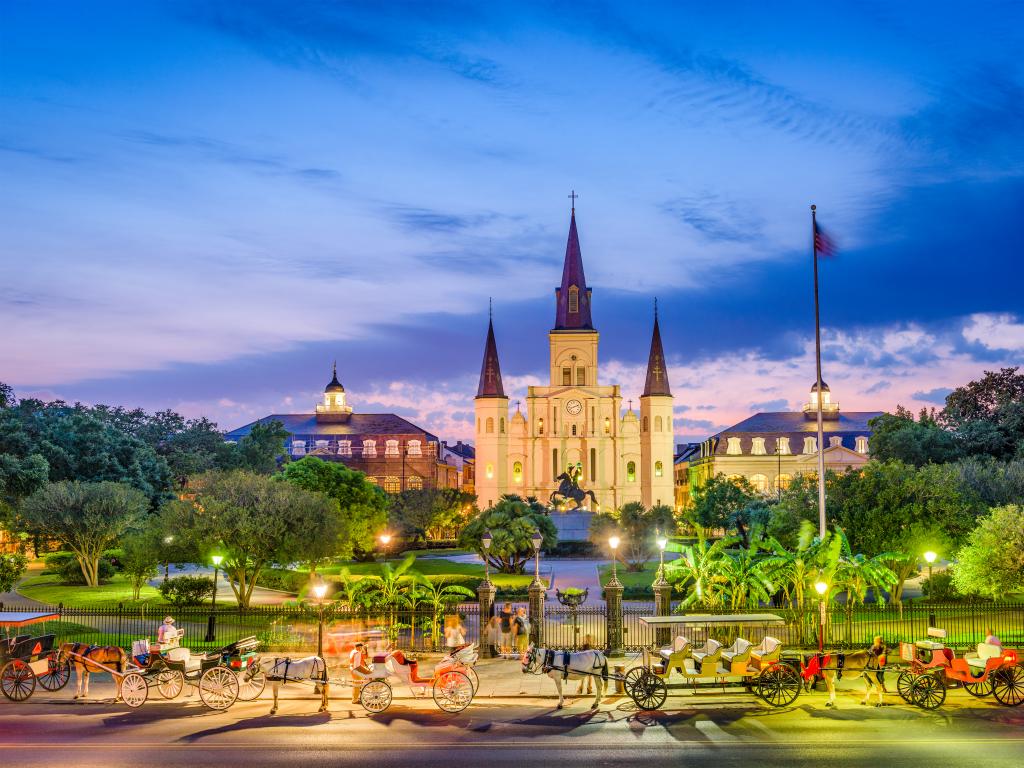 Besides the top-of-the-line pool and sunbathing area, the hotel is known for its ginormous fitness area that's five-star by anyone's standards. Between that and the jazz lounge bar, you should have no trouble finding ways of entertaining yourself at this resort.
On top of being well-connected to many of the city's key attractions, the hotel offers rooms at a variety of price ranges, so you should have no trouble finding one that suits your budget here.
Things to see on a road trip from Washington DC to New Orleans
There's plenty of ground to be covered between Washington DC and New Orleans, and most of it is incredibly scenic – although it's hard to list absolutely everything, these places will take your trip to the next level:
Manassas National Battlefield Park – An important battleground for some of the Civil War's most iconic battles in the East.
Shenandoah National Park – A gorgeous park featuring varied, but largely forested terrain and a sizable chunk of the Appalachian Trail. You will need an Old Rag Day-Use Ticket if you are planning to visit the Old Rag Mountain. Please check the national park's website for details.
Skyline Drive - A beautiful drive through the forests and mountains near Washington DC that continues onto the Blue Ridge Parkway.
Blue Ridge Parkway - An iconic route along the Blue Ridge Mountains with endless sights and stunning scenery.
Great Smoky Mountains National Park - The most popular National Park in the United States boasts endless trails and that morning haze.
Monongahela National Forest – In a state featuring some truly immense mountain ranges, this forest stands out as it houses the very biggest, including Spruce Knob itself.
George Washington and Jefferson National Forests – Between these two forests, you can expect to find lakes, skyscraping mountain tops, and sections of the iconic Blue Ridge Parkway.
Nantahala National Forest – This gorgeous forest is known for its old-growth trees and historical ties to generations of Cherokee settlers.
Little River Canyon National Preserve – The titular river and canyon make this preserve one of Alabama's biggest natural treasures.
Bayou Sauvage National Wildlife Refuge – Technically part of New Orleans, this area lets you experience the indigenous wildlife not far from the bustle of the city.
Prince William Forest Park – One of the best-preserved parks in this part of the States, any outdoorsman will feel right at home here.
Myrtle Beach – One of the definitive ocean attractions along this route, the abundance of child-friendly activities draws a large number of tourists each year.
Charleston – Being one of the most historically significant cities in this part of the States (and that's saying something), Charleston is home to a bevy of iconic parks and monuments.
Savannah – Courtesy of the legendary Oglethorpe city plan, Savannah makes for an absolutely gorgeous stopover.
Jacksonville – This beautiful city also happens to be the largest in the U.S. by area.
Apalachicola National Forest – The abundance of trails and rivers make this an ideal visit for hiking and fishing enthusiasts.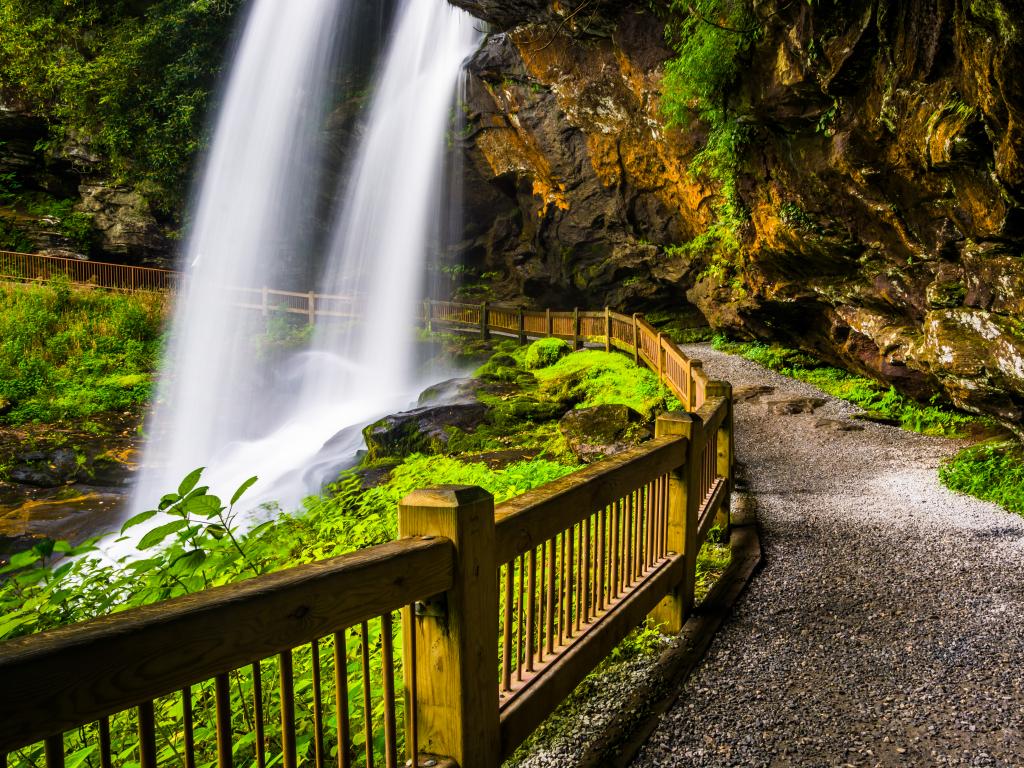 Best time to go on a road trip from Washington DC to New Orleans
While there isn't necessarily a 'best' time to do the road trip from Washington DC to New Orleans, it's important to keep in mind that the city thrives on seasonal festivals and other events, meaning you can expect a radically different experience from one season to the next.
Summer is one of the low points for New Orleans in terms of visitors, courtesy of the hot and humid weather. With that said, you can get a good hotel deal in June and July, making it a great time to visit if you just want to get to know the city if you can take the heat.
Mardi Gras is New Orleans' most notable cultural event and can fall anywhere between early February and early March. Bear in mind, however, that you won't be able to do much else in town during the festival, so this might not be the best time to visit if you want to explore.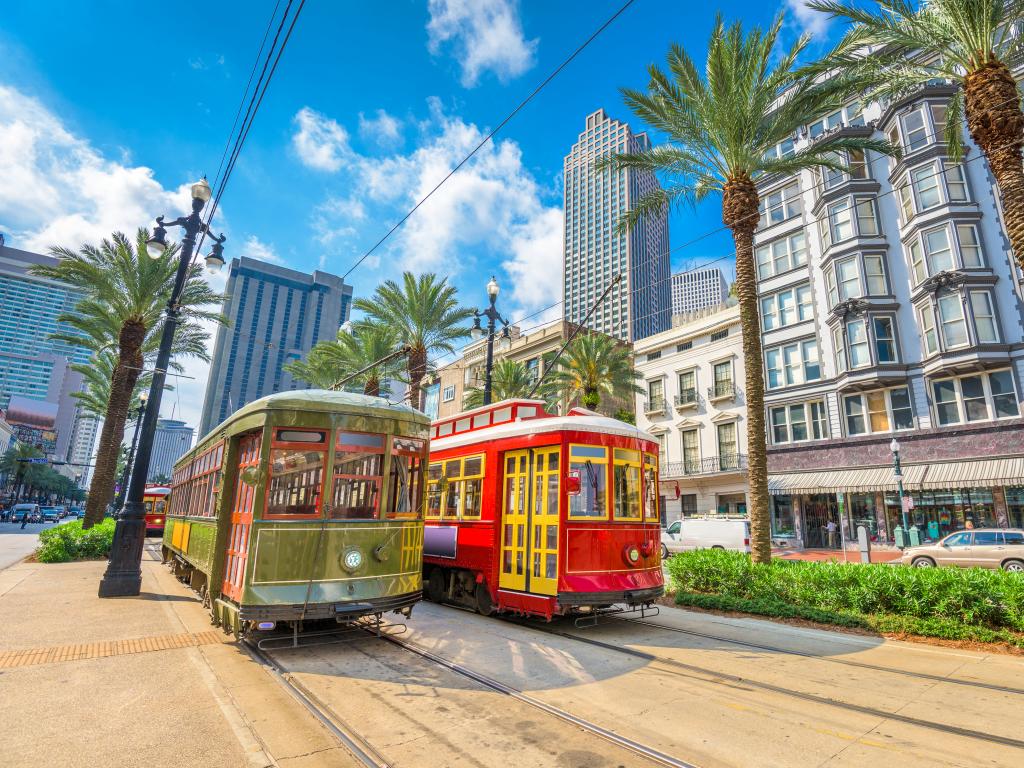 Visiting in the spring is generally a great idea, thanks to the abundance of food and music-themed events between March and May. If the weather allows for it, festivals are usually held throughout most of the fall too, and temperatures are comparable to those in spring.
If you're looking for the thriftiest option, winter is definitely it – the relative lack of events makes it easy to find cheap accommodation on short notice, and even if the weather gets too cold, you can huddle up in a local restaurant and enjoy some traditional gumbo or jambalaya.