Road Trip from Orlando, Florida to New York
A road trip from Orlando To New York is a truly epic adventure. Exploring much of the eastern seaboard, you'll get to check out the world famous sites of the nation's capital, visit some of America's most significant landmarks, sunbathe at breath taking beaches and even take off into space!
The most direct route from Orlando, Florida to New York takes 18 hours to cover 1130 miles, passing Savannah, Charleston, Washington DC, Baltimore and Atlantic City on the way. Alternatively, you can detour to Shenandoah or the Delaware and New Jersey coasts.
This fantastic trip will take you on a journey through time too, from plantations and Presidential mansions in the historic South to the towering modern monuments of New York City.
With so much to choose from on the way, read on so that you can be sure to take your pick of the sights and attractions this route has to offer.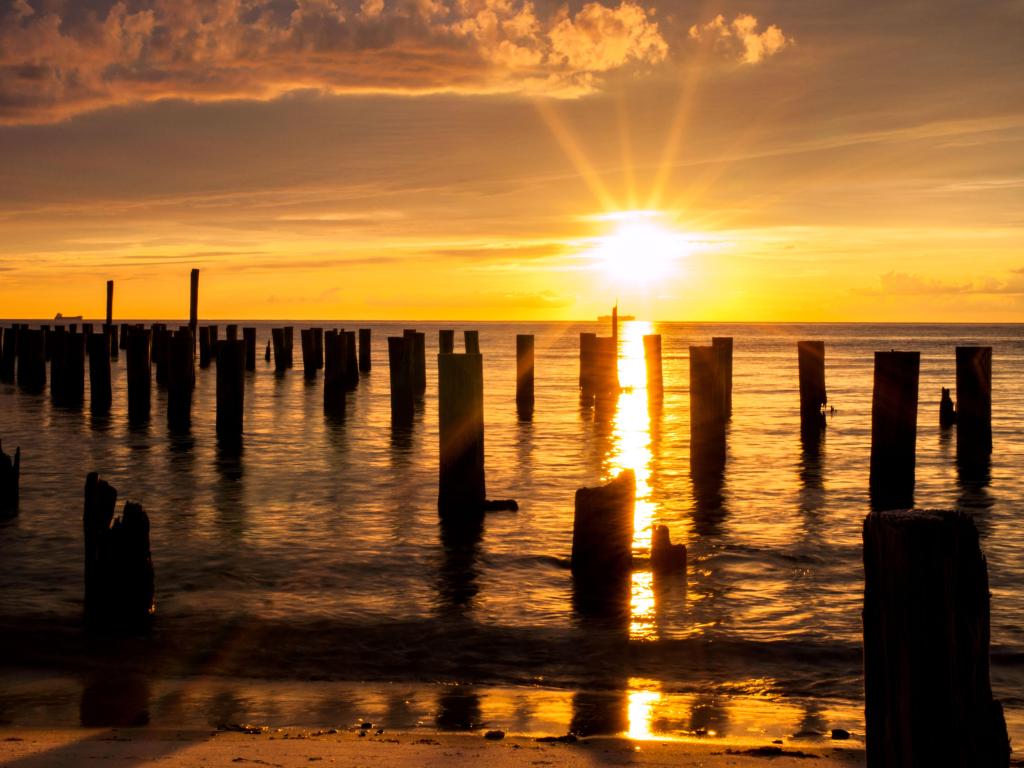 How far is New York from Orlando, Florida and how long will the road trip take?
Comparison of route options between Orlando and New York
Route
Distance
Driving Time
Direct Route
1,130 miles
18 hours
Direct Route (with detour)


Takes a scenic diversion via the Blue Ridge Parkway

1,380 miles
23 hours
The Delaware and Cape May Route
1,140 miles
20 hours 30 minutes
The trip from Orlando to New York is a relatively straightforward drive which follows the eastern seaboard for some 1,130 miles, passing through 8 states. The Direct Route will take around 18 hours to drive.
You also have the option of taking a detour along a section of the Blue Ridge Parkway. This adds a significant 5 hours and 250 miles to the Direct Route, so although it's a stunning route which takes in exceptional mountain scenery, it might not fit well with every itinerary.
We've also suggested a less-traveled route that takes you to Delaware and Cape May. This route covers almost the exact same distance as the Direct Route, but will take you at least two hours 30 minutes longer.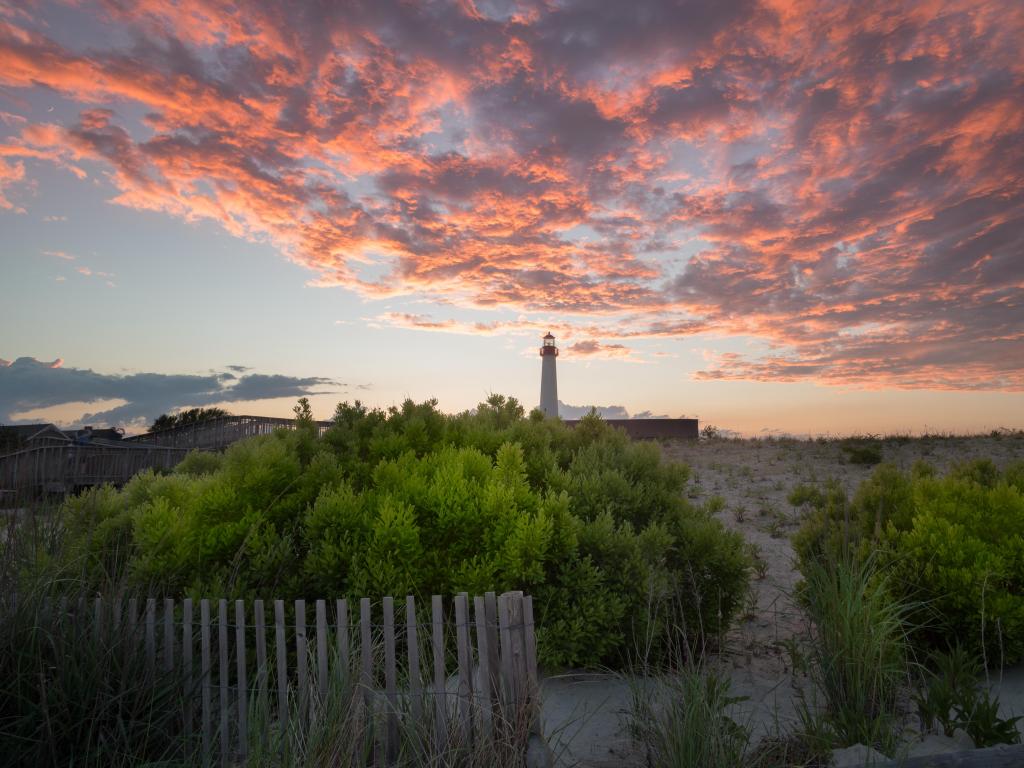 Whichever route you take, it's possible to complete this drive in a couple of days, especially if you have a second driver to share the load.
However, you'll be passing through areas of exceptional natural beauty and massive historical and cultural significance, so it's definitely a route that merits a little more time to explore.
Add to this the opportunities to swim, hike, surf, kayak or climb, and we'd recommend setting aside at least a week if you want to fill your road trip with memorable experiences.
Best road trip route from Orlando, Florida to New York
The Interstate-95 is the quickest and most popular way to drive from Orlando, Florida to New York - one straight road which would take you about 18 hours to complete if you drove non-stop.
The Direct Route follows the I-95 almost all the way, leaving the Interstate a couple of times to make sure you don't miss gems like Charleston and Myrtle Beach. It's a straightforward drive, and outside the cities the roads are likely to be fairly quiet, especially further south.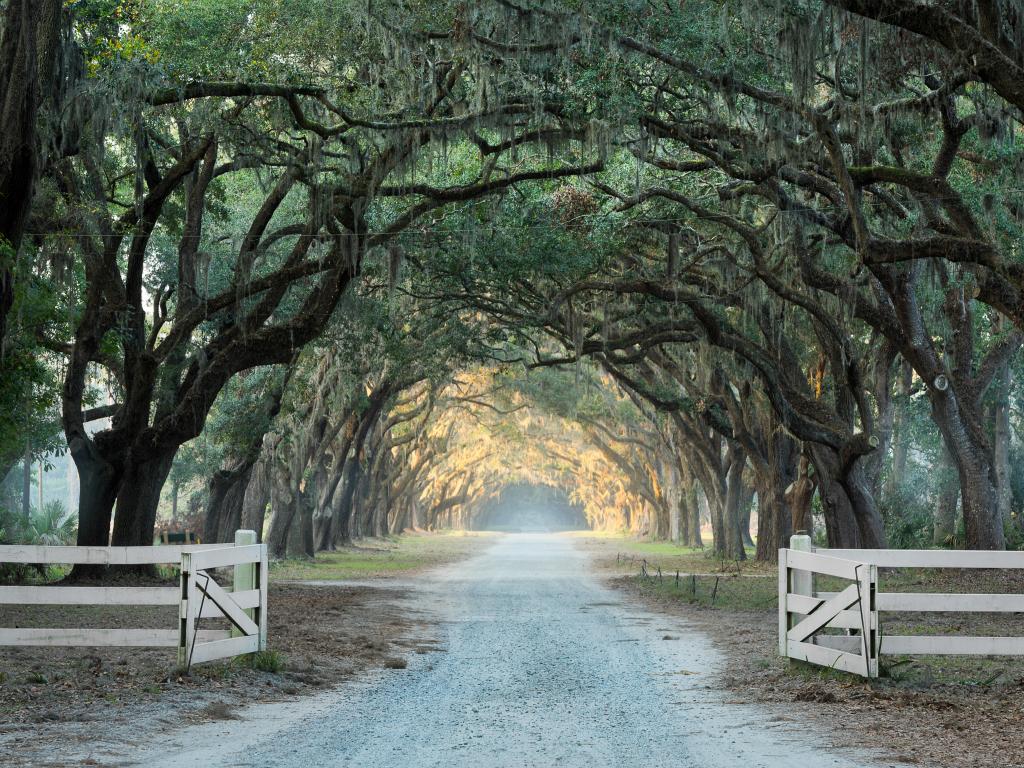 For a more adventurous trip that lets you explore more of the eastern seaboard, consider taking the Delaware and Cape May Route, which comes complete with an 85-minute ferry ride across Delaware Bay.
This route skips some of the major cities that you would see on the Direct Route, so it's perfect if you have a little more time to meander through the small towns and barrier islands of Cape Charles and the Maryland and Delaware shores.
The Direct Route
After leaving Orlando on Route 50 then joining Route 405, you'll find yourself at the Kennedy Space Center, which makes for a unique first stop on this route before you start the long drive north.
Admire spacecraft that have been launched into orbit and ride in a simulator that replicates the space shuttle's ascent, before returning along Route 405 and turning onto Interstate 95.
The route takes you towards Daytona Beach, with its quaint boardwalk and pier, and Jacksonville, where you can visit the excellent Museum of Science and History or the Cummer Museum of Art & Gardens. Both cities also showcase sensational beaches.
Continuing along the I-95 into Georgia, you'll be able to visit the charming city of Savannah, with its rich cultural history and beautifully preserved architecture.
After Coosawhatchie, you'll leave the I-95 for a short stretch along Route 17. This takes you to the beautiful city of Charleston, with historic Fort Sumter and the delightful Charleston Harbor.
Carrying on along this road, the spectacular beachside city of Myrtle Beach is waiting to be explored, before you leave town along Highway 501 and rejoin the I-95 to continue north.
Nascar fans will appreciate a detour along the I-74 to Charlotte, North Carolina, which is where the Nascar Hall of Fame is based. Alternatively, head into Raleigh and Durham to visit the beautiful Botanic Gardens or the excellent Museum of Natural Sciences.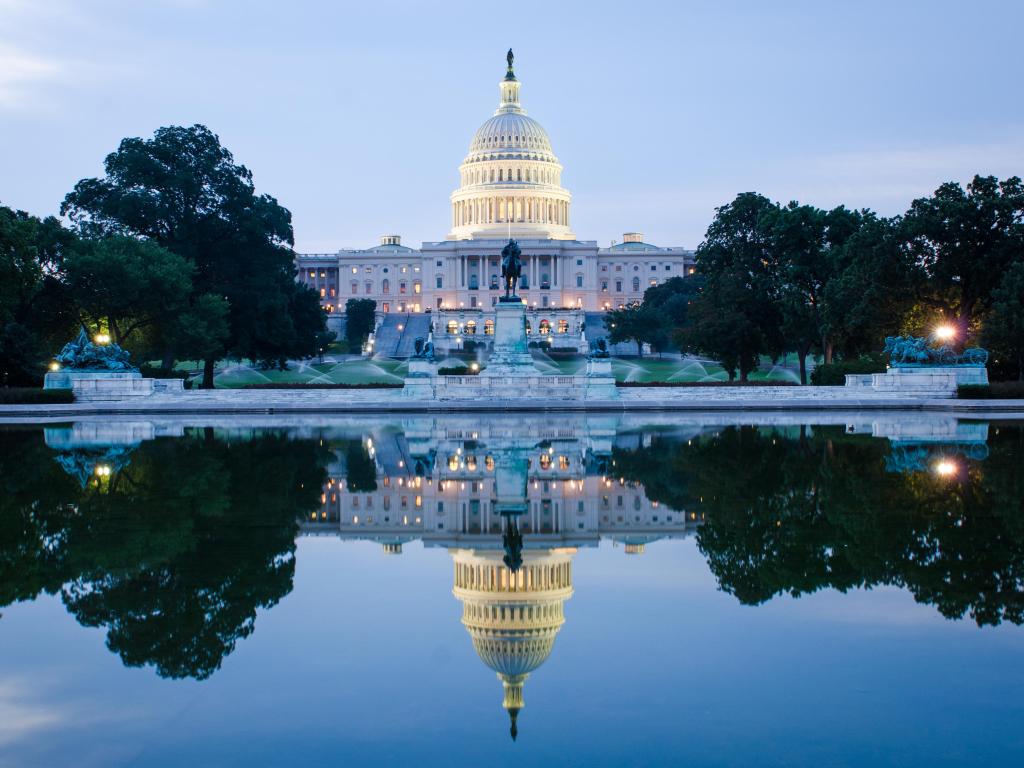 Continuing on, the I-95 will take you to Washington DC where you will be able to check out all of the world famous landmarks of the nation's capital.
The I-395 and I-695 will take you across the city, then follow route 295 to join the Baltimore-Washington Parkway which takes you up towards Baltimore in Maryland, known for its uber-cool hipster culture and many wonderful museums.
You'll pick up the I-95 again as you leave Baltimore, following it through Philadelphia, the 'City of Brotherly Love', then on to New York where you'll complete your journey.
Blue Ridge Parkway Detour
If you're taking the Direct Route and want to explore the stunning natural scenery of the Appalachian Way, there's also the option to take a short detour along a section of the Blue Ridge Parkway.
This 250 mile detour adds an extra 5 hours to the route as it winds its way through Shenandoah National Park, plus some time to leave the car and take one or more hikes as you travel through the park.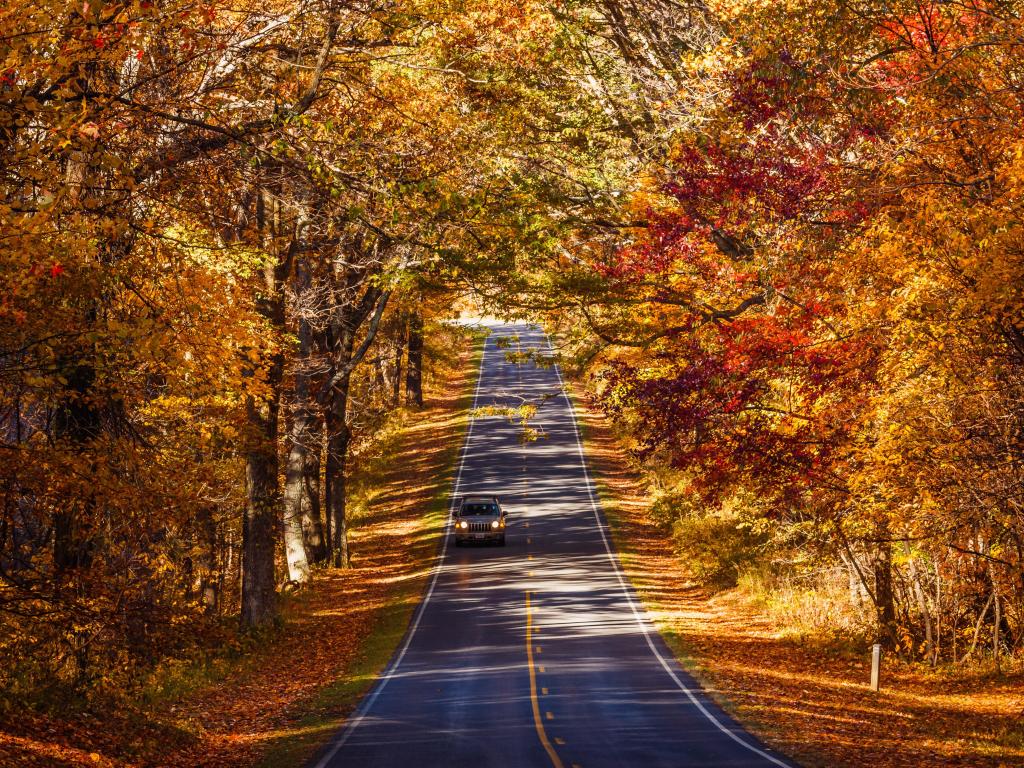 Exit the I-95 onto the I-64 at Richmond, heading towards Charlottesville. President Jefferson's home at Monticello is worth a visit as you pass.
Continue along the I-64 before turning onto the Skyline Drive, which follows the Blue Ridge Parkway through Shenandoah. There are many places to stop and hike in the park but only a few options for food and drink, so make sure to plan this in advance.
After Front Royal make your way to I-66 heading towards Washington DC, where you can rejoin the Direct Route once you've finished enjoying the many sights of the nation's capital.
The Delaware and Cape May Route
If you have a little extra time, or if you want to experience something a little different on your trip, the Delaware and Cape May Route makes a great alternative route.
Follow the Direct Route as far as the state border between North Carolina and Virginia, then exit the I-95 onto Highway 58 at Emporia.
Join the I-264 then I-64 to take you through Norfolk, then turn onto Highway 13 to take you through the Chesapeake Bay Bridge Tunnel. When you emerge, carry on along Highway 13 across Cape Charles.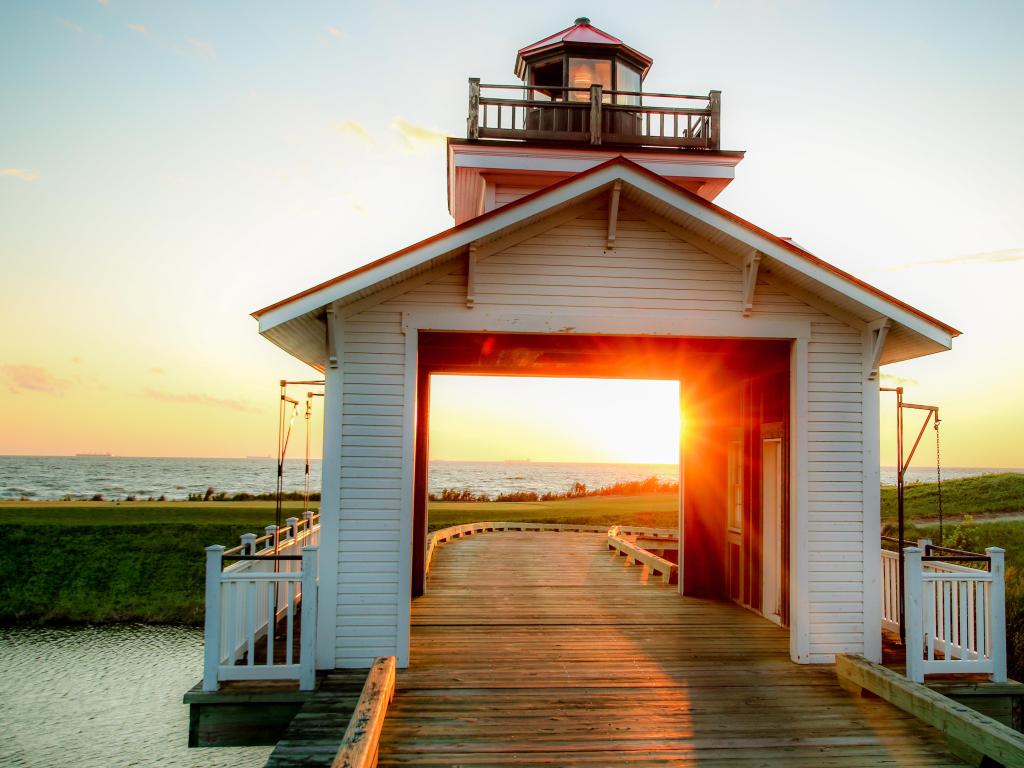 Take Highway 113 as far as Millsboro, then drive through the town and turn left onto Hollyville Road. After passing through the village of Hollyville, turn left onto Beaver Dam Road towards Lewes, where you'll find the ferry for your crossing to Cape May.
The ferry journey across Delaware Bay takes around 85 minutes, plus some time to load and disembark, and we'd recommend booking your crossing in advance to avoid delays.
Arriving in New Jersey, follow Route 9 - the Garden State Parkway - which runs parallel to the ocean, giving you more opportunities to pause and enjoy a beach or two as you make your way north.
You'll also pass the turn off for Atlantic City. Blow off some steam in its nightclubs and casinos here, or carry on a little further to cross over to the barrier islands of Long Beach and Island Beach.
From here it's just a short drive across New Jersey to join up with the I-95, which leads you right to the heart of Manhattan.
Best places to stop between Orlando, Florida To New York
During your road trip from Orlando to New York there are a number of places you can choose to stay overnight.
Some of our favourite destinations include the following:
Enjoy the charms of Charleston
Charleston is a gorgeous city full of southern charm, which you'll pass whether you're going the whole way along the Direct Route (around six hours in) or turning onto the Delaware and Cape May Route later.
It's perfectly placed to stop on the first or second night of your trip, depending on how much time you want to spend in the cities you'll pass earlier in the trip.
Boasting cobblestone streets, a world-class dining scene and a plethora of historic sites, it's a wonderful destination to choose for a short stay.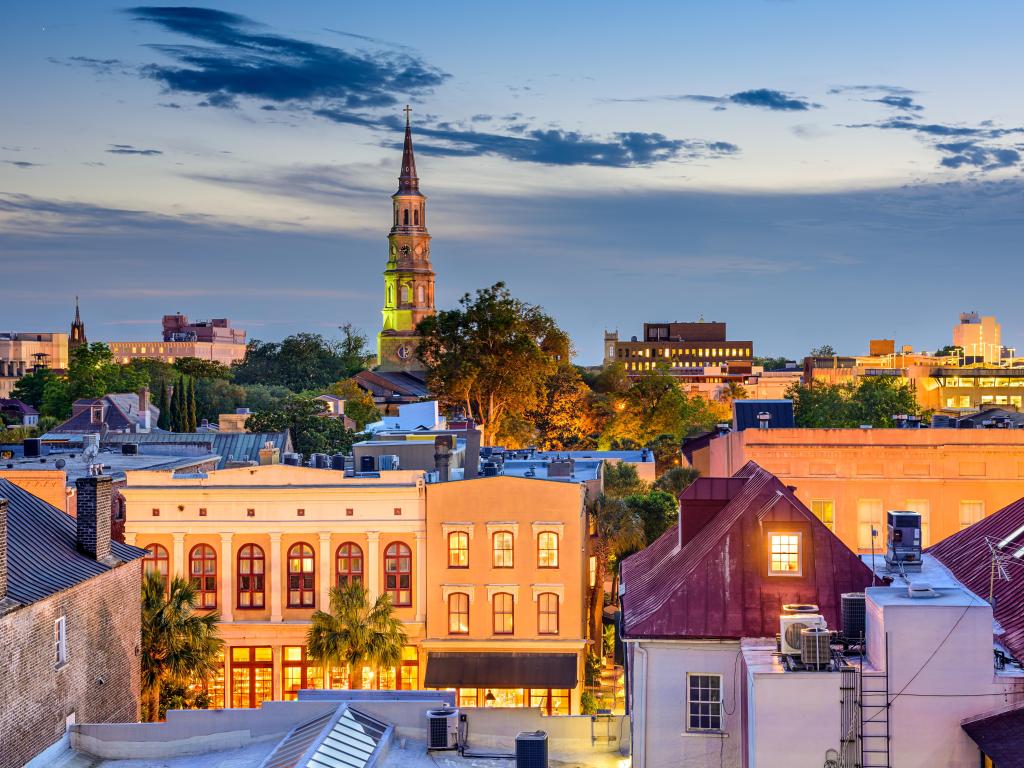 Situated in a historic building right in the heart of the city, The Indigo Inn makes a great accommodation option which really gives you a feel for the city. It has elegant bedrooms and a charming courtyard, as well as on site parking which is essential for a road trip like this.
Alternatively, if you're looking for a touch of luxury on your trip, Hotel Bennett Charleston provides 5 star accommodation which you will really appreciate after a long day of driving and sightseeing. Its terrific outdoor swimming pool area provides a lovely place to unwind.
If you want to visit some of the local sites, Fort Sumter, Charleston Harbor and the South Carolina Aquarium are all within easy walking distance of both hotels, as are most of the city's best bars, clubs and restaurants.
Or if you're interested in finding out more about the plantations that originally brought wealth to the south - and the enslaved laborers who worked on them - Middleton Place and Magnolia Plantation are both a short drive out of the city.
Experience the delights of Washington DC
Washington DC is a must-visit destination if you're taking the Direct Route. Located around four hours' drive from New York (not accounting for traffic), this could make an ideal penultimate stop on your trip.
Blessed with so many wonderful sights and attractions you'll definitely want to spend some time exploring the city's major landmarks, museums, attractions and notable sights.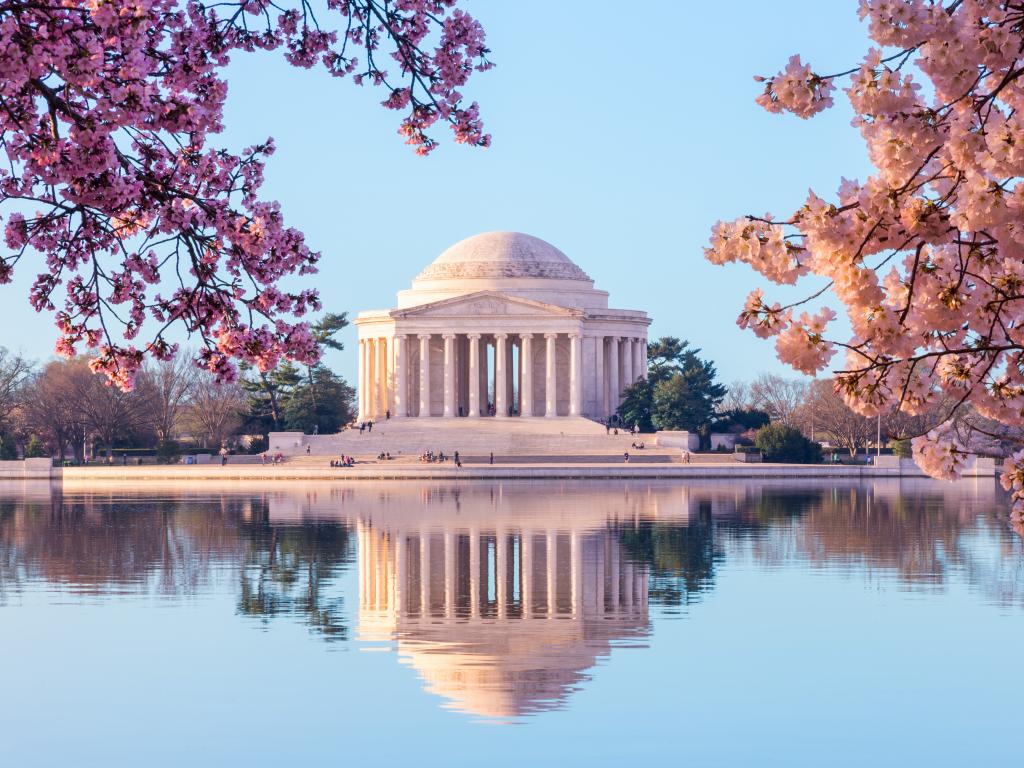 If you do stop here, The Hamilton Hotel - Washington DC would serve as a great base to check them all out. From the moment you enter the stunning lobby you won't fail to be impressed.
Located in the heart of the city, just around the corner from the White House, the property is in walking distance of the Smithsonian American Art Museum, Lincoln Memorial, Capitol Hill and the Vietnam Veterans Memorial Wall. Or if you'd rather hop on the metro, the nearest station is only a couple of minutes away.
Get away from the crowds at Cape Charles
If you're taking the Delaware and Cape May Route, you'll probably want to spend a night near the coast at Cape Charles, which is just over halfway into your journey. It's a great place to meander through small towns and quiet bays, as well as watching the sun rise and set across the water.
Head over to the Eastern Shore of Virginia National Wildlife Refuge to explore a unique coastal landscape, or join a boat tour around the bay to see the cape from a different perspective.
If you're looking to stay here, Holiday Inn Express Hotel & Suites Exmore-Eastern Shore has everything you'll need on a road trip - comfortable rooms, on-site parking, and a pool in case you want to unwind.
Situated off the main road through the peninsula a few miles up from Cape Charles, it's a great jumping off point for whatever activity you want to enjoy while you're here.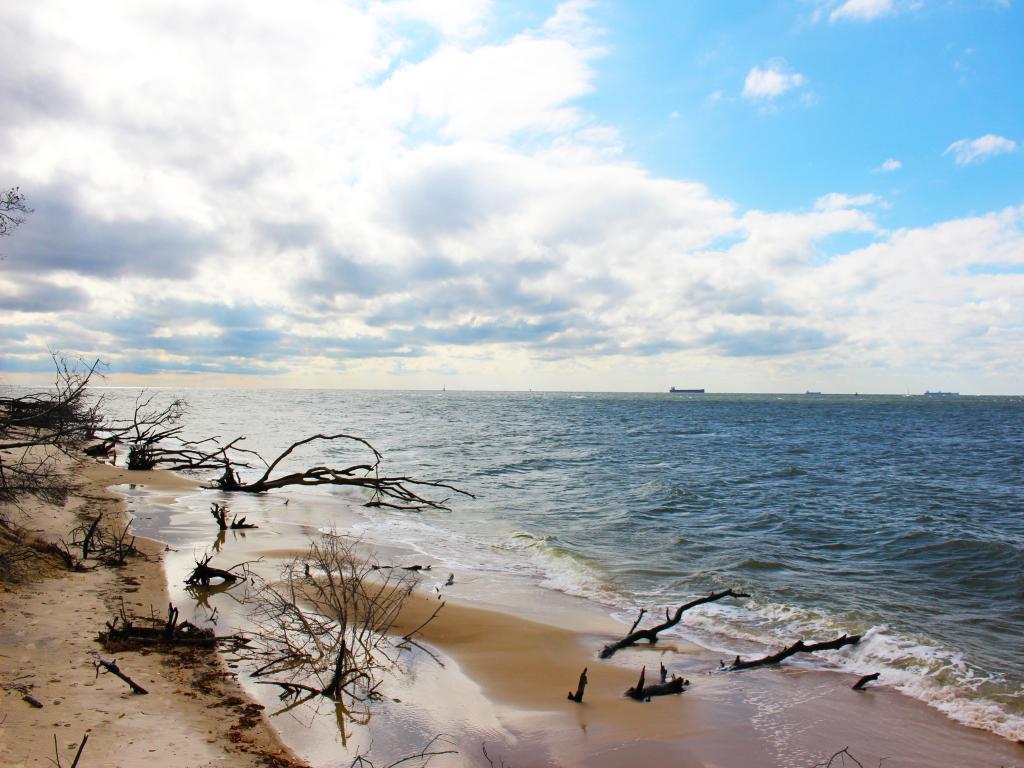 Things to see on a road trip from Orlando, Florida To New York
There are so many places to see on a road trip from Orlando to New York that really you need a good month or so to do them justice.
But if you don't have that much time available to you, try and prioritize the following for a visit.
Both routes:
Kennedy Space Center - NASA's fascinating, interactive visitor center showcases fantastic displays and exhibits including actual space rockets and debris. Be sure to tour the launching pads and experience take off in the space shuttle simulator.
Daytona Beach - Enjoy 23 miles of pristine, flat, wide beach. Also check out the Ponce de Leon Inlet Lighthouse, the quaint boardwalk and pier, and its world renowned speedway track.
Jacksonville - Explore over 850 square miles of wonderful beaches, visit the Jacksonville Zoo and get your culture fix at The Museum of Science and History and the Cummer Museum of Art & Gardens.
Savannah - Charming city known for its magnificent coastal landscape, stunning architecture and rich cultural history. Also home to the First African Baptist, which is the oldest black church in the USA, having been constituted in 1777.
The Golden Isles -A series of beautiful barrier islands on the Georgia coast south of Savannah, which combine stretches of pristine wetland habitats, wide sandy beaches, and luxury golf resorts.
Beaufort -A beautiful waterfront town a short hop off the Interstate between Savannah and Charleston.
Charleston - Delightful city renowned for its cobblestone streets, beautiful parks and historic Civil War related landmarks like Fort Sumter and the Charleston Harbor.
Myrtle Beach - Gorgeous beachside resort city situated on South Carolina's Atlantic coast that incorporates over 60 miles of fantastic white sandy beach. It hosts a number of celebrity designed courses, as well as a stunning boardwalk which includes the tallest Ferris wheel in the USA.
Nascar Hall of Fame - Based in Charlotte, the Nascar Hall of Fame celebrates the history, achievements and legacy of this particular motorsport.
Museum of Natural Sciences, Raleigh -Learn about local and international science and nature at this large and impressive museum.
Durham Botanical Gardens -Take a break from the road and stroll around these pristine gardens.
The Direct Route only:
Monticello - Take a tour of President Jefferson's private residence and learn more about the history of the 3rd President of the United States. You'll pass Monticello on the Blue Ridge Parkway Detour, but it's also just a short drive off the I-95 if you're taking the Direct Route.
Shenandoah National Park - If you're taking the Blue Ridge Parkway Detour, don't miss the chance to take one or more hikes through this stunning wild area, or simply stop to admire the scenery from the many ridgetop viewpoints along the road. You will need an Old Rag Day-Use Ticket if you are planning to visit the Old Rag Mountain. Please check the national park's website for details.
Washington D.C. - The nation's capital city is a must visit destination. Boasting a number of iconic neoclassical monuments, landmarks and buildings including The White House, The Washington Monument, the Lincoln Memorial, The Supreme Court and Capitol Hill. For culture lovers, it also has a prestigious collection of museums, art galleries, and performing-arts venues.
Baltimore - This bustling waterfront city, known as the birthplace of 'The Star-Spangled Banner', has a hipster culture, as well as several very good museums and the impressive National Aquarium.
Philadelphia - Consequential city, that is home to the historic Liberty Bell and Independence Hall (the venue where both the Constitution and the Declaration of Independence were signed).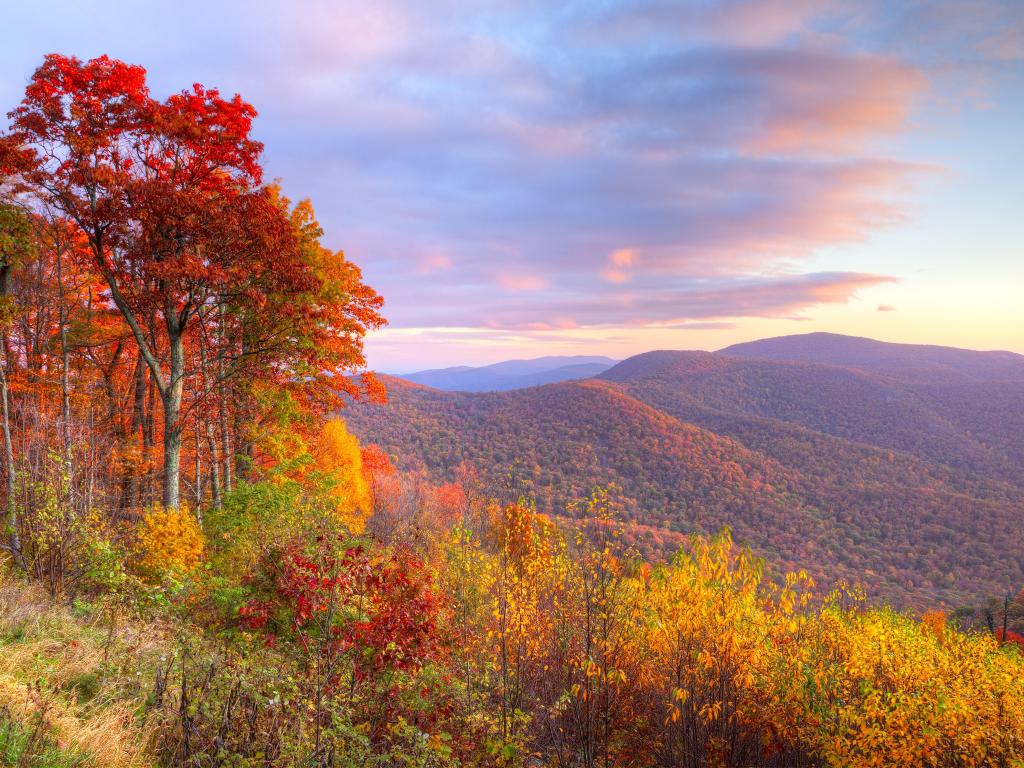 The Delaware and Cape May Route only:
Norfolk - Picturesque waterfront city in south east Virginia that houses a collection of interesting museums and the fabulous Virginia Zoo.
Cape Charles - Walk among historic buildings, relax on wide, sandy beaches or explore Chesapeake Bay by kayak.
Cape May - One of the original vacation resorts, you'll still see 19th century architecture here, and of course the beaches and dunes that attracted the first visitors from the city are still just as beautiful.
Atlantic City - Flashy resort city in New Jersey which is renowned for its vibrant nightlife, glitzy casinos, spectacular beaches and marvelous boardwalk.
Best time to go on a road trip from Orlando, Florida To New York
You can start a road trip from Orlando to New York pretty much all year round.
Many people make this journey in the summer, but with temperatures in the south regularly tipping into the high 80s Fahrenheit and bringing humid conditions with them, you might find spring or early autumn are more comfortable times to travel.
Just be aware that spring arrives later in Washington DC and New York - May or early June would be our recommendation to see the route as a whole at its best.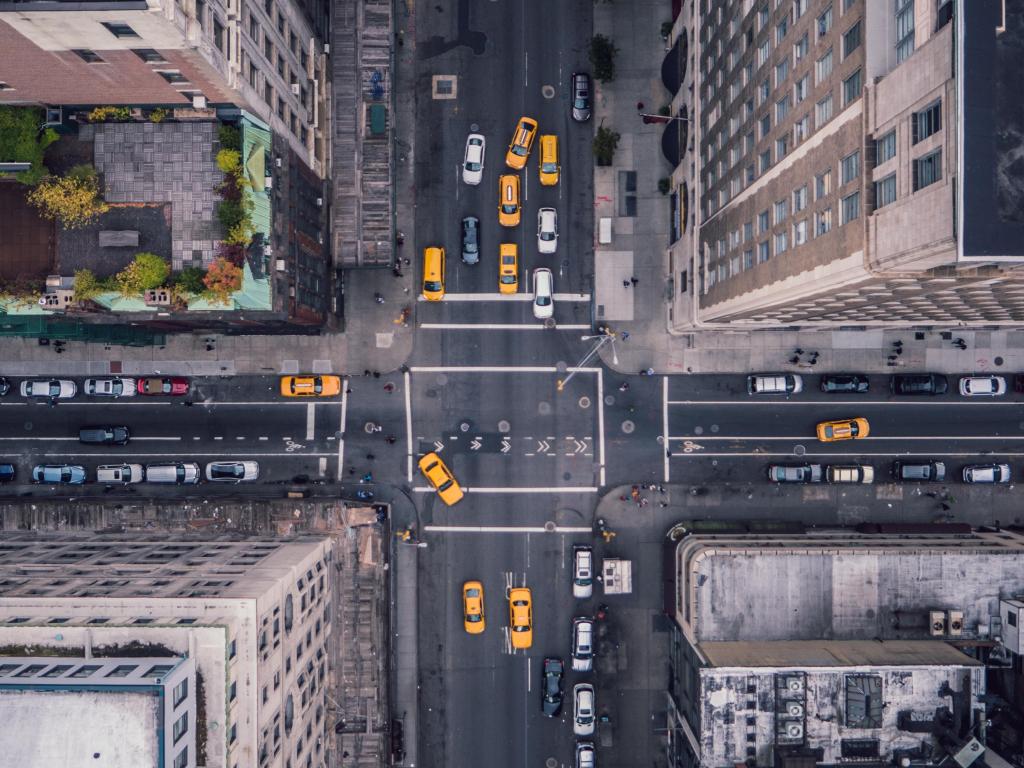 On the other hand, in the winter the weather won't be as warm, but you will be able to secure cheaper hotel rates and endure far less in the way of queues. You could also time your trip to see the festive sights of New York, or to catch Central Park in the snow, a real contrast to the winter sun of Florida only a few days before.
As a general rule, traffic will be busier the nearer you get to the cities. Especially during the school holidays, weekends and summer months.
Other than that you can start your trip whenever the mood takes you. This is sure to be a memorable trip regardless of the season!