Road trip from Paris to Amsterdam
Starting out in Paris then heading eastwards to Amsterdam you'll travel through France and Belgium before arriving in the Netherlands. Each country you'll visit on this epic road trip has its own unique culture, language and food, but as you'll discover, they have plenty in common too.
It takes 8 hours 50 minutes to drive the 700 km route from Paris to Amsterdam via Lille, Dunkirk, Bruges, Ghent, Rotterdam and the Hague, plus the picturesque Kinderdijk windmills. A shorter route takes you through Reims, Brussels, Antwerp and Utrecht.
This trip is a fabulous way to explore three vibrant capital cities as well as lush, green countryside, the Channel coast, and a host of beautiful historic towns. This varied route is packed full of art masterpieces, stunning cathedrals, delicious food and local beers, so keep on reading to find out what else awaits.
How far is Amsterdam from Paris, and how long will the road trip take?
Comparison of road trip route options between Paris and Amsterdam

| Route | Distance | Driving Time |
| --- | --- | --- |
| The Brussels Route | 630 km | 7 hours 30 minutes |
| The Rotterdam Route | 700 km | 8 hours 50 minutes |
If speed is your priority then it's possible to make the trip between Paris in Amsterdam in a little under 6 hours by simply hopping onto the autoroute and bypassing most of the major cities along the way.
We'd suggest taking things a little slower though so that you can stop and explore this fabulous region as you travel between the two cities.
If you head north up to the coast before continuing your journey on the Rotterdam Route, it will take around 8 hours and 50 minutes to complete the 700 km drive.
Alternatively, you can reduce your driving time to 7 hours 30 minutes if you travel via Brussels and Den Bosch on our Brussels Route.
Whichever route you take you'll need to add plenty of time to visit the attractions along the way, so we'd recommend taking at least 3 days to complete your trip, or longer if time allows. With less than 3 hours of driving each day you'll have plenty of time to explore.
Best road trip route from Paris to Amsterdam
On both routes between Paris and Amsterdam, you'll get the chance to visit three beautiful countries with a shared history but their own distinct cultures, languages and style.
The longer Rotterdam Route gives you the perfect mixture of stunning coastal views, charming historic cities, and the UNESCO-listed windmill landscapes of Kinderdijk.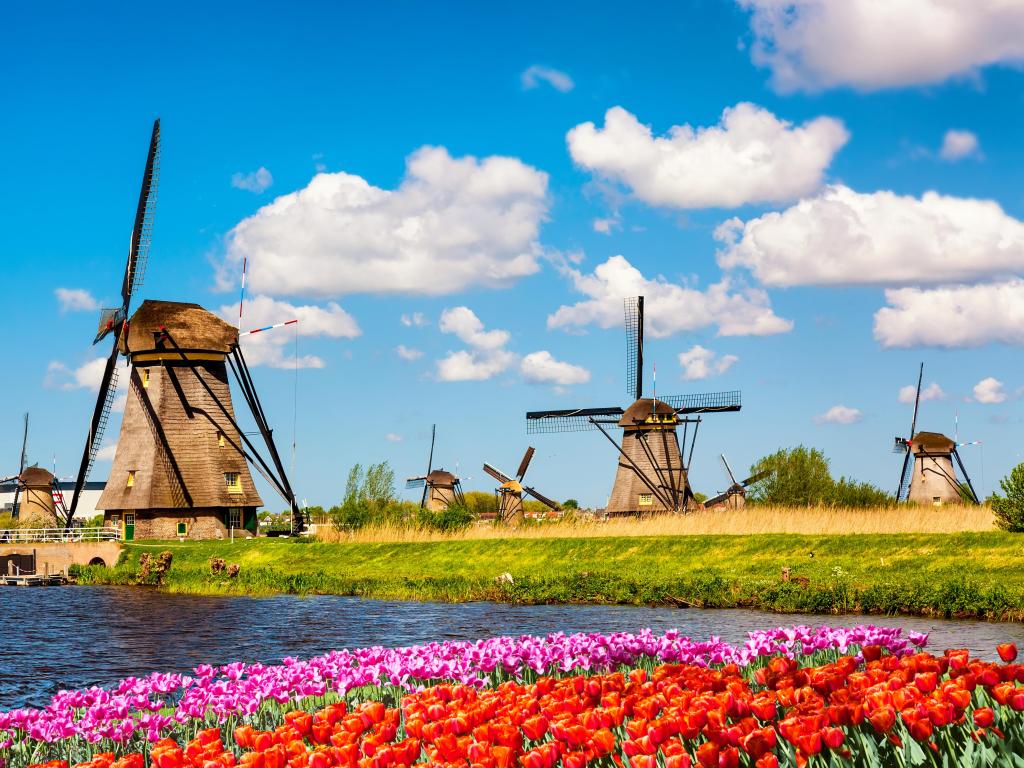 This route heads up the coast at historic Dunkirk, famous for its World War 2 battles, then moves on to the beautiful cities of Bruges and Ghent before reaching Rotterdam, one of the most archaeologically interesting cities in Europe. You'll complete the trip via Den Haag (The Hague) on your way to Amsterdam.
In contrast, the Brussels Route is the perfect road trip for travellers who love spending time in big cities, as this route takes in the capital cities of France, Belgium and the Netherlands.
This route also takes you through the world-famous Champagne region - tour a champagne house or two to try this classic drink right at the source! You will also get an insight into Dutch life by visiting the beautiful cities of Den Bosch and Utrecht.
Seeing as the two routes are similar in length it might be hard to decide which one to take, so to help you make your mind up, keep on reading to find out what you'll see on the way.
The Rotterdam Route
As you head north out of Paris, you'll cross the River Oise on your way to Lille via the A1. From here, turn towards the coast following the road through Bailleul to reach Dunkerque.
Next, the route skirts the coast as you head towards the Belgian city of Bruges - park up on the outskirts of the town then continue on foot to explore the narrow lanes and canals of this beautiful city.
Continuing along the E40 you'll reach Ghent, also famous for its canals and historic city center, then pick up the E17 to head east out of the city and on towards Antwerp.
You're not far from the border between Belgium and the Netherlands now, so carry on along the E19 past Brecht and you'll soon be making your way past Breda and on towards Dordrecht. From here, detour to see the beautiful canal-side windmills of Kinderdijk.
You'll feel the contrast as you head into the city of Rotterdam and then on past Delft to reach The Hague, the country's administrative center. Then it's a short drive along the A4 past the charming university city of Leiden to reach Amsterdam.
The Brussels Route
Leaving Paris, head northeast to cross the Marne as you travel past Rheims and then on through the Ardennes. Crossing the border into Belgium you'll pass Charleroi and Waterloo before you reach the nation's capital, Brussels.
After Brussels, take the E19 north to Antwerp, from where you'll join the Rotterdam Route for a short way as you travel towards Breda. South of the city, the routes divide again, with the Brussels Route turning east towards Ulvenhout and Oosterhout.
At Raamsdonk, join the A59 and follow it towards 's-Hertogenbosch, also known as Den Bosch, and take some time to explore the home city of Early Netherlandish painter Hieronymous Bosch.
From here you'll follow the A2 north all the way to Amsterdam. On the way you'll cross the River Waal - the final section of the Rhine which meets the sea as it travels through the Netherlands and enter the Randstad conurbation at Utrecht before completing your road trip.
Best places to stop between Paris to Amsterdam
This is a relatively short road trip, but with so many interesting cities to explore it's definitely worth making a few overnight stops along the way.
Stay in beautiful Bruges
For good reason, the attractive Belgian city of Bruges is one of the most popular tourist destinations in the country. Packed full of museums and beautiful buildings, this vibrant small city hosts events and attractions throughout the year.
Known for its fairy tale look, large squares, and playful architecture, Bruges is also famous for lace making, crafting some of the most luxurious in the world.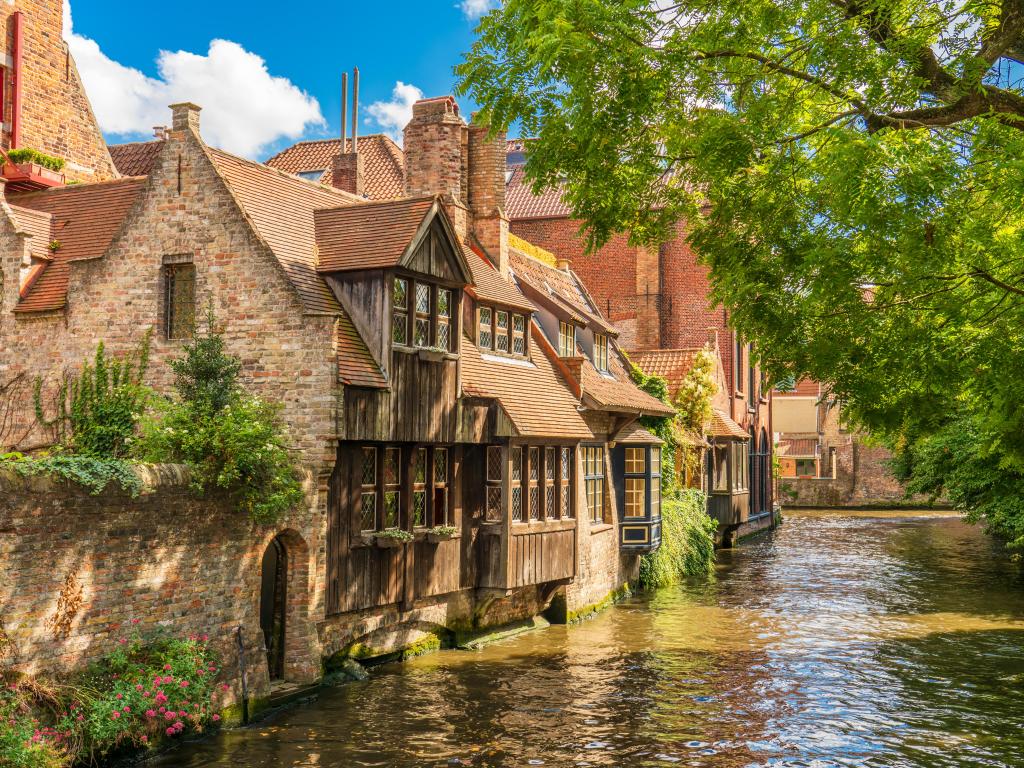 You could spend all day just admiring the architecture, but make sure you don't miss out on the Church of Our Lady Bruges, which has a stunning spire and art by Michelangelo. The Basilica of the Holy Blood is also worth a visit to see its gold adornments, carvings, and holy relics.
From there, head on to one of the most iconic stops in the city Belfry of Bruges. This large medieval bell tower dominates the center of the city and offers fantastic views.
Of course, no trip to Belgium is complete without a visit to a brewer of its world-famous beer. De Halve Maan is in a beautiful location next to a cliff face.
Keeping with the fairy tale vibe, the Relais Bourgondisch Cruyce has an enchanting exterior and a beautifully luxurious interior. The rooms at this central hotel are decorated with antiques, luxurious fabrics and flower arrangements.
Add to that waterfront views, including the chance to have breakfast overlooking the canal, and this has to be one of Europe's most romantic hotels. The estate also owns a fantastic restaurant within walking distance, serving French-Flemish cuisine.
Also, close by are major attractions such as Gruuthuse Museum, Lumina Domestica and Burg Square, which you can reach on foot.
Indulge yourself in Brussels
As the capital city of Belgium and the home to the EU, when you stop in Brussels you can expect grand buildings with beautiful art, amazing food, and a warm welcome. Around halfway along the Brussels Route, this is definitely a city you want to spend some time in.
Known for its tasty cuisine, chocolate and beer, delve a little deeper into this buzzing city and you'll find the stunning Grand Place, a large market square surrounded by epic buildings and guild halls all built with grandeur.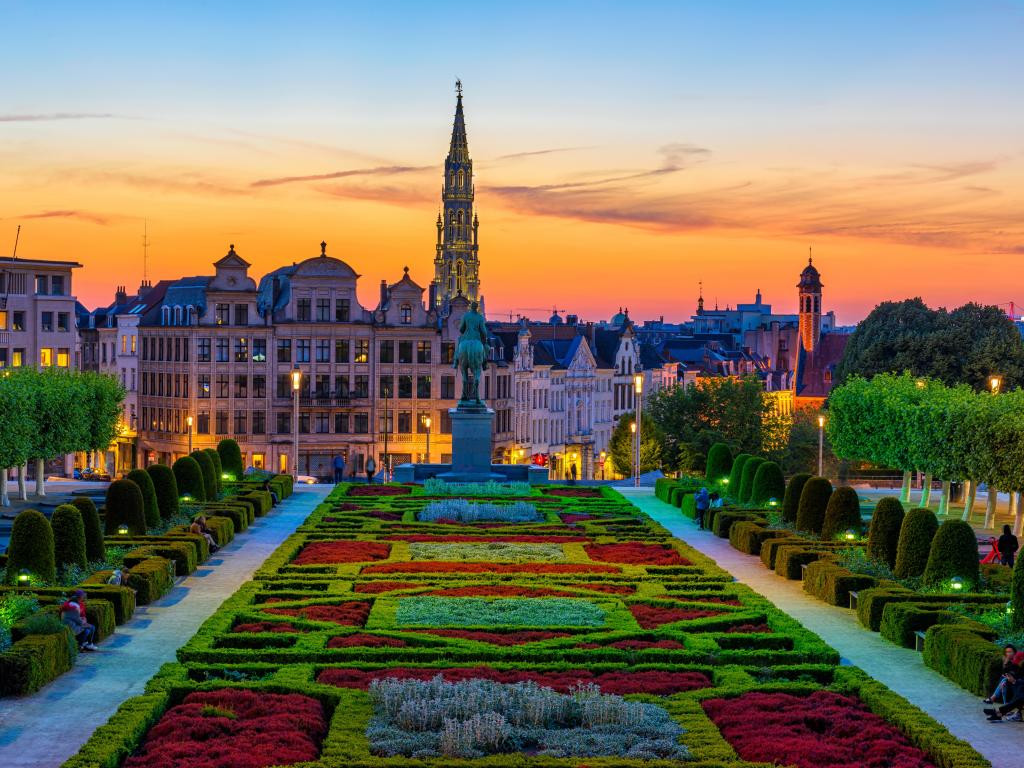 Nearby, the Royal Gallery of Saint Hubert is a beautiful indoor marketplace with lovely decorations.
Towering over the cityscape is the 16th-century St Michael and St Gudula Cathedral, and you can get your culture fix on the Mont des Arts, a beautiful park area surrounded by museums and galleries. Take a tour of the Musical Instruments Museum for a quirky break from more traditional attractions.
Right in the city center, the Juliana Hotel Brussels is within walking distance of the Grand Place, Belgium Brewers Museum, Mont des Arts and most other attractions.
As well as a fabulous restaurant, it boasts an indoor pool and a beautiful space with a terrace - perfect to unwind after a day exploring the city.
Where to stay when you reach Amsterdam
Based in old newspaper offices, INK Hotel Amsterdam carries on the journalistic theme through its Pressroom Bar and Library Lounge. The rooms were completely renovated just a few years ago so you can enjoy stylish and comfortable accommodation in the heart of the city.
Just a short walk from Dam Square and other central attractions, you'll be able to immerse yourself in the fabulous city of Amsterdam during your stay.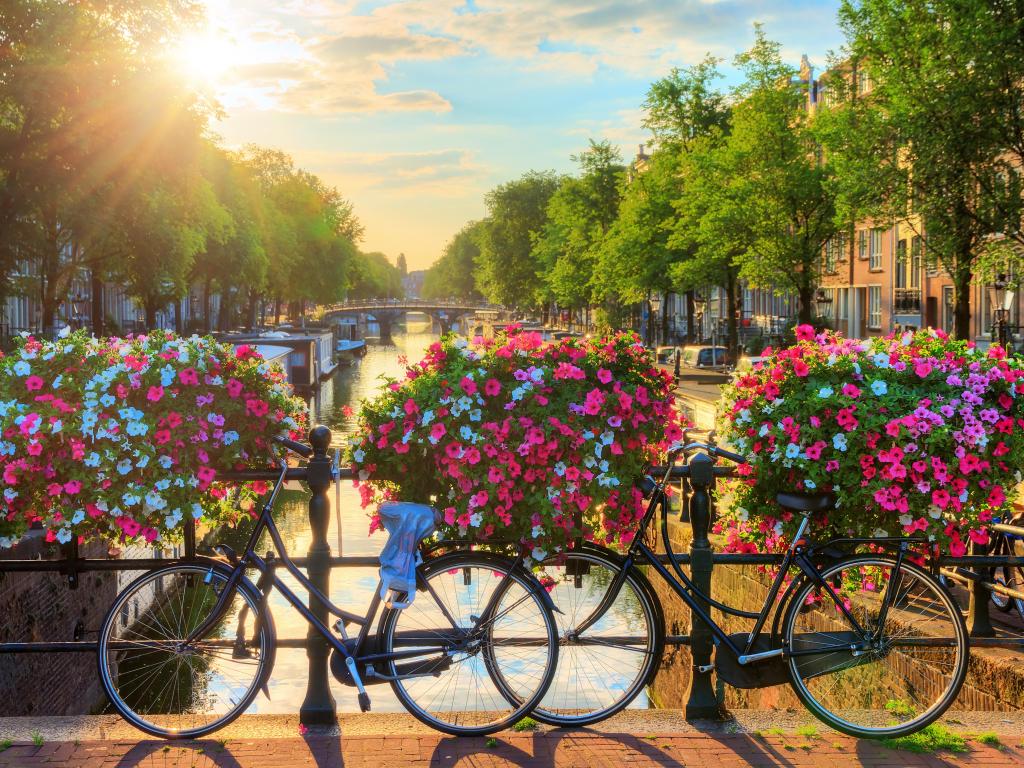 Alternatively, if you really want to treat yourself at the end of your road trip, check in to the opulent Waldorf Astoria Amsterdam, which sits along the UNESCO World Heritage site Herengracht.
The fabulous location means you'll be within walking distance of most major attractions such as the museums quarter and Rembrandt House and being housed in 17th-century canal palaces gives the hotel a true Dutch feel. There's also a luxurious spa on site, and parking is available too.
Things to see on a road trip from Paris to Amsterdam
A road trip from Paris to Amsterdam packs a lot of fabulous attractions into a short distance. These are just some of the highlights:
Rotterdam Route
Chateau de Chantilly - Take a detour off the autoroute to visit this beautifully designed chateau sitting on the water, which hosts art exhibitions, a museum, and lush gardens. Nearby you'll find the interesting Horse Museum, which focuses on the history of horses with humans, from racing to farming.
Flanders Museum - Set in a historic building in French Flanders, this regional art museum is a short detour off the autoroute in Cassel.
Atlantikwall Raversyde - Running along the coast around Ostend are many WW1 & 2 defences and bunkers. You can take a stroll down the coast and learn through an audio tour as you explore the bunkers and surrounding park.
In Flanders Fields Museum - In the carefully rebuilt city of Ypres, this memorable museum depicts the history of WW1 and the battles fought in the area.
Ghent - Visit the fortified 10th century castle at Gravensteen, complete with moat and armoury, and see the beautiful tall-ceilinged St Bavo's Cathedral, where Charles V was baptised.
Kinderdijk - This world-famous collection of canals and windmills is now a UNESCO World Heritage Site.
Rotterdam - Learn about the port of Rotterdam at FutureLand, a modern, interactive museum then visit the Market Hall to enjoy local delicacies including fresh Dutch herring. Nearby you'll find the iconic Erasmusbrug bridge, known as the 'swan'.
Delft - Take a boat tour around the canals in this compact city famous for its blue and white ceramics.
The Hague - The country's administrative centre is home to the Mauritshuis gallery, where some of the most famous Dutch paintings are on display, and the Louwman Museum, the world's oldest collection of private cars.
Museum Voorlinden - Just outside the Hague in Wassenaar, this contemporary art gallery has many interesting permanent and rotating exhibits.
Archeon Museum Park - Experience life in prehistoric times, as well as Roman and the Middle Ages in this large outdoor museum near Leiden, with actors and role plays.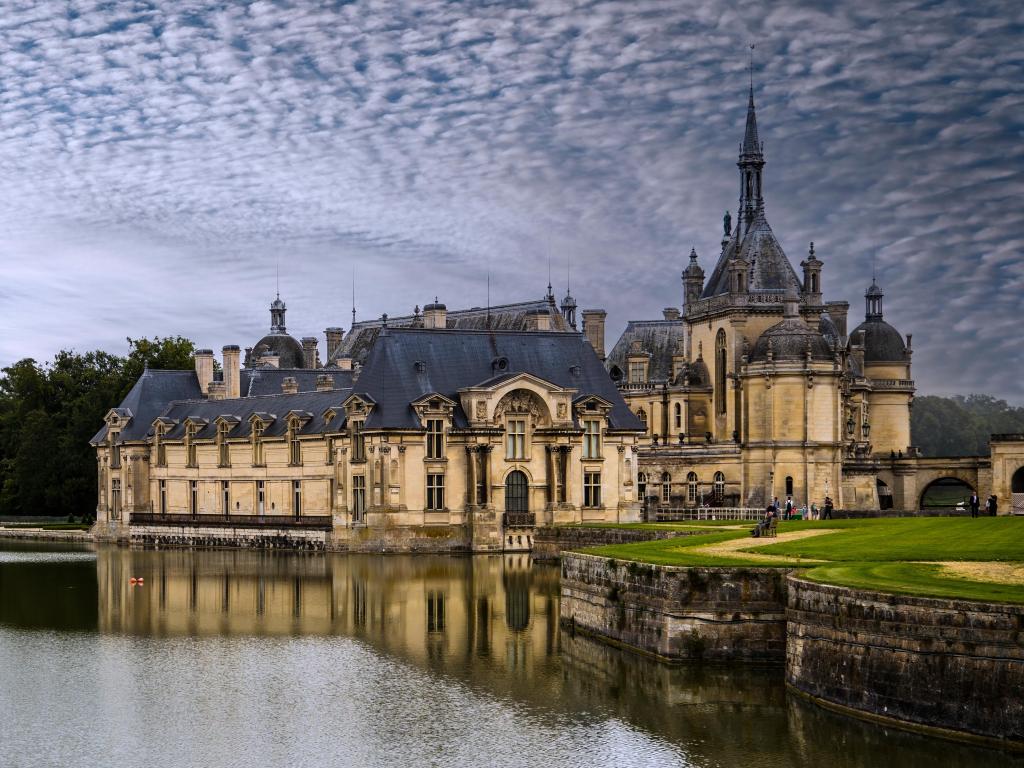 Brussels Route
Museum of the Great War - Located in Meaux, this WW1 Museum includes full-scale models, exhibitions with battlefield recreations and various artefacts such as planes and tanks.
Blandy-les-Tours Castle - 13th-century castle with spires, walls, and a fortress. Tours are available as well as events throughout the year.
Disneyland Paris - Just outside the city you will find this land of magic and joy. With two theme parks and hundreds of amazing events, this is a great one for adults and children alike.
Reims - The city's cathedral is a UNESCO World Heritage Site, but fans of vintage cars will also enjoy the Reims-Champagne Automobile Museum.
Park Natural Regionel des Ardennes - Lace up your hiking boots to explore the many trails that run through this lush, green landscape.
Eau d'Heure Lakes - These 5 man-made lakes are open for recreational use, including fishing, kayaking, hiking, and biking.
Floreffe Abbey - Take a detour from the city of Charleroi to visit Floreffe Abbey, an old monastery where you can try locally made beer.
Mechelen - Stunning Saint Rumbold's Cathedral, which dates back to the 1200s, is home to a number of van Dyck paintings.
Waterloo Battlefield - This entire museum is underground and teaches you all about the famous Battle of Waterloo.
Brussels - Tour some of the city's famous monuments, including the Atomium which looks out over the city, and the world-famous Manneken Pis, a statue of a small boy with a mysterious history.
Gaasbeek Castle - In this peaceful village just outside Brussels, see this beautiful castle dating back to the 19th century and built in a romantic style.
Herge Museum - Fans of Tintin should definitely check out the museum dedicated to the famous cartoonist who brought him to life. You'll find it a short hop away from Brussels.
Efterling - Escape to the land of fairy tales at this fabulously quirky amusement park which will appeal to travellers of all ages.
Den Bosch - Learn about the culturally rich history of the region at the Noordbrabants Museum, and admire the 13th-century St John's Cathedral, which has beautiful detail and a tall spire.
Utrecht - Another historic gem, among the riverside streets of the old city centre you can climb the gothic Dom Tower which stretches 95 metres into the sky, or walk among the beautiful gardens of Castle De Haar. The Spoorwegmuseum has many trains on display, and younger visitors might enjoy perennial favourite the Miffy Museum, dedicated to the country's most famous literary bunny.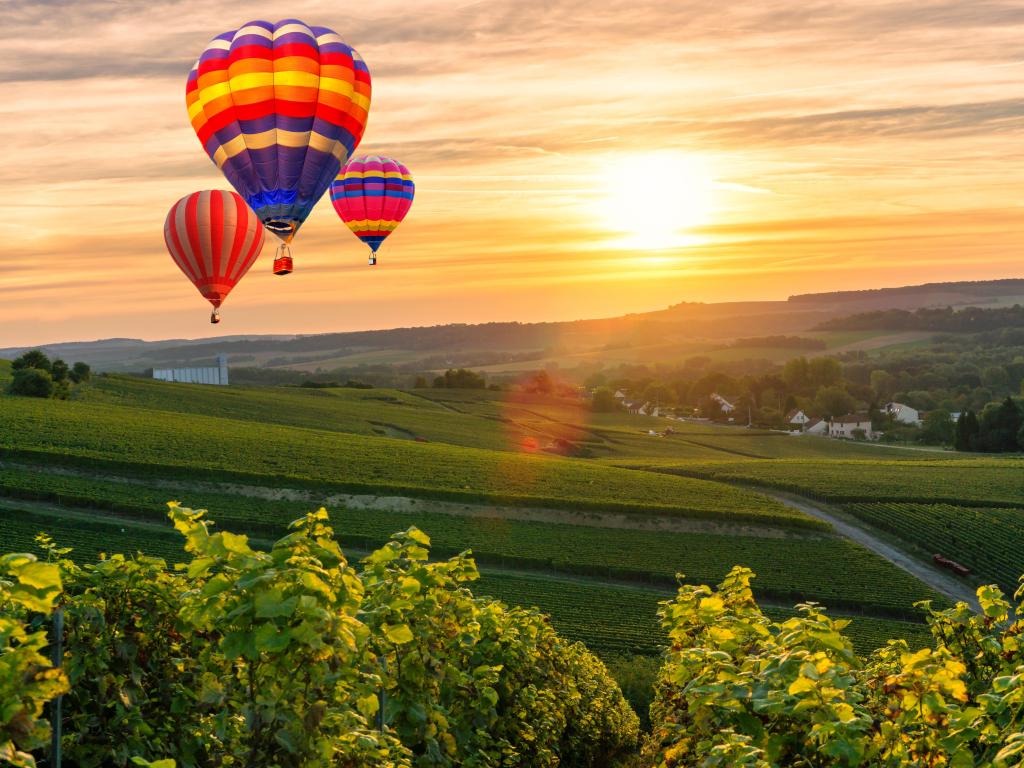 Both Routes
Avenue de Champagne - Walk this fancy avenue, home to many of the region's most renowned Champagne producers.
Antwerp - The gargoyles of the beautiful, gothic Cathedral of Our Lady Antwerp tower over the squares and alleyways of this medieval city - learn about its past and present in the wonderfully designed Museum aan de Stroom.
The Familistere, Guise - A detour off either route will bring you to this large palace, originally made for a utopian cooperative community by Jean-Baptise Andre Godin.
Best time to go on a road trip from Paris to Amsterdam
Amsterdam has a typical northern European climate, meaning wet and cold winters and warm summers. You can visit all year round as there are many indoor spaces and fantastic museums to enjoy, but if you're hoping to spend time enjoying the city's canals and squares then other times of year will make for a better visit.
Summer in Amsterdam will be inundated with tourists, and there will be queues for most major attractions. Weather is at its best in summer though, with temperatures averaging around 22 degrees Celsius.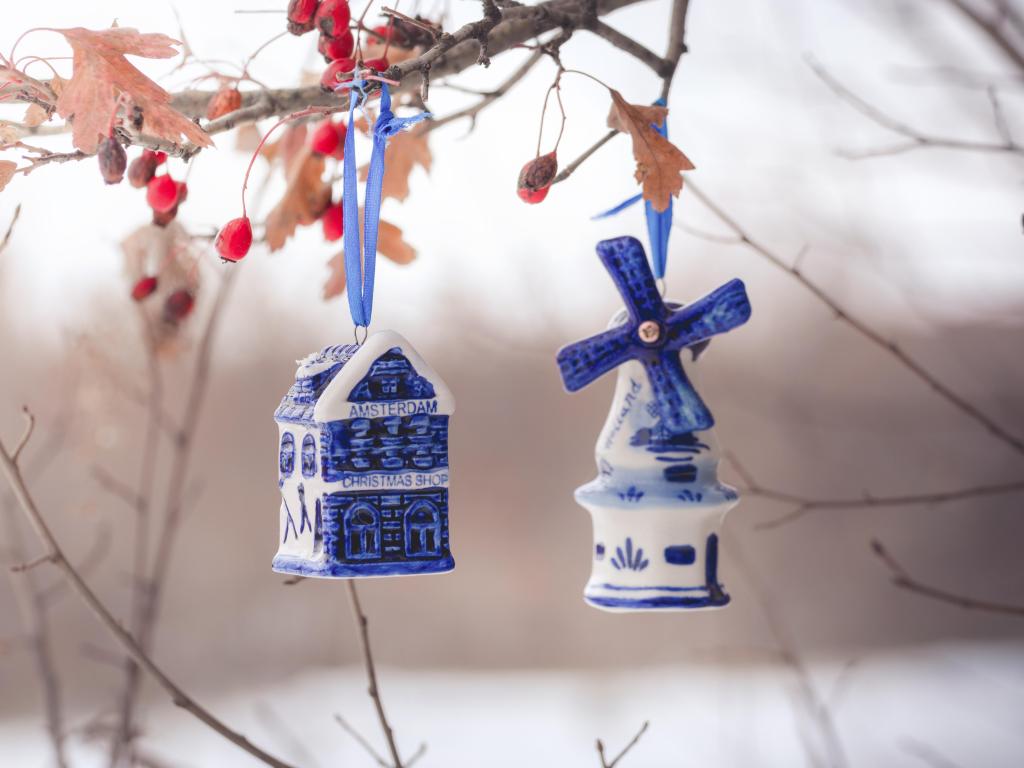 Many events are held in the city in summer, including the Holland Festival in June, the artistic celebration of Amsterdam in July's Over Het IJ Festival, and Pride in August.
If you want to avoid crowds, winter is a great time to visit, but be aware that it will be much colder, with temperatures usually ranging from freezing to 6 degrees. However, you'll be able to enter museums more easily without the lines to keep out of the cold.
With all this in mind, spring and autumn are by far the best times to visit Amsterdam. It won't be as busy as in the summer months and temperatures sit pleasantly around 17 degrees - but pack a jacket for cooler days and evenings.
The country's famous tulips will be blooming if you visit in spring, with Amsterdam's Tulip Festival held every year in April. King's Day, the biggest national holiday in the Netherlands, takes place on the 27th of April. You can also see the Amsterdam Fringe Festival if you're in the city in September.