Road trip from Paris to Bordeaux
Take a cultural safari through medieval towns and historical sights on this wonderful road trip from Paris to Bordeaux in France. With so many things to do, including visiting impressive coastal cities and renowned vineyards, you can be sure this journey is going to tick plenty of boxes.
The 730 km road trip from Paris to Bordeaux will take you 9 hours and 10 minutes to drive. Amazing sights on the way include Orléans, Vierzon, Châteauroux, Limoges and Perigueux, or Le Mans, Tours, Poitiers and Cognac if you head to the coast.
If you love the idea of a French road trip that is bound to tantalize all the senses, then look no further. Read on to discover the best routes to follow, our suggested places to see, where to stay and explore during this exciting journey.
How far is Bordeaux from Paris, and how long will the road trip take?
Comparison of road trip routes between Paris and Bordeaux

| Route | Distance | Driving Time |
| --- | --- | --- |
| The Limoges Route | 730 kilometers | 9 hours 10 minutes |
| La Rochelle Route | 780 kilometers | 9 hours 20 minutes |
There are two beautiful and inspiring routes we suggest when travelling between Paris and Bordeaux. The Limoges Route takes you through interesting medieval villages, cathedrals and historic sights, lasting just over 9 hours and covering 730 kilometers.
The alternative La Rochelle Route takes in everything from the dockyards at La Rochelle to the vineyards at Tours. Allow just under 9 and a half hours for this journey which is around 780 kilometers.
Both journeys take a similar time to complete, which could be covered in a day, but we would recommend using two to three days to allow you time to stop off and enjoy the sights.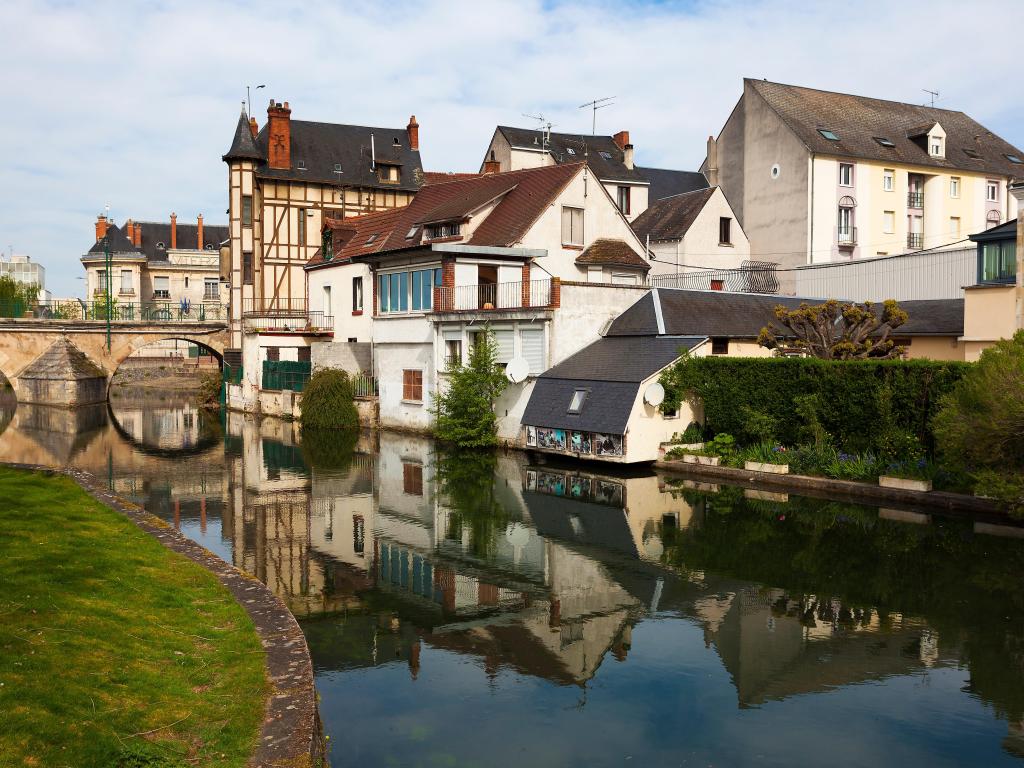 Best road trip route from Paris to Bordeaux
Both the wonderful routes we have chosen from Paris to Bordeaux have plenty of things to see and do along the way, so the best one will depend on what you'd like to see and experience on this road trip of a lifetime.
Take a step back in time travelling the Limoges Route, where you can discover the history of theater at Musée du Theatre Forain, before learning more about signature porcelain at Musée National Adrien Dubouche in Limoges. You can be sure a trinket or two will be added to your shopping basket!
Parc Naturel régional Périgord-Limousin (Périgord-Limousin Natural Regional Park) and Cenon Parc Palmer give you the chance to connect with nature as you make your way to the famed vineyards of Bordeaux, with both sites renowned for their beautiful landscapes.
If you fancy a historical tour peppered with amazing waterfront towns, cathedrals and Roman sites then La Rochelle Route is for you. Visit Chartres Cathedral and Church of Notre Dame la Grande in Poitiers for your cultural fix.
Then head off for an afternoon, or more, in the vineyards of Tours, or the brandy distilleries of Cognac. Both options provide a great chance to relax after plenty of sightseeing.
The Limoges Route
Head south from Paris along the A6a to Massy, before reaching the A10 which takes you all the way down to Orléans.
From there hop onto the A71 which takes you further south, where you can take a stop at Bourges which is on the E11 from Vierzon. After Bourges jump back onto the E11 and then the A20 which leads through Châteauroux to Limoges.
From Limoges, the fairly straightforward drive passes along the N21 to Perigueux, before the A89 leads all the way to Saint-Émilion. From here, following the N230 will allow you to arrive at your destination Bordeaux.
La Rochelle Route
After heading out of Paris on the A6a, the A10 and shortly followed by the A11 takes you past Chartres and along to Le Mans.
From here the A28 takes you to Tours, before you drive along the A10 to Poitiers then Chauray.
From Chauray use the D611 before landing on the N11 to arrive at La Rochelle. The coastal journey along the E602 followed by A837 is scenic and takes you straight to Cognac.
Following south the D732 takes you to Bonerme, before picking up the A10 all the way to Lormont. Drive over the Garonne River and you'll start to see all the wonderful sights of Bordeaux.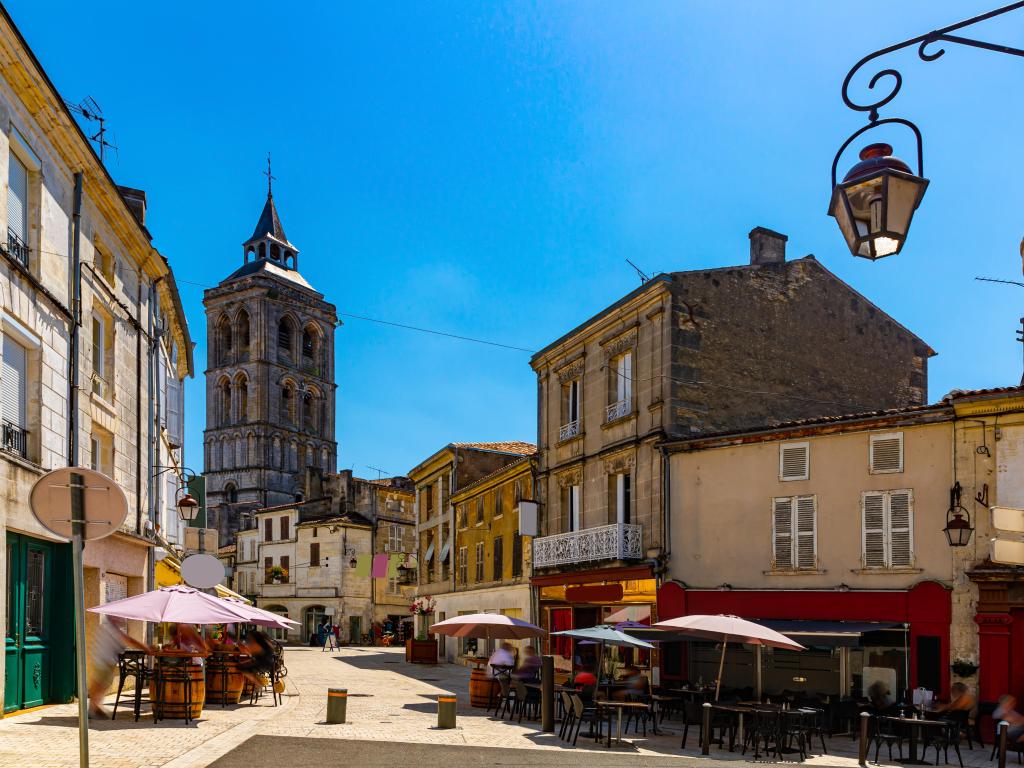 Best places to stop between Paris to Bordeaux
Both the wonderful routes we have chosen from Paris to Bordeaux have plenty of things to see and do along the way. Whet your appetite with our suggested stopover options below to really make the most of your trip.
Enjoy the markets and museums of Limoges
On the Limoges Route, we suggest an overnight stop at Limoges, which is about two-thirds of the way into the journey. Limoges is known worldwide for its stunning porcelain, delicious cuisine and medieval history.
Head to the Musée National Adrien Dubouche during your stay to learn more about the history of porcelain in this beautiful but often overlooked city. With the biggest collection worldwide, you will enjoy seeing many exhibits that highlight this region's exquisite craftsmanship.
Limoges Cathedral is also a must-see, whether you are an architecture enthusiast, a history buff, or simply would like to admire the beauty of the city as you explore the streets on foot. The architecture here is stunning, almost delicate, as are the views of the Vienne River alongside.
The old town of Limoges is charming. Head to Quartier de la Boucherie to enjoy the market, old buildings and hospitality.
After a busy day exploring, you can be sure to find a good night's sleep at our recommended hotel Hôtel Le Saint-Martial, Limoges Center. Bang in the middle of the city, this hotel has an enviable location and great views. The city center will be right at your doorstep, just a short walk from the property.
Enjoy a delicious breakfast before heading out to explore. Many renowned attractions are close by such as Champ de Juillet, Jardin Jean Gagnant and Square Jean Giraudoux. The Porcelain Museum is also located nearby.
Tour the Garden of France, Tours
Tours is a great stopover location for La Rochelle Route, which is about halfway between Paris and Bordeaux. It is nestled between the Loire and Cher Rivers, known as Le Jardin de la France (The Garden of France), given there are plenty of green spaces.
The Cathédrale Saint-Gatien de Tours is an impressive building to visit, and a self-guided tour is a must. The stained-glass windows are particularly beautiful.
Tours Botanical Gardens are free to visit and a great way to while away the afternoon. Head to the North of the park to see the stunning magnolia varieties across these pretty gardens and arboretum.
The center of Tours is buzzing and full of popular shops and restaurants. Make sure to stroll to Place Plumereau with its historic buildings surrounding a pretty square for people watching and coffee.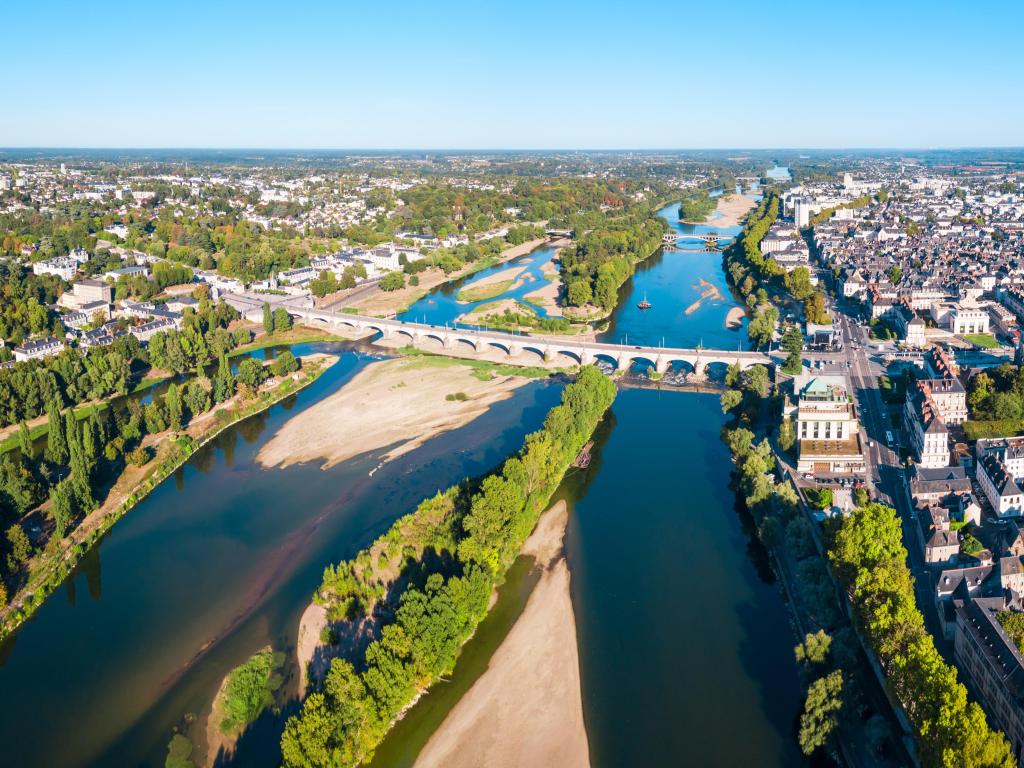 Our top choice for where to stay in Tours is Hilton Garden Inn Tours Centre, boasting a stellar location in the city center. In the heart of the city, you are surrounded by top attractions including the Basilica of Saint Martin, the Museum of Natural History and Musée du Compagnonnage.
Have you worked an appetite after your drive? Head to the on-site restaurant, Babette, and enjoy a fantastic a la carte evening meal - after enjoying cocktail hour at the fabulous terrace, of course!
Where to stay when you reach Bordeaux
Feel like a celebrity when you step into the fabulous 5-star Hotel des Quinconces Bordeaux Centre. This boutique hotel is highly recommended, and it is easy to see why.
The building and interior décor is modern and luxurious, and there is also a beautiful garden to relax and dine in. This hotel is truly a real oasis away from the hustle and bustle of Bordeaux.
The property is located close to many of the top attractions including CAPC Musee d'Art Contemporain, Esplanade des Quinconces and Gallien Palace, so only a short walk to many popular landmarks.
A delicious continental breakfast is available each morning, and you don't need to wander far for an evening meal and entertainment due to its amazing location.
Things to see on a road trip from Paris to Bordeaux
Although both Routes between Paris and Bordeaux could be completed within a day, we suggest taking a few days to be able to stop off and explore.
With so much to see and do we have pulled together our recommended places to visit below. Enjoy!
The Limoges Route
Musee du Theatre Forain - Based in Artenay, this museum isn't just for theatre fans. With over 400 years of theatre history it is packed with costumes and collections, and plenty of interesting historical facts.
Orléans - Orléans is found in the center of the Loire Valley, a World Heritage Site. Make sure to visit Place du Martroi, where an impressive statue of Joan of Arc showcases her part to play in the Orléans siege.
Musée de Vierzon - Learn more about the history of Vierzon with a visit here. The local industry centered on porcelain and glass and there are plenty of historical examples to see here.
Cathedrale De Bourges - A key landmark in Bourges, this cathedral is seen as a masterpiece, with its gothic architecture and imposing bell towers. In spring the grounds are packed with beautiful flower displays.
Châteauroux - With the Indre River running alongside, this is a great stop-off for a stroll. Have a little more time? Then take a visit to Eglise Notre Dame de Chateauroux, a beautiful cathedral and grounds.
Limoges - Known best for its porcelain production, make sure to visit Musée National Adrien Dubouche with many beautiful crockery, figurines and trinkets on display.
Parc Naturel régional Périgord-Limousin (Périgord-Limousin Natural Regional Park) - A wonderful trail through this park is a must, with stunning woodland and valleys to explore.
Perigueux - The extraordinary site of Vesunna is unique and well worth a visit. Three levels of the preserved building dating over 2000 years old give a real insight into the past Gallo Roman life.
Saint-Émilion - A medieval village renowned for its vineyards. Spend an afternoon or more sampling some of the local specialties.
Cenon - Very close to Bordeaux, take a final stop at Cenon Parc Palmer, The scenic park is a great spot for a leg stretch, with interesting sculptures and buildings dotted across this parkland.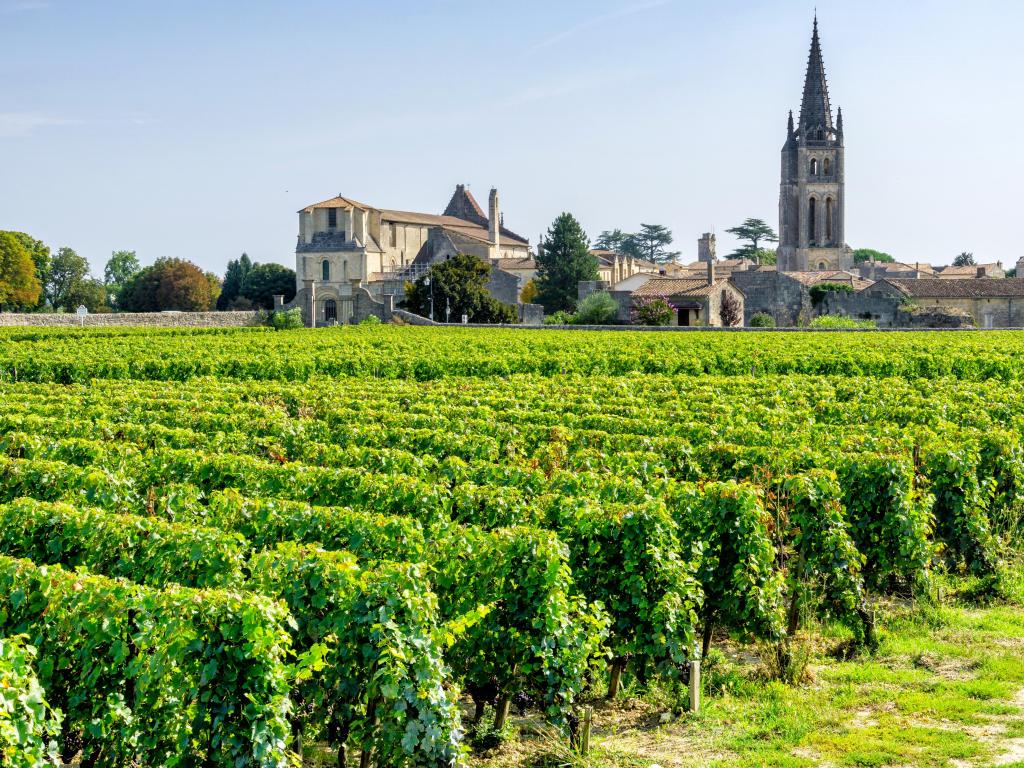 La Rochelle Route
Chartres Cathedral - This incredible gothic design cathedral is classed as one of the most impressive in France. Climb the steps to the bell tower for lovely panoramic views over Chartres.
Le Mans - For any racing fan head to Le Mans in June for Le Mans, a day long car race which draws attraction from around the world.
Tours - Nestled between the Loire and Cher rivers, and is known as Le Jardin de la France, given there are plenty of parks. Take a long hike here before settling for the afternoon at one of the many vineyards.
River Vienne - An evening cruise along the River Vienne is a popular choice, with plenty of city sights alongside woodlands and pretty waterways providing an interesting and relaxing view.
Poitiers - A morning well spent is at Jardin des Plantes, a beautifully packed botanical garden. Then head for a cultural afternoon visiting Church of Notre Dame la Grande.
La Rochelle - Vieux Port at La Rochelle is a must-see. Take a self-guided walking tour to see the historical buildings and lighthouse next to the port, before heading for a relaxing lunch in one of the many restaurants.
Rochefort - Next to the beautiful River Charente. Head to the Maritime Museum to discover more about this area.
Amphithéâtre de Saintes - This preserved Roman site is impressive. Over 2000 years old, take a step back in time inside this amphitheater.
Cognac - One of the best-known brandies in the world heralded from Cognac. A tour around a distillery such as Bache Gabrielsen is a must!
Mirambeau - A quiet, some might say undiscovered city, a visit to the castle of Mirambeau is as informative as it is beautiful.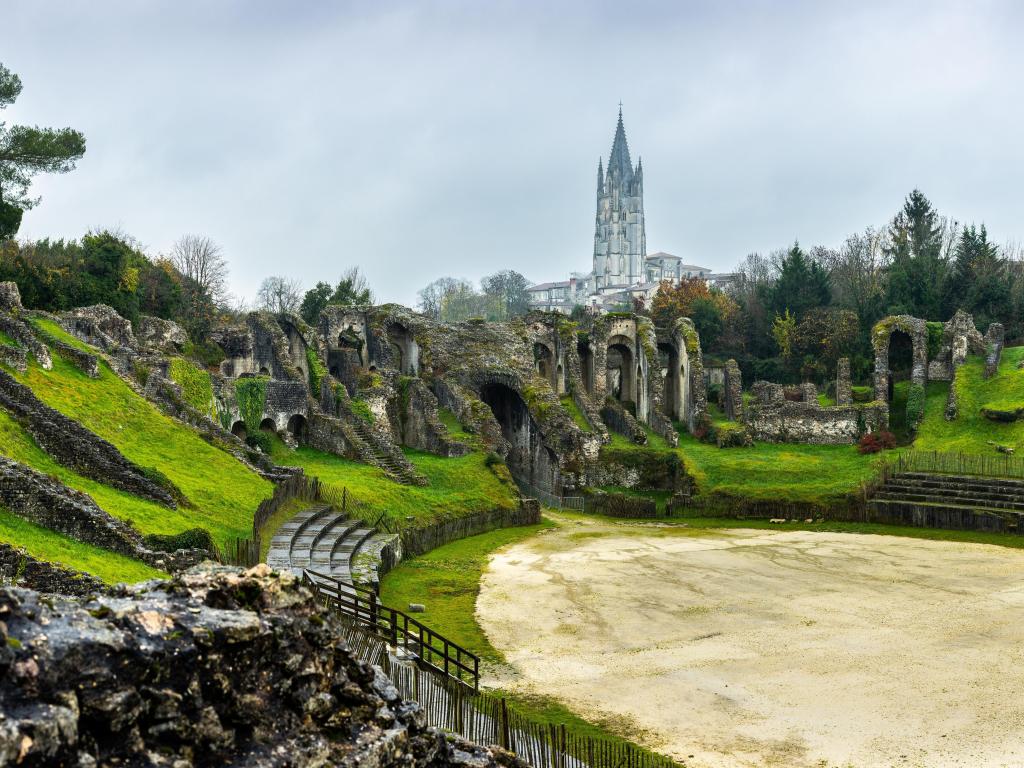 Both Routes
Parc Naturel régional de la Haute Vallee de Chevreuse (Haute Vallee de Chevreuse Natural Regional Park) - This area is teeming with things to do. Head to La Madeleine to get the best views, before one of many trails ideal for hiking or a horse ride for weary legs.
Marché de Dourdan - Arrive in Dourdon on a Wednesday or Saturday and enjoy the local market buzzing with local produce and wares.
Best time to go on a road trip from Paris to Bordeaux
Bordeaux is certainly a year-round destination, with many of the main attractions accessible throughout the year.
The weather is hottest May to July, around 22 degrees Celsius, so lovely and warm but not unbearably humid for exploring. Accommodation and attractions can be at a premium during this time, so heading to Bordeaux during the shoulder months in spring and fall can be quieter and cheaper.
Winter is a low season where December and January are particularly quiet. Rainy and more unpredictable weather at the start of the year is also expected. Some of the main attractions do still remain open, however, you may not get a vineyard visit in, so wine lovers beware.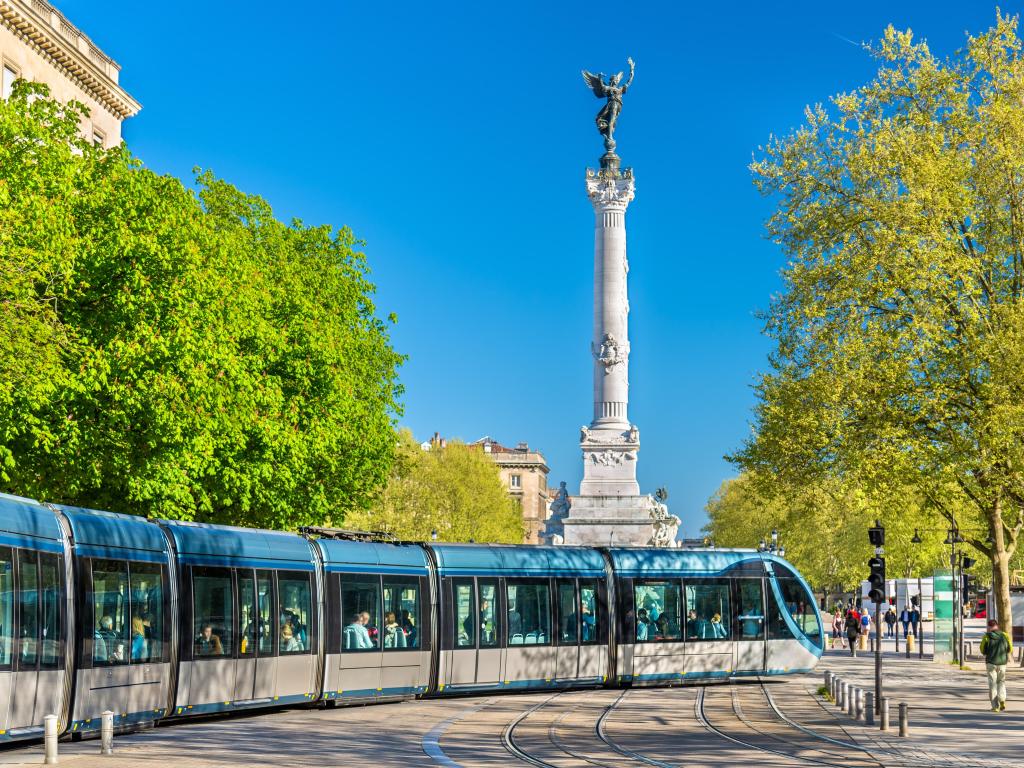 For the dedicated wine fan then a fall visit is a must when the harvests are in abundance. In fact, both fall and spring are great times to visit, when the tourist numbers are lower, the weather is sunny, and important vineyard stages are happening so plenty of opportunities for visits and tasting sessions.
There are plenty of events held in Bordeaux all year round and many of these center on the local produce and wineries in the area.
In January the popular Sainte-Foy-la-Grande Market celebrates the fresh produce from local producers, with a market in the medieval center attracting many visitors.
Come spring, the Médoc Portes Ouvertes dans les Châteaux is celebrating all things wine when the vineyard holds an open house to enjoy the latest grape varieties. This huge event draws in many visitors.
Bastille Day in Bordeaux is also a large annual celebration marking French National Day, with amazing fireworks to herald this national holiday.