Road Trip from Paris to South of France
Fancy a road trip packed with historical sights, parks and coastal views, with a vineyard visit or two along the way? Then look no further; this delightful journey takes you from the city of love, Paris, to the world-famous style and sophistication in the South of France.
The 1,110 km road trip from Paris to South of France takes just under 12 hours. Notable sights are Tours, Orléans, Clermont-Ferrand, Montpellier, Marseille, Arles, Cannes, Nice, Poitiers, La Rochelle, Bordeaux, Carcassonne and Cathedrale De Bourges.
This incredible trip takes you from the heights of Puy-de-Dome Volcano to the sandy shores of La Croix-Valmer, from the world-class vineyards of Bordeaux to the historic city sights of Carcassonne. Read on to see all the wonderful things to do, where to stay, and the best time to visit to enjoy this epic journey.
How far is South of France from Paris, and how long will the road trip take?
Comparison of road trip routes between Paris and South of France

| Route | Distance | Driving Time |
| --- | --- | --- |
| The Bordeaux Route | 1,110 kilometers | 11 hours 50 minutes |
| The Nice Route | 1,190 kilometers | 14 hours 30 minutes |
Take the Nice Route and the drive from Paris to South of France takes just over 14 hours and covers 1,190 kilometers. You will be taken through many interesting historic sights, with a good portion riding alongside the stunning coast.
Travel the alternative Bordeaux Route and you can be sure to visit the finest vineyards and medieval towns. This slightly shorter inland route takes just under 12 hours and covers 1,110 kilometers.
As you pass so many fantastic cities and sights along the way make sure to allow yourself enough time for discovery. We suggest taking four to five days to complete this road trip, whichever route you decide to take.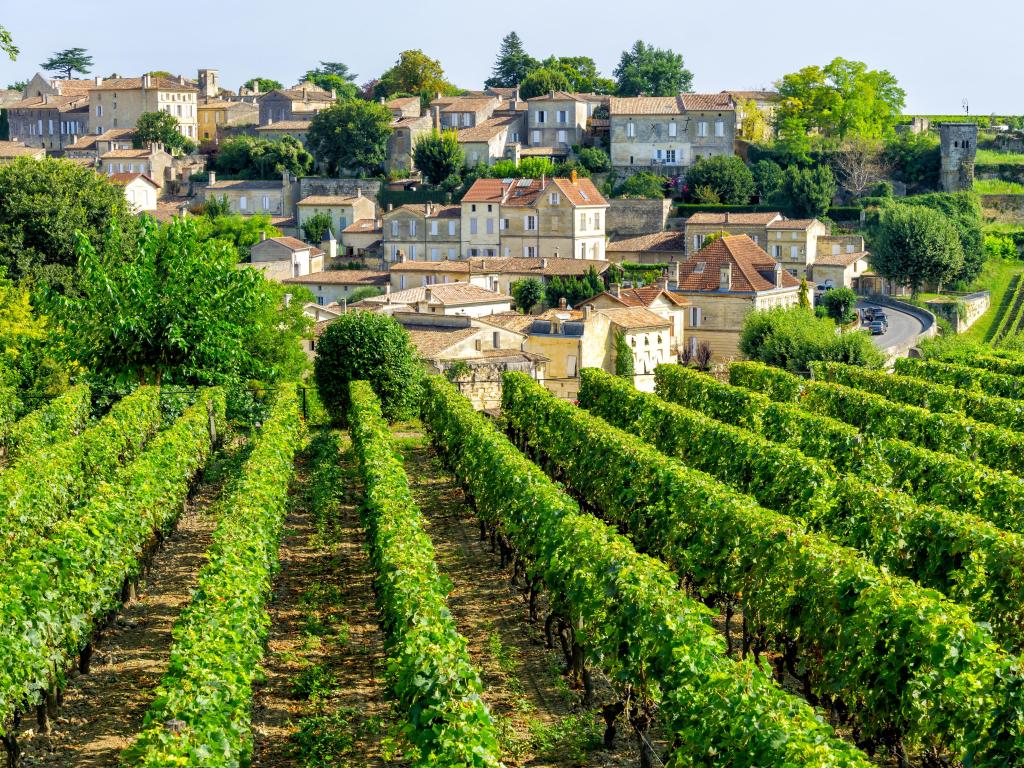 Best road trip route from Paris to South of France
We have two routes that take in some of the very best historical sights, parklands, ports – and vineyards! Both the routes from Paris to South of France are teeming with a balance of interesting landmarks alongside beautiful landscapes.
Taking the Nice Route is slightly longer but you'll get a jam-packed itinerary along this journey. You pass many architecturally beautiful landmarks such as the gothic brilliance of Cathedrale De Bourges and the breathtaking Arles Amphithéâtre. Both are well worth a lingering visit.
An exhilarating trip to the summit of Puy-de-Dome Volcano is bound to leave an impression. Afterwards, you can enjoy downtime on the sandy shores of La Croix-Valmer. Cannes also provides plenty of opportunity for rest and relaxation – with a bit of celebrity spotting in between.
Head on the alternative Bordeaux Route and you pass many beautiful parks, ports and vineyards for a drink, or two! No visit to Bordeaux would be complete without a winery tour, so make sure this features on the to-do list.
Other must-see destinations on this route include the stunning landscapes of 'Le Jardin de la France', Tours, and a visit to the pretty harbor at La Rochelle Vieux Port. For culture lovers, don't miss a play at the Toulouse Théâtre du Capitole, the destination for impressive evening entertainment.
The Nice Route
As you leave Paris head south on the A10 passing the pretty Parc naturel régional de la Haute Vallée de Chevreuse and arriving at historic Orléans.
From here the A37 takes you to Bourges and Clermont-Ferrand – make sure to head to the summit of Puy-de-Dome Volcano for incredible views.
Afterwards continue along the A75 which takes you to Montpellier, a great overnight stop with plenty of historic landmarks to enjoy and markets to wander around, as well as modern sights and architecture.
After a day or two exploring, take to the road again with a pretty awesome coastal drive now on the cards. The N113 follows south until you reach Marseille, for a seafront meander and fresh seafood lunch.
From here journey on the A50 past Toulon, then A8 for some rest on the sandy shores of La Croix-Valmer, before arriving in the buzzing city of Cannes. Make a quick stop-off for some beach dwelling and celebrity spotting before finally making your way to Nice.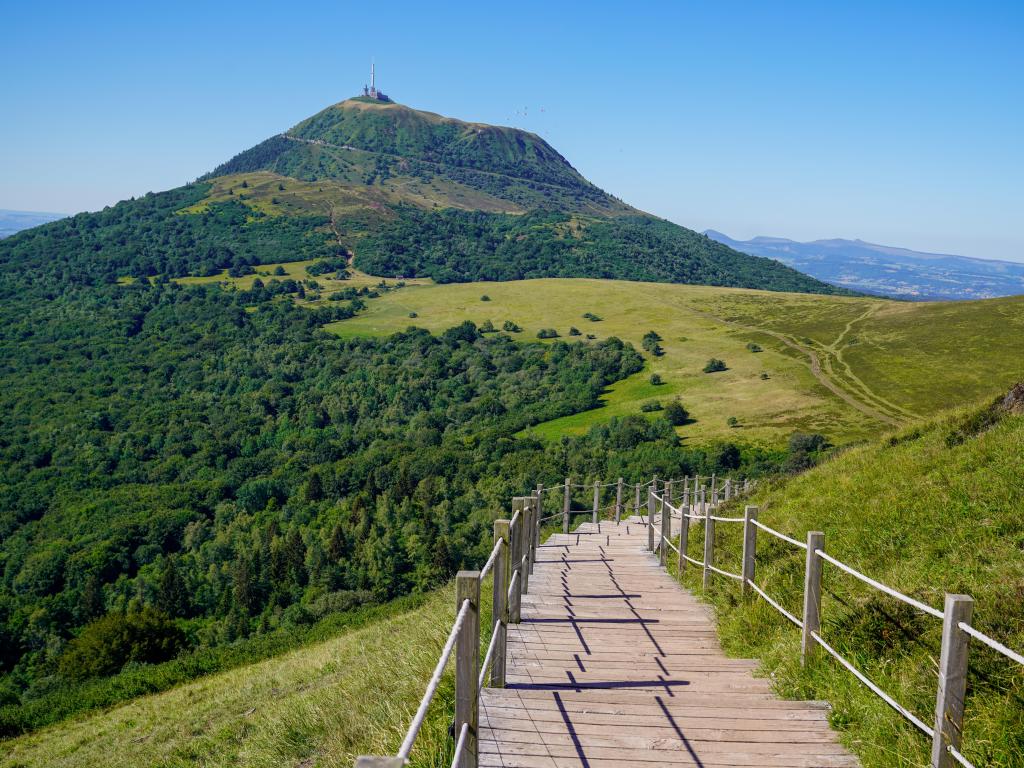 The Bordeaux Route
Head south from Paris along the A10 until you reach the beautiful historic region of Orléans. Continue along this road past the beautiful area of Tours, and Parc naturel régional Loire-Anjou-Touraine.
After exploring the valleys and vineyards continue on the A10 to Poitiers, which then leads into the N248 and N11 to the pretty port of La Rochelle. A great spot for a waterfront wander and refreshments.
Heading south along the A837 and then A10 takes you to Bordeaux, where you can enjoy world-renowned vineyards and views. A stopover allows more time for a wine tour, or two.
After Bordeaux travel along the A62 past Montauban, a quaint medieval town, and Toulouse. Before the A61 takes you to the impressive Historic Fortified City of Carcassonne. Feel like you are taking a step back in time when you arrive.
From Narbonne, which follows Carcassonne, the A9 takes you down to Perpignan, with pretty parklands and viewpoints to enjoy along the way.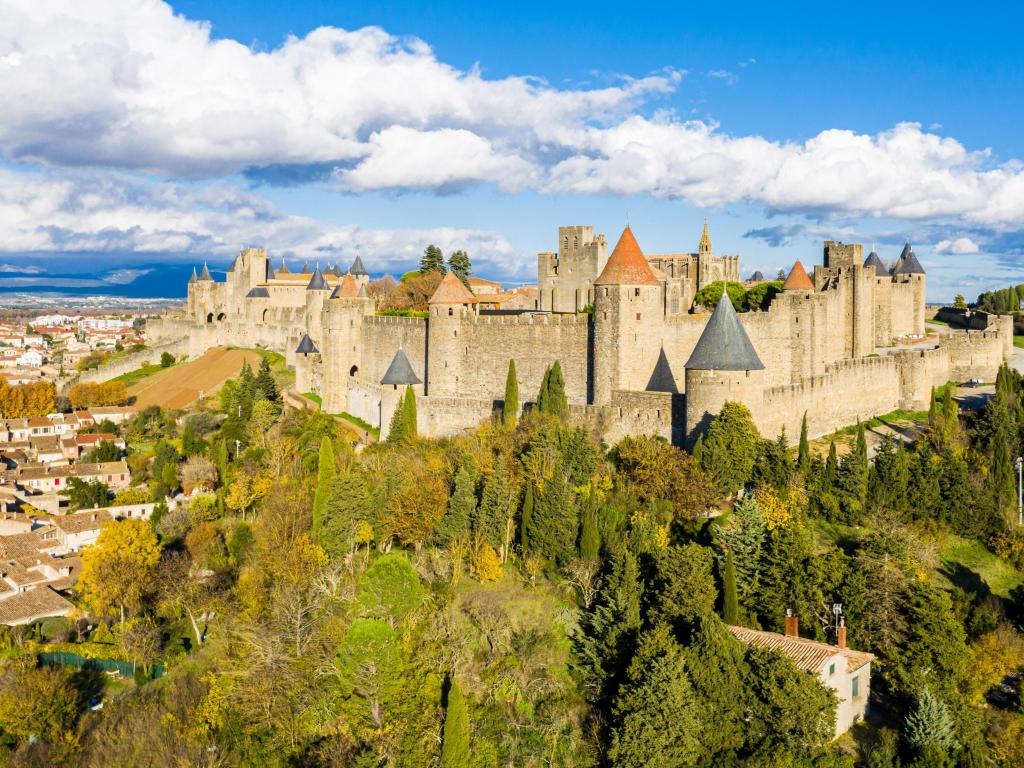 Best places to stop between Paris and South of France
Both the great routes we suggest from Paris to South of France have tons to see and do along the way. No matter whichever route you choose, how about staying a little longer in some of our favorite places on the way?
Marvel at the historic sights of Montpellier
On the Nice Route, we suggest stopping overnight at Montpellier, which is just over halfway into the journey. An exciting and interesting city, with plenty of historic landmarks to enjoy.
While in the city, visit Place de la Comedie in the southeast area, which is regarded as one of the most beautiful, and largest, squares to admire at. Also known as "l'oeuf" (the Egg) given its shape.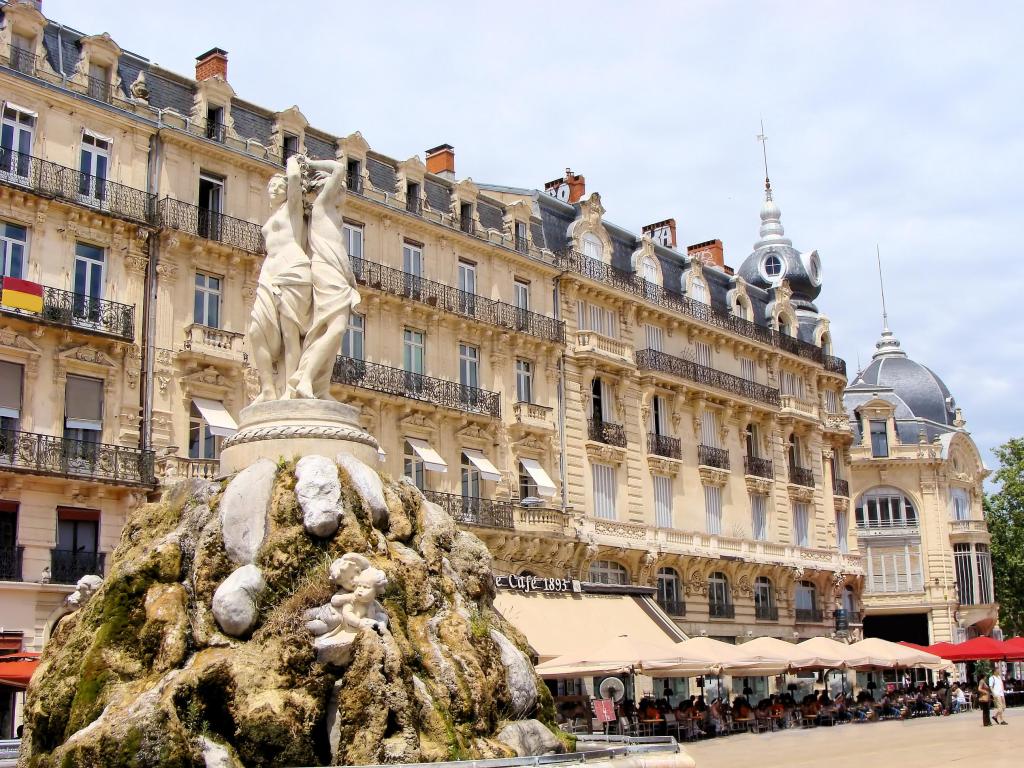 Make sure to visit Musée Fabre, one of the biggest museums in France, to marvel at the hundreds of artworks here. Before heading to Cathedrale St. Pierre, a prominent 20th-century landmark with beautiful architecture.
No visit to Montpellier is complete without a visit to Planet Ocean. This aquarium is packed with interesting underwater life, including sharks and penguins.
Ready to hit the hay? Then look no further than Hotel Golden Tulip Montpellier Center St Roch, which is in the heart of Montpellier, close to many attractions. Sit back and relax on the pretty terrace, with a pre-dinner cocktail while admiring the cityscape. Or head to the stunning spa for a relaxing massage.
A delicious breakfast is guaranteed before you take a stroll to one of the many local landmarks including Fabre Museum, Peyrou Triumphal Arch (Porte du Peyrou), and Place de la Comédie.
Enjoy world-class wines, vineyards and views in Bordeaux
Located around halfway from Paris to South of France along the Bordeaux Route, the city that gives this route its name is the perfect place for a stop off. Known worldwide for its excellent wine, a vineyard visit is top of the agenda in Bordeaux.
There are so many incredible wineries. Cité du Vin is a good place to head to understand more about the history before taking a tour. Afterwards head to Quais de Bordeaux, where the waterfront is surrounded by beautiful gardens and buildings, and the impressive Porte Cailhau is a sight to behold.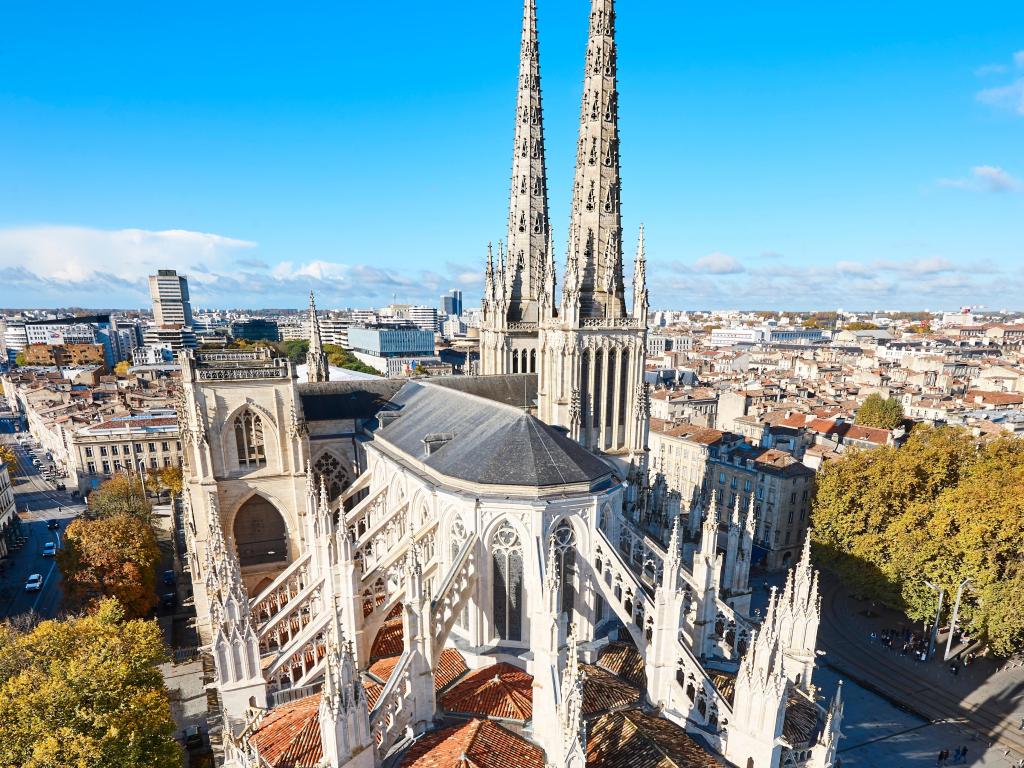 The stunning 11th Century church Cathedrale Saint-Andre is also a highlight, where the sculptures and stained glass windows are a real talking point.
After a busy time exploring, there is no better hotel to head to than Hotel des Quinconces Bordeaux Center. This 5-star hotel really is something else. Plenty of rooms also have private balconies to enjoy the view in private.
This hotel has sublime outdoor areas to relax in or enjoy an evening cocktail or meal. A delicious breakfast each morning will kick off your day in style, but if you fancy something different there are heaps of dining choices right on the doorstep.
Many of the top attractions just couldn't be closer, such as Gallien Palace, CAPC Musee d'Art Contemporain and Esplanade des Quinconces.
Where to stay when you reach South of France
In the heart of the city center, the Hôtel Apollinaire Nice is super close to top sights and beaches, making this hotel ideal as a base for exploring.
The fabulous modern décor and stylish rooms add a touch of luxury to your stay, with an enticing buffet breakfast served in the restaurant – or your room!
This stop-off is ideal so you can explore all this beautiful area has to offer.
Things to see on a road trip from Paris to South of France
Both Routes between Paris and South of France could be completed within a day or two but we suggest taking a little more time to be able to take it all in.
We've pulled together our recommended places to visit below. With so much to see this should help you know where to start!
The Nice Route
Cathedrale De Bourges - When you arrive in Bourges, the Cathedral is a must-see. The stunning gothic architecture is admired world-wide.
Puy-de-Dome Volcano - Don't miss the chance to head to this incredible sight when you pass through Clermont-Ferrand. An epic train ride takes you to the top, where you are met with breath-taking views.
Old Montpellier – Head to one of the historic sites such as Promenade de Peyrou, before wandering the pretty streets of old town.
Arles Amphithéâtre - Full of history, take a self-guided tour to understand more about the history of this incredible Roman fixture.
Réserve naturelle des coussoules de Crau - Take a stroll around this beautiful park. A great spot for a leg stretch and lunch.
Marseille Old Port – A historic area packed with history. The fish market here is renowned and a great place to enjoy fresh seafood along the waterfront.
La Croix-Valmer - Sit back and relax on one of the beautiful beaches. A beauty spot perfect for a paddle in the afternoon in this sheltered bay.
Cannes - Known around the world for impressive yachts and film, a stroll along La Croisette by the seafront is a great place to start exploring.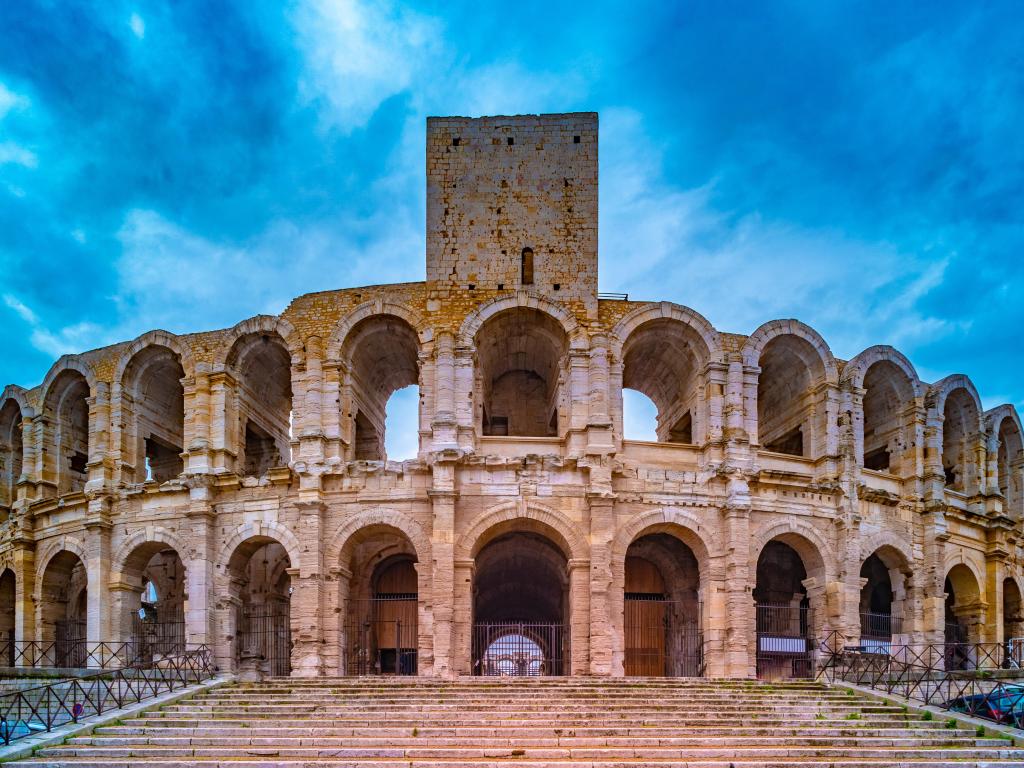 The Bordeaux Route
Tours - Known as Le Jardin de la France. After a busy morning exploring, head to one of the many vineyards around for a drink or two.
Parc naturel régional Loire-Anjou-Touraine – The area is vast but there are many trails you can take to hike this pretty landscape.
Poitiers - The Jardin des Plantes botanical garden is teeming with interesting plants and displays – as well as a zoo! So much to see during a day spent at this beautiful landmark.
La Rochelle - A visit to La Rochelle Vieux Port is teeming with historic buildings, interesting surroundings and places to dine.
Bordeaux - World-renowned for vineyards and views, head out on one of many wine tours. Château Mouton Rothschild is one of the most well-known, but there are so many to choose from!
Montauban - This medieval town is packed with interesting sights including the stone Montauban Cathedral which sits in the city center.
Toulouse The Capitole - The Capitole sits behind a lively square, with the busy town hall and theatre popular destinations. Catch an evening show at the impressive Théâtre du Capitole.
Historic Fortified City of Carcassonne - Wander the cobbled streets and feel like you are stepping back in time in the historic and fascinating city of Carcassonne.
Donjon Gilles Aycelin - Head up the bell tower for the best panoramic views across Narbonne.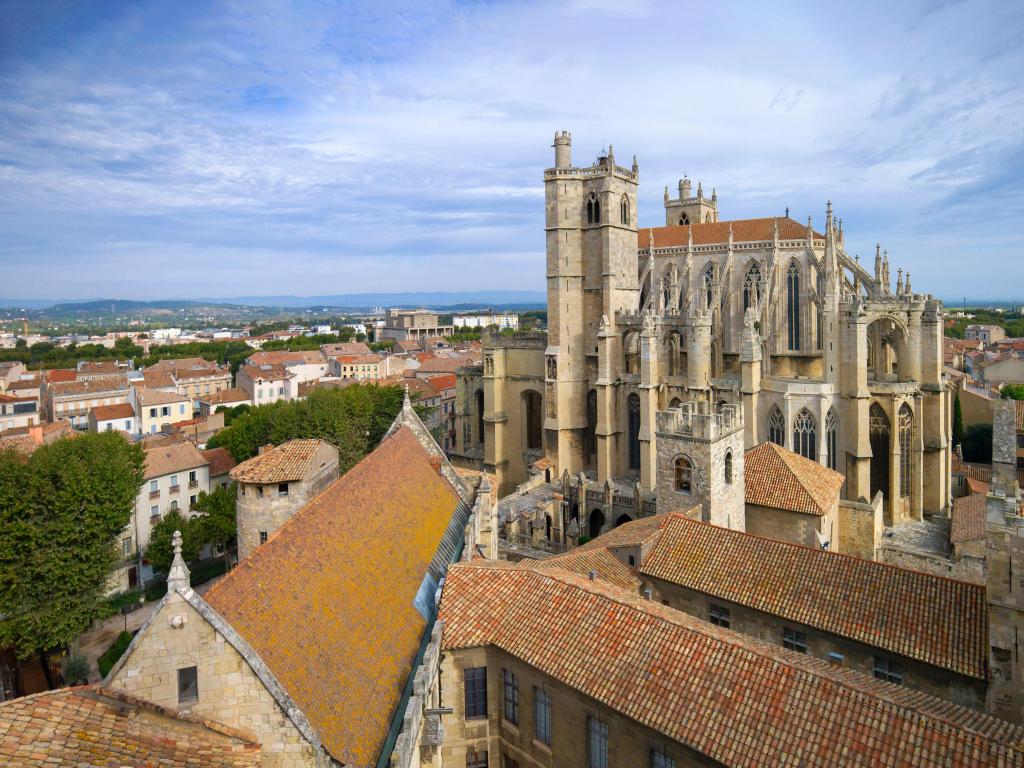 Both Routes
Parc naturel régional de la Haute Vallée de Chevreuse - Take one of the many trails across the expansive grounds. The option of a horse ride to see more of what is on offer is a great option - and easy on the legs!
Musée du Théâtre Forain - You can't visit Artenay without a trip to this theatre museum. This center has hundreds of years of history to tell with the displays of clothes and theatre production items.
Orléans - Based in Loire Valley, a World Heritage Site, this beautiful area is steeped with history, including the celebration of the life of Joan of Arc.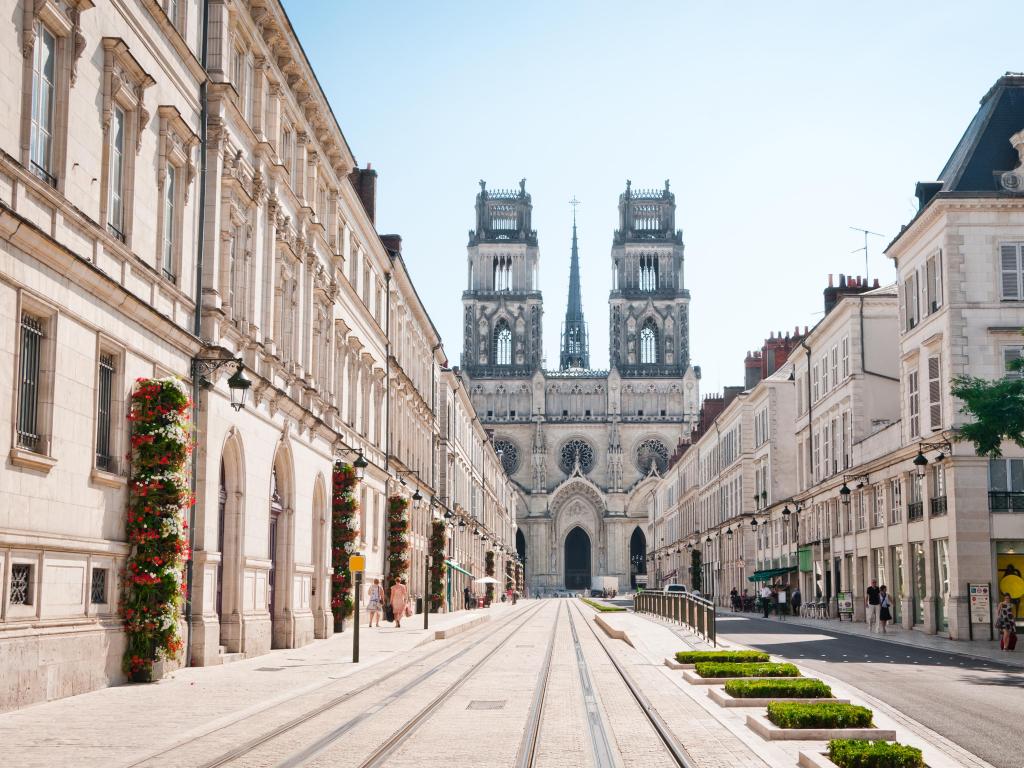 Best time to go on a road trip from Paris to South of France
South of France is particularly popular in the summer months, although with so much to see and do, it is definitely a place to consider all year round.
Average daily summer temperatures can range between 23 degrees and 30 degrees Celsius. It can be a little humid during peak Summer, and busier as so many festivals also take place, so make sure to prebook to get the best deals.
Spring and fall are more likely to see fewer crowds and accommodation is less of a premium. The weather is typically nice and sunny, although a beach swim might be off the cards for now.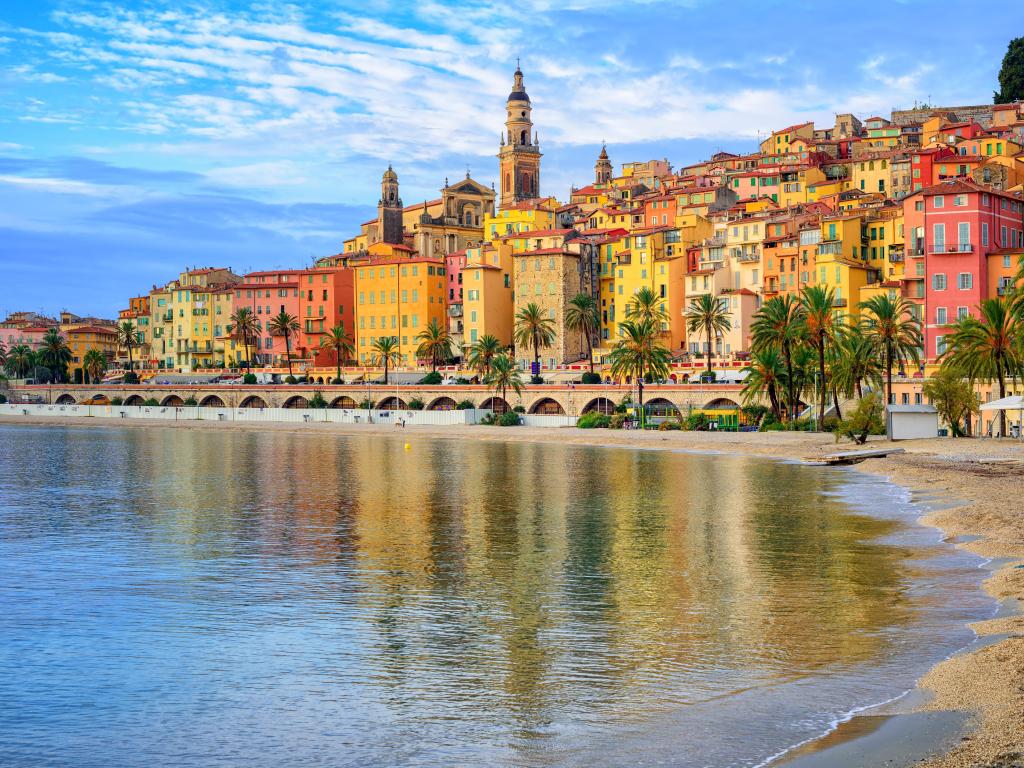 During the winter Christmas markets are popular but fewer visits overall. Outside of the main cities, many towns may be so quiet attractions and restaurants close, so plan ahead to avoid disappointment.
The south of France has many well-known festivals taking place each year, with many celebrating local areas, dance and music.
In February the Nice Carnival is one of the biggest carnivals worldwide and takes place over Mardi Gras. February also sees The Fête du Citron in Menton, where the celebration of lemons draws hundreds of thousands.
Montpellier is home to a three-week festival in June and July. A celebration of traditional music and dance is expected and takes place in several areas including Comedie and Le Corum.
In July on a Thursday head to the buzzing street markets in Nimes. Nimes is also a wonderful city to visit generally but arrive in July and it is extra special.
Port Camargue South France festival is an important calendar event each year in September, where bull-running through the streets to a prominent part of it, along with other activities and parties throughout this lively event.