Road trip from Paris to Nice
Daydreaming about the breathtaking countryside of France, driving through lavender-studded Provence and meandering to the azure Mediterranean Coast? The road trip from the romantic city of Paris to beautiful and sunny Nice on the stunning French Riviera is the adventure you have been dreaming of!
The 1,370 km road trip from Paris to Nice will take 16 hours to drive. You will get to visit Toulouse, Carcassonne, Marseilles, Saint-Tropez, Cannes, or head to the Alps via Dijon, Geneva, Chamonix, Duingt, Grenoble and Mercantour National Park.
You can explore the beautiful Cote d'Azur or the majestic Alps on this epic journey from Paris to Nice. Read on to find out about the best routes to follow, amazing places to stop, awe-inspiring things to see and the best time to make this road trip.
How far is Nice from Paris, and how long will the road trip take?
Comparison of road trip route options between Paris and Nice

| Route | Distance | Driving Time |
| --- | --- | --- |
| The Cote d'Azur Route | 1,370 km | 16 hours |
| The Alps Route | 1,420 km | 16 hours 30 minutes |
If you choose to drive close to Cote d'Azur, the journey will take 16 hours without accounting for any stops or detours and the drive will cover 1,370 km.
The Alps Route will take a similar time to complete at 16 hours and 30 minutes, and you will be traveling a 1,420 km distance.
Both of our suggested routes have fantastic places to stop, unforgettable sights to take in and delicious food to sample, so we would suggest taking at least five days to enjoy all this road trip has to offer fully.
Best road trip route from Paris to Nice
Our suggested routes are very different from one another, and you will get to see beautiful cities, historic towns and villages and inspiring landscapes on both. The best route for you will depend on the places you'd like to visit en route,
The Cote d'Azur Route is the slightly shorter one of our two favorite drives, however, that does not mean that it doesn't pack a punch! You will get to see beautiful basilicas, churches, the picturesque citadel of Carcassonne as well as many historic monuments through quaint towns of France.
You will also have the opportunity to visit some of the famous vineyards of France as this region is famous for its grapes. This route will then take you through Marseille, Provence and to the glamorous cities of Saint-Tropez and Cannes before you reach your destination.
The Alps Route will take you inland through the scenic landscapes of France while taking a quick visit to Switzerland and the Alps. However, if you are short on time, you can shorten this route by heading to Annecy directly after leaving Geneva, therefore skipping Chamonix.
You will also be treated with the opportunity to discover the Mediterranean Coast on this route nearing the end of your journey.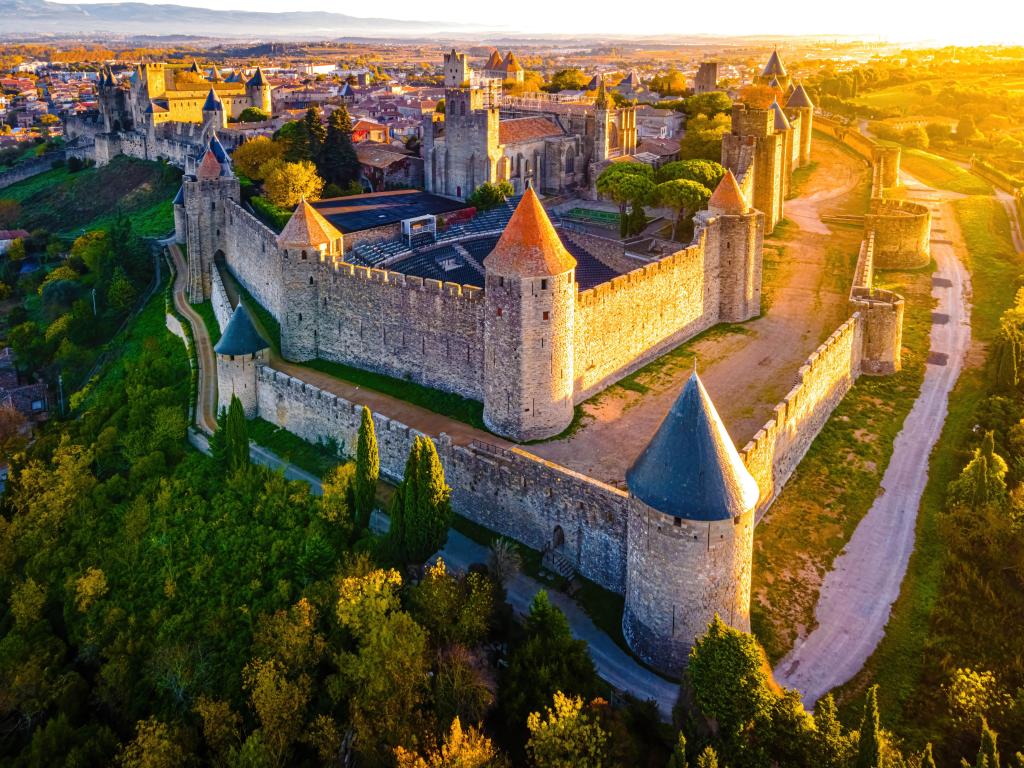 The Cote d'Azur Route
Take A10 out of the Greater Paris area and head to Orleans. Keep heading south past Parc naturel régional de la Brenne, which is a stunning park to visit to stretch your legs.
You will soon reach Limoges, famous for its local cuisine, and continue heading south towards Toulouse past Parc naturel régional et Géoparc des Causses.
Follow A61 to the beautiful citadel of Carcassonne and you will soon reach the glistening Mediterranean Coast. Drive though Montpellier to Nimes and Arles. Here you can make detours to visit the sights of Parc naturel régional de Camargue and Parc naturel régional des Alpilles.
On the last leg of your trip, following the highway through Marseille, Aix-en-Provence, Saint-Tropes and Cannes will take you to your destination in Nice.
The Alps Route
Take A6 out of Paris and drive through Parc Naturel Régional du Gâtinais Français. Head southeast past Chablis and to Dijon. Following A40 you will cross the border from France to Switzerland and arrive in the beautiful city of Geneva.
After your visit, cross the border and re-enter France and follow the highway to Chamonix on the foothills of the awe-inspiring Mont Blanc. Your journey will take you to Duingt and Maison du Parc naturel régional du Massif.
Take in the views of the Chartreuse Mountains and drive through Grenoble. Here you can visit Parc naturel régional du Vercors, famous for its breathtaking views.
Head south towards the coast and soon you will arrive in Château-Arnoux-Saint-Auban. From here, head southeast and follow the signs for Nice.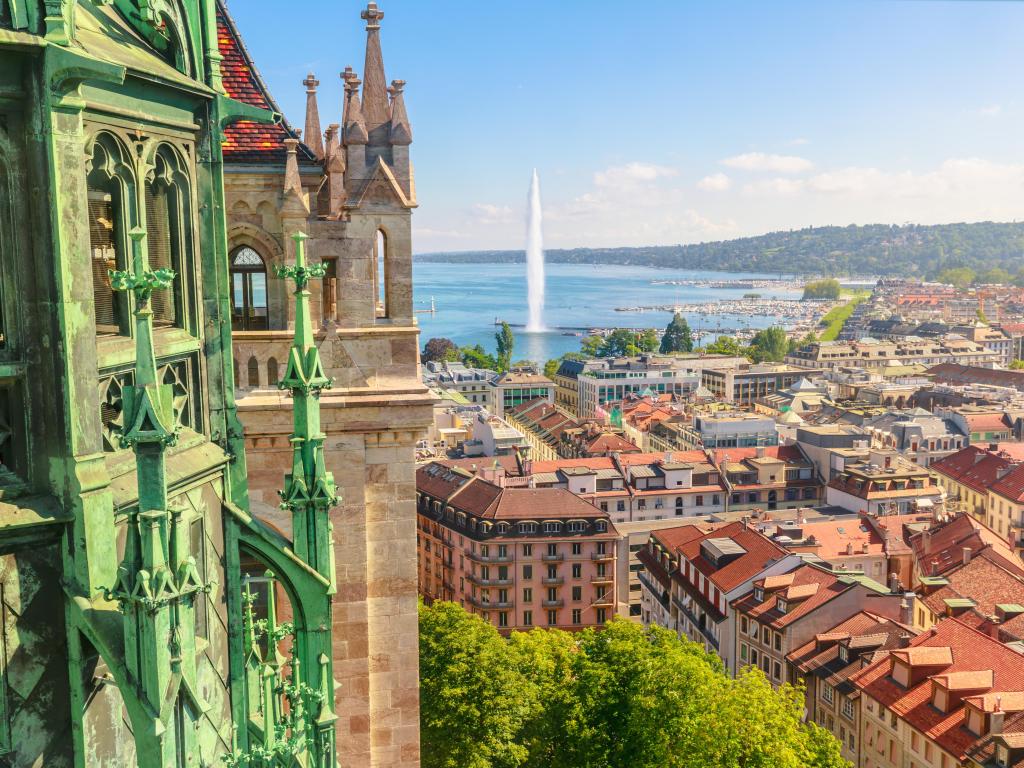 Best places to stop between Paris and Nice
You will be spoilt for choice on this road trip of a lifetime with the best places for an overnight stay. It is hard to go wrong with so many historic and iconic cities to choose from. To make it easier for you, we have listed some of our ultimate favorites below!
Marvel at the architecture of Toulouse
If you are following the Cote d'Azur Route, Toulouse sits almost halfway on this journey, about 9 hours from the destination. A very picturesque city which offers incredible cuisine that must be tried, Toulouse is known as the pink town, "La Ville Rose" due to its many buildings characterized by pinkish bricks,
Toulouse is a city brimming with art, history, and culture. During your visit, The Basilica of Saint-Sernin is a must-visit. Built between 1080 and 1120, this Romanesque-style building is now a UNESCO World Heritage Site.
If you are an architecture enthusiast, Jacobins Covent is also a great place to check out. This Roman Catholic Church is famous for being a great example of gothic architecture in southern France.
You can also opt to explore some of the beautiful outdoor attractions of Toulouse, such as the beautifully manicured Jardin Japonais Pierre Baudis.
There are many hotel options in this beautiful city, but none of them quite come close to Appart-Hôtel Clément Ader. Located in the heart of the city center, you couldn't be better positioned to explore Toulouse on foot.
In this modern and chic aparthotel, you can stay in contemporary studios or full-size apartments for the ultimate comfort. If you are looking for some luxury and relaxation, look no further as this elegant hotel as an outdoor heated swimming pool and sauna.
You will be within walking distance of many attractions, restaurants, and cafes, but if you are looking to stay in and reenergize for the next part of your trip, you can enjoy a drink at the lounge bar.
Astonishing views of the Alps in Chamonix
You will arrive at Chamonix around the halfway mark on the Alps Route. A great destination to get a taste of the mountains in Europe, Chamonix is incredibly beautiful with the stunning panoramic landscapes it offers.
Chamonix is known as one of the mountain capitals of the world and is a popular destination for skiers and snowboarders from all over the world. One of the world's top ski resorts, this destination is popular in summer and winter.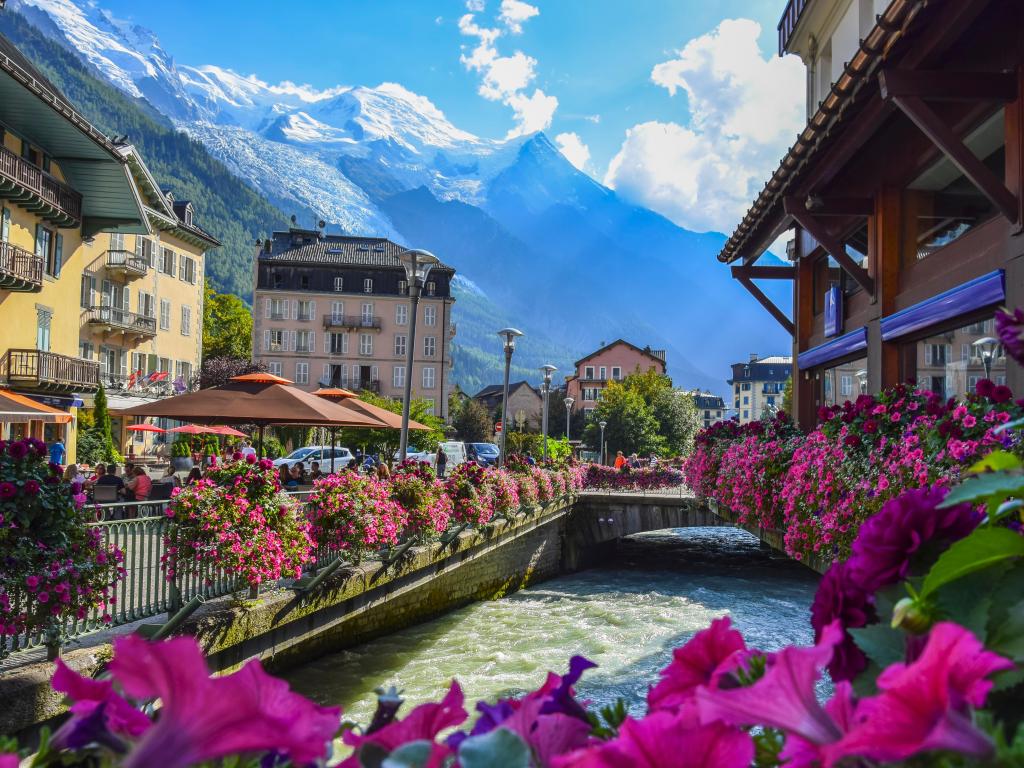 If you are looking for more recreational opportunities in this Alpine region, you can also visit Mont Blanc to enjoy hiking, climbing, or skiing. If you aren't an activity, go-er, be sure to take incredible pictures of the highest mountain in the Alps that borders France, Italy, and Switzerland.
Not only an outdoors destination, but Chamonix is also home to many museums. Visit the Chamonix Alpine Museum, which used to be a palace. This building is now a museum housing a range of exhibits covering the geological and human history of Chamonix.
Located at the foot of Mont Blanc and in the heart of the Alpine mountains, Grand Hôtel des Alpes is a 5-star resort housed in a stunning building adorned with elegant woodwork, a classy lounge with views of Massif de Mont Blanc.
Upon arrival, you can relax by the stunning fireplace or enjoy a drink at the bar. Alternatively, you can enjoy the beautiful outdoor terrace if you visit in summer and take in the mountain views.
Upon request, this hotel offers a free shuttle service to the Chamonix ski slopes. After enjoying a day in the snow, your apres ski experience will be waiting for you at the accommodation with a fabulous swimming pool and sauna.
Where to stay when you reach Nice
Located within the close proximity of Plage Beau Rivage, Hôtel Nice Azur Riviera has everything that you might need after a long road trip. You will also be located nearby Plage du Centenaire and the city center during your stay and can explore this stunning coastal city on foot.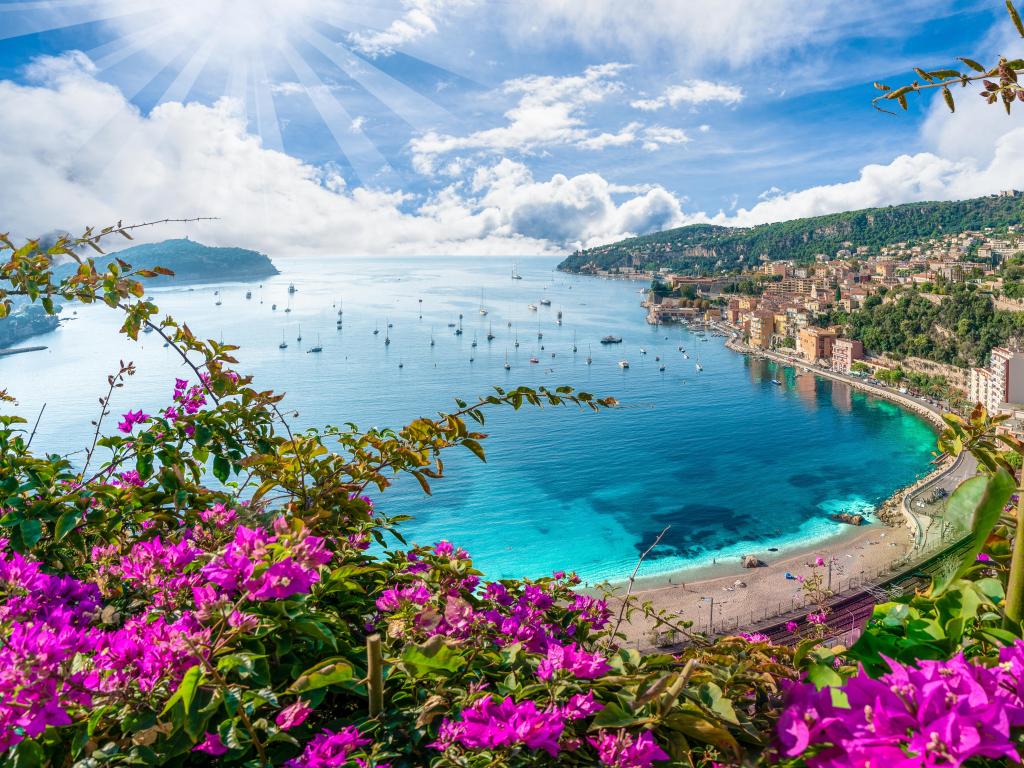 You will find beautifully appointed rooms with coastal vibes in this beautiful hotel. Make sure to enjoy the delicious buffet breakfast before heading out to sightsee. You will find Avenue Jean Medecin, Plage du Ruhl and Nice-Ville Train Station within easy reach.
If you are a lover of fine arts, art history, or are a curious traveler looking to learn more about French artists, Marc Chagall National Museum is located nearby and is well worth a visit!
Things to see on a road trip from Paris to Nice
With so many beautiful cities, parks and landmarks you will drive past on either route, this road trip from Paris to Nice is dotted with one amazing sight after another. To make your planning easier, here are our top suggestions as to what to see on your adventure.
The Cote d'Azur Route
Palace of Versailles - After leaving Paris, make sure to stop at this famous palace which was once home to Louis XV and Marie Antoinette. You can rent a bike or walk around the estate.
Cathedrale Sainte-Croix Orleans, Orleans - Visit this gothic cathedral that is associated with the famed Joan of Arc, the perfect place to visit for history buffs!
Bourges Cathedral, Bourges - Take a tour through this incredible monument visiting the Butter Tower and the tomb of Jean de Berry.
Place Nationale, Montauban - This restored pedestrian plaza is an incredible place to view the medieval origins of the city and stop at many restaurant terraces for a well-deserved break from driving.
Les Abattoirs, Toulouse - Museum that combines a regional collection of modern and contemporary art, make sure to visit here during your stay in Toulouse.
Carcassonne City - This citadel is characterized by 52 towers and walls surrounding the entire property, and is home to shops, restaurants and many unique photo opportunities.
Saint-Nazaire-et-Saint-Celse Cathedral, Beziers - This roman catholic church was built in the 13th century. And offers amazing views of Languedoc.
Marseille - Marseille is a beautiful city known for its old port neighborhood. Visit the Notre Dame de la Garde, the Museum of Civilizations or enjoy the Longchamp palace.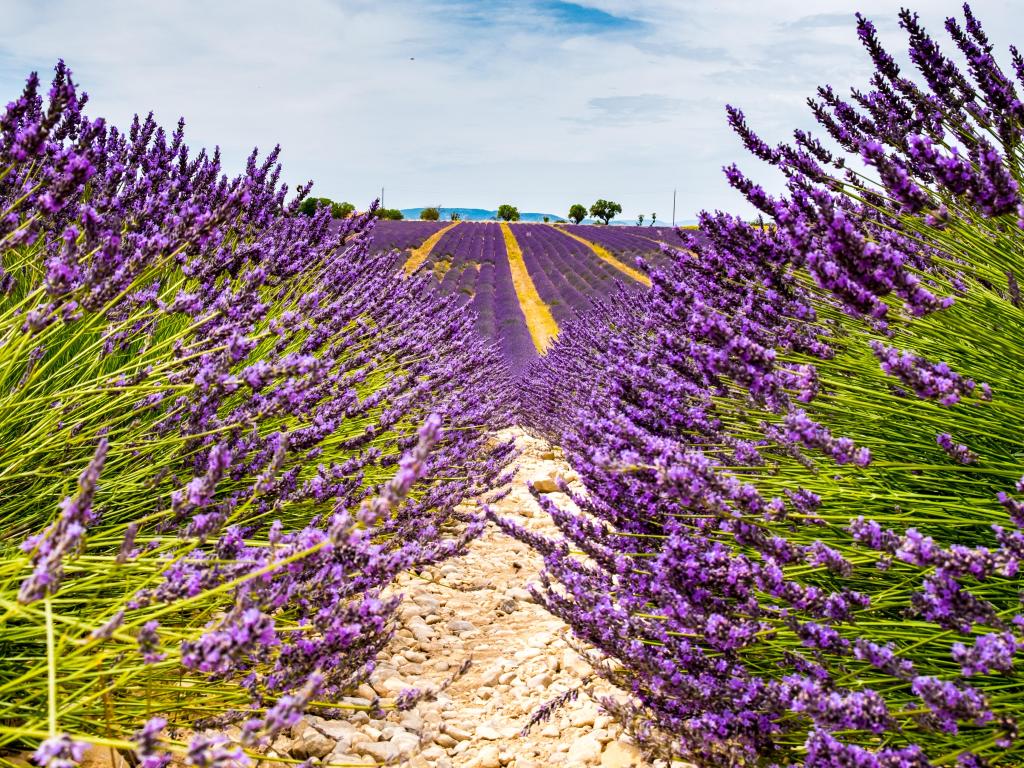 The Alps Route
The Owl of Dijon, Dijon - This unique stone owl carved into a church's exterior is believed to grant wishes when stroked. Wander around the city to find other attractions that are worth visiting and taste the area's famous mustard firsthand in a bistro.
Rock of Solutré, Solutre-Pouilly - Walk up this towering limestone rock in the France countryside and take in the sweeping area views.
The Geneva Water Fountain - Also popularly known as the Jet d'Eau, this is one of the city's most famous landmarks and is highly recognizable from pictures.
Abbaye d'Hautecombe, Saint-Pierre-de-Curtille - This monastery is located right along a lake and has served as a burial place for the members of the House of Savoy.
Mont Blanc, Chamonix - One of the highest mountains in the Alps, is a must-see while visiting the beautiful mountainous areas of France.
Le Palais de l'Île Annecy - Annecy is known for being a beautiful lakeside town in the French Alps but is also home to this museum th12th-century in a 12th century island prison.
The Chartreuse Mountains - Home to a monk monastery, the Chartreuse Mountains provide exceptional landscapes and are also recognized for being an influence on the famous, secretive chartreuse liqueur.
Grenoble Bastille Cable Car, Grenoble - Get a bird's eye view of the surrounding valley and mountain landscape.
Avignon Bridge, Avignon - This medieval bridge used to cross this river in southern France but was destroyed and only 4 arches survived.
Pont du Gard - The tallest Roman aqueduct bridge built in the first century AD is a historical landmark in France that will leave you astonished with its majesty.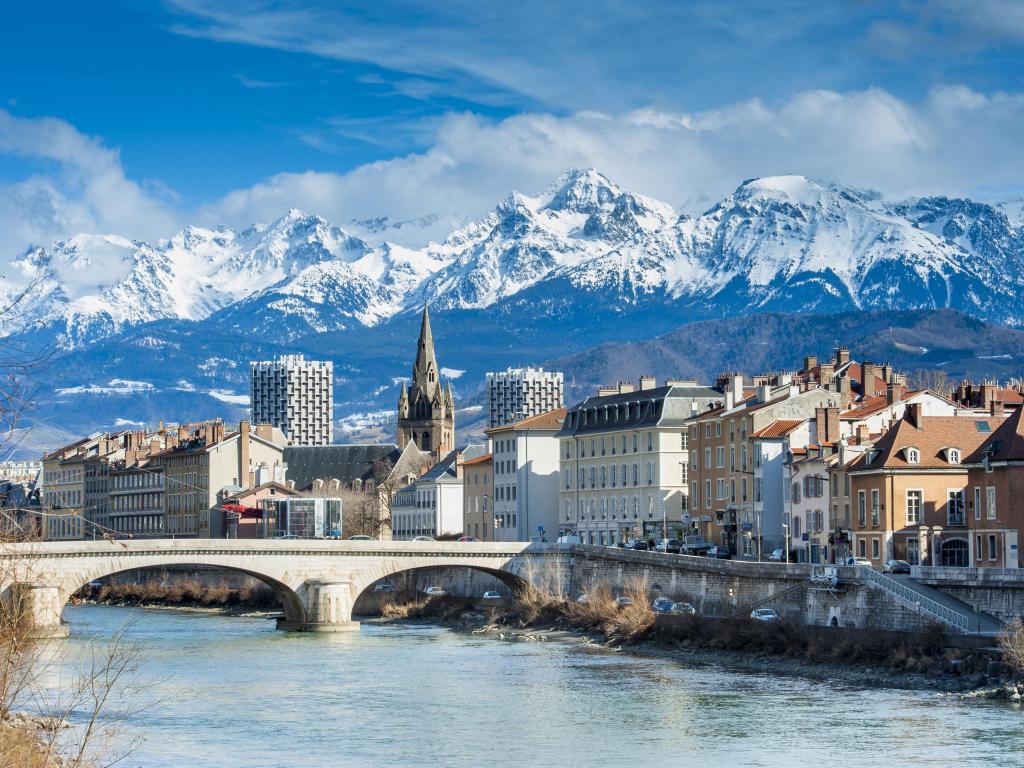 Both Routes
Ornithological Park of Pont de Gau, Saintes-Maries-de-la-Mer - This habitat is home to many pink flamingos and herons and offers a unique stop along the southern coast.
Calanques National Park - Stop to visit this coastal landscape and enjoy the many cliffs and breathtaking scenery.
Téléphérique du Faron, Toulon - Unique to the south of France, take this cable car along Mount Faron, taking you 584 meters above sea level.
Massif de L'esterel, Frejus - This small volcanic mountain range offers many trails to hikers and cyclists while providing beautiful seaside views.
Promenade de la Croisette, Cannes - Known for the Cannes Film Festival, take a walk along this boulevard and visit the many shops and restaurants that line the road.
Saint Paul de Vence - This commune in the Cote d'Azur region of France is the oldest medieval town on the French Riviera.
Mercantour National Park - Visit this spectacular park where you can find an abundance of valleys, mountains, and waterways. Be sure to visit the Verdon Gorge while in the park.
Best time to go on a road trip from Paris to Nice
Nice is a year-round destination and this road trip can be enjoyed any season of the year depending on your interests. While spring, summer and fall are the popular time to visit, winter brings in many travelers to the Alps for ski season.
Weather during summer is beautiful as France has warm to hot and dry summers depending on if you are, in the mountains or along the coastline, so the weather you will experience will depend on which route you choose to follow.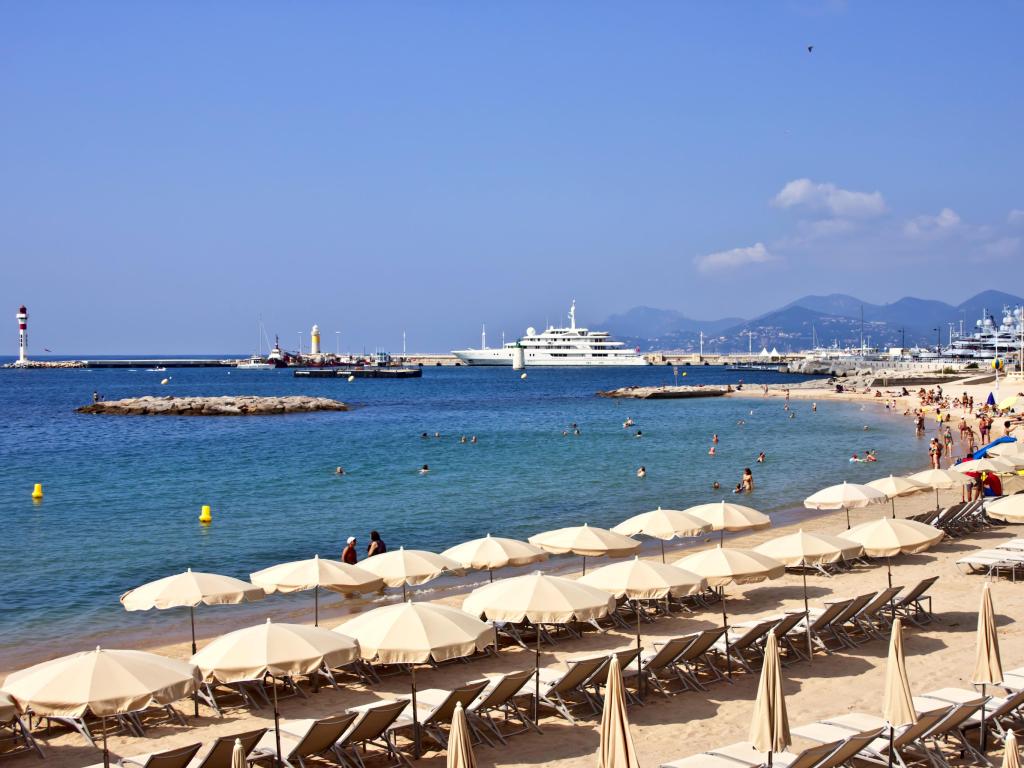 Daily temperatures are usually between 25 to 30 degrees Celsius during the warmer months. While the weather makes the beaches more enjoyable, June and July are considered high season and usually bring in more tourists and it gets a little more expensive to visit.
Depending on the region, winters can be cold and snowy, especially in the mountains, while mild and dry along the Mediterranean Coast. Temperatures often range from 0 to 10 degrees Celsius in winter.
The Alps can generally be busier during the winter season as it brings many people in for ski season, thus resorts will be more expensive.
Spring and fall are considered the best times to visit as there are usually fewer crowds and prices are more reasonable. Spring brings in some rain but it is often quite pleasant weather and the flowers of Provence will leave you in awe during this season.
In fall, the days are still long but not as hot and humid as in summer. Temperatures will range between 13 to 20 degrees Celsius during these months. If you'd like to see the beautiful colors of trees as they change into gold, auburn and fiery red, fall is the time to visit.
Nice is known for hosting the Carnival in Nice which is one of the largest winter events along the Cote D'Azur. This is a two-week event hosted during February and brings in over a million visitors to Nice every year.
Nice's neighbor Cannes is famous for hosting the Cannes Film Festival in May. This event will also bring many visitors to the Mediterranean Coast.