Road Trip from South Carolina to Orlando, Florida
Are you looking for an adventure filled with antebellum history, stunning natural scenery, coastal sights and sunny beaches on your way to the world-famous theme parks of Orlando? Then this quick yet exhilarating road trip from South Carolina to Orlando, Florida is perfect for you!
This 480-mile road trip from South Carolina to Orlando, Florida takes almost 10 hours to drive through Edisto Beach, Hilton Head Island, Savannah, Forsyth Park, Jacksonville, St Augustine, Tampa, Macon, Fountain of Youth and Congaree National Park.
With entertainment around every corner, you will find yourself spending more days in Orlando than you planned. Read on for information about the best routes, key places to see, hotels to stay in and the best time to set off.
How far is Orlando, Florida from South Carolina, and how long will the road trip take?
Comparison of road trip routes between South Carolina and Orlando, Florida

| Route | Distance | Driving Time |
| --- | --- | --- |
| Coastal Route from Charleston | 480 miles | 9 hours 40 minutes |
| Inland Route from Columbia | 570 miles | 9 hours 20 minutes |
The Coastal Route from South Carolina to Orlando, Florida going through Charleston is 480 miles long and takes 9 hours and 40 minutes to cover driving along beautiful beachy views.
The Inland Route from Columbia takes 9 hours and 20 minutes, almost the same time as the Coastal Route but is a bit longer, covering 570 miles of the inland portion of the state with charming small cities.
Whichever route you end up choosing, you will feel like you can't get enough of this road trip from South Carolina to Florida, so we recommend taking at least 2 days and fully enjoying its offerings.
READ MORE - Ultimate Florida Road Trip Itinerary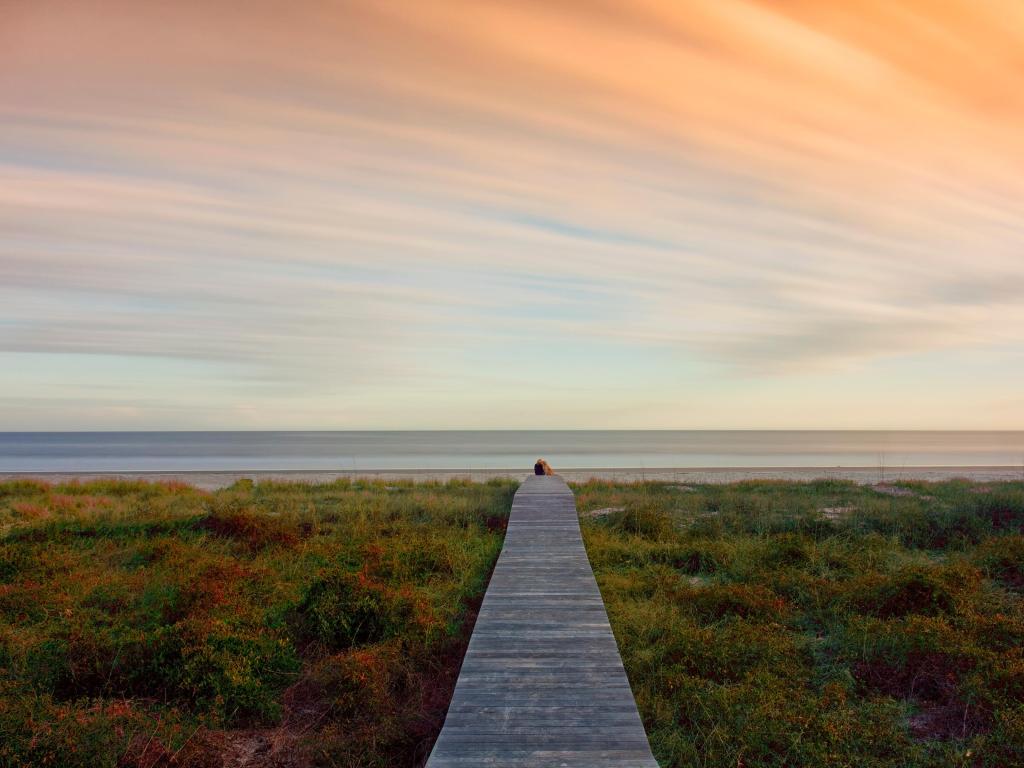 Best road trip route from South Carolina to Orlando, Florida
Even though both routes of the road trip from South Carolina to Orlando, Florida take the same time to drive, the scenery is the complete opposite. So, your choice of route is going to solely depend on the vibes you are after.
If you like to drive through nature and take frequent stops to either bask in the sun or engulf deep thoughts while staring at amazing landscapes, choose The Coastal Route from Charleston. With stops around the sunny coast and white beaches, it covers large, popular cities of Savannah and Jacksonville.
However, the roads are slower here, despite the shorter mile distance so you might want to keep that in mind.
For a faster, quaint drive, make your way through The Inland Route from Columbia which takes you through Georgia and Florida states. This route gives you the opportunity to visit small towns and experience the local history of the state.
This direct route in terms of mileage takes you through the quite towns of Augusta, Macon, Valdosta and Gainesville. You won't get to experience the stunning coastal views on this route.
How to drive from South Carolina to Orlando, Florida
The map above shows our suggestions for the best road trip routes between South Carolina to Orlando, Florida. Keep reading for detailed descriptions of both routes, where to stay on either, and the best things to do on the way.
Coastal Route from Charleston
Taking the Coastal Route on the road trip from South Carolina to Orlando, Florida, head west on Broad St from Charleston and turn left to merge onto US-17 S. Turning left onto SC-174, you will get to the epic Edisto Beach. Take a dip in the water or enjoy the breeze for a while before hitting the road again.
Follow SC-174 to US-17 S in Adams Run. Merge onto US-278 E towards Hilton Head Island. This is another opportunity to stretch your legs and take in the beauty of nature. Keep following US-278 W to Bluffton Parkway. Following beautiful scenery, continue straight onto SC-315 S to head into Savannah.
Stop here overnight and explore the vast history of this place. Once you are ready to resume your journey, get on I-16 W from Martin Luther King Jr Blvd. Follow Interstate 95 (I-95) S to W Union St in Jacksonville. You can explore this city lined with beautiful parks before heading east.
Take FL-10 E and Florida A1A S to Mulberry St in St. Augustine. Take I-4 W to E Anderson St in Orlando. Continue on E Anderson St. Drive to E South St to reach your thrilling destination of Orlando.
Check out our ultimate Florida road trip itinerary for a more expansive adventure.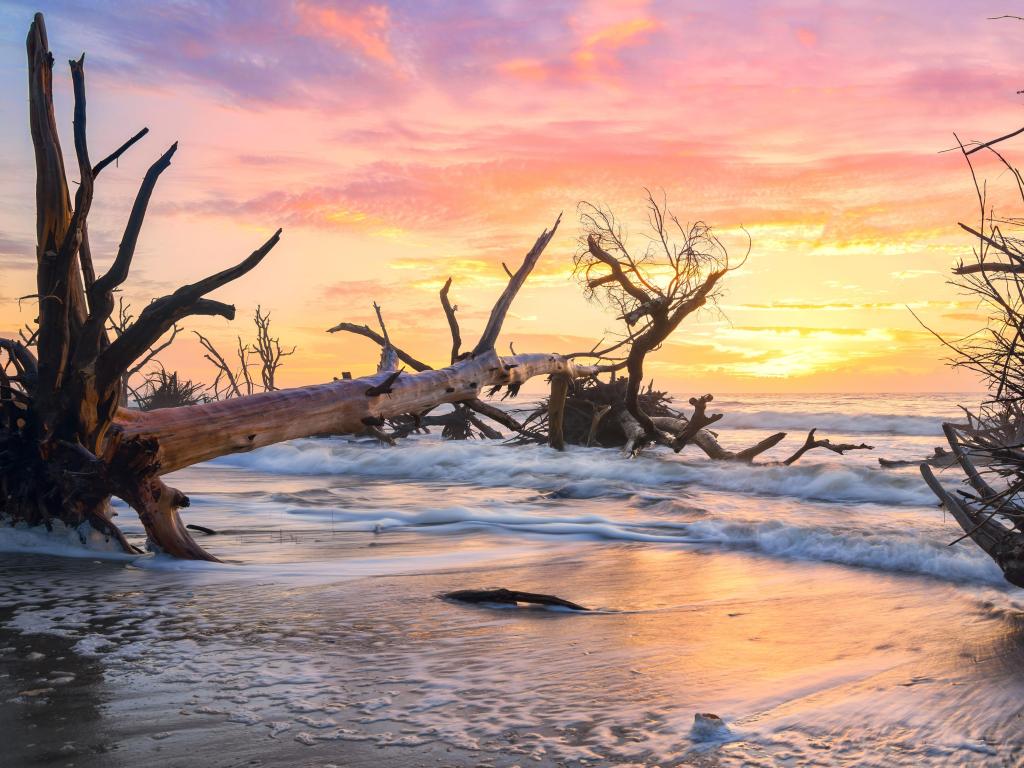 Inland Route from Columbia
If you'd rather fancy an inland route on the road trip from Columbia, South Carolina to Orlando, Florida, take Assembly St and US-76 W to I-126 W. Follow Walton Way to Hickman Rd in Augusta. From there, take Kissingbower Rd to US-278 E and continue on New St. Drive to Mulberry St in Macon.
Stop here overnight and regain your energy by exploring exciting musical heritage. Hitting the road again, get on I-75 S from Georgia Ave and Hardeman Ave. Keep following it to N Ashley St in Valdosta, the city of colorful azaleas.
Get on I-75 S from Madison Hwy and follow it to Gainesville, a city known for its preservation and beauty of natural surroundings. From there, take Florida's Turnpike to S Lucerne Cir E in Orlando.
If you wish to explore Florida further, our ultimate Florida road trip itinerary is the perfect place to start!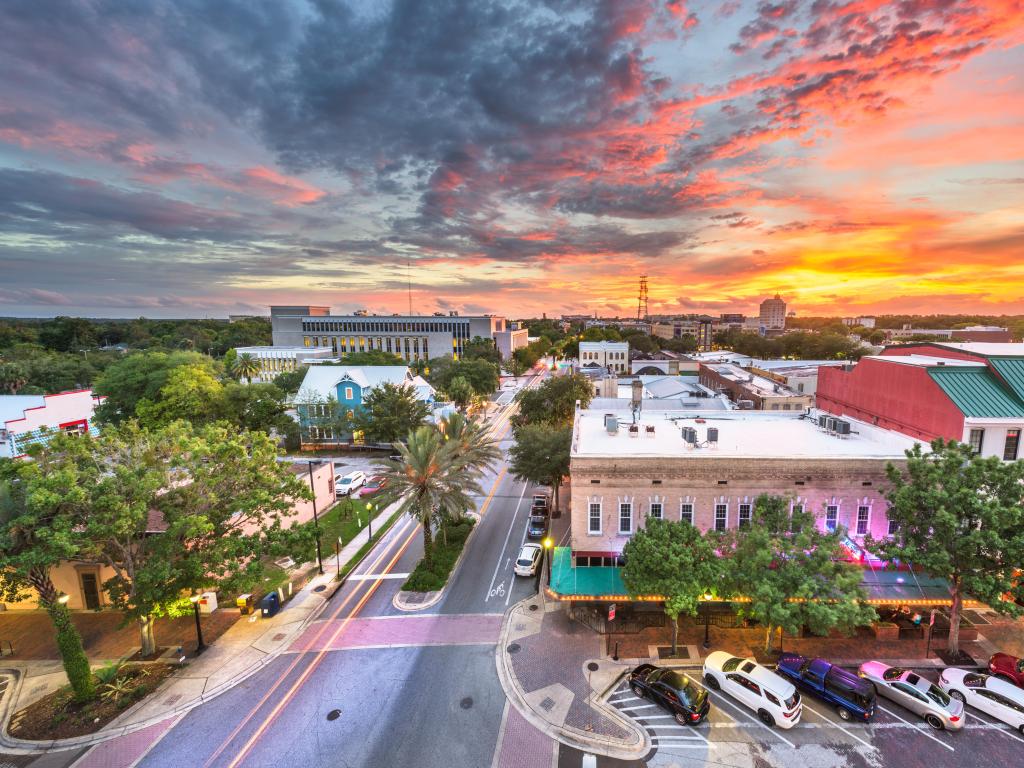 Best places to stop between South Carolina and Orlando, Florida
For a truly fulfilling experience filled with diverse attractions on this road trip from South Carolina to Orlando, Florida, you will need to make some overnight stops.
We have curated the most noteworthy places depending on the route you take and the best hotels for a comfortable night in.
Travel back in history to the antebellum period in Savannah
On the Coastal Route on this road trip from South Carolina to Florida, about 4 hours from Charleston sits the charming southern city of Savannah. Full of history, haunted stories and meals coming straight from the coast, this city is the perfect stopover location.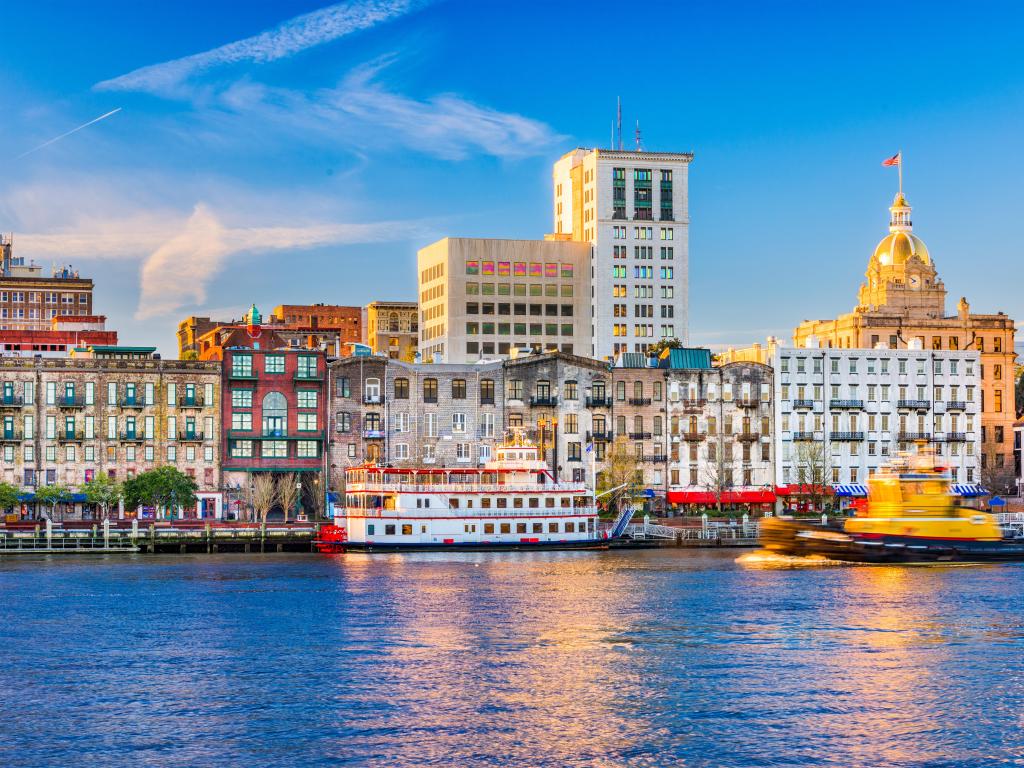 Savannah is fondly known as the "Hostess City of the South" for its warm hospitality and Southern traditions. It is famous for its well-preserved architecture and vibrant history that dates back to the antebellum period.
On your first day in Savannah, visit the Savannah Historic District which is filled with old mansions and churches. This district is perfect to walk around and experience the history of Savannah. Occupying 30 acres since 1840s, Forsyth Park is a must-see spot.
Juliette Gordon Low Birthplace was the home of the creator of Girl Scouts in the USA. Visit one of Savannah's first registered National landmarks for a glimpse of the past. Then there is the Davenport House Museum, which gives visitors an experience of what it was like living in the early 19th century.
While visiting the beautiful coastal city of Savannah, we recommend staying at River Street Inn. With 4-star services and modern comfort, this hotel is situated on the Savannah River making for stunning views and an authentic taste of France.
Guests are offered daily wine hors d'oeuvres reception with incredible dining options of fresh seafood dishes. This hotel also offers discounts at a variety of restaurants, cafes, and the Old Savannah Tour Company. The hotel's stellar location in the Historic District offers access to many popular attractions.
Lose yourself in the exciting musical heritage at Macon
After covering one-third of this road trip from South Carolina to Florida, on the Inland Route from Columbia, you will reach Macon. Having played an important role in the history of the state, this small city offers a diversity of cultures, musical history and beautiful architecture to explore.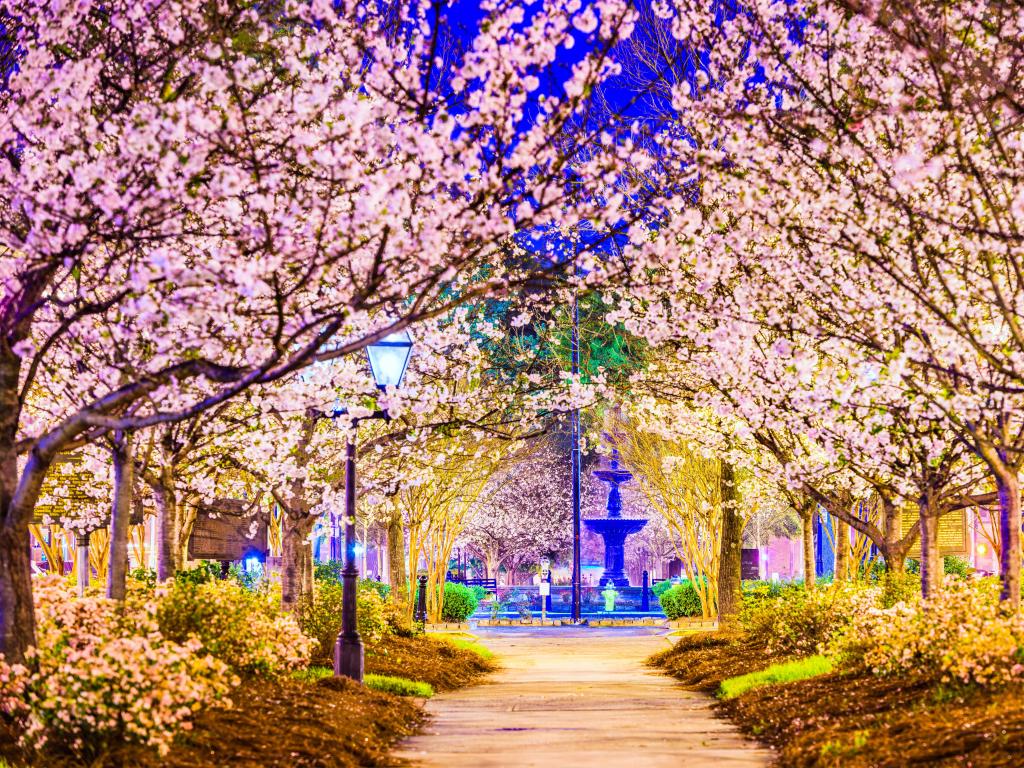 Macon is known for being the site of the magnificent temple mounds located in the Ocmulgee Mounds National Historical Park.
During your stay in Macon, you will get the chance to visit the Tubman Museum which is dedicated to the history and art of the African American culture. Georgia Music Hall of Fame is the state's official music museum dedicated to the artists who launched their careers and played a vital role in history.
We recommend staying at Burke Mansion while spending some time in Macon. This is a unique boutique bed and breakfast with Victorian-style architecture which was built in 1887 by T.C. Burke, "the Merchant Prince" of Macon. The lovely outdoor garden and terrace make for a cozy, homely stay.
You can leave your car behind in the free parking provided by the hotel and explore the small, local attractions like Tubman Museum and Grand Opera House on foot from this hotel.
Where to stay when you reach Orlando, Florida
Before you head out to set your inner thrill-seeker free on rollercoasters and mind-boggling rides after reaching Orlando in Florida, you will want to recharge at a comfortable hotel after your drive.
Our vote for accommodation goes to The Delaney Hotel. This is a unique and brand-new boutique hotel with an on-site fitness center and free parking. Located in a quaint neighborhood, it offers a contrasting experience as compared to the bustle and thrill of Orlando.
This hotel has an eatery offering New American cuisine with small plates and shareable options, perfect for a quirky, romantic stay for couples and diet-conscious people.
Located in the heart of Orlando, away from large resorts, you will be within comfortable reach of Walt Disney World Resort, Universal Studios and other theme parks.
Things to see on a road trip from South Carolina to Orlando, Florida
This short but happening road trip from South Carolina to Orlando, Florida is bustling with activity on both routes. We have compiled a list of the must-see places on both routes to prepare you for what awaits.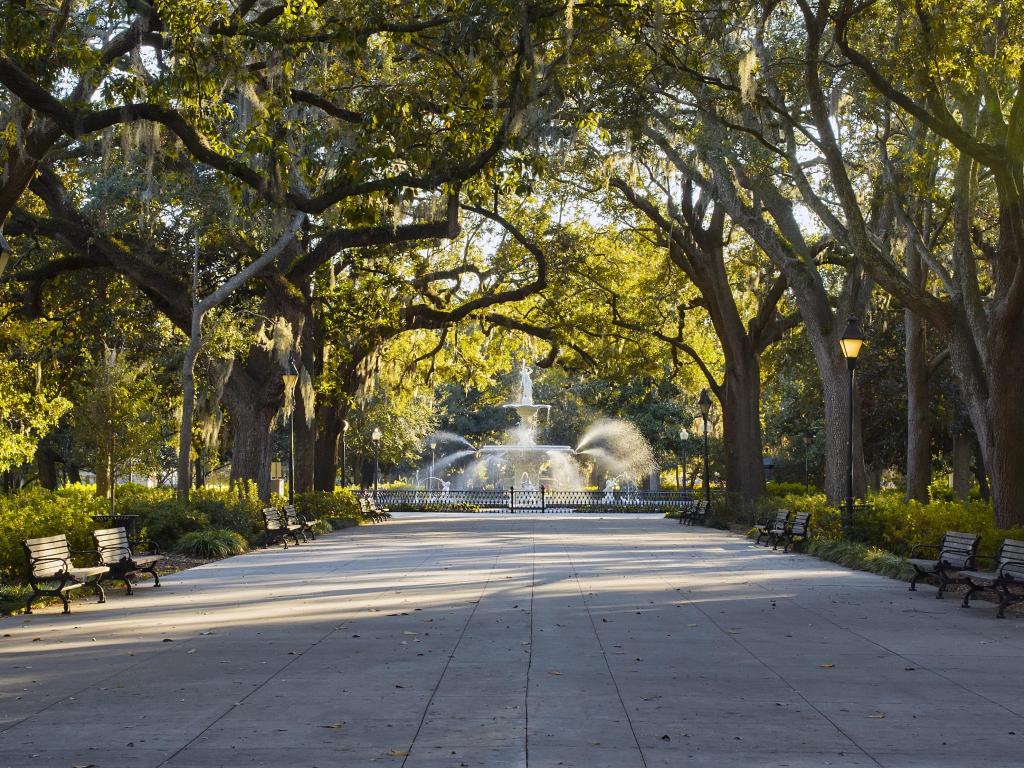 The Coastal Route from Charleston
Edisto Beach State Park – Take in the lovely ocean views while walking along the beach in this state park located on the coast.
Hilton Head Island – Enjoy a game of golf while visiting this island known for its incredible beaches.
Savannah National Wildlife Refuge – Enjoy birdwatching in this sanctuary most noted for migratory birds.
Forsyth Park, Savannah – Admire the fragrant gardens and enjoy the iconic fountain while taking a stroll through this historic park that has been standing since the 1840s.
Cummer Museum of Art and Gardens, Jacksonville – Visit this museum dedicated to Ninah Cummer, holding a large collection of ancient to modern art.
Fountain of Youth, St. Augustine – What is known to be a possible landing site of the Spanish explorers, this archaeological park is the symbol of America's first colony.
Daytona International Speedway, Daytona Beach – Perfect for car-racing enthusiasts, this racetrack has been home to NASCAR since its opening in 1959.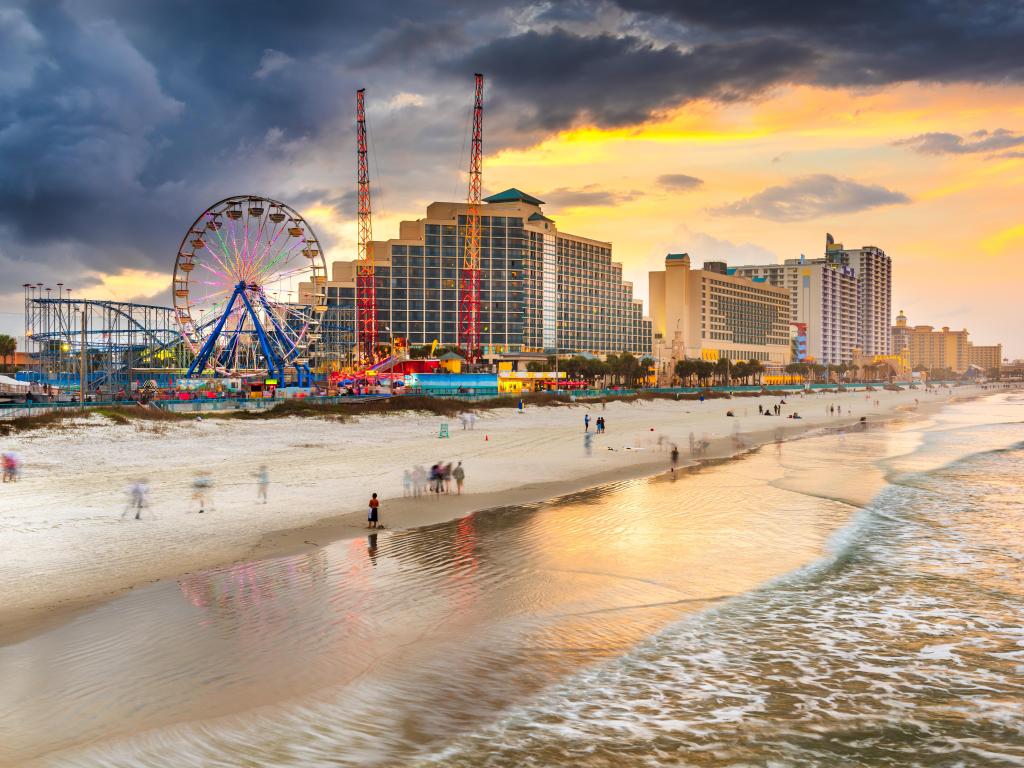 The Inland Route from Columbia
Congaree National Park – Marvel at one of the largest intact parks where water has swept through the land, but it continues to stay preserved.
Pexcho's America Dime Museum, Augusta – Visit this unique speciality museum displaying over 601 artifacts and providing a twist on some of the original museums of the United States.
Cannonball House, Macon – Pay tribute to the residents of this home hit by a cannonball during the American Civil War.
Annette Howell Turner Center for the Arts, Valdosta – Admire this complex gallery displaying many pieces by local artists in the area.
Devil's Millhopper Geological State Park, Gainesville – View small waterfalls and mini sinkholes throughout the land.
Tampa – Take a detour to the city of Tampa and visit the amusement park or the Henry B. Plant Museum.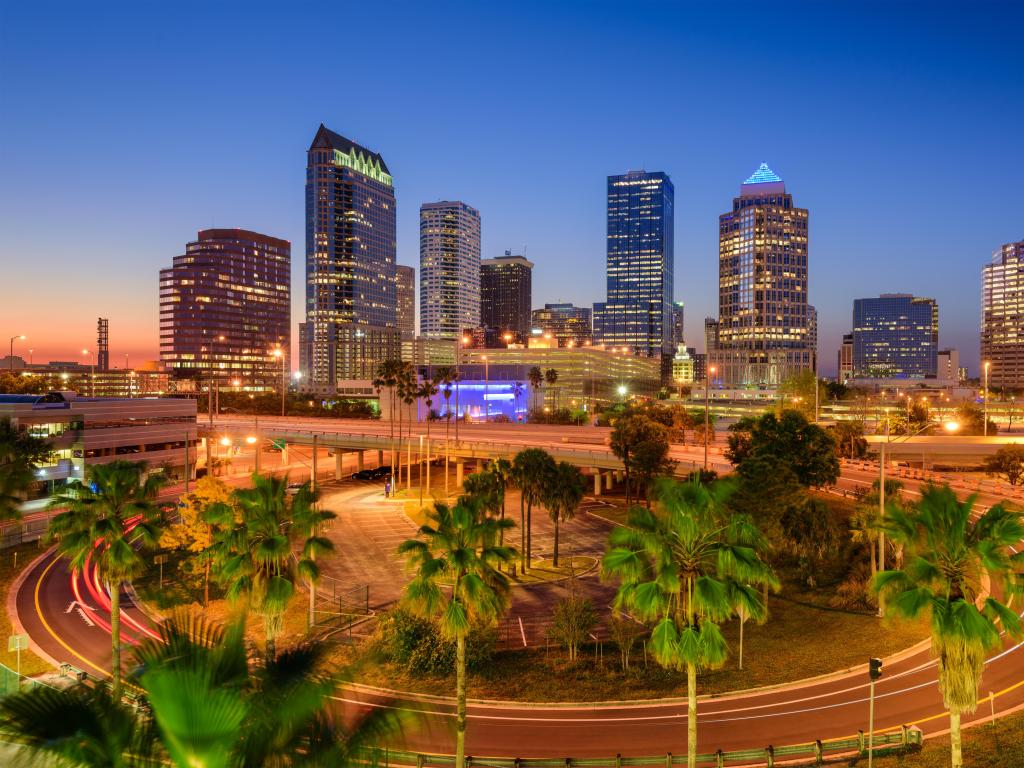 Best time to go on a road trip from South Carolina to Orlando, Florida
Because of the short distance, you will find consistent weather with no drastic changes throughout the year making Orlando, Florida a true year-round destination. This zone is characterized by a subtropical climate and optimal weather, bringing it crowds of people compelled by its large attractions.
If you are visiting during the summer, be prepared for large amounts of rain as this time is prime for the monsoon season from May 15 to October 15. Summers are hot, humid, and long. Temperatures are between 20 degrees Fahrenheit to 86 degrees Fahrenheit but can reach 100 degrees Fahrenheit in Florida.
Winter is an optimal time to visit Florida as you can avoid the monsoon season. Winters are mild in these regions, rarely snowing. However, December can bring it large crowds as families head to the coast for a warm winter. Temperatures range from 55 degrees Fahrenheit to 75 degrees Fahrenheit.
Spring and fall are the best times for this road trip from South Carolina to Orlando, Florida as you will get lower rates, average crowds and pleasant weather. However, late spring and early fall will get into the monsoon season. The temperature sits from 60 degrees Fahrenheit to 80 degrees Fahrenheit.
Generally, be prepared when setting off on this road trip from South Carolina to Orlando, Florida that your destination will be consistently busy during many months of the year because of its various theme parks and Disneyworld that hold theme days around holidays to make it more enticing to guests.