Road Trip from Winnipeg to Toronto
Whether you're looking to enjoy the vast open spaces and the spectacular wilderness of Ontario or the great and famous cities of Minneapolis, Chicago and Detroit, the road trip from Winnipeg to Toronto is an epic adventure that crosses borders, parks, forests and towns.
The 2,280 km road trip from Winnipeg to Toronto takes 22 hours to drive. Keep in Canada for Atikokan, Thunder Bay, Lake Superior, Sudbury and Wasaga Beach, or cross the border for Fargo, Minneapolis, Milwaukee, Chicago, Detroit and Niagara Falls.
There are two distinctly different routes you can follow to Toronto, a Canadian outdoor inspired trip or one that crosses into the US and takes you through iconic cities. Read on to learn all about them, plus the best places to stop along the way and the best time of year to make it.
How far is Toronto from Winnipeg, and how long will the road trip take?
Comparison of road trip routes between Winnipeg and Toronto

| Route | Distance | Driving Time |
| --- | --- | --- |
| The Scenic Canadian Route | 2,280 kilometers | 25 hours |
| The Urban American Route | 2,280 kilometers | 22 hours 30 minutes |
Whichever way you travel, the road trip from Winnipeg to Toronto is an epic one that covers a large distance. Our Scenic Canadian Route keeps things simple and takes you through Thunder Bay. This option covers 2,280 km and will take 25 hours of non-stop driving to complete.
A second option, similar in distance, takes you further south through the US and past cities like Milwaukee and Chicago. Although similar in length at 2,280 km, it is much quicker in drive time at 22 hours 30 minutes thanks to the faster interstate roads.
Neither route is designed to be a speedy drive to Toronto; they pass beautiful landscapes, cities and parks and as such you should dedicate at least four to five days to complete it.
Breaking the drive time like this will give you longer to explore either the Canadian wildernesses or the US cities, as well as include a couple of spectacular overnight stops along the way.
Best road trip route from Winnipeg to Toronto
Whether you're looking for an outdoor adventure with stunning Canadian landscapes, lakes and parks, or a drive through several of America's great states, the drive from Winnipeg to Toronto offers a route for you. Although similar in length, they offer very different views and places of interest.
The Scenic Canadian Route takes you through the natural beauties of Ontario, featuring national and provincial parks, charming towns surrounded by pristine wilderness and waterways, as well as lots of outdoor activities.
Highlights include Thunder Bay, Lake Superior Provincial Park and North Bay. This is the ideal trip if you love outdoor activities without visits to big cities, though it will take longer to drive. That said, this is a great option if you don't want to cross the Canadian/US border.
If you'd prefer to tick off some US cities, then our Urban American Route is a great option. This option begins in Winnipeg and then crosses the border to take in the stunning scenery of North Dakota and Minnesota, before taking you through several exciting cities including Chicago and Detroit.
You'll get to pass national parks, several lakes including Lake Michigan, before crossing back into Canada at Toronto. Despite both routes covering the same distance, this option is quicker, though the downside is that you won't see much of the Canadian countryside.
The Scenic Canadian Route
Begin in Winnipeg and head east on the Trans-Canada Highway across into Ontario, passing Eagle-Dogtooth Provincial Park and heading south past Turtle River Provincial Park to Atikokan.
Continue east through Quetico Provincial Park and Kakabeka Falls before landing in Thunder Bay. Next, follow the coast and take a short detour to Sleeping Giant Provincial Park or follow the Black Bay towards Nipigon.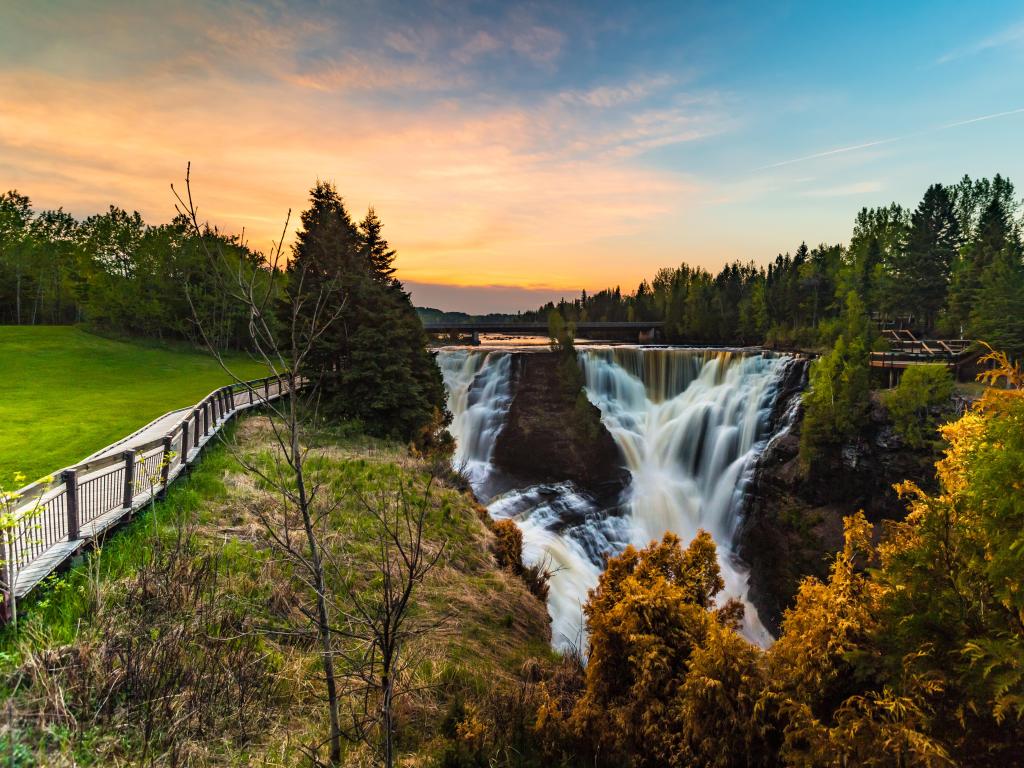 Explore Ruby Lake Provincial Park and Nipigon Bay, before following the shore back on the highway to Pukaskwa National Park.
Next head inland and pass through White River before going south to Lake Superior Provincial Park. Afterwards, follow the shore of Lake Superior through Agawa Bay to Greater Sudbury.
Explore Mississauga River Provincial Park or Killarney Provincial Park, otherwise, head east to North Bay past Lake Nipissing and then south to Barrie. Stop here to explore Lake Simcoe or follow signs for Toronto.
The Urban American Route
Leave Winnipeg by heading south on the highway to Emerson where you'll cross the US border and join the interstate. Continue heading south to West Fargo where you can take a short drive to Sheyenne National Grassland or cross into Minnesota.
Head east on the interstate to Minneapolis and St Paul, before crossing the St Croix River into Wisconsin. Pass several small towns, including Wisconsin Dells towards Madison before following signs for Milwaukee.
Follow the shore of Lake Michigan south to Chicago, before heading east to the other side of the lake, stopping along the way to admire the views.
Next, you'll head further east through Ann Arbor to Detroit where you can explore Lake St Clair or Lake Erie, before crossing back into the Canadian border.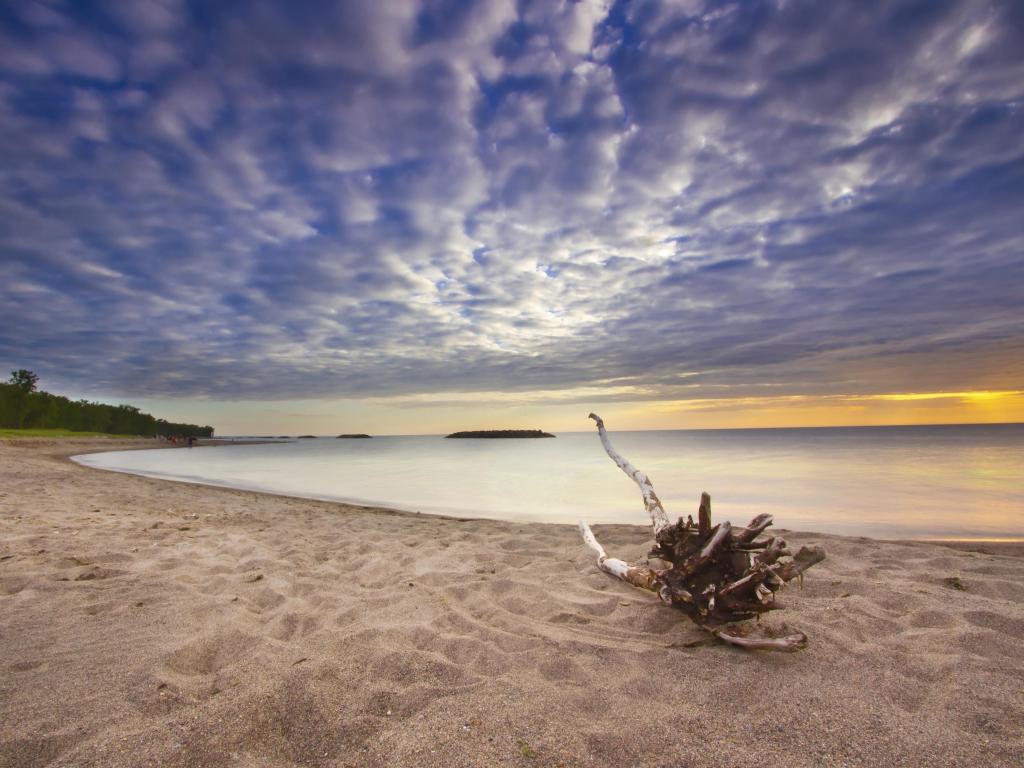 Continue east to London and stop at Hamilton, a great place to explore Lake Ontario. This is also where you could take a longer detour to visit Niagara Falls (which will add 50 minutes and 72 km to your drive time).
Otherwise continue to follow the shore through to Toronto, passing the cities of Burlington, Oakville and Mississauga along the way.
Best places to stop between Winnipeg and Toronto
This epic drive deserves a couple of great overnight stops along the way. There are very different options, depending on which route you take, so here are a couple of suggestions for some interesting places you can stop.
Outdoor paradise in Lake Superior Provincial Park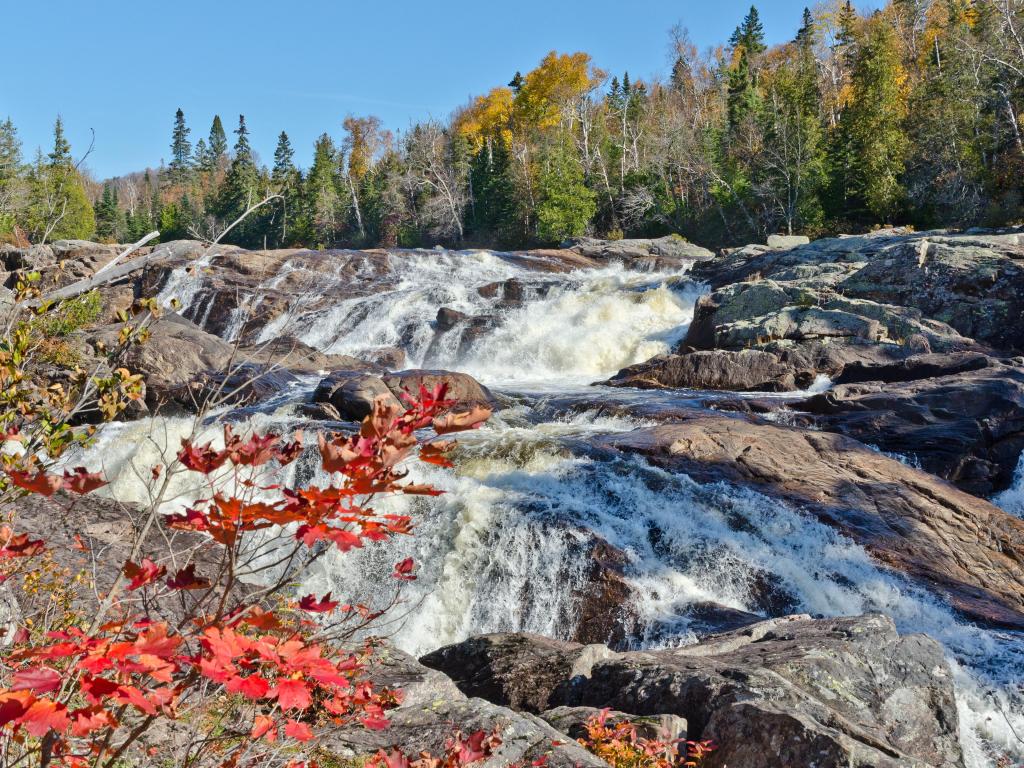 Ideally located halfway on our Scenic Canadian Route, Lake Superior Provincial Park makes for a beautiful place to stop and rest. Not only is the scenery breathtaking, but with a mix of lake shore and hills and a lot of outdoor possibilities, it's also right on the route.
Known for protecting the east shore of the world's biggest lake and the natural beauties around it, Lake Superior Provincial Park offers great outdoor activities including canoeing or fishing on the lake.
You're also within reach of Agawa Rock where you can join evening guided walks to discover the natural history of the park. If you fancy a swim, nearby Crescent Lake is the perfect place for relaxation, wildlife hunting or even camping.
You're slightly restricted with accommodation options in this part of rural Canada, but the High Falls Motel & Cabins makes a great base. Right on the northern entrance to the park, these cabins offer a rustic experience in nature and feature free BBQ facilities and free parking.
Surrounded by beautiful nature, the cabins offer easy access to all areas of the park as well as being close to the highway. These cabins are pet friendly too, so if you've brought your furry friends along for the ride, you won't have to worry about a relaxing place to spend the night.
City and lake views in Chicago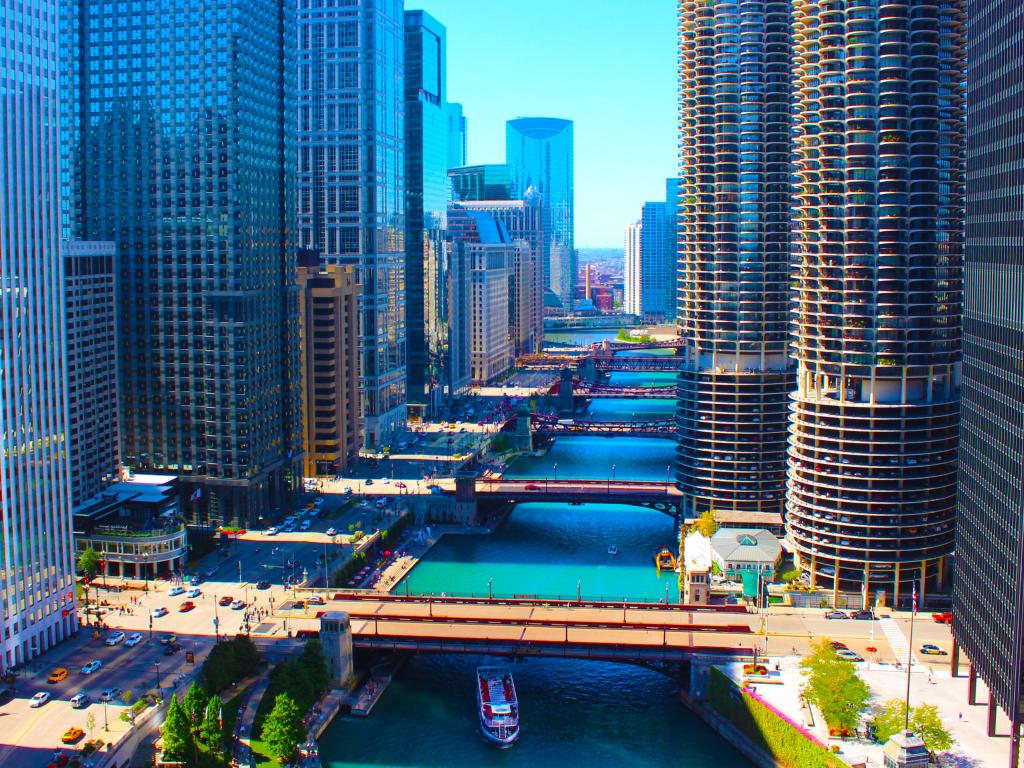 For an altogether different overnight stop, how about stopping in the Windy City? Just 8 hours away from Toronto on our Urban American Route, Chicago makes a superb choice to spend the night.
For those looking to see some of Chicago's most iconic sites should definitely take a visit to the Willis Tower, the tallest building in Chicago which offers spectacular views. Or spend a few hours outdoors at Millennium Park.
For incredible views while staying in the city, it doesn't get much better than the Sable at Navy Pier. Overlooking the Navy Pier, this hotel offers the best of both worlds being in the heart of the city with incredible waterfront views.
The 4-star hotel is modern and beautifully decorated. It has an onsite restaurant, private parking and a bar with a shared lounge making the most of the amazing views. There's also a terrace, the ideal place to watch the sunset.
The hotel is also close to the Chicago Museum of Contemporary Art and the shops at Northbridge and Michigan Avenue. You're also within walking distance of Millennium Park and Lincoln Park, all of which you can reach by following the incredible shoreline of Lake Michigan.
Luxury in the heart of Toronto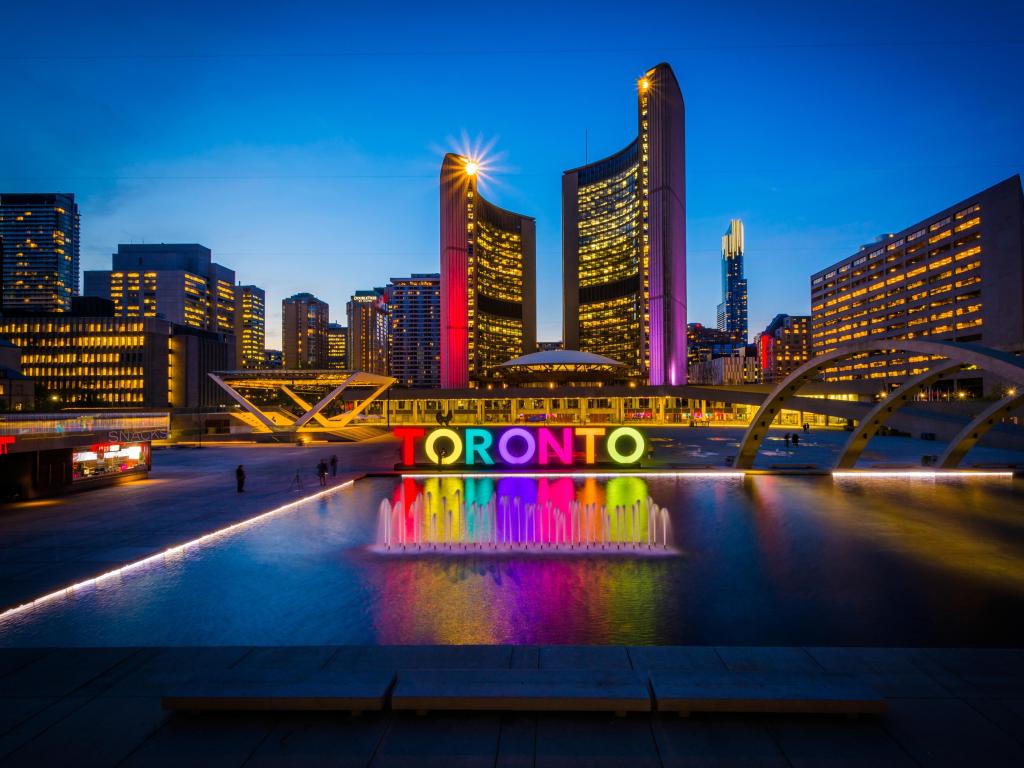 Once you reach Toronto, whether you've come via Canada or through the US, you'll need a great hotel with a fabulous location to base yourself in before exploring the capital of Ontario.
Combining history and luxury, The Ivy at Verity is in the very heart of Toronto and is located in a restored 1850s chocolate factory. Guests can enjoy spacious rooms and handcrafted beds.
This fabulous hotel is within walking distance of all sights and entertainments in Toronto, including Saint Lawrence Market and The Four Seasons Centre for the Performing Arts.
Meanwhile, The Ivy itself has a great onsite restaurant serving seasonal ingredients and an indoor swimming pool - perfect for relaxing in. There's also a spa (women only) and a great communal bar. The rooms also feature balconies with incredible city views.
Things to see on a road trip from Winnipeg to Toronto
You won't be surprised to learn that there are some great places to stop and visit on the road trip from Winnipeg to Toronto, regardless of which route you decide to opt for. To help you plan your adventure, we've highlighted some of the best bits you'll pass along the way.
The Scenic Canadian Route
Eagle Dogtooth Provincial Park - Learn more about protected wetlands, moraines, and pine forest in this waterway link between Eagle Lake, Rushing River, and Winnange Lake.
Atikokan - After visiting the Atikokan Centennial Museum, have a picnic at the Little Falls Scenic Lookout, or walk round the Quetico Provincial Park.
Thunder Bay - Famous for its Drunkinental Cup, Thunder Bay boasts saunas and ecotours. Don't miss Fort William Historical Park, a recreation of the early 19th-century life in the Canadian fur trade companies.
Sleeping Giant Provincial Park - Beautiful hiking area with spectacular views over the surrounding lakes. Discover rugged cliffs and mysterious places like Silver Islet and Kakabeka Falls.
Pukaskwa National Park - Beautiful natural getaway on the northern shore of Lake Superior offers wonderful views, rugged coastlines, the Coastal Hiking Trail, and also some cultural introduction to local First Nation traditions.
Lake Superior Provincial Park - Connecting Lake Superior's coast and inland hills and canyons, this romantic park offers many programs, guided hikes, and events. Enjoy fishing trout and salmon, go canoeing, swimming in summer, and ice fishing in winter.
Greater Sudbury - The city boasts heritage museums, such as Flour Mill Heritage Museum and the Anderson Farm Museum. For more scientific adventure, visit Science North, an education center on the shore of Lake Ramsey, where the boat Cortina can take you on a cruise.
Sudbury-White River Train - Board the train from Greater Sudbury to White River and enjoy some of the most isolated wilderness in Northern Ontario. Beloved by hunters and hikers, the train runs three times a day, with special stops in the middle of pristine nature.
North Bay - A charming town that offers many restaurants and shops, vivid local history, and strong hockey culture. Ski at Laurentian Ski Hill in winter and join the North Bay Triathlon in summer.
Barrie - The beauty of Kempenfelt Bay is matched with galleries and museums of historic Barrie. Live theatres and over 300 hectares of city parks guarantee you outdoor pleasures!
Wasaga Beach - The white sand beach is the world's longest freshwater beach, offering playgrounds, recreational facilities, bars and restaurants. Visit the Wasaga Beach Visitor Center to learn about pioneers from 1812!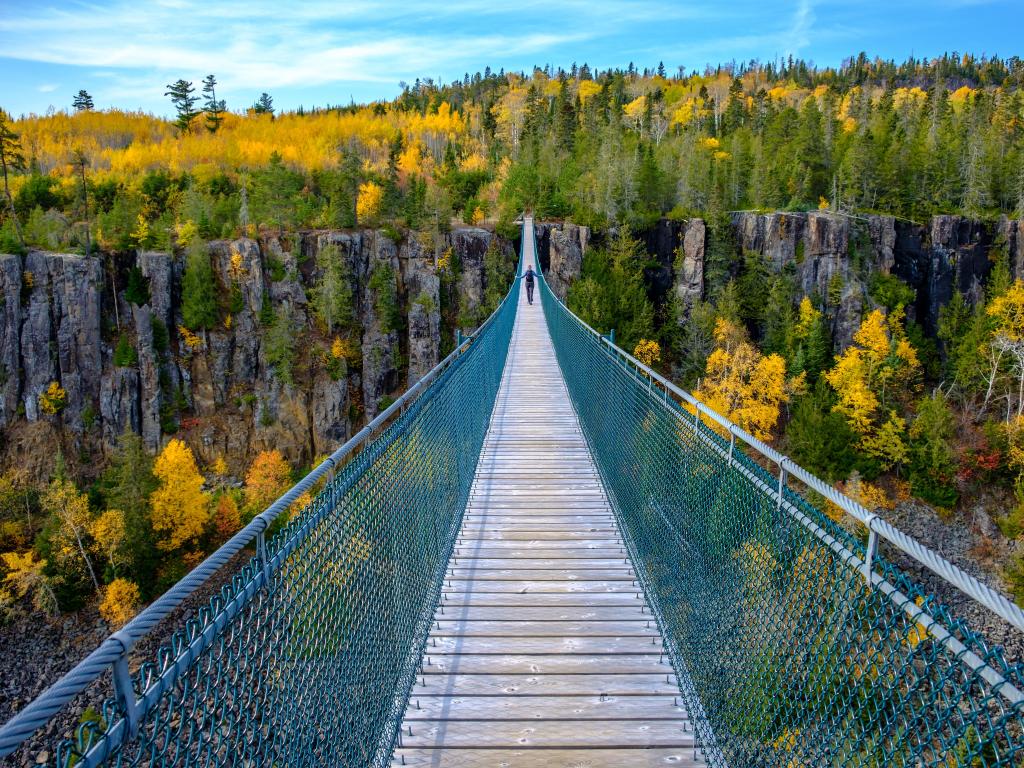 The Urban American Route
Fargo - Famous for the 1996 movie and subsequent TV series, Fargo houses several nice museums. Walk the Celebrity Walk of Fame, or visit the surrounding countryside where several Native American reservations exist.
Minneapolis - The Twin Cities of Minneapolis-Saint Paul have a beautiful cityscape, modern transportation, lakes and rivers, and spectacular cuisine. Don't miss the Walker Art Center and Minneapolis Institute of Arts or just relax by the lakes and rivers.
Minneapolis Food Tours - Various travel agencies offer walking tours where you can learn a lot about Minnesota's history and culture but also taste the great foods of German and Scandinavian origin, and more modern culinary goodies!
Milwaukee - The town of ancient Native American tribes and modern European immigrants, Milwaukee gives tremendous possibilities for exploring. Visit the Hoan Bridge, and Milwaukee Art Museum, take a walk through its parks or take a boat tour on Lake Michigan.
Milwaukee Breweries - Milwaukee is the Brew City, with an ever-increasing number of microbreweries. Schlitz, Blatz, Pabst, and Miller all come from Milwaukee, and the city offers a lot of history, preserved factories, and beer tastings.
Chicago - The third largest city in the US offers wonderful architecture. Learn about the African American history of Chicago, enjoy various ethnic neighbourhoods as well as the beaches of Lake Michigan, glorious cuisine, and excellent jazz and blues scene.
Ann Arbor - The pedestrian-friendly town of Ann Arbor is known as Tree Town, as it is dotted with trees and parks. Numerous restaurants and art galleries are the main attractions, but you can also explore the charming small towns of the surrounding Washtenaw County.
Detroit - Once downtrodden, Detroit is a vibrant city with art galleries, restaurants and distilleries. Don't miss the Detroit Institute of Arts, fascinating Guardian Building, old Eastern Market, and enjoyable Motown Historical Museum.
London - London lies on the Thames, just as its more famous cousin in the UK. Ontario's London is full of urban parks and woodlands, and less crowdy shopping and enjoyment spaces that have famous names of Piccadilly Street and the Covent Garden Market.
Niagara Falls - A slight detour from the direct route to Toronto will take you to the world-famous Niagara Falls, the Honeymoon Capital of the World.
Best time to go on a road trip from Winnipeg to Toronto
While both routes feature a lot of outdoor possibilities that can be enjoyed year-round, road trippers might find that the cold winters with strong winds and heavy rainfalls and snowfalls might not be the preferred months to embark on this drive.
Summer is the best season for this trip, particularly in Canada's national and provincial parks. The lakes, rivers, and woodlands offer maximum possibilities in summer when the average temperatures are between 55 and 90 degrees Fahrenheit along the route.
Meanwhile, the winter in Ontario and northern American states can be harsh. Possible rainfall might call for more indoor adventures, but if the cold is not a problem for you, you can enjoy skiing, skating, ice fishing, and lots of other winter joys.
The average winter temperatures both in Ontario and northern U.S. states are between 5 to 30 degrees Fahrenheit. Meanwhile, Toronto itself comes alive in the colder months where there are vibrant festivals and winter sports to enjoy.
Spring and fall are great seasons to travel to Toronto. The recommended months are late April to May and September to October when mornings and evenings are still quite cold, but the daytime gives nice temperatures, between 50 and 70 degrees Fahrenheit, depending on the month.
Meanwhile, the parks and forests are at their best in spring and fall, when you'll get blossoms or stunning fall foliage. You'll experience less crowds than in the summer months and better hotel rates too.
If you'd like to plan your trip around an event, then September is the month of the most famous festival - the Toronto International Film Festival. Next to this world-class event are the NXNE Live Music Festival in June and the Toronto Fringe in July.