Road Trip from Montreal to Banff
If you're looking for an impossibly beautiful and exciting journey, crossing lakes and passing mountains and stunning national parks, then a road trip from Montreal to Banff is one you should seriously consider.
The 3,800-km road trip from Montreal to Banff takes 40 hours. Key stops include Chicago, Detroit, Toronto, Longbow Lake, Winnipeg, Calgary and Thunder Bay, as well as Lake Superior, Lake Michigan, Voyageurs National and Isle Royale National Parks.
There are loads of other great places to see along this epic road trip, ending at Canada's highest settlement. Keep reading to the end to learn all about them, plus our top tips on where to stay along the way and the best time of year to travel.
How far is Banff from Montreal and how long will the road trip take?
Comparison of road trip routes between Montreal and Banff

| Route | Distance | Driving Time |
| --- | --- | --- |
| The Canada Route | 3,800km (2,365 miles) | 40 hours |
| The America Route | 4,048km (2,515 miles) | 39 hours |
With a minimum distance of 3,650km and taking at least 38 hours, a road trip from Montreal to Banff is not one for the faint of heart and is best split up over at least a week.
That will still leave you with a reasonable chunk of driving per day but makes it a little more manageable while providing ample time to enjoy the attractions along the way.
There are two main options for a road trip between Montreal and Banff. A Canada-only option, which covers 3,800km (2,365 miles) and takes 40 hours. This route makes the most of Canada's stunning scenery, lakes and mountains and avoids crossing the border into the US.
Our alternative route takes 39 hours and covers a distance of 4,048km (2,515 miles). While not hugely different in terms of distance, this option does involve crossing the border, therefore you will need to remember to bring the correct documentation and proof of identity.
If you aren't put off by the logistics of crossing into America, you will gain some extra attractions and be able to include some iconic cities into your journey, including Chicago.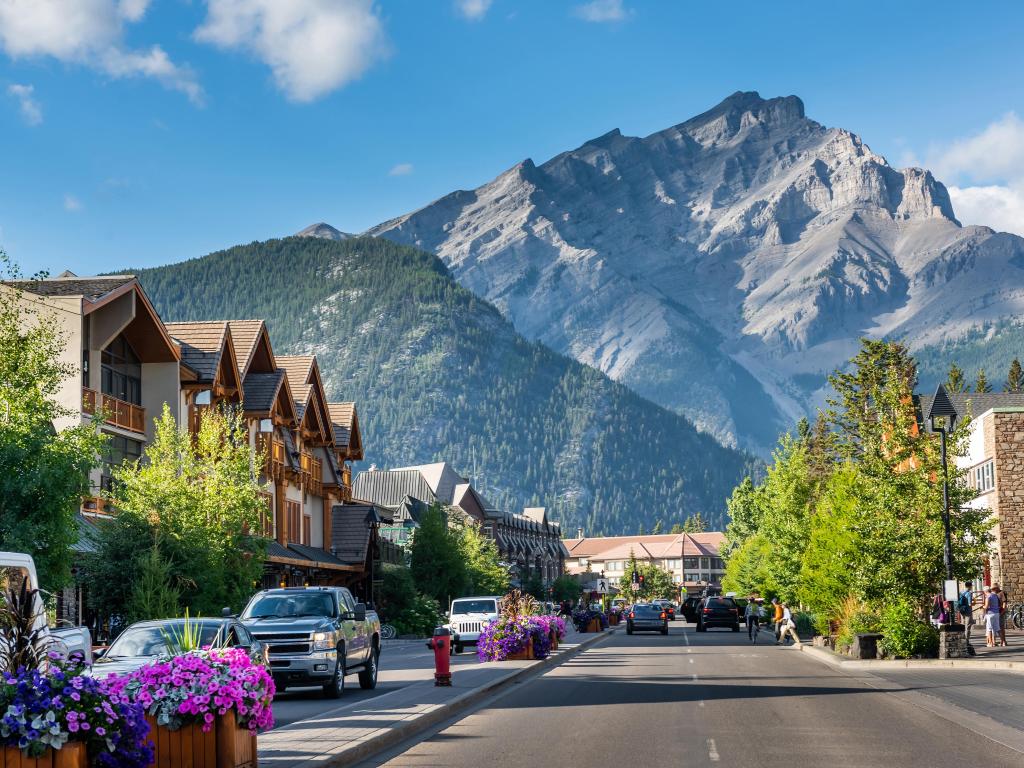 Best road trip route from Montreal to Banff
The Canada option for our road trip from Montreal to Banff will pass through five of Canada's six most populous provinces, along the length of the American border. You'll travel from Quebec, through Ontario, Manitoba and Saskatchewan, before arriving at Alberta.
Alternatively if you have chosen to cross into the US, your road trip will include several fantastic cities, including Detroit, Chicago, Minneapolis and pass through North Dakota and its abundance of national forests and parks before passing through Calgary and to Banff.
Both routes include a great number of fantastic places to visit and are a similar length in terms of travel time, so whichever route you decide to travel on, you'll be guaranteed an incredible road trip.
How to drive from Montreal to Banff
The map above shows our suggestions for the best road trip routes between Montreal and Banff. Keep reading for detailed descriptions of both routes, where to stay on either, and the best things to do on the way.
The Canada Route
Set out north on Quebec Autoroute 20 and take it to Sainte-Agathe-Des-Monts, where it will merge with Route 117. Continue north and stop to take in the stunning scenery at La Verendrye Wildlife Reserve.
Continue until you reach the Ontario border, before briefly switching to the Trans-Canada Highway and then again to Highway 11. You will pass some pretty towns such as Cochrane and Hearst and have the option of a detour to Nagagamisis Provincial Park, otherwise, your next stop will be Thunder Bay.
Head west on Highway 11 through Quetico Provincial Park before arriving at Emo, on the Minnesota border. You could cross the US border here and visit Voyagers National Park, or take the Trans-Canada Highway and head north.
You can take an overnight stop at Longbow Lake and spend some time viewing the stunning local area, before heading back on the road and changing to Highway 17 which will take you into Manitoba.
Before arriving at Winnipeg, the capital province of Manitoba, you'll merge back onto the Trans-Canada Highway 1, heading west. There are a few detour options on this section of the route, including Riding Mountain National Park and plenty more Canadian towns.
Finally you will arrive in Calgary, a city that's worthy a stop if you have time, otherwise, you'll continue on a short distance before arriving at your destination of Banff.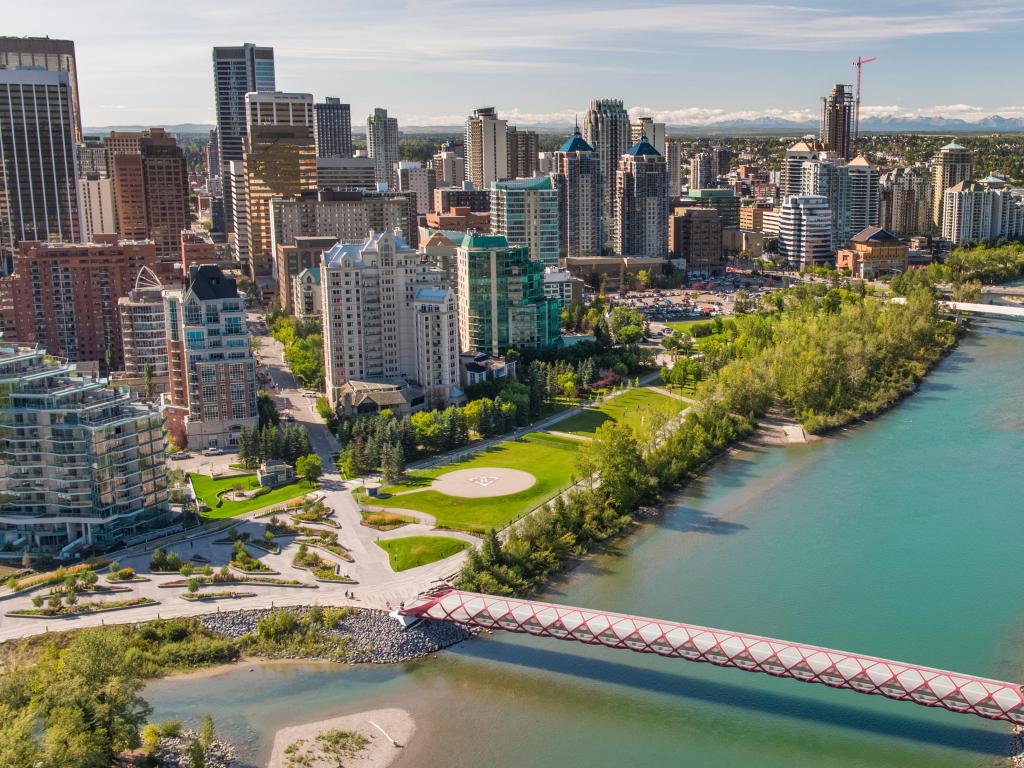 The American Route
Take ON-401 west from Montreal, passing Kingston and Toronto alongside the beautiful Lake Ontario and Lake Erie before crossing the border and arriving in Detroit, the first of many great US cities.
Past Ann Arbor, you'll merge onto Interstate 94 as you travel through Michigan before heading west on I-90 and arrive in Chicago - an ideal first overnight stop.
Continue heading west on I-90 as you pass Wisconsin Dells. Keep right and take I-94 west before arriving at Minneapolis St Paul. A short drive on and you have the options of visit White Earth Reservation or Leech Lake Reservation.
At Jamestown, you will head west on the US-52 as you drive through North Dakota before crossing back into Canada and merging onto SK-39 heading north.
At Moose Jaw, you'll rejoin the Trans-Canada Highway west through Canada's beautiful mountains before passing Calgary and onto Banff.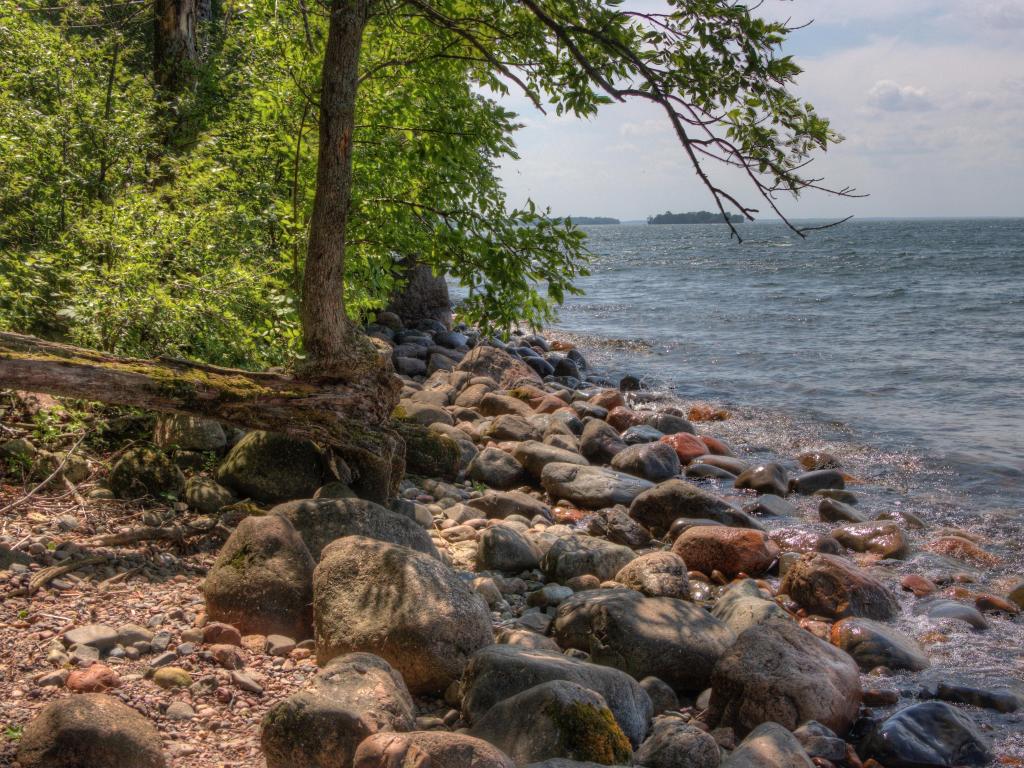 Best places to stop between Montreal and Banff
With around 40 hours of driving on either routes on the road trip from Montreal to Banff, you will definitely need to make a number of overnight stays along the way.
There are lots of fantastic places to stay for either routes, but below are the places that you'll definitely not want to miss:
A superior location - Thunder Bay
If you've opted to take the Canada Route, then a stop at the most populous city on the shores of Lake Superior is a great option. Thunder Bay provides possibly the best selection of things to do nearby, while also being conveniently placed around 17 hours into your journey (just short of halfway).
Thunder Bay is a beautiful city with stunning views of the lake, but its proximity to a number of the best attractions along our route also makes it the perfect place to stay.
Beyond the aforementioned Lake Superior, you have Isle Royale National Park, Quetico Provincial Park and, slightly further away, Voyageurs National Park, all located in the surrounding area.
The Hampton Inn & Suites by Hilton Thunder Bay is a smart hotel, one of the best in the area, set in a great location and close to top sites in Thunder Bay such as Thunder Bay Museum.
After exploring the local area, you can relax at the hotel in the heated, salt-water swimming pool, or visit the state-of-art fitness center. After a great night stay, make sure to tuck into the delicious continental breakfast that other visitors rave about!
A glitzy stay - Chicago
If you chose the America Route road trip, then a stay in Chicago is just too good an opportunity to miss. Just under 14 hours from Montreal, this city would make an excellent second day overnight stop, before continuing on your road trip to Banff.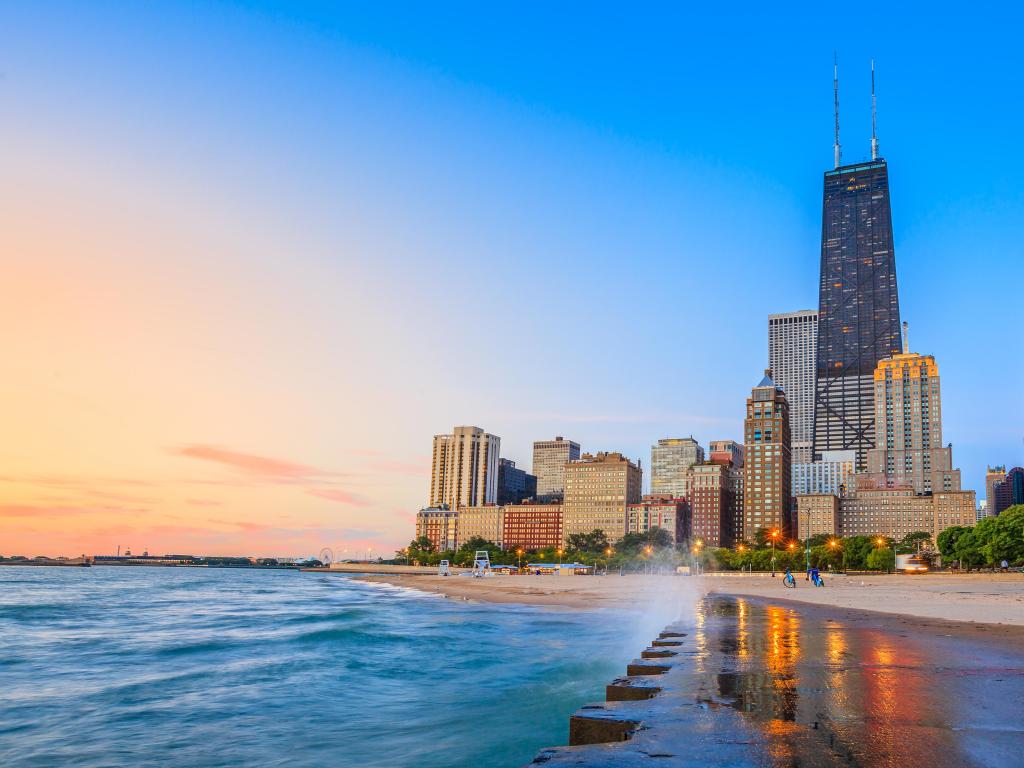 Chicago, on Lake Michigan, is among the largest cities in the US. Famed for its bold architecture, it has stunning skyscrapers as well as being renowned for its museums, including the Art Institute of Chicago.
But there's more to Chicago than buildings. Set on Lake Michigan, on the five Great Lakes, it also offers some beautiful views and the chance to enjoy the beaches along its shoreline.
Being a large city, there are a lot of options for overnight stays in Chicago. But for luxury, location and style, you can't go wrong with a stay at The LaSalle Chicago, Autograph Collection.
This hotel, which is in the center of Chicago, is an exquisite hotel choice, with stunning 1920's decor. Head out and visit Willis Tower, CIBC Theatre and DePaul University all close by, If you want to stay closer to home then you are spoilt for choice with endless wellness treatments to pick from at the spa, including massages, beauty services and yoga.
For dinner be sure to visit Lobby Bar & Lounge for great cocktails, before enjoying the American steakhouse Grill on 21. Be warned through, with such a brilliant hotel and a fabulous location in Chicago, you might just want to say an extra night!
The fun-filled city - Calgary
Just a short (90-minute) drive from your destination, Calgary in Alberta is a great option for a city stop no matter which route you have opted for. Known as a beautiful city with a population that is friendly and inviting, Calgary is a place that you feel at home in within minutes of arriving.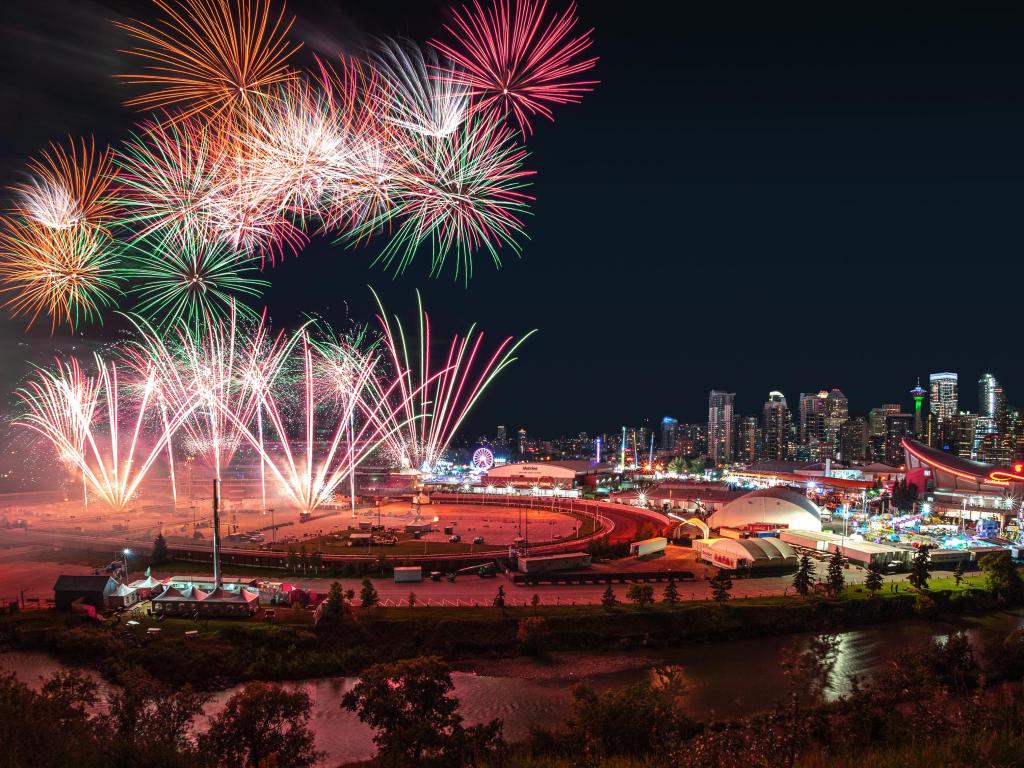 The cosmopolitan city, with numerous skyscrapers, has plenty of nearby attractions to keep you entertained. Spend some time at the world-famous Calgary Zoo before visiting the iconic Calgary Tower or just enjoy its great culture and history.
When it comes to accommodation, there's no better place to stay than Hotel Arts Kensington. This 5-star hotel is just a couple of minutes walk from the city center, with luxury, modern, bedrooms, many enjoying panoramic views of Downtown Calgary and the Bow River.
After a long drive and several days on the road, the elegant rooms throughout offer a touch of luxury to your stay, with outdoor terrace and gardens to relax in and outdoor fireplaces to snuggle next to during chillier evenings.
The on-site Oxbow restaurant is the perfect place to head to unwind and recharge, serving up modern comfort food in a relaxed setting. This stunning hotel really is a perfect way to see an almost perfect city.
Things to see on a road trip from Montreal to Banff
A road trip from Montreal to Banff is a journey that spans a large portion of southern Canada. Covering so much of the country's most populated area, it's a route that provides plenty of locations containing history, culture and natural attractions.
If you are pressed for time, below is a list of some of the best places to stop at, depending on your route choice:
Both routes
Calgary, Alberta - The largest and most populous city in the province of Alberta and 4th largest in Canada overall. It is situated in the foothills of the Rocky Mountains, less than 260 km (160 miles) from the American border.
Banff National Park - Right at the end of your journey, the trip just wouldn't be complete with a visit to one of the most spectacular parks in Canada. Banff National Park combines rocky mountain peaks, turquoise glacial lakes and stunning trails.
Lake Louise - A hamlet in Banff National Park, Lake Louise is world famous for its stunning turquoise waters and the Victoria Glacier which is its mountain backdrop. It's one of the rare places that must be experienced to be believed.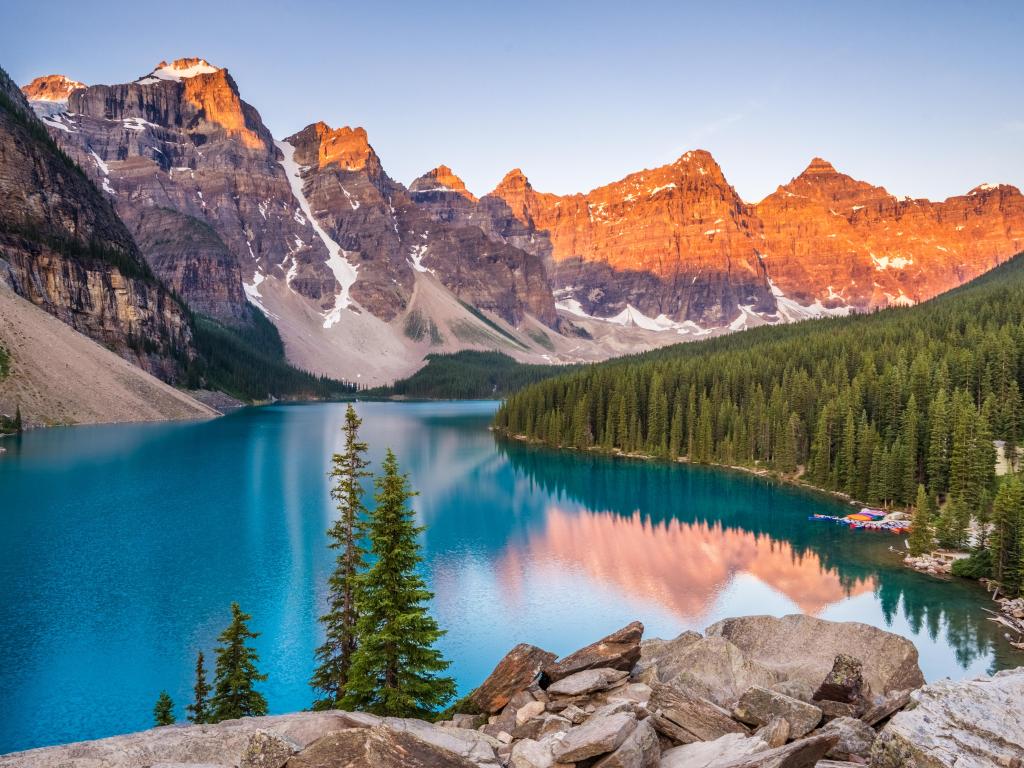 The Canada Route
Lake Superior - Crossing the border between Canada and American, Lake Superior is the largest of North America's "Great Lakes". It is also the second largest lake in the world overall, behind only the Caspian Sea.
La Verendrye Wildlife Reserve - First established in 1939, La Verendrye is one of the biggest natural reserves in Quebec and is a popular destination for outdoor activities, with year-round offerings including hunting, hiking, snowmobiling and white water rafting.
Thunder Bay, Ontario - The second most populous city in Northern Ontario, it was originally settled as a fur trading post in the 17th century. Situated on the shore of Lake Superior, it is abundant with historic architecture and locations of natural beauty.
Isle Royale National Park - While closed to visitors as certain times throughout the year, Isle Royale is a beautiful place to come and experience wildlife in a remote, untarnished location, surrounded by waters containing shipwrecks and a collection of smaller islands.
Quetico Provincial Park - Featuring over 600 lakes surrounded by wilderness, this beautiful park borders the American state of Minnesota to the south and is a popular spot for those interested in canoeing, fishing or simply discovering the aquatic wildlife native to the region.
Winnipeg, Manitoba - The capital and most populous city in the province of Manitoba, it gets its name from nearby Lake Winnipeg, which is the Western Cree phrase for muddy water.
Riding Mountain National Park - Home to a staggering diversity of living things, this park has grasslands, forests and is a hotspot for all things that make exploring the outdoors great.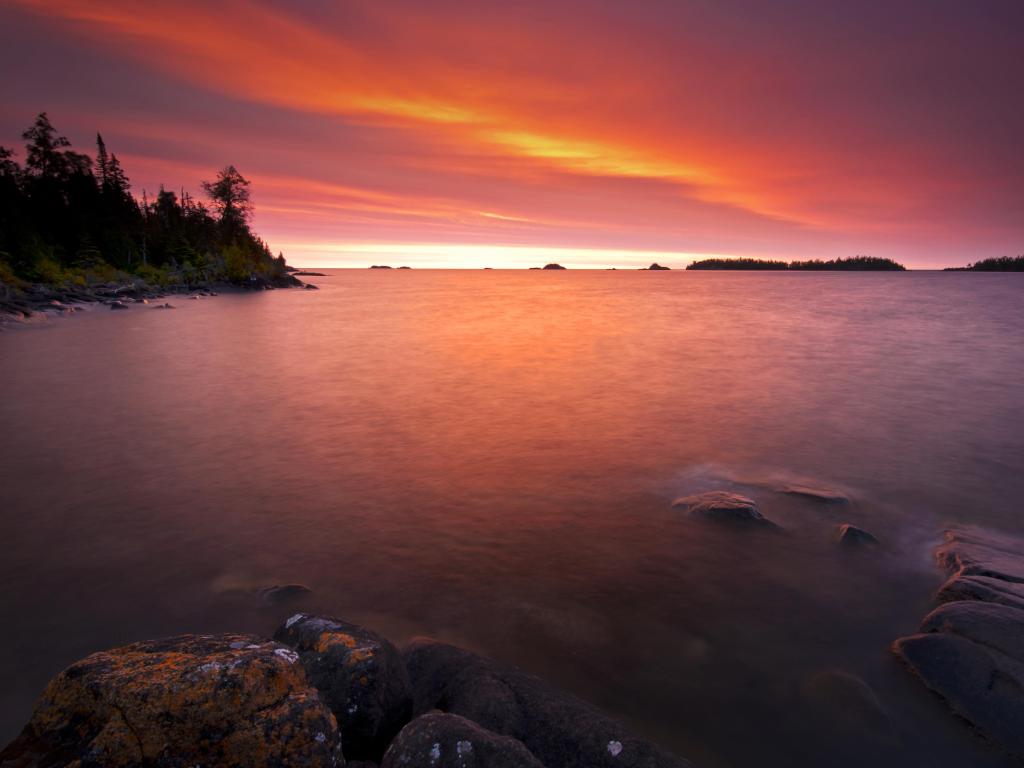 The American Route
Lake Ontario - One of the five Great Lakes, Lake Ontario is another whose water boundaries of Canada and the US meet in the middle. Whilst one of the smallest, there are still some great activities to do nearby as well beautiful scenery to enjoy.
Lake Erie - This North American lake is home to one of the largest commercial freshwater fisheries in the world and attracts visitors from all over the world to fish in its waters.
Detroit - The largest city in the state of Michigan, Detroit is famed for its history and auto industry, as well as having a thriving art scene. Detroit is also known as the birthplace of Motown Records.
Lake Michigan - The most known of the five Great Lakes, Lake Michigan is home to the largest freshwater sand dunes in the world.
Chicago - Famed for its bold architecture and among the largest cities in the US, Chicago has fantastic skyscrapers, bustling streets and great jazz music.
Minneapolis-Saint Paul - Commonly known as the Twin Cities, after the area's two largest cities - Minneapolis and Saint Paul, and separated by the Mississippi River, they both have their own unique history and flavor.
Voyageurs National Park - Located on the American side of the border, this remote yet stunning park is only accessible by boat outside of the winter months. A perfect location for anyone interested in canoeing, kayaking or boating in general.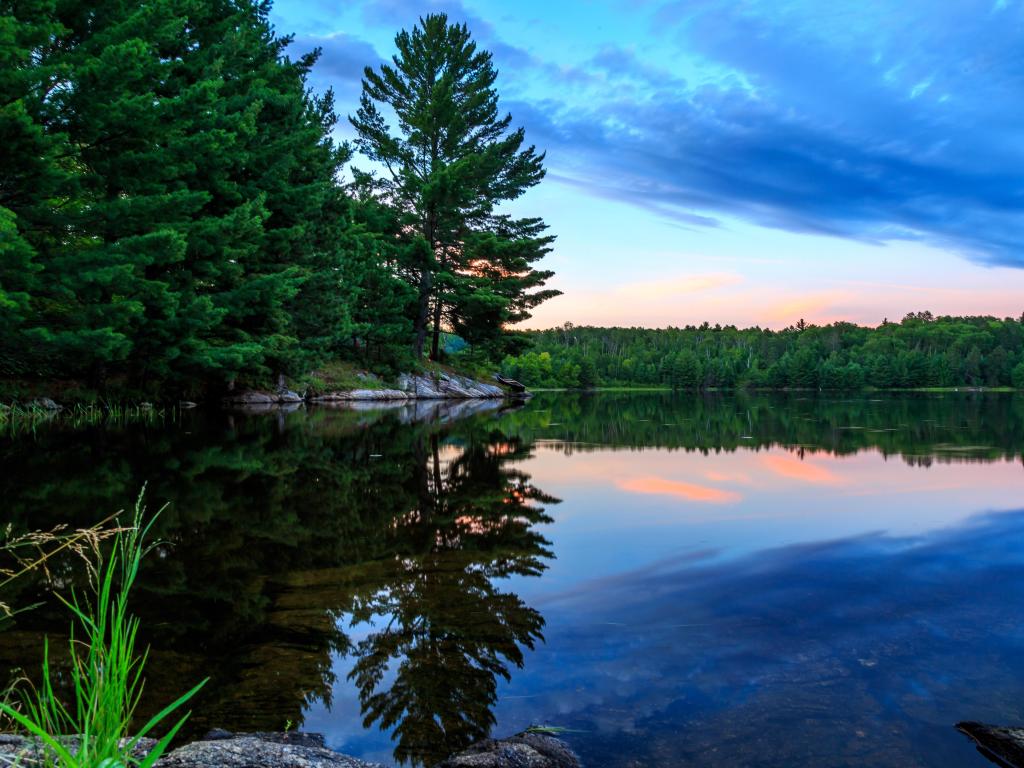 Best time to go on a road trip from Montreal to Banff
With a road trip from Montreal to Banff taking you to one of the most beautiful locations in the entire world, there's really no bad time to visit.
However, as a location that can vary drastically in terms of weather throughout the year, there are two distinct periods that represent the best times to visit, depending on what you're looking for.
For those looking for an exhilarating, action-packed holiday, skiing, snowmobiling or exploring the snowy forests and mountains, late November to early March will provide the greatest snowfall and coldest temperatures.
That said, with temperatures in some parts of Canada reaching as low as 7 degrees Fahrenheit in December, you might want to pack plenty of extra layers. The ski resorts are likely to be busy during December to March, so booking hotels in advance is also a must.
If you're not a fan of the colder weather and would rather enjoy a relaxing vacation strolling through the forests or boating across Banff's numerous lakes, then visiting in the height of summer, during June and August, will provide you with the best weather conditions.
Finally, you could consider booking your trip to coincide with one of the areas best festivals, Calgary's Stampede. One of the world's richest rodeos and one of Canada's largest festivals, the Stampede is an annual 10-day event held in July and will certainly guarantee a memorable visit.