Road Trip from Winnipeg to Banff
For a peaceful and serene drive which passes through some of Canada's most scenic areas, vast wildernesses and breathtaking natural vistas, as well as visiting bustling cities full of history and culture along the way, the road trip from Winnipeg to Banff is the one for you.
The 1,570 km road trip from Winnipeg to Banff takes about 17 hours to drive. Key stops include Calgary, Saskatoon, Moose Jaw and Edmonton, as well as Riding Mountain National Park, Dinosaur Provincial Park, Horseshoe Canyon and Banff National Park.
To help you plan your trip, we've set out the best routes and places to stop overnight, as well as our favorite things to see along the way and the best time of year to make the trip from Winnipeg to Banff.
How far is Banff from Winnipeg, and how long will the road trip take?
Comparison of road trip routes between Winnipeg and Banff

| Route | Distance | Driving Time |
| --- | --- | --- |
| The Regina Route | 1,660 km | 17 hours 15 minutes |
| The Saskatoon Route | 1,570 km | 16 hours 45 minutes |
There are a couple of different options to drive between Winnipeg and Banff. The quickest of two takes you through Saskatoon and covers a distance of 1,570 km, taking 16 hours and 45 minutes to drive without stopping along the way.
A slightly longer option instead will see you pass through Regina and spans 1,660 km, taking a minimum of 17 hours and 15 minutes to complete.
If you'd like a more urban vibe to your trip, you could include an additional detour to the Saskatoon Route. Adding a little less than 2 hours to the drive, this option would be great for anybody looking to add Edmonton and Red Deer, among other cities and towns, to the trip.
Given the distance and beautiful vistas you'll pass along the way, we would recommend spending a minimum of four to six days on this road trip. Making overnight stops along the way add to your experience, but they'll also give you the opportunity to rest before the next day's drive.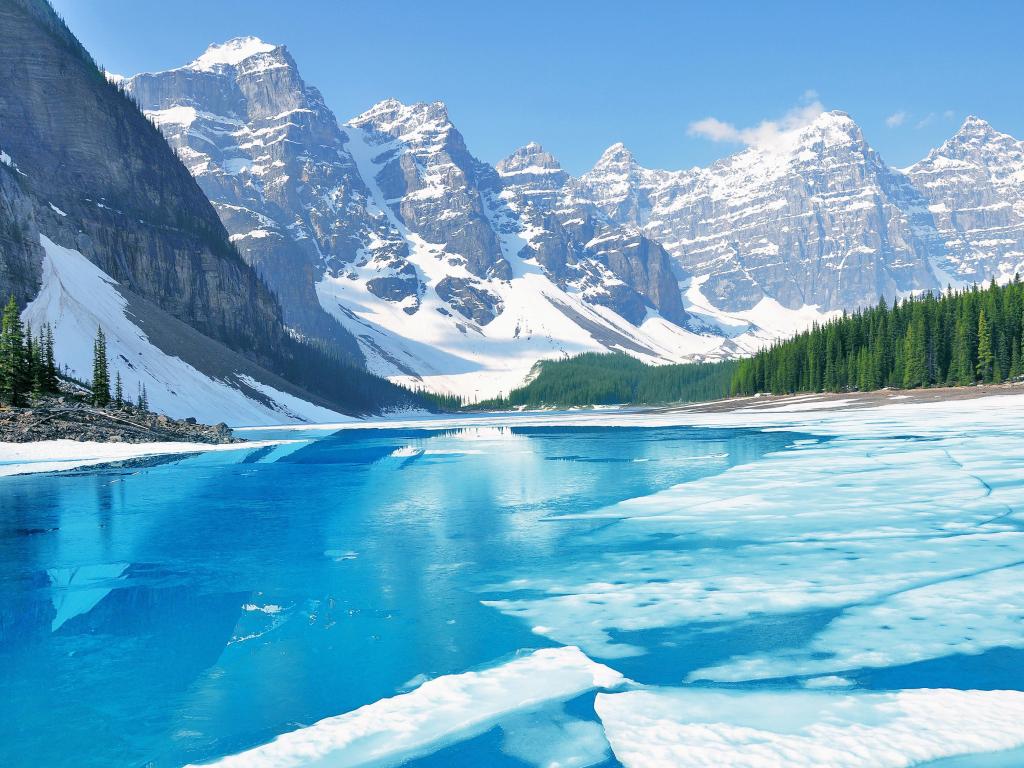 Best road trip route from Winnipeg to Banff
Both route options from Winnipeg to Banff offer great views, culture-rich towns and cities, like the stunning Calgary, and national parks, ideal for hiking, picnics or just enjoying the scenery.
Our Regina Route offers slightly more urban amenities and sights, coupled with natural vistas. You'll get to drive through Moose Jaw and Medicine Hat, as well as Dinosaur Provincial Park, which is a UNESCO heritage sight, and Stone Hall Castle, an old stone mansion.
Taking you slightly further north, our Saskatoon Route is slightly quicker but includes plenty of rugged landscapes, ideal for nature lovers who want to immerse themselves in the Canadian scenery.
As well as taking you through Riding Mountain National Park, where you can enjoy a wild swim or hike, this route includes visits to Drumheller and Atlas Coal Mine National Historic Site.
If you follow the Saskatoon Route, you can also include the additional detour to Edmonton, the capital of Alberta and nicknamed "Canada's Festival City". It's also home to the largest shopping mall and Fort Edmonton Park, Canada's largest living history museum.
The Regina Route
Begin by taking Trans-Canada Highway/MB-1 West from Winnipeg through Portage la Prairie and towards Brandon. You could take a longer detour to visit Riding Mountain National Park here if you have the time.
Pass through Virden and cross into the province of Saskatchewan. Continue on ME-1 through Grenfell, Indian Head and Emerald Park to Regina, an ideal place for an overnight stop.
Next take Saskatchewan's Highway, stopping at Moose Jaw, before rejoining the Trans-Canada Highway/SK-1 West. You'll pass by Swift Current and then cross into the province of Alberta through Medicine Hat.
Leave the highway by taking a right onto AB-876 North to Dinosaur Provincial Park, a great place for a stop, scenic walk or picnic. Afterwards, turn left onto AB-36 South and rejoin the Trans-Canada Highway on AB-1 West.
Follow the road until you reach AB-901 and then AB-547 West. Take AB-2 South to make a visit to Bar U Ranch National Historic Site, before retracting your steps to AB-2 North, following signs Calgary. Stop here to explore this great city.
You'll leave on Trans-Canada Highway/AB-1 west, which you'll continue on through Canmore and the mountains, before arriving at your destination of the stunning town of Banff.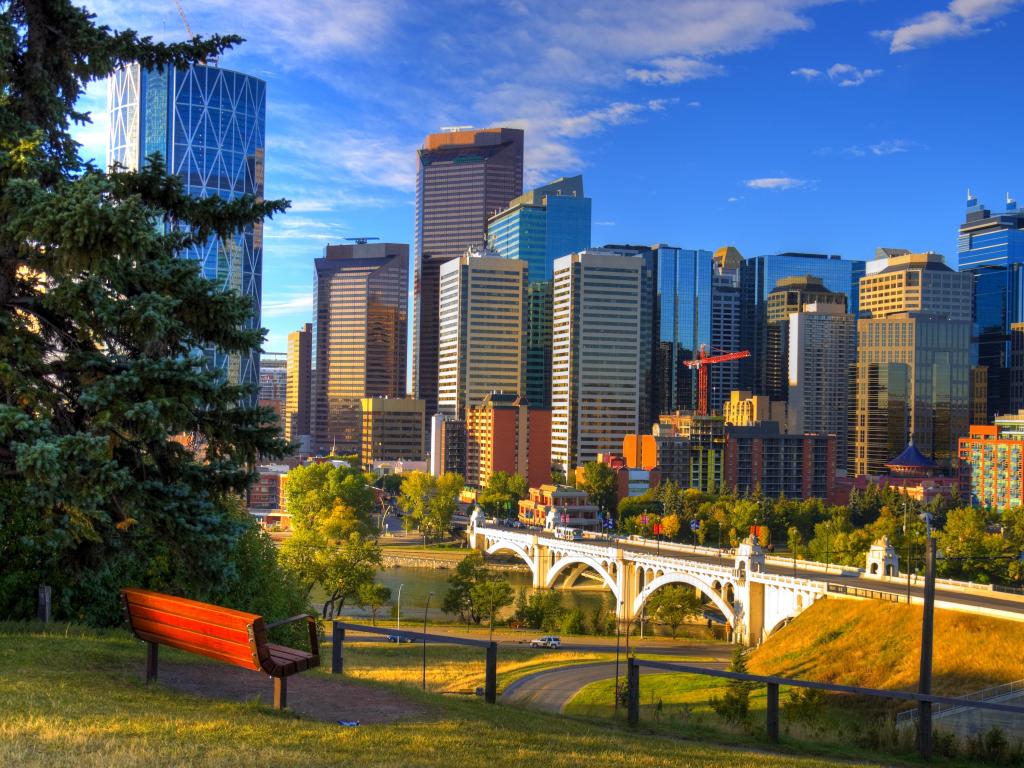 The Saskatoon Route
Our alternative route takes you on the same Trans-Canada Highway west, but when you pass Portage la Prairie, you'll need to exit and join Yellowhead Highway/MB-16.
Follow this road through Minnedosa, where you'll take MB-10 North to explore Riding Mountain National Park. Afterwards rejoin MB-45 West to Provincial Trunk Highway 83 N/MB-16 W before taking SK-16.
Continue on this road through Yorkton, Wynyard and Lanigan. Next, merge onto SK-16 to Saskatoon, a great halfway point for an overnight stop and rest.
To make a detour to Edmonton here, follow SK-16 West through several smaller towns before crossing into the province of Alberta and reaching Edmonton. You'll need to leave the city on AB-2 South which will take you back to Calgary where you can rejoin the route.
If you aren't interested in the Edmonton detour, you'll need to take SK-7 West from Saskatoon through several small towns to SK-44. This road will take you past Atlas Coal Mine National Historic Site and Drumheller.
Next take AB-9 West, before taking AB-566 and then AB-2 South to Calgary, Stop here, before joining the Trans-Canada Highway/AB-1 West all the way to Banff.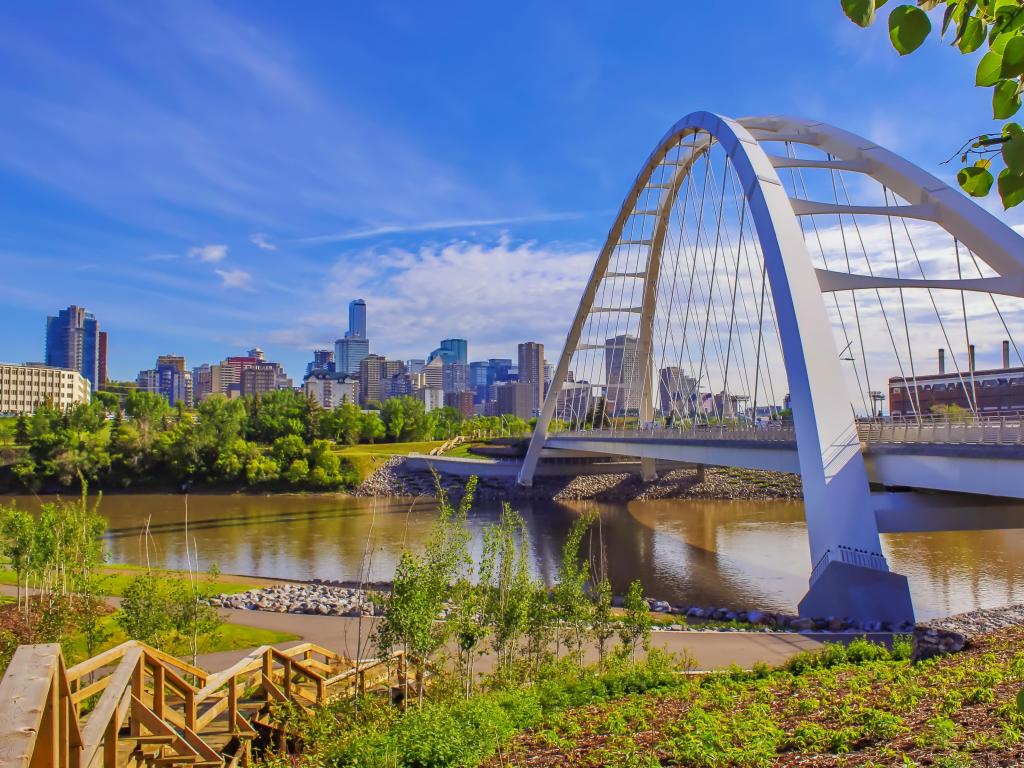 Best places to stop between Winnipeg and Banff
With an epic drive from Winnipeg and Banff taking several days to complete, you're going to want at least a couple of awesome overnight stops en route.
Of all the spectacular places you'll be driving past, here are some of our favorites we think you should consider:
A historic stay in Regina
Roughly a third of the way from Winnipeg to Banff on our Regina Route, a stop at the city it's named after is a great option, especially given the contrast between the flat plains surrounding Regina and the city's innovative architecture makes it a must-see.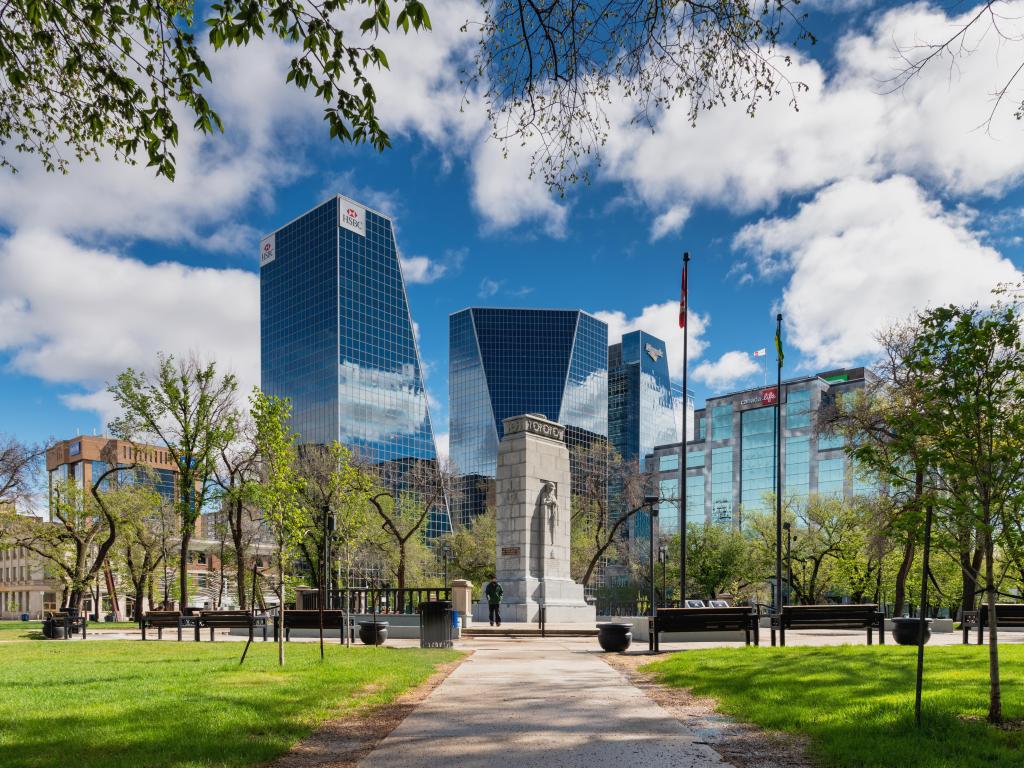 Once dubbed "Pile O'Bones" for the heaps of buffalo bones left there, Regina has great historical attractions, including Stone Hall Castle and the RCMP Heritage Centre; a museum which tells the story of the Royal Canadian Mounted Police (RCMP), better known as "Mounties".
A great base to explore all that Regina has to offer is The Hotel Saskatchewan. Located in the heart of downtown, this hotel offers easy access to local sights and is very close to downtown shops and restaurants.
The 4-star boutique hotel itself features great architecture and ambience. Some rooms even overlook Victoria Park, which offers an outdoor farmers market on the weekends.
If you are looking to venture out and spend a fantastic day out, you could visit the Royal Saskatchewan Museum which opened in 1906 and tells the story of the province's past, present, and future. It even claims to have the largest T-Rex fossil in the world.
After your excursion in this charming city, you will find solace in the comfort of your hotel, which offers a fitness center, spa, hot tub, and fabulous onsite restaurant for a well-deserved meal before calling it a day.
River views in Saskatoon
Ideally located halfway through our alternative route, a stay at Saskatoon is a solid option. Straddling the Saskatchewan River, this city is known as "the city of bridges" and is a melting pot of cultures.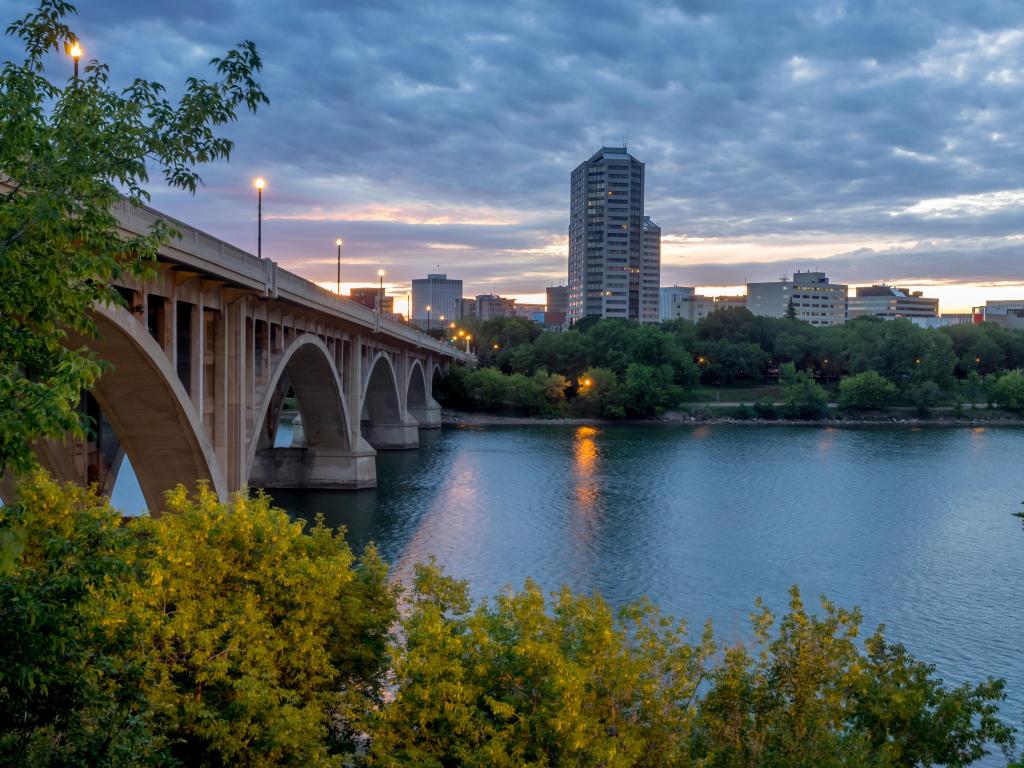 The largest city in the province of Saskatchewan and home to the University of Saskatchewan, Saskatoon is best known for its many festivals, including the PotashCorp Wintershines Festival and Saskatoon Blues Festival.
There are some great hotels that will provide you that "home away from home" comfort in this part of Canada, but one of the best is The James Hotel. This boutique accommodation is pet friendly and offers a lobby bar, onsite restaurant, and a fitness center with river views.
Situated in the heart of Saskatoon's central business district, this hotel is the perfect location to explore the city on foot. If you are feeling up for a cultural experience, you will find e Mendel Art Gallery and the Persephone Theater within a short distance from the property.
The city is also home to the Western Development Museum, where you can spend an educational afternoon or Saskatoon Forestry Farm Park & Zoo for something more outdoorsy if the weather is on your side!
A mountain retreat in Banff
Surrounded by the peaks of Mt. Rundle and Mt. Cascade, part of the Rocky Mountains, the picturesque town of Banff is best known as being the gateway to the stunning Banff National Park which offers incredible views, hiking trails and the gorgeous view of turquoise lakes.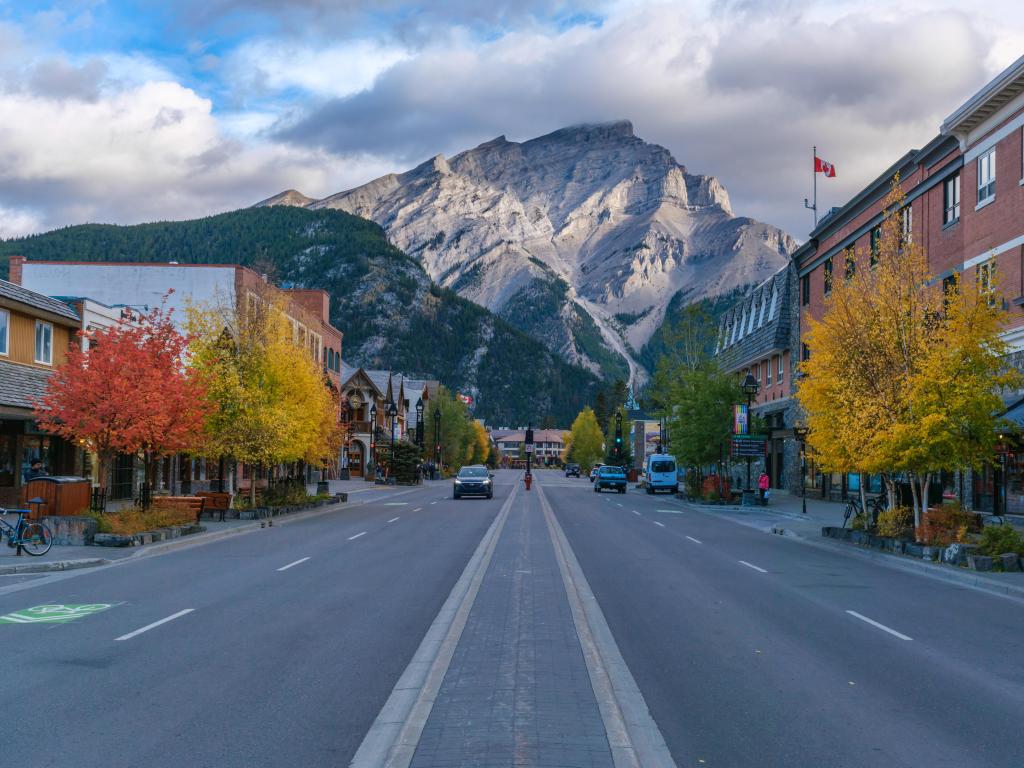 Banff itself is a popular skiing resort, as well as a year-round destination. Its popular Avenue includes boutiques, restaurants, shops and plenty of hotels.
Located in the center of this shopping area, is Peaks Hotel and Suites, a fantastic 4-star hotel with quiet proximity to the pristine natural surroundings for which Banff is known.
Just a short drive from the entrance to Banff National Park, it's the perfect base to explore the Rocky Mountains and Lake Louise. The hotel is a block from the beautiful Bow River, a short walk to the Cave and Basin National Historic and Whyte Museum of the Canadian Rockies.
The hotel offers ski storage and is ideally close to two ski resorts, Mount Norquay and Banff Sunshine Village, for those who love winter sports. You can also enjoy the restaurant, lounge, indoor pool, hot tub and steam room offered at its sister hotel, the Banff Park Lodge.
Things to see on a road trip from Winnipeg to Banff
With so much to see between Winnipeg and Banff, you could easily spend several weeks visiting them all. To help you plan your trip, we've set out some of the highlights that you might want to consider seeing en route: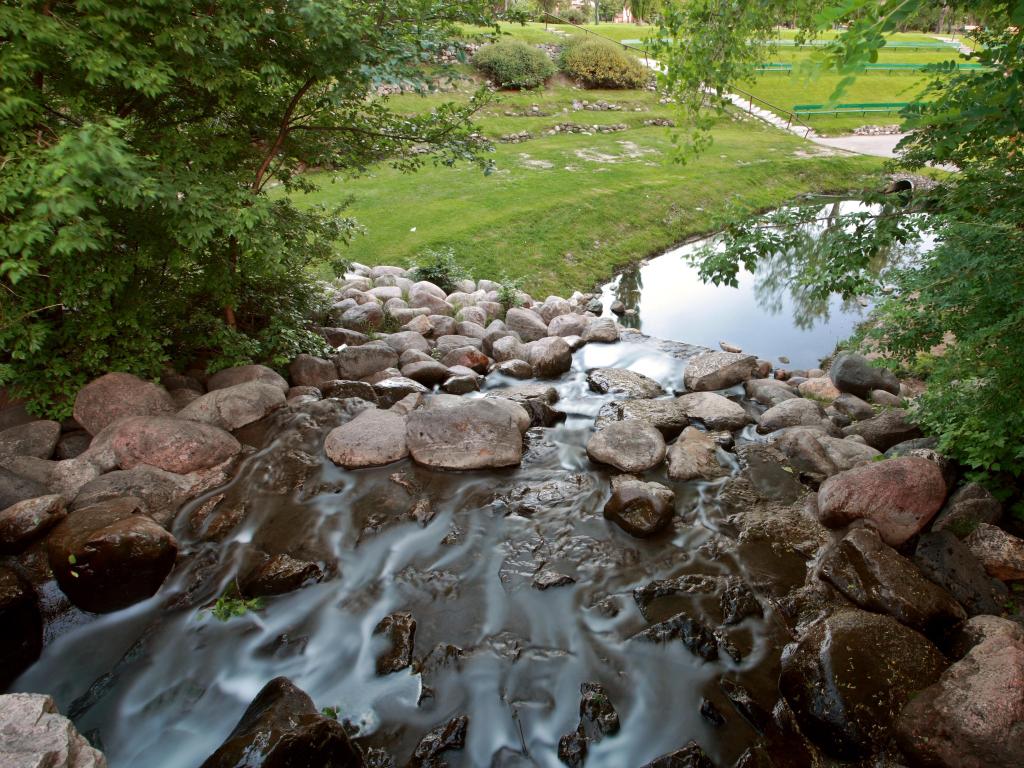 Both Routes
Calgary, Alberta - Nestled in the Rocky Mountains, Calgary is Alberta's largest city. Known for its amazing food scene, this bustling cosmopolitan city blends traditional pioneer charm with modern conveniences.
Heritage Park Historical Village - Canada's largest living history museum brings history to life with hundreds of exhibits, rides, shops, and dining options. Ride on a steam engine train and wander heritage buildings and homesteads.
The Calgary Zoo - See 900 animals from around the world at this amazing zoo. Don't miss the world-class butterfly enclosure and adjoining dinosaur park (and the playgrounds if you have kids in your group!).
Studio Bell, home of the National Music Centre - This interactive music museum features Canada's musical icons over five themed floors. The architecture of the building is perhaps as stunning as the music it celebrates.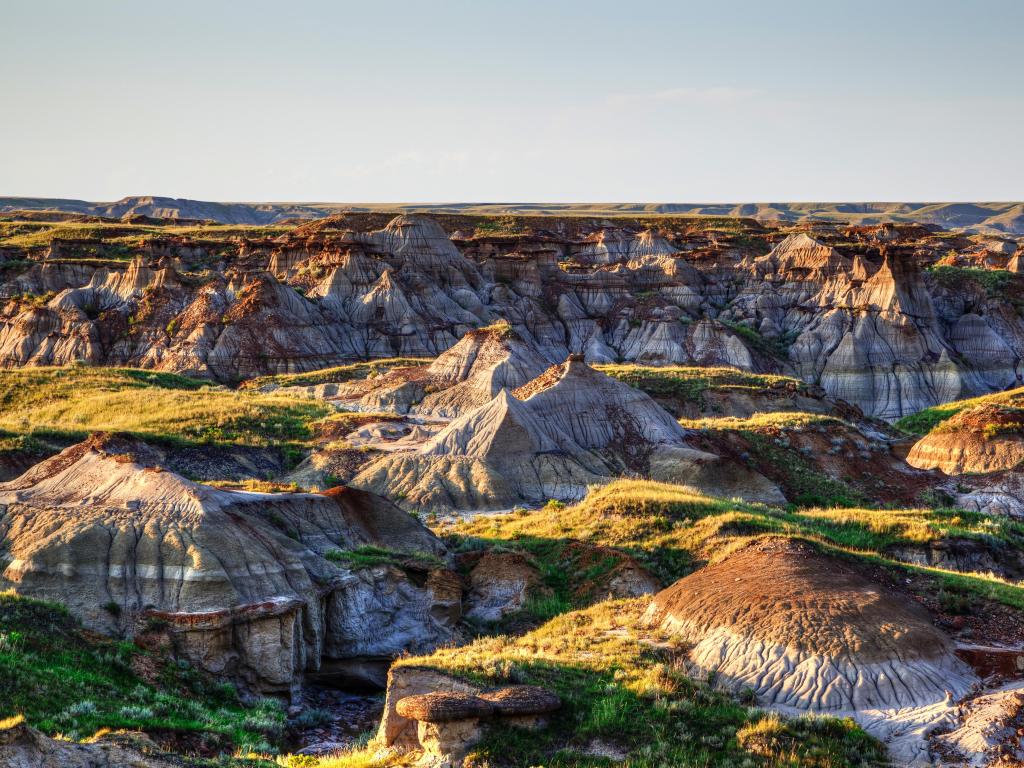 The Regina Route
Regina, Saskatchewan - This city is the capital of Saskatchewan and home to much of Canada's oil and natural gas production, as well as the Royal Canadian Mounted Police's (RCMP) Training Academy.
Wascana Centre - This gorgeous park surrounds a 120-hectare lake in the middle of Regina and is home to the province's Legislative Building, several government office buildings, the University of Regina, and the Royal Saskatchewan Museum.
Stone Hall Castle - Transport yourself to the Middle Ages at this old stone mansion turn medieval castle. Fun fact, the owner hand-picked each piece of container loads of 16th, 17th, and 18th-century art and furniture and lives in one of the suites of the castle.
Royal Saskatchewan Museum - Opened in 1906, the museum tells the story of the province's past, present, and future. It even claims to have the largest T-Rex fossil in the world!
Moose Jaw - The fourth largest city in Saskatchewan, Moose Jaw sit along the Trans-Canada highway and is an important industrial center and distribution point for the province's agriculture. It's also known for its museums, art galleries, and historic downtown.
Tunnels of Moose Jaw - This year-round attraction brings Canadian history to life through three underground theatrical tours. Learn about Moose Jaw's connection to Al Capone and Chicago during prohibition during your visit.
Western Development Museum (Moose Jaw) - One of four Western Development Museums in the province, this is a great hands-on learning experience for all ages and a superb way to stretch your legs during a long journey!
Casino Moose Jaw - Step back into the Roaring Twenties in this downtown Moose Jaw casino. Try your luck on one of the over 200 slot machines and table games and enjoy top-tier entertainment at the on-site theater.
Saamis Tepee - Constructed for the 1988 Olympics in Calgary, you can't miss this amazing structure as you drive into town. Shaped like a giant teepee, during your visit you will learn about the history and life of Canada's First Nations. Plus, it's free to enter.
Dinosaur Provincial Park - Dinosaur Provincial Park is a UNESCO Heritage Site that offers camping, hiking/walking trails through a spectacular landscape of rock formations and fossil displays (both outdoor and at the visitor center).
Bar U Ranch National Historic Site - Red ranch buildings dot the sweeping green landscape at this site, which is nestled on the doorstep of the Rocky Mountains. Commemorates the importance of ranching in Canada, you will be teleported back in time during your visit.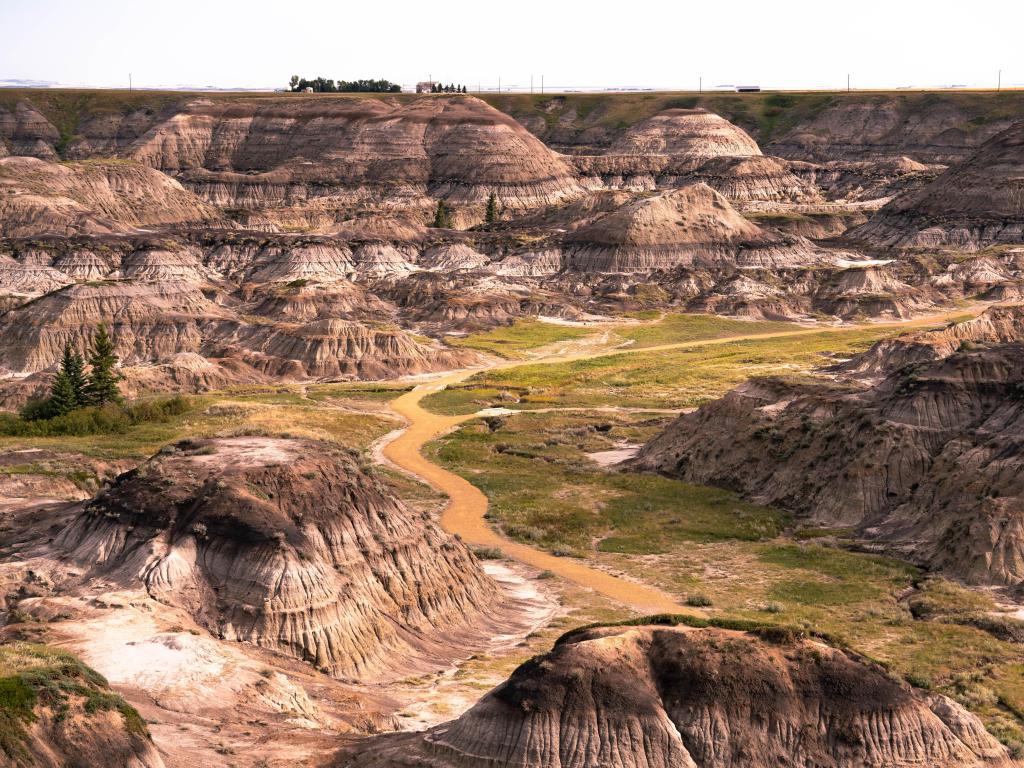 The Saskatoon Route
Riding Mountain National Park - This huge national park has almost 3,000km of protected forest parkland, where you can swim or boat, along the shores of Clear Lake, or watch wildlife, enjoy fishing, mountain biking or go hiking.
Saskatoon, Saskatchewan - Stradling the Saskatchewan River, the city is home to the Western Development Museum, University of Saskatchewan and Saskatoon Forestry Farm Park & Zoo.
Western Development Museum - This large museum showcases the Saskatchewan province's growth. It includes replicas of historical buildings, complete with a main street with shops you can walk through, and a huge display of antique cars.
The University of Saskatchewan - Enjoy the beautiful campus' mature trees, beautiful gardens, and museums. The perfect place for an afternoon stroll.
Saskatoon Forestry Farm Park & Zoo - See grizzly bears, meerkats, bison, grey wolves, snow leopards and much more! Be sure to check out the monkeys and pygmy goats at the Children's Zoo.
Atlas Coal Mine National Historic Site - Explore one of Canada's most complete historic coal mines. Mining operations ceased on this site in 1956, and you can check out the mining equipment that was used at the time and even go into the tunnel to see the mine itself!
Horsethief Canyon - Take in sweeping views of Badland's rolling hills and rock formations from the viewing plateau at the top of the canyon, which only requires a short walk to reach. If you get lucky, you may even spot some of the residential prairie dogs.
Horseshoe Canyon - This is a peaceful place to take in the natural beauty of the Badlands with a hike or a picnic. You can take the trail down to the bottom and walk through the canyon bed to check out the unique coloring and patterns of the rock formations.
World's Largest Dinosaur - Road trips are just not complete without seeing crazy sights like the world's largest ball of yarn. Located in Drumheller, the World's Largest Dinosaur does not disappoint!
Royal Tyrell Museum - Housing the world's largest collection of dinosaurs, this museum's ever-changing exhibits with fossil samples and huge dinosaur models offer something for everyone. You can purchase timed entry tickets online and a full visit takes about 1.5 hours.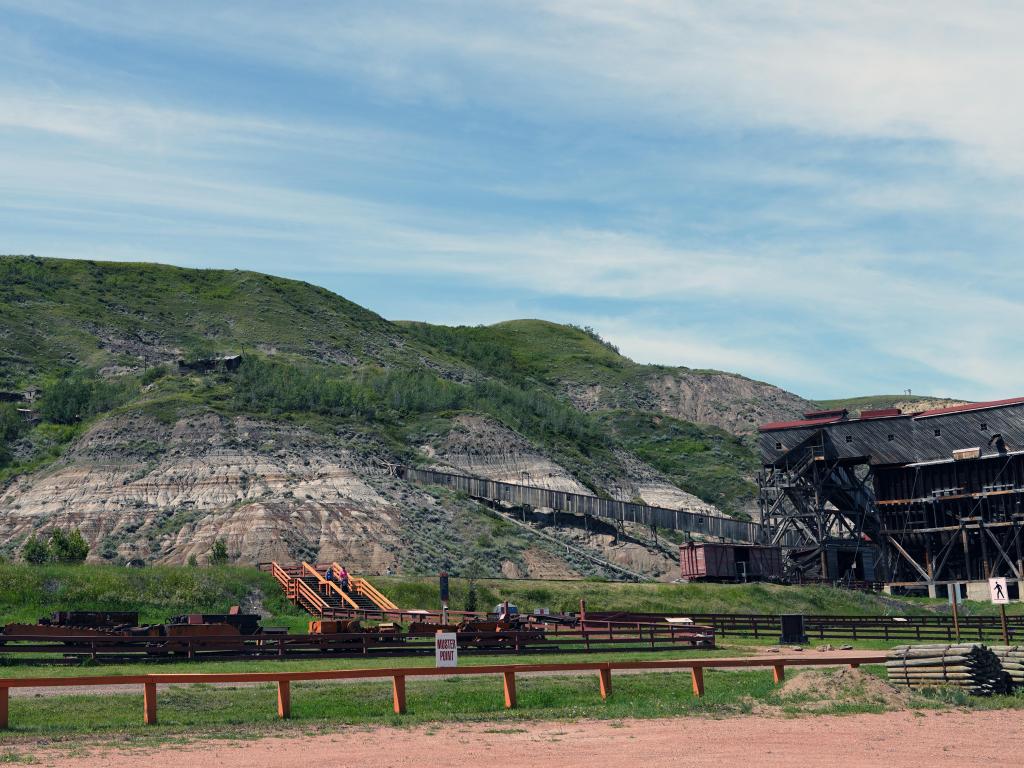 Best time to go on a road trip from Winnipeg to Banff
With hiking and river options during the summer and skiing and festivals during the winter, the road trip from Winnipeg to Banff is truly a year-round destination.
Banff itself is absolutely stunning in summer. Expect temperatures of 72 degrees Fahrenheit in July and long, sunshine-filled days. Of course, summer will also mean larger crowds coming to hike the nearby national parks, making it tend to be a more expensive time to visit.
In contrast, Banff shines in the winter since it's a ski destination. If you like winter sports, you'll be guaranteed some great skiing in the nearby ski resorts. Expect snow, cold temperatures of 32 degrees and frozen lakes. As with summer, expect larger crowds and higher hotel prices.
If you are visiting in January, you can participate in the Banff Craft Beer Festival, Banff Christmas Market and the Ice Magic Festival for a fantastic and festive time.
While spring and fall are a little chillier than summer, the stunning landscape is equally beautiful making the shoulder seasons an ideal time if you'd like to enjoy the popular parks without the large crowds. It's also the best time to stay if you're looking for less inflated hotel rates.
Another great option is to plan your trip around an event or two. Lucky for you, Banff has no shortage of events and festivals! No matter the season, you can find a way to get your fest on.
If kilts and log throwing is your thing, don't miss the Canmore Highland Games in September. As the weather cools down, you can warm up with some local wine at the Banff Springs Food and Wine Festival in October.