Road Trip from Winnipeg to Thunder Bay
Thunder Bay sits on the beautiful shores of Lake Superior across Sleeping Giant Provincial Park. Driving through the scenery and wilderness of Central Canada, the road trip from Winnipeg to Thunder Bay will take you to beautiful lakes, charming small towns and even provide an option to make a detour into the USA.
The 700 km road trip from Winnipeg to Thunder Bay will take 7 hours and 40 minutes to drive. The highlights include Centre of Canada Park, Lake of the Woods, Ignace, Upsala, International Falls, Voyageurs National Park, Grand Marais and Lutsen.
This scenic drive from Winnipeg to Thunder Bay will surely impress even the most experienced road tripper. Read on below to learn more about our recommended routes, best stops along the way, top highlights, and the best seasons to make the journey.
How far is Thunder Bay from Winnipeg, and how long will the road trip take?
Comparison of road trip routes between Winnipeg and Thunder Bay

| Route | Distance | Driving Time |
| --- | --- | --- |
| The Direct Route | 700 km | 7 hours and 40 minutes |
| The Minnesota Route | 930 km | 10 hours and 20 minutes |
The Direct Route from Winnipeg to Thunder Bay takes around 7 hours and 40 minutes to complete and covers 700 km without accounting for any detours.
Choosing the alternative Minnesota Route, you'll experience a slightly longer journey, covering 930 km and taking approximately 10 hours and 20 minutes.
Although the direct route is quicker, the Minnesota Route offers diverse sights and unique experiences. To get the most out of both routes, we recommend taking 2-3 days to get the most out of all the attractions and natural wonders along the way.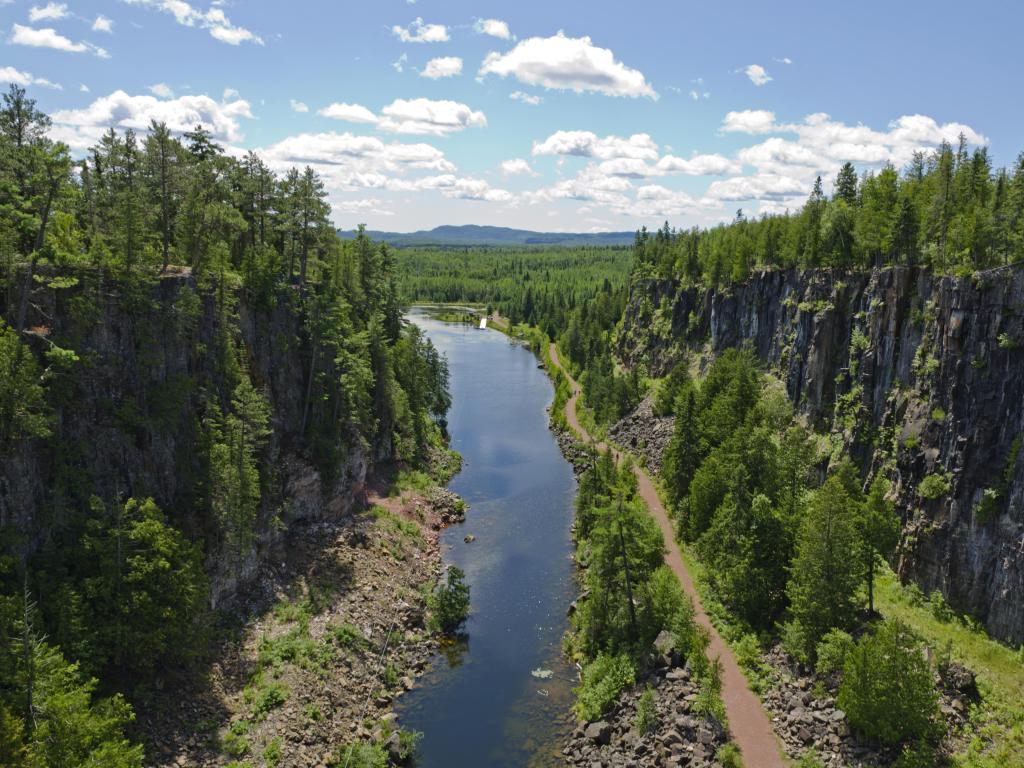 Best road trip route from Winnipeg to Thunder Bay
While both the Direct Route and the Minnesota Route from Winnipeg to Thunder Bay provide travellers with memorable experiences, they each offer unique attractions and vibes, creating two very different adventures.
The Direct Route via the famous Trans-Canada Highway plunges you into the rugged wilderness of the Canadian Shield in Ontario. You'll get to drive through Falcon Beach and Vermillion Bay before going through the labyrinth of waterways leading to Dryden.
A quirky pitstop on the way is the Central/Eastern Standard Time Zone marker. Here, you can take photos on both sides of the marker, and pretend to travel back in time, as this spot marks a 1-hour difference.
If you're craving scenic vistas of wide open spaces and serene lakesides, and want to explore the USA en route, then the Minnesota Route is the ideal route for you.
The expansive Canadian Prairies will stretch out before you, offering views of dense forests, tranquil lakes, and sprawling fields adorned with wheat and sunflowers.
Soon, you'll enter the US state of Minnesota and drive through its rugged northern landscapes. As you approach the end of this route, you'll be treated to breathtaking panoramas of Lake Superior.
This area, adjacent to Superior National Forest, is full of picturesque spots, perfect for a pause to capture the moment. Plus, numerous trailheads dot the region, inviting any hiker or outdoor enthusiast to take some time in the great outdoors.
Before you drive across the border and reach Thunder Bay, you will get to drive on the stunning stretch of Minnesota's Highway 61. You can reach our detailed guide on this famously scenic road by clicking here.
How to drive from Winnipeg to Thunder Bay
The map above shows our suggestions for the best road trip routes between Winnipeg and Thunder Bay. Keep reading for detailed descriptions of both routes, where to stay on either, and the best things to do on the way.
The Direct Route
Starting from Winnipeg, head onto the Trans-Canada Highway, Highway 1, and drive east. You'll soon arrive in the beautiful and expansive Lake of the Woods, one of the most famous fishing areas in North America.
From here, head back on the route. You'll drive through thick forests and beautiful nature and have the opportunity to make detours such as Eagle-Dogtooth Provincial Park and Winnange Lake Provincial Park.
After exploring, make your way to Vermillion Bay. Here, you can experience world-class camping and nearby hiking.
Continue back on route to the town of Dryden on the shores of Wabigoon River. Make sure to visit the wonderful Dryden Museum or drive around the small lakes that surround it.
Head back on route and travel through more rugged wilderness to the town of Ignace. Then, make your way southeast to Upsala.
From here, take a short detour to Kakabeka Falls, one of the most striking waterfalls in Canada. Then, it's time to make your way to your destination of Thunder Bay.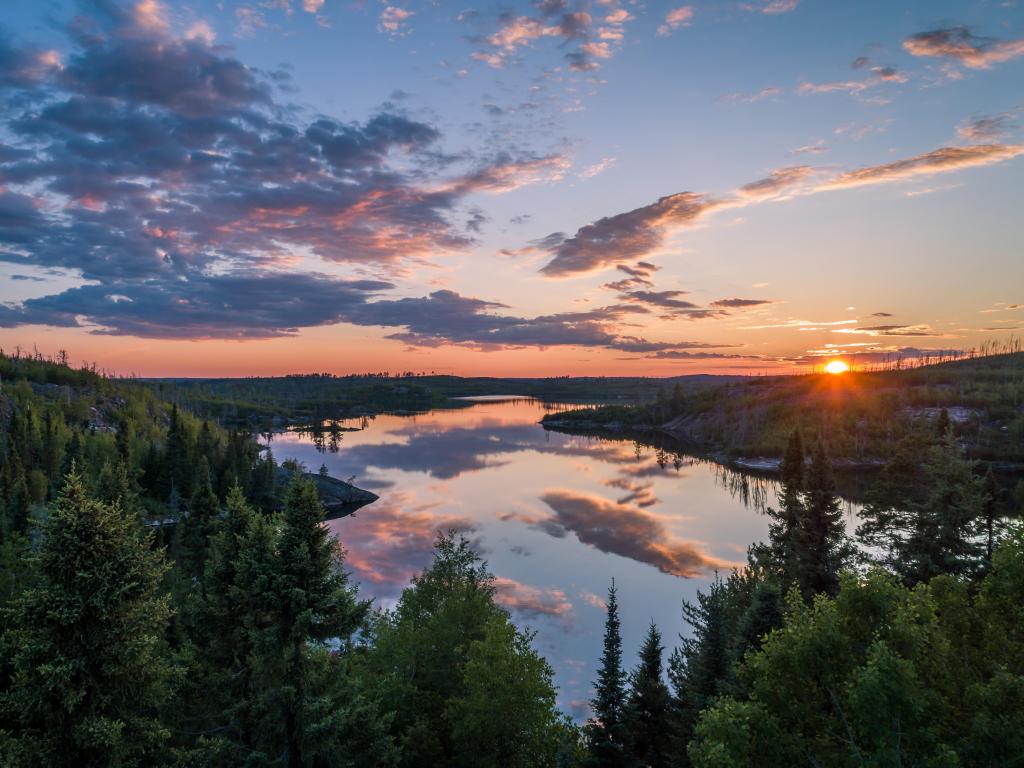 The Minnesota Route
Head out of Winnipeg on Highway 1 and then exit onto MB-12. You'll drive through the beautiful rural landscapes of southern Manitoba and cross into the US state of Minnesota past Muskeg Bay.
From here, make your way through the small lakes and beautiful natural areas of northern Minnesota.
Make your way to the community of International Falls. From here, drive to the beautiful Voyageurs National Park for a chance to see amazing wildlife.
From here, drive south to Orr and make a stop at Kabetogama State Forest. Here, you'll see the Vermilion Falls Overlook.
Next, hop on US-53 south and then onto Townline Rd east. You'll soon make it to the shores of Lake Superior. You will drive on the scenic Highway 61 from Illgen City to Grand Portage past stunning Temperance River State Park and Cascade River State Park.
From here, make your way along the rugged shoreline to your destination of Thunder Bay.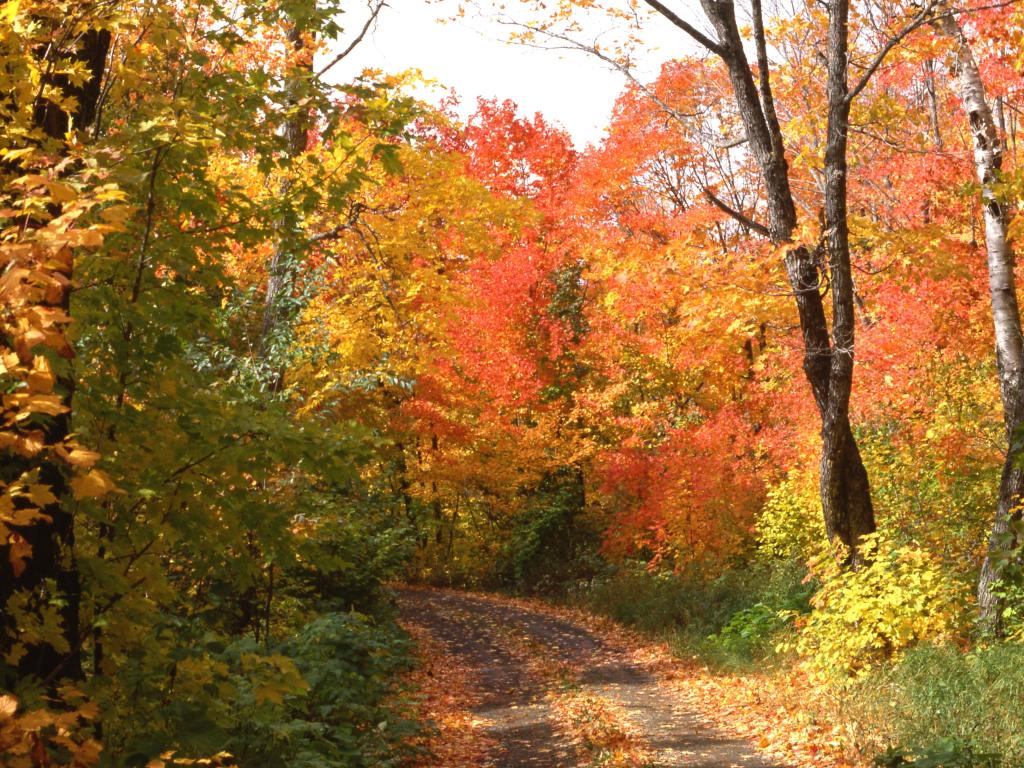 Best places to stop between Winnipeg and Thunder Bay
Although this is a short drive, you'll find endless opportunities to hike, fish, camp, or just spend time in the great outdoors. Below are our top stopovers along the way so you can get the most out of your beautiful drive.
Enjoy a nature retreat in Dryden
Halfway through your drive on the Direct Route, about 4 hours and 20 minutes from your starting point, you'll arrive at Dryden. It's a hub of culture and the gateway to the great outdoors, where the clear waters and lush landscapes of Ontario become your playground.
Dryden features plenty of shopping, dining, and a variety of outdoor activities. It is renowned for its parks, trails, and beaches, perfect for those who love to hike, swim, or just lounge in the sand.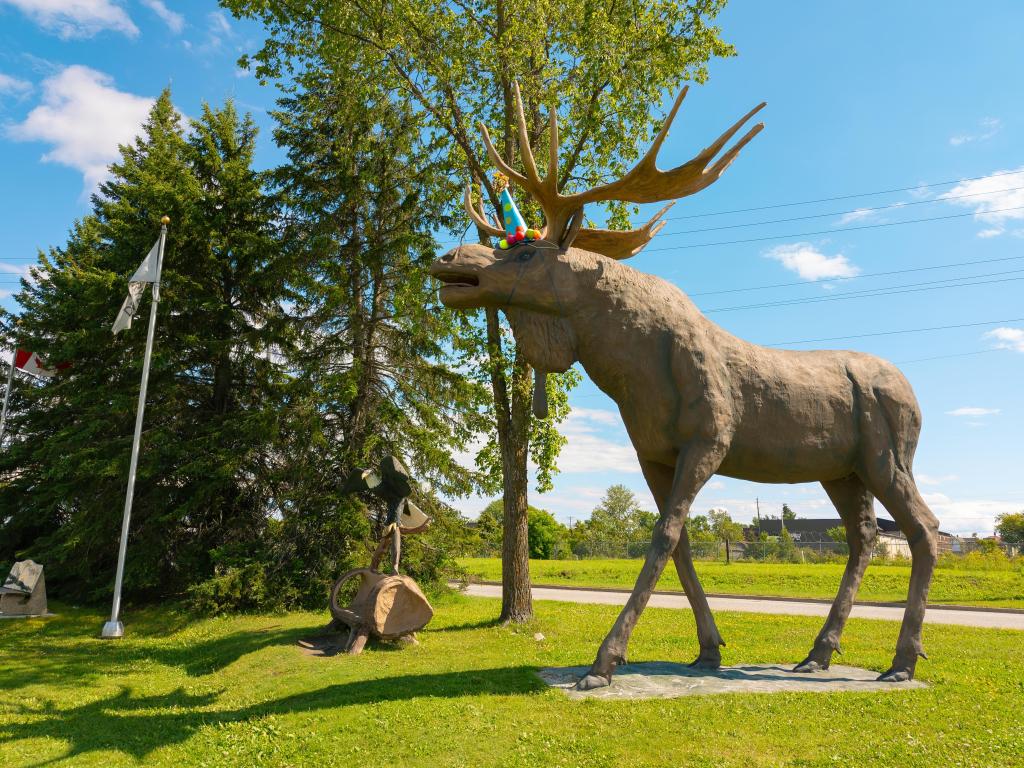 Adding to the charm of Dryden is the Naked North Art Gallery and Gifts, a cultural gem where local artists are celebrated. A short drive away, the Rushing River Provincial Park offers a peaceful escape with its gentle streams and peaceful paths.
For an overnight stay, the Holiday Inn Express Dryden provides a comfortable retreat. Positioned within reach of the town's attractions, including the fascinating Dryden and District Museum and the iconic Max the Moose, a short walk away from the doorstep of the hotel.
At Holiday Inn Express Dryden, you'll be treated to a complimentary hot breakfast bar to start the day. The indoor pool and steam room offer a relaxing end to a day of exploration, while the fitness centre is perfect for staying healthy on the road.
Take in the scenic lake river views in International Falls
Just over four hours into your drive on the Minnesota Route, International Falls is the perfect stopover. This border town, located on the shores of Rainy River, offers plenty of outdoor activities and stunning natural beauty.
With its proximity to Canada, it's the ideal stop if you want to explore the enchanting wilderness that this region is celebrated for. You are in for a treat if you are a hiking enthusiast, as you can enjoy the trails that meander along the fast-flowing creeks and waterfalls, surrounded by the surrounding hills.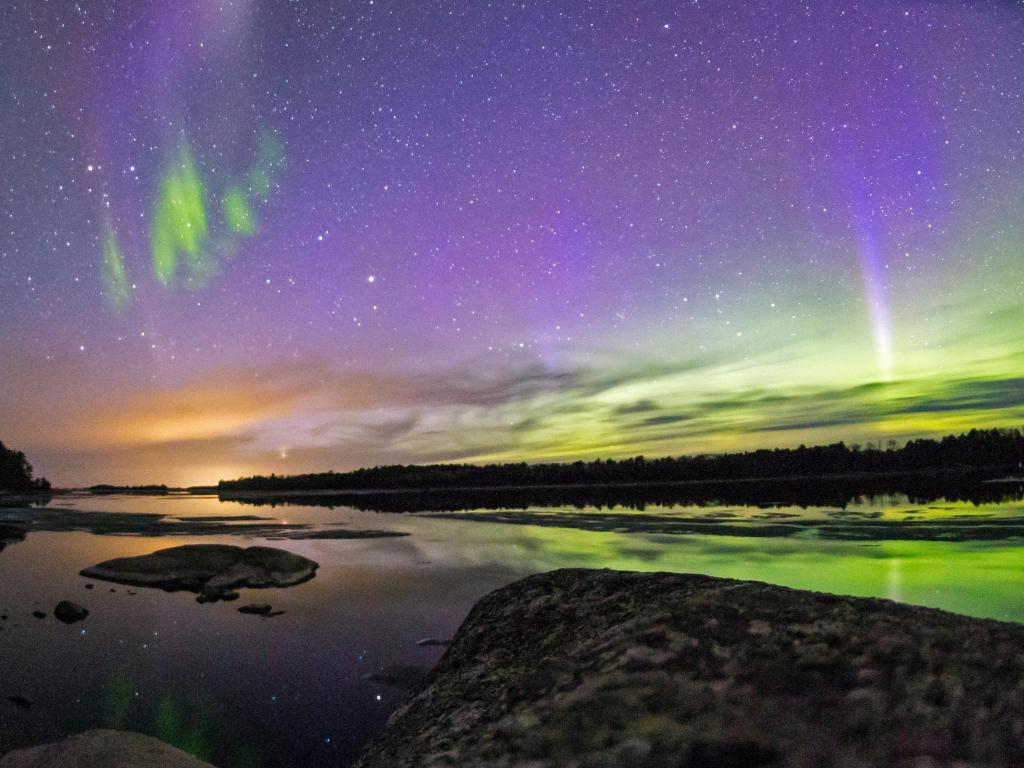 International Falls is the closest city to Voyageurs National Park. This unique national park offers a mosaic of interconnected waterways and landscapes.
If you prefer to spend your day indoors, we recommend a visit to the Koochiching County Historical Museum and Bronko Nagurski Museum. Here, you'll get insights into the rich history of the area.
As for lodging, The Nomad Motel is classic Americana. The motel's architecture harks back to the 1950s, and the its minimalist décor and drive-up rooms have a unique blend of nostalgia. The modern rooms come equipped with in-room coffee machines for the ultimate pick-me-up in the mornings.
Only a 15-minute drive will take you from the comfort of The Nomad Motel to the scenic vistas of Voyageurs National Park. And for those who are intrigued by local history, The Fort Francis Museum is a mere 10 minutes away by car.
Where to stay when you reach Thunder Bay
Thunder Bay, a city where you can enjoy the views of Sleeping Giant Provincial Park across the waters of Lake Superior waters, is full of natural beauty and rich history.
At Fort William Historical Park, you can step back in time to learn about the area's past as an active historic fur trading post. Afterwards, you can grab a refreshing craft beer at the Sleeping Giant Brewing Co.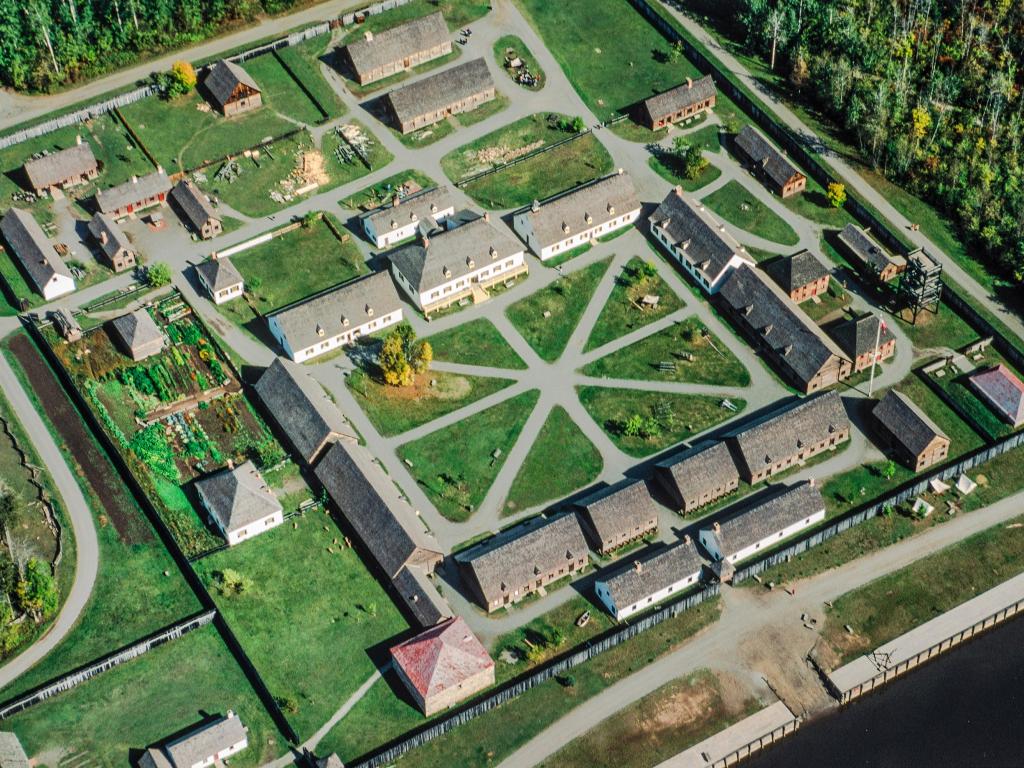 Nestled comfortably within this lively city is the Hampton Inn & Suites by Hilton Thunder Bay, offering you a beautiful retreat that echoes the warmth of Thunder Bay itself.
The hotel has spacious, well-appointed rooms, providing a comfortable and clean environment that feels like a home away from home.
During your stay, you can begin each day a delicious and complimentary hot breakfast, serving up a variety of delicious options to cater to every palate. Later, you can take a refreshing dip in the indoor swimming pool to relax before or after continuing your drive.
When you are ready to explore, within a short drive, the cultural and educational hubs of Confederation College and Lakehead University await. Not to forget, the International Friendship Gardens and Chapples Golf Course lie within an easy distance.
Things to see on a road trip from Winnipeg to Thunder Bay
With so much nature, beautiful scenery, and relaxing things to do, there's no limit to the fun of this road trip. Below are our top highlights along the way so you can plan all the amazing things you want to experience.
Direct Route
Centre of Canada Park - Marking the longitudinal centre of Canada, this park is a geographic highlight that celebrates the heart of the nation with a monument and surrounding green space for visitors to enjoy.
Rockeries Marina - Situated on the beautiful Lake of the Woods, Rockeries Marina is a serene docking point for boaters and a picturesque spot for fishing, with ample facilities for a relaxing day by the water.
Lake of the Woods Museum - Housing a collection that reflects the rich cultural history of the area, the Lake of the Woods Museum in Kenora provides an intimate look at the region's past through engaging exhibits and artefacts.
Husky the Muskie - This iconic 40-foot tall sculpture in Kenora stands as a tribute to the conservation efforts of the local muskellunge fish population, beckoning anglers and tourists alike for a unique photo opportunity.
Egli's Sheep Farm - Nestled in the heart of the countryside, Egli's Sheep Farm is an animal lover's haven that offers a hands-on experience with various farm animals and showcases wool production.
Dryden Museum - The Dryden Museum presents a fascinating array of local history in a quaint setting, offering insights into the town's development, First Nations culture, and the Canadian forestry industry.
Tower Hill Lookout and Sliding Hill - Offering panoramic views of the Wabigoon Chain of Lakes, the Tower Hill Lookout is a perfect spot for sightseers, while the nearby Sliding Hill adds seasonal fun with its popular winter sledding opportunities.
Whispered Dreams Ranch - Located in Upsala, Whispered Dreams Ranch is a serene retreat offering horseback riding and interaction with farm animals, set against the backdrop of Ontario's natural beauty.
Kakabeka Falls - Known as the "Niagara of the North," Kakabeka Falls impresses with its powerful cascade and surrounding trails that offer stunning views of the Kaministiquia River.
Norwest Arena - Norwest Arena is a hub of community sports and gatherings in Thunder Bay, showcasing local ice hockey talent and serving as a venue for various recreational activities and events.
Thunder City Speedway - This high-octane venue near Thunder Bay offers thrilling motor racing events, where the roar of engines and the rush of speed captivate spectators.
McKellar Bay Museum - Overlooking the picturesque McKellar Bay, this museum is a treasure trove of maritime history and local lore, with a collection that highlights the area's nautical past.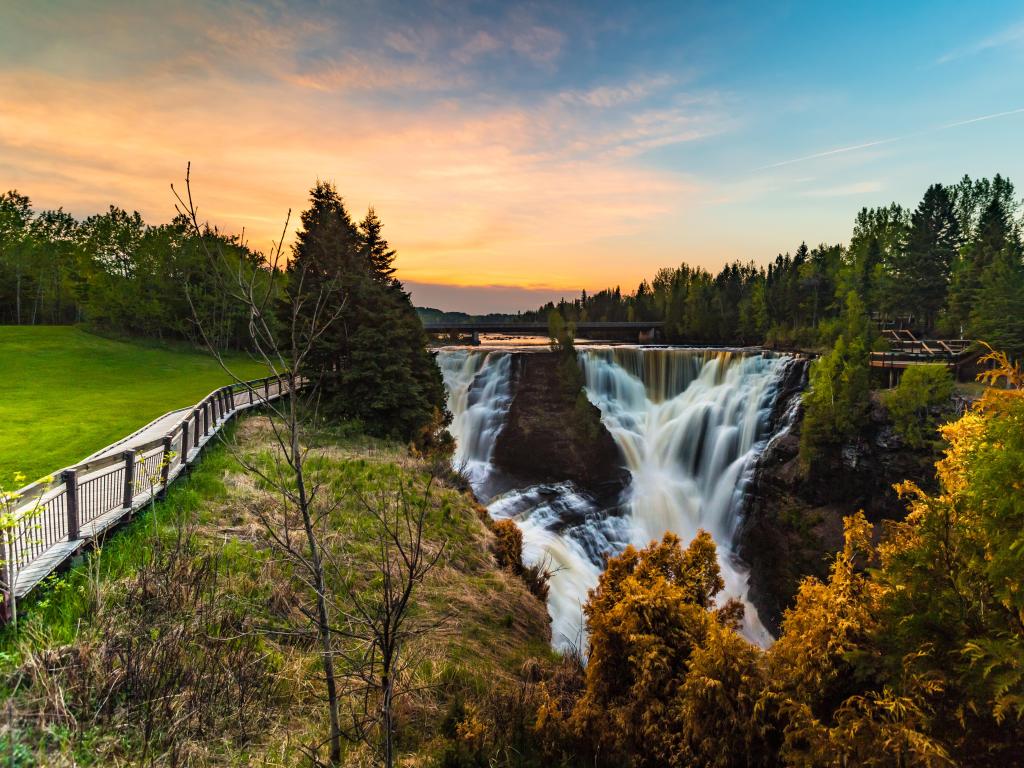 Minnesota Route
Mennonite Heritage Village, Steinbach - This immersive museum in Steinbach, Manitoba, allows visitors to step back in time and explore the history of Mennonite settlers through authentically reconstructed buildings and artefacts.
The Shed, Warroad - A local gathering spot in Warroad, Minnesota, The Shed is an antique car museum that houses a vast collection of classic automobiles and memorabilia, making it a nostalgic journey for car enthusiasts.
Willie the Walleye - Willie the Walleye stands proudly in Baudette, Minnesota, as a larger-than-life fish sculpture celebrating the region's status as the Walleye Capital of the World, and serves as a whimsical landmark for fishermen and tourists.
Ellsworth Rock Gardens - Often referred to as the "Showplace of Lake Kabetogama," Ellsworth Rock Gardens is a striking display of rock sculptures and terraced flower gardens artistically assembled by Jack Ellsworth.
Voyageurs National Park - This unique park offers visitors a chance to explore its pristine wilderness, observe diverse wildlife, and engage in activities like boating, fishing, and hiking in a serene, natural setting.
Vince Shute Wildlife Sanctuary - This wildlife haven in Orr, Minnesota, provides a rare opportunity to observe and learn about black bears in their natural habitat.
Vermilion Falls Overlook - A hidden gem near Orr, the Vermilion Falls Overlook offers a dramatic view of the powerful Vermilion River as it cascades down rugged rocks, creating a picturesque waterfall that captivates nature lovers and photographers alike.
Fort Francis Museum and Cultural Centre - Situated in the heart of Fort Frances, this museum is a cultural cornerstone that preserves and displays the rich history and diverse heritage of the Rainy River District.
Cascade River State Park - Nestled along the North Shore of Lake Superior, Cascade River State Park is celebrated for its spectacular waterfalls, forested hiking trails, and the scenic Cascade River that cuts through a rocky gorge.
Mount McKay Scenic Lookout - Mount McKay is a sacred site for the indigenous Fort William First Nation and offers panoramic views of Thunder Bay and the surrounding area from its summit. The lookout provides a unique perspective of the Nor'Wester Mountains and is a popular spot for hiking and cultural events.
Niibing Tribal Tours - Niibing Tribal Tours immerse visitors in the rich traditions and stories of the local Anishinaabe people through guided experiences.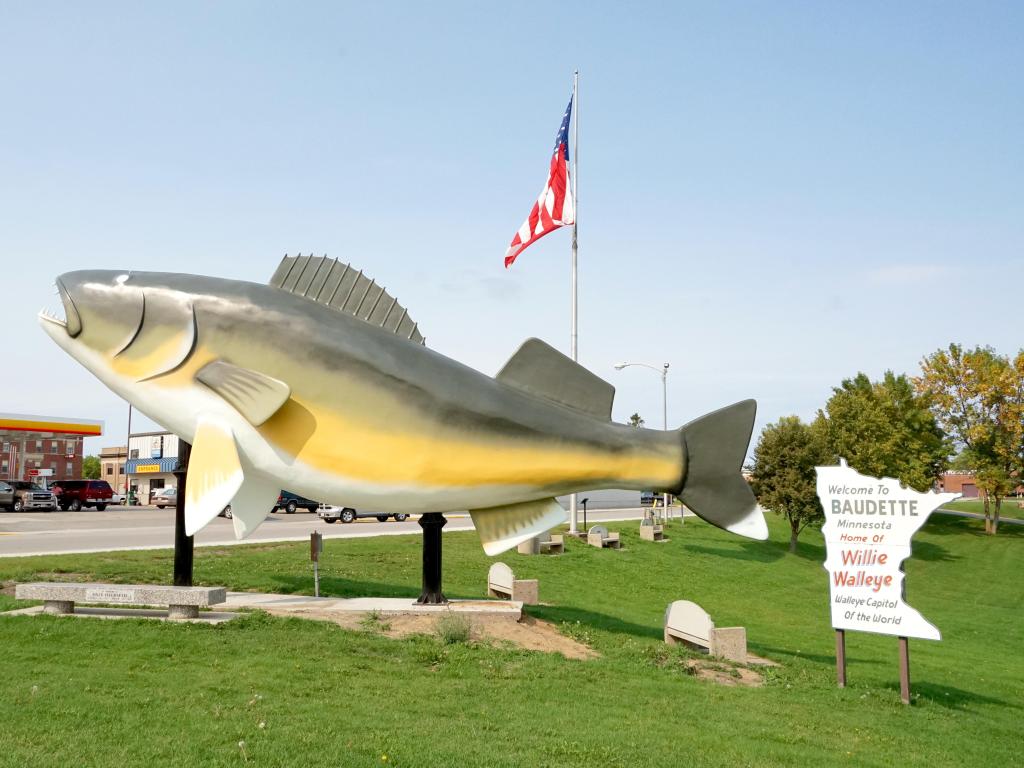 Best time to go on a road trip from Winnipeg to Thunder Bay
Thunder Bay, famous for its stunning natural scenery and cultural highlights, is an unforgettable road trip destination regardless of the season.
If you're journeying from Winnipeg and opting for the direct route, it is unlikely to see much traffic on the Trans-Canada Highway. Do remember, however, to keep your tank full as gas stations are sparse.
Summer in this region of Canada and the USA is typically pleasant with temperatures between 60 to 80 degrees Fahrenheit.
A summer trip allows you to visit local festivities such as the Country on the Bay in July, Ribfest in August, or the Rainy River First Nations Pow Wow, but be sure to check for any road construction closures.
Autumn brings a picturesque drive with crisp air and the chance to witness the autumn foliage in full glory especially if you are traveling on Highway 61 on the Minnesota Route. This is also the best time to see wildlife in their natural habitat.
Winter in Thunder Bay can be quite magical with temperatures ranging from 0-20 degrees, though driving requires caution, especially if significant snowfall occurs. The well-maintained roads generally remain passable, but it's wise to stay updated on weather conditions.
During winter, you can visit the Ice Box Days festival, should you choose the Minnesota Route. Should your travel dates align, the Dryden Winter Festival in February is also worth seeing.
In spring, the route awakens with milder weather as temperatures in Thunder Bay range from a cool 35-55 degrees Fahrenheit. You'll get to see the striking wildflower blooms right before summer.