Road Trip from Winnipeg to Calgary
If you are looking for a road trip dotted with awe-inspiring scenery right out of a travel magazine, pristine ski slopes, fabulous vineyards and world-famous national parks, then look no further; the road trip from Winnipeg to Calgary is the adventure you have been looking for!
The 1,430 km road trip from Winnipeg to Calgary will take 15 hours to drive, passing either Regina, Wascana Park, Moose Jaw, Medicine Hat and Dinosaur Provincial Park, or past Saskatoon to visit Riding Mountain National Park and Wanuskewin.
This road trip takes you through unforgettable experiences (think reflections of majestic mountains on mirror-like lakes!). Keep reading to find out the best routes, amazing places to stay, things to see and the best time to visit Calgary.
How far is Calgary from Winnipeg, and how long will the road trip take?
Comparison of road trip routes between Winnipeg and Calgary

| Route | Distance | Driving Time |
| --- | --- | --- |
| The Saskatoon Route | 1,430 km | 15 hours |
| The Moose Jaw Route | 1,460 km | 14 hours 40 minutes |
The Moose Jaw Route stretches a total of 1,460 kilometers and takes around 14 hours and 40 minutes, offering a scenic journey through Canada's heartland.
Take the alternative Saskatoon Route and you travel a slightly shorter 1,430 kilometers, with 15 hours of drive time, promising an unforgettable exploration of Canada's vast prairies.
Though these journeys could be covered in a couple of days, we highly recommend dedicating at least 5-6 days to fully immerse in the bounty of experiences these routes have to offer.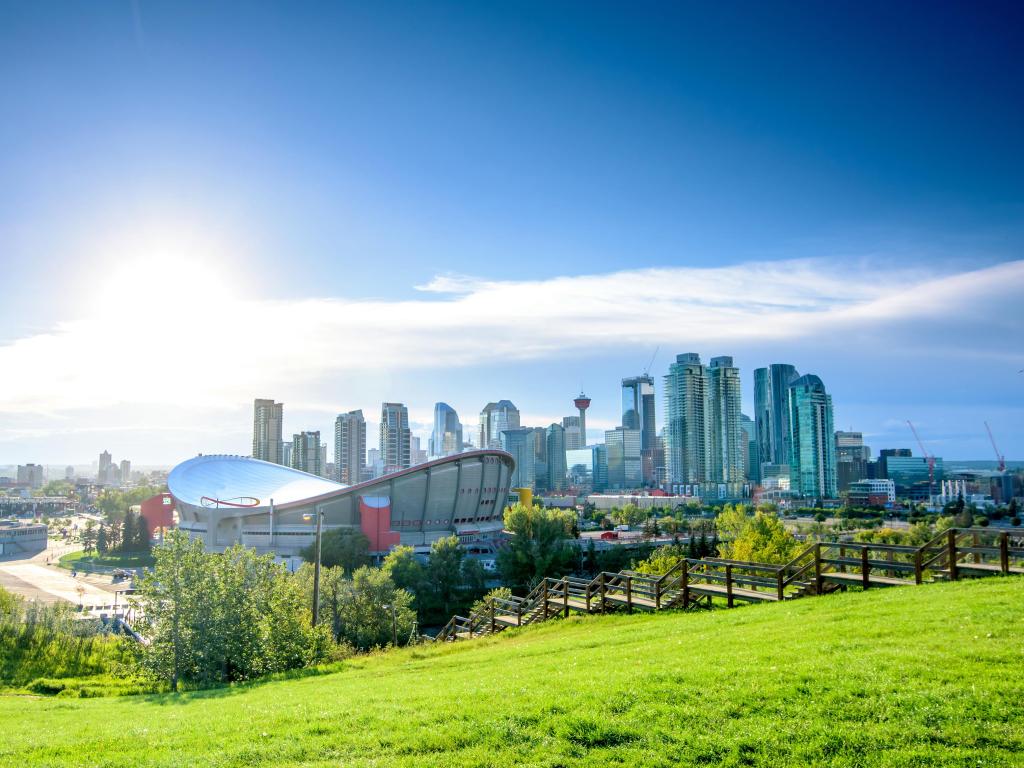 Best road trip route from Winnipeg to Calgary
Both the Moose Jaw and Saskatoon Routes take around the same time, so your route choice will largely depend on the type of adventure you're seeking.
The Moose Jaw Route guides you through the heart of the Canadian Prairies, where you can explore the historical Fort La Reine and Swift Current Museums, the vibrant city of Regina, the tranquility of Wascana Park, and prehistoric adventure at Dinosaur Provincial Park.
This route blends historical, natural, and cultural wonders with bustling city vibes along the way.
Take the alternative Saskatoon Route, and this journey takes you to the impressive Riding Mountain National Park, the serene Quill Lakes International Bird Area, and the indigenous cultural heritage site of Wanuskewin, stopping at urban oasis of Saskatoon a high point.
The Atlas Coal Mine National Historic Site and the intriguing Hoodoos Trail are also two exciting stops you can make.
How to drive from Winnipeg to Calgary
The map above shows our suggestions for the best road trip routes between Winnipeg and Calgary. Keep reading for detailed descriptions of both routes, where to stay on either, and the best things to do on the way.
Moose Jaw Route
Begin your journey west from Winnipeg following the Trans-Canada Highway, going to the Fort La Reine Museum for a glimpse into the history and culture of Manitoba's indigenous peoples.
From here continue onto Regina, where a stopover can involve exploring Wascana Park, Stone Hall Castle and Royal Saskatchewan Museum. Shortly after, you'll arrive at Moose Jaw known for its unique attractions like the Western Development Museum and the Tunnels of Moose Jaw.
Pass Swift Current and Maple Creek before a short detour along AB-41 to Alberta where you can explore Cypress Hills Interprovincial Park Saskatchewan, with plenty of outdoor recreation on offer, before heading back and past Medicine Hat and Echo Dale Regional Park.
Before arriving at Calgary make sure to stop off at Dinosaur Provincial Park, an UNESCO World Heritage site renowned for its significant fossil discoveries. Admire the badlands landscape, go on a fossil safari, or enjoy a scenic walk along the many trails.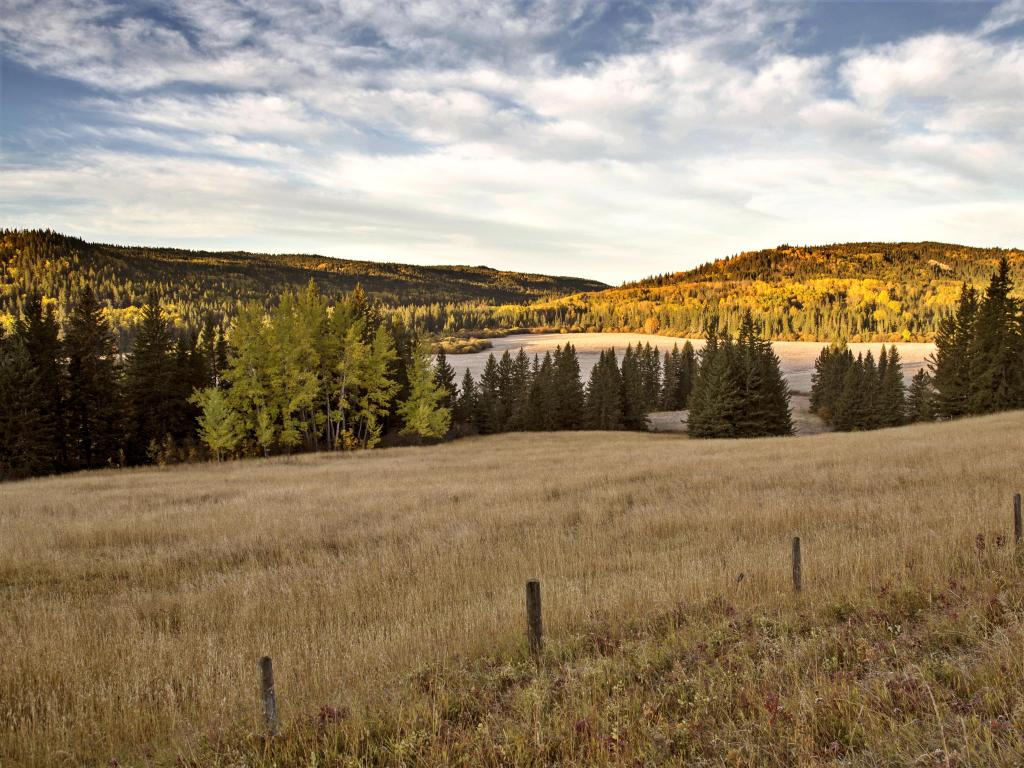 Saskatoon Route
Set off northwest from Winnipeg along Trans-Canada Highway/MB-1 and MB-16 towards Riding Mountain National Park, with scenic trails, wildlife watching and breathtaking views.
From here head along SK-15 and then SK-2 towards the indigenous cultural site of Wanuskewin. This National Historic Site of Canada provides a deep insight into the Northern Plains Indigenous culture and history, making it a must-visit location.
Afterwards, head along Penner Road and Township Road to SK-11 to Saskatoon, a city that merges the tranquility of a park with the hustle of urban life. The Remai Modern Art Gallery and Western Development Museum should definitely be on the to-do list.
Take SK-7 west past the historical Coal Mine National Historic Site and unique geological formations on the Hoodoos Trail before the "Dinosaur Capital of the World" in Drumheller. Marvel at the impressive 86-foot tall model that offers a panoramic view of the Red Deer River Valley from its mouth!
Finally, a stop off at Horsethief Canyon, sees amazing views across the beautiful landscape before you arrive at your destination, Calgary.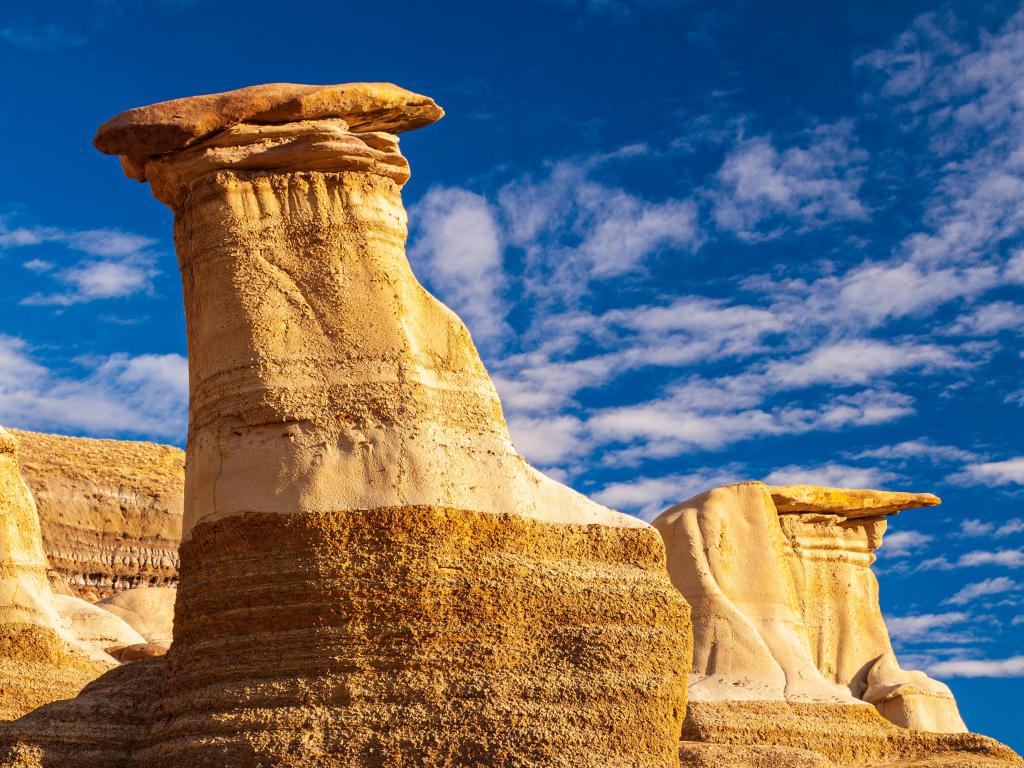 Best places to stop between Winnipeg and Calgary
Choose this amazing road trip between Winnipeg and Calgary, and you will get the chance to visit historic sites, amazing museums and beautiful parklands.
It's a journey jammed with exciting places to explore, so we suggest stopping off a night or two along the way. Here are some of the best places we think we should stop at during this epic journey.
Much to explore in Regina
Around halfway along the Moose Jaw Route, you will arrive at Regina, an ideal spot for an overnight rest. The vibrant capital city of Saskatchewan is rich in history and culture, offering a range of exciting places to explore.
The star of your stop in Regina is Wascana Place, a beautiful park surrounding a man-made lake. Here, you can take a leisurely stroll along the lakeside, enjoying the serene ambiance and the picturesque views of the Saskatchewan Legislative Building.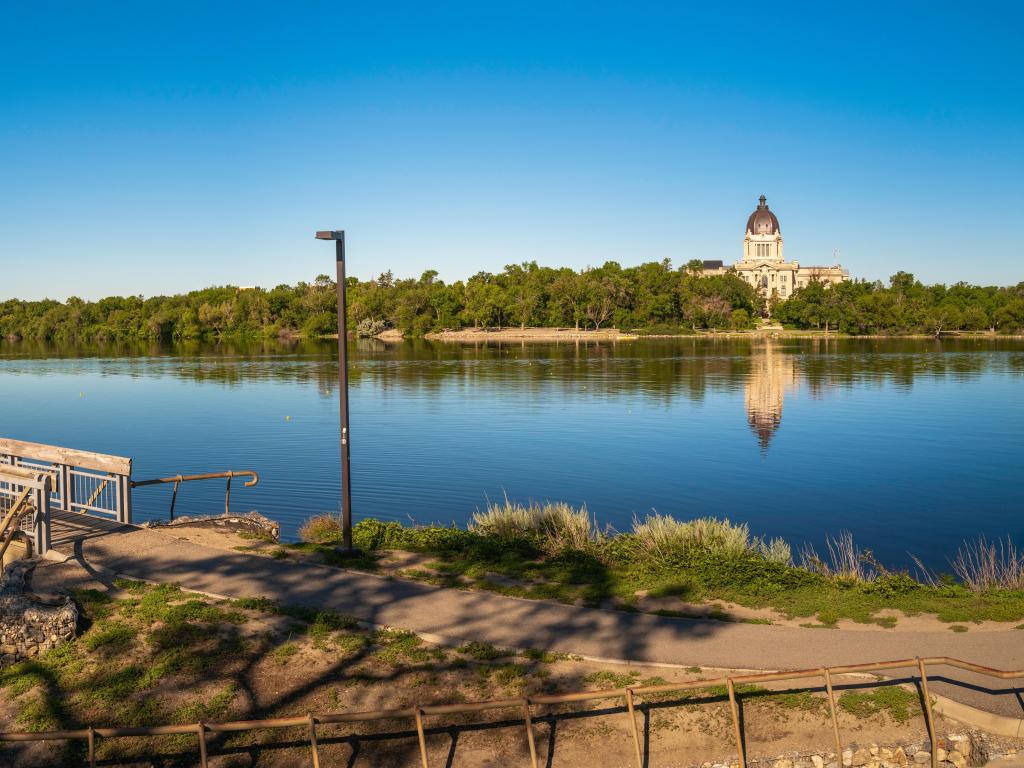 Next, enrich your knowledge of the region's natural history at the Royal Saskatchewan Museum. With exhibits covering everything from Indigenous history to natural sciences, there's something to interest everyone. As a bonus, you can marvel at Scotty, one of the world's largest Tyrannosaurus Rex specimens ever discovered.
For military enthusiasts, the Saskatchewan Military Museum presents a trove of military artifacts and stories that provide a deeper insight into Canada's military history.
When in Regina, we recommend staying at The Hotel Saskatchewan, Autograph Collection. This elegant hotel beautifully blends old-world charm with modern comforts.
In the heart of Regina, this hotel is super close to the city's top sites. If you're in the mood for some fine dining the hotel's Circa 27 Dining Room offers an impressive menu of modern American dishes and great cocktails. After a long day of sightseeing there's nothing like unwinding with a delicious meal and a refreshing drink.
Pretty parks and river views in Saskatoon
Saskatoon, around halfway along the Saskatoon Route, makes an ideal stopover. Known as 'The Paris of the Prairies' due to its many bridges and charming river views, this lively city will surely captivate you with its natural beauty and urban appeal blend.
The main attraction in Saskatoon is the Wanuskewin Heritage Park, a National Historic Site dedicated to understanding and appreciating the Northern Plains Indigenous cultures. Explore walking trails, archaeological digs and art exhibits at this impressive site.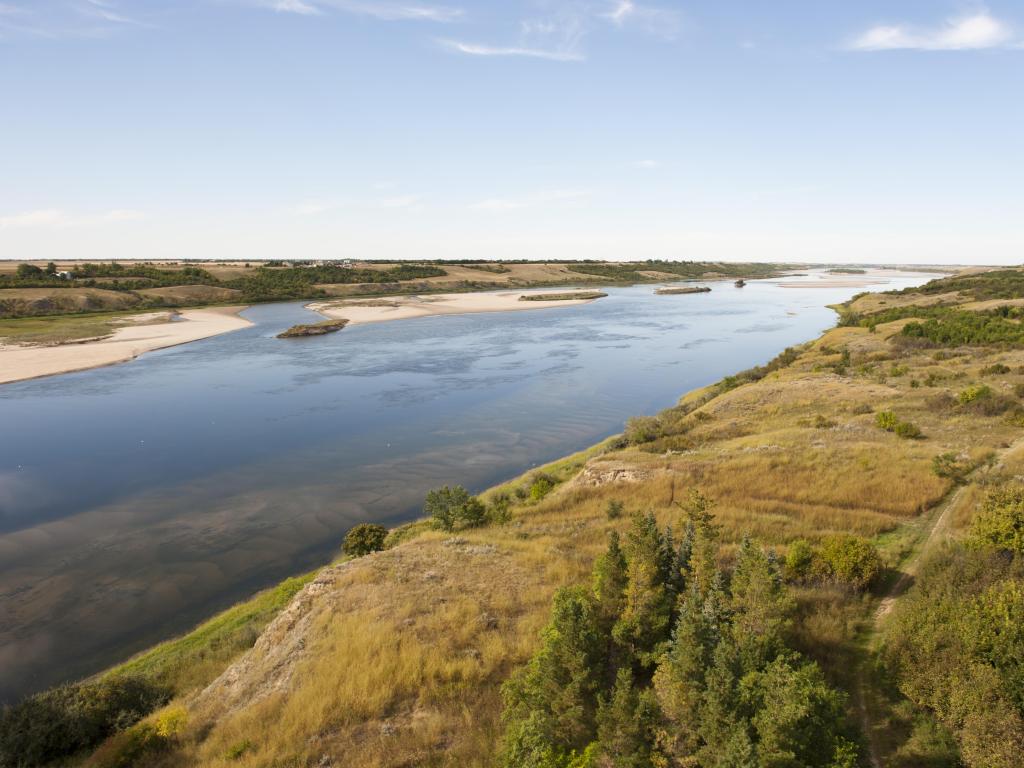 Nature lovers will be drawn to The Meewasin Valley, a conservation area offering scenic trails for biking and walking along the South Saskatchewan River. Don't forget to visit the Saskatchewan Aviation Museum to discover the region's rich aviation history.
As a quirky bonus, you can quickly detour between Saskatoon and Regina to capture an Instagram-worthy photo of the 'World's Largest Coffee Pot', a whimsical 24-feet-tall roadside attraction.
During your stay in Saskatoon, we highly recommend stopping for a night or two at The James Hotel. Nestled in the city's center, this luxurious hotel offers unrivalled views over the South Saskatchewan River, and it's only a short walk away from Saskatoon's top attractions.
Wake up each morning to a fabulous hot and cold breakfast menu, changed daily to provide a great start to your day. Enjoy fine wines and vintage cocktails in the evening at The James Lobby Bar, the perfect spot for a pre-dinner aperitif.
Where to stay when you reach Calgary
As you reach the end of your journey, you'll find yourself in the vibrant city of Calgary. Best known for the world-renowned Calgary Stampede every July, the city offers a captivating blend of stunning natural landscapes and rich cultural experiences.
In Calgary, there's no shortage of attractions to explore, from panoramic views on top of Calgary Tower to a scenic stroll around Prince's Island Park or admiring cityscape sites from Scotsman's Hill.
Regarding where to stay, Hotel Le Germain Calgary stands out for its luxury and convenience. This five-star boutique hotel sits in a prime location just across from Calgary Tower, just a short walk from numerous museums and galleries.
After a day of sightseeing, book a spot at the on-site Santé Spa, a luxury spa retreat and relaxation area on-site. Afterwards, head for culinary delights at Charcut Roast House or Lounge Central 899. Room service is also available for a quiet meal after a busy day.
Things to see on a road trip from Winnipeg to Calgary
There's so much to see when you take a road trip from Winnipeg to Calgary that you'll find more than enough to explore on the way!
Here are some of the top places we suggest checking out.
The Moose Jaw Route
Fort La Reine Museum - Fort La Reine Museum offers a fascinating glimpse into Manitoba's history. Explore the authentic 18th-century fort and immerse yourself in the interactive exhibits that bring the past to life.
Regina - The capital city of Saskatchewan is best known for its rich history, vibrant arts scene, and beautiful parks. It's home to the Royal Saskatchewan Museum and the stunning Wascana Centre.
Wascana Centre - Explore the picturesque lake, home to an impressive variety of birds, or stroll along the tree-lined pathways leading to the iconic Legislative Building. Don't miss the chance to rent a paddleboat and admire the stunning sunset over the water.
Lakeshore Park Kwakiutl Totem Pole - Located in Lakeshore Park, the Kwakiutl Totem Pole stands tall, showcasing intricate carvings that depict the rich cultural heritage of the Kwakiutl people.
Stone Hall Castle - With its towering turrets, grand banquet hall, and secret passageways, this enchanting fortress transports you to a bygone era. Immerse yourself in the rich history and architectural splendor of this unique Canadian gem.
Royal Saskatchewan Museum - Explore the immersive exhibits showcasing the world's largest T. rex, marvel at the ancient fossils, and discover the fascinating stories of Saskatchewan's indigenous cultures.
Moose Jaw - Explore the fascinating underground tunnels used during Prohibition, witness the breathtaking beauty of the nearby Buffalo Pound Provincial Park, and indulge in delicious local cuisine.
Saskatchewan Burrowing Owl Interpretive Centre - A non-profit organization in Moose Jaw, dedicated to the conservation of the endangered burrowing owl and its prairie habitat through educational programs, scientific research, and rehabilitation of injured owls.
Western Development Museum, Moose Jaw - A branch of a provincial network of museums dedicated to preserving and presenting the history of western Canada, with this particular location focusing on transportation, featuring a variety of exhibits on modes of transport.
Tunnels of Moose Jaw - Uncover the city's fascinating history as you explore the underground tunnels used during the Prohibition era. Hear captivating tales of bootleggers, gangsters, and the notorious Al Capone, making for an unforgettable and immersive experience.
Claybank Brick Plant National Historic Site - A preserved industrial site where you can explore the historical brick-making process, tour the factory and adjacent clay pits, and learn about the area's geological and cultural history.
Swift Current Museum - A cultural institution dedicated to preserving and presenting the region's history through a diverse collection of artifacts, historical documents, and interactive exhibits, offering insights into the area's natural history and Indigenous heritage.
Grotto Gardens Family Fun Farm - Get up close with adorable farm animals, enjoy thrilling tractor rides, and indulge in freshly picked berries. Unleash your inner child with exciting activities like corn mazes and pony rides.
Cypress Hills Interprovincial Park, Alberta - Offers a breathtaking escape with its towering hills, pristine lakes, and lush forests. Explore the park's unique ecosystem, spot elusive wildlife like moose and cougars, and stargaze at the Dark Sky Preserve.
Medicine Hat - Medicine Hat is known for its historic downtown. It offers a vibrant arts and culture scene, outdoor recreational activities, and is home to the world's largest teepee (Saamis Teepee), attracting tourists from around the world.
Echo Dale Regional Park - A scenic recreational area that features a variety of amenities including a swimming lake, a fishing lake, picnic areas, hiking trails, a historical farm and a blacksmith shop, providing a blend of outdoor activities.
Dinosaur Provincial Park - Dinosaur Provincial Park is a UNESCO World Heritage Site known for its rich fossil deposits and stunning badlands landscape. You will get the chance to explore ancient dinosaur remains and learn about the region's prehistoric past.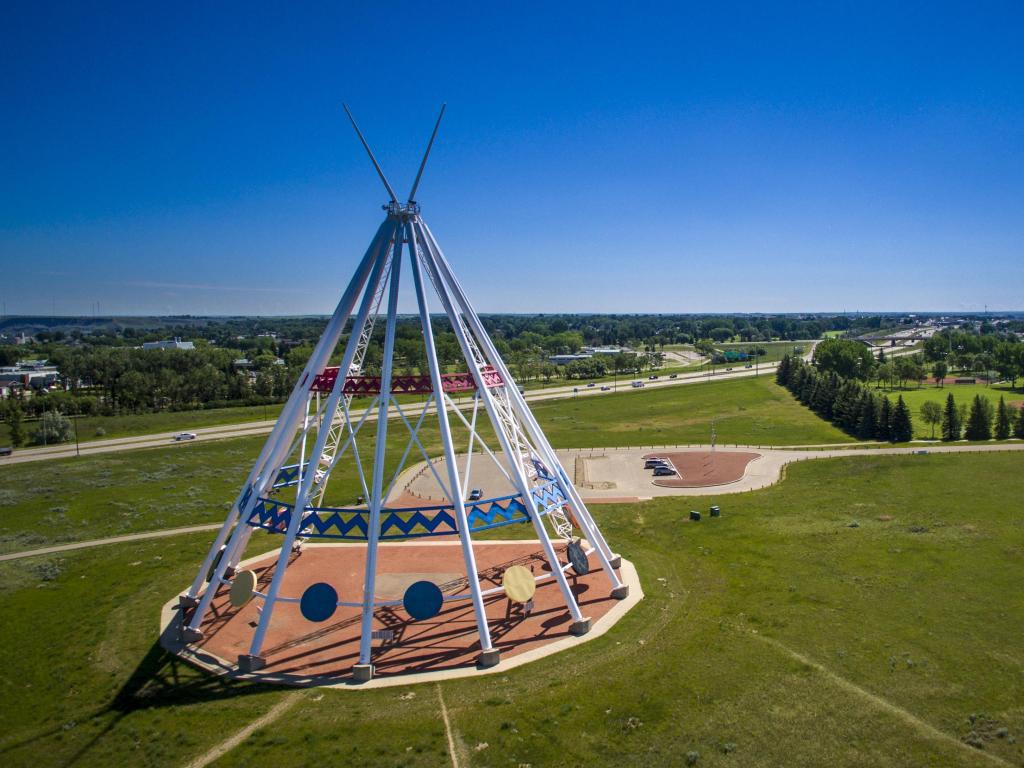 The Saskatoon Route
Riding Mountain National Park - Explore its vast wilderness, home to over 300 bird species, and spot elusive wildlife like black bears and moose. Hike through dense forests, kayak on crystal-clear lakes, and witness stunning sunsets over rolling prairies.
Manitou Springs Resort and Mineral Spa - Indulge in the natural geothermal mineral pools, renowned for their therapeutic properties. Unwind with panoramic views of the serene countryside, while savoring delectable cuisine at their on-site restaurant.
Quill Lakes International Bird Area - One of the largest saline lakes in North America and a critical habitat for migratory birds, attracting hundreds of thousands of waterfowl and shorebirds, making it an essential site for birdwatching, research, and conservation efforts.
Wanuskewin - A national historic site and Indigenous heritage park that provides a window into Northern Plains Indigenous culture and history, featuring archaeological sites, traditional Indigenous programs, walking trails, and an interpretive center.
Saskatoon - Saskatoon, a prairie gem in Canada's heartland, beckons with its stunning riverfront views and vibrant culinary scene. Explore the Meewasin Valley Trail, and indulge in local delicacies like Saskatoon berry pie.
Remai Modern Art Gallery - A renowned contemporary art museum that hosts a diverse collection of modern and contemporary art, including the world's largest collection of Picasso linocuts, and offers innovative exhibitions.
Western Development Museum, Saskatoon - Part of a network of museums preserving and showcasing the history of western Canada, with the Saskatoon branch prominently featuring "Boomtown 1910," a historical street re-creation.
Saskatoon Forestry Farm Park and Zoo - Explore the sprawling 80-acre park, home to over 80 species of animals, including red pandas and Siberian tigers. Discover the rich history of the former tree nursery turned zoo, making it a unique stop on your road trip.
Atlas Coal Mine National Historic Site - Explore the last standing wooden tipple in the country, descend into the dark depths of the mine, and hear gripping tales of the miners' lives. An experience that unveils the hardships and triumphs of this once-thriving industry.
Hoodoos Trail - A short hiking trail that leads to a collection of impressive hoodoos - towering, naturally eroded rock pillars - offering visitors a fascinating glimpse into the region's unique geological formations and a striking view of the surrounding badlands landscape.
World's Largest Dinosaur - The World's Largest Dinosaur is a towering Tyrannosaurus Rex model located in Drumheller, known as the "Dinosaur Capital of the World", offering visitors the opportunity to climb up inside to its mouth for a unique viewing platform.
Royal Tyrell Museum - A world-renowned paleontological museum that transports visitors back in time to the age of dinosaurs. With over 130,000 fossils, including a remarkable T-Rex skeleton, it offers an awe-inspiring journey through prehistoric wonders.
Horsethief Canyon - Offers stunning vistas of the unique, layered formations of the Canadian Badlands, and is steeped in folklore about old-time horse thieves who used the canyon's labyrinthine structure as a hideout, providing a picturesque setting for hiking.
The Grain Academy and Museum - Offers a fascinating journey into the world of grains, showcasing the evolution of farming techniques through interactive exhibits. Discover the ancient art of milling, and witness the transformation of wheat into flour.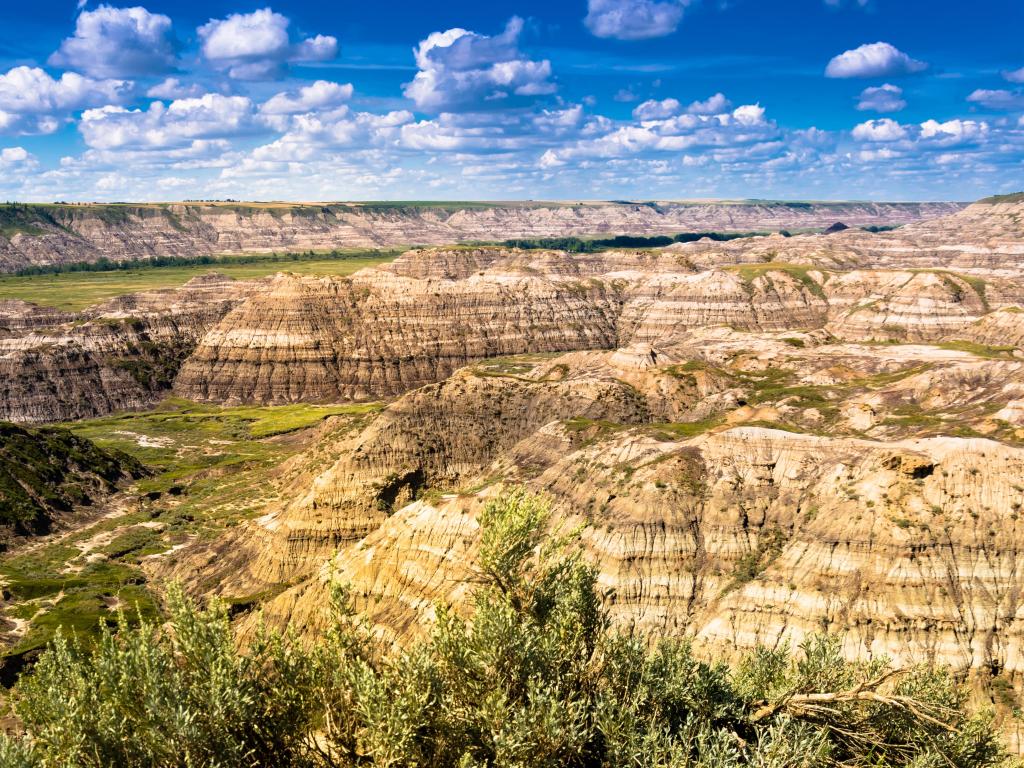 Best time to go on a road trip from Winnipeg to Calgary
Calgary itself is a year-round destination, but if you're embarking on a road trip all the way from Winnipeg, the experience will vary based on the time of year you choose to travel.
We wouldn't recommend taking this trip in winter, as you're likely to encounter snowfall and potentially harsh weather delays. While Calgary can be enchanting under a blanket of snow, high temperatures of -5 to 3 degrees Celsius are pretty cold for exploring.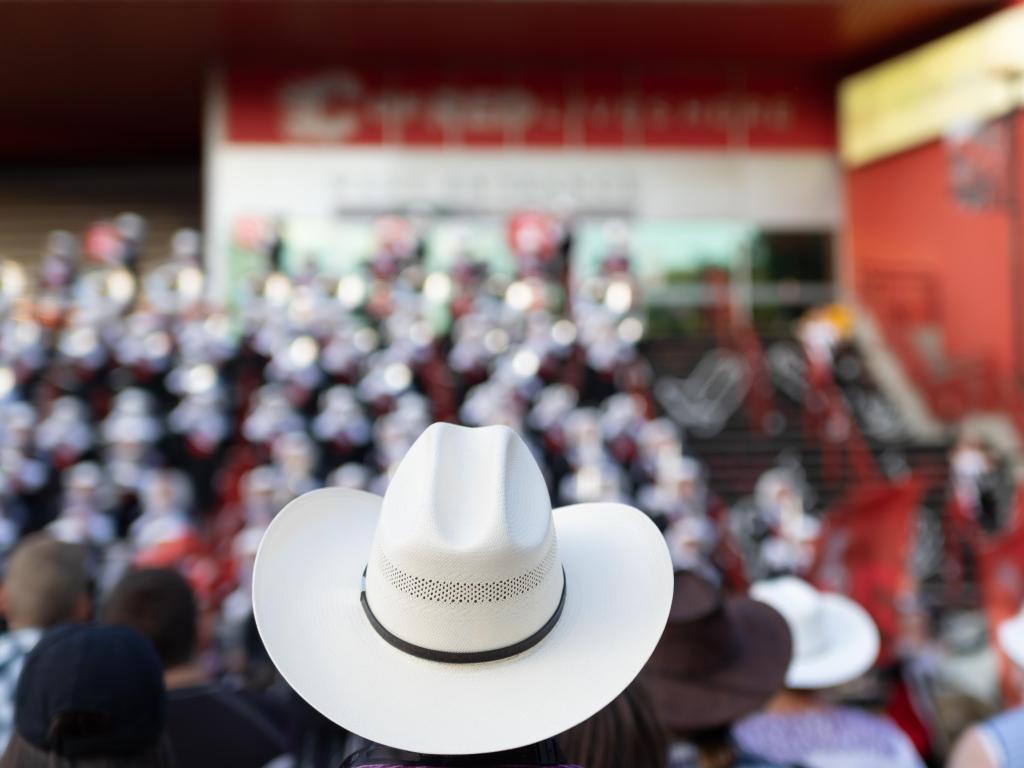 Summer temperatures typically reach the mid-20s to low 30s Celsius, but it can get quite warm, especially in July and August. Traveling in July will also allow you to experience the Calgary Stampede, a world-renowned rodeo event, the "Greatest Outdoor Show on Earth."
However, late spring or early fall is an enjoyable time to visit with temperatures ranging from 4 to 20 degrees Celsius and an ideal time for outdoor attractions. This is also a beautiful time with fall foliage and beautiful landscapes around Saskatoon and Calgary.
There are plenty of notable events in Calgary throughout the year along with the Calgary Stampede. One very popular festival is Saskatoon Fringe Theatre Festival in August, a lively event featuring independent theatre artists.
What's for sure is that whatever season you choose to travel, the beautiful landscapes, iconic events, and unique attractions are sure to make this journey a memorable one.