Road Trip from Monterey to Santa Barbara
Are you looking for an adventure that starts from rugged coastlines and ends at picture-perfect beaches? Then look no further than this road trip from Monterey to Santa Barbara crossing many scenic vistas, historic missions, hiking trails, and vineyards.
The 250-mile road trip from Monterey to Santa Barbara, California takes 4 hours to cover via US-101 weaving through Chualar, Pinnacles National Park, Soledad, King City, Paso Robles, San Luis Obispo, Arroyo Grande, Santa Maria, Gaviota, and Naples.
If golfing, boating, hiking, and swimming in warm waters while soaking up the sun spark your interest, then keep reading to find phenomenal places to stay, exciting things to see, and the most appropriate times for this journey.
How far is Santa Barbara from Monterey, and how long will the road trip take?
Comparison of road trip routes between Monterey and Santa Barbara

| Route | Distance | Driving Time |
| --- | --- | --- |
| The Pacific Coast Highway Route | 240 miles | 4 hours 30 minutes |
| The Valley Route | 250 miles | 4 hours |
The longer, 240-mile Pacific Coast Highway Route takes you along one of the country's best stretches of coastal highway with plenty of scenic views and interesting places before stopping in Santa Barbara just over 4 hours in.
The Valley Route is more inland and covers 250 miles in 4 hours. This route offers a slightly faster option, lined with celebrated vineyards along the historic US-101.
This road trip from Monterey to Santa Barbara can easily be completed in a day. But if you are feeling adventurous and want to make the best of your adventure, add a day more to make scenic and historic detours.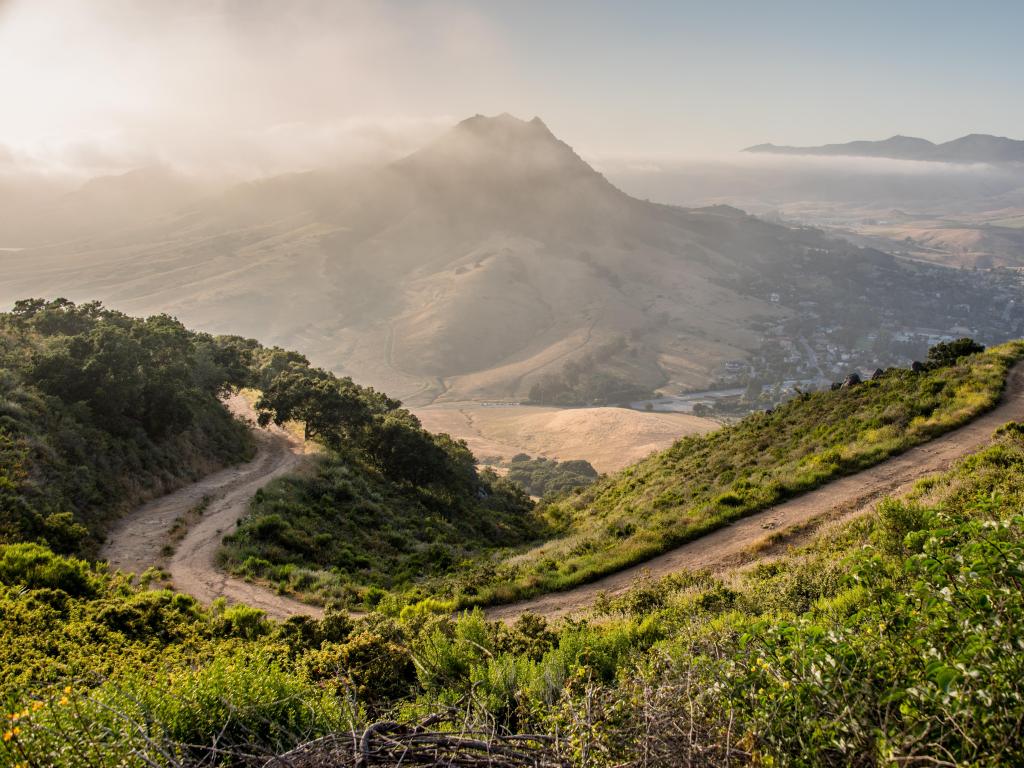 Best road trip route from Monterey to Santa Barbara
The routes we have curated for this road trip from Monterey to Santa Barbara take almost the same time to cover but offer starkly contrasting views. So, your choice of routes will depend solely on the vibe you are after.
The Pacific Coast Highway Route follows the coast for the majority of the drive. It includes one of the most scenic roads in America, passing through the iconic Big Sur and its associated state parks. With countless places to stop and explore, individual locations rarely see excessive crowds.
The weather on this route is occasionally severe and leads to mudslides which close the coastal highway. So, planning ahead is necessary.
The Valley Route is the fastest way to get to Santa Barbara. You will drive inland on this route with mostly agricultural land, national parks, and nature areas. Even though the last stretch meets up with the ocean for a cruise along the water, this route is much less scenic.
The Pacific Coast Highway Route
To leave Monterey, hop onto CA-1 S from Pacific St. Following this route for a short drive, you will reach Monterey County. You can opt for a detour to Carmel Mission here for a slice of history.
Otherwise, you can stop for a hike and take stunning pictures of the wildflowers in Point Lobos State Natural Preserve.
Once you're done, continue on CA-1 S to San Marcos Pass Rd in Santa Barbara County. Follow US-101 S to W Carrillo St and drive to Anacapa St into your destination at Santa Barbara.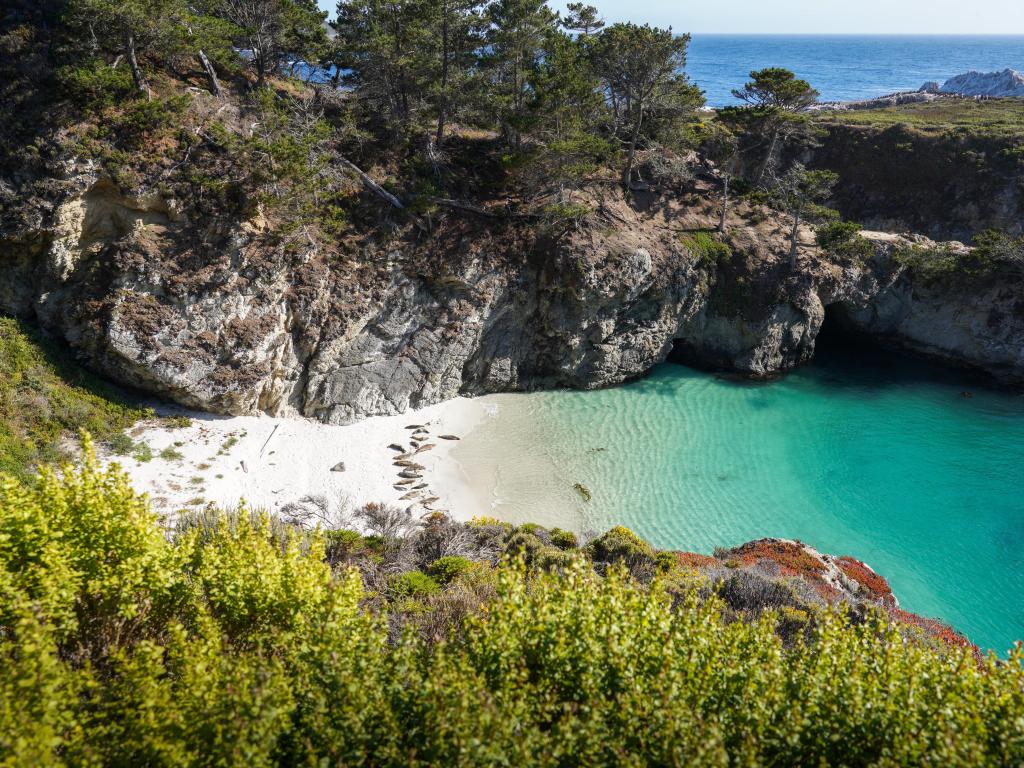 The Valley Route
Then start on CA-1 N from W Franklin St and Fermont St. Catch a Formula One race just west of Monterey and take goofy pictures the animals in Monterey Zoo.
Then follow CA-68 E to Spreckels Blvd. This road will take you to Soledad where you will get the opportunity to visit the Pinnacles National Park nearby. When you are ready, take US-101 S to CA-154 E in Santa Barbara County.
Following US-101 S to W Carillo St, drive to Anacapa St to reach Santa Barbara which will be your welcome to sunny Southern California.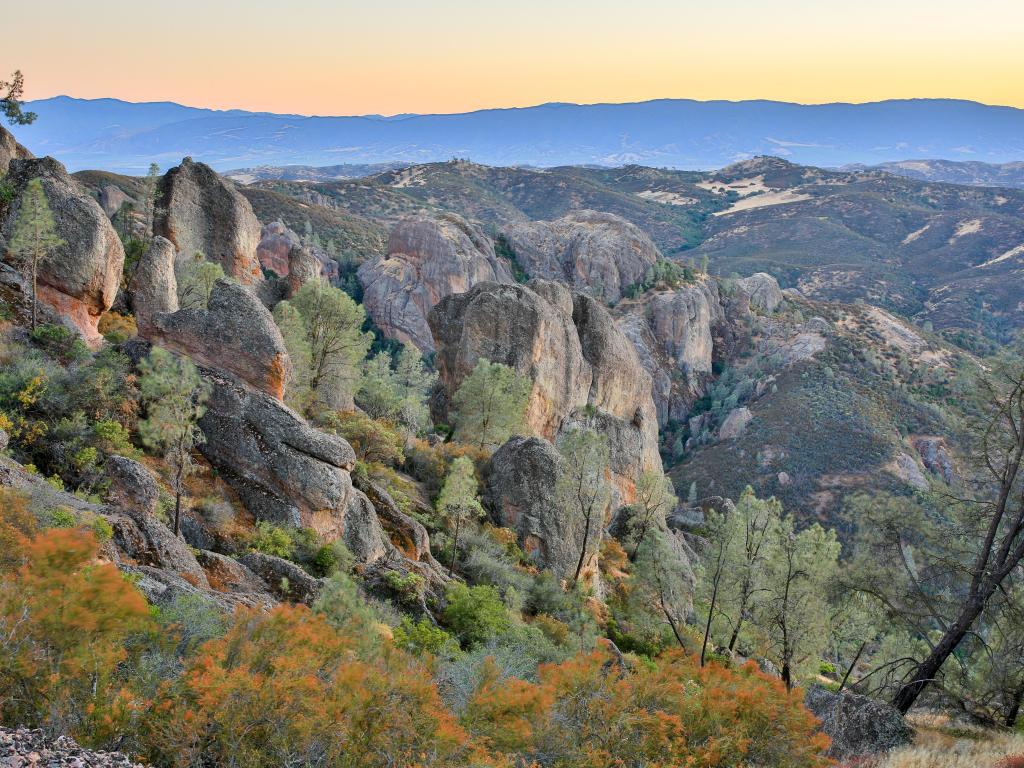 Best places to stop between Monterey and Santa Barbara
Although an overnight stop is not necessary for this four-and-a-half-hour road trip from Monterey to Santa Barbara, there are some remarkable locations on both the routes. These serve as the perfect locations to take a breather if you want to turn this mini road trip into an overnight adventure.
Enjoy hypnotic views at Morro Bay
On the Pacific Coast Highway Route, just over halfway on this road trip from Monterey to Santa Barbara, lies Morro Bay. This relatively small town is on the water and serves as the perfect place to stop and relax. It offers plenty of opportunities for recreation, several campsites, and multiple hotels.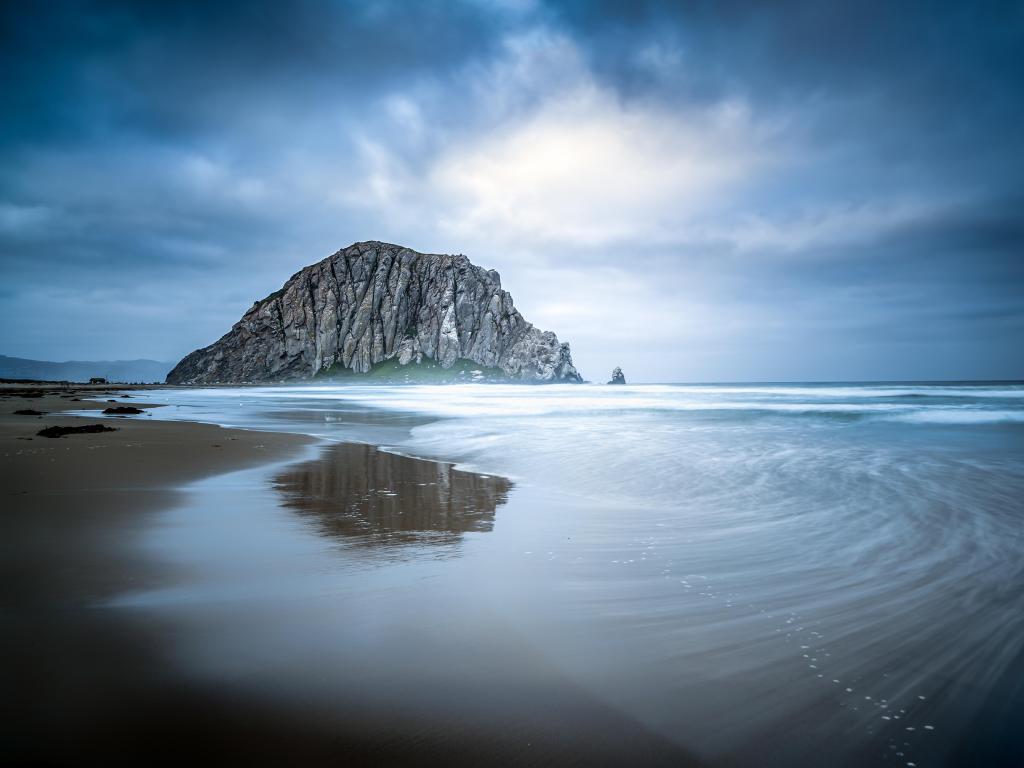 As the sun sets, the hypnotic view of the bay and its signature landmark Morro Rock will make you forget about the world. Morro Bay has historic roots as it served as a naval base during World War II. Nowadays, it is popular for fishing, boating, and hiking opportunities.
Morro Strand State Beach is a great spot to relax on the sand with terrific views and beach supplies available for rent. The 18-hole Morro Bay Golf Course sits on the bay and provides beautiful ocean views while you play. Bay Cruisers is a local rental service providing everything from electric boats to golf carts.
Our vote for accommodation goes to Anderson Inn. This on-the-water hotel sits on Morro Bay with wild views of the ocean. With many types of rooms to choose from, all with spa showers and modern amenities, it has something for everyone. It offers guests easy access to tour guides, spas, and recreation.
This hotel is just a few minutes' walk away from dozens of restaurants and recreational sites, such as Morro Rock and surrounding beaches. After a day of exploration, you'll be able to head back to the hotel's on-site restaurant for dinner and wine, while enjoying the bay view.
Show off your golf skills in Avila Beach
Regardless of the route you take for this road trip from Monterey to Santa Barbara, you will drive through the stunning Avila Beach, 1 hour and 30 minutes from your destination. Choose this location if you want a quieter place to stop along the coast.
Although this is one of the small towns along the Central California coast, it provides you with all the amenities you need for an overnight stay. It is most notable for its warm beach and golf course. Since it won't take you long to reach, you will have plenty of time to golf, hit the beach, or walk on the pier.
It is also not far from San Luis Obispo and Arroyo Grande, which are larger towns with more services. While you're there, visit the Avila Beach Golf Resort and show off your golfing skills at this beautiful, well-known 18-hole golf course on the waterfront.
Central Coast Aquarium nearby gives you a chance to see what lies beneath the waves after seeing so much of what lives above! Stop at Point San Luis Lighthouse before saying adios to Avila Beach. This lighthouse was built in 1890 and is now a museum, about an hour's walk from the beach with rides.
We recommend staying at Avila Lighthouse Suites as it is a relaxing resort located right on the beach with an outdoor pool and a hot tub. Modern amenities make for the ultimate comfort. Free parking and a Tesla charging station mean that your car will be at safe hands.
This hotel boasts a highly walkable located adjacent to the beach with many restaurants nearby. Fun activities like the golf course and Bob Jones walking trail are just across the street. Only a couple miles off US-101, this hotel is far enough to be away from the highway but still gives easy access to it.
Where to stay when you reach Santa Barbara
Once you reach your beautiful destination of Santa Barbara, we highly recommend you stay at Palihouse Santa Barbara. This hotel is just a short distance from the East Beach giving you easy access to coastal fun without having to drive for long.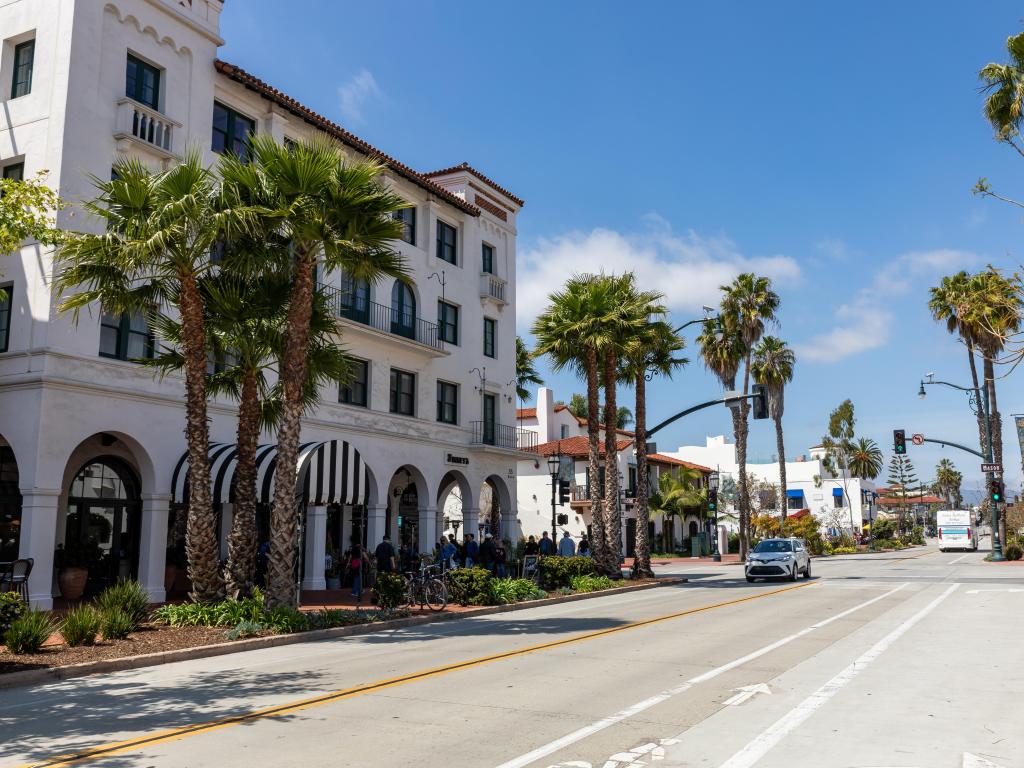 Some rooms have kitchenettes giving you comfort in your own space and that "home away from home" feeling. With a fabulous restaurant and a bar, your appetite will be easily taken care of.
If you are someone who doesn't like to miss a single workout, this hotel offers a fitness center to work off some sweat after all the driving. Granada Theater is located nearby, giving you easy access to musical fun when you don't feel like staying indoors.
Things to see on a road trip from Monterey to Santa Barbara
Both the routes on this road trip from Monterey to Santa Barbara are filled to the brim with intense natural beauty and thrilling adventures. It won't be surprising if you find yourself stretching the vacation to more than one day.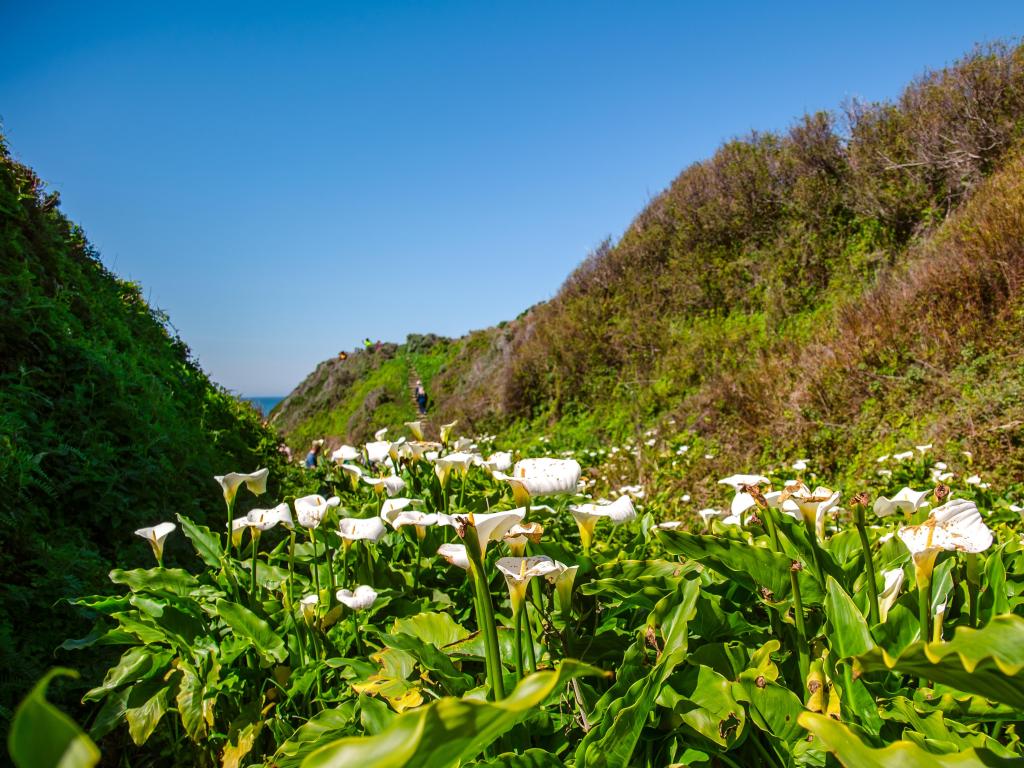 The Pacific Coast Highway Route
Breakfast in Monterey – Bid a proper farewell to Monterey with an outstanding breakfast at First Awakenings. Be sure to get there early as it is one of the best in town and draws large crowds.
17-mile Drive – Perfect for ending the first leg of your journey, pass by rocky cliffs overlooking the Pacific and witness some of the world's most luxurious estates from this aptly named stretch of road.
Carmel Mission – Make a quick detour to this active Catholic church and historic mission built by Spanish settlers in the 1700s for a quick dose of history.
Carmel-by-the-Sea – Enjoy shopping, dining, and the old California feel with a chance to admire the houses which give this town its distinct character as you drive in and out of it.
Point Lobos State Natural Preserve – Go for a hike through the woods and by the coast marked by abundant wildflowers, where you can see seals swimming in the surf.
Calla Lily Valley – Get out of the car and explore this hidden valley located directly adjacent to the highway on foot in March and early April when this special flower blooms.
Pfeiffer Big Sur State Park – Take a mountainous hike among tall forests in this state park situated slightly inland from the ocean with many trails and plenty of parking along the road if the lot fills up.
Partington Cove – Take a short hike down the road to this secluded cove with waves converging and crashing into the rocks. You can also discover a secret cave through the tunnel.
Limekiln State Park – Hosting majestic waterfalls and incredible ocean views, this state park is the site of historical limekilns used in the production of lime.
Sand Dollar Beach - Relax and stretch your legs on this wide, sandy beach that contrasts with the rocky California and is home to many trails surrounded by wildflowers.
Piedras Blancas Light Station – Admire incredible views of the ocean and surrounding natural scenery in this historic, federally protected lighthouse.
Hearst Castle – Explore this incredible estate with several buildings and over 100 rooms with a short detour off CA-1 to this historic castle, the estate of William Randolph Hearst.
Friends of the Elephant Seal Visitor Center – This wildlife conservation center is dedicated to the protection of elephant seals which live on the beaches and in the coastal waters of California.
Harmony Headlands State Park – This coastal state park with grassland trails and breath-taking views is perfect for a short break from the drive.
San Luis Obispo Botanical Garden – Built specifically around the world's five Mediterranean climate regions, this botanical garden is located to the northwest of San Luis. See the website to catch an occasional event.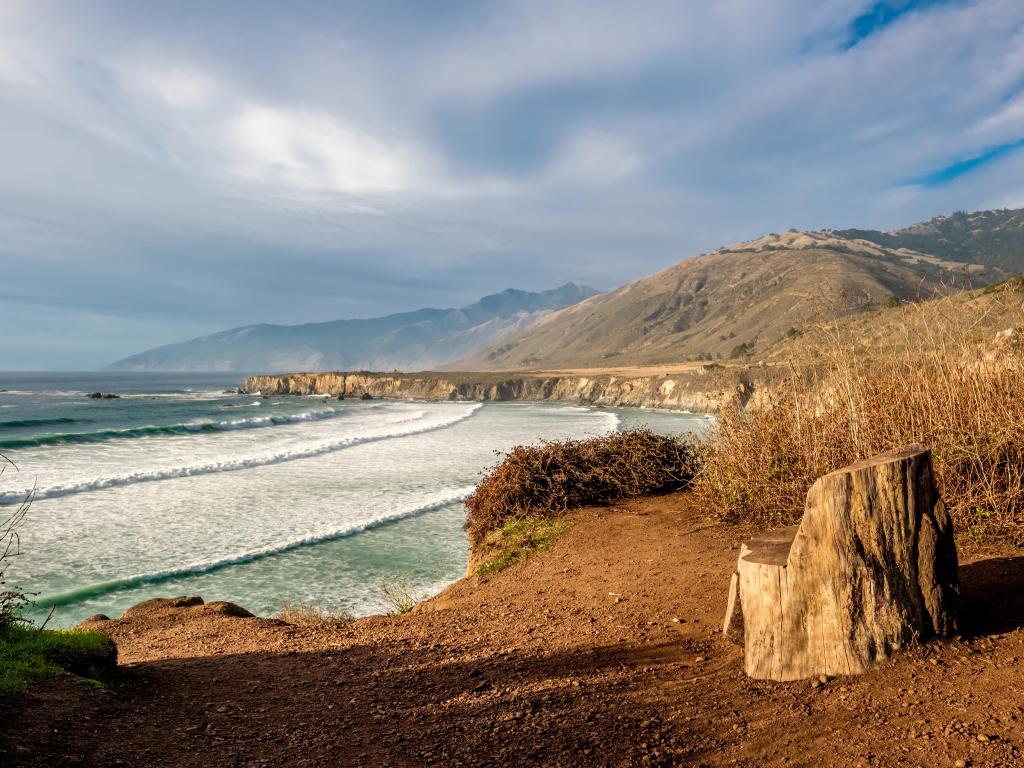 The Valley Route
WeatherTech Raceway – Check the schedule in advance and seize an opportunity to see a thrilling race on this racetrack that hosts, Formula One, motorcycle races and others.
The Monterey Zoo – Hosting lions, tigers, and other animals, this zoo is situated just 20 miles outside of town along Route 101.
Mission Soledad – Specializing in wool production and weaving, this mission was founded in 1791 and is located near the small town of Soledad.
Pinnacles National Park – Explore terrific mountain trails, caves, and a reservoir in this hidden gem, not as famous as Yellowstone or Yosemite but is central to the preservation effort of the California Candor.
Scheid Vineyards Winery and Tasting Room – Like much of California, the US-101 valley hosts an abundance of vineyards of which Scheid is highly-rated and located immediately off Route-101.
San Lorenzo County Park – Located just outside King City, this park presents the perfect opportunity to get out of the car and take a walk or enjoy a corny picnic.
Mission San Miguel – This is yet another one of California's historic Spanish missions in the town of San Miguel and was founded in 1797.
Franklin Hot Springs – Take a dip in the healing mineral water and relax in this family-owned hot spring.
Charles Paddock Zoo – Located in the small town of Atascadero, this zoo is home to hundreds of animals from around the world.
West Cuesta Ridge Trailhead – Whether you are a fan of dirt road hikes or steep, rocky ones in the foothills, this trailhead located on Route 101 won't disappoint you.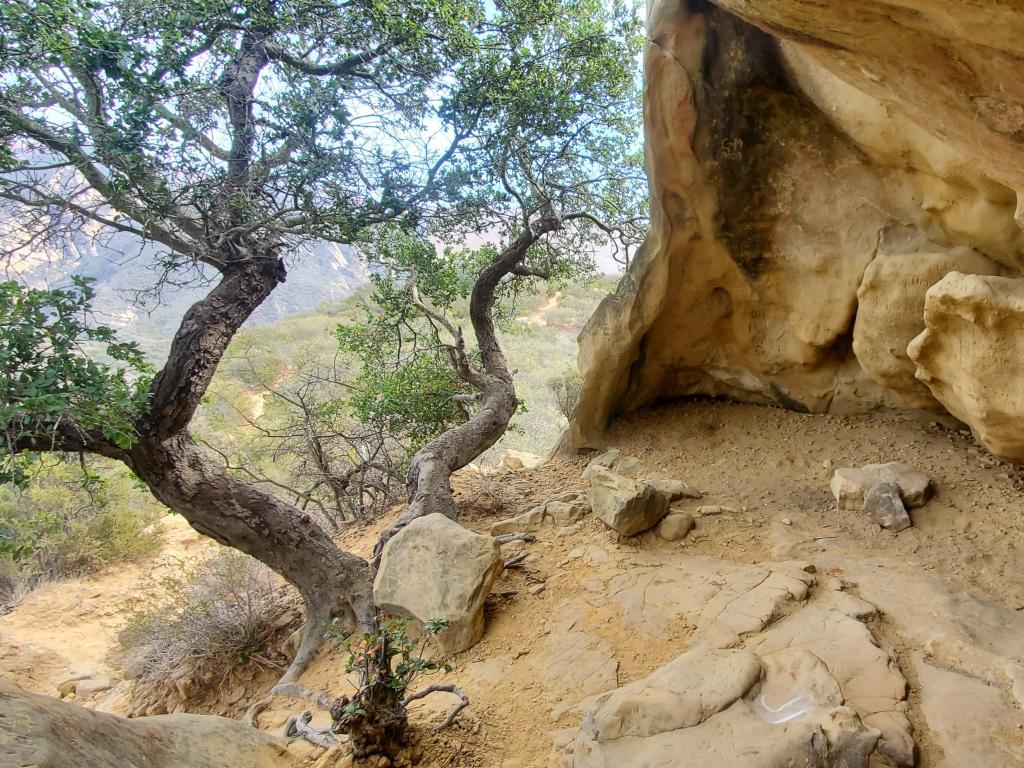 Both Routes
Mission San Luis Obispo de Tolosa – Located in the city of San Luis, this is a stunning Spanish mission built in 1772 and is representative of the Spanish era of Californian history.
Pismo Beach Monarch Butterfly Grove – Gaze at the breathtaking sight of over 10,000 monarch butterflies passing through this location between October and February.
Vineyards (multiple) – Witness various vineyards on the US-101 between Arroyo Grande and Santa Maria including Laetitia Vineyard, Piccho Vineyards, and Peacock Cellars.
Gaviota Wind Caves – Just outside of Gaviota, where Highway 101 follows to the sea, this park offers stunning trails and a chance to see the small hillside caves for which it is named.
Refugio State Beach – Bask in the sun or have a swim at this fine beach which offers you a good place to stretch your legs during the final part of your journey.
Best time to go on a road trip from Monterey to Santa Barbara
As both Monterey and Santa Barbara experience only mild temperature variations throughout the year, this trip can truly be considered as a year-round adventure. If you are choosing the Pacific Coast Highway Route, spring and summer are the best times for this trip when flora and fauna are in bloom.
But if you have chosen to take this trip during winter, the shorter days and slightly cooler weather might be a reason to take the Valley Route to get to your destination quickly. A morning hike, ideally in the spring is easily doable as the remainder of the drive is just a few hours away.
Summer is a great time to visit Santa Barbara as it offers the perfect weather to enjoy the coolness of the beach and spending time outside. The average temperatures during this time fall around mid-70 degrees Fahrenheit.
Winter in Santa Barbara is the off-season. However, with average daytime temperatures ranging from 60 degrees Fahrenheit to 69 degrees Fahrenheit, it is still pleasant and usually sunny. Winter experiences around five rainy days per month between December and February.
Fall and spring are the best times to visit Santa Barbara, offering comfortable weather and many fun activities. As these seasons see increased tourism it is important to check hotel availability and expect a slight hike in prices.
Santa Barbara hosts at least one or two festivals every month of the year. These events can be found on the city website. The International Film Festival in July is an eleven-day event that screens over 200 full-length and short films. Summer Solstice Festival in June displays creative parades and acts.
California Wine Festival in July is every wine lover's wildest dream come true. December holiday season brings in the Parade of Lights with fireworks, snow activities, and a visit from Santa. But these festivals bring in a lot of crowds, so make sure to plan ahead.