Road Trip from Vermont to Portland, Maine
Head out through untouched forests and charming towns, rolling hills and tranquil landscapes full of small lakes and fall colors. This road trip of a lifetime from Vermont to Maine will surely be astonishing.
This beautiful drive will take you 250 miles with around 6 hours of driving time. You'll pass incredible east coast landmarks like Waterbury Village, Ludlow, Londonderry, Boston, Salem, York, Ogunquit, Mt Washington, Fryeburg, and Naples.
Choose from two routes that will take you along the best this region has to offer. Read on below to learn more about our recommended routes, where to stay, and what to see and do on the way.
How far is Maine from Vermont, and how long will the road trip take?
Comparison of road trip routes between Burlington, Vermont and Portland, Maine

| Route | Distance | Driving Time |
| --- | --- | --- |
| The Boston Route | 400 miles | 8 hours |
| The Mt Washington Route | 250 miles | 6 hours |
The first route is The Boston Route. This journey will take you 400 miles with 8 hours of driving time through the big city of Boston and up the coast to Maine.
The second route is the Mt Washington Route. On this epic route, you'll drive 250 miles with 6 hours of driving time.
No matter which route you end up taking, we recommend splitting the drive up into 3 days. This will give you enough time to enjoy all the wonderful sights along the way.
If you want to extend your road trip to Maine, here is our ultimate road trip itinerary for an amazing adventure:
READ MORE - Ultimate Maine Road Trip Itinerary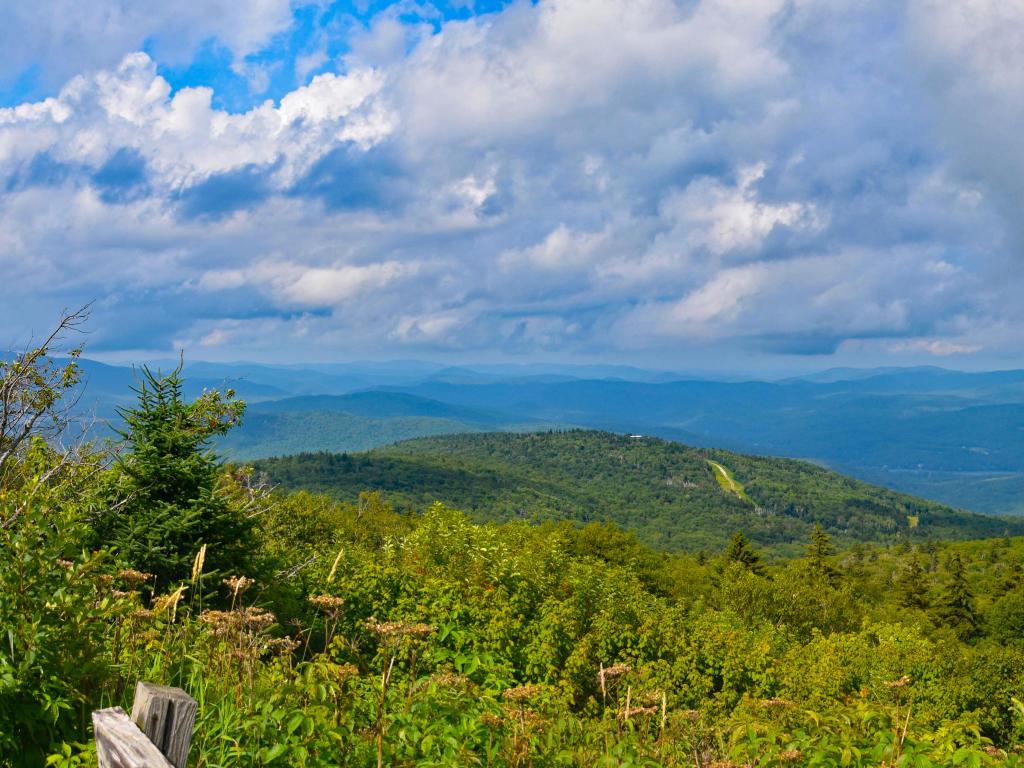 Best road trip route from Vermont to Maine
Each route is full of beauty, fun activities, and natural wonders. Which route you choose depends on what you want to see and do along the way.
The Boston Route is a bit longer and allows you to see the big city of Boston, MA, before making your way north to Maine. It's also a more scenic route, providing you with the opportunity to stop in many more destinations for extra fun on the road.
You'll drive on the scenic VT-100 to take in gorgeous views of the surrounding landscape. Here is our ultimate guide to the stunning drive on Vermont Route 100.
On the way, you'll get to break up the countryside driving in Boston, famous for its part in the American Revolution.
There's also an opportunity to stop in the Green Mountain National Forest and Finger Lakes. This small detour will be worth it, especially if you love nature and solitude.
The Mt. Washington Route is shorter and more direct. It will take you through the mountain ranges of Vermont and through natural landscapes famous for their endless forests and fall colors.
You'll get to stop in quaint local towns like Fryeburg and Naples on the way. This route will also provide you with the opportunity to explore Mount Washington and the White Mountain National Forest.
If you'd like to learn further about the drive up to Mt Washington, check out our detailed guide.
The Boston Route
From Burlington, head south to the Waterbury Village Historic District. After enjoying the beautiful town, make your back on route and drive through central Vermont.
Continue on to Ludlow and drive into Londonderry. From here, continue on east into Boston.
After experiencing the big city, make your way to historic Salem. Continue on north along the coast to the beautiful town of York.
From here, drive into the town of Ogunquit. After spending some relaxing time in this coastal community, make your way north into Portland.
Maine is a gorgeous state and we recommend you spend an extra day or two there. Here is our ultimate road trip itinerary in Maine.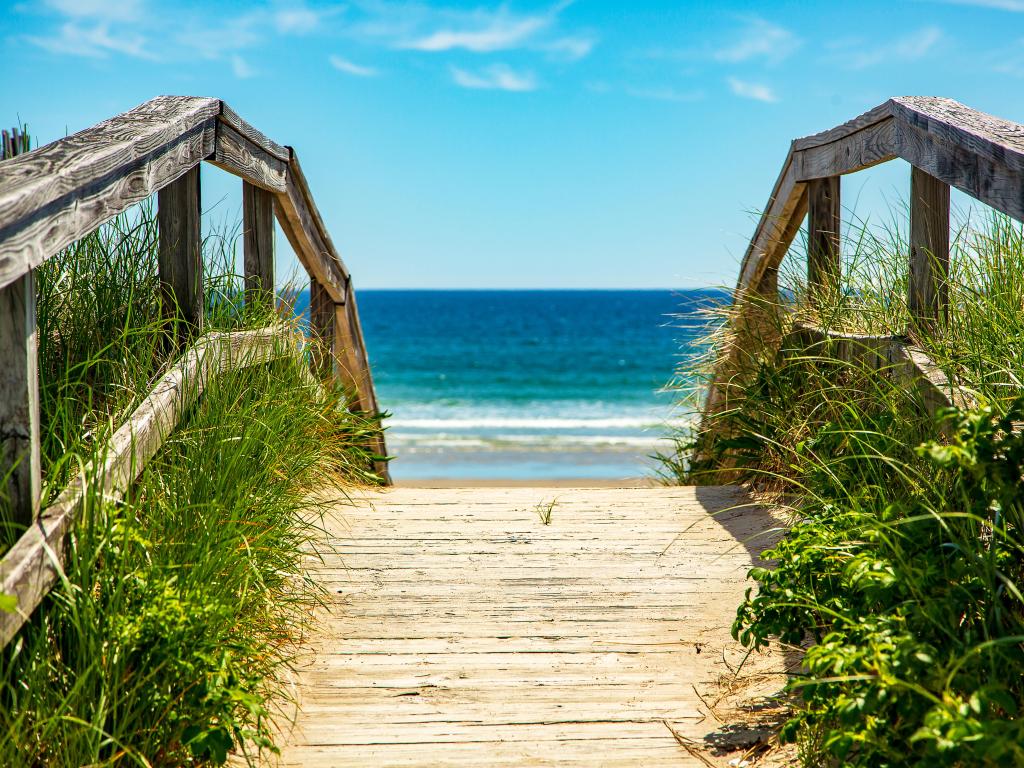 The Mt Washington Route
Starting in Burlington, make your way over to beautiful Mt. Washington. Take in the natural surroundings and beautiful scenery before heading back on route.
Continue on into the town of Fryeburg. Enjoy the town's forests and creeks before hitting the road further.
Drive into Maine and make your way to the town of Naples. From here, continue on into your destination of Portland.
Here is a useful guide to the ultimate road trip in Maine if you have more time.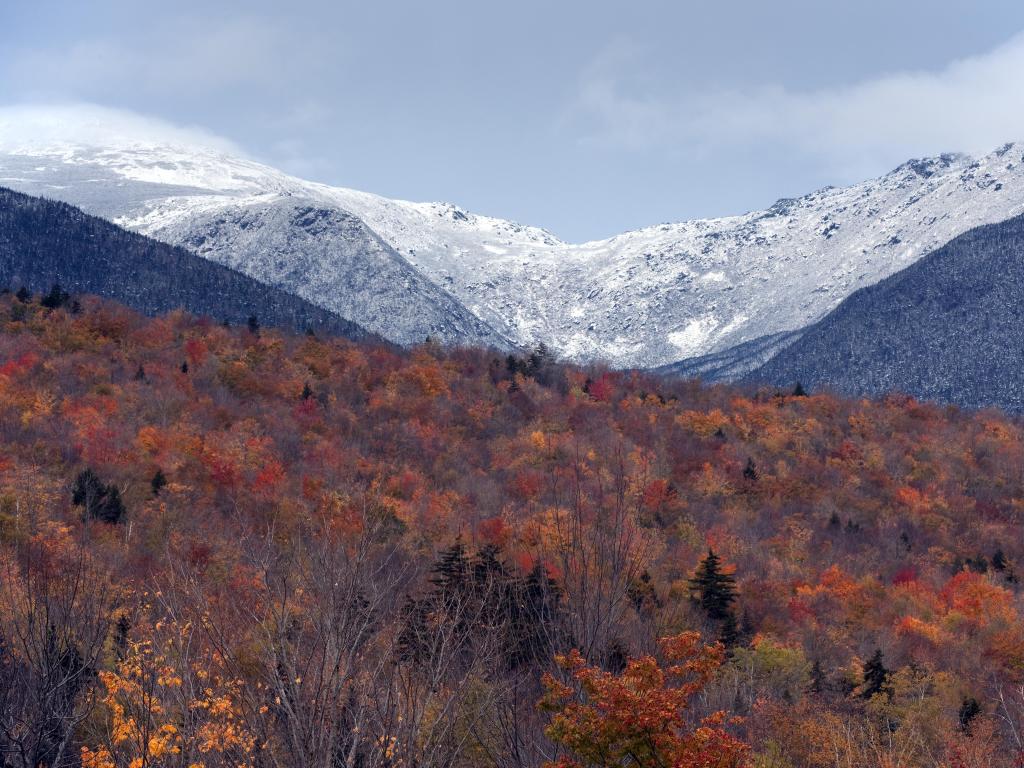 Best places to stop between Vermont and Maine
With so much to see on this short drive, we recommend splitting it up and staying in one of these top destinations along the way. This way, you'll get the most out of your epic road trip through this historical and wilderness-filled region.
Soak up the history of Boston
About 3 hours from Maine is the historical city of Boston. You'll be transported back in time when visiting its many landmarks and museums.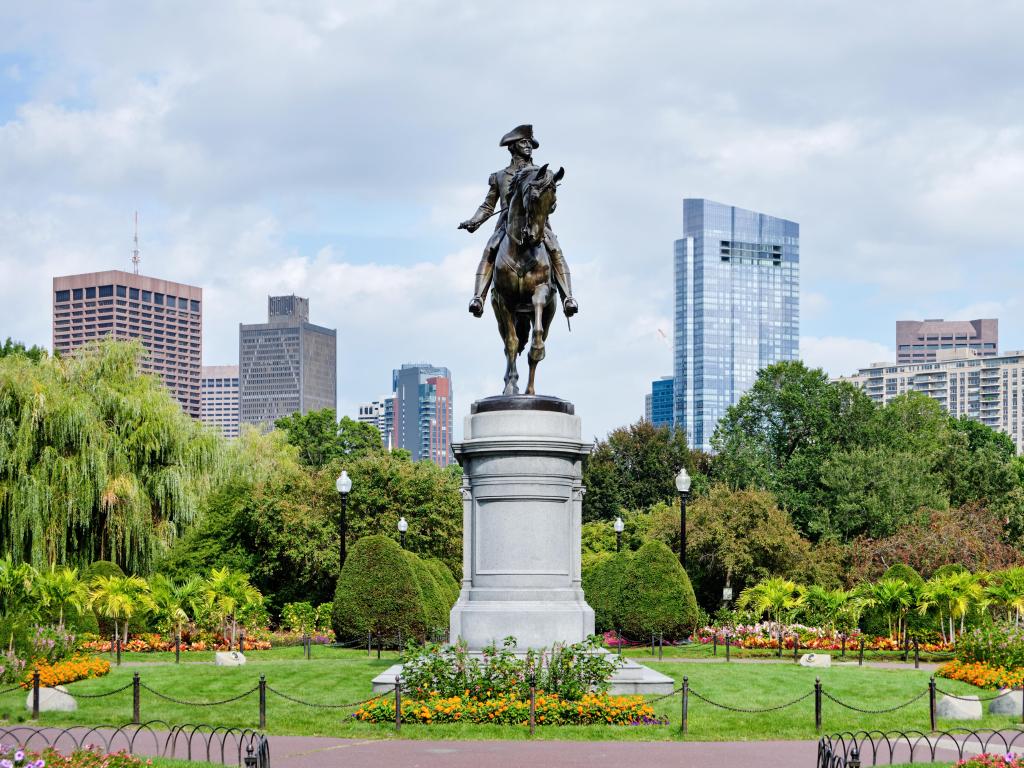 The city of Boston has played a large part in the history of the USA, but it also offers a wide variety of dining options, museums and other entertainment that makes it a desirable place to visit.
Boston is most famous for being the birthplace of the American Revolution but also for its baked beans, Fenway Park, and the Boston Marathon. There's plenty of other sights as well to explore, making this a top destination for travelers on the east coast of America.
One of the first places to see when you're in the city is Fenway Park. Home to the legendary Boston Red Sox, this site is also home to many other sporting and cultural events.
If you want to learn more about fine art and love museums, visit the Museum of Fine Arts. This museum is the 20th largest museum in the world with galleries that contain more than 450,000 works of art.
Once you reach Boston, we recommend staying at The Lenox. This luxury hotel is located in the popular Back Bay area. You'll enjoy its elegant rooms with panoramic views, great amenities, and friendly staff. Take advantage of the hotel's state-of-the-art gym and concierge services after your long drive.
Then, after you've spent the day sightseeing, you can enjoy the on-site pub providing an authentic Irish eating experience. There is another restaurant on-site that serves American cuisine, so you'll be sure to find something you'll love.
The hotel is easily accessible from the highway and walking distance from Fenway Park, Boston Public Library and Copley Square. You're also close to the famous Newbury Street which is home to many famous restaurants and shops.
Enjoy the small-town charm of Fryeburg
About 1 hour from your destination is the city of Fryeburg, Maine. Located near the White Mountain National Park, the town offers incredible mountain views. The town, while "natural", offers rich culture, entertainment, and unique dining options as well.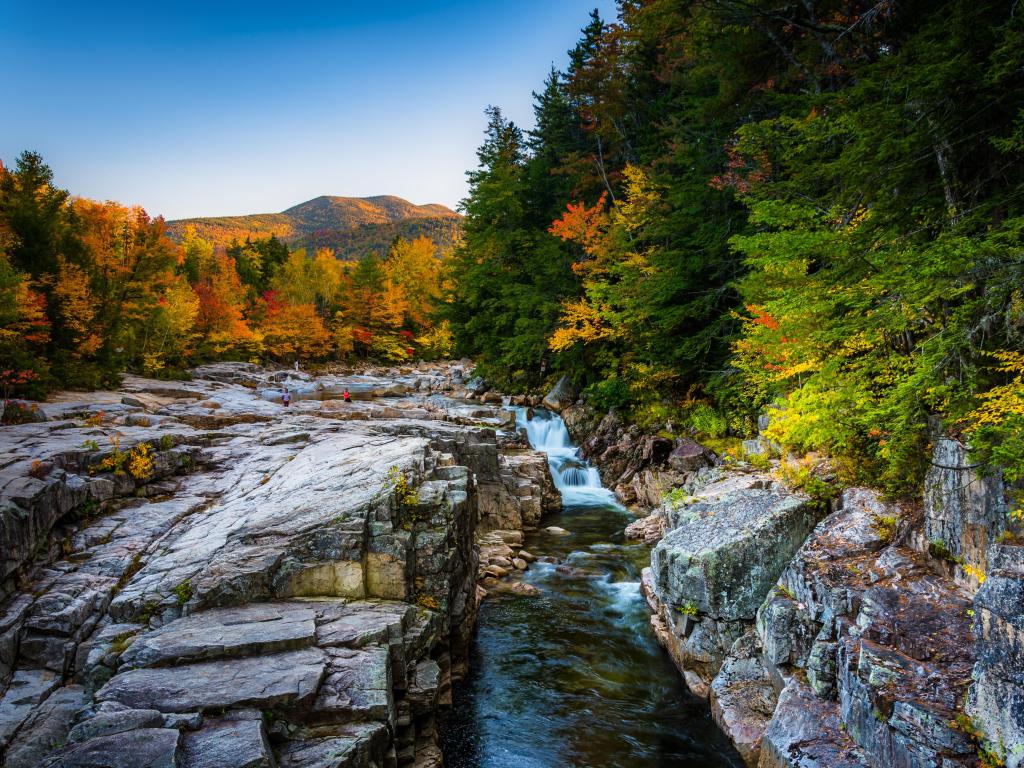 The town of Fryeburg is known for its International Musical Arts Institute. It is known for its charming atmosphere and New England mountain vibes.
Once you're in Fryeburg, many people, especially nature lovers and hikers, seek the Mountain Division Trail. This trail surrounds the town and visitors can embark in nature.
Once you're in beautiful Fryeburg, we recommend staying at the comfortable and beautiful Old Saco Inn. This quaint and niche bed-and-breakfast located outside of the small town offers a warm and friendly atmosphere with wonderful amenities.
Enjoy the inn's continental breakfast served every morning. Rooms have a terrace and lovely outdoor views. Another bonus is the Bistro on-site open for dinner serving a delicious variety of comfort food.
The inn is located on a lovely wooded riverfront property nearby to many hiking, bicycling and snowmobiling areas. You're not too far off the route either, so getting back on will be a breeze.
Where to stay when you reach Maine
Once you reach the city of Portland, Maine, we recommend staying at The Press Hotel. The beautiful and luxurious hotel is located within the historic landmark of the Portland Press Herald.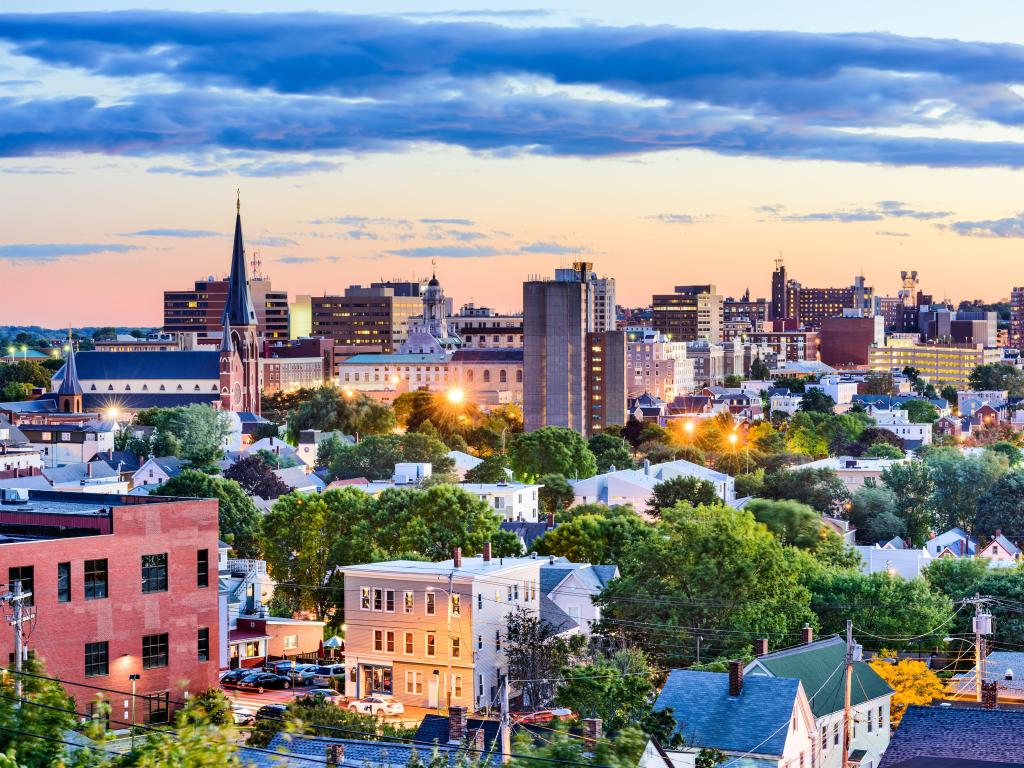 The hotel's luxurious rooms provide incredible city views and plenty of amenities. After your drive, you can relax at their popular on-site restaurant that features fresh and local ingredients.
Take advantage of the hotel's fitness center and if you have any questions about the city or your rooms the friendly staff can help you.
Things to see on a road trip from Vermont to Maine
There's a lot to see and do along the way between Vermont to Maine even through this is a relatively short road trip. To make your decision easy, we've included our top sights to help you plan for the ultimate vacation.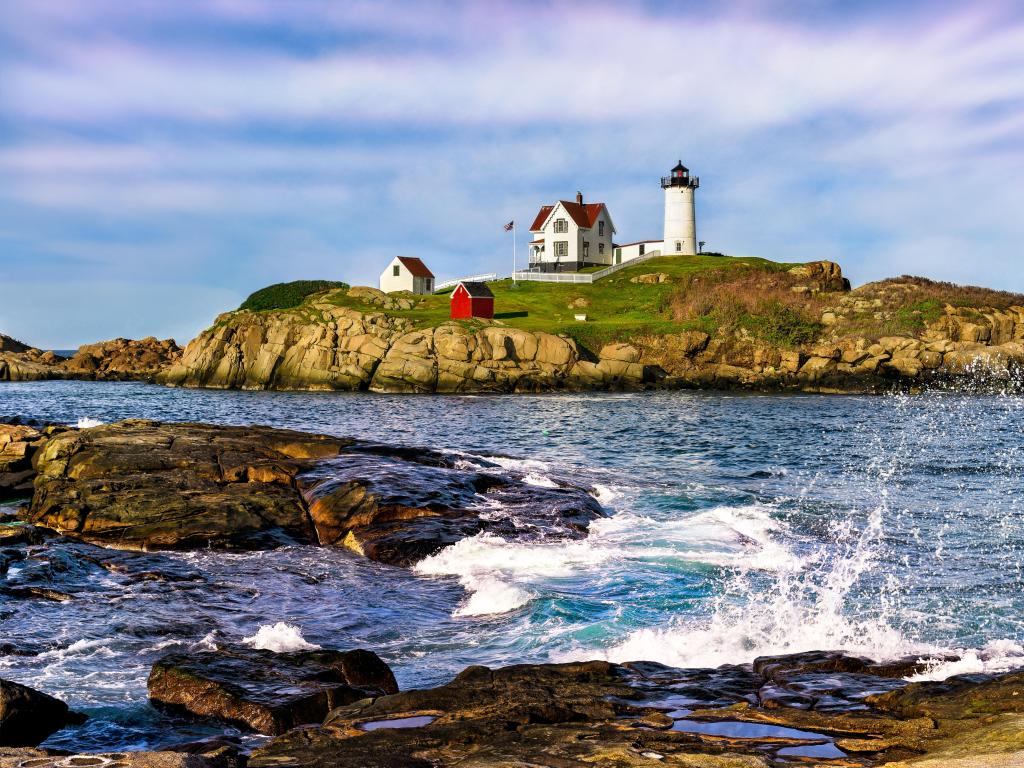 The Boston Route
Woodstock - This charming historic town in Vermont is filled with adorable shops, cafes, and lovely views.
Ludlow - Visit the Okemo Mountain Resort for easy and fun mountainous skiing. This is also a great stop on the scenic VT-100 if you have extra time to spare on your
Taylor Farm, Londonderry - Farm offering local artisan products ranging from cheese, maple syrup and wood-fired pizza. Also offers a variety of activities each season.
Green Mountain National Forest - Green Mountain and Finger Lakes National forests are greatly recognized for providing spectacular scenic views in Vermont.
Boston Common, Boston - The oldest park in the city of Boston, this park has been designated as a Boston Landmark due to its historic past.
Salem Witch Museum, Salem - This museum holds many items related to the Salem Witch Trials and pays tribute to witchcraft today.
York, Maine - This town is surrounded by beautiful sandy beaches and is recognized as a summer resort destination along the coast.
Marginal Way, Ogunquit - Stunning walking trail along the coast in this quaint fishing village.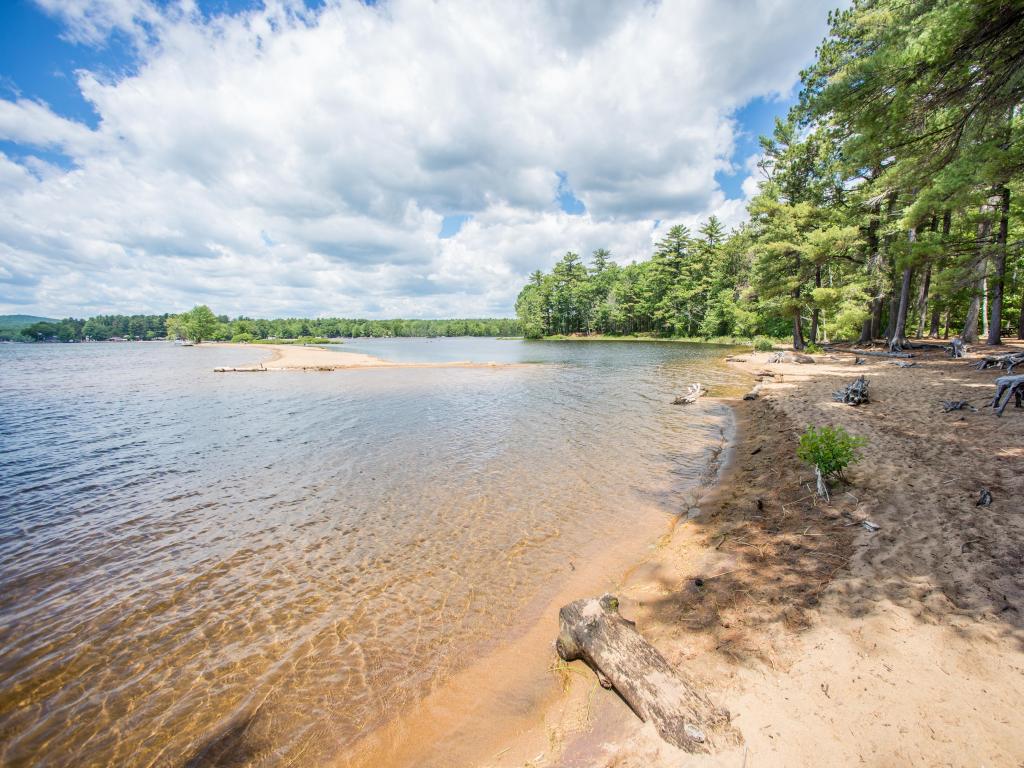 The Mt Washington Route
Vermont State House, Montpelier - State capitol site of the US government of Vermont.
Sargent's Purchase, Mount Washington - Located in the mountains of Mount Washington, the Sargent's Purchase area provides incredible hiking trails.
White Mountain National Forest - A gorgeous, emerald-green forest, known for its incredible alpine peaks with breathtaking scenery. Take a break here to stretch your legs.
Fryeburg - Charming town most known for the International Musical Arts Institute where most evenings you can find a theater or dance show.
Naples - This lakeside city is known for its dinner boat tours and a variety of watersports offered on the lake.
Sebago Lake - Popular fishing spot as it is the state's deepest lake. It provides the perfect opportunity to take a much deserved break from driving just before you reach your destination.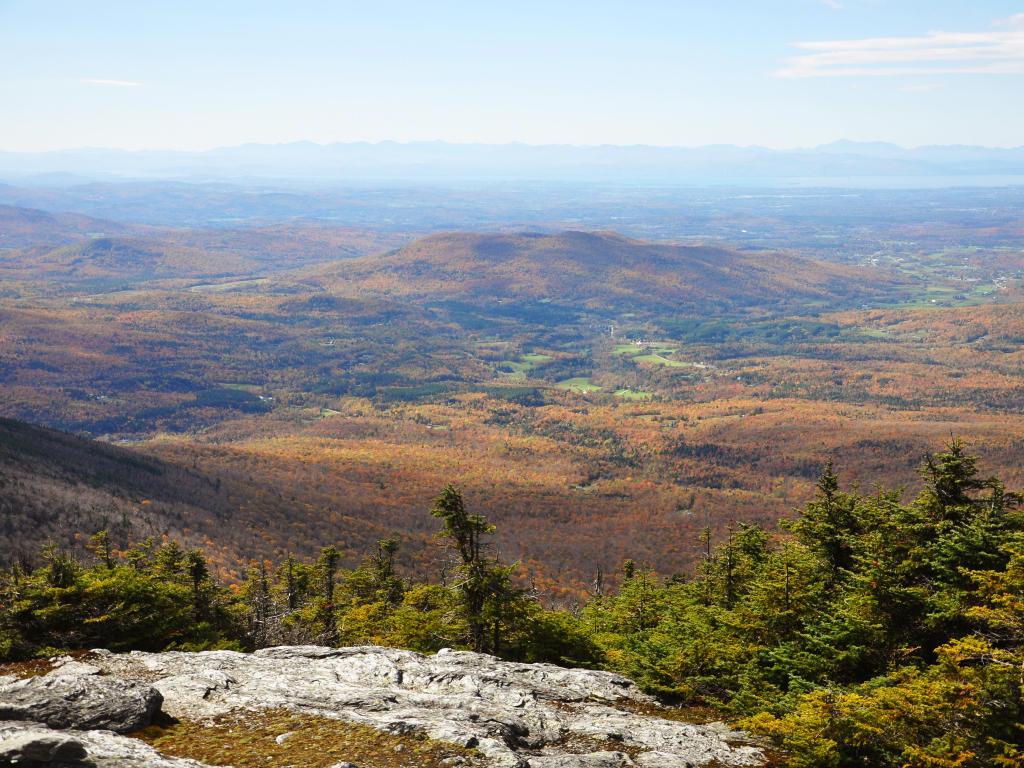 Both Routes
Mount Mansfield State Forest - Visit this state forest and marvel at the highest peaks in Vermont.
Camel's Hump State Park - Also known as Saddle Mountain, this park has over 1000 acres of wooded forest and mountains.
Waterbury Village Historic District - Iconic spot for once in a lifetime experiences. Home to many incredible attractions, accommodations and local favorites like Ben & Jerry's and Cold Hollow Cider Mill.
Best time to go on a road trip from Vermont to Maine
This road trip can be done year-round, but temperatures vary throughout the four seasons. This region has a temperate continental climate, which means there's a big difference between summer and winter temperatures.
You can find activities and events to do all year round through many stops along your route. Due to the coastal influences, rain is quite common any time of the year, so be sure to pack an umbrella.
Summers are considered the peak tourist season, so be aware that prices will be higher during these months.
July and August are the busiest times as people enjoy the light winds, bright skies and many festivals and markets that the cities will host. Summers are usually moderate to warm weather, as average temperatures range from 60 to 70 degrees Fahrenheit.
Winters in this region are often cold to cool winters. It is common to see temperatures drop below 30 degrees Fahrenheit and see heavy snowfall.
Vermont is also a well-known destination for ski lovers, so resorts may be fuller at these times. Snow along the coast may be not as thick compared to inland, but will still get strong, cold, coastal winds. Average temperatures range between 15 to 25 degrees Fahrenheit.
Springs are characterized with cooler mornings but get into some beautiful afternoons. Rain can be more common in the spring months. As for Fall, Vermont is one of the top destinations for fall foliage during this time.
Crowds flock from the end of September/early October to see all the incredible colors changing in nature. Average temperatures for both seasons range between 35 to 60 degrees Fahrenheit.
Portland hosts many events throughout the year. While there aren't any large recognizable events, some of the must visit local events are the Portland Wine week in June, the Maine Lobster Festival in August, and Cumberland Fair through the month of September.