Road Trip from Dallas to Los Angeles
A road trip from Dallas to Los Angeles takes you on a spectacular journey across several states, through deserts, mountains, and beautiful forest parks. You'll witness amazing landmarks before ending up on the Pacific Coast in one of the most vibrant cities in the world.
The road trip from Dallas to Los Angeles takes a minimum of 21 hours and covers 1,440 miles. Highlights include Fort Worth, El Paso, Tucson and Phoenix, Amarillo, Albuquerque, Flagstaff, Las Vegas and the mesmerizing Grand Canyon National Park.
Read on to find out what's in store on this fabulous pilgrimage to the City of Angels. Learn about the best route options, where to stay along the way, and some of our favorite things to see and do, as well as the best time to travel.
How far is Los Angeles from Dallas and how long will it take to get there?
Comparison of road trip routes between Nashville and Los Angeles

| Route | Distance | Driving Time |
| --- | --- | --- |
| The Northern Route | 1,610 miles | 24 hours |
| The Southern Route | 1,440 miles | 21 hours |
Whichever route you decide to take between Dallas and Los Angeles, you'll be covering a lot of miles and spending many hours behind the wheel. We have suggested two routes which both have their unique appeal.
The Northern Route covers 1,610 miles and will take 24 hours to drive, not allowing for any stops or detours on the way. This route sees you passing Amarillo, Albuquerque, and the Grand Canyon, before heading to Las Vegas and on to Los Angeles.
Our Southern Route covers 1,440 miles and will take you just over 21 hours. This route takes you west through the Texan desert to El Paso and Las Cruces before continuing past Tucson and Phoenix, The Joshua Tree National Park, and Palm Springs before arriving at Los Angeles.
With the journey lasting almost a full day of continuous driving, you'll need to break up the road trip, and we suggest taking a minimum of four days, ideally a week. This will give you more time to savor the amazing views and visit the many landmarks along the way.
Best road trip route from Dallas to Los Angeles
With so much to see along the way, the best route to take on this road trip will be based on your own preferences and we have recommended two fantastic route options that will ensure you have an unforgettable adventure whichever route you take.
How to drive from Dallas to Los Angeles
The map above shows our suggestions for the best road trip routes between Dallas to Los Angeles. Keep reading for detailed descriptions of both routes, where to stay on either, and the best things to do on the way.
The Northern Route
Our slightly longer option, at 1,610 miles, the Northern Route follows major roads and is quite straightforward to navigate. Leave Dallas heading west on State Route 183 until just north of Fort Worth, where you'll switch to Interstate 35 (I-35) W before changing again onto US-287.
Continue past Bowie and Wichita Falls until you arrive at Amarillo. Once you reach the city, you'll be transferring onto one of the most famous roads in America. Currently signed as Interstate 40 (I-40), this follows the same path as the historic Route 66.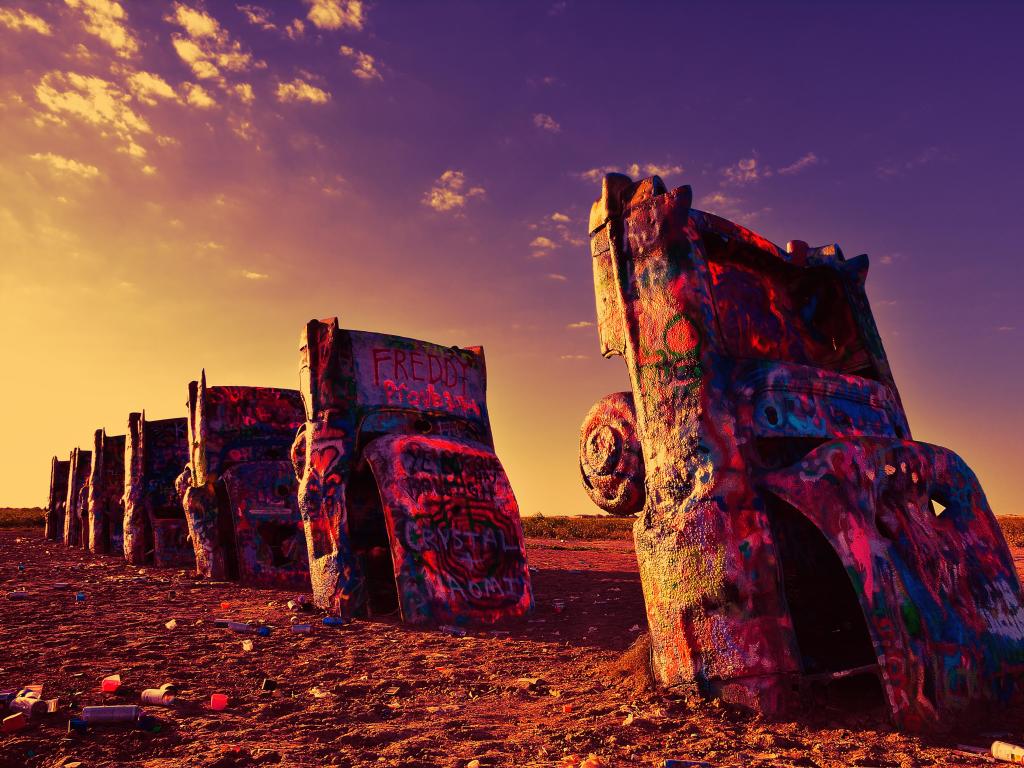 The route takes you into New Mexico and to Albuquerque. Here you can take a trip on the Sandia Peak Tramway and experience incredible views over the city from the top, over 10,378 feet up into the Sandia Mountains.
Leaving Albuquerque, continue on I-40 passing Gallup and the Petrified Forest National Park, with its incredible rainbow forest and museum, before continuing to the City of Flagstaff, around two-thirds of the way into the trip and an ideal place for a stopover.
Back on I-40, travel to Williams before taking the AZ-64 N, passing through the Kaibab National Forest before arriving at the Grand Canyon Village, on the South Rim of the Grand Canyon, and from here you can fully explore the National Park.
Make your way back to I-40 and follow it to Kingman where you'll take US-93 North and continue until it becomes Interstate 11 (I-11) and then take Interstate 515 (I-515), which will bring you to Las Vegas, Nevada.
Upon leaving Vegas, take Interstate 15 (I-15) southwest, heading through the breathtaking San Bernardino Forest Park, and you'll reach Ontario, California. For the final length of the road trip, switch to Interstate 10 (I-10) which will take you all the way to Los Angeles.
The Southern Route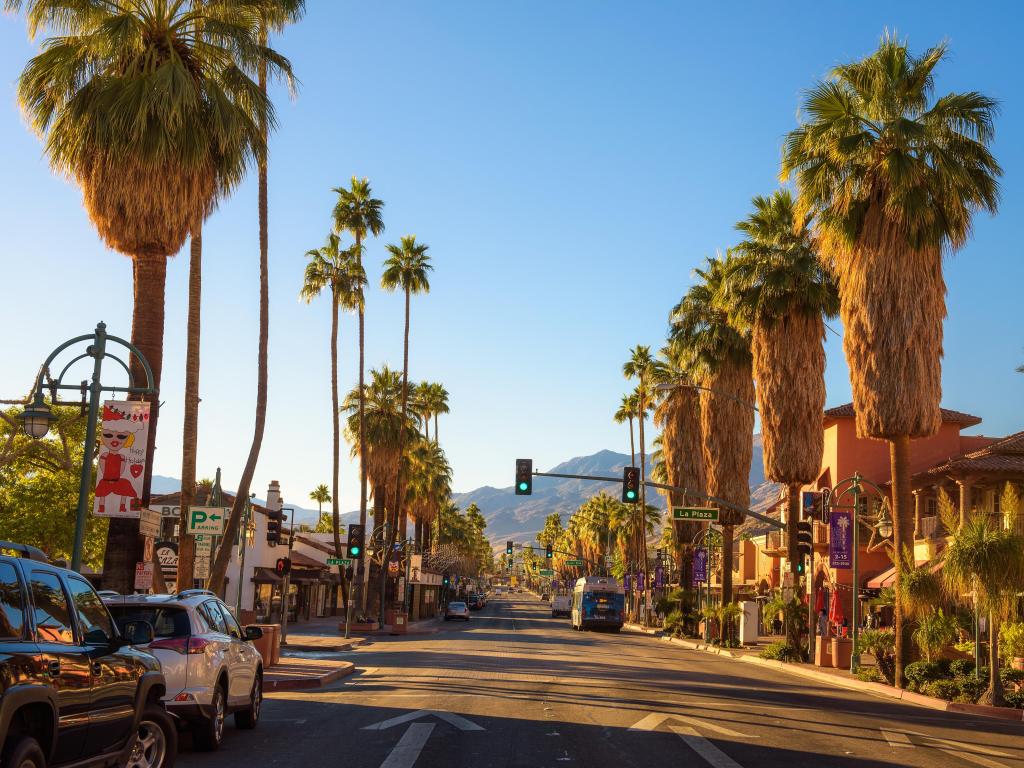 Our Southern Route option covers 1,440 miles and the majority of the journey is on the Interstate making it easily navigable. Leaving Dallas, head west and join Interstate 30 (I-30) passing Fort Worth where it becomes Interstate 20 (I-20).
Merge onto I-10 and you'll follow this through the beguiling Texan scenery to El Paso. The most westerly city in Texas makes an excellent place for a stopover, on the banks of the Rio Grande.
Head north on I-10 towards Las Cruces and where you can visit the Mesilla Valley Bosque State Park where you can explore the trails of the riverside forest along the Rio Grande and view a variety of wildlife in its natural surroundings.
Continue on I-10 past the Coronado National Forest to Tucson, the soul of the Sonoran Desert with over 350 days of sunshine a year, where you can taste Tucson's gastronomic roots with dishes embracing 4000 years of culinary heritage and local ingenuity.
From Tucson continue on I-10 towards Phoenix where you can experience the natural beauty of the Tonto National Forest, and if you're feeling energetic, take a trek to the top of Camelback Mountain which is well worth the challenge, offering fantastic views over the city.
Back on I-10, pass the Kofa National Wildlife Refuge and the Salton Sea before reaching the Joshua Tree National Park, straddling the cactus-strewn Colorado Desert. The park is home to a vast variety of plants and animals, in a landscape sculpted by strong winds and torrents of rain.
The route then passes Palm Springs, and the magnificent San Bernardino National Forest, before continuing past Mt San Antonio and Rancho Cucamonga, and I-10 will lead you to your final destination, Los Angeles.
Best places to stop between Dallas and Los Angeles
This epic road trip covers a vast distance, and you'll need several stopovers along the way, allowing you more time to enjoy the many attractions and stunning scenery, and ensure you are feeling refreshed and ready to go for the exciting drive ahead.
There are so many stunning locations and amazing hotels that you'll be spoilt for choice with stopover ideas, so here are a few of our favorite places to help you choose.
The great outdoors in the Grand Canyon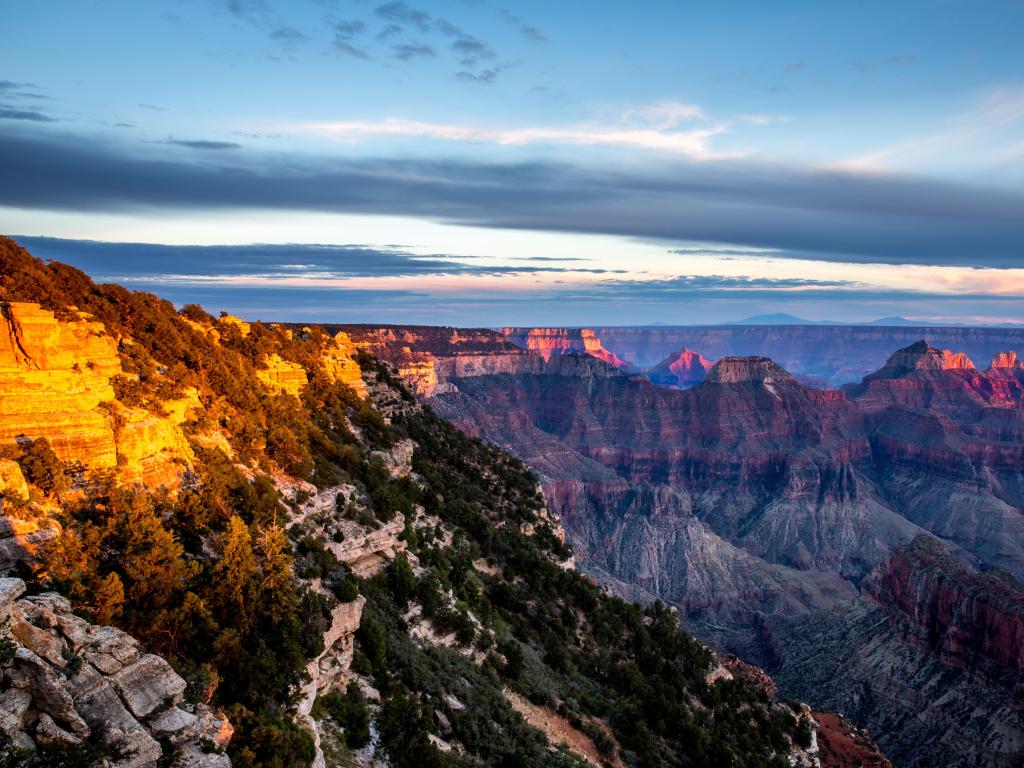 When you're on your way to one of the most famous cities in the world, it's hard to imagine you'll come across an equally fascinating place on the way. Located a little over 7 hours from Los Angeles on the Northern Route, you will find the world-famous Grand Canyon.
To get to the canyon you'll pass the city of Flagstaff, which is considered the gateway to the San Francisco Peaks Mountain Range and the Grand Canyon.
Surrounded by stunning natural attractions, Flagstaff is known as the city of seven wonders and you'll only realize how special a stay in Flagstaff is, once you see it with your own eyes. A stay at The Little America Hotel will give you a chance to do just that.
Located on the edge of the largest Ponderosa pine forest in North America, you can enjoy a truly magical stay in a special location with a natural design, yet luxurious interior, a stay here will leave you wondering how so many have missed this hidden gem of a city.
After a long day exploring the Grand Canyon and its surroundings, you will be happy to learn that this stunning hotel has its own pool and hot tub to help you relax before you make your way to the upscale Silver Pine restaurant and bar on-site for a meal and your favorite cocktail.
Viva Las Vegas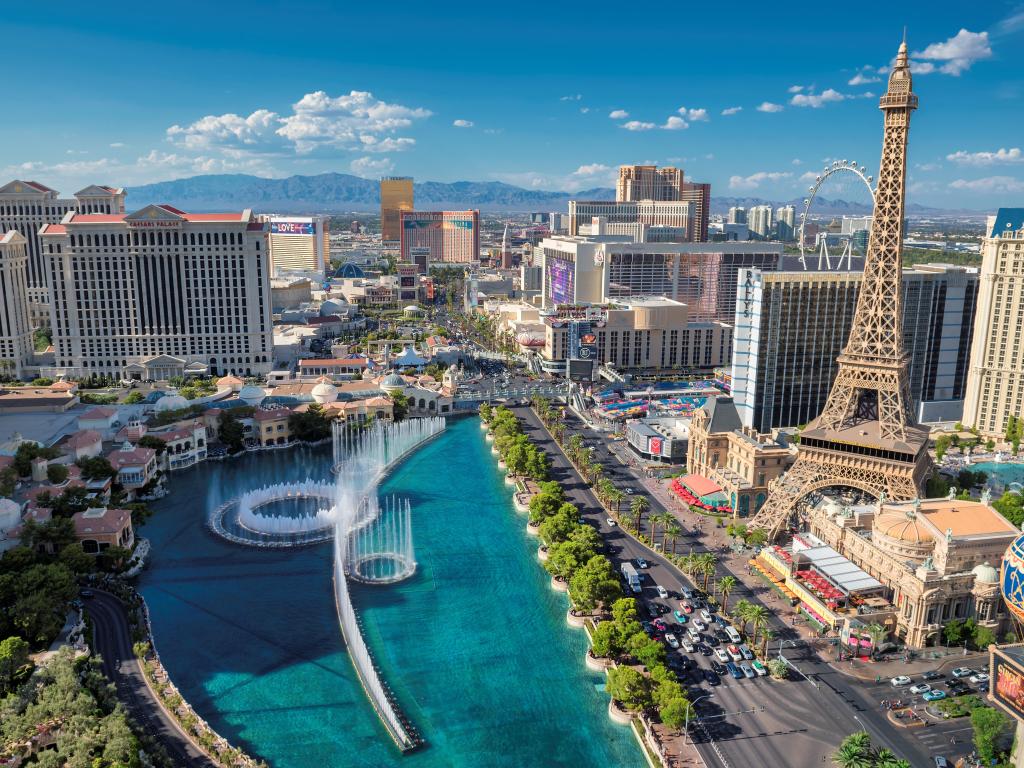 Situated around 5 hours away from Los Angeles on the Northern Route, our next recommendation is a location that needs no introduction, Sin City, Las Vegas. Known as the gambling capital of the world, Vegas is a place like no other.
Themed casinos line both sides of the road down the fabled Las Vegas Strip. Their windowless, clockless structures remove any sense of time and allow you to give in to the complete and utter excess of the city that surrounds you.
With bars, restaurants, shops, shows, performers, and attractions - the list is endless. You can stay here for a lifetime and no day will be the same.
When it comes to suggesting accommodation in Vegas, the options are limitless and very difficult to decide. With hotels themed after cities, historic places, mediaeval castles, and even a circus, the choice will come down to personal preference.
Our choice is one of the most iconic locations in Las Vegas, The Bellagio. A classy hotel with its high-end décor and famous fountain show, it provides you with all the great views, entertainment, and quality you could ask for.
Experience the culture of El Paso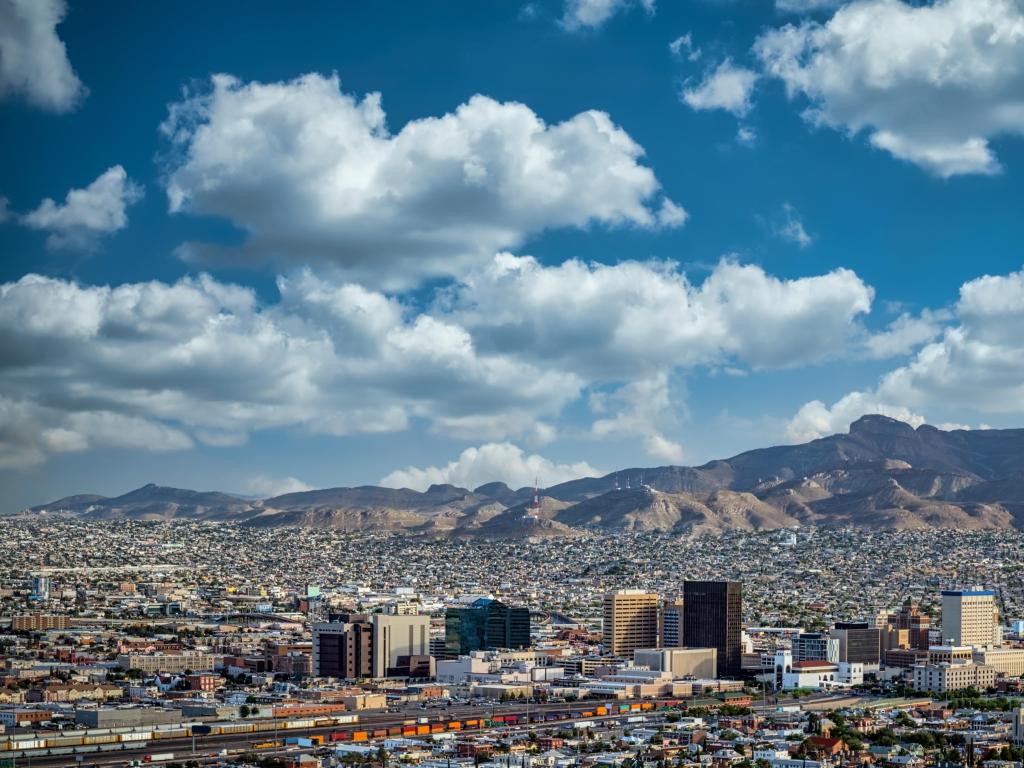 If you're taking our southern Route, then it is well worth spending a night or two in the most westerly city in Texas, which is a little under halfway on the Southern Route. This vibrant and unique city situated on the Mexican border is steeped in Hispanic culture and tradition.
El Paso is famous for its cuisine and is regarded as the Mexican food capital of the US. You will be spoilt for choice if you wish to experience the foodie culture of the city.
There are plenty of excellent accommodation options and the Plaza Hotel Pioneer Park is one of our favorites. Enjoy the delights of the on-site restaurant and the stunning art deco surroundings and sample its impressive tequila selection in the refined rooftop bar.
Whilst in El Paso, take a trip on the Wyler Aerial Tramway to the top of Rangers Peak, at over 5.600 feet where you can see abundant wildlife before enjoying the magnificent views of over 7,000 square miles over 3 states and 2 nations.
A visit to the Plaza Theatre is also recommended. It's one of the city's best-known landmarks, where you can see Broadway productions and concerts set amongst the extravagant furnishings of this Spanish mission-style building with its unique three-tier domed tower and mosaic tiled floors.
Things to see on a road trip from Dallas to Los Angeles
With a trip of this length, there is an impressive array of attractions on both routes, and we've compiled a list of some of the must-see things to help you plan your itinerary.
Northern Route
Cibola National Forest - One of several National Forests and landmarks located in the area. Route 66 is one of the most famous roads in the world.
Albuquerque, New Mexico - The largest city in the state of New Mexico, this former Spanish colony is filled with historic adobe buildings and is well worth a visit.
El Malpais Monument and National Conservation Area - A volcanic landscape whose name is the Spanish term for Badlands.
Gallup, New Mexico - Known as the Native American capital of the world and features an incredible collection of Native American trading posts.
Petrified Forest National Park - Hotspot for fans of archaeology and natural beauty, with many miles of eroded colourful badlands.
Coconino National Forest - The biggest forest of its kind anywhere in North America, with a diverse and changing landscape ideal for exploring its magnificent mountains and canyons.
Humphreys Peak - The highest of a group of dormant volcanic peaks, known as the San Francisco Peaks, and a 5-mile hike on the Summit Trail will leave you with the most breathtaking views.
Kaibab National Forest - A National Forest located between Flagstaff and the Grand Canyon National Park, boasting stunning canyons, beautiful forests, and vast desert plateaus to explore.
The Grand Canyon - One of the most visited natural attractions in the world. Take a walk on the Grand Canyon Sidewalk with sheer drops of up to 800 feet.
Calico Ghost Town - An old silver mining town in the hills featuring historic style shops and displays, as well as tours into the mine.
Southern Route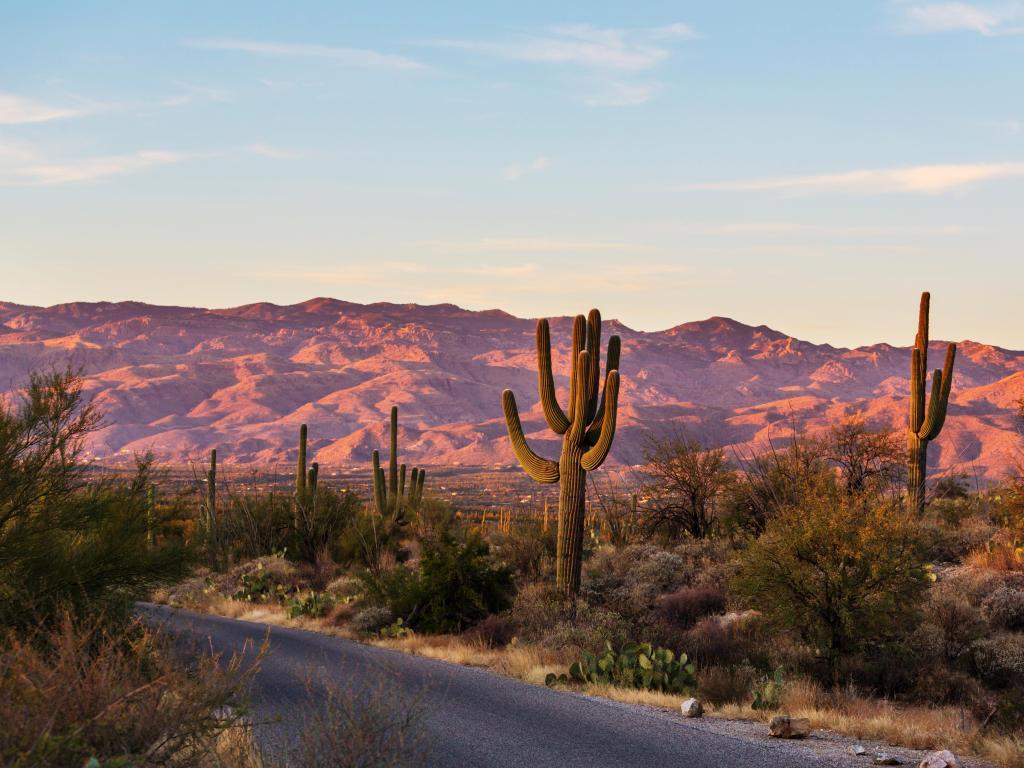 San Antonio - Visit the home of the Alamo and learn about the infamous 1836 battle for Texan independence where Davy Crockett led his famous last stand.
El Paso, Texas – A border town on the banks of the Rio Grande, known as "Sun City" as it averages over 300 days of sunshine annually. Popular for its Tex-Mex cuisine and rich cultural history.
White Sands National Park - The most recent addition to the US national park register, features miles of rolling dunes, located 50 miles from Las Cruces.
Tucson, Arizona -Explore the remnants of the 1775 San Agustin Del Tucson and step back through history and embrace the native ingredients in the bold fusion of regional influences in this UNESCO City of Gastronomy.
Saguaro National Park - Named after the large cactus, take a trip on the Cactus Forest Drive and get stunning views of the desert landscape.
Phoenix, Arizona - Blessed with sunshine all year round, and known for its high-end spa resorts and golf courses designed by the legendary Jack Nicklaus. The Desert Botanical Garden is well worth a visit.
Colorado River Indian Reservation – Modern-day Indian Reservation, home to four different tribes of Native Americans: the Chemehuevi, Hopi, Mojave, and Navajo.
Joshua Tree National Park - A desert wilderness containing over 100km of hiking trails weaving their way through the boulders of Hidden Valley. Keys View looks out over the spectacular Coachella Valley
Kings Canyon National Park - Explore the incredible caves, rivers, and waterfalls, all stemming from the Sierra Nevada mountains.
Yosemite National Park - A simply stunning place to visit with its giant, ancient sequoia trees, and for Tunnel View, of the iconic Bridalveil Fall, and the granite cliffs of the renowned El Capitan and Half Dome.
Best time to go on a road trip from Dallas to Los Angeles
Traveling to a beautiful city in the aptly named Golden State, a road trip from Dallas to Los Angeles is one that's enjoyable year-round. Los Angeles hosts 50 million visitors a year and has a lot to offer whenever you decide to visit.
Visiting in spring or fall is the best time to avoid the crowds. The LA winter is brief and mild, and as it comes to an end you can enjoy the city before the summer crowds descend. You can also enjoy the Los Angeles Times Festival of Books and the Jazz Reggae Festival.
Visiting in summer, the average highs reach 85 degrees Fahrenheit, and it is the busiest time of year. It's a great time to hit the beach and it is home to some of the finest in Southern California with Santa Monica, Malibu, and Redondo Beach not far from the city center.
Boasting mild temperatures of 60 degrees Fahrenheit, winter is a magical time in Los Angeles with the Hollywood Christmas Parade and the Rose Parade taking place, and if you're a music and movie buff, you'll be in town for the Grammys and Oscars.
There are also several ski resorts within a couple of hour's drive of LA with the San Gabriel and San Bernardino Mountain ranges nearby so there will be plenty of fresh powder for you to hit the slopes.
There is never a bad time to take a road trip from Dallas to Los Angeles. Even the coolest months are comfortable for sightseeing, so it's down to you to decide on what you want to see and do and get ready for the trip of a lifetime.