Road Trip from Austin To Denver
A journey from the Lone Star State to the Mile High City is one of America's ultimate road trip experiences, so pack your bags and embark on a road trip from Austin and Denver. On the way, you'll see the famous Texas panhandle and the mountainous beauty of Colorado.
The 950-mile road trip from Austin to Denver will take you about 14 hours of driving. The route passes through the cities of Fort Worth, Amarillo, and Colorado Springs, as well as Lake Wichita, Cadillac Ranch, and Palo Duro Canyon State Park.
This is a road trip you won't want to miss out on, so keep reading to find out what you can expect along the way.
How far is Denver from Austin and how long will the road trip take?
A road trip from Austin to Denver will take about 14 hours of driving and covers approximately 950 miles. The route will take you out of the diverse city of Austin and past some beautiful flat plains, not to mention the sweeping mountains of Southern Colorado.
If you wanted to, you could complete this road trip from Austin to Denver in two days, driving 7 hours each day plus an hour or two factored in for gas and restroom breaks.
That said, rather than keeping the pedal to the metal, give yourself more time to explore - this way, you can spend the mornings driving and the afternoons exploring a new place.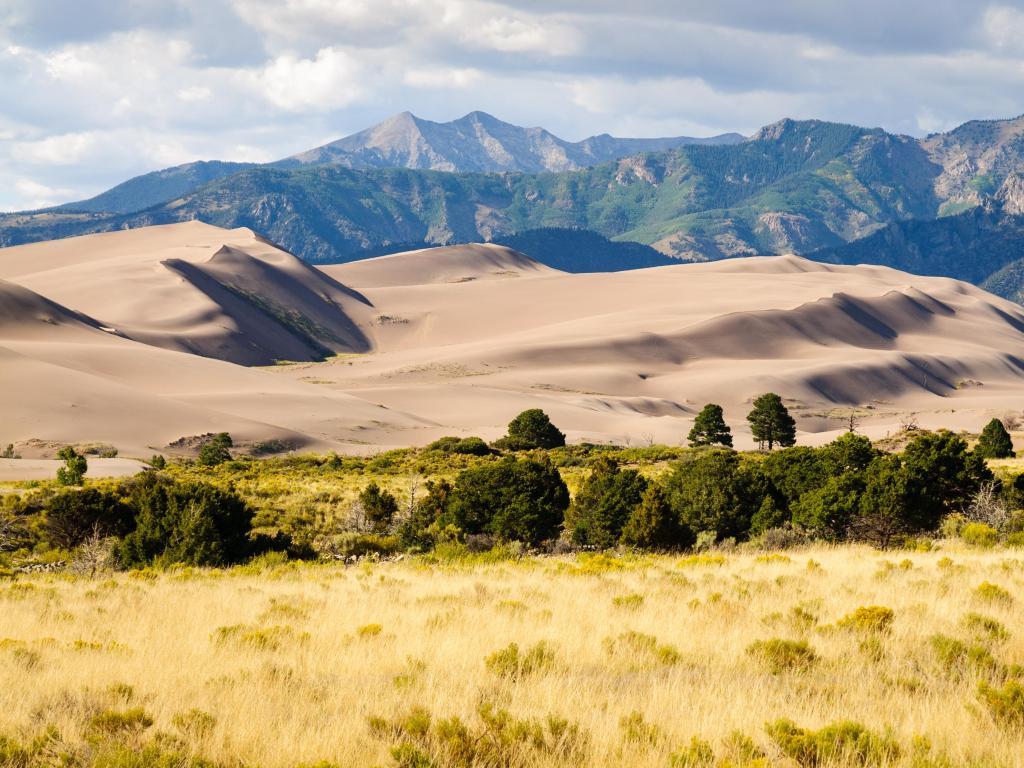 This route combines a perfect blend of American history with natural beauty. There are historic cattle towns like Fort Worth and Amarillo to explore and the otherworldly Great Sand Dunes National Park to get lost in.
The route is a mixture of interstate and highway driving. There are some detours onto smaller country roads that keep the driving interesting and varied, although small-town speed limits are guaranteed to add a fair bit of time to your drive.
Best road trip route from Austin to Denver
The best road trip route from Austin to Denver is a historically rich tour of north Texas and southern Colorado that also happens to be one of the fastest ways to drive between the two cities.
Road trip route from Austin to Denver
Depart Austin by driving north on Interstate 35. Follow this north towards Waco, where you can take a quick pit stop to visit the Waco Suspension Bridge. Continue north towards Fort Worth, and spend a few days here before striking northwest on Highway 287 for Amarillo.
Follow this highway through the expansive grasslands of Texas to Wichita, with a short detour to Palo Duro Canyon State Park to take in the impressive red rock spires. From Palo Duro, it's a short drive to Amarillo for more cowboy history and to cross the infamous Route 66.
From Amarillo, set your sites on the tri-state monument, which is the junction of Oklahoma, New Mexico, and Texas that sits in the Rita Blanca National Grassland. Cross into New Mexico on Route 87 and follow it to the extinct volcano called Sierra Grande.
After visiting the volcano, continue west along route 87 to Raton, where you will intersect with Interstate 25 - follow it across the border into Colorado, where you will begin to enter the foothills of the Rocky Mountains.
Mountains will cling to the horizon, beckoning you deeper into Colorado, and the land will become more forested. From the border, you will stick to Interstate 25 all the way to Denver.
Also, you should factor in time for a detour to the Great Sand Dunes National Park by venturing off the interstate at Walsenburg onto route 160. From the national park, return to Interstate 25 before continuing to Pueblo, Colorado Springs, and finally, Denver.
Best places to stop between Austin and Denver
If you decide to split your road trip from Austin to Denver into a few days, there are some fantastic places to stay en route. There are no shortage of amazing cities to charge your batteries in, so make as many stops as you can and stay for as long as possible to explore.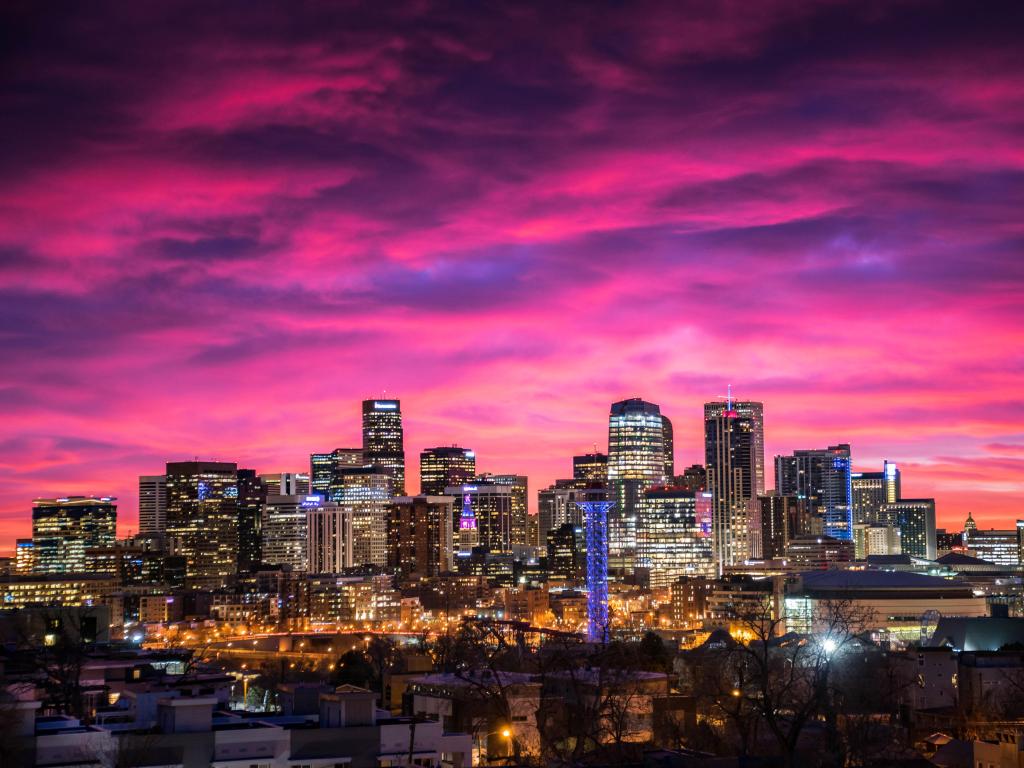 Enjoy the hustle and bustle of Fort Worth's stockyards
The stockyards of Fort Worth processed millions of cattle to be shipped all over America from the 1860s to the 1890s. Hotel Drover offers a classy but rustic decor and is located at the heart of the stockyards, perfect for exploring the region
The Drover hotel has every amenity you need to relax and unwind, like a pool, beautiful gardens, and a fitness center. In the evening you can dine in at their fabulous restaurant or choose to hit the town, which is within walking distance from the hotel.
The rooms are large with a distinct aesthetic flair, so you're guaranteed to feel right at home here. The hotel's location and exceptional service do come with a heftier price tag, but that's more than justified when considering all it has to offer.
Embrace modern luxury in downtown Amarillo
Amarillo is another charming city with lots of cowboy history. The Barfield in downtown Amarillo oozes class with its stylish modern design. It boasts a fantastic restaurant and a prime location for you to get to know Amarillo.
While it may not be as packed with amenities as some of the other places to stay, it is a perfect location to break up your road trip from Austin to Denver.
Amarillo is a great halfway point for the road trip. Downtown Amarillo is on the doorstep of this hotel. If you want to see some of the amazing scenery, Palo Duro Canyon State Park is a short 30-minute drive from the Barfield.
One of the major advantages of this hotel is that they can organize private parking, which makes staying at the Barfield very easy and convenient. The offerings of this hotel come at a very competitive price, making it the perfect location if you want to overnight in Amarillo.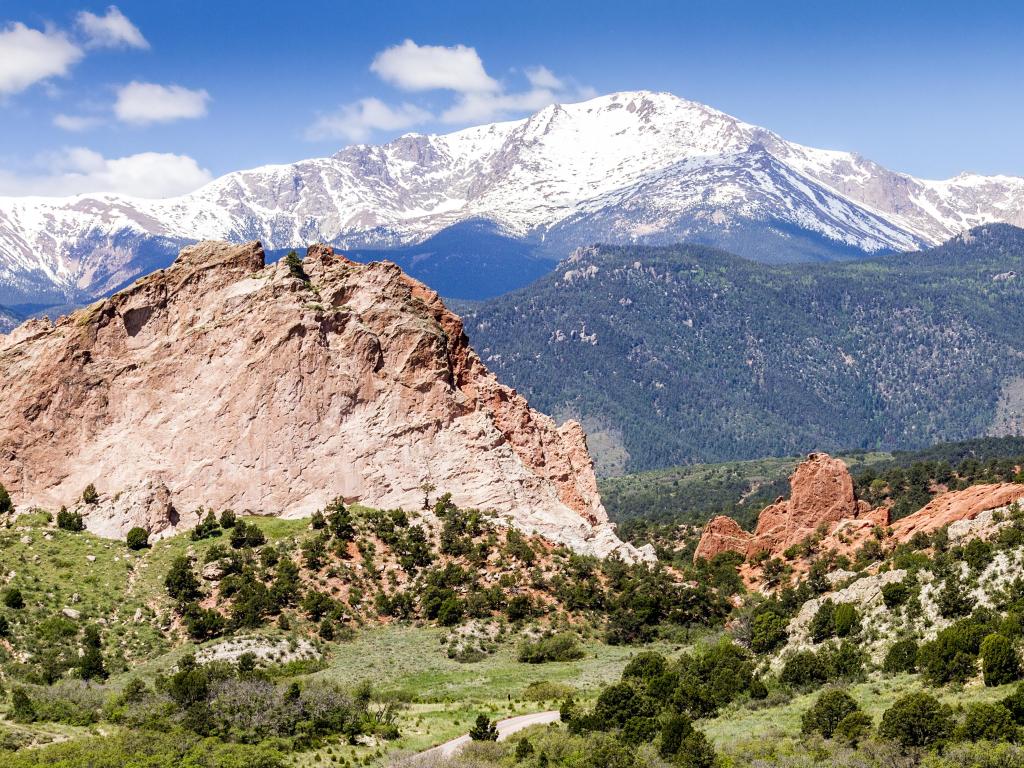 Immerse yourself in Colorado's nature in Colorado Springs
If the hustle and noise of cities isn't your style, then The Lodge at Flying Horse is the place for you. Set on the outskirts of Colorado Springs, this lodge is picture-perfect and will be a great welcome to the Rocky Mountains.
You should plan to spend at least two nights here because there is so much to do here - including enjoying the two private golf courses designed by Tom Weiskopf. There is also a European resort-style golf clubhouse.
The beautiful Garden of the Gods is a short drive from the property and is perfect for a day out. Once you are done exploring or put your golfclub down, you can unwind at the swimming pool and treat yourself to a well-deserved massage at the spa.
For a perfect close to a day, enjoy a delicious meal at the on-site restaurant that features views of Pikes Peak before calling it a day.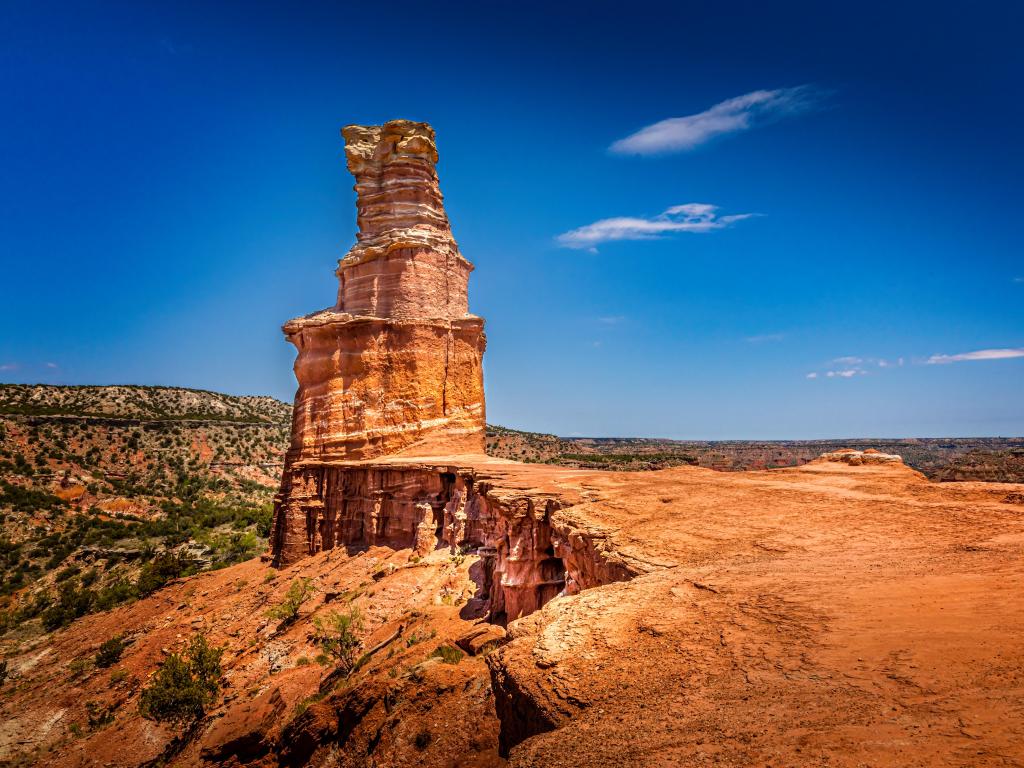 Things to see on a road trip from Austin to Denver
This road trip from Austin to Texas is loaded with things to do along the way. The best part is there are no major detours that you have to make, except to visit Great Sand Dunes National Park, but that is worth it.
It would be hard to list everything you could see and do on the way, but these are some of the highlights. They are listed as you would encounter them driving from Austin to Denver.
Waco Suspension Bridge - Waco sits an hour and a half from Austin, but this bridge is worth a quick stop as it spans nearly 500 feet over the Brazos River.
Fort Worth Stockyards - Packed with Texas cowboy charm, you can still witness daily cattle drives and go on historical tours of the cattle town.
Palo Duro State Park - A respite from busy cities can be taken in the majestic Palo Duro State Park with its impressive red rock spires.
Cadillac Ranch - A quirky and exciting art installation on the outskirts of Amarillo.
American Quarter Horse Museum - Immerse yourself deeper in the ranching traditions of Texas by visiting the Quarter Horse Museum in Amarillo.
Tri-State Monument - Take a picture at the junction of Texas, New Mexico, and Oklahoma.
Sierra Grande - An extinct stratovolcano in New Mexico that rises over 2,000 feet above the surrounding plains.
Great Sand Dunes National Park - Take an hour's detour to visit one of the most interesting and awe-inspiring national parks in the American West.
El Pueblo History Museum - Situated in the center of Pueblo, you can learn about the different ethnic groups of the region while visiting an old trading post from the frontier days.
Manitou Cliff Dwellings - Travel back in time by visiting these ancient Puebloan cliff dwellings just outside Colorado Springs.
Garden of the Gods - Walk amongst jagged ridges of rocks in the Garden of the Gods, minutes from Colorado Springs and close to the Manitou Cliff Dwellings.
Cave of the Winds - Situated in the same area as the Garden of the Gods and the Manitou Cliff Dwellings, take a trip into the cave of the winds, where the Apache believe the spirit of the wind lived.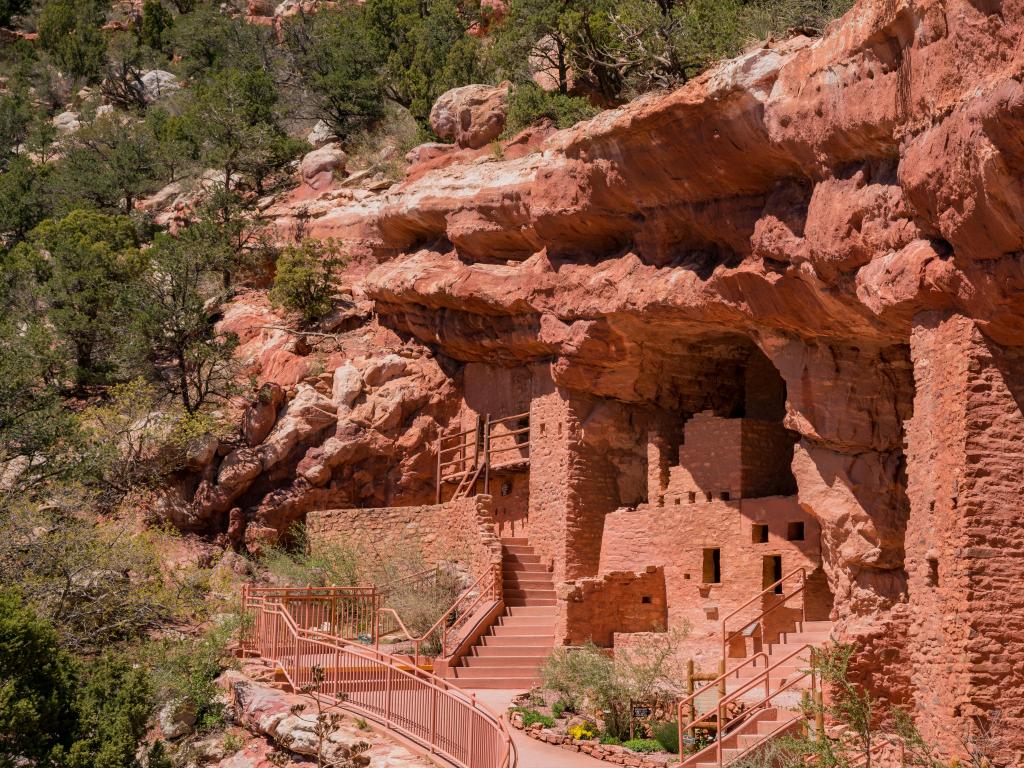 Best time to go on a road trip from Austin to Denver
If you are planning a road trip from Austin to Denver, you'll be delighted to know you can do the drive virtually any time of year. This is largely because most of the route follows major interstates and highways, and there is not too much driving on minor roads.
Denver can get cold in the winter, but there is still a lot of fun to be had. Visiting some of the national parks (like Great Sand Dunes National Park) can be more difficult in winter, but the roads are generally cleared quickly, and the snow doesn't last that long on the dunes.
There are many historical sites along the route that are suitable to visit at any time of year, such as the Manitou Cliff Dwellings in Colorado Springs or the stockyards in Fort Worth. Also, visiting Northern Texas in the winter rewards you with lower prices and a quieter city experience.
While the weather may be more pleasant in summer, there is still plenty to see and do if you want to travel during the quieter months of the year - in fact, you may even be able to score a great deal on a hotel.