18 Best Lakes near Charlotte, NC
Charlotte is a bustling city that has you covered whether you are interested in beautiful architecture, fascinating museums or stunning parks. But if you're yearning for more outdoor space, then you're only a short drive away from an impressive choice of some of the most scenic lakes in the Eastern US.
There is a vast array of breathtaking lakes, reservoirs and beaches within a few hours of Charlotte, including Lake Lure, Lake Norman, Lake Wyman, Swiss Mountain Lake, Lake Lanier and Norris Lake, which are perfect destinations for a day trip.
The best lakes in the Charlotte area
The states of North Carolina, South Carolina and Tennessee are packed full of scenic lakes and reservoirs that are all within a short drive of the city of Charlotte. Whether you love watersports, fishing or swimming, there's a lake nearby for you.
Here are a few of the most popular lakes in the region. We've included more details about these in our article, plus you can find 13 other scenic lakes to choose from below.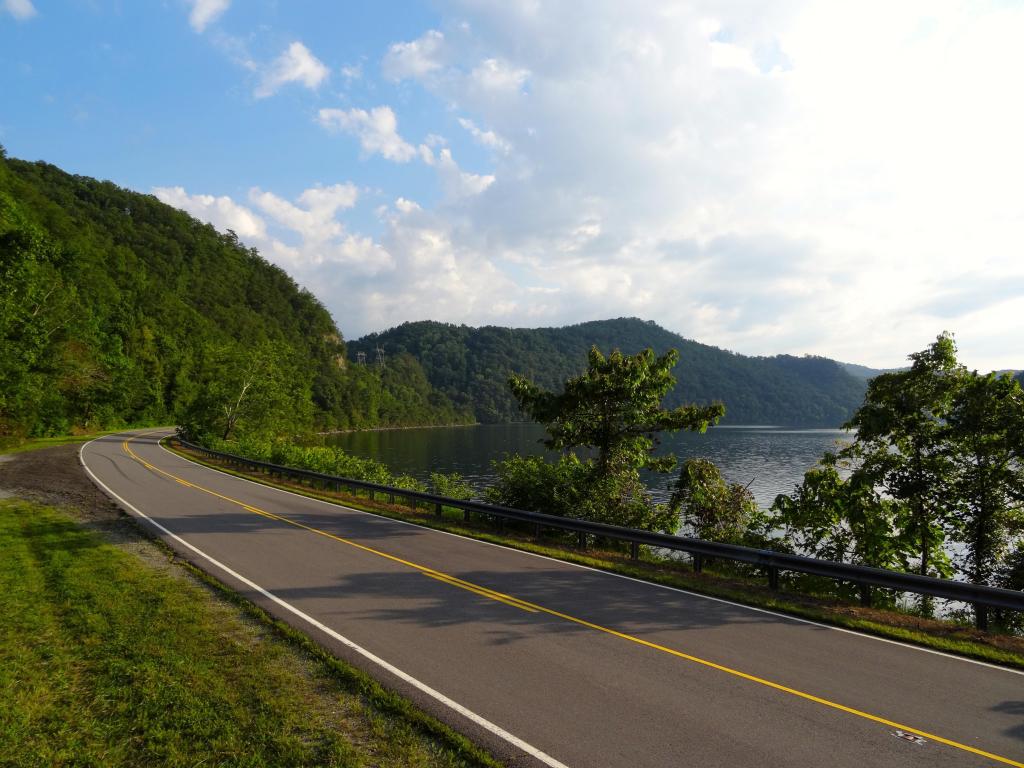 Read on for an overview of each lake's highlights, plus how to get there from Charlotte. We'll also cover everything you need to know for a great day out by the water, so get that bathing suit ready and keep reading!
Best lakes within 1 hour of Charlotte, NC
If you're looking for a quick dip in the water and be back in Charlotte for the afternoon, then these lakes all within an hour away will surely hit the spot.
1. Mountain Island Lake, NC
20 minutes from Charlotte (12 miles)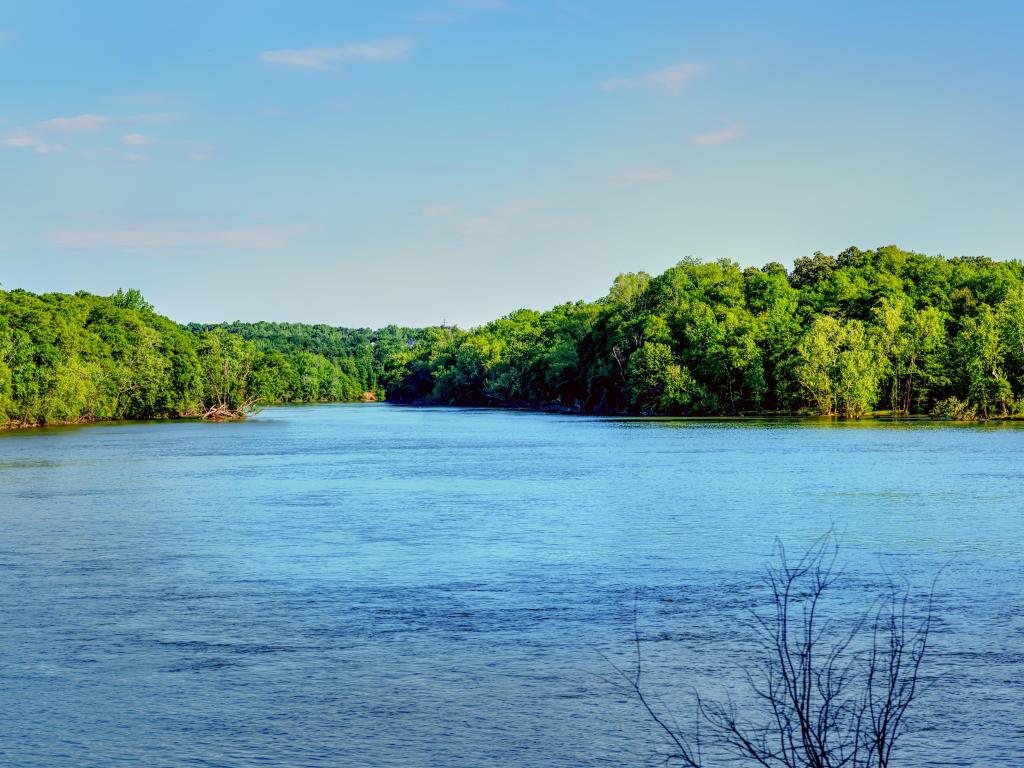 Why you should visit: Named after the mountain which appears from the water like an island, Mountain Island Lake is the closest on our list to Charlotte, at just 12 miles away, meaning you can be relaxing by the beautiful shore in less than half an hour after leaving the city.
Mountain Island Lake is a fun, recreational destination for water sports fans including jet skiing, fishing and boating. Explore the upper section of the lake and you'll discover secluded parks and natural areas with stunning views.
How to get there: The drive from Charlotte to Mountain Island Lake only takes 20 minutes. To reach it, leave the city on NC-16 heading north past Frazier Park. Take the exit to head to Overlook Mountain Drive and drive for five minutes before reaching Mountain Island Lake.
Our highlights: Taking up 3,200 acres, Mountain Island Lake is created in 1924 and is an ideal recreational lake, featuring a fishing and boating ramp. You can swim, paddleboard or jet ski around it.
This quiet spot in North Carolina is best enjoyed on a paddle board where you can discover the remote and beautiful coves and caves around the edge of the lake.
After exploring the lake by boat, why not take to the surrounding hills and follow the Mountain Island Park Trail? Taking you around Catawba River as well as the lake, this 1.6-mile hike is great for all abilities and gives you the chance to see the Mountain Island Lake Dam close up where you might even spot some local wildlife including herons, turtles and deer.
If hiking isn't your thing, you can try your hand at fishing and see if you can catch some local bass, catfish, crappie or perch.
Bonus: While smaller than Lake Norman, Mountain Island Lake provides the drinking water to 750,000 people in the Charlotte and surrounding area.
2. Lake Wylie, SC
30 minutes from Charlotte (18 miles)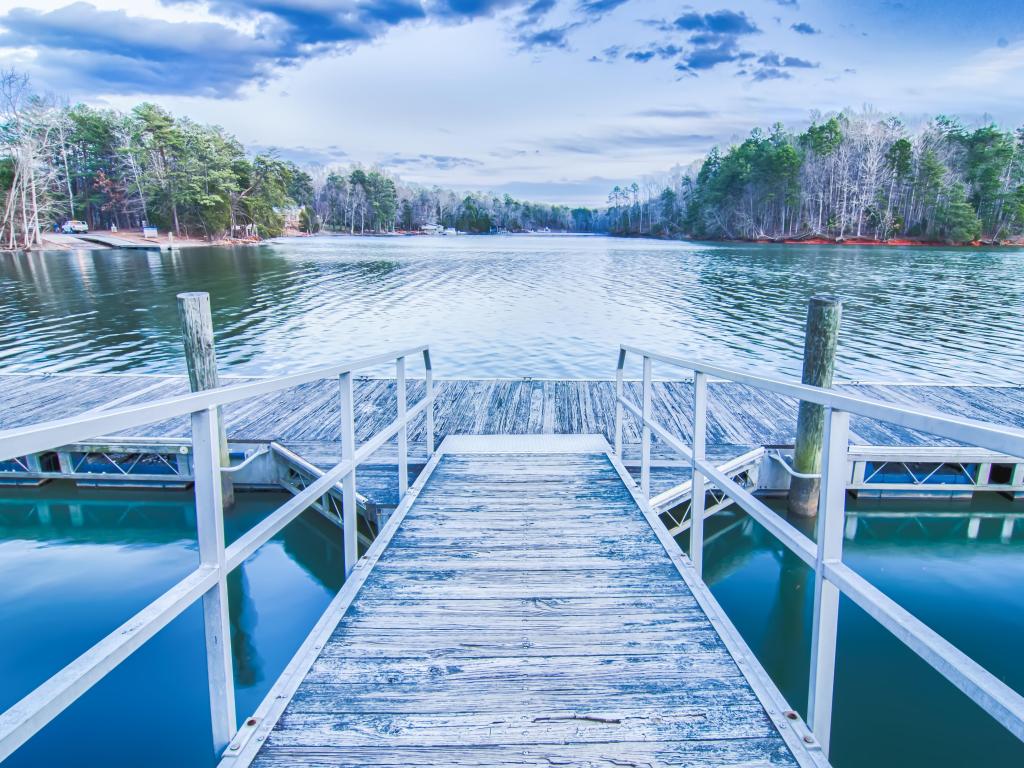 Why you should visit: Known as the center of fun for the locals who live around it, Lake Wylie is a great summer water sports destination less than 20 miles from Charlotte. Whether you love kayaking, paddle boarding or jet skiing, there are endless opportunities for all ages at this beautiful spot in South Carolina.
Surrounded by nature preserves, several towns and fantastic amenities along its 325 miles of shoreline, Lake Wylie is a great place to visit if you're looking for a waterside location near the city with a great range of activities.
How to get there: The drive from Charlotte to Lake Wylie is via I-77 south, taking you past Renaissance Park and McDowell Nature Preserve on State Highway 49.
Our highlights: Perfect for all ages, from families with children to adrenaline junkies, Lake Wylie offers plenty of outdoor recreation activities including swimming (at Windjammer Park and Ebenezer Park which also offers basic facilities), water sports and fishing. Though you will need a valid fishing licence at Lake Wylie.
Surrounding the man-made reservoir is a beautiful marina where you can spend the evening watching the sunset. Or for the more adventurous, how about trying tubing at Lake Wylie Dam and floating down the Catawba River to Riverwalk Carolinas?
There's also Pitcairn Park if you'd prefer to stay on land, which offers pretty walking trails where you can spot nature and wildlife, or nearby Copperhead Island which has 14 acres of parks and direct boat access back to the lake.
Here you can even camp for the night or for a touch of luxury, there are cabins at Lake Wylie which offer a waterside view.
3. Lake Norman, NC
50 minutes from Charlotte (40 miles)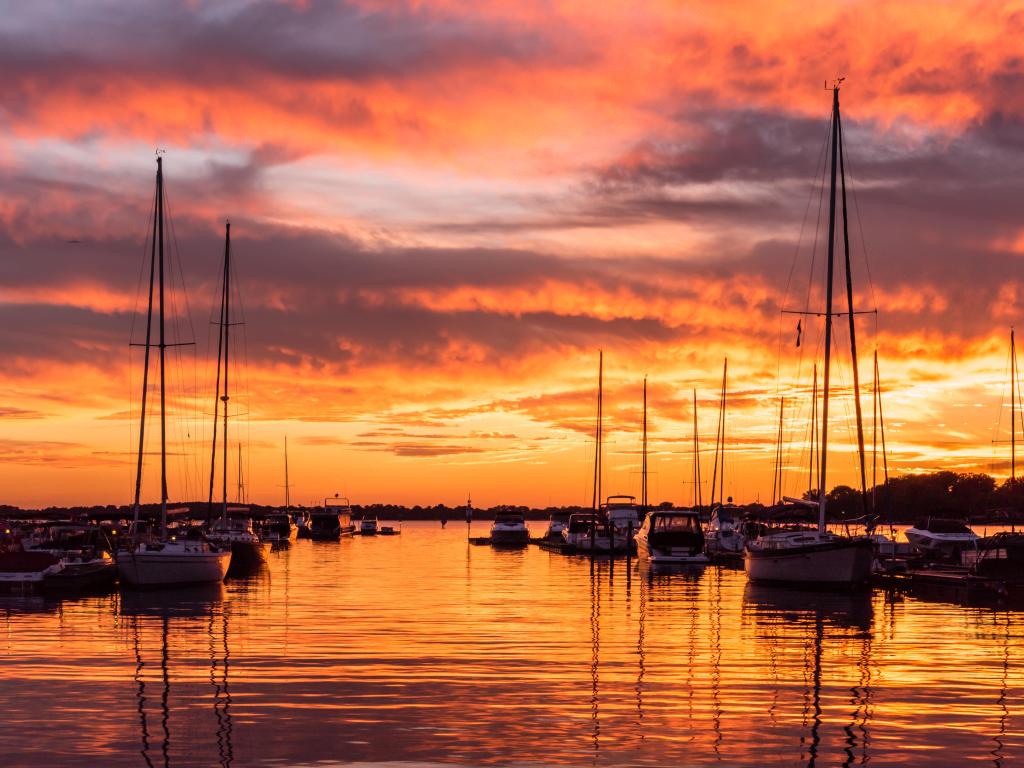 Why you should visit: The beautiful Lake Norman offers over 520 miles of shoreline accompanied by beautiful beaches and is the perfect setting to watch a sunset or indulge in some water fun. Whether you love adrenaline sports or simply wish to enjoy a relaxing walk around the waterside, Lake Norman has it all.
Despite being less than an hour from Charlotte, this lake is an oasis with lots to explore including Lake Norman State Park. Ideal for outdoor fans, the park has miles of mountain bike trails and beaches that are ideal for swimming, making this a destination you can spend the whole day at.
How to get there: Take I-77 and head north to drive from Charlotte to Lake Norman, passing alongside Lake Norman on US-21 and Mt Mourne. Continue north back on I-77 to State Park Road.
Our highlights: You can enjoy countless water sports activities from fishing and boating to swimming, paddle boarding and wakeboarding at Lake Norman, but what makes it really special is the vast area surrounding it.
There are several park areas including Stumpy Creek Park and Rock Springs Nature Preserve where you can enjoy walking trails, hiking and biking, plus it's a great place to explore if you love nature and wildlife.
The bordering towns of Moorseville, Cornelius, Davidson, Huntersville and Denver all offer great amenities, shops and restaurants where you can enjoy a bite to eat before driving back to Charlotte.
Though if you do decide to spend longer here, you can stay the night and watch the sunset while camping at one of 32 campgrounds in Lake Norman. Many of which feature kitchen facilities, restrooms and fire pits, ideal for cooking a barbecue.
Bonus: For a memorable visit, why not rent a yacht at Queens Landing and enjoy a two-hour tour of the lake (running Thursdays to Sundays); or time your visit with one of the several events held throughout the year at Lake Norman, including popular jazz concerts.
Operating hours: The visitor center opens 9am-5pm daily.
4. Lake Tillery, NC
1 hour from Charlotte (53 miles)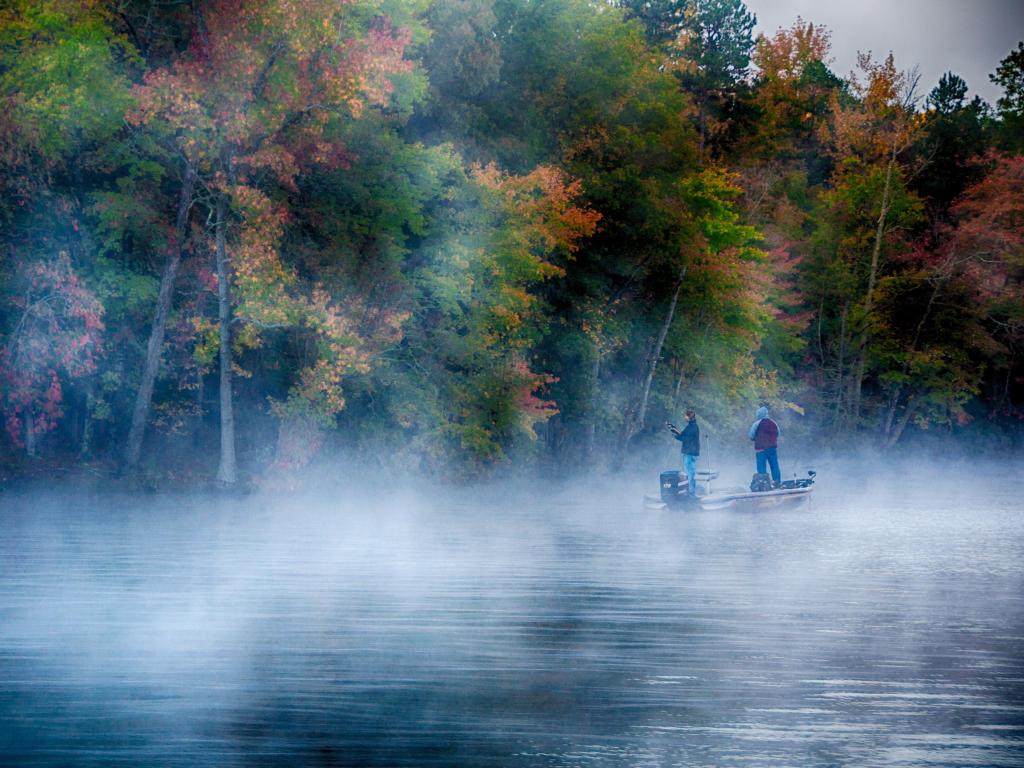 Why you should visit: Lake Tillery is a haven for water lovers; from swimming in the clear water or relaxing on the beach, to adrenaline activities of boating and water sports, this beautiful spot just over an hour from the city has it all.
With over 100 miles of stunning shoreline against the backdrop of the Uwharrie National Forest, this nature haven is the perfect retreat if you want to get away from the bustling city.
How to get there: Leave by heading east on NC-27 past the beautiful Sherman Branch Nature Preserve and through the town of Allen. Drive the final 50 minutes alongside Rob Wallace Park, still east, before taking US-52 south to Lake Tillery.
Our highlights: Part of a designated Natural Area, the water at Lake Tillery is kept at a constant level, meaning you can travel here year-round and experience the same fantastic conditions.
The clear water is ideal for swimming, while the shoreline offers miles of beautiful scenery where you can spot local plants and species and discover local wildlife.
With numerous activities you can enjoy at Lake Tillery, including fishing, boating (there are several great boating ramps making this an ideal sport here), kayaking, swimming and even play a round of golf, this is a great place to visit whether you're with a family or just looking to reconnect with the great outdoors.
For the wild at heart, you can camp at Norwood Campground which is ideally located on the lake's shore, or Lake Tillery Family Campground. Both make the most of being surrounded by beautiful hardwood trees and offer private access to Lake Tillery.
Bonus: For a memorable visit, how about an evening wine cruise on the lake - it's the perfect way to watch a lakeside sunset!
5. High Rock Lake, NC
1 hour from Charlotte (62 miles)
Why you should visit: High Rock Lake draws in crowds from across North Carolina looking for a fun weekend to get wet and wild on the water and the region is also popular with nature enthusiasts who are looking to escape the bustling city and explore the surrounding Uwharrie Mountain Range.
So, whether you're looking for a lake to relax with friends or try your hand at wakeboarding, surfing or tubing, High Rock Lake has you covered.
How to get there: It is only a short drive from Charlotte to High Rock Lake the quickest way to reach the shore is by heading north towards I-85 until you reach the town of Linwood and from here, you're just a 15 minutes' drive south on NC-8 to reach your destination.
Our highlights: Deriving its name from the neighboring "High Rock Mountain", the tallest mountain in the Uwharrie Mountain range, High Rock Lake spreads across 15,000 acres and offers something for everyone thanks to its year-round activities, including wildlife spotting (especially bird-watching) and beautiful views lakeside views.
If you're looking for an adventure-themed day trip, then you'll enjoy exploring Dan Nicholas Park where you can find a campground, aquarium and a nature center. There's also Eagle Point Nature Preserve which offers fantastic hiking trails.
If you prefer swimming to hiking, the Buddle Creek Swim Area or Pebble Beach are great options to dip your toes in the water (though you will find the shore is rather pebbly, as opposed to white sand). Near the swimming areas you can also enjoy a picnic overlooking the shore.
Bonus: The reservoir is also an ideal spot for fishing enthusiasts, where you can expect to catch bass, bream and catfish amongst others. You could even time your visit with one of the many angling competitions that are held here throughout the year.
Best lakes within around 3 hours of Charlotte, NC
If you don't mind traveling a little further and have the time for a full-day excursion, then the lakes below are all within three hours' drive from Charlotte and make an ideal day spent by the water.
6. Badin Lake, NC
1 hour 15 minutes from Charlotte (58 miles)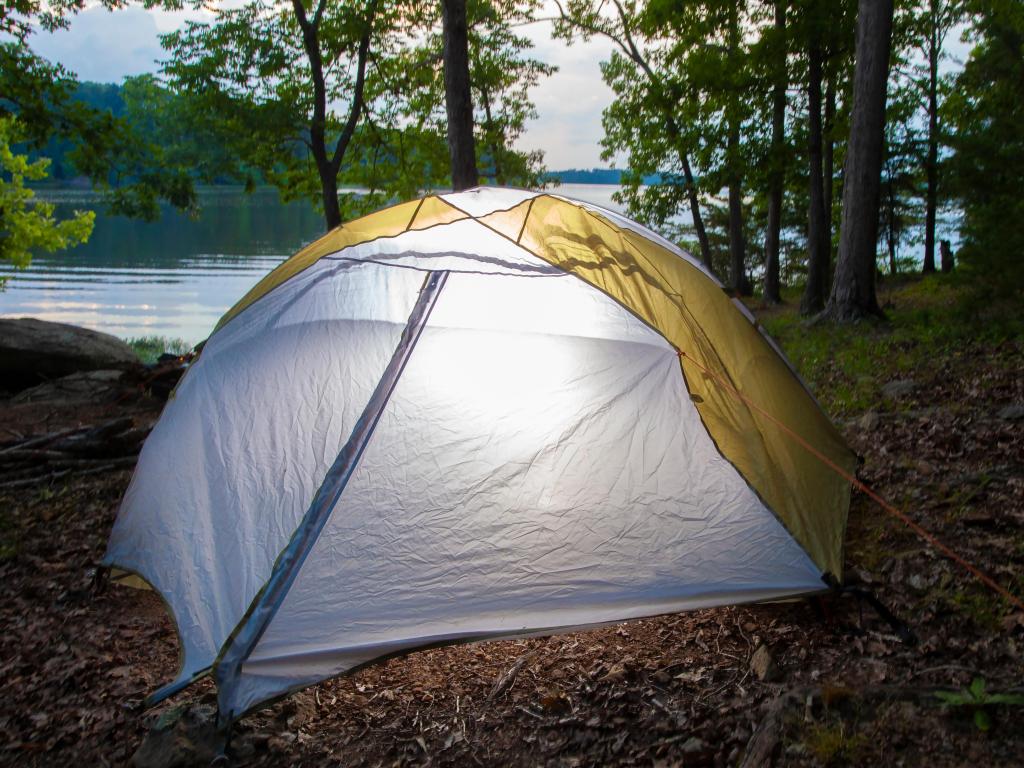 Why you should visit: Enveloped by the Uwharrie National Forest of Montgomery County, Badin Lake is a popular destination for outdoor fans who come here to hike, fish, camp or enjoy a spot of wild swimming.
Within easy reach of Charlotte just over an hour away, Badin Lake is surrounded by beautiful forests in a stunning area of natural beauty. Get lost in nature overnight, or simply enjoy a day spent by the water, there are plenty of opportunities for a great day out here.
How to get there: Leave the city and join I-85 and State Highway 49 North through Harrisburg and alongside several pretty parks and preserves. It'll take you almost an hour to pass by Mt Pleasant before reaching Richfield, before driving the rest of the way to Badin Lake.
Our highlights: One of the great draws of Badin Lake (making it popular with outdoor and water enthusiasts) is the beautiful greenery that surrounds the 115 miles around it. The stunning flora and fauna of Morrow Mountain State Park and Uwharrie National Forest make it a beautiful place to visit year-round, but especially in spring and fall.
A great place to explore if you're an outdoor enthusiast, there's a swimming beach, fishing piers, hiking trails and four campgrounds, including Badin Lake Campground (which has great camping facilities) where you can sleep amongst the stars and overlook the water's edge.
If you're a fan of water sports, you can take to the water on sailboats, jet skis and powerboats, or enjoy water skiing, tubing and wakeboarding where you'll get fantastic views of the surrounding landscape.
If you'd like to explore on land, there are great hiking trails to be enjoyed at Uwharrie National Forest, ranging from easy to challenging.
And that's not all, the nearby town of Badin offers great amenities if you're looking to spend a day or two here. There are plenty of options to stay in the town, or you can use it as a base to explore Morrow Mountain State Park (for hiking trails) or Badin Museum where you can learn more about the history of the town.
Bonus: The most unique feature of this lake is that you can go gold hunting! Just bring a shovel, shaker pan and see if you can find some gold deposits in the area's streams. The activity is free, making it a great activity if you've brought children with you.
Operating hours: Open year-round
7. Lake Wateree, SC
1 hour 15 minutes from Charlotte (72 miles)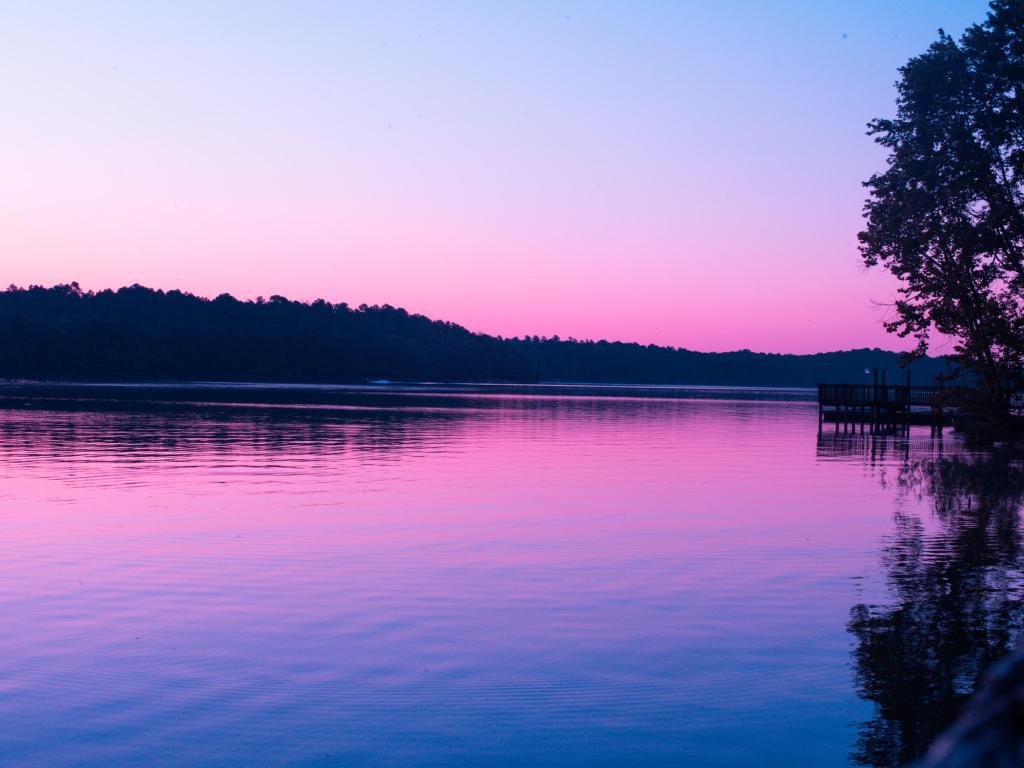 Why you should visit: With pristine shores, peaceful spots and within easy reach of Charlotte, Lake Wateree has long been a premier destination for fishing and boating. Today, it is also a popular site for various water activities including sailing, canoeing, diving and kayaking.
After spending several hours in the water, you can take to your feet and explore the stunning Lake Water State Park before catching a sunset.
How to get there: To drive from Charlotte to Lake Wateree, head south on I-77 and cross over into South Carolina. You will then drive through Richburg and the beautiful Great Falls nearby. Continue on SC-97 south through Liberty Hill and to Lake Wateree.
Our highlights: With 216 miles of shoreline, Lake Wateree is a large lake surrounded by Lake Water State Recreation Area, a bird refuge and an air base recreation center. It's a must-see destination if you love boating or fishing where you'll discover eight public boat access areas on the lake which are also managed regularly for fishing.
There's also a really helpful visitor center which is a great place to pick up hiking trails, enjoy a picnic or let small children play in the playground.
If you're looking for something more adventurous, one of the best hiking trails in Lake Wateree State Park is Desportes Island Nature Trail. Here you can enjoy walking through beautiful forests and enjoy stunning lake views.
After a hike, you can set up a camp at Lake Water State Park which offers fantastic views overlooking the shore. Campsites have drinking water, toilets and hot showers making it an ideal place to stop if you're looking for a wild adventure (though remember to pack supplies as the lake is in a fairly remote spot).
Not everyone wants an adrenaline thrill, if you're instead looking for something more peaceful then how about a spot of birdwatching? The lake and surrounding park are home to bald eagles and osprey, and thanks to its large area, you'll easily be able to find a quiet corner away from crowds too.
Operating hours: Open year-round
8. Lake James, NC
1 hour 38 minutes from Charlotte (93 miles)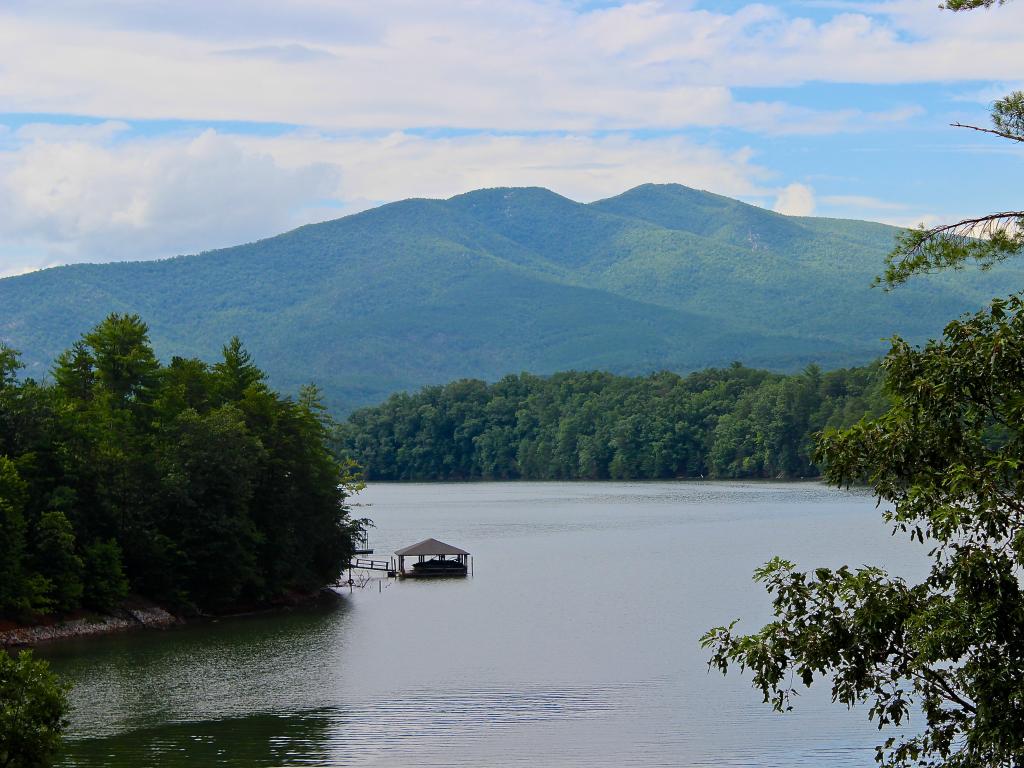 Why you should visit: A picturesque lake in an incredible location, Lake James is the perfect spot for boating, swimming and fishing. Situated just over an hour and a half from Charlotte, you can spend the night camping before exploring the incredible State Park and mountains surrounding it, where you can enjoy hiking, biking trails or a picnic surrounded by natural beauty.
How to get there: Leave the city heading west on I-85 before heading north through Dallas on US-321. Follow I-40 close to Connelly Springs, Rhodhiss Lake and to Lake James.
Our highlights: Located at the base of the Blue Ridge Mountains, nearby Lake James State Park offers views of beautiful wildflowers, hardwood and pine trees and distant mountains.
The two main areas of the park are Paddy's Creek, where you'll find a sandy beach perfect for swimming and a pavilion offering great views; and Catawba River which is perfect for fishing, boating and picnicking.
There are also great hiking trails here, including a family-friendly Holly Discovery Trail and for the more adventurous, the Overmountain Victory Trail which offers incredible views.
Despite being in a beautiful, remote location, the site has plenty of amenities, which is handy if you're looking to camp for the night. There are tent sites, showers, picnic shelters and a bathhouse (which is seasonal).
If you're spending a day or so here, you could make a visit to the nearby South Mountains State Park - a rugged area with waterfalls, and mountain views. Situated at the crossroads of the Appalachian Mountains, it's a stunning area popular with hikers, bikers and horse riding.
Operating hours: Paddy's Creek is open May to September. The park itself is open year-round (but closed on Christmas Day). See their website for opening times which vary month to month
9. Lake Lure, NC
1 hour 40 minutes from Charlotte (93 miles)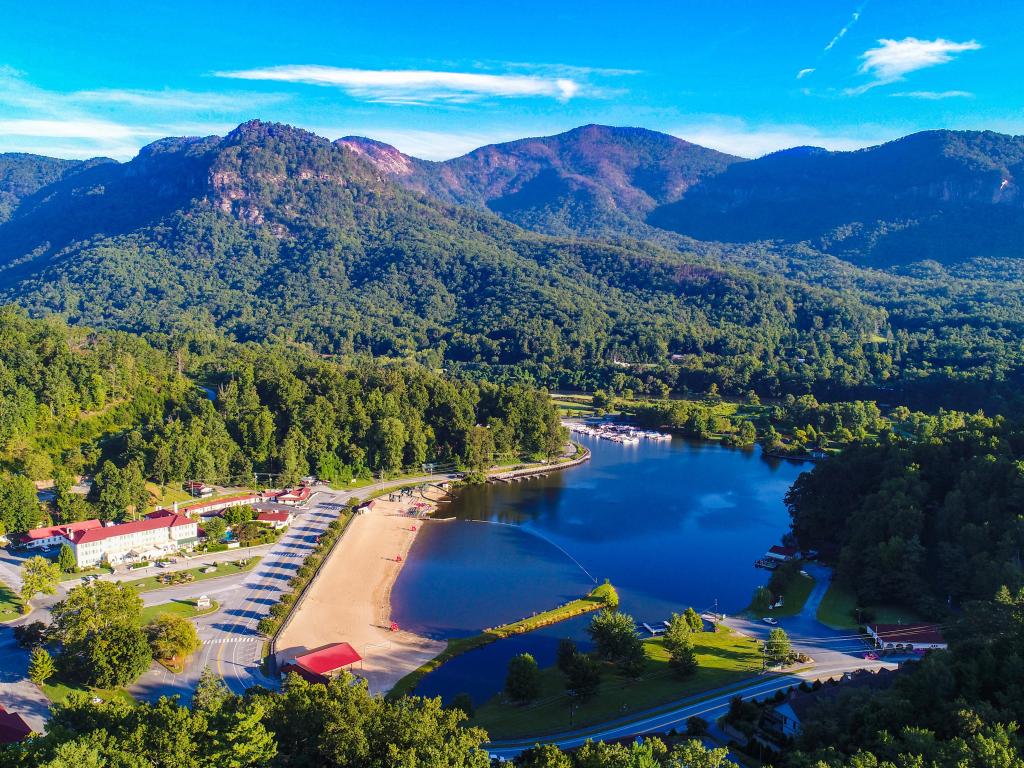 Why you should visit: For the ultimate beach vibes, Lake Lure is unbeatable. Less than 2 hours from Charlotte, you can be here before lunch and spend the whole day at this mountain lake surrounded by golden, sandy beaches. Ideal for the whole family, there's so much to do at this stunning location that you might never want to leave!
How to get there: Simply follow I-85 and US-74 west to drive from Charlotte to Lake Lure, passing through Kings Mountain and Green River Game Lands to this beautiful beach oasis that is only a short drive from the city.
Our highlights: Relax, sunbathe, build sandcastles or indulge in some water fun, Lake Lure has it all. Not only are there sandy beaches surrounded by the Blue Ridge Mountains, but there's even a water park which features water cannons and water slides.
As an added bonus, the beach is lifeguarded so you can let the kids run off some energy while you relax by the shore. For bigger kids, there's paddle boarding canoeing and kayaking fun to be had.
Nestled in the mountains of North Carolina, the town of Lake Lure is a beautiful location to explore the surrounding area, including forests, mountains and unique attractions, like the Lake Lure Flowering Bridge which runs over the Rocky Broad River.
Given the great facilities and activities to be enjoyed, you can expect Lake Lure to be busy, especially during summer vacation. But there are plenty of peaceful spots to discover too especially around Chimney Rock State Park where you can enjoy incredible hiking trails and great views.
Other great nearby attractions include golf courses around the town of Lake Lure, or a visit to nearby Hendersonville or Asheville which is less than 30 miles away. Offering plenty of local amenities, you can easily make your trip to Lake Lure a weekend visit.
Operating hours: The Lake Lure Beach & Water Park operate from Memorial Day Weekend - Labor Day Weekend. The water park does incur an admin fee
10. Lake Murray, SC
1 hour 45 minutes from Charlotte (106 miles)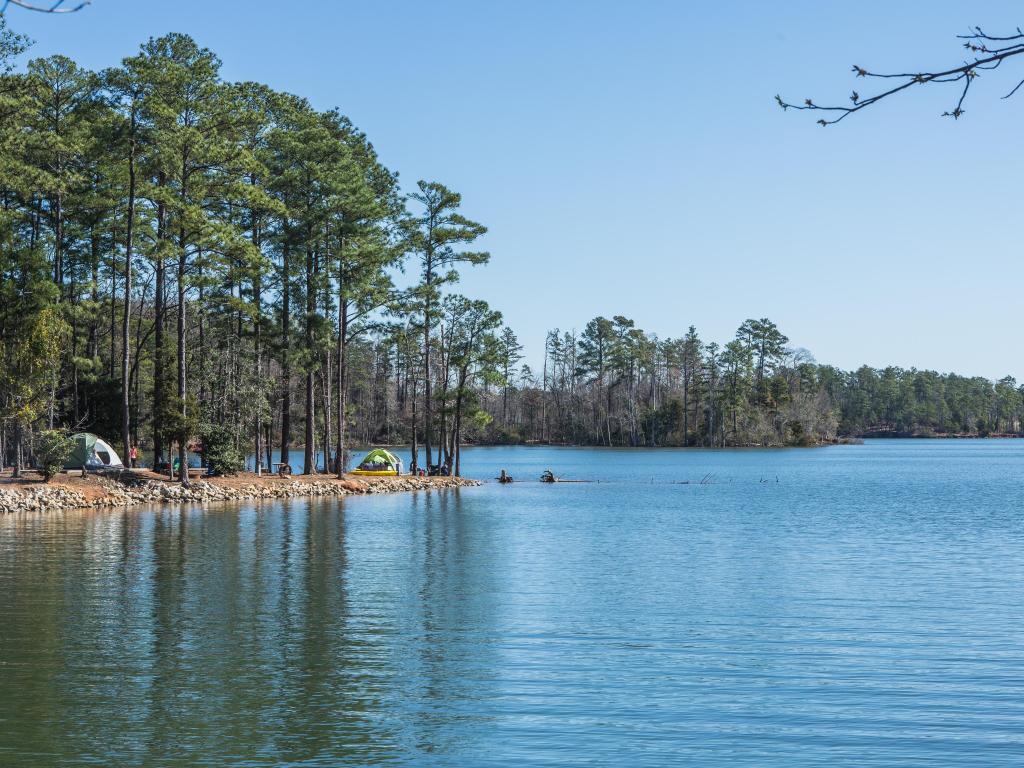 Why you should visit: Known as the "Jewel of South Carolina", this impressive site offers 650 miles of shoreline and yet is less than 30 minutes away from the city of Columbia and its endless list of places to visit and things to do.
A popular outdoor recreation destination, Lake Murray allows you to escape the city and enjoy the great outdoors where you can fish, boat, hike or enjoy a tranquil spot of bird watching.
How to get there: The quickest drive from Charlotte to Lake Murray is on I-77 heading south. Taking you across the Catawba River, you'll pass some beautiful towns before driving to the outskirts of Columbia on I-20. Continue for 30 minutes on I-26, past Riverbanks Zoo and Garden to the lake.
Our highlights: This huge reservoir is a boater's paradise. Water sports fans can enjoy canoeing and kayaking in calm waters, or for something more adventurous, you can navigate the lake on a cruise or fishing boat.
Fishing and swimming are also popular water activities at Lake Murray. The best spot for swimming is on the Lexington side of the dam where there's a beautiful beach to enjoy. You can even cook and eat your catch afterwards!
Beyond the water fun, which can be enjoyed all-year round here, there's cycling, hiking trails and birdwatching. For those looking for a quiet spot, you can head to Dreher Island State Park, where you can swim or relax on a sandy beach, rent kayaks or fish.
There are plenty of hiking trails, nature paths and a playground ideal for families. If you're lucky, you might even catch some of the local wildlife like the Purple Martins (who migrate here in their tens of thousands over summer), deer, ospreys and wood ducks.
Bonus: Camping is allowed at Lake Murray, though there are also island villas you can book should you prefer accommodation that is a little more luxurious.
Operating hours: Check the website ahead of travel for various opening times for the different beaches and parks that operate in the Lake Murray area
11. Watauga Lake, TN
2 hours 45 minutes from Charlotte (130 miles)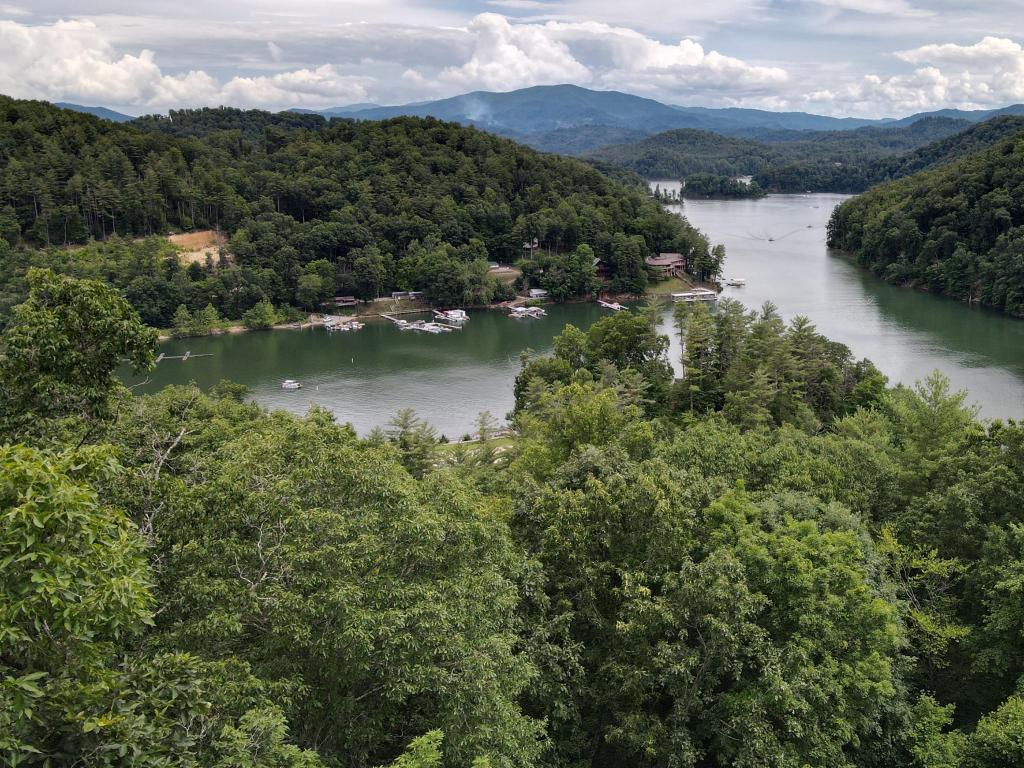 Why you should visit: Watauga Lake is a stunning reservoir surrounded by the Appalachian Mountains and the beautiful Cherokee National Forest. Enjoy incredible mountain and lake views, explore the nearby forests or just enjoy this quiet and remote part of northeastern Tennessee.
A slightly more challenging lake to access, Watauga Lake is less crowded, making it an ideal place to visit if you'd rather avoid tourists. Despite being remote, you can still enjoy plenty of great outdoor activities including swimming, boating, fishing, skiing, canoeing, kayaking and hiking.
How to get there: Leave the city on I-85 before joining US-321 north through several towns, including the stunning Blowing Rock. Head towards the mountain terrain, crossing over in Tennessee and follow signs for Watauga Lake.
Our highlights: This stunning spot is surrounded by National Recreational Areas, which offer a huge choice of land activities, whether you just want to admire the lake or enjoy a picnic. Plus there's also a public beach to enjoy.
You could spend the morning relaxing by the lake before exploring Cherokee National Forest. This woodland paradise surrounds the lake and has several hiking trails, stunning waterfalls and wildlife everywhere.
For the adventurous hikers, you could even join the Appalachian Trail - the longest hiking path in the world which ranges from Maine to Georgia - which crosses Watauga Lake at the Visitors Center. Here you'll get to enjoy stunning views of Watauga Lake and the mountains.
At almost three hours from Charlotte, a great idea would be to stop the night so you have longer to explore. There are several great overnight options by the lake, including various cabins and resorts which offer lakeside views.
Roan Creek Campgrounds are also nearby, where you can pitch a tent and enjoy evening views of Watauga Lake and Cherokee National Forest.
Bonus: You can even sample dome Watauga wine which is produced at the Watauga Lake Winery.
12. Jordan Lake, NC
2 hours and 20 minutes from Charlotte (146 miles)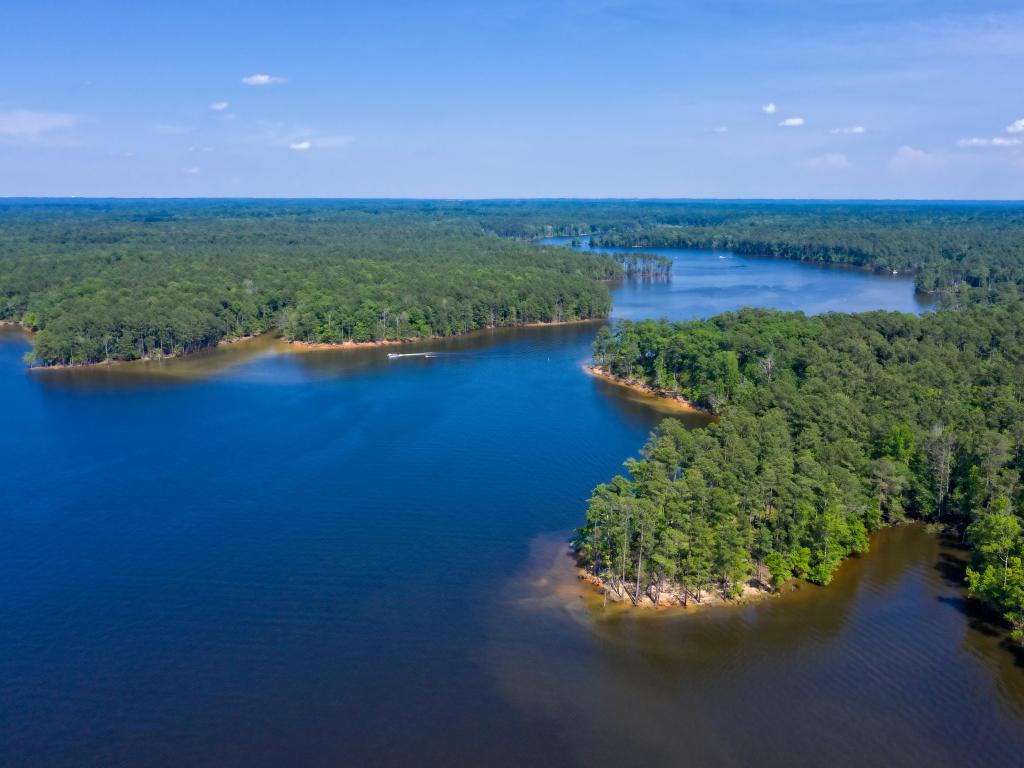 Why you should visit: Close to several great cities, including Durham and Raleigh and less than three hours from Charlotte, Jordan Lake is the perfect place to visit if you like camping, boating, fishing or hiking; you'll find something you love in this beautiful part of North Carolina.
Surrounding the lake is Jordan Lake State Recreation Area which provides fantastic outdoor recreation activities to visitors. The well-maintained five campsites around Jordan Lake offer a variety of camping amenities. There are also more rustic sites where you can get off-grid and enjoy the stunning wilderness surrounding you.
How to get there: There are several ways to drive from Charlotte to Jordan Lake, but the quickest and simplest is on I-85 north which will take you to the outskirts of Greensboro before driving the final hour on US-64 east to the lake.
Our highlights: There really is something for everyone at this fabulous lake. Nature lovers will enjoy exploring Jordan Lake, which is a vast reservoir covering nearly 14,000 acres, and the surrounding park where you can enjoy boating, fishing, hiking and swimming.
There are 11 amazing boat ramp locations, though you will need a fishing licence to fish here.
Another great lake for swimming, there are several places to swim here. The most popular are Parker's Creek, Seaforth and Ebenezer Church. Here you'll find sandy beaches where you can enjoy a picnic or just watch the sunset over the lake.
Meanwhile, outdoor and hiking enthusiasts will particularly like exploring the natural surroundings of Jordan Lake. There are various trails depending on ability, including a short 1-mile trail (ideal for families) and a more adventurous 5.4-mile loop. All of the trails make the most of stunning lake and woodland views.
After exploring Jordan Lake, you could visit nearby Raleigh which is just 30 miles away. The capital of North Carolina, Raleigh is known as the "City of Oaks" thanks to the seven beautiful nature preserves around it.
The city itself is packed full of great restaurants, and interesting museums including the North Carolina Museum of Art and the iconic North Carolina State Capital.
Operating hours: The lake closes at the same time as the park, which opens May-Aug 8am-9pm; Sept, Oct, March, April 8am-8pm; Nov-Feb 8am-6pm. Closed Christmas Day
13. Lake Hartwell, GA
2 hours 45 minutes from Charlotte (165 miles)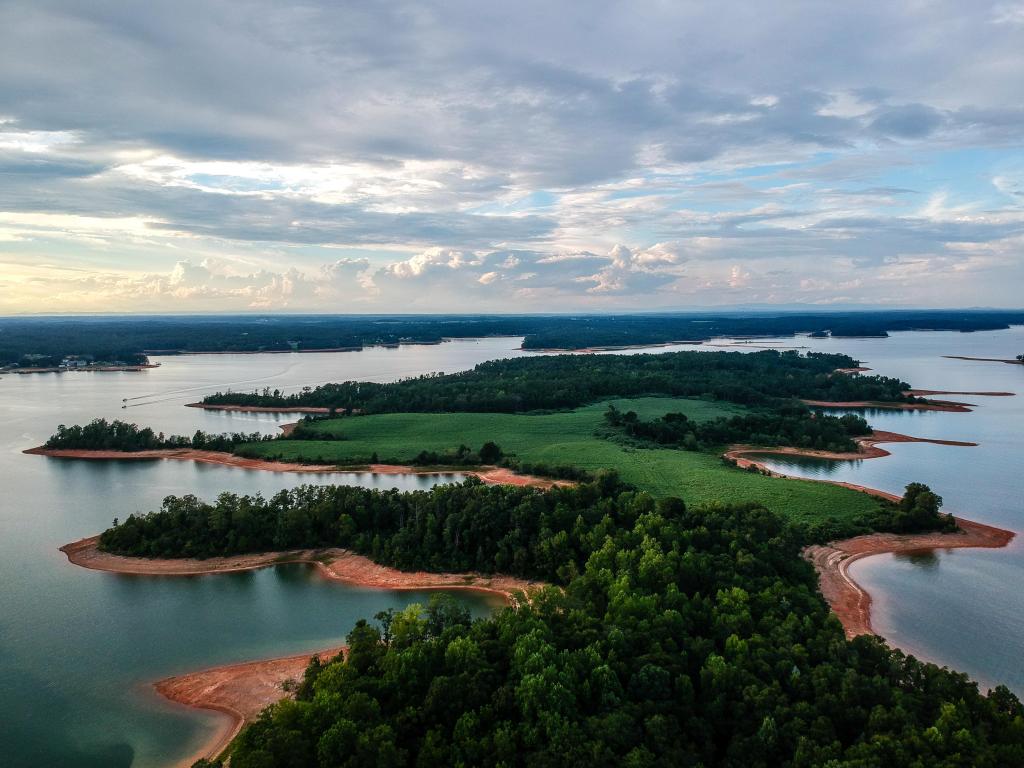 Why you should visit: Close to several stunning national parks and forests, including Great Smoky Mountains National Park, as well as within easy reach of the cities of Charlotte, Columbia and Athens, Lake Hartwell is home to plenty of recreational opportunities, from boating to fishing, paddling to swimming.
If you're looking for a relaxing afternoon spent by the waterside or an adrenaline rush, you'll find something you love at this stunning lake.
How to get there: The simple drive from Charlotte to Lake Hartwell follows I-85 south across into South Carolina, alongside Crowders Mountain State Park, Croft State Park and through several quaint towns before crossing the river into Georgia and arriving by the shore of Lake Hartwell.
Our highlights: Straddling the border between South Carolina and Georgia, there are 56,000 acres to explore at Lake Hartwell. A big draw for fishing enthusiasts, this lake is widely recognized as one of the top fishing locations in Georgia with anglers catching striped and hybrid bass, largemouth, bream and catfish.
Boating and hiking are equally popular activities at Lake Hartwell. Boat ramps make taking to the water easy, meanwhile the stunning surrounding parkland offers great hiking trails, picturesque views and several campsites.
There are even camper cabins which are ideal if you've travelled without a tent but want to enjoy a night stargazing.
After exploring Lake Hartwell, there are endless opportunities for outdoor activities thanks to the close proximity of Nantahala National Forest, Great Smoky Mountains National Park and Chattahoochee-Oconee National Forests.
Operating hours: Open daily from sun up to sun down
14. Smith Mountain Lake, VA
3 hours from Charlotte (185 miles)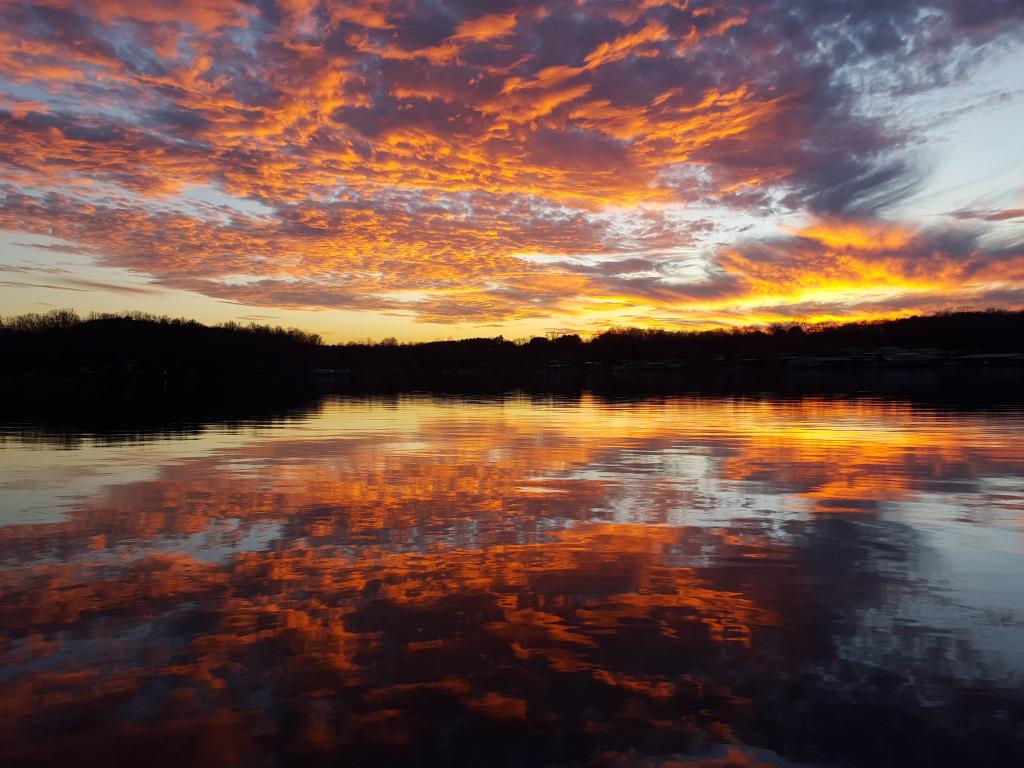 Why you should visit: Smith Mountain Lake is Virginia's most popular lake for good reason; with beautiful parks, beaches and water sports activities, this picturesque freshwater lake is a water enthusiasts' paradise.
Within easy reach of Roanoke and just three hours from Charlotte, you can reach Smith Mountain Lake in time to enjoy a picnic lunch!
How to get there: Drive an hour and 25 minutes north on I-85 to Greensboro, then take US-29 crossing into Virginia to Galveston. From here it's just a 30 minutes drive to Penhook where you can follow Lakestone Road to Smith Mountain Lake.
Our highlights: Set against the beautiful Blue Ridge Mountains of Virginia, there is plenty of picturesque natural scenery, as well as recreational activities to be enjoyed, making this lake a great destination for everyone.
On the north shore, you'll find Bedford County and Smith Mountain Lake State Park where you can camp, rent a boat, hike, relax at a picnic area or take part in a guided night hike.
On the southern edge and near the town of Moneta, you'll find marinas, boat rentals and beautiful lakeside resorts, ideal if you'd like a more luxurious overnight stop. The vast number of amenities, including several restaurants, means that this really is a destination that you can enjoy over several days.
Bonus: Did you know Smith Mountain Lake is rumoured to have second homes belonging to several celebrities, including Tom Cruise himself? There are also several festivals held here annually, including the SML Wine Festival and Chili Festival.
Operating hours: The beach is open 11am-6pm weekdays, 11am-7pm weekends. Meanwhile, the park is open daily from 8:15am-dusk
Further afield: Best lakes within 6 hours of Charlotte, NC
Despite being slightly further from Charlotte, at 3-6 hours away, these lakes and reservoirs are well worth the mileage and are perfect for a long weekend getaway. All you have to do is just pack your bags and get ready to discover these stunning waterside retreats!
15. Douglas Lake, TN
3 hours and 30 minutes from Charlotte (210 miles)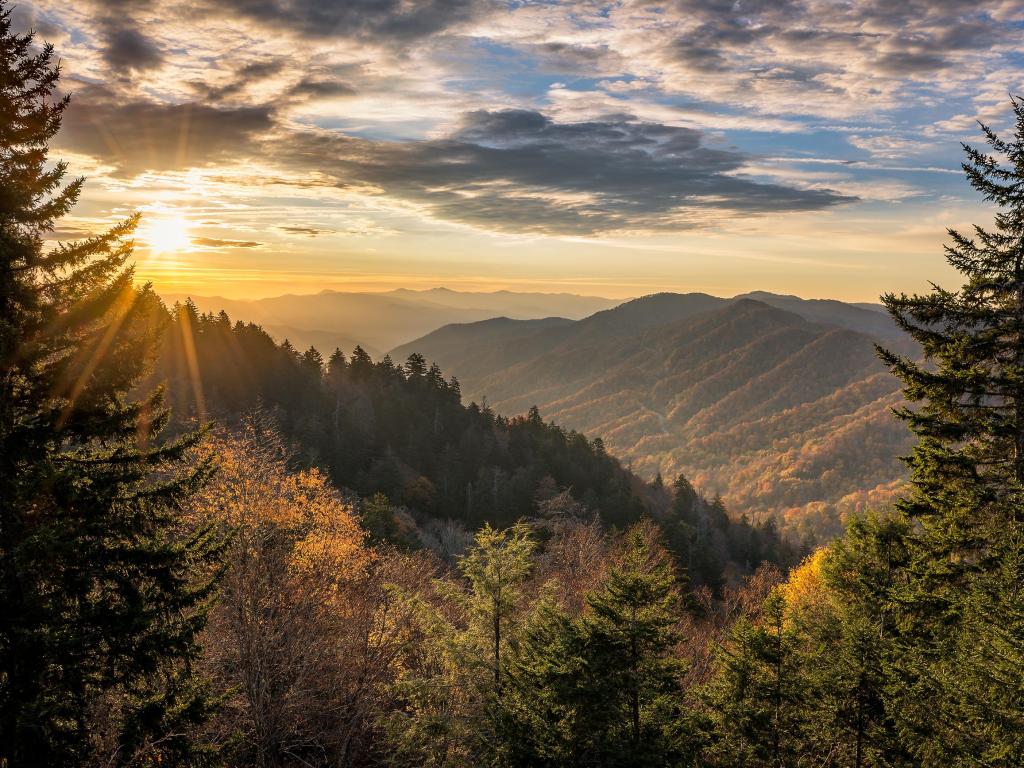 Why you should visit: The picturesque drive to Douglas Lake will take you through the Cherokee National Forest and to the foothills of the stunning Great Smoky Mountains. Attracting millions of visitors annually, the rolling hills and mountains make an incredible backdrop to the clear waters of the lake and attract nature enthusiasts, hikers and water sports fans from around the world.
And that's not all, after exploring Douglas Lake you'll just be a short 30-minute drive away from Cherokee Reservoir, where you can swim fish or enjoy a scenic picnic. This destination offers double the fun!
How to get there: Leave Charlotte on US-321 heading north, before taking I-40 alongside Pisgah National Forest, through Black Mountain and nearby Asheville. Continue on I-40 through Cherokee National Forest to Douglas Lake. To reach Cherokee Reservoir simply drive another 30 minutes or so on TN-92 heading north.
Our highlights: Douglas Lake offers a huge variety of activities, including swimming, fishing, boating and camping. The stunning natural surroundings are also home to some of the best bird nesting areas in Tennessee.
As well as being incredibly popular with fishing enthusiasts, there are plenty of water sports activities you can enjoy on the lake, including white water rapids at the nearby Pigeon River.
Other outdoor activities include hiking, horseback riding and biking. Plus you're also within easy reach of the Great Smoky Mountains National Park where you can hike and discover stunning vistas.
Just a little further north and within easy reach of Douglas Lake is Cherokee Reservoir, also known as Cherokee Lake. Another popular tourist spot, you'll find picnic tables, swimming, fishing areas and facilities.
Though smaller than Douglas Lake, Cherokee Reservoir still offers 400 miles of shoreline and is viewed by many as the most beautiful lake in Tennessee thanks to its clear, blue water.
Despite being surrounded by stunning forests and mountains, both lakes are close to several towns including Newport and Pigeon Forge, as well as the beautiful city of Knoxville, where you can enjoy southern food and a popular downtown.
If you're looking to camp nearby, you could easily tie in exploring Cherokee National Forest en route. Divided into northern and southern sections by the Great Smoky Mountains National Park, Cherokee National Forest offers picturesque trails and stunning waterfalls, making it an ideal place to visit for an adventurous hike or a family adventure.
16. Lake Lanier, GA
3 hours 45 minutes from Charlotte (215 miles)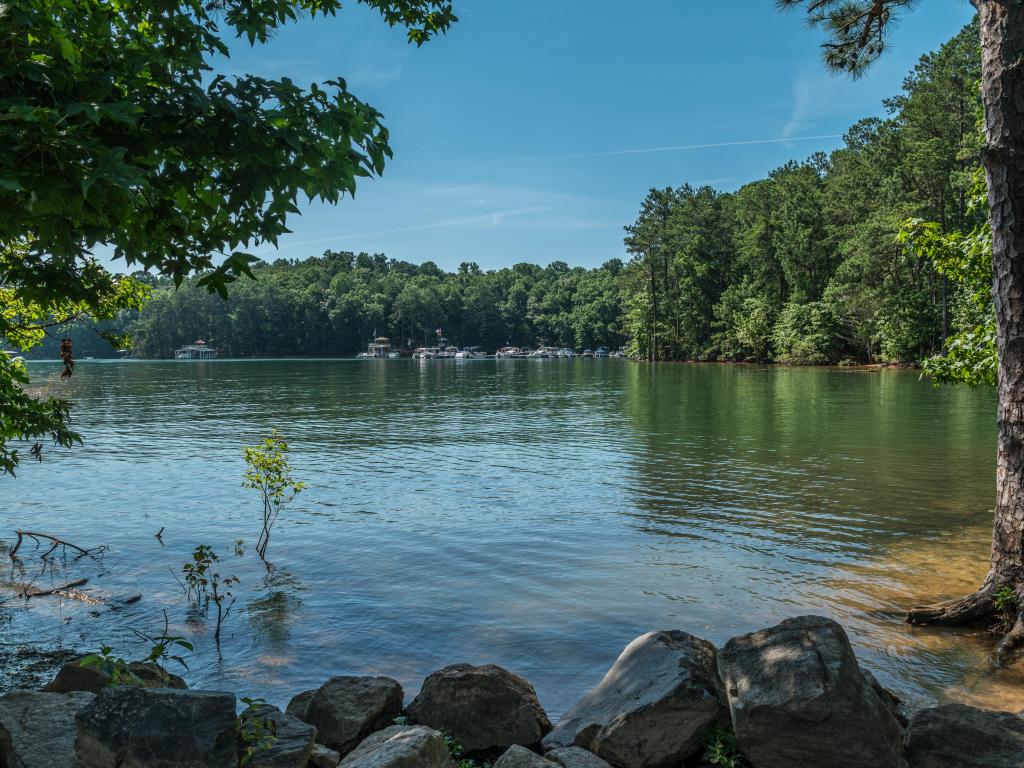 Why you should visit: Spend the weekend fishing or boating at Lake Lanier or learn about its rich history as a former town. Close to the stunning Chattahoochee-Oconee National Forests and the beautiful city of Atlanta, the lake and its various parks, islands and nearby towns make it a great destination for water sports, wildlife watching or just relaxing.
How to get there: Follow I-85 South on the drive from Charlotte to Lake Lanier, crossing South Carolina and into the state of Georgia. Along the way you'll pass the river that feeds into the lake, located nearby the city of Athens.
Our highlights: A popular weekend destination for families, the great amenities that dot the shoreline of Lake Lanier make it a fun year-round destination. Here you can try your luck at various water sports or have fun at the nearby waterpark, there's something for everyone here.
For an outdoor adventure, you can enjoy beautiful trails, hiking adventures or horseback riding before relaxing at the Mary Alice Beach Park or taking a visit to Three Sisters Island where you can play a round of golf, sunbathe on white sandy beaches or ride the water slides at Margaritaville at Lanier Islands Water Park.
While you can't swim in the Chattahoochee River (due to high levels of harmful bacteria), you can swim at Lake Lanier. The water is constantly being tested between March and September, though it's definitely worth checking ahead of visiting that levels remain safe before swimming.
If you're looking to spend a couple of days on this trip, you'll find plenty of nearby attractions in the beautiful city of Atlanta. Just 12 miles from Lake Lanier you'll also find Gainesville, known as "the Queen City of the Mountains". You'll find great shops, restaurants and even an Olympic Venue here.
17. Fontana Lake, NC
3 hours 45 minutes from Charlotte (215 miles)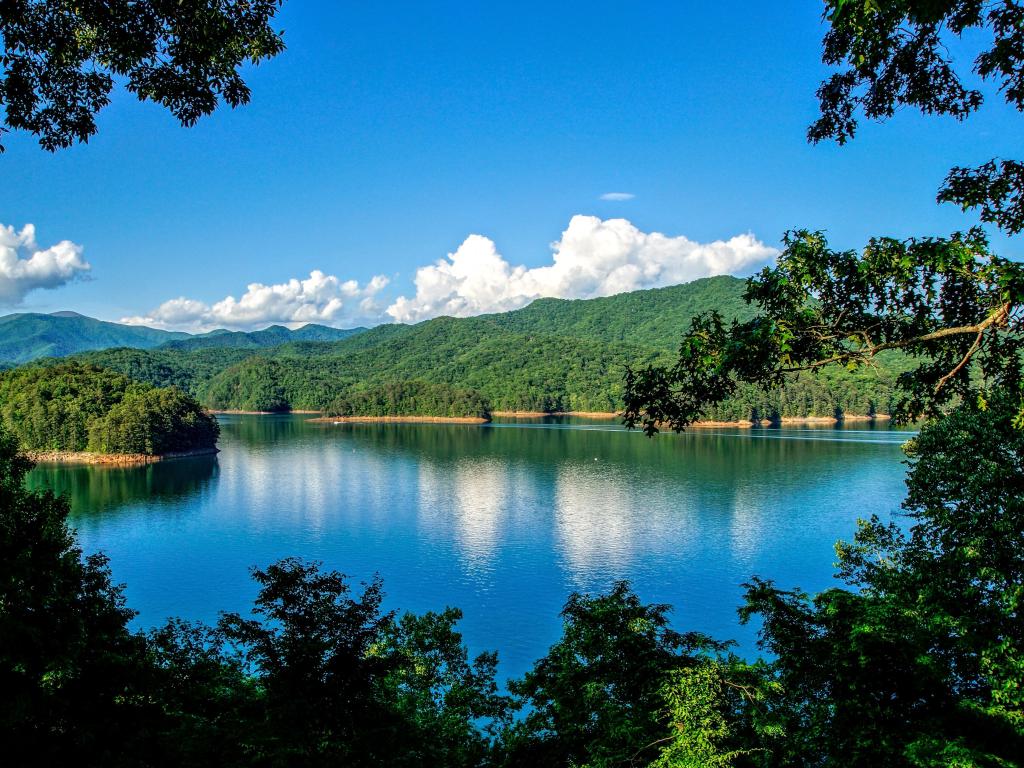 Why you should visit: This beautiful emerald lake is nestled between the Great Smoky Mountains and the Blue Ridge Mountains in North Carolina. The huge choice of recreation activities here includes swimming, boating and fishing, this remote but wonderful spot is well worth the drive.
How to get there: Leave Charlotte on US-321 heading north, you'll pass Dallas and nearby Maiden before taking I-40 west. Pass between South Mountains State Park and Pisgah National Forest, you'll continue on the interstate and drive through the Great Smoky Mountains National Park to the stunning setting of Fontana Lake.
Our highlights: Mountains, forests and a picturesque lake, Fontana Lake is a nature lovers' paradise. The lake itself is the largest in Western North Carolina (Offering a staggering 10,000 acres of water) and borders both the stunning Great Smoky Mountains National Park and part of the Nantahala National Forest. Both of which offer incredible hiking trails, wildlife spotting opportunities and stunning waterfalls to explore.
Fontana Lake itself is simply beautiful with tree-covered hills and mountains in the distance. The ideal spot for a sunset, the waters also provide recreational activities whether you're into boating or fishing.
A great way to explore the remote areas of the lake, boating also allows you to get a stunning view of the lake from the water itself.
Swimming is a popular activity at Fontana Lake and there are several places you can stop to swim which are well signposted. Many of them have facilities and boat access. You can also swim near Fontana Dam.
Hiking enthusiasts will love the many hiking trails nearby. While there aren't any by the lake area itself, you'll find several near Fontana Village Resort, plus of course the nearby forests.
The famous Appalachian Trail also runs through the lake area and Fontana Dam, which you can always pick up after a morning spent by the water.
You don't have to travel far for great amenities. Nearby Fontana Village Resort is a small mountain town located in the Nantahala National Forest providing cabins, camping, restaurants, and an outdoor swimming pool. It's a great place to base yourself before exploring this stunning part of North Carolina.
Operating hours: The Visitor Center is open 9am-7pm daily from April to August, 9am-6pm September and October.
18. Norris Lake, TN
5 hours 30 minutes from Charlotte (280 miles)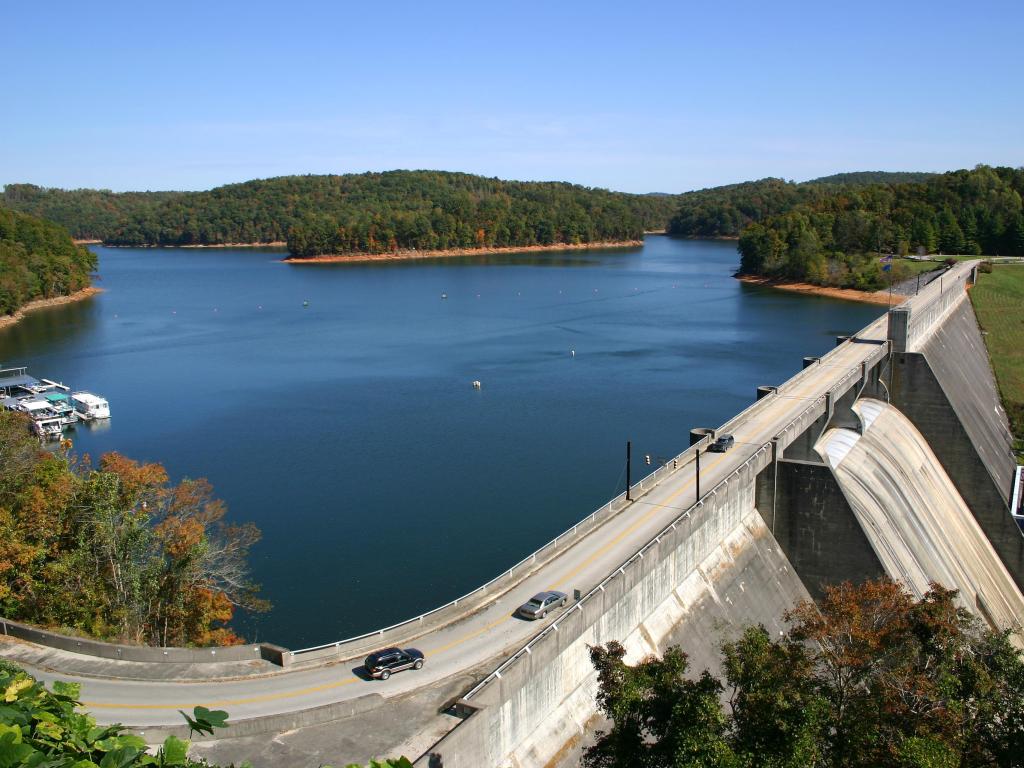 Why you should visit: The furthest of our lakes from Charlotte, Norris Lake might take a while to reach but multiple activities including fishing, golfing, hiking and rock climbing make this stunning outdoor oasis a perfect city escape. Conveniently close to the city of Knoxville and Big Ridge State Forest, there are also plenty of nearby attractions to keep you occupied for the weekend.
As well as Norris Lake, Norris Dam and Norris Dam State Park are well worth a visit. The park itself has several hiking trails, playgrounds, camping sites and a visitor center where you can learn more about the area. There are also fabulous spots for photo opportunities along the way.
How to get there: Leave the city on I-85 and US-321, before joining I-40 west the majority of the way to Norris Lake. You'll pass several state parks and forests, including the Great Smoky Mountains National Park and Cherokee National Forest, plus the pretty town of Asheville. Join TN-61 west the final stretch as your wind past Chuck Swan State Forest to the lake itself.
Our highlights: With over 800 miles of shoreline, Norris Lake offers a huge range of outdoor adventures for everyone. Enjoy swimming in the pristine water, fishing or camping in the great outdoors.
Water sport enthusiasts will love this Tennessee lake. The local marinas offer jet ski rentals, pontoon boat hire, scuba diving and much more. The water itself is only fed by two major rivers making it an exceptionally clean lake which maintains a steady temperature.
The shoreline offers plenty of other fun activities including hiking, rock climbing and camping. There are secluded coves to explore, three state parks nearby including Big Ridge State Park and two wildlife management areas where you can spot deer, cows and horses grazing.
If you're looking to stop the night and don't fancy camping outdoors, then you're only 20 miles from the city of Knoxville. Here you can enjoy exploring its many museums and historic downtown, or head further south into the Great Smoky Mountains.