Road Trip from Jacksonville, Florida to Washington DC
For the perfect trip for those looking to immerse themselves in culture and America's great history, the road trip from Jacksonville, Florida to Washington DC is the perfect adventure, taking you from great cities to stunning and tranquil natural wonders.
The 760-mile road trip from Jacksonville to Washington DC will take around 13 hours to drive. Key stops include Charleston, Fayetteville, Richmond, Savannah, Columbia and Charlotte, as well as Myrtle Beach, Pamplin Historical Park and Lake Norman.
To help you make the most of your trip we've set out the best routes, the places to stop overnight, our favorite things to see along the way and the best time of year to make this epic trip from Jacksonville to Washington DC.
How far is Washington DC from Jacksonville, and how long will the road trip take?
Comparison of road trip routes between Jacksonville, Florida and Washington DC

| Route | Distance | Driving Time |
| --- | --- | --- |
| The Direct Route | 760 miles | 13 hours 10 minutes |
| The Scenic Route | 950 miles | 16 hours 30 minutes |
There are two distinct options for driving between Jacksonville, Florida and Washington DC. The fastest route, taking the most direct route spans a distance of 760 miles and will take 13 hours and 10 minutes to drive without stopping.
An alternative and more scenic route, taking you further west to Charlotte, will take you longer to drive at more than 16 hours and cover a distance of 950 miles.
Both options mean that this is a trip which cannot be completed in a single day if you want any opportunities to stop along the way. Given the number of great attractions you will pass, we'd recommend spending between two and five days to complete the trip.
Best road trip route from Jacksonville to Washington DC
The best route from Jacksonville to Washington DC will largely depend on what you'd like to get out of it. For those with less time at your disposal, you may wish to consider our Direct Route.
Still offering plenty of opportunities to stop along the way, including the great cities of Savannah, Charleston, Myrtle Beach, Fayetteville and Richmond, this certainly isn't a compromising route and is a great choice if you're a fan of beaches or historical sites.
In comparison, our Scenic Route avoids the busy Interstate 95 and instead passes more stunning natural vistas along the way, including a beautiful drive that encompasses the Natural Bridge, stunning Skyline Drive and the legendary Blue Ridge Parkway.
This unconventional option to Washington DC offers some great scenery, but it will take you longer to drive and pass fewer towns and unique sites. For the best of both worlds, you could always follow one to Washington DC and follow the other on the return leg.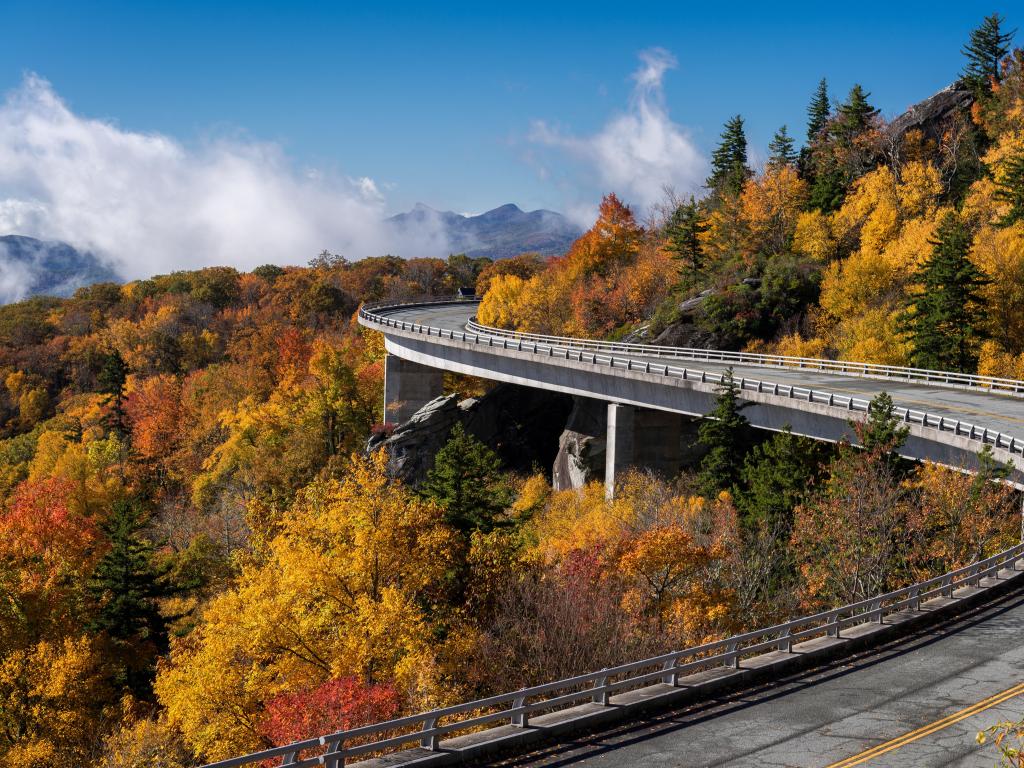 How to drive from Jacksonville, Florida to Washington DC
The map above shows our suggestions for the best road trip routes between Jacksonville, Florida and Washington DC. Keep reading for detailed descriptions of both routes, where to stay on either, and the best things to do on the way.
The Direct Route
The straightforward Direct Route will see you drive mainly on Interstate 95 and US-17. Begin by leaving Jacksonville, Florida on I-95 and head north, passing by Timeuan Ecological and Historical Preserve and following the coastline through several pretty towns.
Your first major city stop will be at Savannah in Georgia, though if you have the time, you can always stop and visit the beautiful beaches in Florida along the way. After leaving Savannah, continue on I-95 before taking Exit 33 and following US-17 to Charleston.
For a quicker drive to Washington DC, you could ignore this detour and continue on I-95, bypassing the city. But the stunning Charleston is well worth exploring, making sure to take in Francis National Forest and the surrounding beaches first.
Continue heading north on US-17 as you follow the coast past Pawleys Island, Surfside Beach and arrive at Myrtle Beach, a great place for an overnight stop on this trip.
After exploring the South Carolina city, you will follow US-701 into North Carolina and follow state highways 410 and 87 as you follow the signs to Fayetteville, another overnight stop option, as you leave the coast and head inland.
Rejoin I-95 after leaving Fayetteville, passing through several more interesting towns, including Roanoke Rapids and Petersburg. The interstate will lead you to Richmond, your final big city before you reach your destination.
The rest of your journey will see you following I-95 North all the way to the incredible city of Washington DC.
The Scenic Route
The Scenic Route begins on the same roads as the Direct Route until you leave Charleston. Instead of following the coast north, you'll take Interstate 26 West, heading further inland.
After a short drive, you will arrive at Columbia, where you can either stop to explore the city or bypass it and continue on Interstate 77, passing Rock Hill and driving along the outskirts of Charlotte.
Again, you could detour into the city; otherwise, take Exit 10 and then 17B and follow US-321 North, passing several towns before arriving at Blowing Rock. You can explore the beautiful scenery here and take a drive to Pisgah National Forest.
The next section of your drive is particularly scenic as you pick up the Blue Ridge Parkway and enjoy some of its stunning views before taking US-221 past West Jefferson, and then VA-16 alongside Mount Rogers.
At Atkins, merge onto Interstate 81 and head north, being sure to stop at some of the interesting towns and enjoy more stunning views along the way. At Exit 143 merge onto Interstate 581 South to make a stop at Roanoke, an ideal place to rest for the night and enjoy a tranquil stop.
When leaving you'll continue on the iconic Blue Ridge Parkway, past Pine Tree Overlook and towards Buchanan, where you'll merge back onto I-81 and pass the amazing Natural Bridge.
Continue heading north on I-81, eventually driving alongside the stunning Shenandoah National Park. Take Exit 300 to follow Interstate 66 East which you will then follow all the way to Washington DC.
Best places to stop between Jacksonville to Washington DC
The road trip from Jacksonville, Florida to Washington DC is ideally taken over several days to explore the cities and stunning views you'll pass along the way, regardless of which route you decide to follow.
There's a great choice of places to stop, including interesting towns, coastal retreats and fascinating cities. Of all the spectacular hotels, here are some of our favorites:
A historic visit in Fayetteville
If you decide to follow our Direct Route to Washington DC, then an ideal stop located less than 6 hours from Jacksonville, is the great city of Fayetteville, in the heart of North Carolina.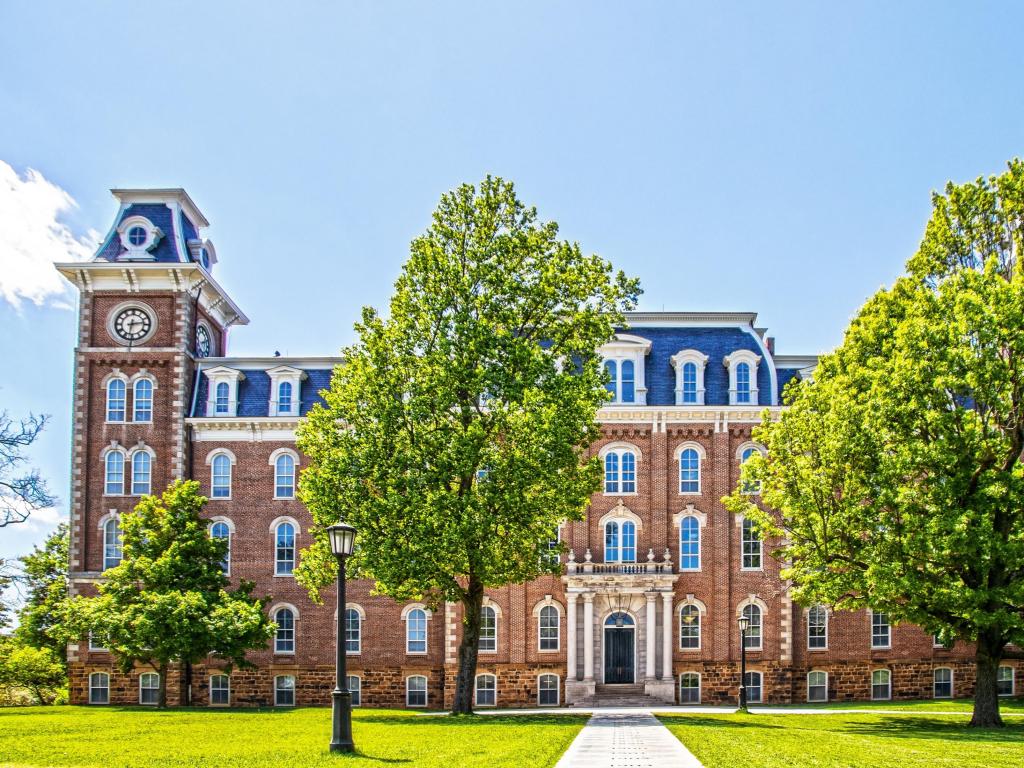 Home of Fort Bragg, a US Army installation, Fayetteville has multiple museums around its military history. It's a pleasant historic town with a lot of cultural attractions (live music, theatres, art galleries), as well as a lot of parks if you need more nature.
Make sure to pay a visit to the Airborne and Special Operations Museum or for an escape from the hustle and bustle of city life, you could take a walk around Cape Fear Botanical Garden or explore the 1897 Poe House.
Just a short walk from the Airborne Museum is SpringHill Suites by Marriott Fayetteville Fort Bragg. This modern and well-maintained hotel is the perfect place to relax after a long day of driving and exploring.
Featuring a welcome outdoor swimming pool and an inside bar, the hotel also includes free parking and stylish rooms with beautiful city views. The SpringHill Suites are a great option, balancing comfort and style, with great amenities.
Spend a night in "The Queen City" in Charlotte
Situated halfway between Jacksonville and Washington DC on the Scenic Route, is Charlotte, the biggest city in North Carolina. Not only does this city provide the ideal spot to spend the night, but it's also a hugely popular destination in its own right.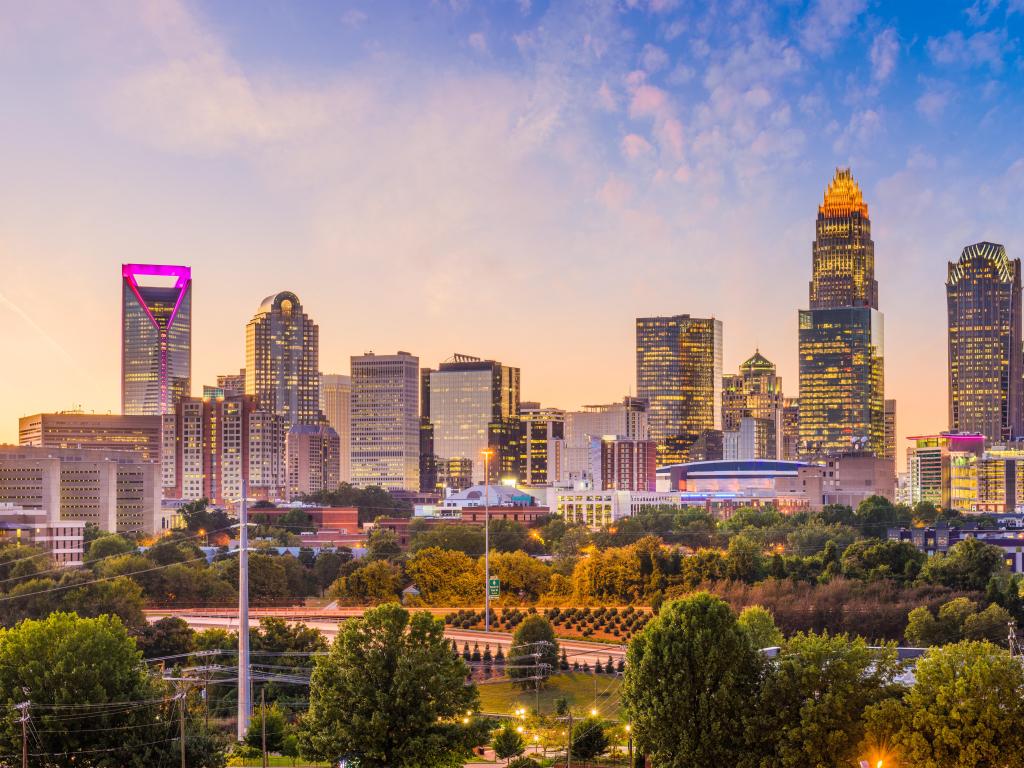 Offering a lot of different activities for those who prefer the urban buzz of the city, a nature break or to learn more about America's history, Charlotte which is also known as "The Queen City" has a stunning skyline and numerous parks.
Just some of the attractions you won't want to miss seeing include the NASCAR Hall of Fame and the Daniel Stowe Botanical Garden. Take a walk around the popular Freedom Park or enjoy birdwatching at Wing Haven. You can also admire the scenic view at Romare Bearder Park.
Of all the great hotels you can choose from in Charlotte, one of the best is Canopy by Hilton Charlotte SouthPark. This 4-star modern hotel is the perfect stop and is just a short drive from the Mint Museum of Art and Freedom Park.
With a handy onsite restaurant, a stylish bar and a fitness room if you want to relax after a long day driving or exploring, the hotel also offers free parking and modern rooms with stunning views of the city.
An iconic stay in Washington DC
After an adventurous drive to the city, Washington DC certainly won't disappoint. The Capital of the US, this compact city sits on the Potomac River and offers monuments and memorials galore, as well as eclectic neighborhoods and fantastic shops and restaurants.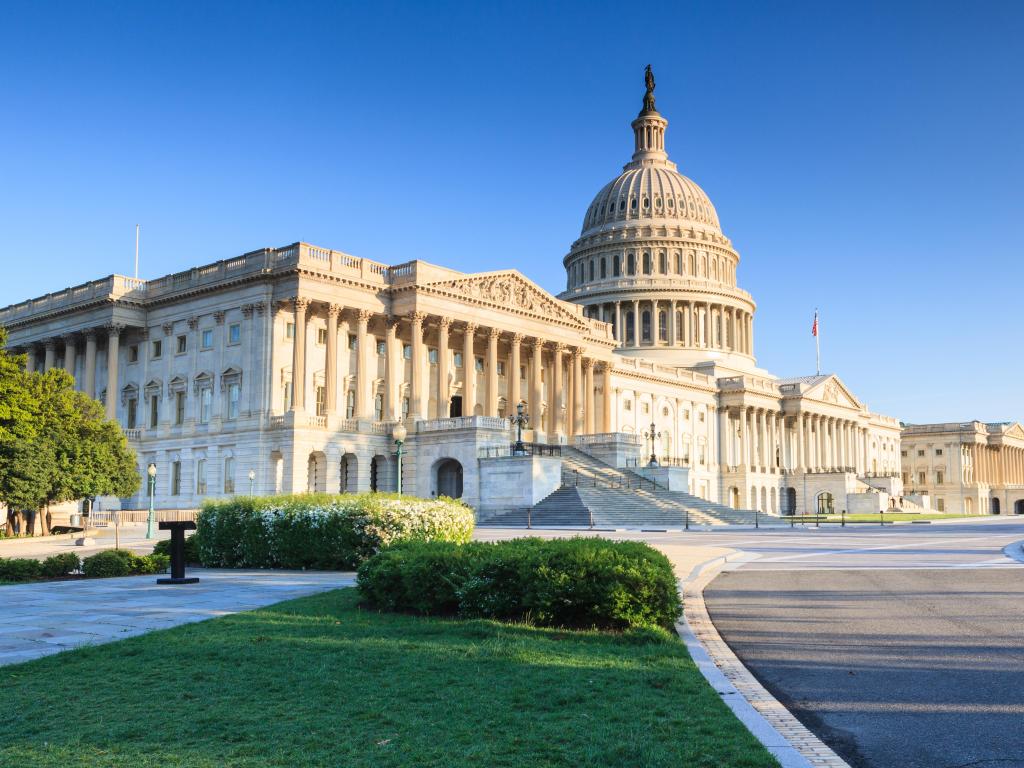 A visit to Washington DC wouldn't be complete without visiting its iconic sites, including The White House, United States Capitol, Library of Congress and the Lincoln Memorial.
Make sure you visit the incredible Washington Monument and spend some time walking around the National Mall, the stunning National Park which surrounds it. There's also a huge choice of museums and art galleries to visit, keeping you entertained for days in this super city.
You will have many accommodation options in this iconic city, but citizenM Washington DC Capitol is one of the top choices. With its perfect location, right next to the Capitol and a lot of museums, this modern hotel is the perfect destination to unwind.
The 4-star hotel really makes the most of its location and guests can enjoy the stunning views from not only the stylish rooms but from its amazing rooftop - the perfect place to enjoy a sunset or to stargaze after a busy day of sightseeing.
After enjoying the abundance of amazing attractions in the city, you will surely want to relax and unwind. The hotel features a fantastic restaurant and a bar where you can enjoy your favorite cocktail as you recharge for your upcoming adventures.
Things to see on a road trip from Jacksonville to Washington DC
There are so many great places to visit and beautiful vistas to enjoy on this road trip from Jacksonville to Washington DC, that you could easily spend several weeks exploring them all.
If you don't have that much time at your disposal, don't worry, we've compiled a list of some of the best things to see en route: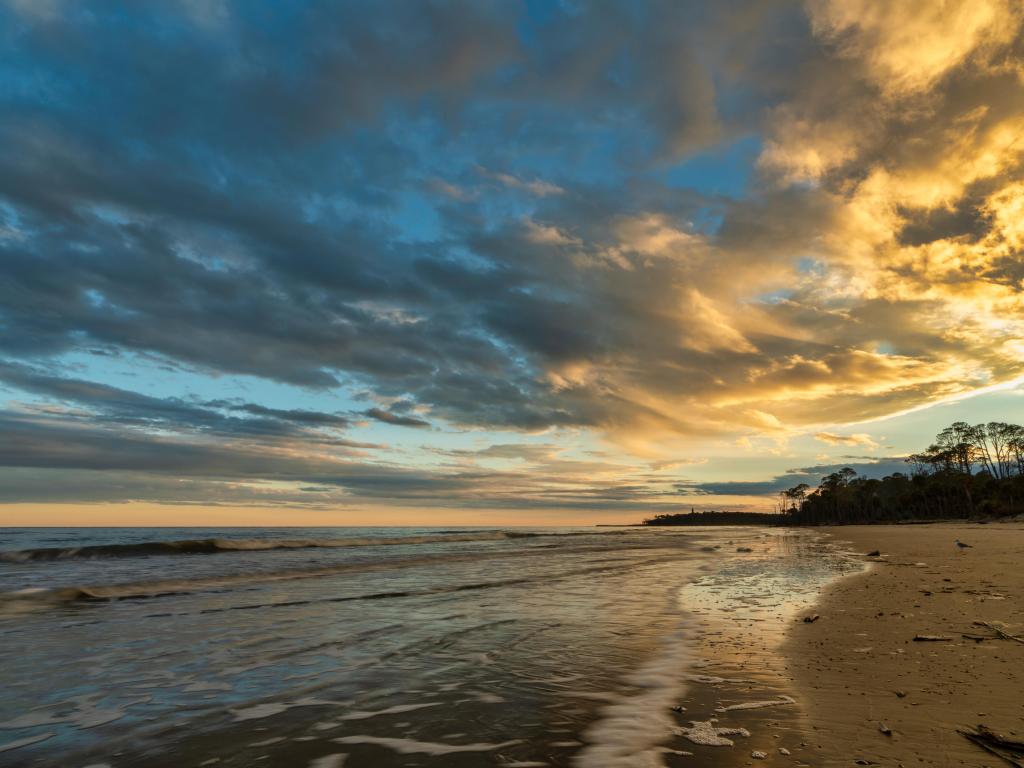 The Direct Route
Driftwood Beach - Discover the unreal landscape shaped by driftwoods and trees from years of erosion at this beautiful beach near Jacksonville in Florida.
Savannah, Georgia - The oldest town in Georgia, Savannah will amaze you with its beauty and cultural heritage. It's best known for its beautiful coastal landscapes and well-preserved architecture.
Hunting Island State Park - Discover this amazing beach with a popular lighthouse, this park also features miles of trails through its magical forest if you're up for a hike. The drive from the front gate will offer you a great and beautiful experience in the subtropical forest.
Charleston, South Carolina - Get out of the car to get lost in the center of this classic southern town. Great on foot, you'll be able to enjoy its paved streets and its colorful houses rich in history.
Myrtle Beach, South Carolina - Have some fun in this popular destination, where you can enjoy a walk by the beach, do some shopping and even get an adrenaline boost with the exciting attractions by the ocean.
Fayetteville, North Carolina - The halfway point of this route, Fayetteville has a rich military history. Also known for its culture and great food, you'll love your time in this friendly southern city.
Vollis Simpson Whirligig Park - Explore this one-of-a-kind park to see the sculptures made by the WWII veteran Vollis Simpson. Watch them spring to life with the slightest breeze and enjoy a unique stop in the area.
Pamplin Historical Park - Make a stop at this renowned Civil War campus, home to four museums, three historic homes and more. If you're a history buff, this is the place to visit.
Richmond, Virginia - Another destination rich in history. Walk along the Liberty Trail, visit its oldest church - St. John's, or enjoy thousands of pieces in the Virginia Museum of Fine Arts. Richmond has it all.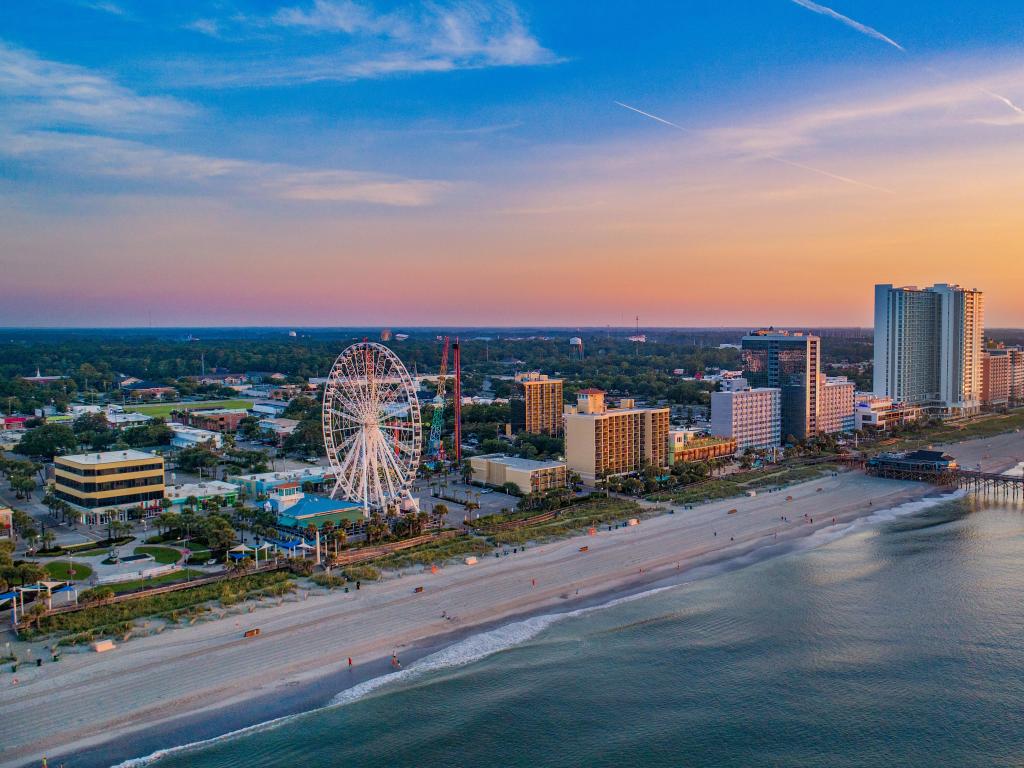 The Scenic Route
Columbia, South Carolina - The southern hotspot, Columbia is the perfect place to stop if you're looking for some history and culture. It's also home to beautiful parks and awesome museums.
Charlotte, North Carolina - The financial hub of North Carolina, Charlotte is a modern city with a beautiful skyline but still rooted in history with amazing museums and unique neighborhoods.
Lake Norman - North of Charlotte, Lake Norman is the biggest man-made lake of North Carolina. It offers beautiful scenery, and is a good place to eat on the way for example.
Roanoke, Virginia - Also known as "The Magic City" because of its man-made star on top of Mill Mountain, this charming city is worth the stop and is surrounded by mountain beauties.
The Blue Ridge Parkway - The Blue Ridge Parkway is a National Parkway noted for its scenic beauty. Running north and south from Asheville with plenty of long-range mountain views, spots for roadside picnics and breathtaking vistas, it's a much more than just a road!
Natural Bridge - The biggest natural bridge of North America. You can't miss this stop on this road, it's said to be the most remarkable site of North America with the Niagara Falls. It was also sacred for the Monocan Tribe.
Shenandoah National Park - Famous for "the Skyline Drive", a 105 mile road that runs the entire length of the park. Amazing scenic drive, especially beautiful during fall, as the leaves change color.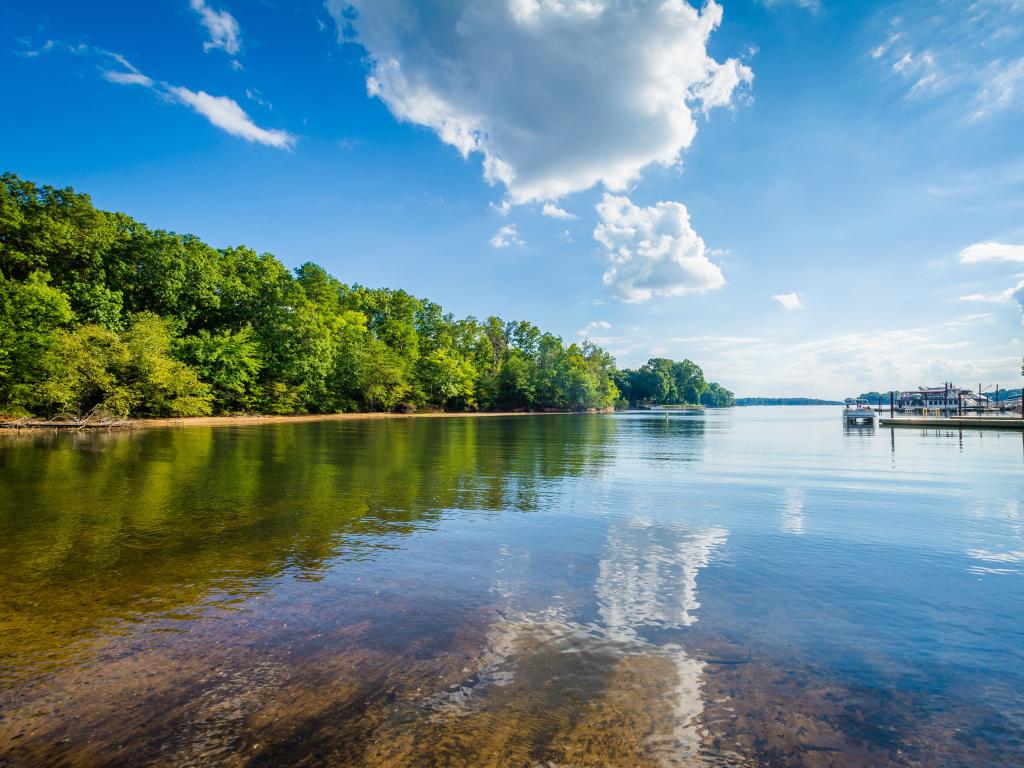 Best time to go on a road trip from Jacksonville to Washington DC
The journey from Jacksonville, Florida to Washington DC is a good all-year-round trip, given that a lot of the attractions are indoors, such as the museums and art galleries.
That said, certain seasons won't be as comfortable to drive or will offer the best views in the more scenic parts of the drive. The sweltering heat in Washington DC makes summer a challenging time to visit.
Coupled with large crowds and temperatures on average as high as 80 degrees Fahrenheit, you might find yourself retreating to the museums to keep cool. That said, you will find the Direct Route's coastal stops a welcome relief.
On the polar opposite, the fresh snow, Christmas and the New Year festivities make Washington DC appealing in winter. It's also a great time to avoid crowds. While temperatures are milder than in northern parts, they can still reach 30 degrees Fahrenheit
A better time to visit is either spring or fall. Visiting between March and June means you can time your visit with the iconic Cherry Blossom season, which kicks off in Washington DC in late March.
Meanwhile, the stunning parks and natural landscapes you pass en route will be simply beautiful in spring and equally striking in fall. This is also a quieter time to visit both the cities and beaches, and the mild weather will ensure you'll still be able to enjoy the outdoor attractions.
If you'd like to time your visit with a festival or two, Washington DC won't disappoint. Some of the key annual events include The DC Pride, during the month of June, the incredible JazzFest held in September and of course, the popular Fourth of July celebrations.