Road Trip from Charlotte, NC to Smith Mountain Lake and Roanoke
Imagine amazing mountains, incredible viewpoints and historical museums; all of this is at your fingertips on this magnificent road trip from Charlotte to Smith Mountain Lake and Roanoke. You will also get the opportunity to drive one of "America's favorite drives", the scenic Blue Ridge Parkway.
A road trip from Charlotte to Smith Mountain Lake and Roanoke is between 225 and 322 miles long, with a drive time of 4 to 7.5 hours. Along the way, you'll get to visit Greensboro, Blowing Rock, Blue Ridge Parkway, Smith Mountain Lake and Roanoke.
Dappled with awe-inspiring landscapes, be prepared to stop driving often in order to get an eyeful of some of the fantastic views on offer. Keep reading to find out all you need to know about this epic road trip including route plans, overnight stop suggestions, accommodation options and things to see along the way.
How far are Smith Mountain Lake and Roanoke from Charlotte, NC, and how long will the road trip take?
Comparison of road routes between Charlotte, NC and Smith Mountain Lake and Roanoke

| Route | Distance | Driving Time |
| --- | --- | --- |
| The Direct Route | 230 miles | 4 hours 10 minutes |
| The Blue Ridge Parkway | 320 miles | 7 hours 30 minutes |
The most Direct Route is just 230 miles long, with an estimated drive time of a little over 4 hours. This makes it the perfect road trip if you only have a short time on your hands.
At 320 miles, The Blue Ridge Parkway Route is a 7-hour and 30-minute drive but add a couple of hours if you'd like to admire the majestic views on offer on this route.
Because there is so much to see on this route, we recommend putting aside at least 3 days, especially if you are following the Blue Ridge Parkway Route.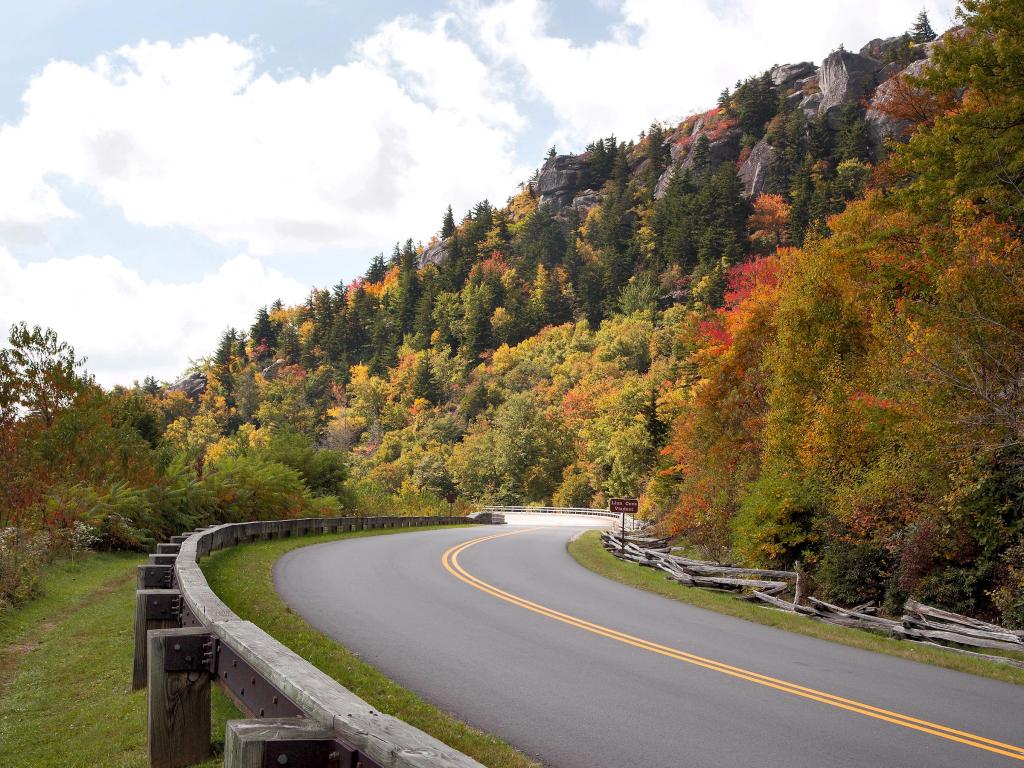 Best road trip route from Charlotte, NC to Smith Mountain Lake and Roanoke
The Direct Route allows you more time to relax at the stunning Smith Mountain Lake as it will take you there faster, and is perfect for those who really want to spend time exploring the beautiful nature of the area.
Much of this route is on the highway and so makes for an efficient way to travel between places. Although you will still get glimpses of the mountains, you will miss out on some of the more spectacular views gained by taking the Blue Ridge Parkway Route.
The beautiful Blue Ridge Parkway Route will take you down a stretch of one of the USA's most loved scenic drives. This magnificent road trip showers you with breathtaking views of the Appalachian Mountains and many incredible viewpoints along the way.
Much of this route will be on two-lane roads, meaning your speed is controlled by the vehicle in front of you. This is not always a bad thing, as the views will be incredible, but if you have a time limit then it is something to consider.
The Direct Route
From Charlotte, take Interstate 85 (I-85) northeast up through Thomasville, Trinity and Archdale. Stay on I-85 to Greensboro, North Carolina. From here, get on US-29 to Pittsylvania.
The next part of your journey will take you to the eastern side of Smith Mountain Lake and its state park. Take some time out of the car to explore the park, the marina and the lake itself. Once you've had your fill of lake life, get on highway 24-W and take it to Roanoke.
The Blue Ridge Parkway Route
Take I-85 west out of Charlotte, aiming for the intersection with US-321. From here, head northwest to Blowing Rock, passing through Hickory and Lenoir along the way.
The next part of your road trip will take you northeast via the Blue Ridge Parkway. This part will likely take you the longest as you stop to admire the innumerable viewpoints along the way.
You'll approach Smith Mountain Lake from the west. Continue around the lake to the eastern side where you can enjoy the state park, marinas and lake itself. Once you've had your fill of lake life, get on highway 24-W and take it to Roanoke.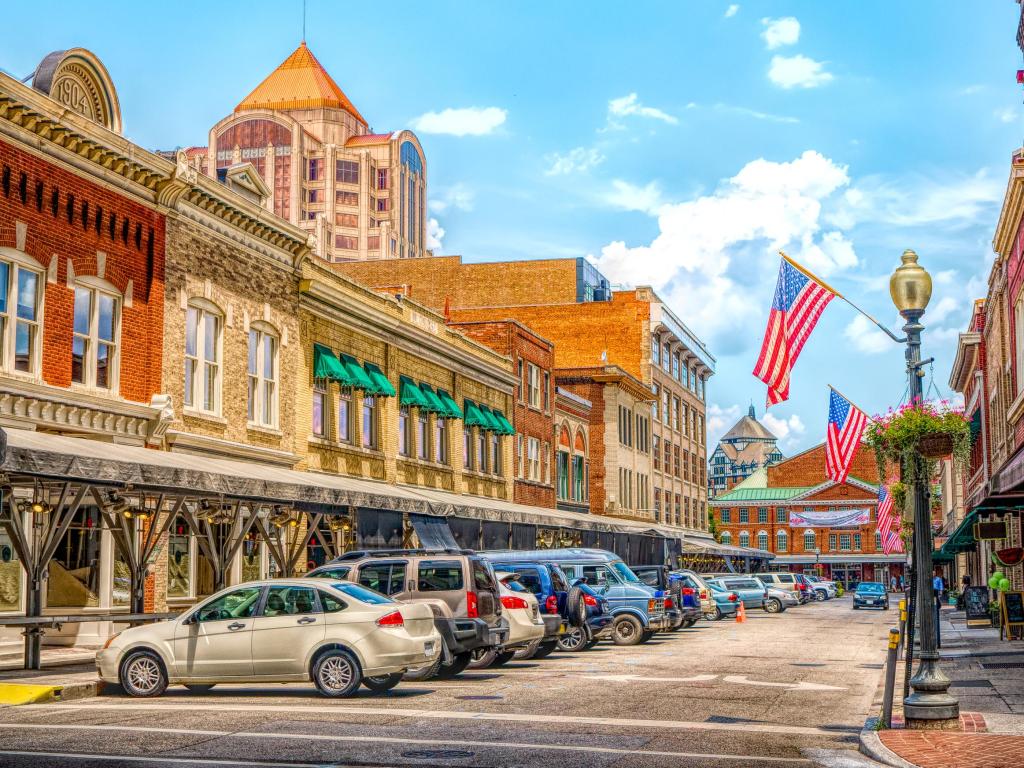 Best places to stop between Charlotte, NC and Smith Mountain Lake and Roanoke
A road trip wouldn't be a road trip without an overnight stay. Whether you take The Direct Route or The Blue Ridge Parkway route, we've got you covered with an excellent overnight option on each route.
A Great Night in Greensboro
Around 1 hour and 30 minutes from Charlotte on The Direct Route is Greensboro in North Carolina. Its great location en route means you can spend the afternoon exploring Greensboro, have an early night and still arrive at Smith Mountain Lake by mid-morning the next day.
Originally famed for its large contribution to the textile industry, Greensboro is known now as 'Tournament Town'. This is due to the number of sporting competitions and venues that the city hosts.
If you'd like to delve into the local history, consider a visit to The International Civil Rights Centre & Museum. Its purpose is to educate people on the various struggles for civil and human rights. It is dedicated to the Greensboro sit-in which happened in 1960 during the Civil Rights Movement.
If you have time, you can also visit The Greensboro Science Center. This eclectic museum takes you through many immersive exhibitions and even has a zoological park, aquarium and a 3D theater.
The beautiful O.Henry Hotel will welcome you with its olde world charm. There is a fantastic restaurant on site, an outdoor courtyard and ornately decorated nooks for unwinding. They also offer free valet parking for their guests so you can leave your vehicle securely.
The location of this hotel is excellent. It is within walking distance of many of the city's attractions including the bicentennial garden mentioned above, as well as sitting not far from the major roads leading in and out of the city.
Prepare to be Blown Away at Blowing Rock
Blowing Rock on The Blue Ridge Parkway Route is a great spot for an overnight stay. Around 2 hours from Charlotte, this quaint little town marks the start of your journey along the Blue Ridge Parkway.
As it is one of the prettiest scenic drives in the US, staying at Blowing Rock will allow you to wake up well-rested and able to enjoy the parkway in the morning, arriving before any other potential traffic.
There are also many beautiful attractions in the area that you will want to explore on the afternoon of your arrival. It is well known for its spectacular views of the Blue Ridge Mountains.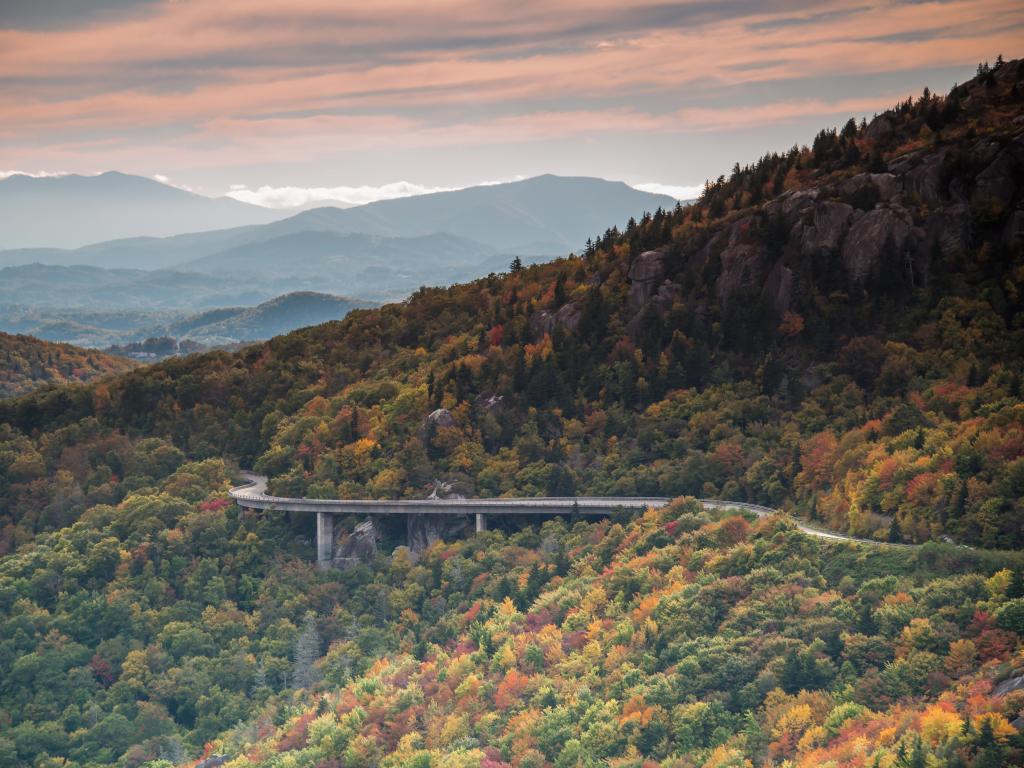 The Appalachian Fossil Museum here hosts an impressive private collection of both replicas and original fossils. To further immerse yourself in the local culture, Blowing Rock Art and History Museum features lessons on local history and art.
For the outdoorsy among us, Blowing Rock is the springboard to many fantastic hikes for all abilities, just visit the Blowing Rock Visitors Information Center for more information on finding a hike that suits you.
Sitting on the banks of a pristine lake, Chetola Resort is the perfect choice for those wanting to relax in nature whilst still receiving excellent service. There is a restaurant on-site but it is also within walking distance of the town.
It hosts evening entertainment as well as a pool and fitness center. If you want to explore more of the area without getting into your vehicle again, then they also offer free bike rentals.
Where to stay when you reach Roanoke
The absolutely beautiful Hotel Roanoke & Conference Center offers everything you could possibly need for a great overnight stay. With multiple restaurants on-site, free parking, an outdoor pool and a full-service spa, you have everything you need, right on your doorstep.
The location is perfect, sitting right in the middle of town and close to many of the major attractions. The rooms are lovely, and the hosts are committed to aiding your every need.
Things to see on a road trip from Charlotte, NC to Smith Mountain Lake and Roanoke
Historical and cultural attractions, lookout points and many hiking opportunities are dotted all along both of our routes. We've pulled together a short but diverse list of things to do on each route, with something that everyone will enjoy.
The Direct Route
World's Largest Chest of Drawers - this interesting roadside attraction represents the furniture industry that has been prevalent in the area of High Point
The Bog Garden at Benjamin Park - with various waterfalls, boardwalks and information points, you can explore the ecosystem of a bog, understanding how certain plants can grow in this environment
The North Carolina/Virginia Border Sign - you can't cross a State Border without stopping by the unique state sign, welcoming you to the new area
Goodyear Golf Club - for those wanting to enjoy a round of golf then this is a hilly and challenging course that is well-kept and maintained
Tank Museum - for those interested in history, particularly the history of various wars and practices then this is a great informational stop in Danville, VA
The Blue Ridge Parkway Route
Hickory Aviation Museum - a historic museum featuring many planes both antique and new within an open hangar and runway
Mystery Hill - both fun and informative, this area features three museums with everything from local history to optical illusions
Blowing Rock - known by its feature in Ripley's Believe it or Not as the only place in the world where snow falls upwards, this fantastic rock has been carved by the famous winds of the area
Lookouts along the Blue Ridge Parkway - these are too numerous to detail here but as you drive you will see many pullovers, many of which will be signposted as viewpoints. We recommend stopping at as many of these as possible as they are all beautiful views with different angles of the valley and mountains
Mabry Mill - a historic mill with information on its history as well as several events, attractions and live music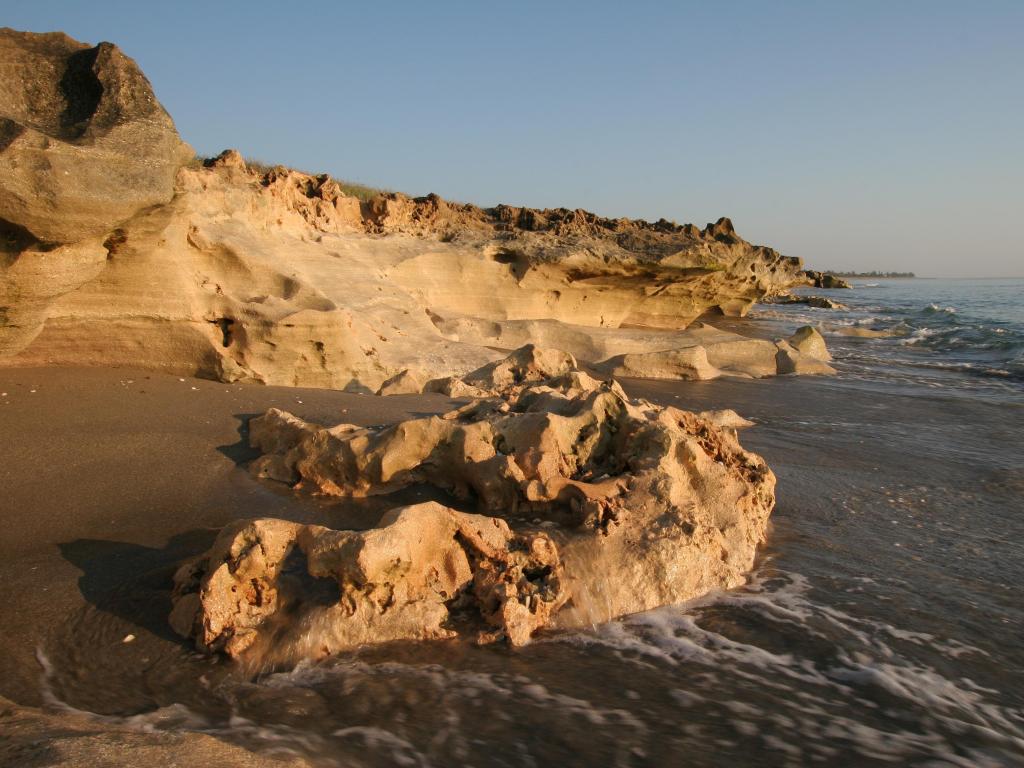 Both Routes
Hickory Hill Vineyards - a great place to try some local Virginian wines whilst enjoying the fantastic views of the area
The Virginia Dare Cruises - take a relaxing cruise along Smith Mountain Lake and allow the fantastic views to reveal themselves to you as you relax upon the water
Spring Valley Farm - this unique experience allows you to explore the surrounding hills on horseback with a trained guide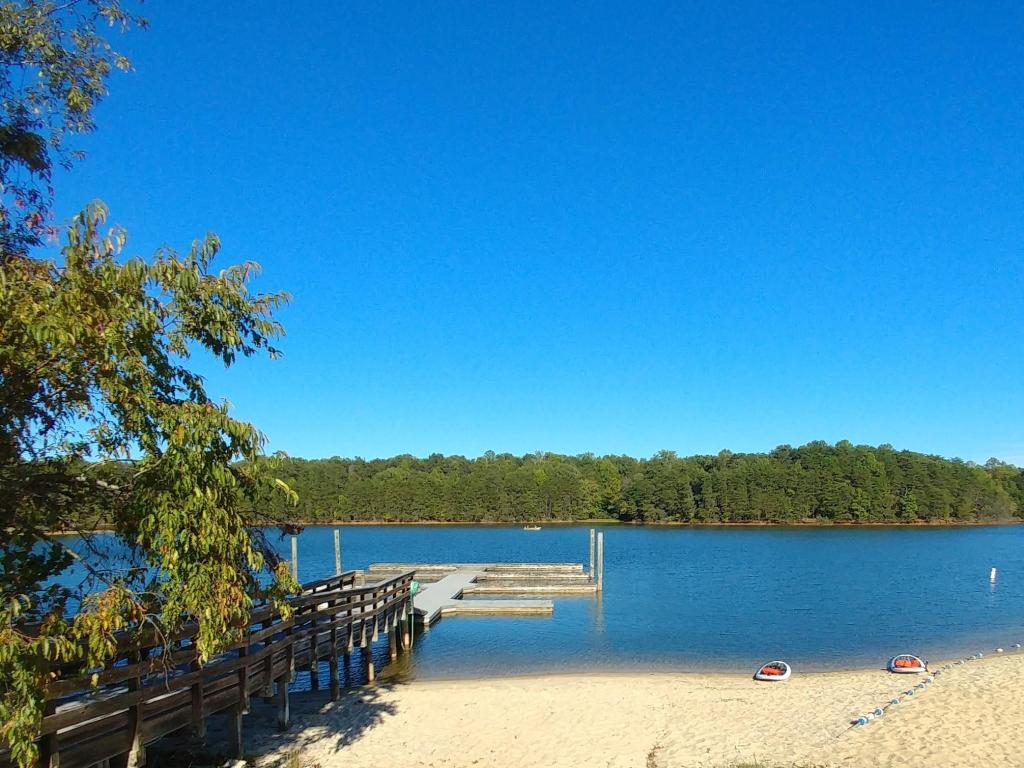 Best time to go on a road trip from Charlotte, NC to Smith Mountain Lake and Roanoke
With a relatively mild climate due to being sheltered in the mountains, Roanoke is a great place to visit year-round. There are a few indoor activities available, as well as many outdoor activities geared to both summer and winter climates.
With temperatures averaging from 80-90 degrees Fahrenheit, Roanoke is a beautiful destination during summer. Due to its location, it is the perfect spot for those wanting to hike, as well as offering easy access to many lakes.
You can expect more tourists to arrive in summer, but it is unlikely to get overcrowded due to the vast array of outdoor activities available.
During winter, temperatures will drop to an average of 37 degrees Fahrenheit and there is likely to be snow. This turns the area into a winter wonderland. Many tourists and locals go skiing in the winter, with a handful of resorts in the area.
There are also many other winter activities on offer, from snowshoeing to Christmas markets. Some roads may be closed during this season, but in general, they are very well maintained and there will always be accessible options throughout the winter.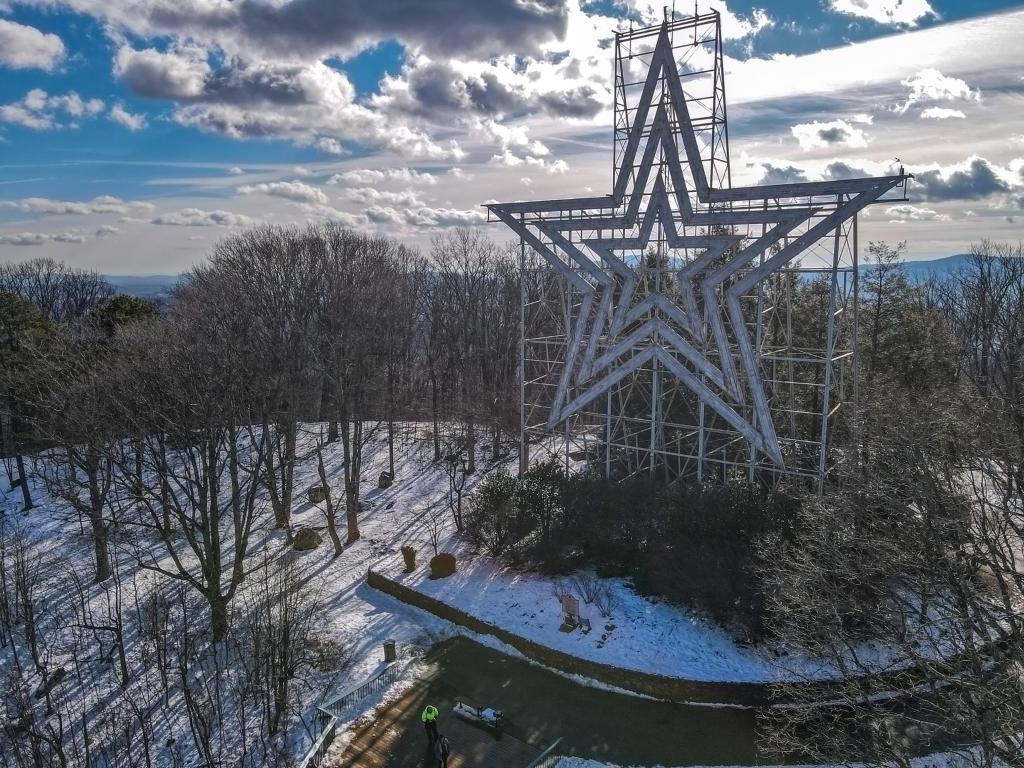 Spring and fall are both beautiful times to visit the area. The temperatures vary between 54-79 degrees Fahrenheit, which is perfect for hiking and very pleasant for exploring the town on foot.
Aside from this, there are many museums and indoor activities for the odd cold day. Fall brings the changing of the leaves and is a beautiful time to explore the surrounding nature, especially Smith Mountain Lake.
Foot Levelers Blue Ridge Marathon is known as "America's toughest marathon" and takes place in Roanoke in April. If you'd like to participate in something less physically intense, Down by Downtown Music Festival also takes place during this month.